Small Batch Turkey Tenderloin
I am hopeful that this year will mean smaller gatherings for people in the US for Thanksgiving. I wanted to assist with your small Thanksgiving gathering. This round up is perfect for Thanksgivings sizes 1-4. These recipes make about 4 servings each, which is perfect for 1-4 people and leftovers if less than 4 people! Tyler and I have had so many small Thanksgivings when we lived in St. Louis and couldn't make it home for both Thanksgiving and Christmas/Hanukah. So, we usually chose the latter and I would make us a small Thanksgiving meal like this.
I do also want to take this time to bring up Thanksgiving and how we learn about it. Thanksgiving is something I now celebrate as a time for good food and showing thanks and gratitude for the ones I love. However, the story we learned as kids about Thanksgiving is so off and really shouldn't be a part of the celebration, but rather a learning opportunity. Please do NOT dress in Native American headdresses. Please take the day to maybe educate yourself and the ones you love. Especially young children. Many Native Americans see Thanksgiving as a day of mourning and triggering. Remember, "pilgrims" led a mass genocide to the Native American population.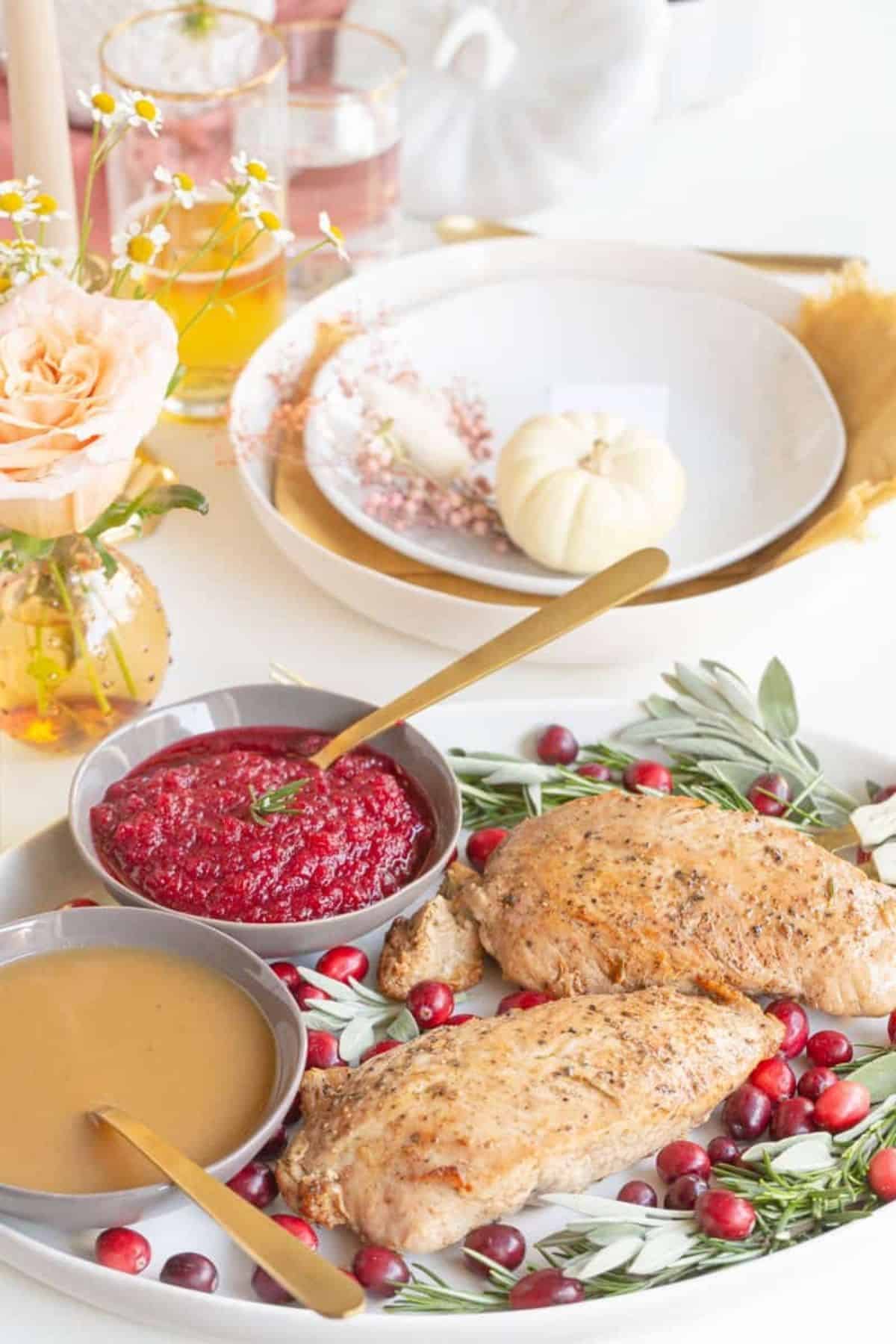 Hopefully, you will consider and implement the above before celebrating along with me.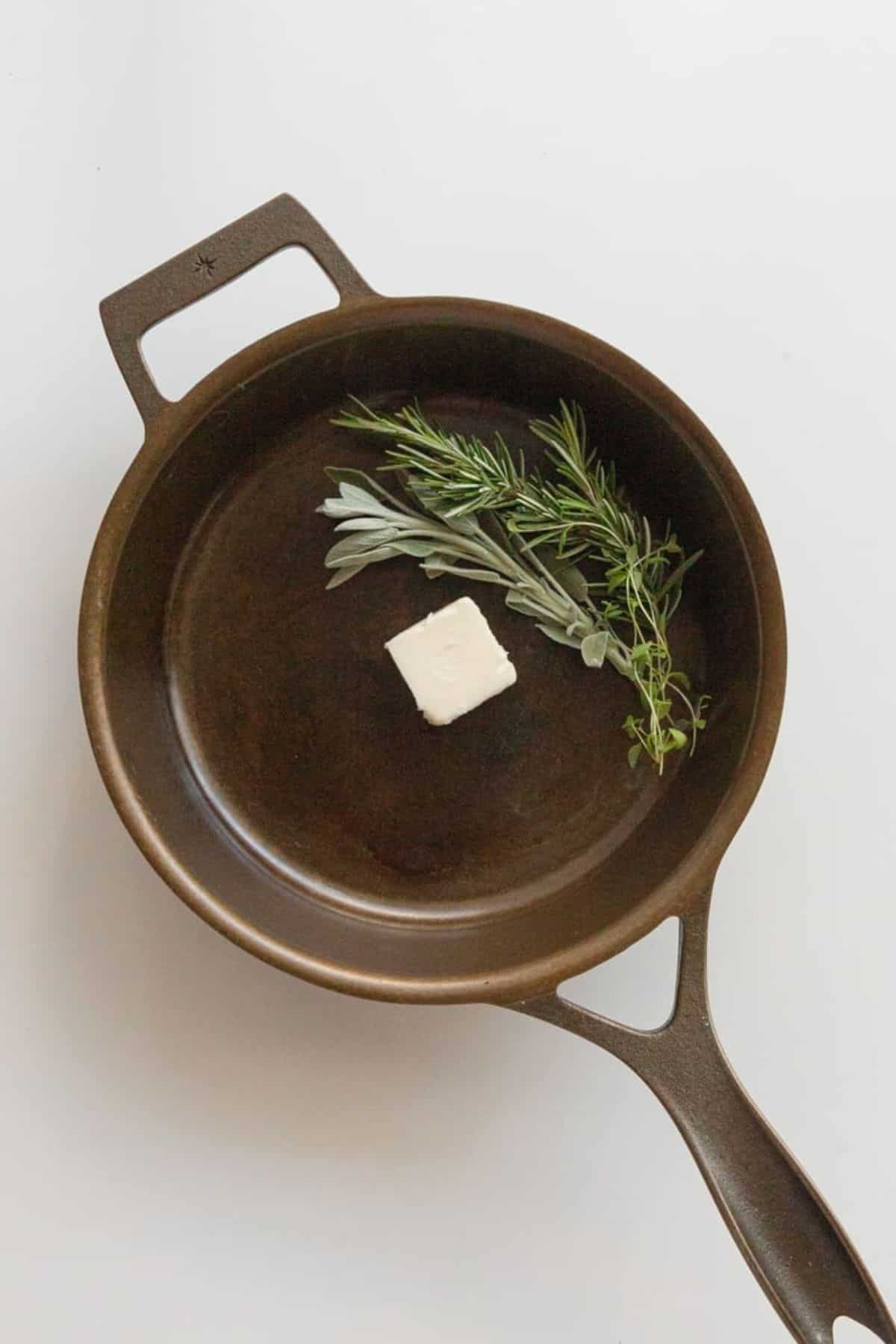 Table of Contents
Celebrating a Mini Thanksgiving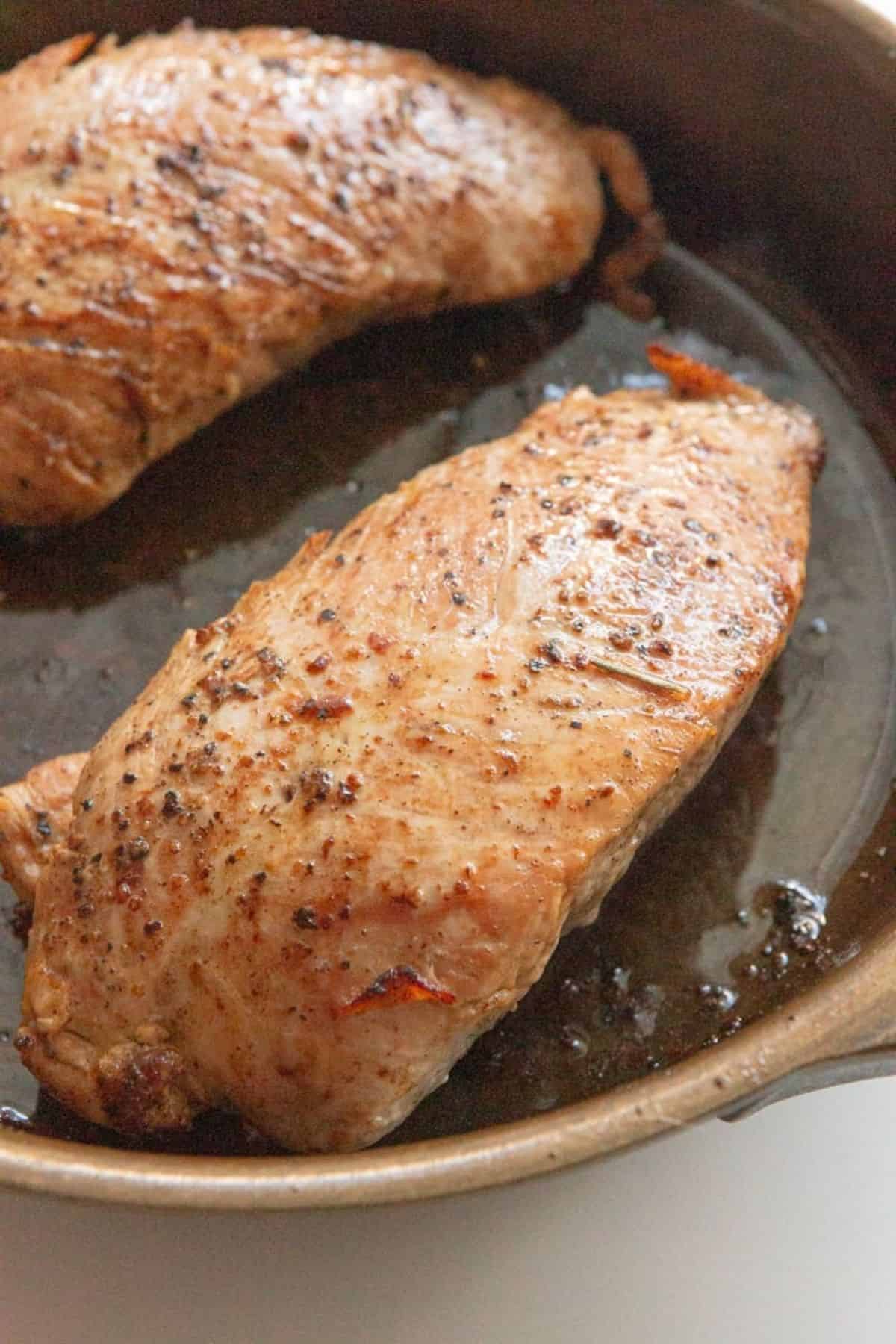 Thanksgiving Desserts
Thanksgiving Drinks
Thanksgiving Favorites and Leftover Recipes
Now, I'll go into some best tips for making these turkey tenderloins.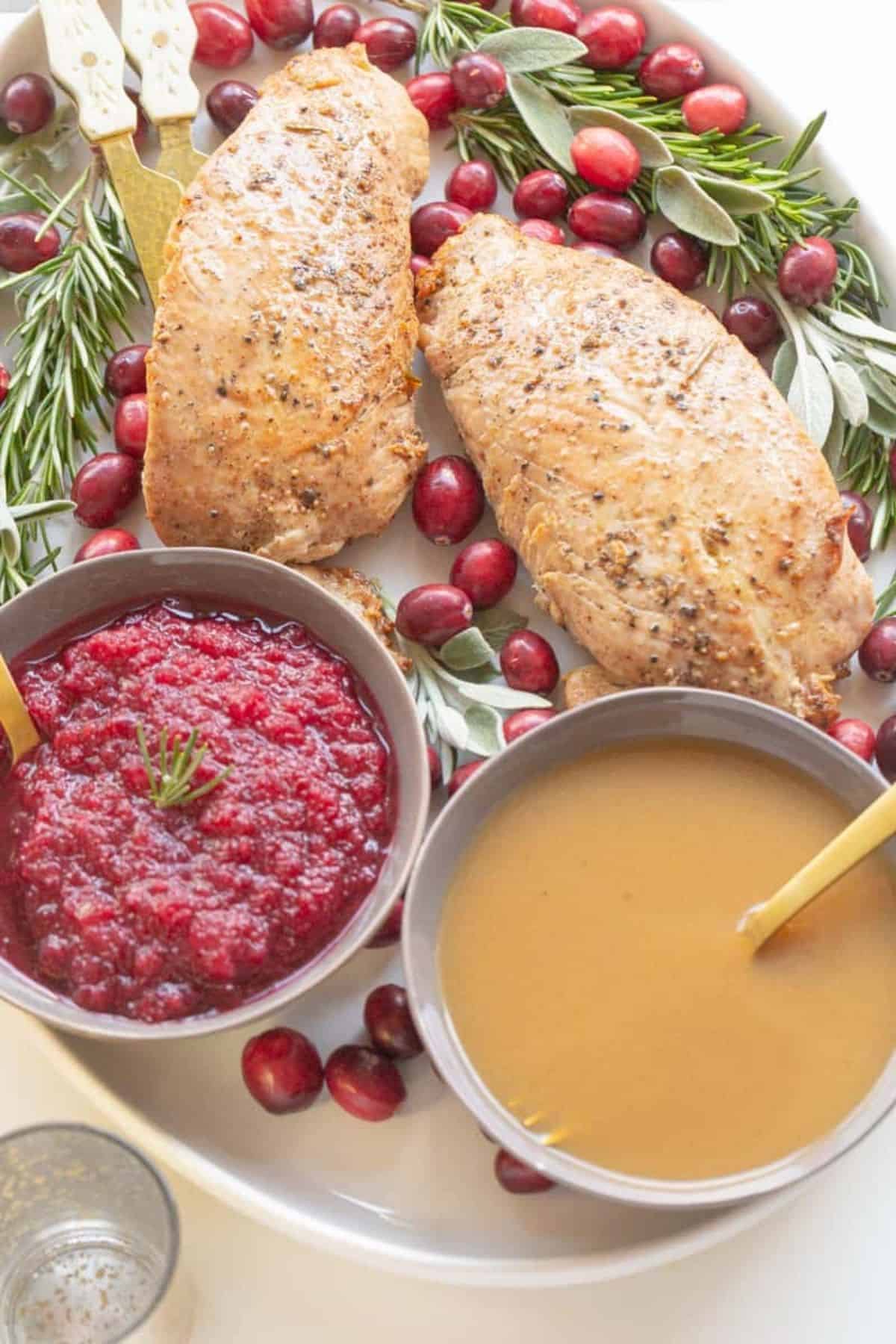 How do I make turkey for two people? How do I make turkey for four people?
I think turkey tenderloins are a great alternative to a whole bird. And you can find them year-round at Trader Joe's!
What do I cook turkey tenderloins in?
I suggest using a cast iron skillet or something that is stove to oven safe. It just makes for a much easier process when cooking.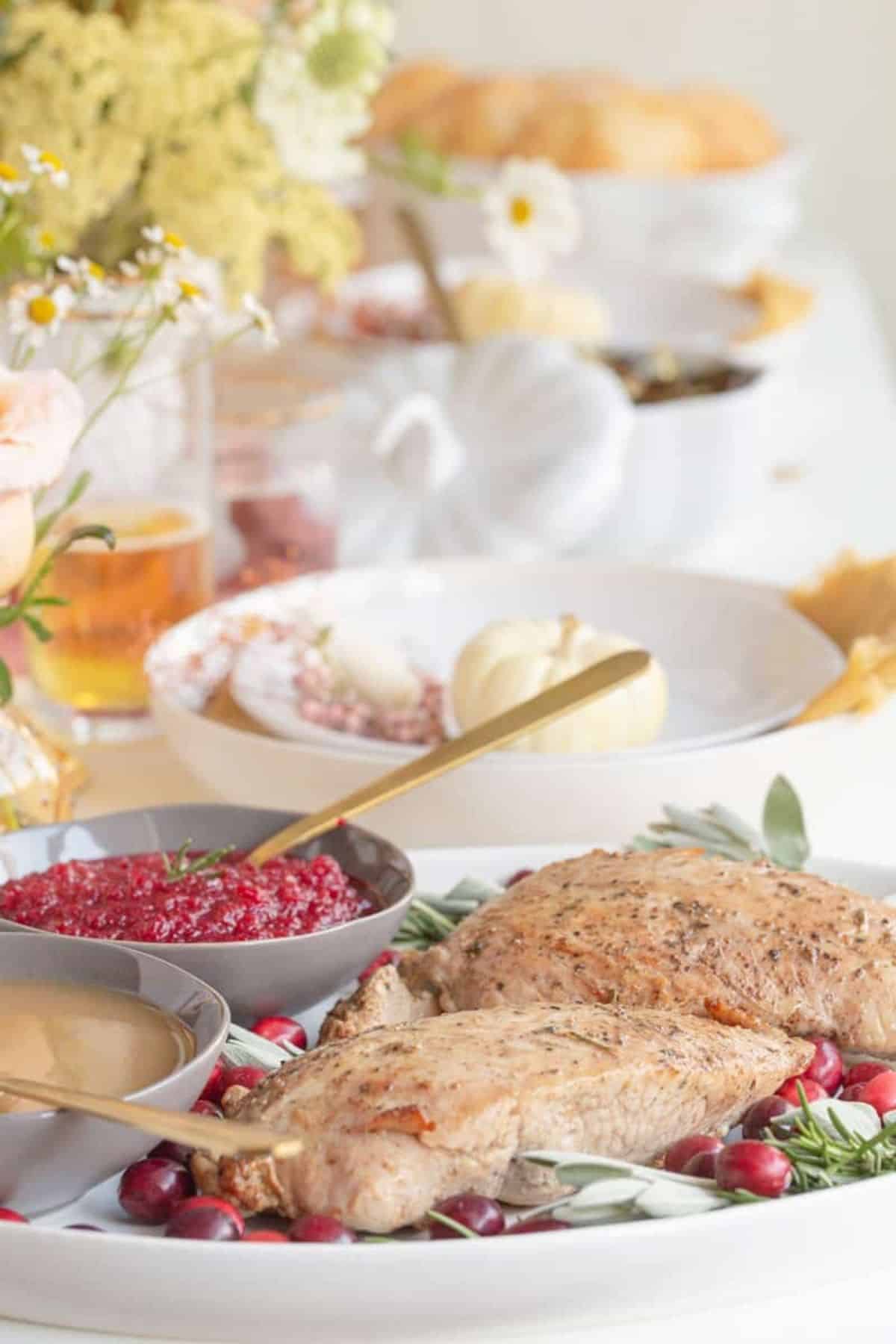 How do I season turkey?
I suggest using plenty of fresh herbs: rosemary, thyme, sage, and even parsley are great additions to season your turkey to perfection. And of course, never forget your salt and pepper!
How do I make turkey gravy using turkey fat?
I usually buy store-bought gravy and add the saved turkey fat/butter remaining in the pan at the end of the bake to complete the gravy. Just add to warm gravy, stir, and you're ready!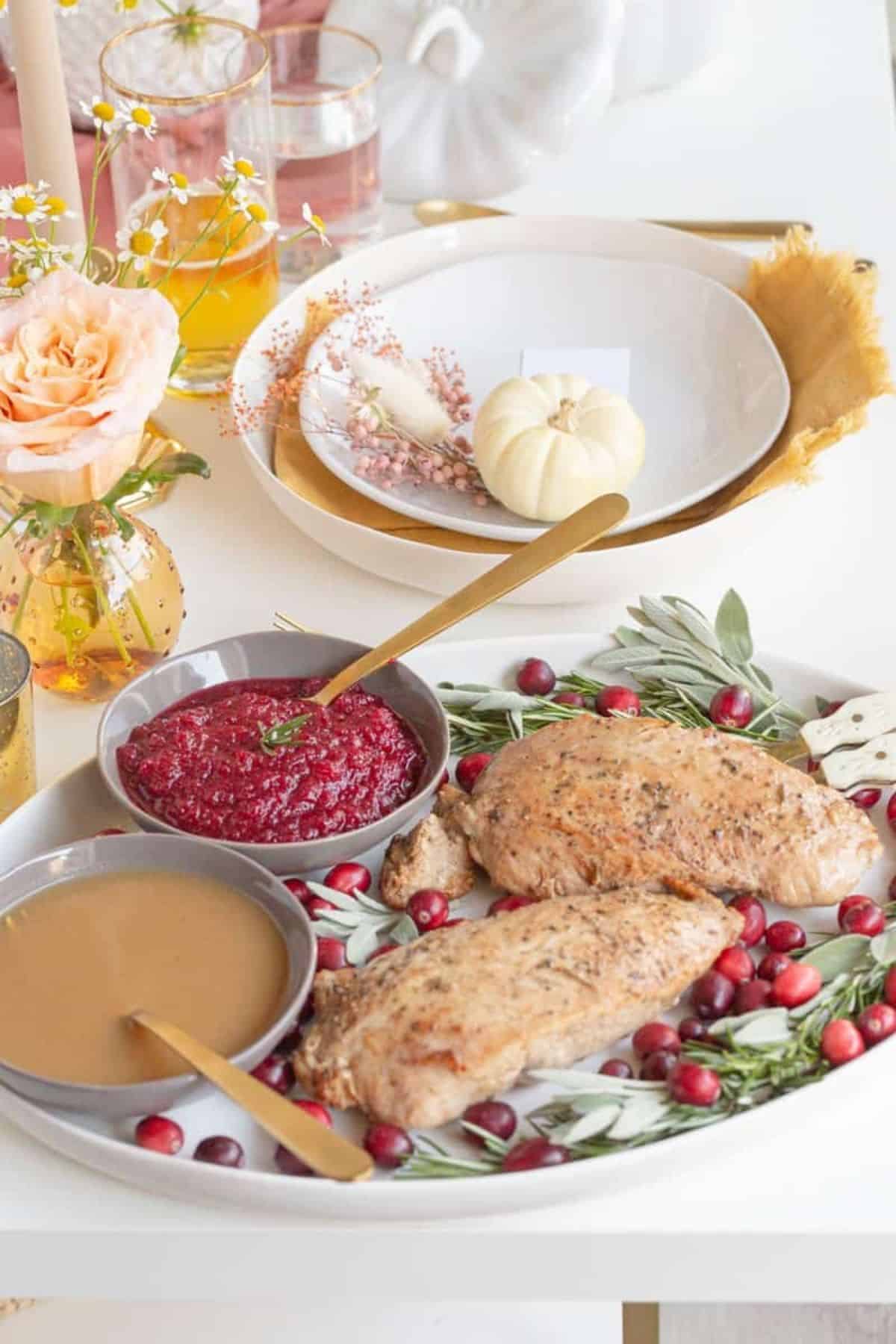 Love this Recipe?
Did you make this recipe and just love it? Awesome! If you have a quick minute and could leave a star rating and comment below, I would appreciate the support and knowing your feedback! And if you're over on Instagram, be sure to tag me in your photos!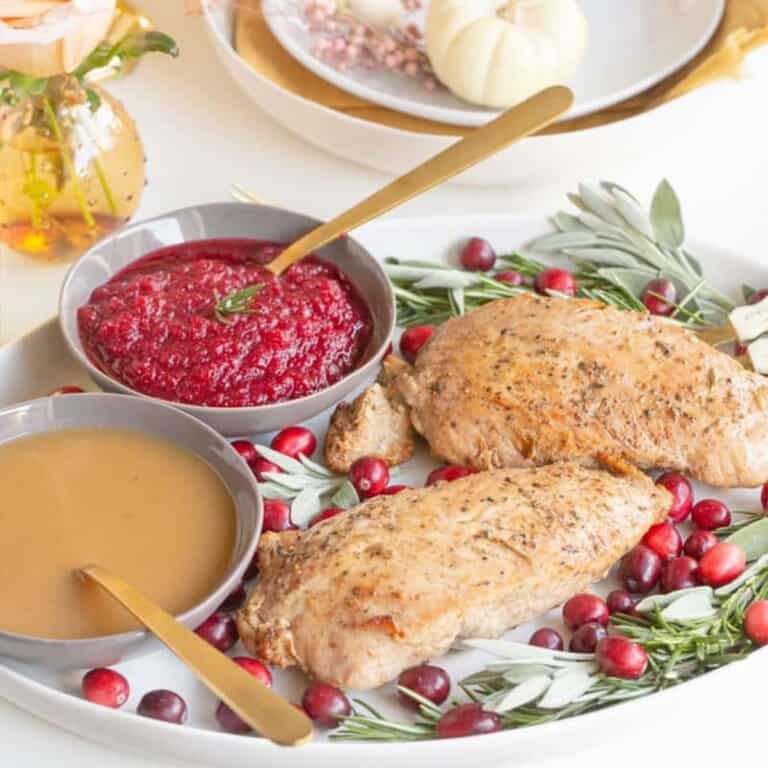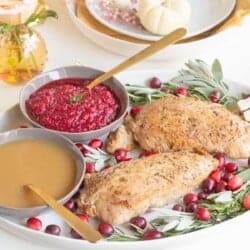 Ingredients
2

turkey tenderloins

pat dry and add a pinch of salt and pepper to both sides

4

tablespoon

unsalted butter

divided

2

sprigs

fresh rosemary

1

tso

thyme

1

teaspoon

sage

Salt and pepper to taste
Instructions
Preheat oven to 375° F. Prepare a lipped baking sheet or use an oven-safe pan below for stove-top to oven transfer.

In a large sauté pan heat 3 tablespoon butter on a medium heat. Add in herbs until fragrant, about 2 minutes.

Place under side of tenderloins down into the pan, cook on one side for about 4-5 minutes until golden and has a nice sear. Flip and do the same for the top side of the tenderloins. Baste as you go. Flip back to best side up, remove herbs, add 1 more tablespoon of butter until melted.

Move turkey to prepared sheet (or keep in oven-safe pan) to oven, baste again, and bake for about 20-25 minutes. Until internal temperature is 165° F.

Let rest for about 15-20 minutes. Plate, slice, and serve.
Notes
You can use extra juice from cooking turkey to make or add to a gravy.
Pans that will get a nice sear and are oven safe are cast-iron, enamel coated cast-iron (like Staub or Le Creuset), full stainless steel. Be sure to read your pans safety information.
Tried this recipe?
Mention @amanda.wilens