Easy, helpful tips to make flower arrangements easy to make at home. You can use grocery store flowers or market flowers and make beautiful arrangements. This guide will help you create beautiful DIY floral arrangements, from cleaning and prepping tips to simple arrangements.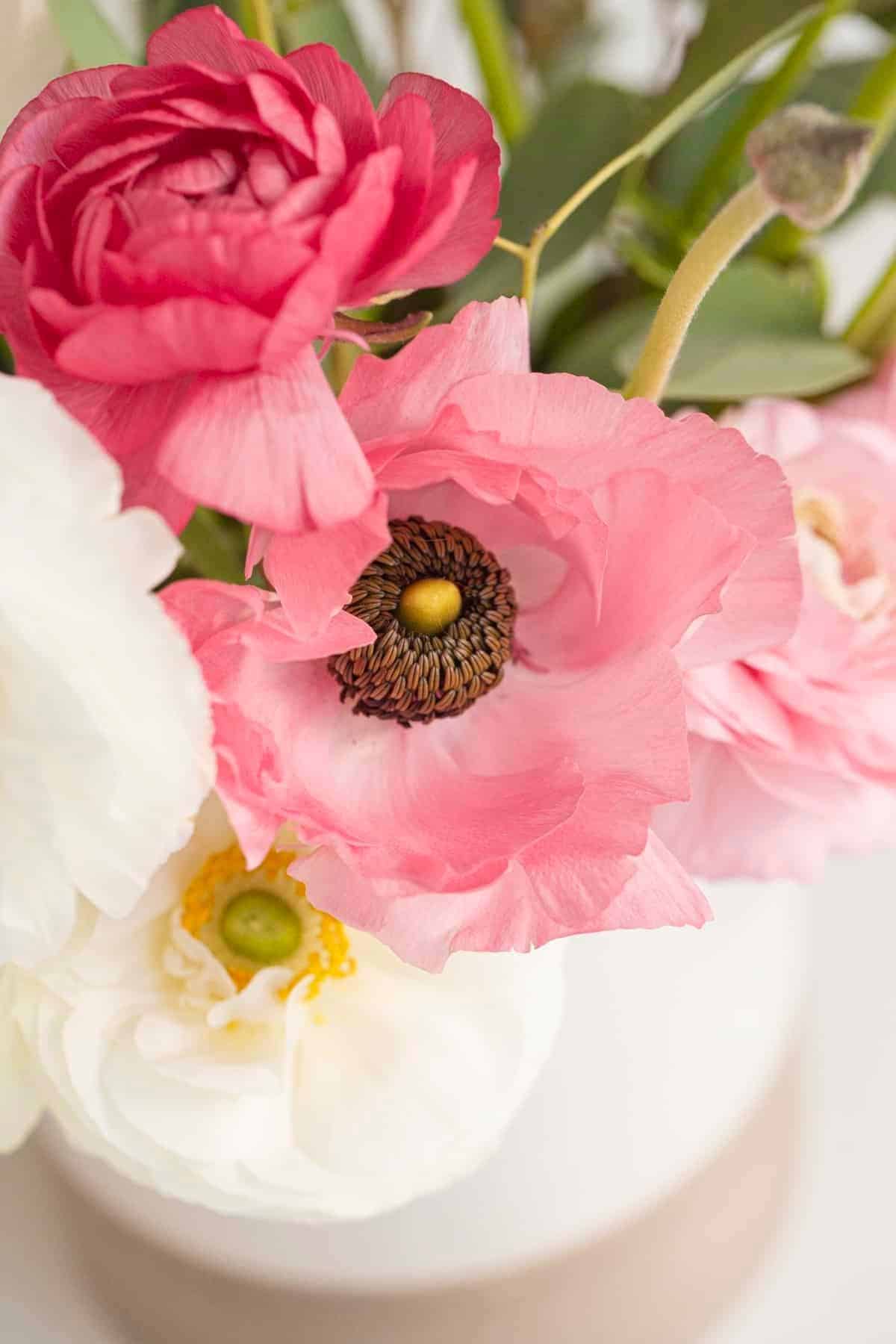 I love flowers and I love DIY flower arrangements. I don't think you can go on my site or my Instagram and miss that fact. Not only do I love them, but I grew up surrounded by them. My parents were floral designers and owned a wedding business in Chicago and did wedding flowers for years. And when we moved to California, they opened a flower shop. It was such a special place and I learned so much from that. Although my main tasks as a kid were stomping on the trash, picking up rose petals, and tying ribbons (which also allowed me time to color organize the ribbons.
As wonderful and fun as it was, we definitely missed a lot of things with our family because the shop took up so much time and so much holiday time. I loved those days, but I know my family, and my parents specifically, are happy to have more normal schedules and time off for the holidays. Although, they still get asked to do florals for basically ALL of our family friends' weddings and mom can't say no.
So, I am super excited to get into this all with you and get into DIY floral arrangements. I want share all the knowledge I learned from those years, as well as almost a decade of event planning and working with florals. If you want to check out one of my favorite step-by-step flower arrangements, check out these Passover Flowers.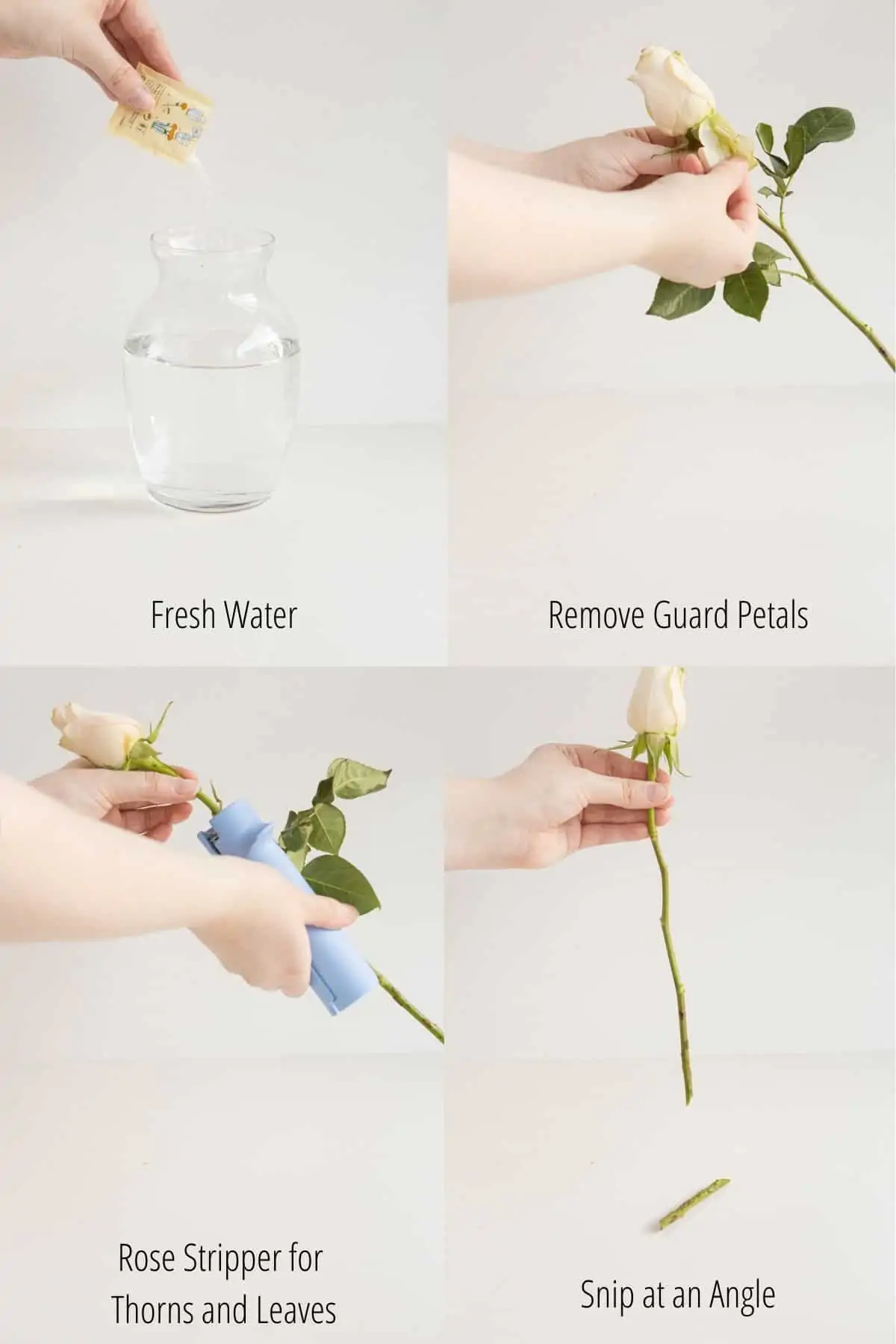 Flower Care Tips
I have a lot of tips for floral care, from picking them up in the shop to keeping them fresh for the longest time.
Finding Flowers: My favorite spots to find flowers are grocery stores, local flower shops/farmer's market, the flower market, or even your own garden flowers. Some flower markets allow you to shop without a retail license, just be sure to check beforehand. My favorite grocery stores to shop from for great flowers are Trader Joe's and Whole Foods. They tend to carry a variety of beautiful blooms and greens.
Choosing Flowers: When it comes to picking flowers, you need to look for color scheme, variety of textures, and mixtures of big blooms, small blooms, fillers, and greenery. When it comes to how they look, you want to make sure that you are paying attention to the date you need them ready for. If the arrangement your making is for the next day, make sure your blooms are mostly open. However, if the event is a few days away, you may want flowers a bit more closed.
Cleaning Fresh Flowers: When you bring the flowers home, you will want to do a few steps to ensure they last their longest.

Start by filling a few buckets or large vases with fresh, cool water. You can add in flower food or a little sugar, but it's not necessary. The best thing you can do for flowers is replacing cool water every day or every few days. You can also recut the ends every few days to make them last longer.
Clean off greenery/leaves that are on the stems so that no leaves will be in the water of the vase. For roses, you can use a rose stripper to remove thorns.
Remove any wilting guard petals.
Then cut off the bottom of the stems with a sharp flower or garden scissors/clippers. Cut at an angle to allow the stem to suck up more water. Quickly stick directly in water or even cut under the water. As soon as it is cut the opening starts to seal, you want to make sure it doesn't dry.

Opening Flower Heads: A few tips to get flowers to open. You can try to stick them in direct sunlight and a spot that's a little warmer. You can also try to quickly rub a rose stem between your palms and/or blow on the blossom to get it to open quicker.
Arrange Your Flowers: You can then arrange your flowers and cut the stems as needed. More on this below.
Keep them Fresh: Regularly change the water, with new fresh cool water. Also, you can clip the ends every few days and make them last even longer. There are even a few flowers that continue to grow after being cut, like tulips, certain irises, and hyacinth.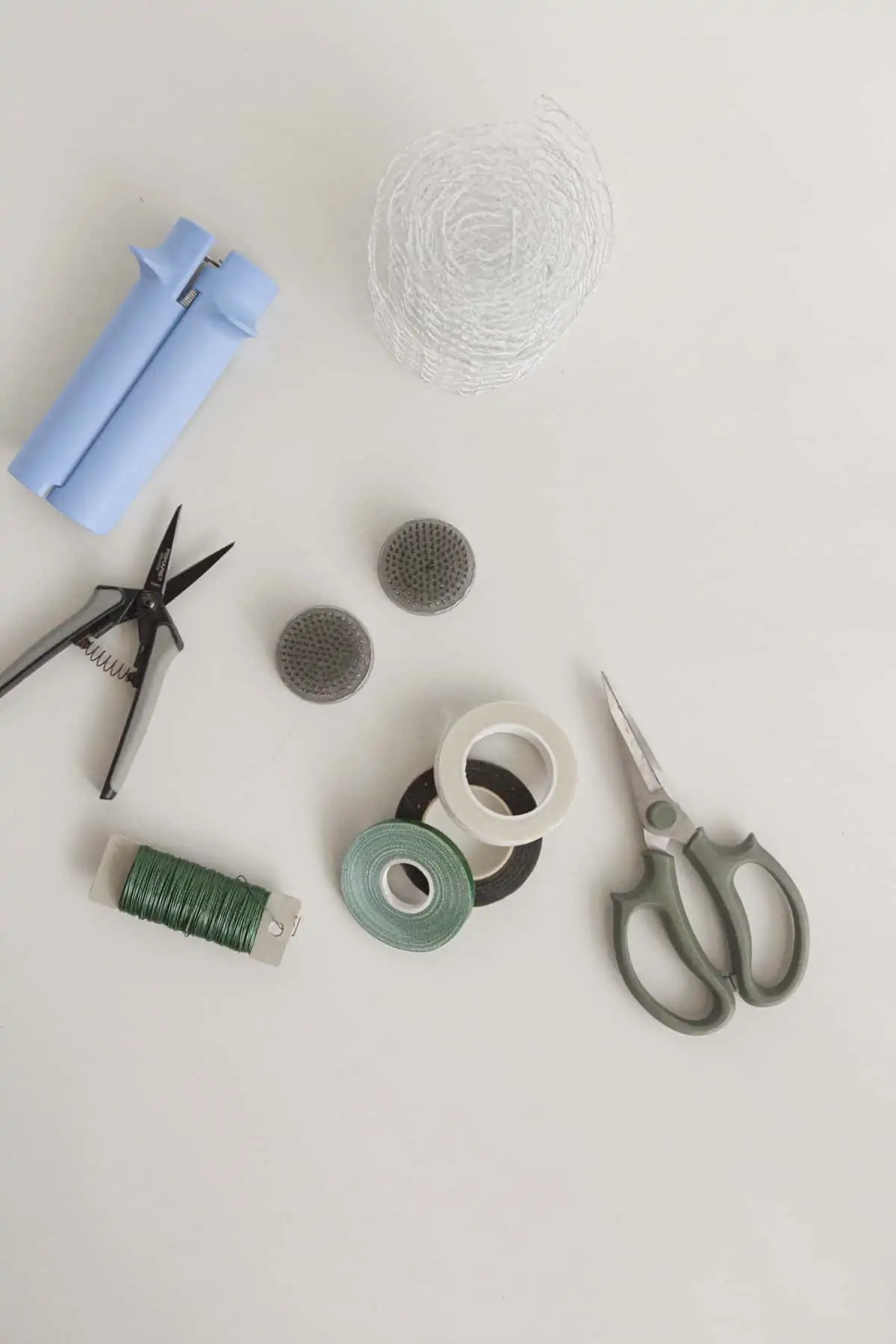 Flower Arrangement Tools and Materials
You can usually get by with just a few main materials like scissors/clippers and a vase for most DIY floral arrangements. But, I want to go over all my favorite tools and materials in case you're interested in using them. You can get most of these items online, at floral supply shops, or at certain local shops.
Floral Scissors/Clippers: A sharp pair of floral scissors or clippers are essential to flower arranging. Even for the simple arrangements.
Vases: There are a lot of options for vases from traditional vases, bud vases, containers, empty candle jars, or more.
Rose Strippers: These are great if you deal with roses often. They help me so much to not get stuck by thorns.
Garden Gloves: You can also use garden gloves with roses to keep your fingers safe.
Floral Wire: This can be great for making arrangements by hand, bouquets or even just arranging by hand and sticking in a vase.
Chicken Wire: I love to use chicken wire in my larger arrangements because it's recyclable and reusable. Versus a traditional floral foam, which is one and done. Also, floral foam can be touch because you should take stems out and adjust. It can cause issues.
Floral Frogs: These tools are super helpful for arranging super airy arrangements. You place them into the bottom of usually wide-mouth vases or bowls. And you can stick your stems into them and they hold tight. They are also heavy and sharp.
Floral Tapes: There are a lot of types of floral tape to use. Typical green, black, or white floral tape is usually used in wrapping bouquets, boutonniere, etc. I also love clear floral tape for taping a grid on a wide-mouth vase arrange flowers.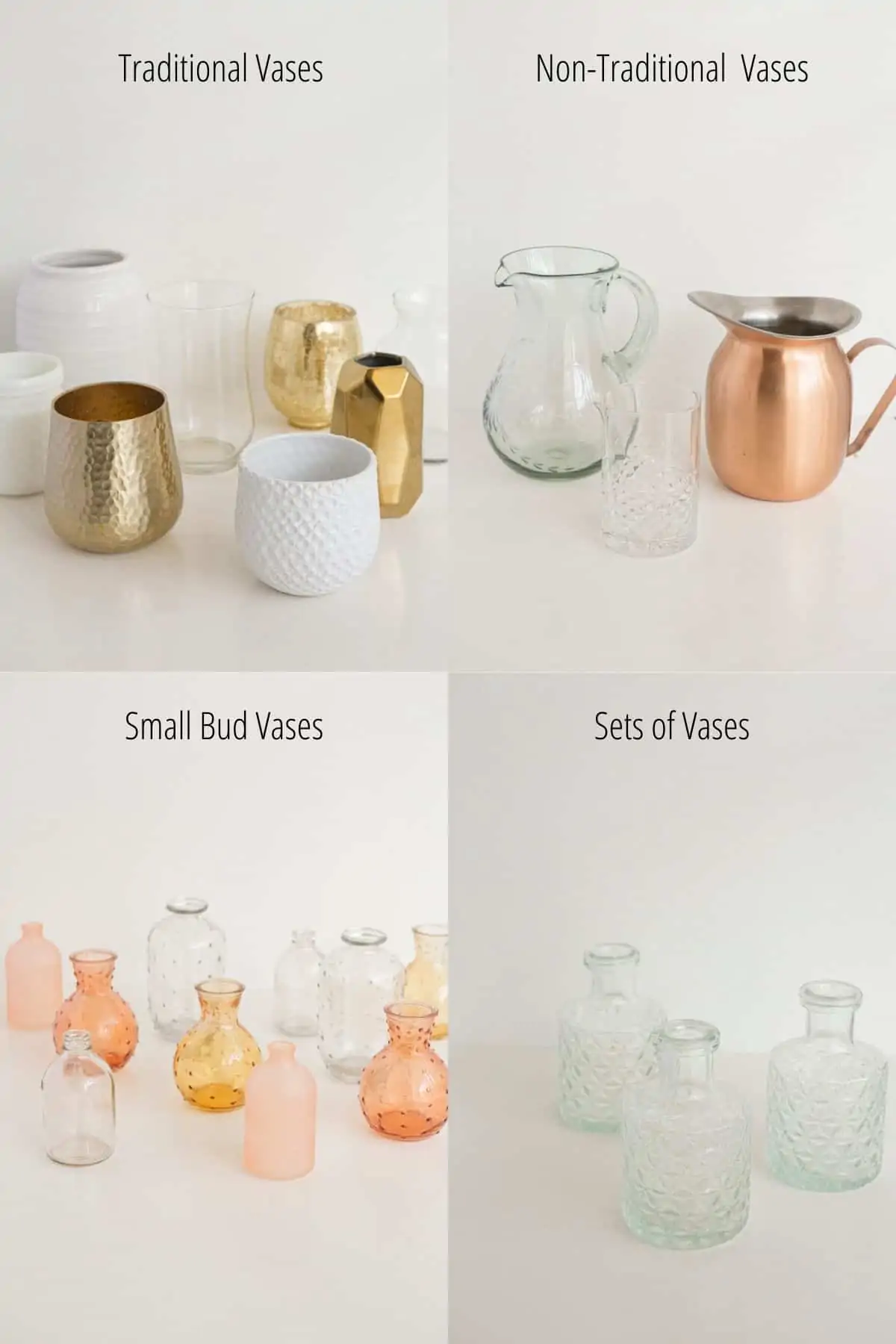 Types of Vases
You can create in any type of vase you have, but different types of vases will create different types of arrangements. And these can add so much to your home decor. Let's go over some options.
Traditional Vases: There is varying types of traditional vases from large to small, long and short/thin and open necks. These can shift things for how you arrange. The larger the opening/neck, the more likely you are to need: chicken wire, frogs, tape.
Non-Traditional Vases: This is something you might have in your house, but isn't an actual vase. Some ideas would be pitchers, empty candle jars, bowls. mason jars, empty bottles, glassware, etc.
Bud Vases: You can use a mix of a lot of bud vases, all the same color or within a scheme. These are great for tiny arrangements and lining the center of the table.
Sets of Vases: Using a matching set of vases is another great way to make your centerpieces go along the entire of the table.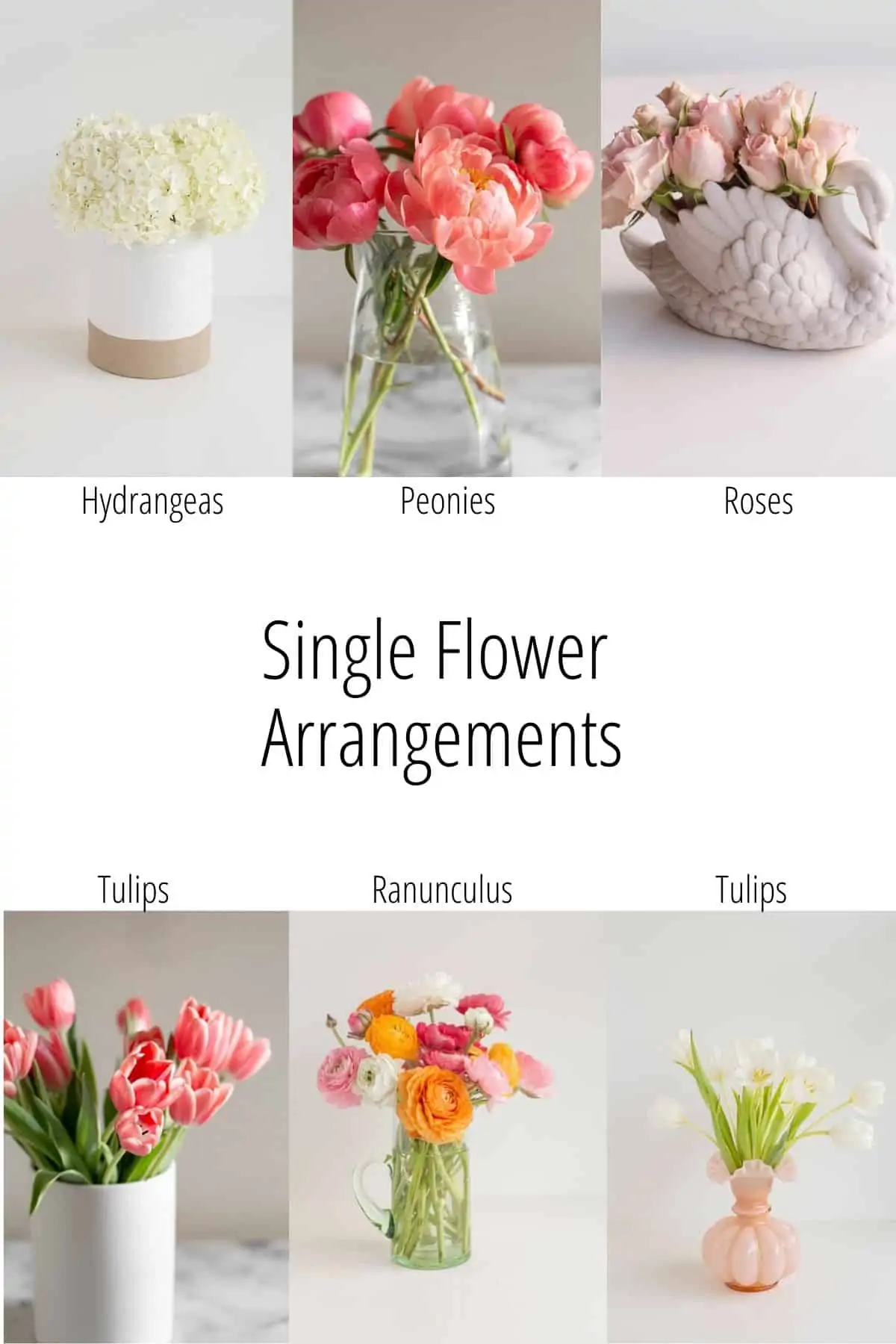 Single Flower Arrangements
I love a simple arrangement with just one type of flower and it's a great choice for DIY floral arrangements. It's simple, beautiful, and can be so easy to create. I try to do something with big blooms that stand out. Or use a unique vase. Some types of flowers I love to use are hydrangeas, peonies, tulips, roses, ranunculus, dahlias. I try to usually keep the stems longer for ones like tulips, ranunculus, etc. to keep them held high. However, I like to cut the hydrangeas and peonies a little shorter so that the heads meet the lip of the vase and fill up the top with their blooms. Of course, your blossoms will depend on the season. Some great ones year long are hydrangeas, tulips for spring, peonies in the early summer, and dahlias in the fall.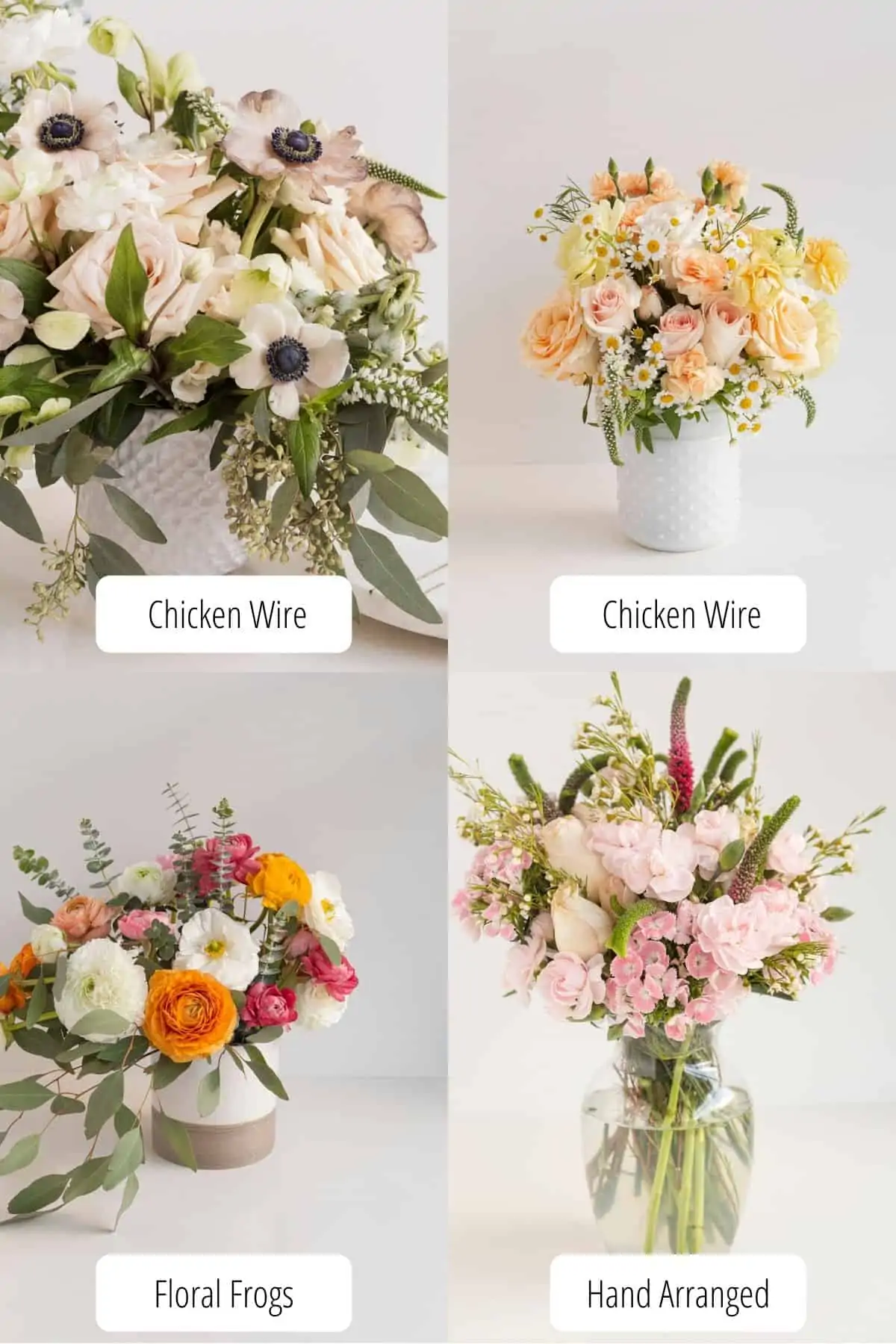 Floral Centerpiece Arrangements
There are some flower arrangements that are more complex to put together. These are the ones using a variation of flowers, a larger vase, and tools like floral frogs/chicken wire/tape. They also can be hand arranged or organic. But these will require a bit more of an artistic eye. You want to mix in the textures of multiple flowers and greenery. I like to add in things that add some dimension like longer stemmed veronicas or greens that stick out. Or anything that hangs like seeded eucalyptus. Some great other options are snapdragons, sweet peas, baby's breath. You want a variety of textures in petals and leaves. Some of my favorite flower arrangement DIYs can be found under Flowers. If you love DIY projects, this type of project might be right for you.
How to Take Care of Flowers in a Vase
The best advice I have to care for flowers in a vase are to:
Change the water daily with fresh, cool water.
Trim the bottoms of the stems with a pair of sharp cutters at an angle every few days.
Place them in a spot without direct sunlight (unless you are hoping to open the blossoms).
Make sure you have removed all leaves that would touch the water. The leaves can muck up the water even faster causing your flowers to wilt sooner.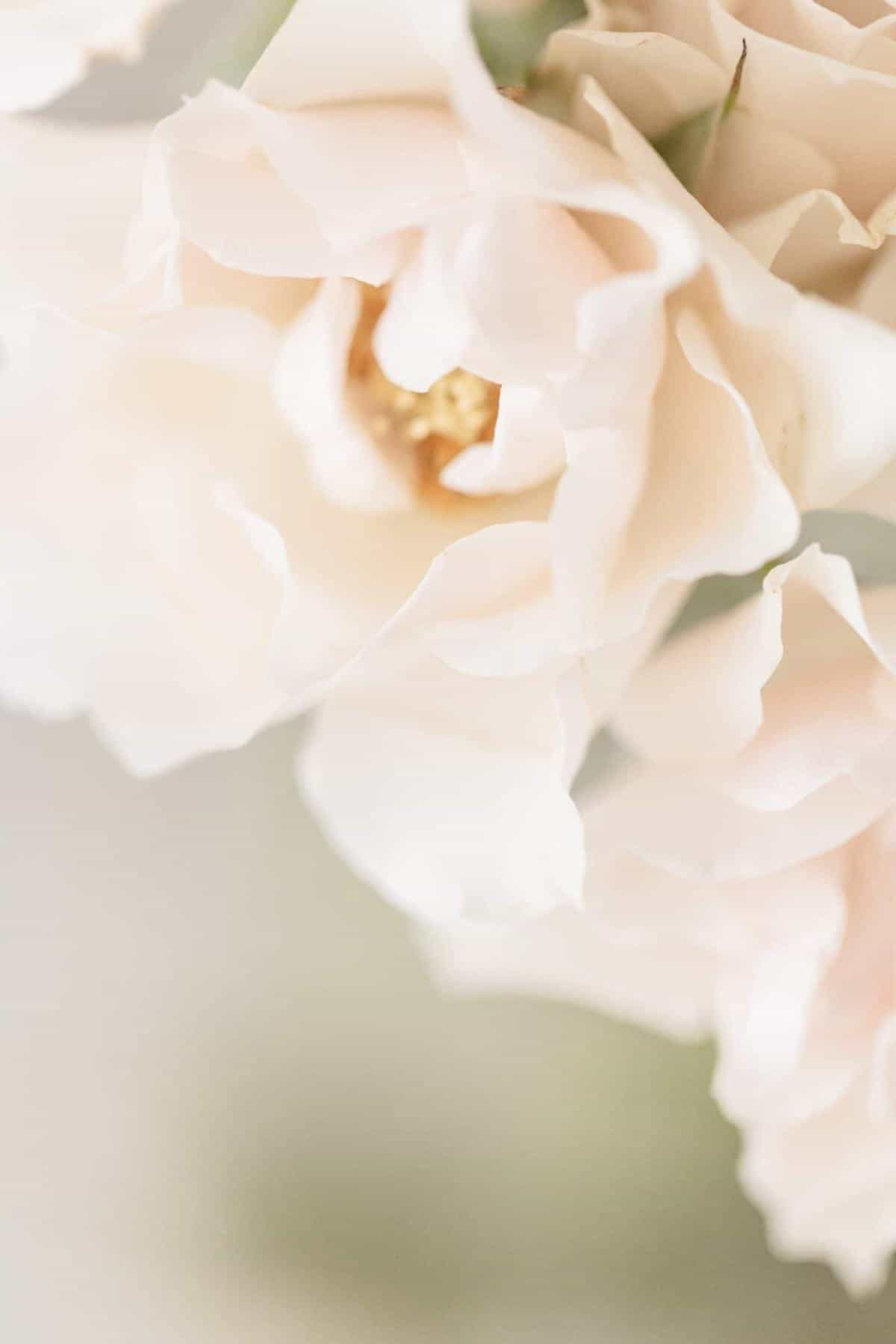 Love this Article?
Did you use this DIY Floral Arrangements article and did it help you? Awesome! If you have a quick minute and could leave a comment below, I would appreciate the support and knowing your feedback! And if you're over on Instagram, be sure to tag me in your photos of your arrangements.