These Strawberry Filled Cupcakes are small batched and make just exactly 7 perfect cupcakes. They are made with a vanilla cupcake recipe and filled with strawberry jam.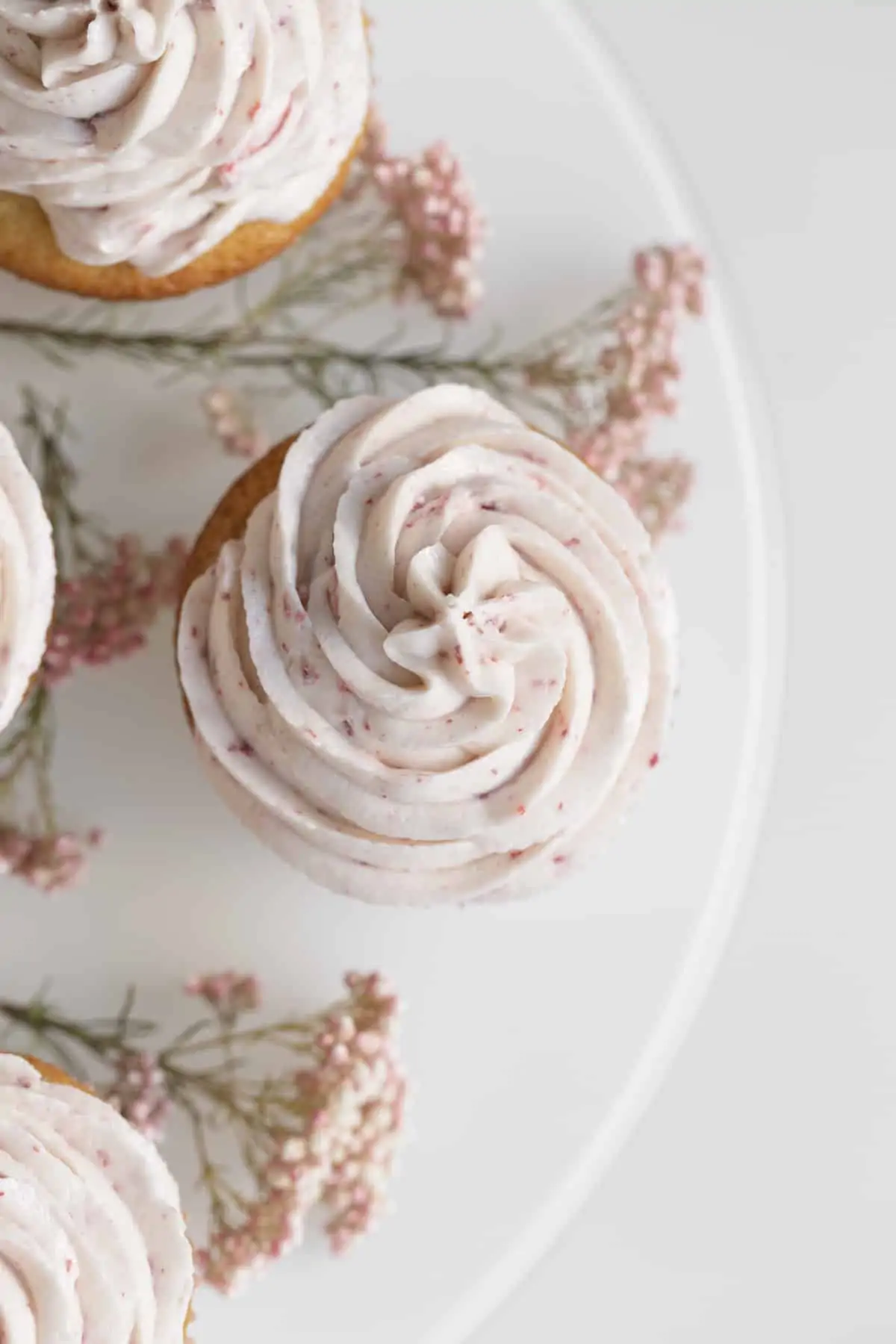 I love all things strawberry and getting them into as many recipes as possible when I can. As a kid I was absolutely not a jam fan, but have grown into one as an adult. Jam on toast, in baked goods, and even in the occasional drink!
These are perfect for a small gathering or for a sweet treat to get you through the week, but they don't take too much time or effort to make. And you won't be stuck with an excess of cupcakes. I love small batch so much that I've got a few other small batched cupcakes to share with you: Black Velvet Cupcakes - Small Batch and Small Batch Vanilla Cupcakes with Strawberry Buttercream.
I would recommend that if you want to make these ahead of time that you make the cupcakes and wait to fill with jam and top with icing until before serving them. They will hold up in the fridge, but they are best served at room temperature in my opinion.
Why You Should Try These Small Batch Cupcakes?
Cupcakes are a go-to for any type of celebration or dessert need because they are easy to make, easy to divvy up (no need to cut), can be customized with toppings, and are just so cute. These cupcakes take under an hour to make and is a great small batch number so you aren't overwhelmed by dessert.
You can also make substitutions in the jam filling with other preserves or even fresh fruit if you plan on serving them right away. I really love that you can really shift this recipe for your tastes and for different occasions or seasons. So easy to add in figs for late summer/fall or fresh blueberry jam in early summer! Whatever you're craving. However, you will want to adjust your frosting and remove the freeze-dried strawberries depending on your substitution.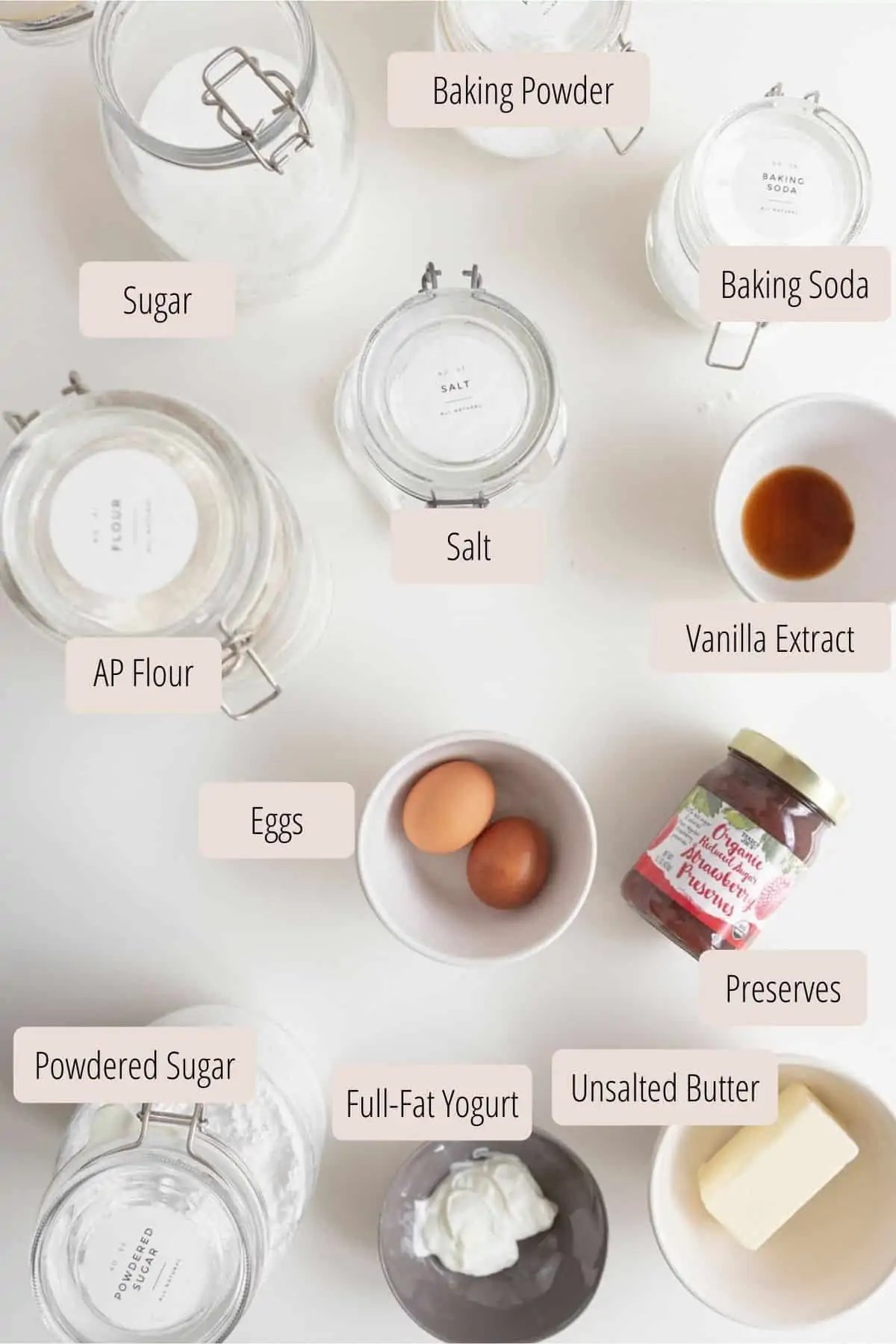 Ingredients
I always suggest using exactly what a recipe calls for, especially when baking. Baking is a science and switching out ingredients can cause big issues in the recipe. If you're looking for gluten-free, dairy-free, etc. it would be best to find a blog with that type of recipe. I am someone with a LOT of dietary restrictions and I can tell you, substituting isn't your best option. You are of course, more than welcome to try it, just a word of warning.
Here are a few notes about these ingredients:
Unsalted Butter: Why unsalted butter? Because in baking, unsalted is preferred so you can be in control of the amount added in. salted butter can vary in content, and this way you control it. It won't be too salty or not salty enough.
Egg Whites: This recipe calls for egg whites only. This works to build up a fluffy batter, keeps it nice and moist (egg whites have a higher water content), and keeps the cake batter a lighter color.
Flour: Use the spooning method to scoop your flour. Fluff the flour with a spoon. Use a spoon to scoop your flour into your measuring cup. It gives a more accurate measurement.
Salt: I prefer a fine grain sea salt or kosher salt for baking inside the dough or batter. But for a topping to the dish, a flakey salt is great.
Full-fat Yogurt: We want full-fat plain yogurt here for the amount of moisture it adds to the cupcakes. If we use non-fat or low-fat the cupcakes will end up being too dry. Use sour cream when making a substitution.
Freeze Dried Strawberries: Now, you don't need to use freeze dried strawberries in your buttercream frosting, I just love the color and flavor they add. But your strawberry jam really packs a punch too.
Powdered Sugar: Use the spooning method to scoop your powdered sugar. Fluff the sugar with a spoon. Then use that spoon to scoop your powdered sugar into your measuring cup. It gives a more accurate measurement.
Strawberry Filling: This is the only thing I really feel okay recommending substitutions for. You can use another preserve or even fresh strawberry inside of this if you'd like. Add in chopped strawberries, raspberries, or other berries could work, or another jam could work as well.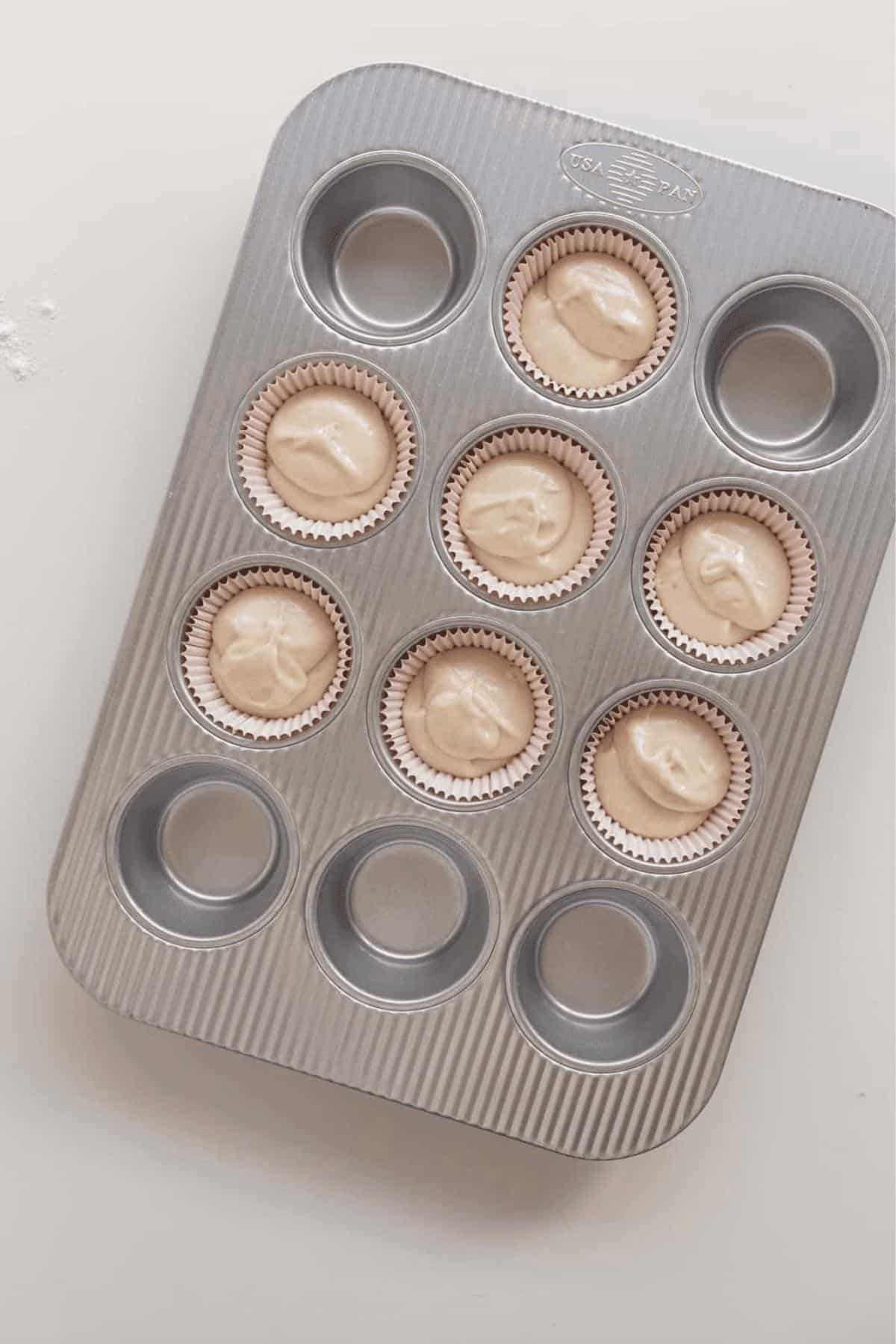 Why Bake with Room Temperature Butter & Eggs?
Here are some of my tips on why room temperature baking really makes a difference!
Room Temperature Butter
Many of my recipes (and others) call for room temperature butter. This is due to a few things.
An emulsion is formed when the butter is at room temperature and mixing with the sugar. This helps to blend the butter and sugar into a smoother consistency and create a cohesive batter.
You are whipping in the air into the batter because it will later help in baking when you get that light and fluffy texture. If you don't have it at room temp it can become very dense.
How to get your butter to room temperature quickly: I usually leave mine on a plate on the counter for a couple of hours or maybe on the oven if it's being used for something else. If you need it done even quicker, try this tip from Sally's Baking Addiction.
Room Temperature Eggs
A lot of baking recipes (mine included) ask for room temperature eggs.
This is because a room temp egg is easier to break down than a cold egg. So, therefore, it mixes into the batter better.
Also, room temp eggs get a better volume making for a fluffier baked good.
How to get room temp eggs: I would suggest leaving them on the counter for about 1 hour to get room temperature. However, if you forget or run out of time, another option is to place the eggs into a bowl of warm water (not hot) for about 10-15 minutes.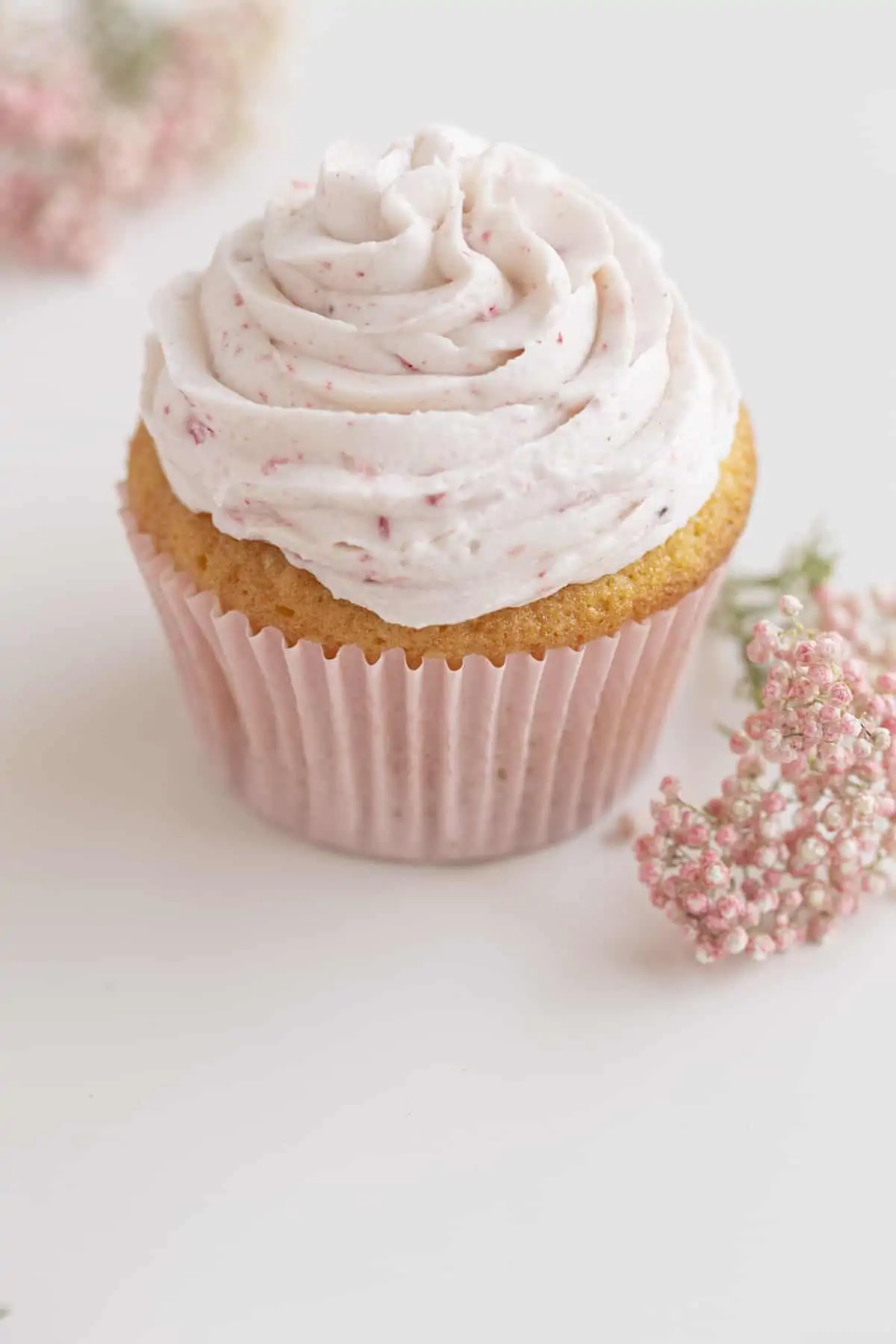 How do I make my cupcakes fluffy?
There are a few methods and tips that I recommend for this.
- Using a mixture of baking powder and baking soda. The baking powder adds a lot of leavening to the batter and creates a lighter texture.
- Room temperature butter and eggs help to make the blending of wet ingredients easier and create a light and fluffy batter, which then turns into a fluffy cupcake.
- Whipping the butter and sugar together. This will emulsify your sugar and blend it into the butter for a smoother finish, while also trapping in the air creating a light and fluffy result. You really want to keep that time right around 2 minutes for a cupcake batter this small or you'll trap in too much air and it will deflate in the oven.
- Keep from overwhipping your batter once the flour is added. You want to make sure it's completely combined so it's not too crumbly and the gluten is mixed. But if you have an over-whipped batter it can create a dense cake.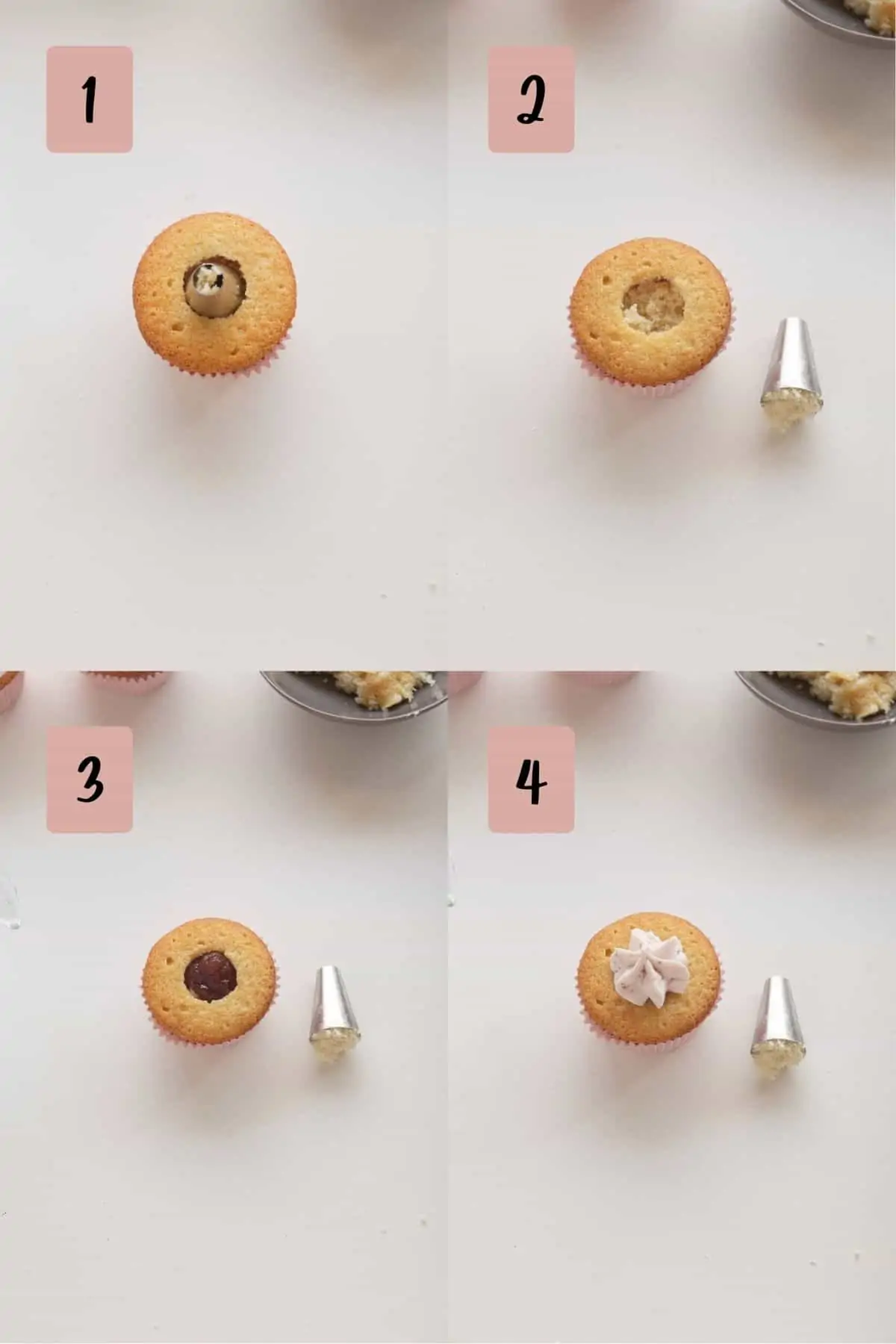 How do you make strawberry filled cupcakes?
After you bake your cupcakes you will fill them with your strawberry preserves. This is how you do it.
In a cooled cupcake, take a medium sized piping tip and stick it into the center of the cupcake and push down, not quite to the bottom of the cupcake.
Twist the piping tip and pull up, twisting as you pull up. Empty the piping tip.
Scoop or pipe in the jam filling into the hole you created in the cupcake.
Pipe a little dollop of frosting on top of the filled hole. This will keep the jam from spreading when you pipe the frosting. It will also build a nice base for your frosting.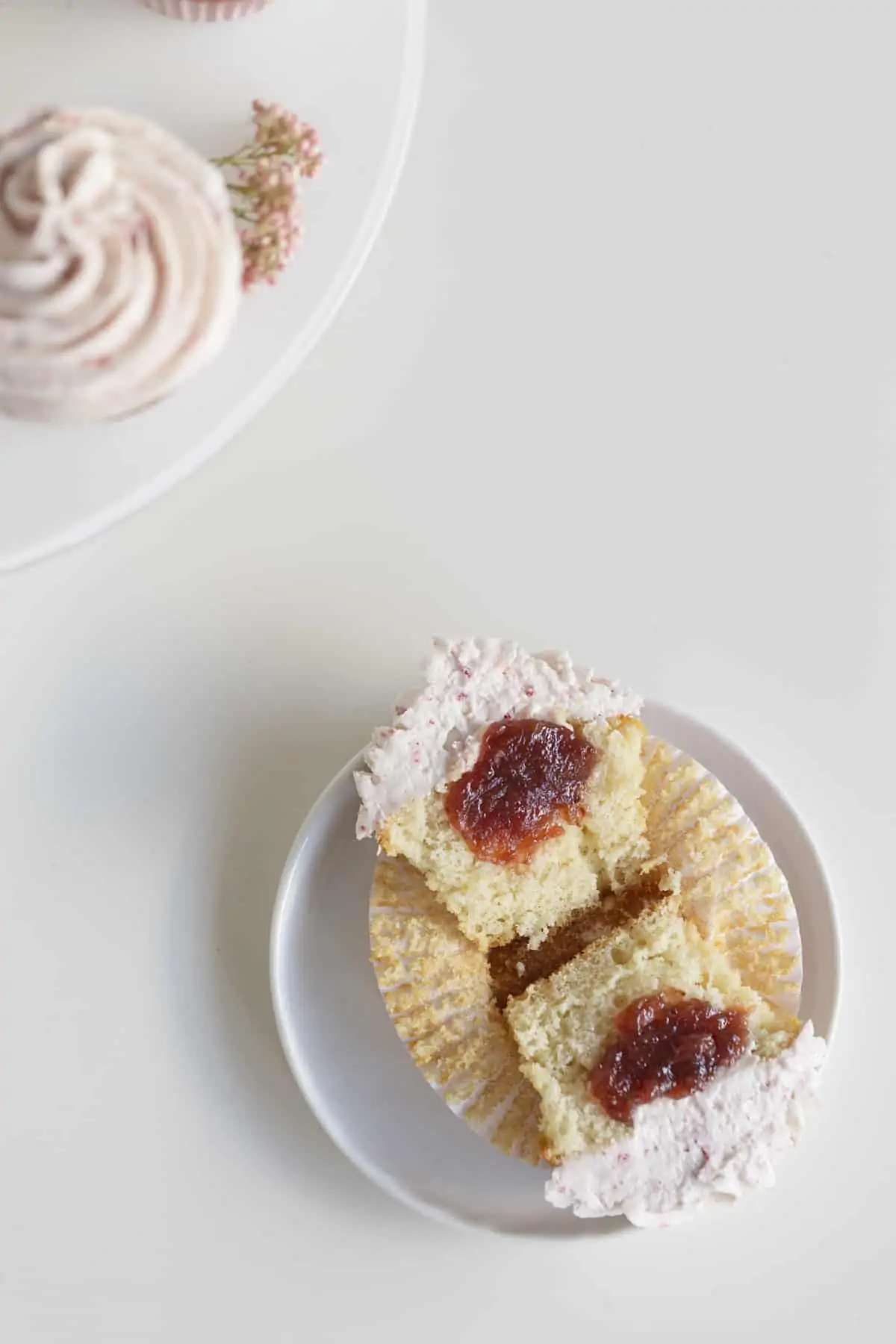 FAQs
Why do you need to alternate ingredients or add them in batches?
Alternating ingredients like dry ingredients and dairy (yogurt in this recipe) helps the batter to incorporate fully and fewer clumps to form. And keeps it from over mixing. The batches, like the powdered sugar in the frosting helps with keeping the sugar from going everywhere while it mixes and incorporates it easier.
Why is my frosting so thick?
At first, your frosting will be thick. Adding in vanilla extract and a bit of milk (heavy whipping cream or milk alternative) will thin it out a bit. That's why you only want to add in about ½ tablespoon at a time so you don't make it too thin. But this will help. Honestly, your frosting with just butter and powdered sugar might look like dough in the beginning, don't worry. Adding in the liquid will thin it out, just keep whipping!
How to Store Cupcakes
There are two options for this. If you leave the cupcakes unfrosted and unfilled, you can keep them in an airtight container on the counter, in a cool and dry spot for a few days before prepping them. However, once they are filled and frosted, you will want to place them into an airtight container and put that into the refrigerator for up to one week.
What are the substitutes for a cupcake liner?
If you don't have cupcake liners you can grease the wells super well or you can cut some parchment paper into large squares, gently push into the wells, the sides will overlap. And push a small cup into it to crease the folds. You might need to hold it in place as you scoop in the batter, but it should work like bakery-style tulip liners.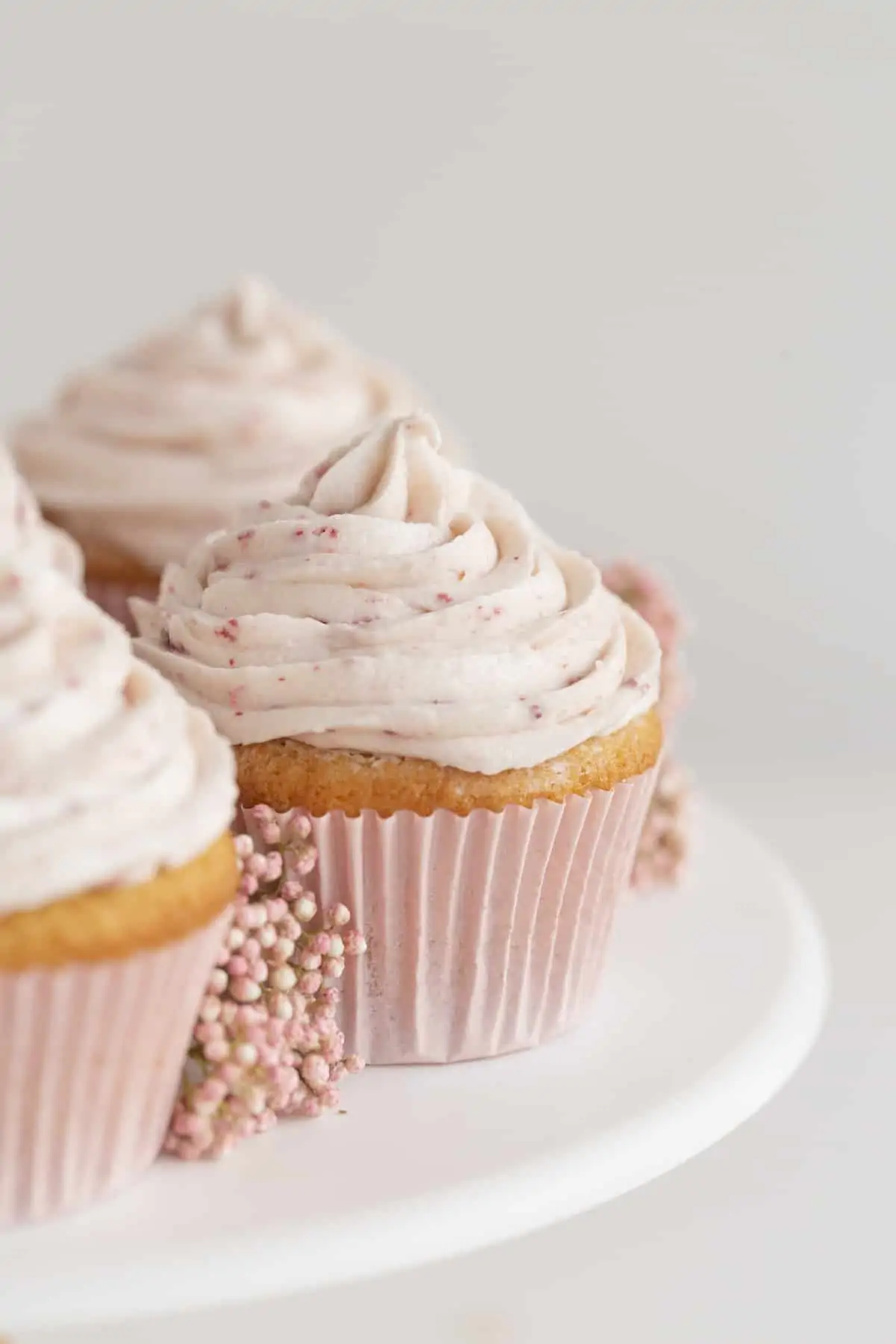 Other Recipes to Try
Love this Recipe?
Did you make this recipe and just love it? Awesome! If you have a quick minute and could leave a star rating and comment below, I would appreciate the support and knowing your feedback! And if you're over on Instagram, be sure to tag me in your photos!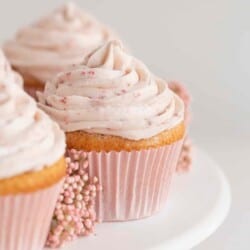 Ingredients
Wet Ingredients
3

tablespoon

unsalted butter

room temperature

½

cup

granulated sugar

2

egg whites

large, room temperature

½

teaspoon

vanilla extract
Dry Ingredients
¾

cup

all-purpose flour

sifted

½

teaspoon

baking powder

¼

teaspoon

baking soda

½

teaspoon

salt
Dairy
2

tablespoon

full-fat yogurt

plain
Strawberry Filling
⅓

cup

strawberry preserves
Buttercream*
½

cup

unsalted butter

room temperature

1

teaspoon

vanilla extract

2 ½

cups

powdered sugar

sifted

1 ½

tablespoon

milk

milk alternative

¼

cup

freeze dried strawberries

smashed
Optional Toppings
edible flowers

sprinkles

strawberry

sliced or whole
Instructions
Cupcakes
Preheat your oven to 350°F and prepare 1 muffin/cupcake pan with oil or cupcake liners. If using a cupcake pan with 12 wells, prepare the middle 6 wells, plus 1 side middle well.

In a stand mixer beat your butter and sugar for about 2 minutes on a low- medium speed (4) with a paddle attachment, until fluffy. Scrape sides of bowl as needed.

Add in your egg whites until thoroughly combined. Scrape down sides of bowls. Then add your vanilla and mix until combined.

In a medium-large mixing bowl mix your dry ingredients for the cake and mix (flour, baking flour and soda, salt).

In 2 batches add in your dry mixture into the wet mixture on a lower speed, alternating with 1 batch of your yogurt. ½ dry ingredients, the yogurt, ½ dry ingredients. Don't over mix.

Scoop batter evenly into 7 cupcake liners/wells. Lightly slam the cake pans on the counter to try to get rid of any major air bubbles. Fill up the remaining 5 outer wells with 1 tablespoon of water.

Bake for about 17-19 minutes. Check with a toothpick until clean. Pull cupcake pan out of the oven and let the cupcakes cook in the pan for about 10-15 minutes. Then remove cupcakes onto a cooling rack until cooled to room temperature.
Buttercream
Using your mixer and the paddle attachment again, whip the butter for 8 minutes on medium speed. Scrape sides of the bowl every 1-2 minutes or as needed. The butter will become very creamy! Add in the vanilla until combined.

Sift the powdered sugar into a separate bowl.

Add the powdered sugar into the butter in 2 batches. Go slowly until incorporated, scraping sides of bowl as needed, then mix on medium for 1 additional minute.

Next, add in milk ½ tablespoon at a time and incorporate. You might find you need a little less milk or a tad bit more to get it the right consistency for your preference of piping.

Whip on a medium speed for 2 minutes. Add in freeze dried strawberries and mix until incorporated.
Assemble
Place frosting into a piping bag and use your favorite tip.

Take cooled cupcake and a second piping tip. Core out a portion of the center of the cupcake by pushing piping tip down into the cucpake and twisting out. Fill the empty spot with the strawberry jam by spooning or piping into the hole.

Pipe each cupcake with frosting. One dollop to cover the hole and then pipe in a swirl the rest of the cupcake. Decorate with edible flowers, sprinkles, or a slice of strawberry, etc.
Notes
- Don't over mix or you'll end up with too rubbery/dense of a cake. Just 2 minutes maximum at the start and until incorporated with all other steps.
- If using a cupcake pan with 12 wells, prepare the middle 6 wells. Then fill each side well with about 1 tablespoon of water.
- Scrape often, about once in the middle of each step and once at the end of each step. With this small of a batter, you need to make sure everything is being mixed thoroughly.
- Use the spooning method to scoop your flour. Fluff the flour with a spoon. Use a spoon to scoop your flour into your measuring cup. It gives a more accurate measurement.
- Use the spooning method to scoop your powdered sugar. Fluff the sugar with a spoon. Then use that spoon to scoop your powdered sugar into your measuring cup. It gives a more accurate measurement.
* This is a buttercream with strawberries, but for a Strawberry buttercream, try this recipe: https://amandawilens.com/small-batch-vanilla-cupcakes-with-strawberry-buttercream/
Tried this recipe?
Mention @amanda.wilens