Valentine's Date Night at Home
This post is sponsored by Greetabl, but all thoughts and ideas are my own.
I am so excited to be working with one of my favorite partners again on something special. If you aren't familiar with Greetabl, they are a small business that creates custom gifts for every occasion. You pick a custom box design (designed by different artists) and add a custom message to the recipient and well as photos that they can tear off and save. Then you choose a small gift to go inside the box. They work with a lot of small businesses as well. Some items you can find include candles, candies, jewelry, keychains, card games, tea, beauty supplies, enamel pins, and more!
For this collaboration I created a small batch dessert, vanilla cupcakes with strawberry buttercream frosting. And then made a small table setting for a date night at home for you and your partner(s). Or you can celebrate with your family at home. It's so important to have something to do from home for Valentine's Day.
I can't wait to share more about this collaboration with you all the whole date night idea with details, set-up, below and the Small Batch Vanilla Cupcakes with Strawberry Buttercream over on that post. And Greetabl also wrote a post on How to Show Your Love.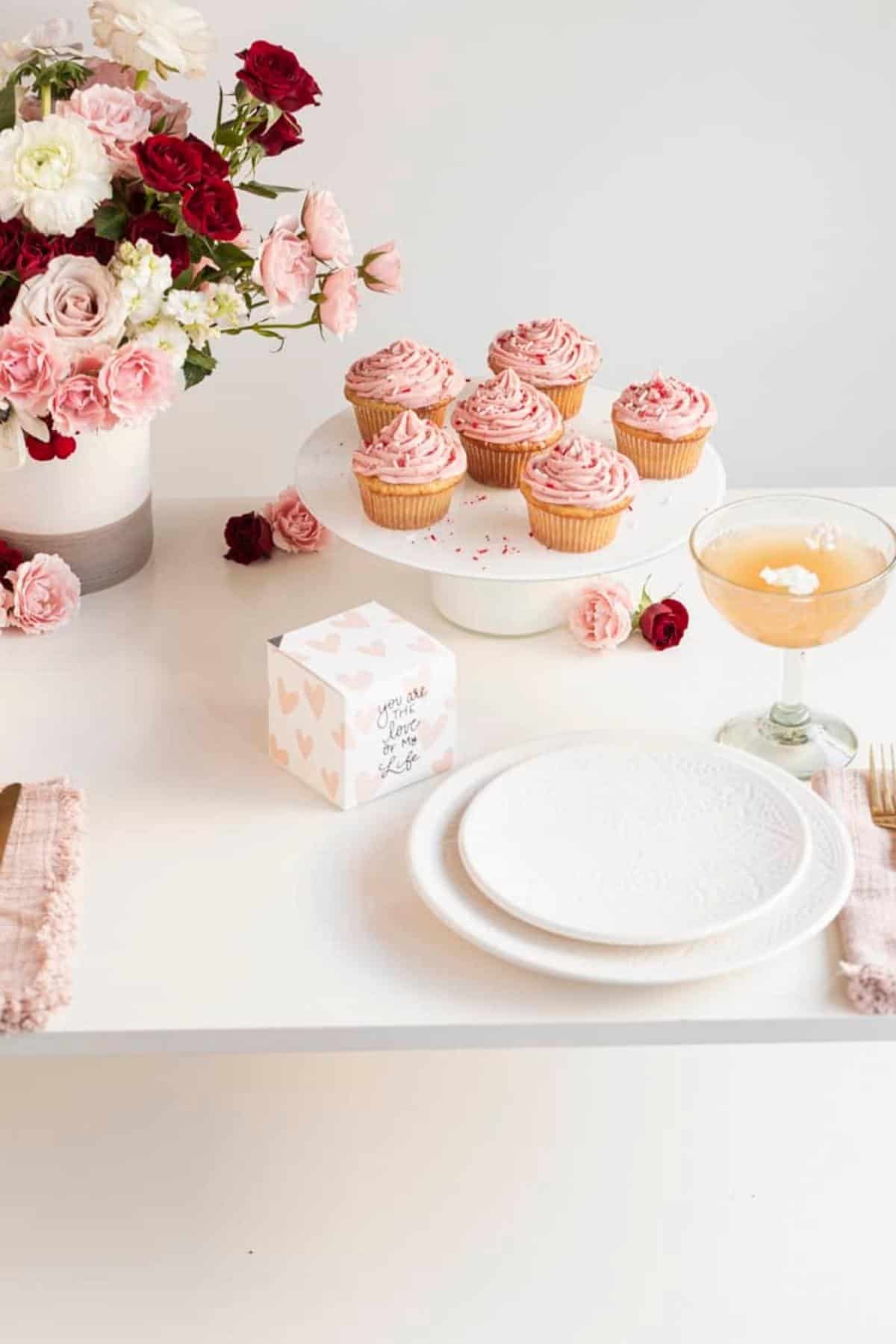 Table of Contents
DIY Valentine's Day Date Ideas
Making your own celebrations at home doesn't have to be something extremely elaborate or taxing. I have a few tips to make things easier!
Order special flowers or make a fun bouquet. Make something for the holiday and place it on the table. I went with a local florist to support buying local!
Decide if you're going to do a full dinner or meal, or make just something small and special. For this idea, it's dessert and drinks. You could make something easy or even order take-out/delivery for dinner to make things a bit easier. Again, supporting local business owners as well.
Set up the table with special plates and glassware. You know the fancy stuff or fun stuff you don't usually use? Yeah, use that. Get out some fancy glasses, linen napkins you always forget about and actually set the table…in our case, the table is actually a coffee table since our place is so small! But it's fun.
Pick out a small but meaningful gift. That's why I love Greetabl. It's customizable and you get a card and gift all in one…and you get photos printed! Which, we always forget to do, so this is a great idea.
Have an activity! This can be watching a special movie, listening to records, or playing a fun game. This year Greetabl even has some games in their option of gifts. It's great to have something to do as well as just eating.
Know your person's love language. For me, I love acts of service. So, having my partner plan and put all this together would mean everything and would be the gift itself. But, if you know your partner loves quality time, plan it together! Know what they would appreciate.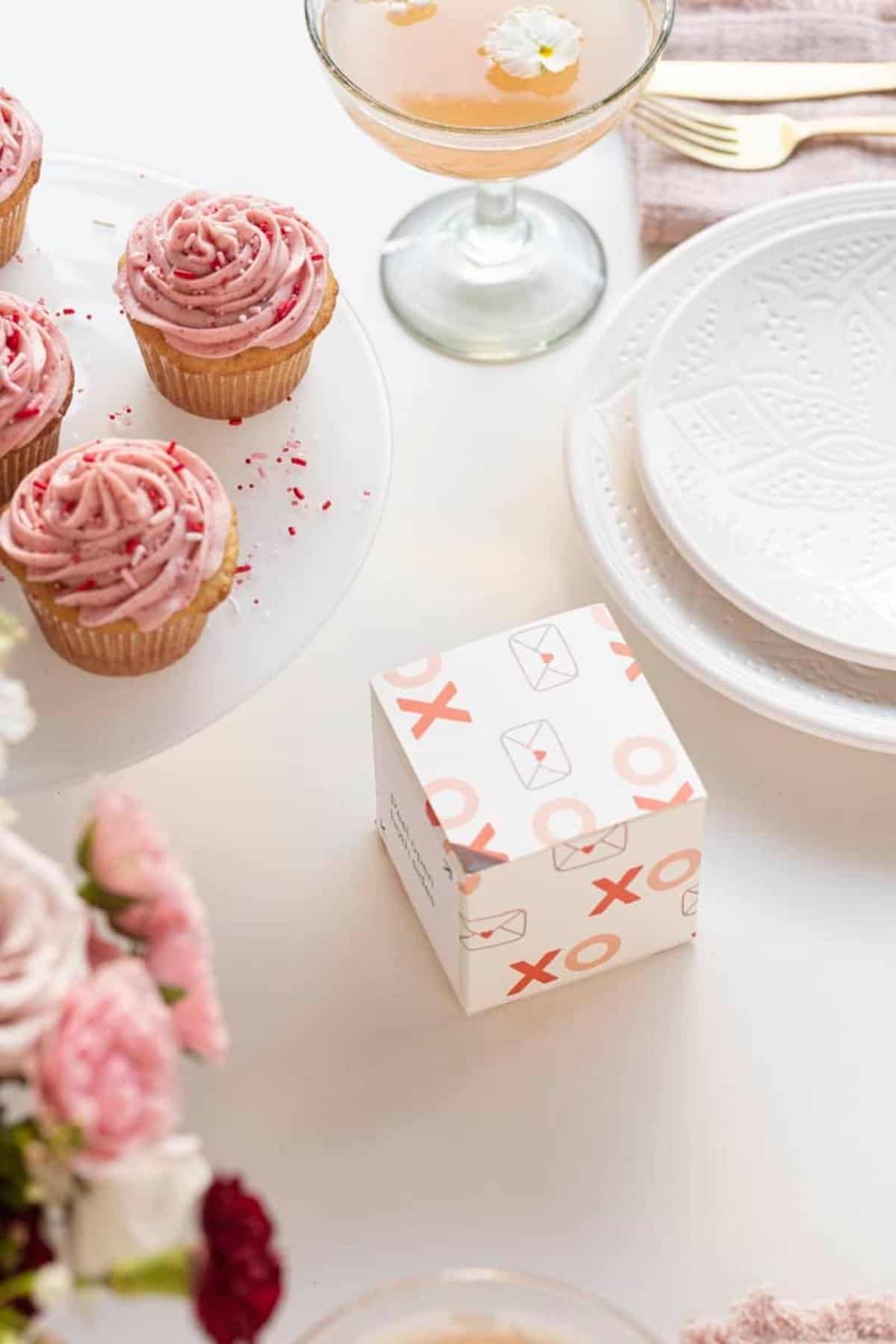 Valentine's Day Gift Ideas
I gotta talk about Greetabl here because I think they do a great job. I would say that they have some great gifts for the holiday. Tyler and I love to celebrate V-Day, but we don't spend a lot of money on it. It's just not the most important for us to get each other expensive gifts. Just something meaningful and sweet. You also get some print outs of photos which I love. Some of my favorite gifts for Valentine's Day from them would be: the Seaberry and Rose Bath Bomb, 52 Ways To Stay In Love Cards, XOXO Chocolate Hearts, Date Night In a Box, and any of the candies. I do have a sweet tooth after all.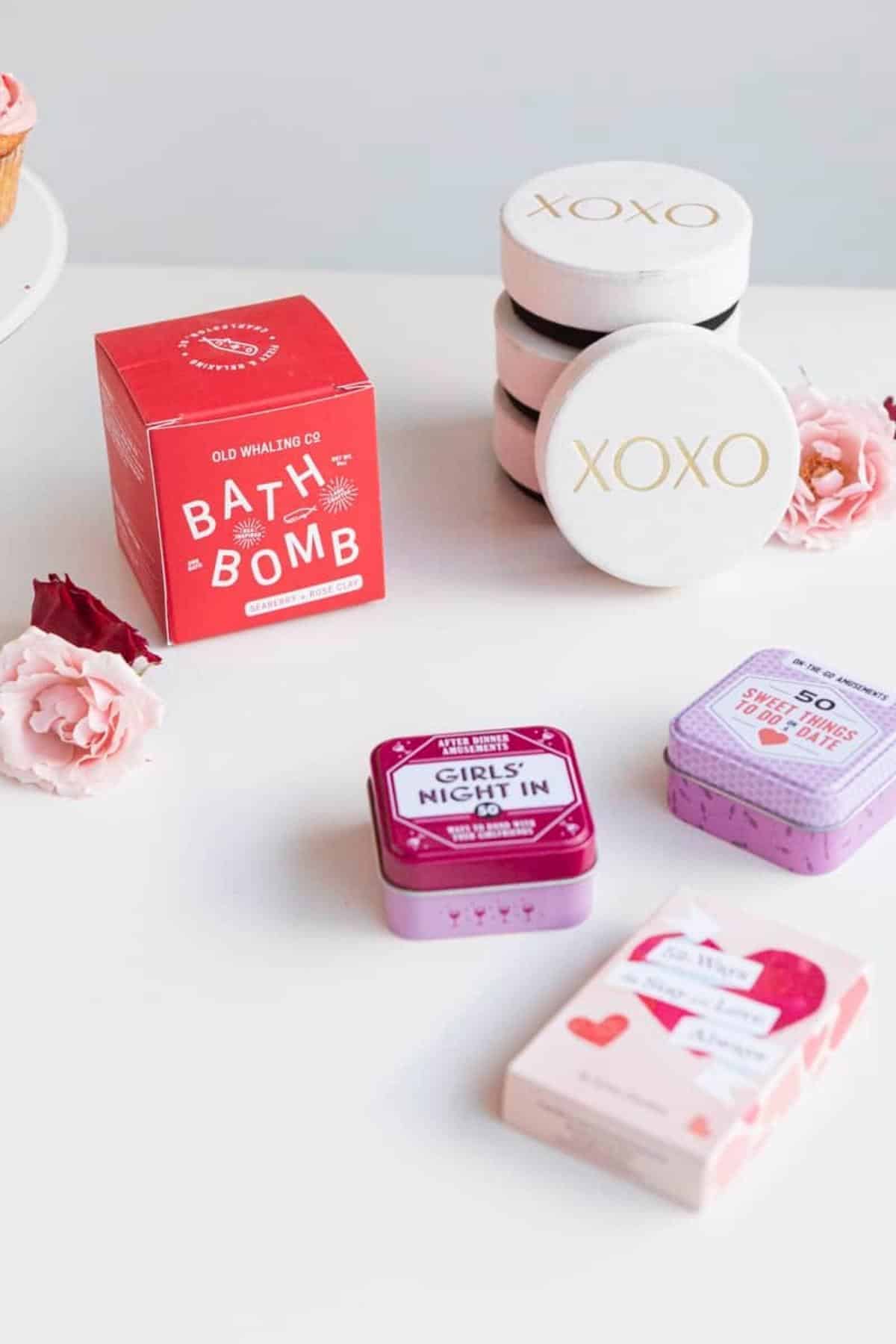 How can I make a romantic night at home?
Know your partner and their love language. It sounds simple and it is. If you don't know each others yet, take the online test by Googling it! This could be a part of your date night. Then once you know, apply that not just to this day, do it every day! And don't assume someone's love language or give love in your language, give love in their love language.
If you know your partner loves quality time, pick something that would give you the whole day together.
Does your partner need words of affirmation? Make them an extra special card and fill it up with words of love, memories, and appreciation.
Acts of service? Then take time to set something up for them. Or if you know they are overwhelmed with work or chores, step in and help them out. Do one/a few of their chores for them to help out.
Do they need physical touch? Plan date night to be movies and cuddling on the couch!
Or if they really love receiving gifts try to think of something unique and special for them. It doesn't have to be extravagant, but thoughtful is important.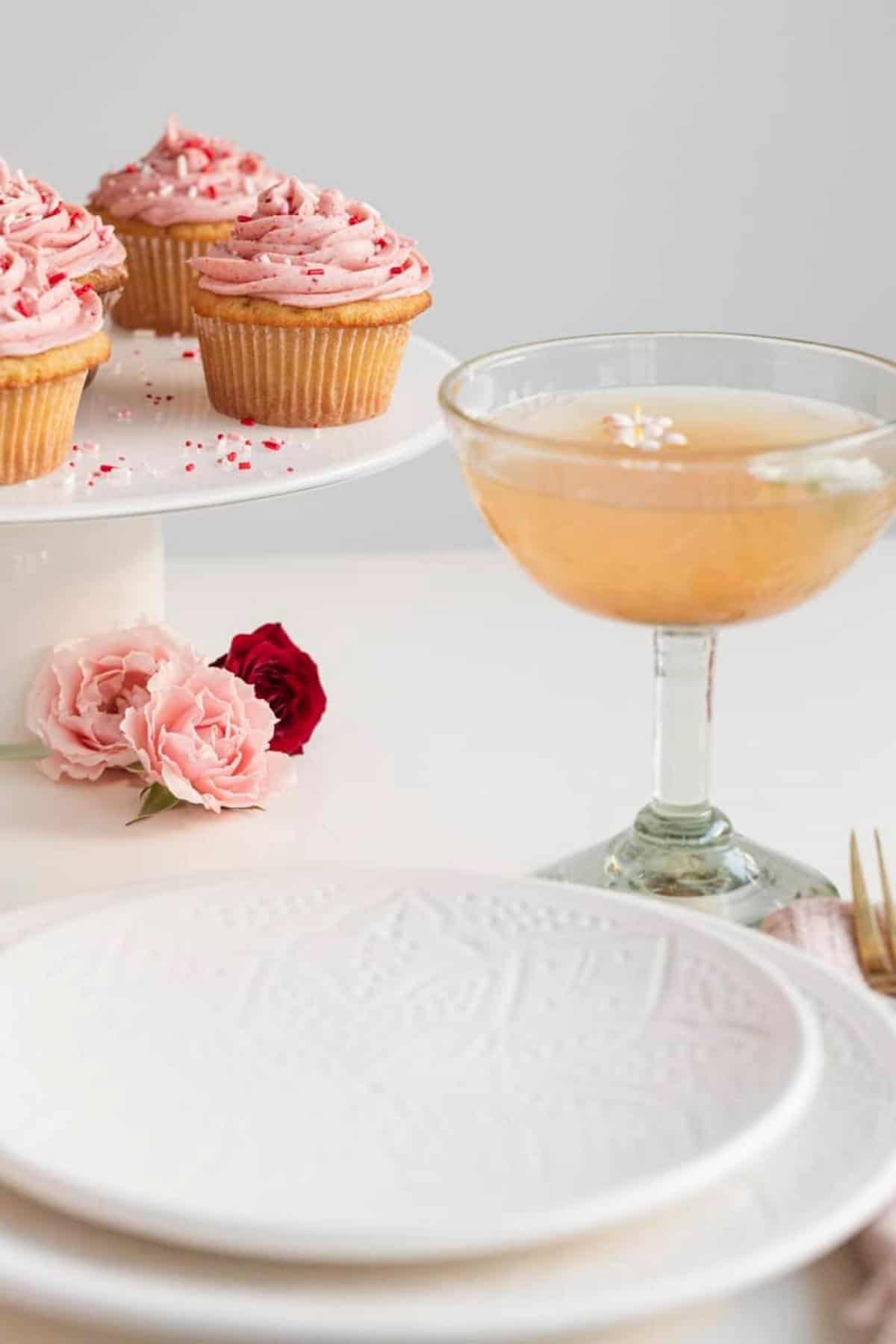 Valentine Date Night Table Setting
Let's talk table setting and what I did to prep!
I ordered a special Valentine's Day arrangement for the centerpiece of the table from French Buckets.
Then, I set out special The Little Market plates and wine glasses. I also added some pink linens and gold silverware.
Then I added on a small charcuterie platter. Just some cheeses, meats, crackers, chocolate covered strawberries, and candies. It was small and simple to make.
Then I added the gifts to the table. You don't have to do it this way, but it's a fun decoration and adds to the hype!
Added a cake stand with cupcakes with plenty of sprinkles from SprinklePop.
And I made sure to fill the glasses with a fun cocktail and topped those with edible flowers from my favorite Gourmet Sweet Botanicals.
Lastly, I added in a few loose extra roses around the table. You could do even more or even a little confetti.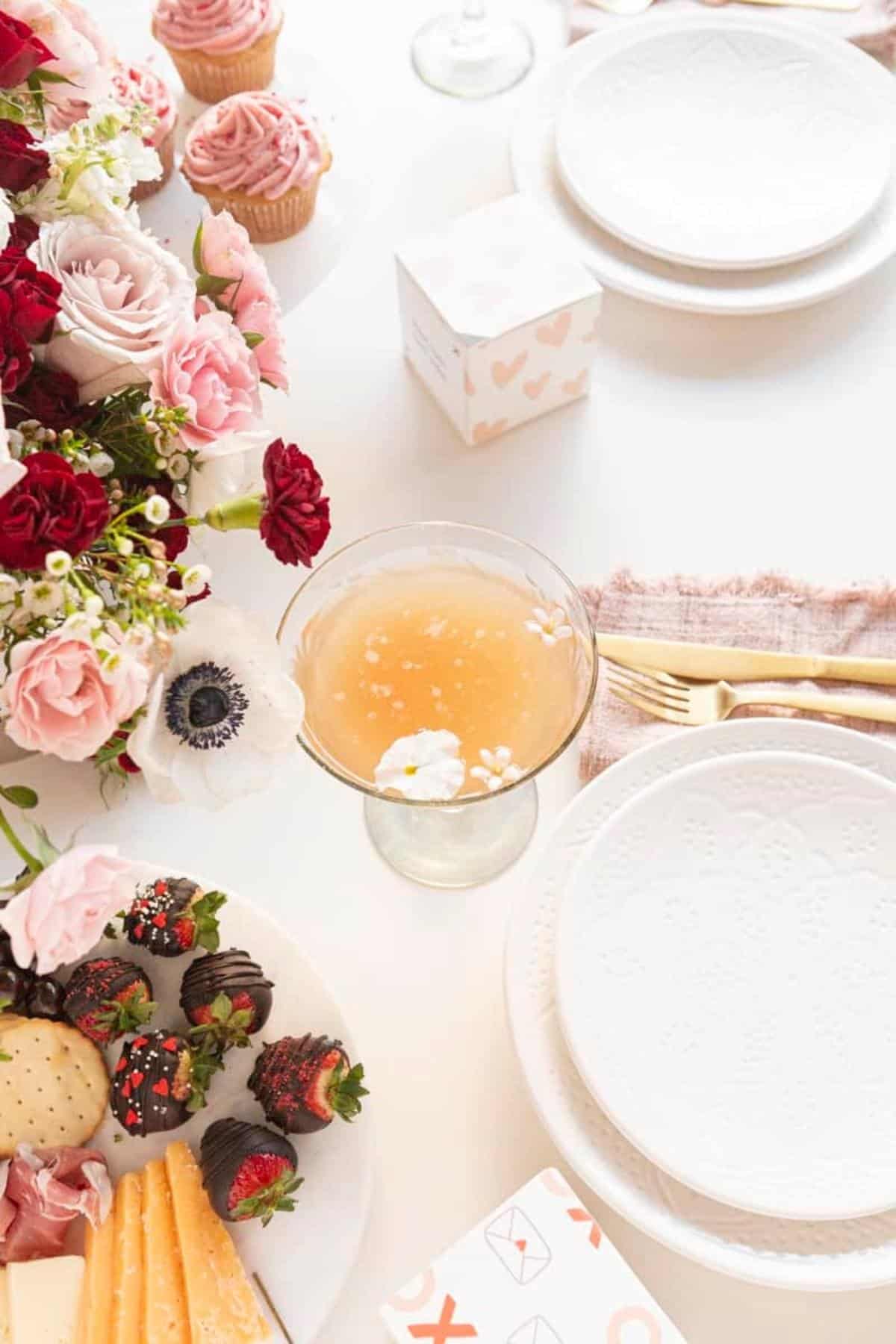 Cheap at Home Valentine's Ideas
This plan is fairly inexpensive, especially compared to a big night out. But some ways to make things even less expensive would be to try the following.
Make your own food! Make everything on your own. Making these cupcakes and a charcuterie board is fairly cheap. You could also make something like a flatbread and maybe spend $20 in total on food.
Make a cocktail! Cocktails are a fun way to actually spend less on alcohol as you're using less alcohol and you can buy a cheaper brand since it's being mixed it.
Greetabl gifts are fairly inexpensive and fun. But you can also make a gift or use this celebration as your gift!
Pick an activity at home that doesn't cost you. Watching a movie on a streaming service or DVD you already have. Play music you already own and have your own little dance/listening party. Play a game or do a puzzle. Google games like "Questions to Ask Your Partner on Date Night!" Make it fun without spending too much!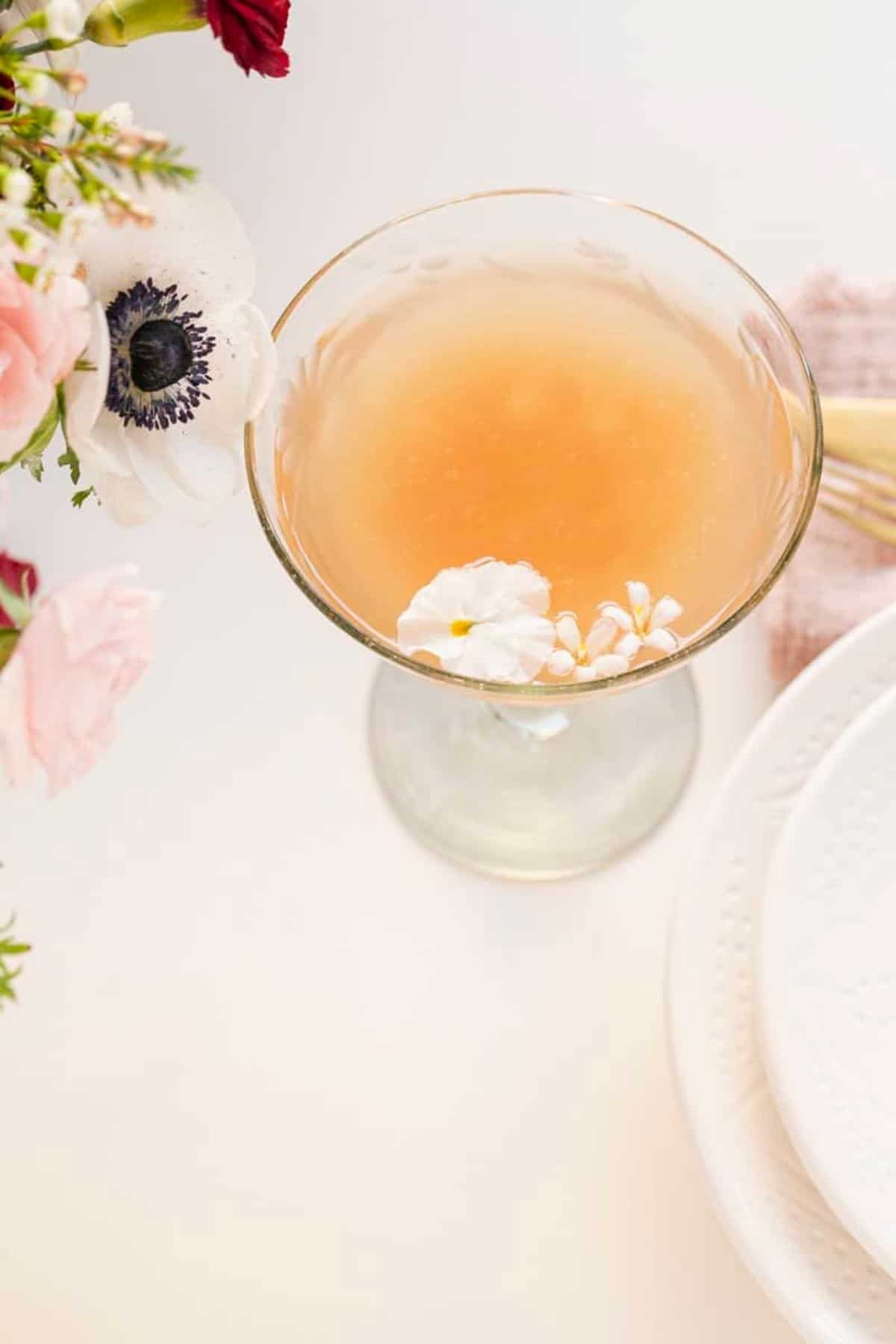 FAQs about Date Night at Home
How can I be romantic at home for Valentine's Day?
Learn your partner's love language. Then try to do something that fits their love language!
What can I do for Valentines Day at home?
Set the table, make or order some food, choose a fun activity like a movie or game, and celebrate being around each other. No need to do anything too elaborate.
Collaborators
Love this Recipe?
Did you make this recipe and just love it? Awesome! If you have a quick minute and could leave a star rating and comment below, I would appreciate the support and knowing your feedback! And if you're over on Instagram, be sure to tag me in your photos!