Pumpkin Spice Cake with Cream Cheese Frosting with a Gingersnap Crumble
This recipe was made in collaboration with The Little Market. The Little Market is a nonprofit fair-trade shop featuring ethically sourced, artisan-made products. They seek to empower artisans around the world by extending their products' distribution and supporting sustainable income opportunities. I love being a partner with The Little Market and getting to see all the amazing things that their work does. Below you'll see the use of The Little Market Berber plates.
This specific recipe was made in a set of fall recipes. I love making something special like this layered pumpkin spice cake with a cream cheese frosting. All the amazing fall flavors, but is something so unique and special with the gingersnap crumble. I might be biased, but this is the best cream cheese frosting. Not overly tart or overly sweet. It is the best cream cheese frosting!
Now, I'll go into some best tips for making this layered pumpkin cake.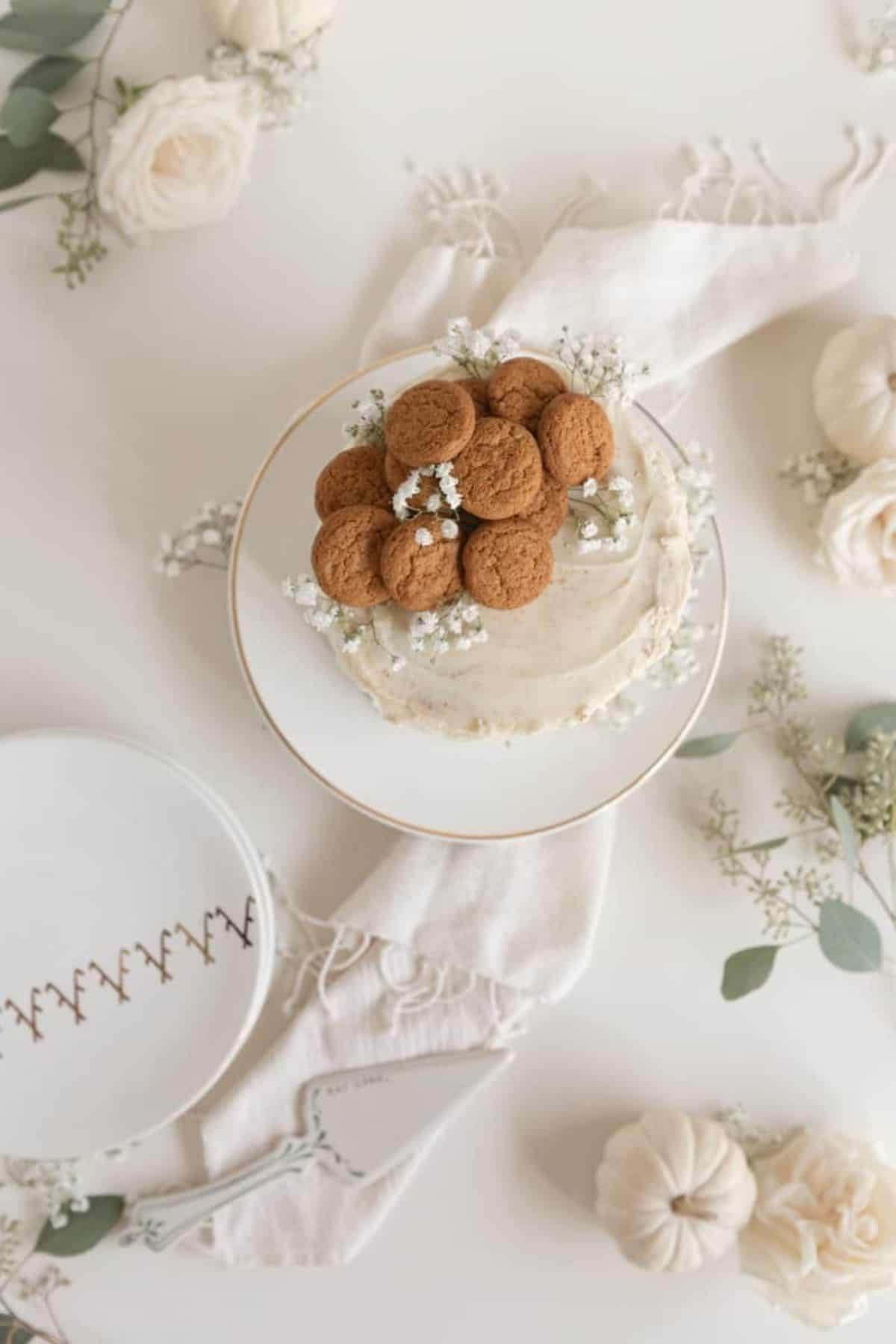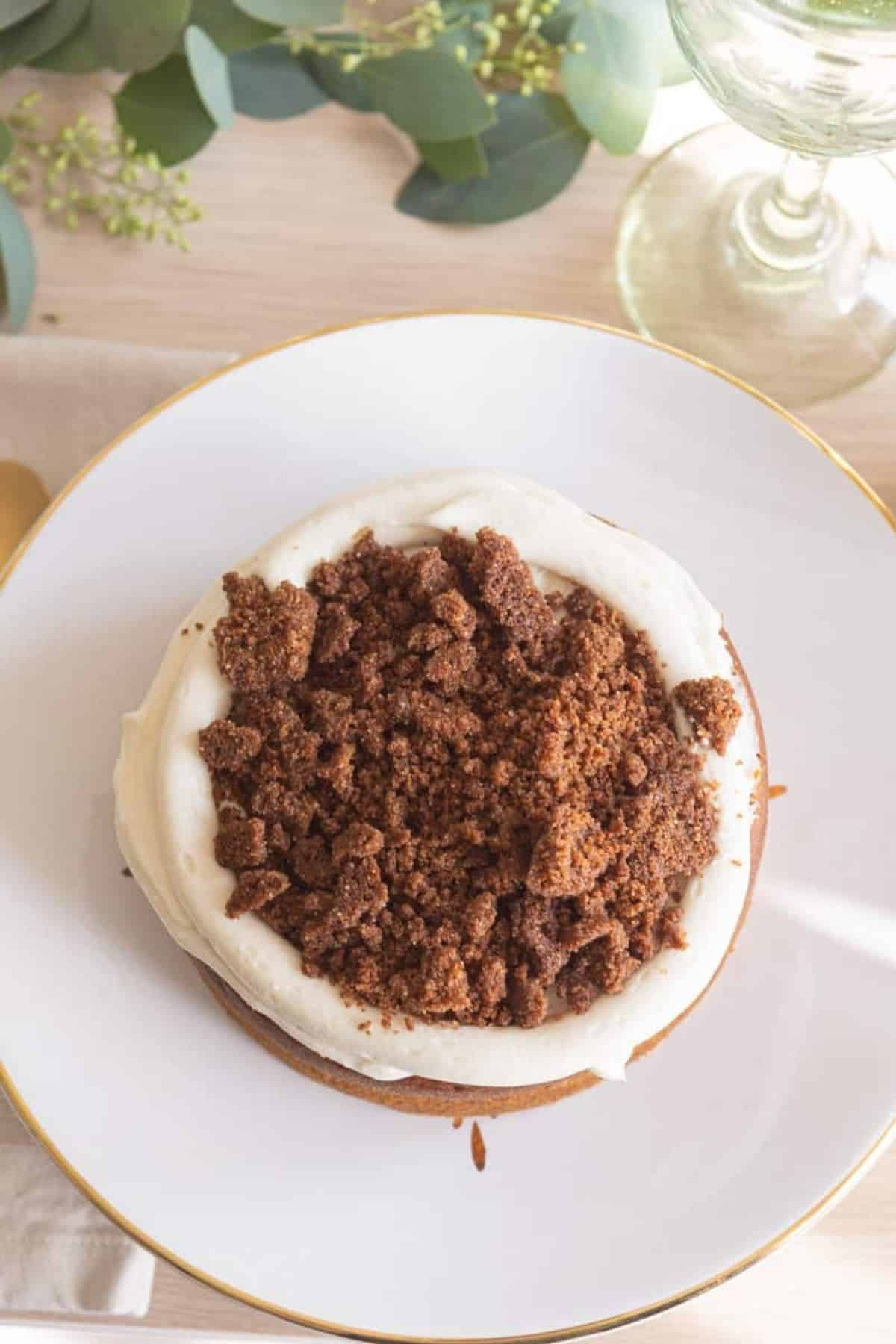 Do I need to use canned or fresh pumpkin puree?
Either works perfectly fine in this recipe. I personally only make my own pumpkin puree on the rarest of occasions. Especially with recipes with so many other steps, I prefer canned puree, even if it is sometimes squash and not pumpkin. Works just the same!
How do you make pumpkin spice cake from scratch?
You are in the right spot! This recipe below takes you through all the steps of making and baking the cake, to frosting, and assembling.
Do you need to refrigerate pumpkin cake?
Not all cakes require refrigeration. Once this one is frosted, I do recommend you place it in the fridge as it has cream cheese frosting and I like to err on the side of caution. And it still tastes great chilly. Or you can let it sit out 1-2 hours before serving.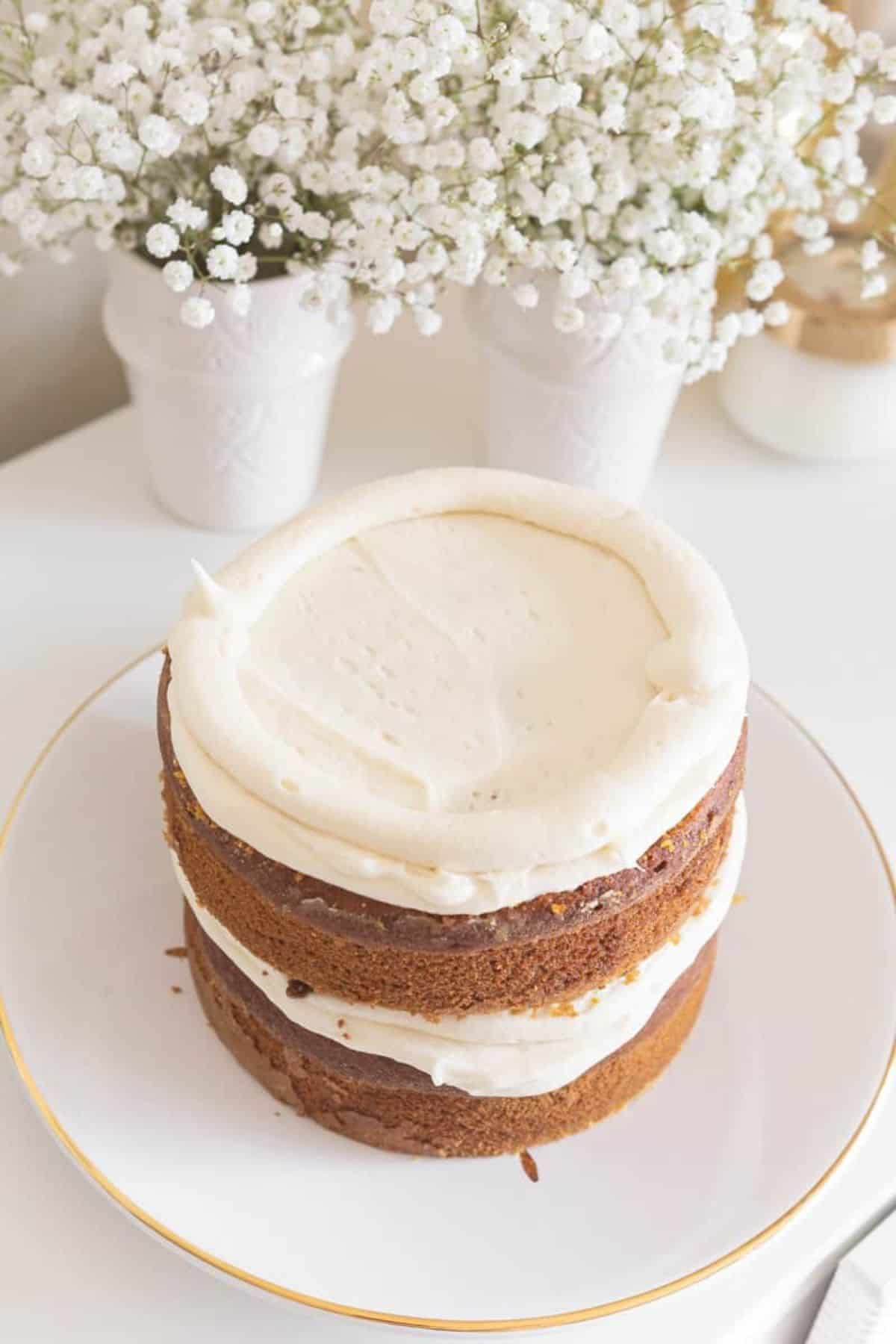 Why do I need to whip my butter and sugar together?
Whipping (whether by hand or stand mixer) is so important to many baked goods, especially cakes. This will add necessary air to your baked goods. They also emulsify your sugars and blend them into the cakes to make sure it's not grainy. However, you can also over whip, be sure you don't let it whip too long. Anything too long will make there be too much air and when it bakes, it can fall and create a dense cake.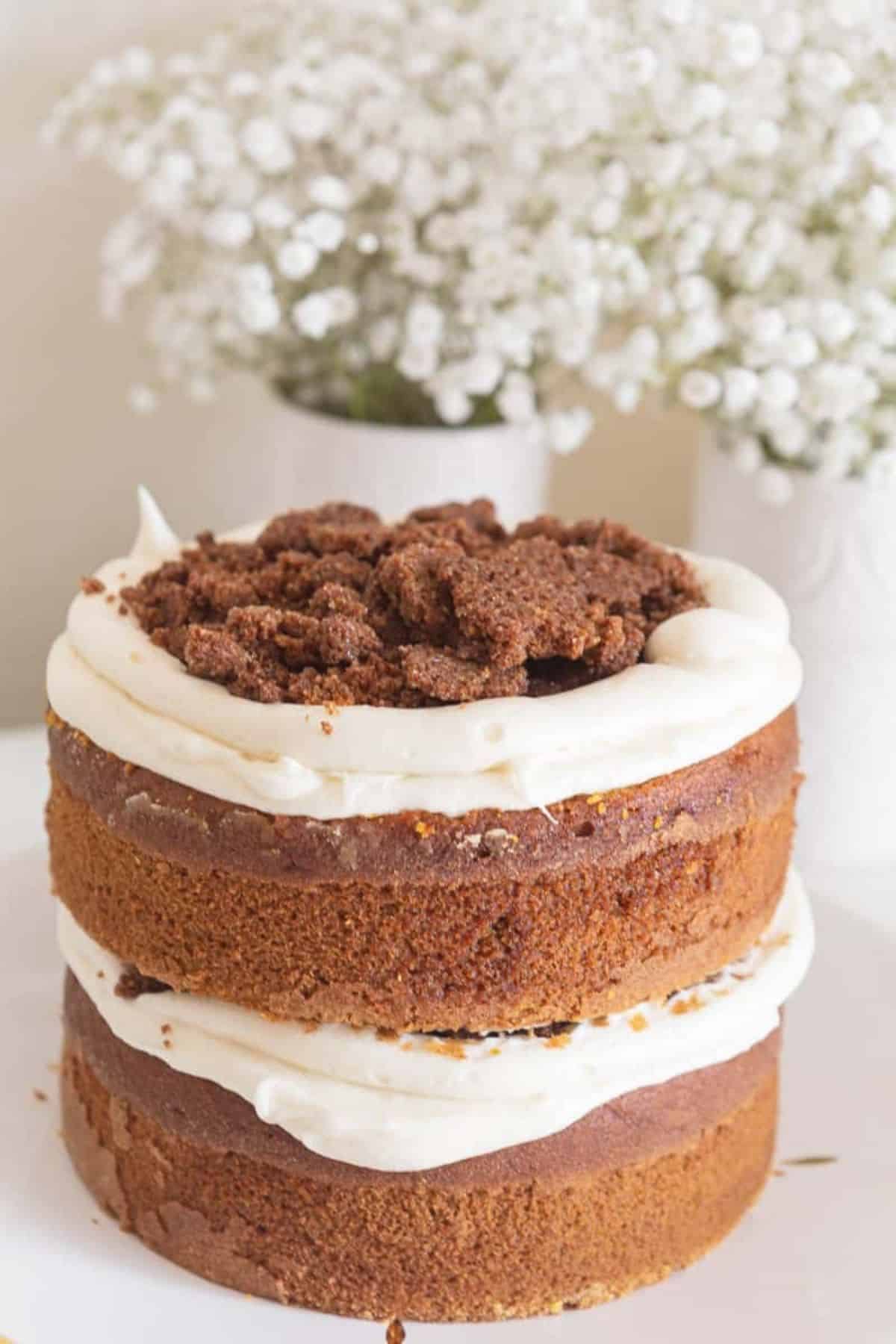 Why do I need to bake with room temperature butter?
So many recipes (and others) call for room temperature butter. This is due to a few things. 1) An emulsion is formed when all the wet ingredients are room temperature and mixing. You are whipping in air into the batter. Which will later help in baking when you get that light and fluffy texture. 2) Room temp butter is also able to blend smoother and create a cohesive batter. If you don't have it room temp it can become very dense.
How to get butter room temperature
I usually leave mine on a plate on the counter for a couple hours. Or maybe on the oven if it's being used for something else. If you are in a hurry you can zap in the microwave in very short increments. Just don't melt it.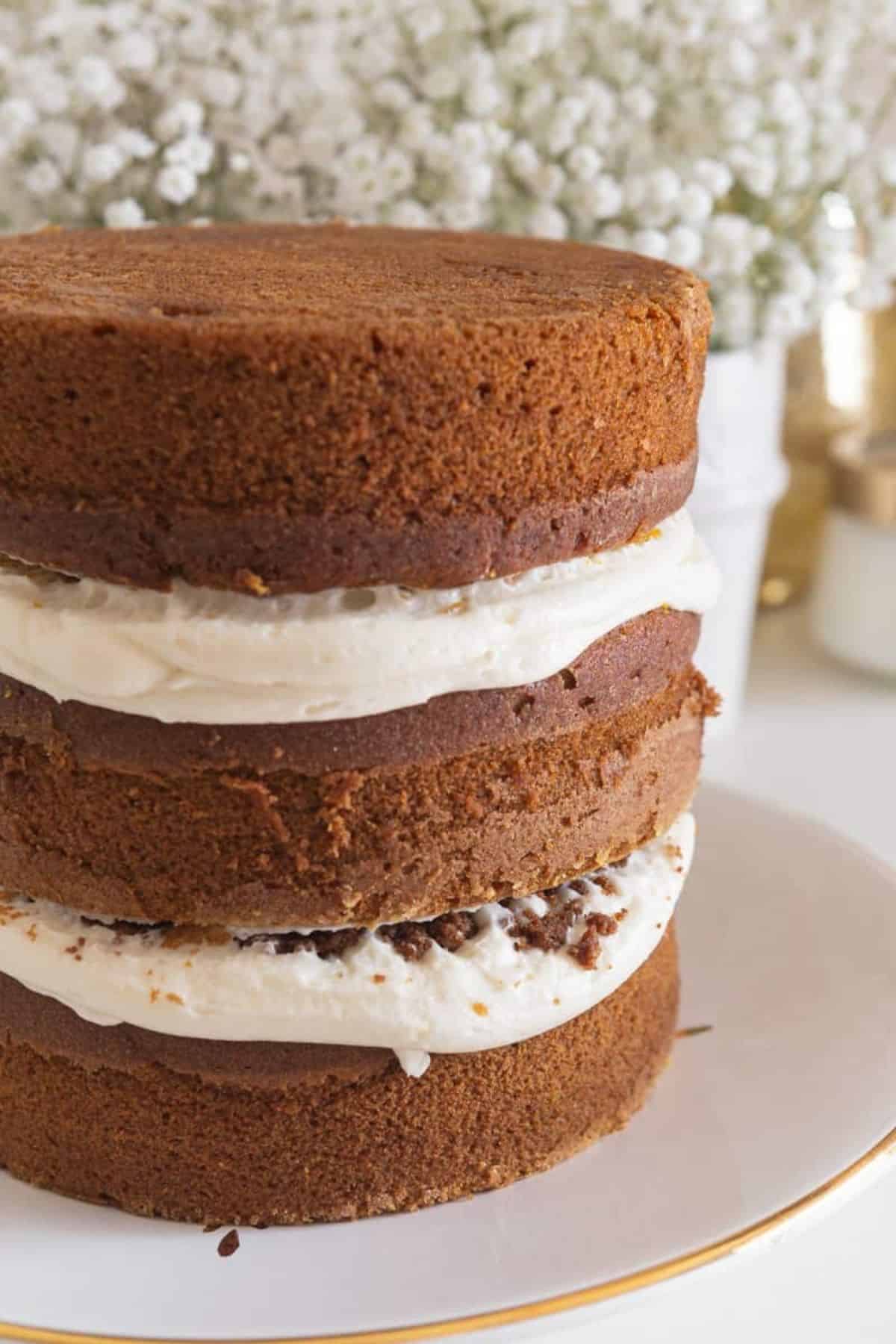 Why do I need to bake with room temperature eggs?
A lot of baking recipes (mine included) ask for room temperature eggs. This is because a room temp egg is easier to break down than a cold egg. So therefore, it mixes into the batter better. ALSO, room temp eggs get a better volume making for a fluffier baked good.
How to get eggs room temperature
I would suggest leaving them on the counter for 1-2 hours to get room temp. However, if you forget or run out of time, another option is to place the eggs into a bowl of warm water (not hot) for about 10-15 minutes.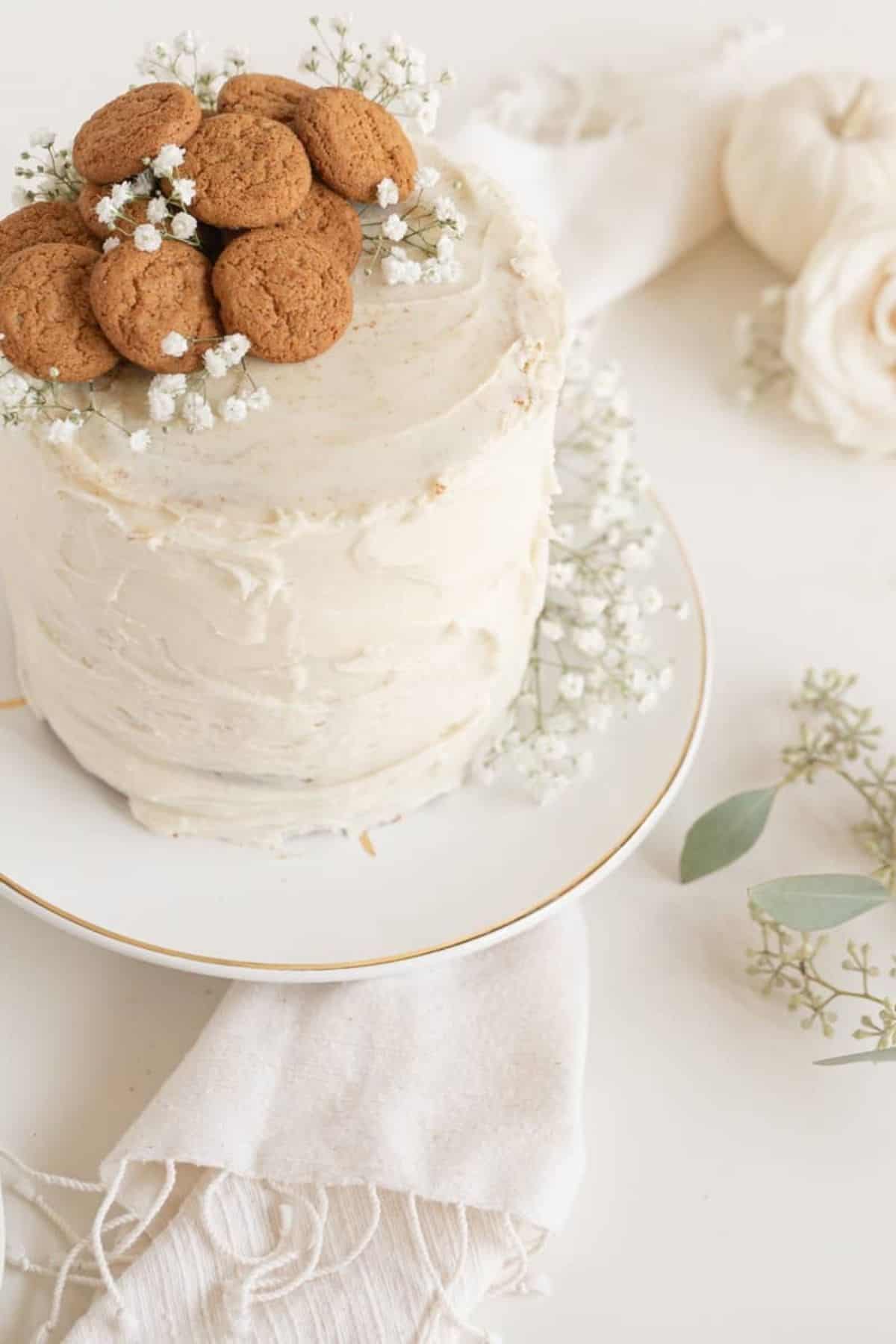 Why do I Need Room Temperature Cream Cheese?
This must be done for most baking and frosting recipes. It's important for these so that they are smooth and creamy. If your cream cheese is too cold, it will turn into a lumpy, not so pretty frosting.
How to get cream cheese to room temperature
You can leave out for 1-2 hours (2 is the maximum for cream cheese) and place in a slightly warmer spot near the stove or window. Or you can remove from packaging, place in a bowl, and microwave in very short increments so you don't melt it.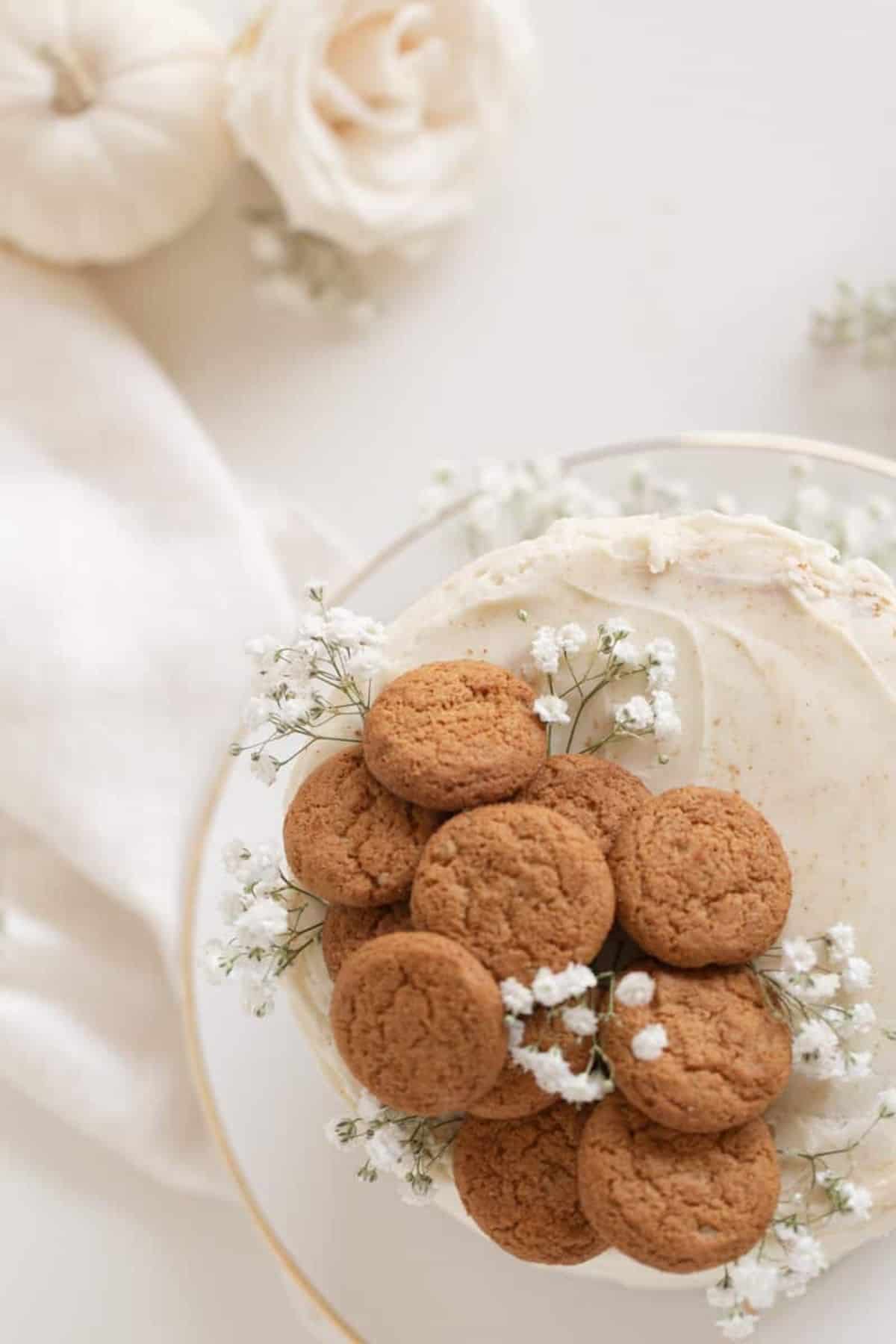 FAQs about Pumpkin Cake
Can I decorate with flowers?
Yes, but make sure they are edible. If I use something not edible (baby's breathe) I scrape off the frosting and don't eat that part. Not the best plan, but sometimes these are the flowers I can get ahold of.
Can I make the crumble with graham crackers or other cookies?
Sure. Same process, just make sure they are a similar textured cookie.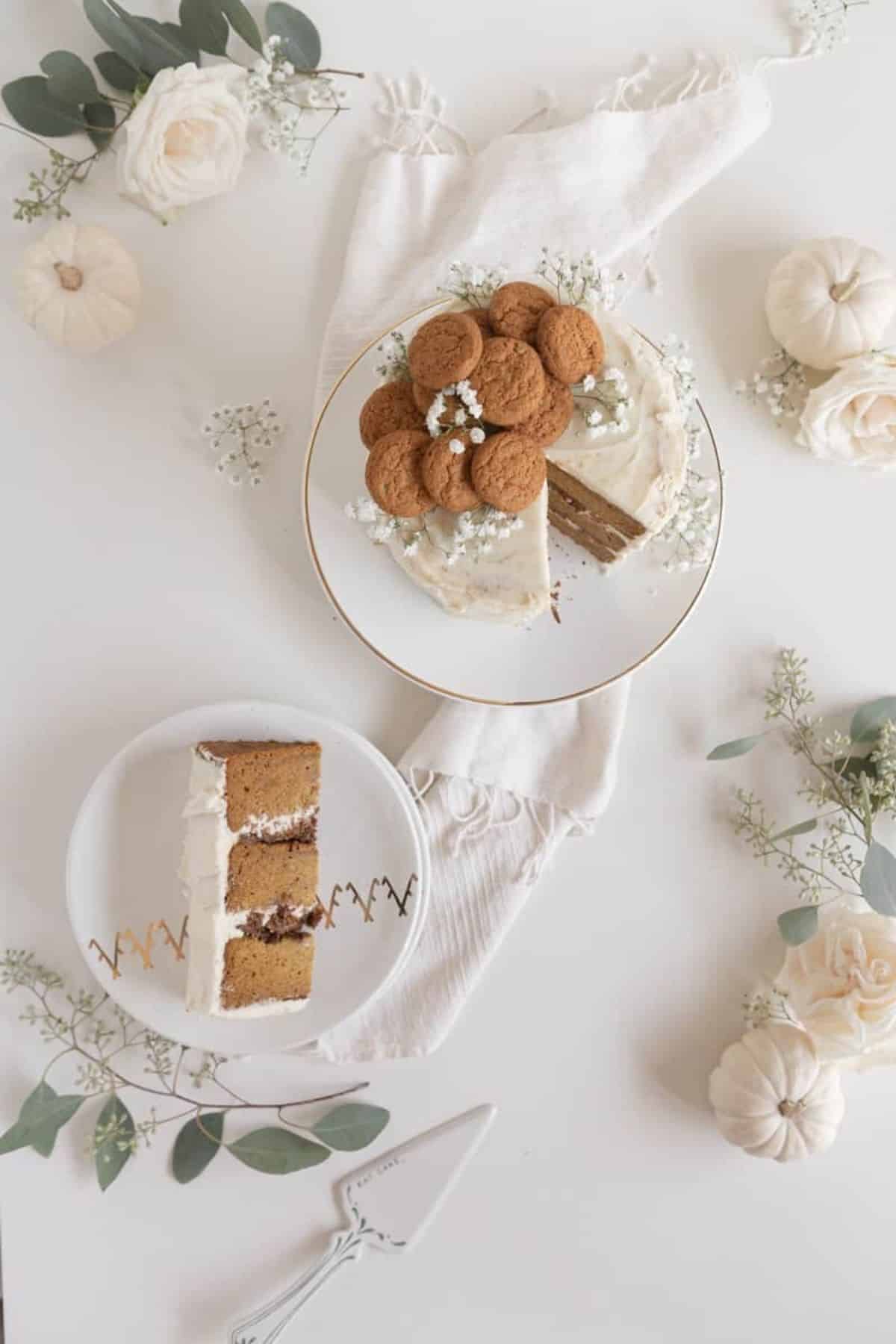 Other Recipes to Try
Love this Recipe?
Did you make this recipe and just love it? Awesome! If you have a quick minute and could leave a star rating and comment below, I would appreciate the support and knowing your feedback! And if you're over on Instagram, be sure to tag me in your photos!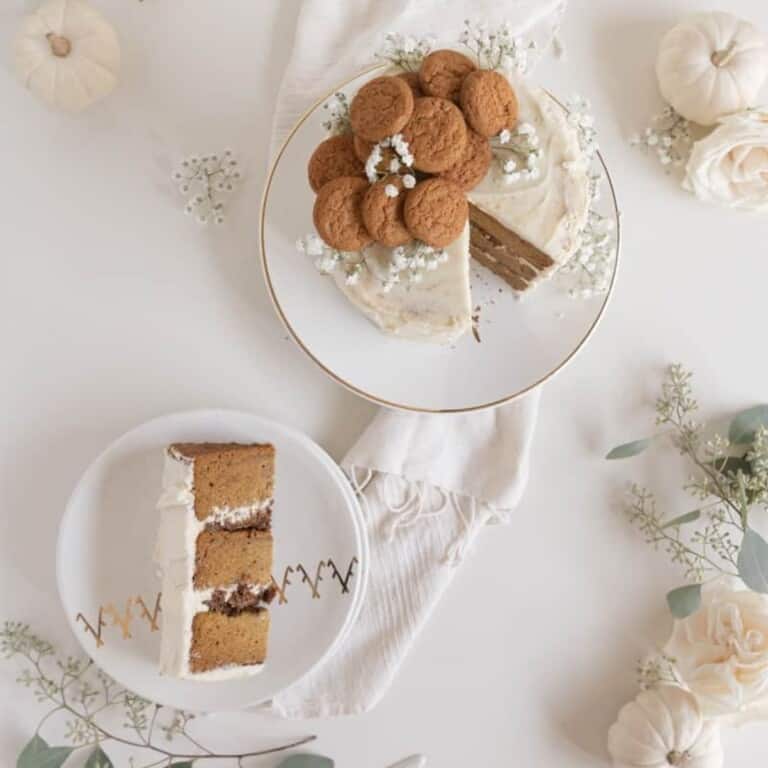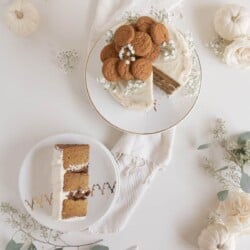 Pumpkin Spice Cake with Cream Cheese Frosting with a Gingersnap Crumble
Print
Pin
Share
Rate
Ingredients
Gingersnap Crumble
20

Gingersnap Cookies

2" cookies

½

cup

brown sugar

3

tablespoon

unsalted butter

melted

½

teaspoon

vanilla extract
Dry Ingredients
3

cups

all-purpose flour

2

teaspoon

baking soda

1

teaspoon

salt

2

teaspoon

pumpkin spice seasoning
Wet Ingredients
1

cup

unsalted butter

room temperature

1

cup

white sugar

1

cup

brown sugar

3

eggs

large, room temperature

2

teaspoon

vanilla extract

15

ounces

pumpkin puree

1

cup

milk

room temperature
Frosting
1

cup

unsalted butter

room temperature

8

ounces

cream cheese

room temperature

4

cups

powdered sugar

sifted 1-2 times

2

teaspoon

vanilla or maple extract
Optional Décor
Gingersnap cookies or extra crumble

Flowers

Sprinkles
Instructions
Gingersnap Crumble
Preheat the oven to 350° F. Prepare a large jelly roll baking sheet (baking sheet with a lip) with parchment paper.

Place all ingredients into a food processor or blender. Remove and pour onto the baking sheet. It will be crumbly and maybe in big chunks or small pieces. I try to mush mine together as one big, flat thick surface.

Place in the oven and bake for 11-13 minutes. Golden, but not burnt.

Remove from the oven and allow to cool.

Use a fork or your hands to break into small pieces.
Cake
Preheat the oven to 350°F. And prepare your cake pans (6" rounds) with grease and parchment lining on the bottom.

In your electric mixer bowl add the softened butter and sugars. Using the whisk paddle attachment whip until the batter is fluffy (3-5 minutes). Beat in the eggs one at a time. Add in vanilla until incorporated. Then add in pumpkin on a medium speed until mixed.

In a medium sized mixing bowl combine flour, baking soda, salt, and pumpkin spice seasoning.

Alternate adding in your flour mixture and milk. Start and end with the flour mixture.

Divide the batter evenly in the three lined pans (about 2 ¼ cup each). Slightly slam the pans onto the counter to get rid of any bubbles.

Bake for 50-55 minutes. test with a toothpick and make sure it comes out clean. Remove from the oven and cool for 10-20 minutes before releasing from the pans. Flip cakes out of the pans and let them cool on racks.
Frosting
Using your mixer and the paddle attachment again, whip the butter and cream cheese for 8 minutes on medium/low speed. The butter will become very creamy!

Mix in the maple or vanilla extract letting it stir for about 1 minute. Slowly add in sifted powdered sugar until mixed.
Assembly
Trim the tops of the cooled cake with a serrated knife to make a flat surface.

Place the first layer on your stand or serving dish with the cut side on top.

Pipe or use a spatula to lay out a layer of frosting. Then pipe a ring around the edge of the circle of the cake. Sprinkle a thick layer of the gingersnap crumble on top of that layer of frosting.

Lay the next layer of cake on top of that and repeat step 3.

Lay the final layer of cake, cut side down, on top of the gingersnap crumble layer. Add a crumb coat with frosting. This is a thin layer of frosting around the entire cake. Place into the fridge or freezer for 15-30 minutes to make the next layer of frosting easier.

Pipe and spread the remaining frosting until you're satisfied. Decorate with sprinkles, gingersnap cookies, flowers, or whatever works for you. Enjoy!
Notes
- Make sure you use room temperature on items where noted. Tips for this in the blog post.
- Cake Process: cakes have a very specific process, be sure to follow them directly for the best product.
- Size of Cake: You can do a sheet cake, cupcakes, do 8" or 9" rounds. However, this will just change the height of the layers and baking times. Or you can even do 4: 6" cakes, just lower your cooking time by about 5-10 minutes. I believe all the other size cooking times would be between 35-45 minutes (except cupcakes, which would take between 18-22 minutes)
Tried this recipe?
Mention @amanda.wilens