Small Batch Stuffing
I am hopeful that this year will mean smaller gatherings for people in the US for Thanksgiving. I wanted to assist with your small Thanksgiving gathering. This round up is perfect for Thanksgivings sizes 1-4. These recipes make about 4 servings each, which is perfect for 1-4 people and leftovers if less than 4 people! Tyler and I have had so many small Thanksgivings when we lived in St. Louis and couldn't make it home for both Thanksgiving and Christmas/Hanukah. So, we usually chose the latter and I would make us a small Thanksgiving meal like this.
I do also want to take this time to bring up Thanksgiving and how we learn about it. Thanksgiving is something I now celebrate as a time for good food and showing thanks and gratitude for the ones I love. However, the story we learned as kids about Thanksgiving is so off and really shouldn't be a part of the celebration, but rather a learning opportunity. Please do NOT dress in Native American headdresses. Please take the day to maybe educate yourself and the ones you love. Especially young children. Many Native Americans see Thanksgiving as a day of mourning and triggering. Remember, "pilgrims" led a mass genocide to the Native American population.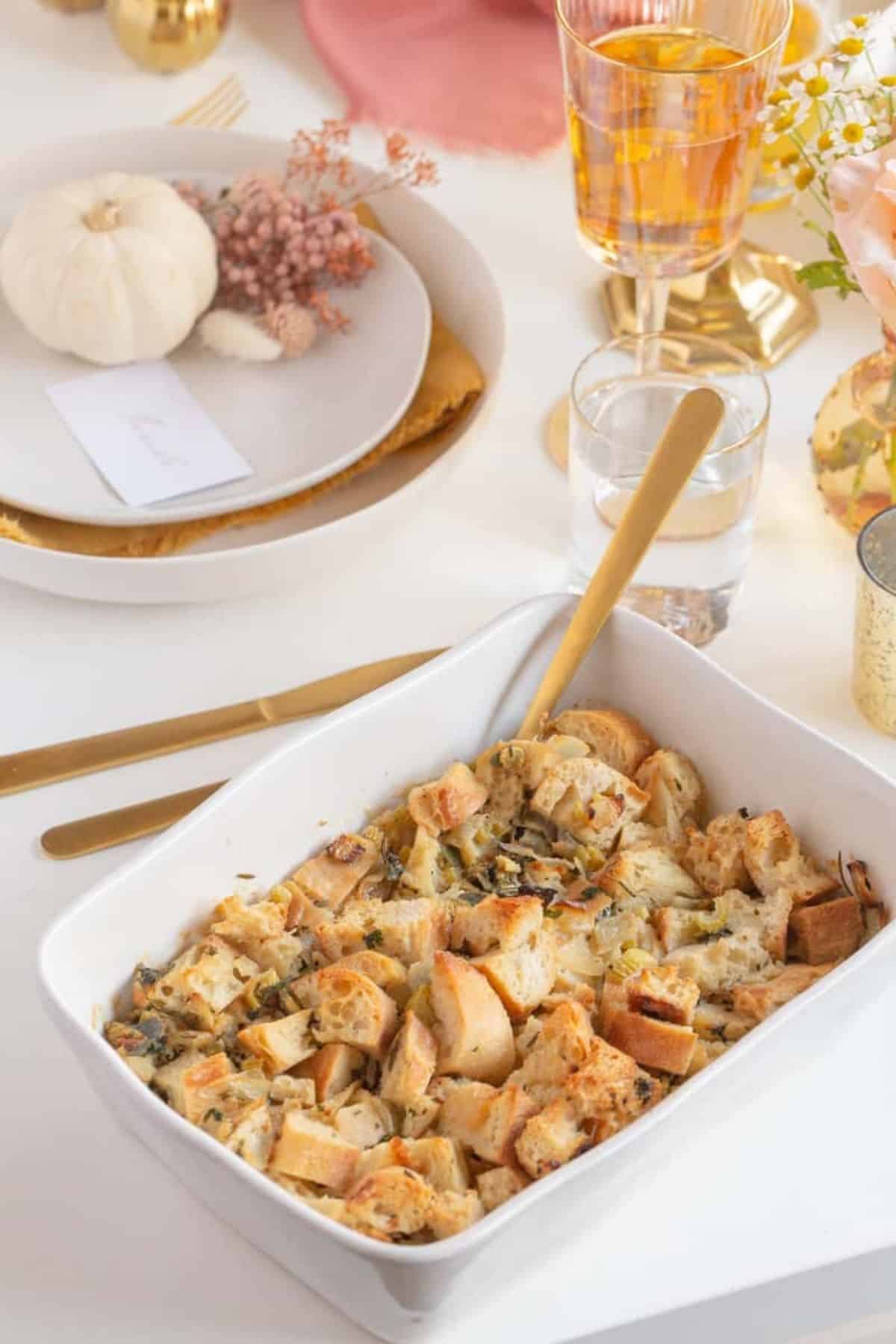 Hopefully, you will consider and implement the above before celebrating along with me.
Table of Contents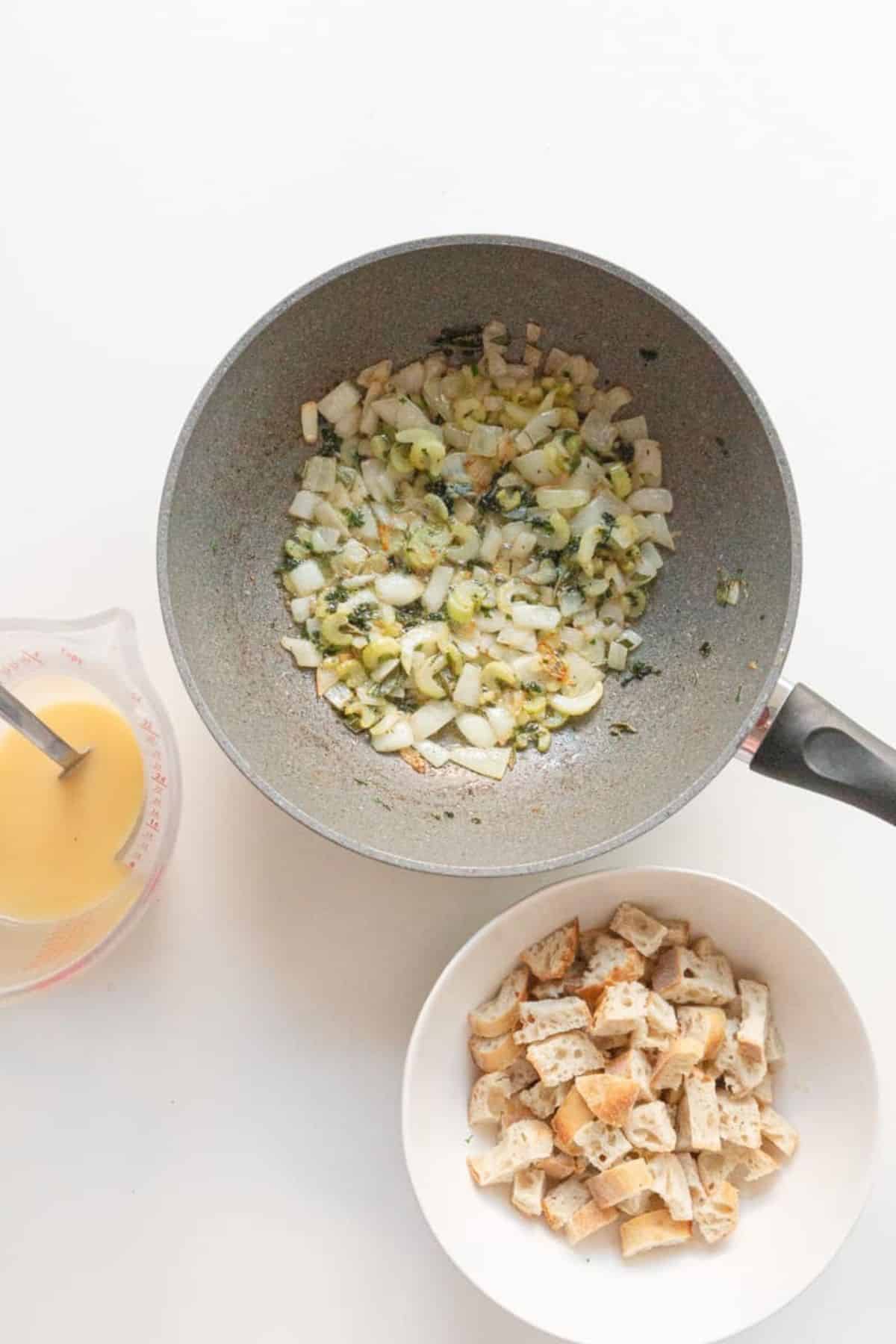 Celebrating a Mini Thanksgiving
Thanksgiving Desserts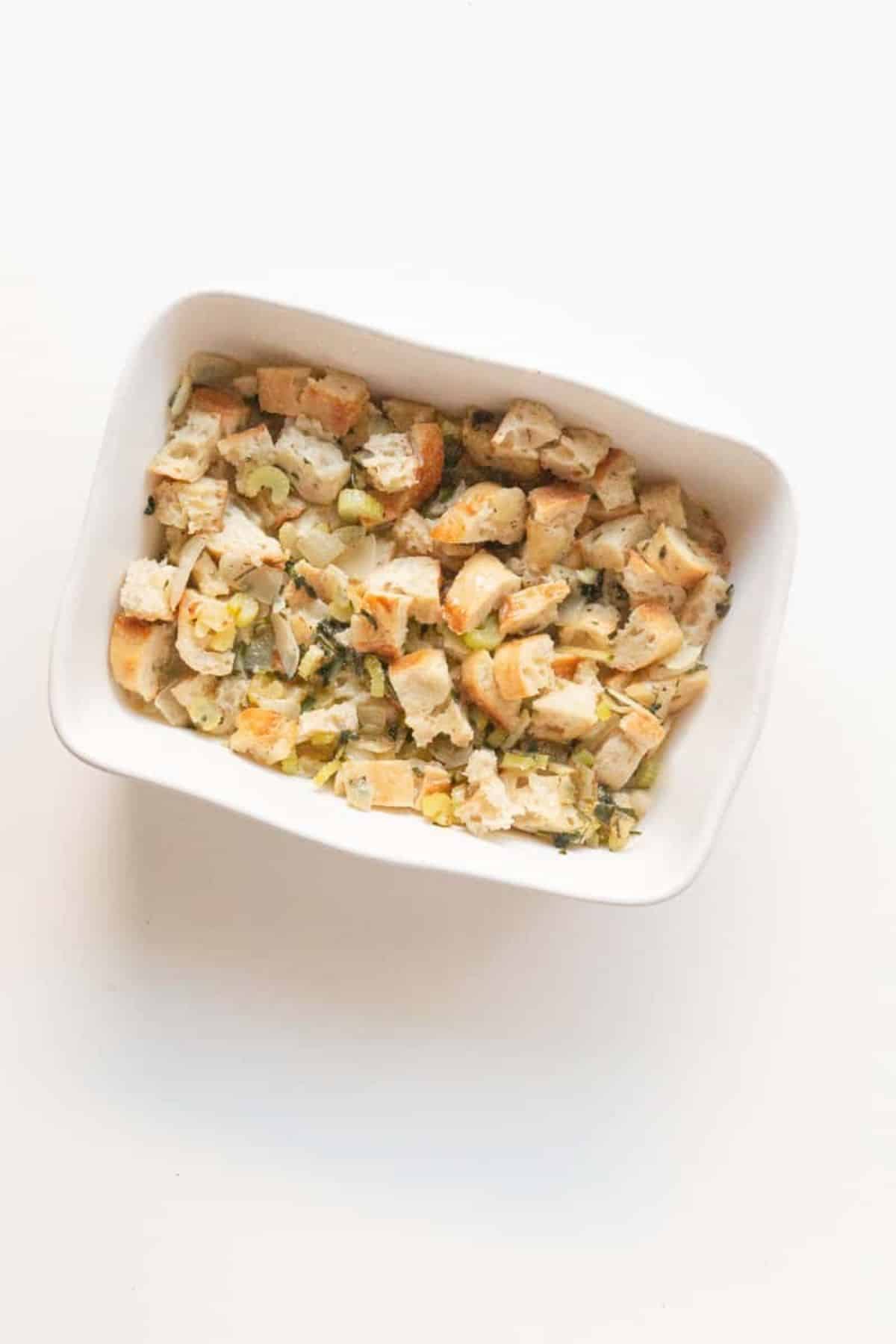 Thanksgiving Drinks
Thanksgiving Favorites and Leftover Recipes
Now, I'll go into some best tips for making small batch stuffing.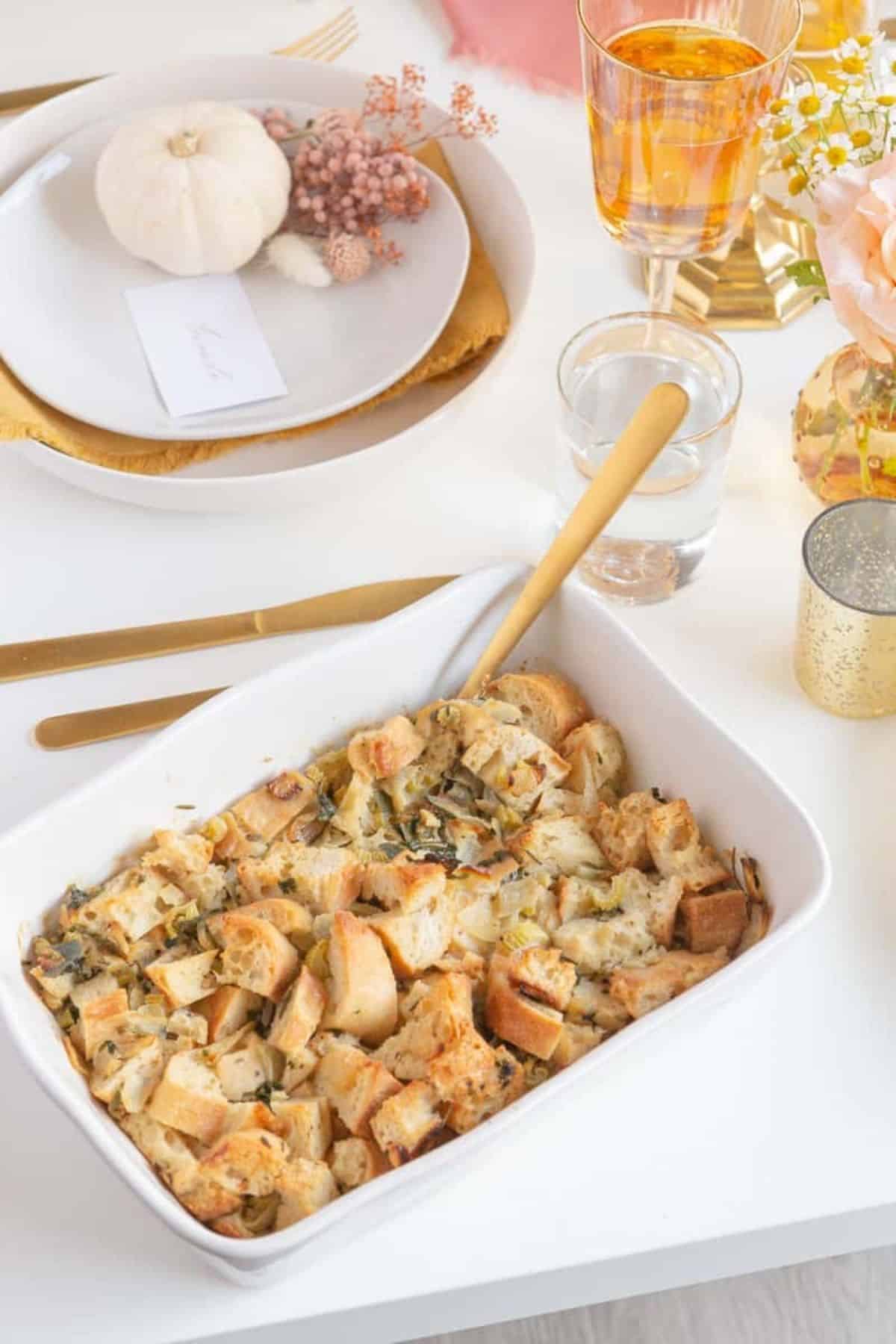 Thanksgiving Stuffing Recipe for Two
This recipe is perfect for 2-4 people, with 4 servings (yay leftovers!). For a small gathering I don't want to make enough for 8-12 people. This recipe is great for a small group or solo thanksgiving!
How to Cook Stuffing Separately
Since we're doing turkey tenderloins for this, we won't be stuffing the stuffing inside a bird. Which technically makes it dressing when it is cooked solo. But most of Americans still call it stuffing. We will place it in a small casserole dish and bake it in the oven!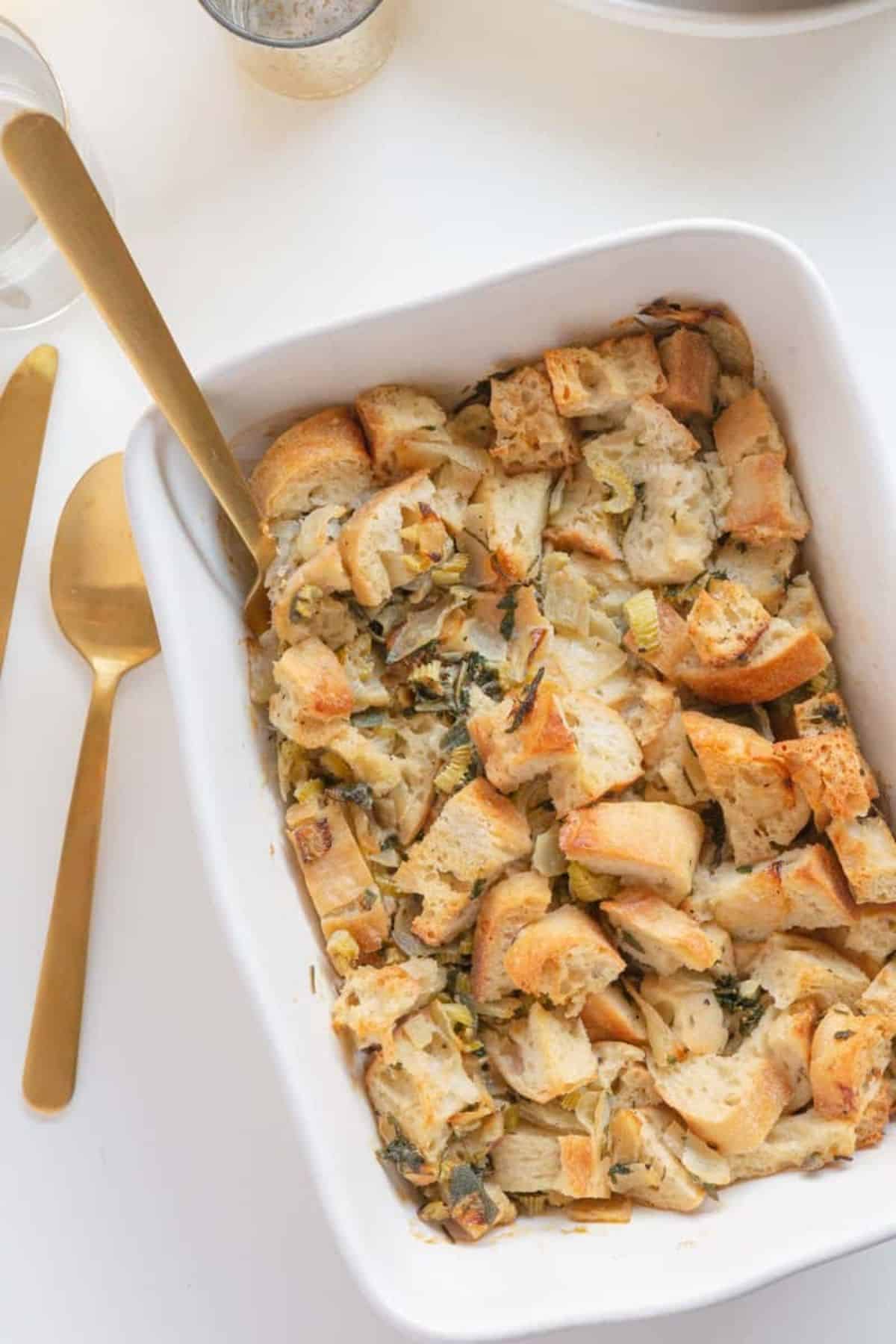 Why use slightly stale bread for stuffing?
Since we're going to be coating the bread in broth, eggs, butter, and cooked down veggies, it can get rather soggy. By using a harder and crustier bread we're helping it from getting too soggy. Also, if it's a little stale this will help as well. I also prefer to bake it in the oven as well to keep from getting soggy.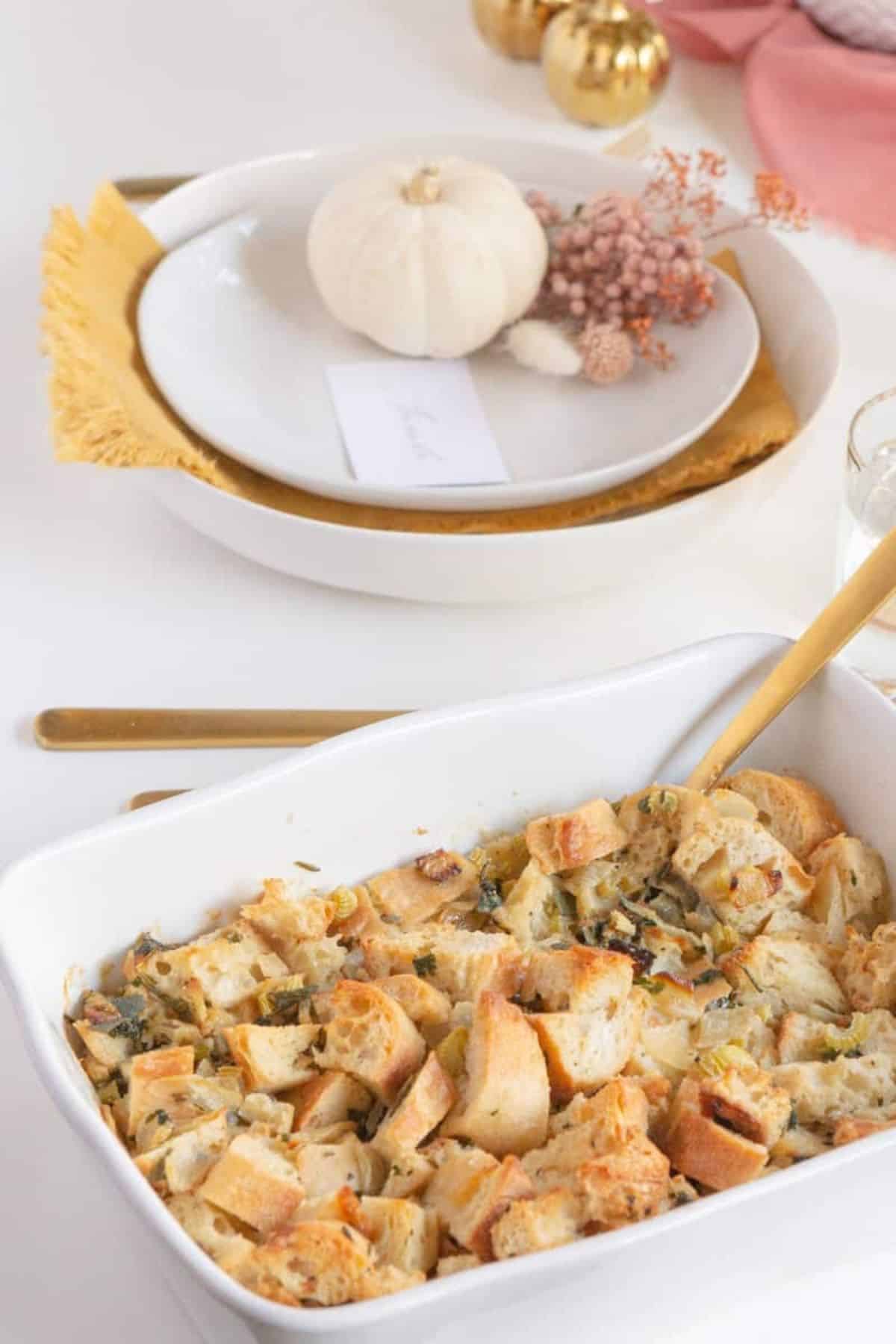 Love this Recipe?
Did you make this recipe and just love it? Awesome! If you have a quick minute and could leave a star rating and comment below, I would appreciate the support and knowing your feedback! And if you're over on Instagram, be sure to tag me in your photos!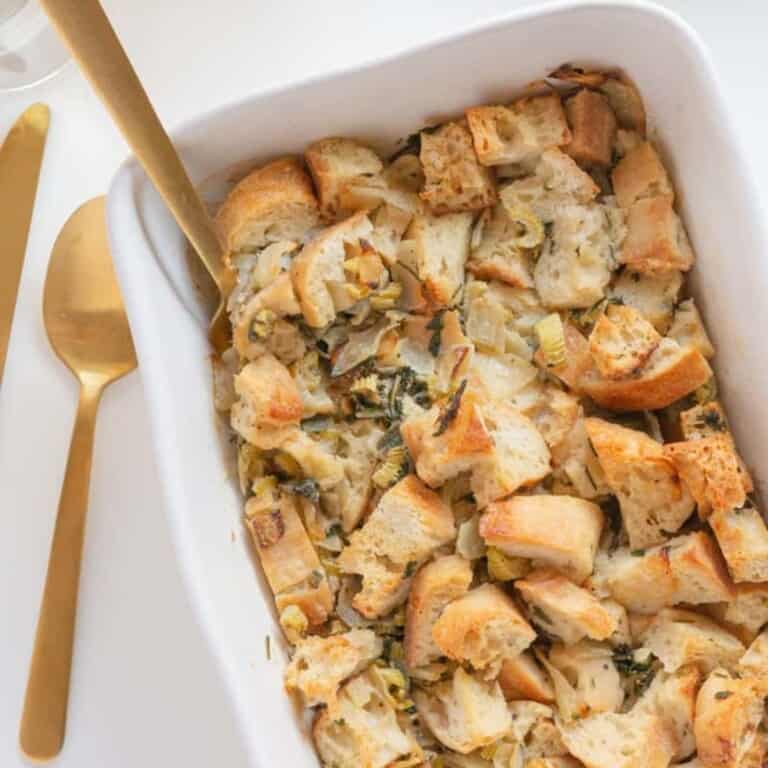 Ingredients
6

oz

baguette

crusty, slightly stale, torn/cut into 1-inch pieces

⅓

cup

unsalted butter

plus more for greasing baking dish

1

garlic clove

minced

1

cup

yellow onion

roughly chopped (about ½ onion)

½

cup

celery

thinly sliced (about 3 stalks)

¼

cup

fresh flat-leaf parsley

roughly chopped

2

tablespoon

fresh sage

roughly chopped

1

tablespoon

fresh rosemary

roughly chopped

1

tablespoon

fresh thyme

roughly chopped

1

teaspoon

salt

½

teaspoon

black pepper

freshly ground

1 ¼

cups

chicken broth

divided

1

egg

large
Instructions
Preheat oven to 250°F. On a lipped baking sheet, evenly spread out pieces of bread. Bake for about 1 hour or until dried out. Remove from oven and place in a large glass or metal bowl.

In a large skillet over medium heat, melt butter. Add onion and cook for 3-4 minutes until fragrant. Add garlic and stir for about 1 minute. Add celery and herbs; cook until celery deepens in color and slightly softens, about 7 to 9 minutes. Add salt and pepper. Stir for about 2 minutes.

Toss mixture into bowl of dried bread (step 1) and add ½ cup chicken broth. Stir and let cool slightly.

Increase oven to 350°F. Grease a 6x7.5" baking dish with butter.

In a separate mixing bowl, whisk remaining ¾ cup chicken broth with egg. Add to bread mixture and stir until fully combined. Pour into prepared baking dish and cover with baking dish's lid or aluminum foil.

Bake for 20 minutes covered, then remove foil and bake for another 20-25 minutes. Finished dressing should reach an internal temperature of 160°F to 165°F on a meat thermometer. Serve.
Notes
- Use slightly stale and crusty bread! Very import to help keep the stuffing from getting soggy.
- Use a smaller casserole dish. A 6x7.5" or similar size will be perfect for these small batch.
- To reheat, place in the oven at 400°F for about 5-7 minutes.
Tried this recipe?
Mention @amanda.wilens