These Egg Yolk Cookies with chocolate chips are crispy on the edges and gooey in the center. There's nothing better than homemade chocolate chip cookies! Many cookie recipes use a whole egg instead of just the yolks. But when you make them with only the egg yolks, your cookies will be extra moist and soft.
Serve these chocolate chip cookies with a Rose Chai Latte or your favorite drink for the ultimate tea time.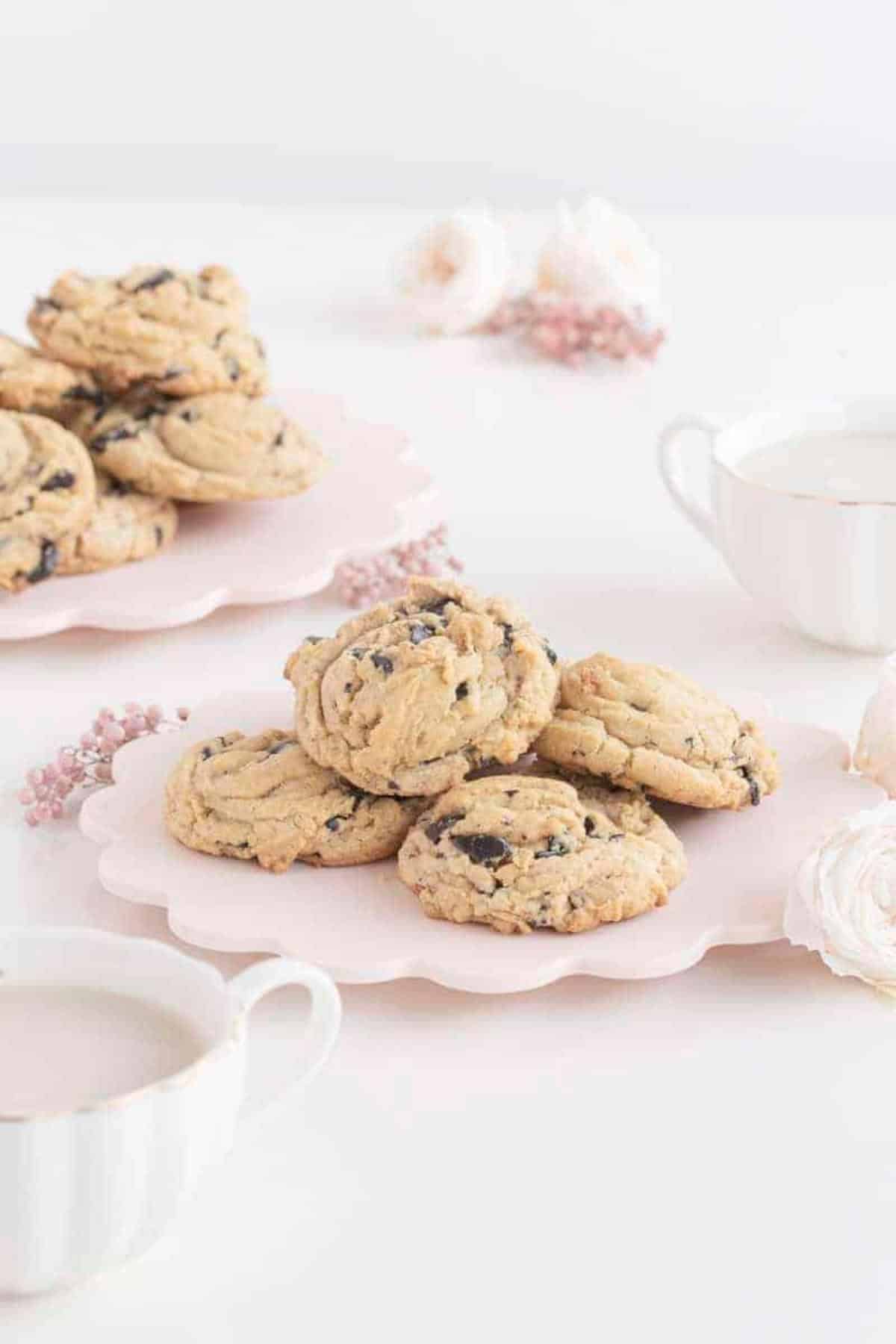 Why You Should Try This Egg Yolk Cookies Recipe
These cookies are the perfect solution when you have leftover egg yolks. Sometimes you'll have a recipe that calls for egg whites only. Such as a meringue, like this one here: Chocolate Chip Meringue Cookies). Or cupcakes like this one here: Vanilla Cupcakes with Vanilla Buttercream Frosting. If you're not sure what to do with your extra yolks, make these cookies.
And even if you don't just have extra yolks sitting around, these are just excellent cookies to make. They have extra fat from the egg yolks and make for super gooey and chewy cookies! You can use your egg whites for meringues or even an egg white omelet.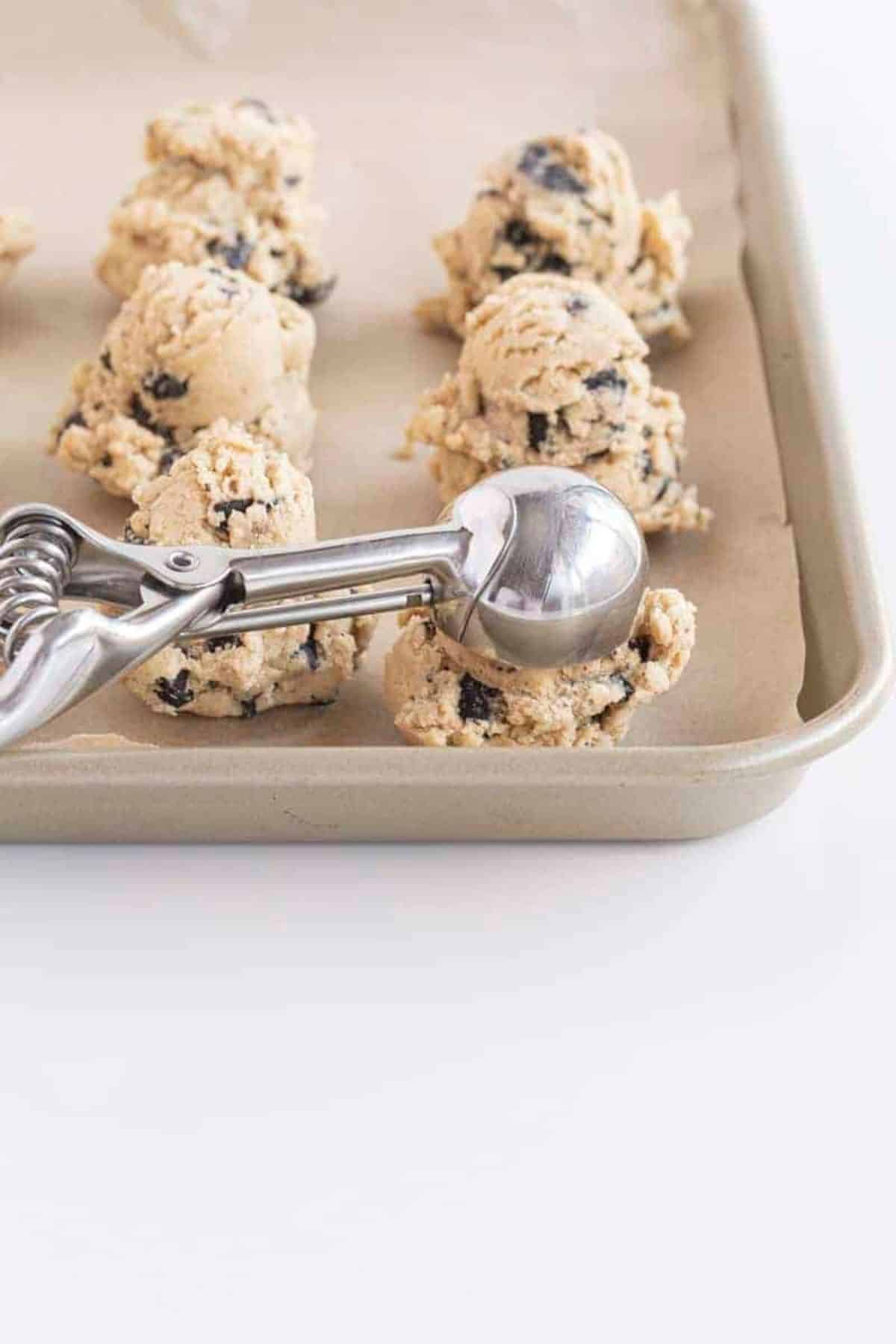 Ingredients
A few notes on important ingredients for these Egg Yolk Cookies, from what's best to use to the best substitutions!
Butter: I always suggest using good quality products when it comes to your dairy because it does make a difference. It will help with the texture and flavor profile. For these cookies I use unsalted butter at room temperature.
Sugar: This recipe uses brown and white sugar. It's important to use both kinds of sugar for chocolate chip cookies as it makes the flavor profile perfect.
Eggs: As it says in the title, you will only use egg yolks in this recipe. It's best to get the large size eggs, and you can use the egg whites for an omelet or if you'd like to try making some meringues!
Vanilla Extract: In general, I always suggest using a good vanilla and preferably not fake. This affects the flavor profile for the cookies.
Flour: I use all-purpose flour in this recipe because I find it works best for making cookies. You will get the best consistency with this flour.
Salt: Sea salt goes really well with baking and mixes into the batter well. You might opt to top your cookies with a bit of flakey salt however. It both looks and tastes delicious.
Chocolate chunks/chips: My favorite chocolate to use in cookies is dark chocolate chunks. If you prefer to try milk chocolate chips or a different kind feel free to try that out. I usually prefer to use either chunks or even chopping up bars of my favorite chocolate. I prefer the way the cookie bakes with these versus chocolate chips.
Ingredients at Room Temperature
Why do I need to bake with room temperature butter?
So many baking recipes call for room temperature butter. This is due to a few things. 1) An emulsion is formed when all the wet ingredients are room temperature and mixing. You are whipping in air into the batter. Which will later help in baking when you get that light and fluffy texture. 2) Room temp butter is also able to blend smoother and create a cohesive batter. If you don't have it room temp it can become very dense.
How to get butter room temperature for chocolate chip cookies
I usually leave mine on a plate on the counter for a couple hours. Or maybe on the oven if it's being used for something else. If you are in a hurry you can zap in the microwave in very short increments. Just don't melt it.
Why do I need to Bake with Room Temperature Eggs?
A lot of baking recipes (mine included) ask for room temperature eggs. This is because a room temp egg is easier to break down than a cold egg. So therefore, it mixes into the batter better. ALSO, room temp eggs get a better volume making for a fluffier baked good.
How to get eggs room temperature
I would suggest leaving them on the counter for 1-2 hours to get room temp. However, if you forget or run out of time, another option is to place the eggs into a bowl of warm water (not hot) for about 10-15 minutes.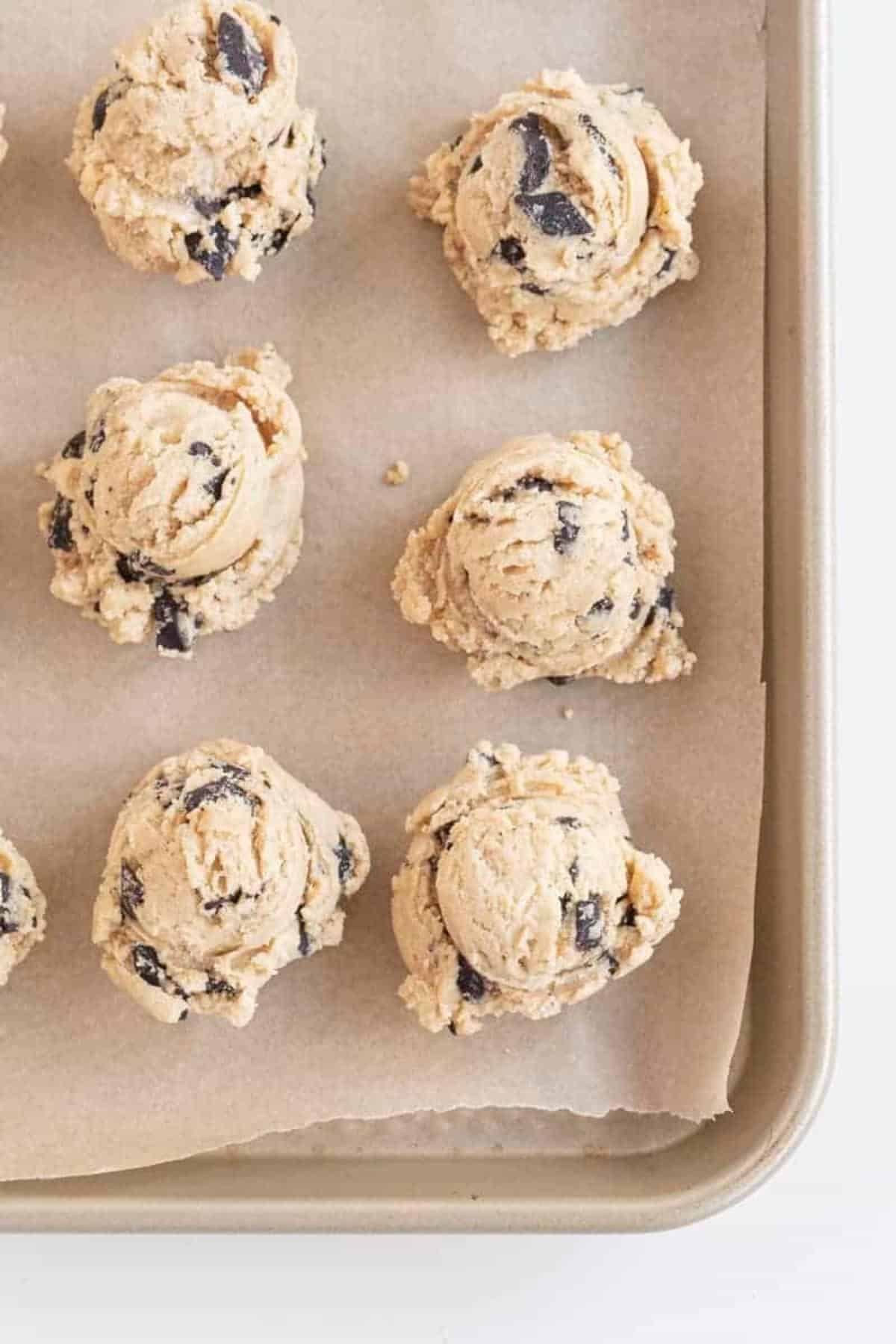 Tips for the Best Chocolate Chip Cookie Dough
Can I make these cookies without a stand mixer?
Of course, you can! These yolk only chocolate chip cookies are fairly easy to make and can of course be done without a stand mixer. This is just my preferred way to make them. Just use a wooden spoon or whisk (or handheld mixer) to mix.
Why do I need to whip my butter and sugar together?
Whipping (whether by hand or stand mixer) is so important to many baked goods. This will add necessary air to your baked goods. They also emulsify your sugars and cream them into the butter to make sure the end baked good is not grainy.
Why do I need to chill my cookie dough?
Chilling cookie dough is a VERY important step of making any cookie. Many require it, but also this will dictate whether you have a thick or thin cookie. The longer they chill, the thicker they will be. And the more incorporated the sugars will be! For these egg yolk chocolate chip cookies we want a bit of chill time!
How to quickly chill chocolate chip cookie dough
Pop the dough into the fridge for 15-60 minutes, ball the dough and place it on a baking sheet with parchment paper, then toss it in the freezer for 1-3 hours. Or you can do this for one batch, then leave the remaining dough balls in the freezer in a freezer-safe bag or Tupperware. More chilling time always equals a fluffier and more incorporated cookie.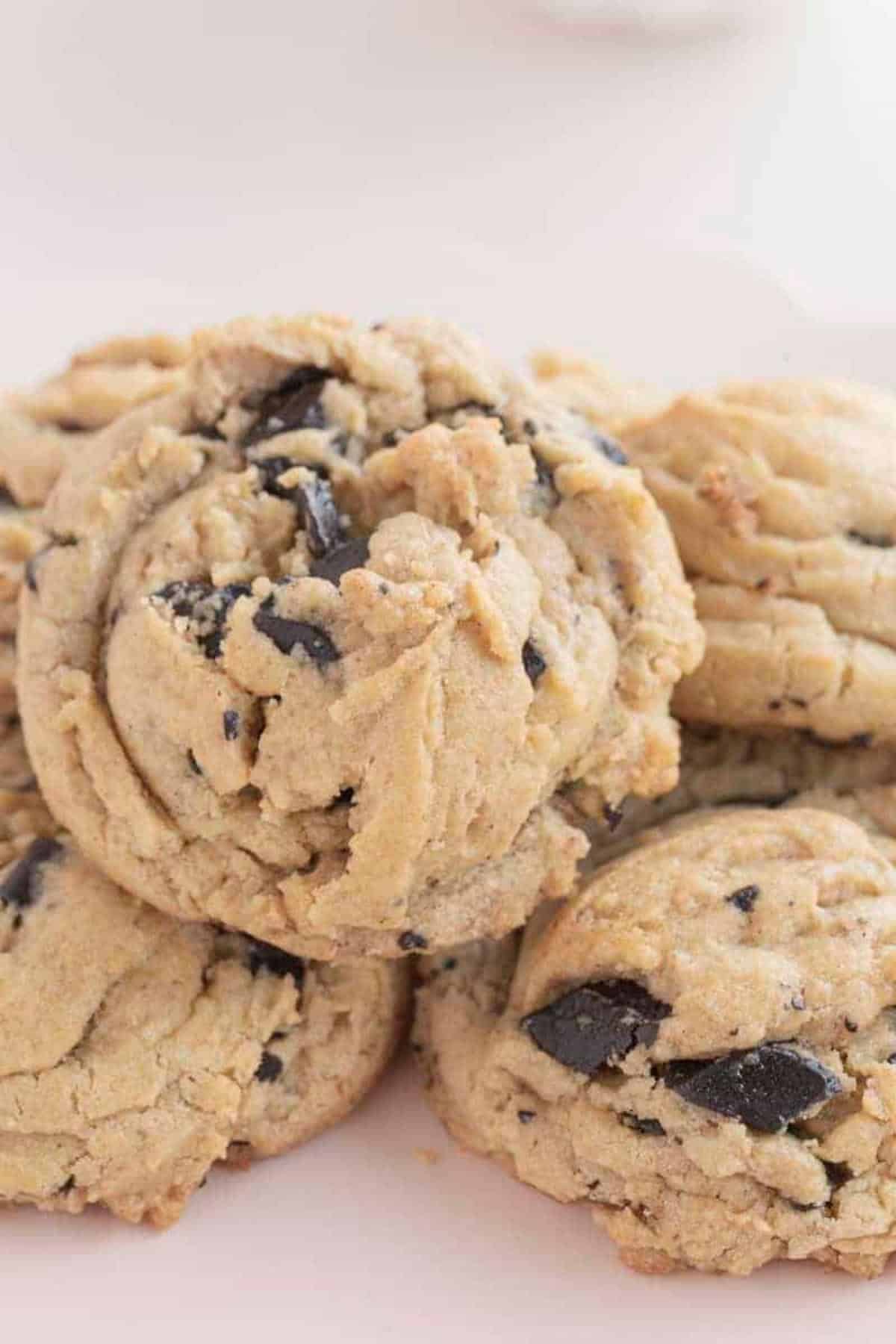 FAQs
How to scoop cookie dough?
The cookie scoop I use is a 1 Tbsp, you can get them at any kitchen supply store like William Sonoma. I stacked 1 tablespoon of dough on top of another tablespoon. I stacked them for an extra thick cookie. You can also just use a 2 tablespoon scoop.
Why do you need to chill cookie dough?
For this cookie, we chill the dough for a few reasons.1) To allow the sugars to fully incorporate into the dough. Otherwise you'll have grainy cookies. 2) To get a fluffier cookie. Baking with the cooled cookie dough helps to give it a nice rise and keep a fluffier consistency. Not all cookie dough requires chilling.
Can I freeze my cookie dough?
Yes, you can. You will want to chill it in the refrigerator first for about 30 minutes. Then scoop onto a baking sheet lined with parchment paper. Pop that into the freezer for 30-60 minutes covered. Then remove from freezer and place dough balls into an airtight container. You can leave in the freezer for up to a few months.
What is the perfect time for baking cookies?
Baking time can be the difference of a gooey or a crispy cookie. I like to bake mine crispy on the edges and gooey in the center. So, you bake for the minimum time below. But if you are a crisp all the way through, do the longer time. Also, each oven/altitude/climate can change your bake, so keep your eyes on the oven and bake to your liking. If your cookies are frozen, they may need an additional 1-3 minutes of baking time. I also check on mine to make sure the edges are brown and I use a spatula to make sure I can pick up the edges.
Other Cookies to Try
Love this Recipe?
Did you make this recipe and just love it? Awesome! If you have a quick minute and could leave a star rating and comment below, I would appreciate the support and knowing your feedback! And if you're over on Instagram, be sure to tag me in your photos!
Ingredients
Wet Ingredients
1

cup

unsalted butter

room temperature

1 ¼

cup

brown sugar

¾

cup

white sugar

4

yolks

large eggs and room temperature

2

teaspoon

vanilla extract
Dry Ingredients
2 ¾

cups

all-purpose flour

1

teaspoon

baking soda

1

teaspoon

baking powder

1

teaspoon

sea salt

10

oz

dark chocolate chunks
Instructions
In a large mixing bowl from your stand mixer, using the paddle attachment, add butter and sugars into the bowl. Mix until thoroughly combined and fluffy. This can take up to 5-6 minutes.

Add egg yolks, one at a time. Then add in vanilla extract and mix thoroughly.

In a second medium to large bowl whisk flour, baking soda, baking powder, and salt.

Slowly add the dry ingredients into the wet ingredients with the mixer turned onto low/medium speed.

Once well mixed, fold in chocolate chips

Cover and chill dough in the fridge for at least 1 hour.*

When you're ready to make cookies, preheat the oven to 350° F and prepare 2-3 baking sheets with parchment paper.

Scoop about 2 Tablespoon sized balls. Either use a 2 tablespoon scoop or just scoop about that much dough with a spoon and roll into a ball. Or use a 1 tablespoon scoop and stack one tablespoon of dough on top of another tablespoon of dough. Place balls onto baking sheets and a few inches apart. (You can also freeze dough at this step as well).

Bake for 13-15 minutes. Remove from oven and top with flakey salt. Let sit for about 5 minutes, then move to cooling rack. Serve and enjoy!
Notes
Tips:
*Best tip for chilling dough: Pop the dough into the fridge for 15-60 minutes, ball the dough and place it on a baking sheet with parchment paper, then toss it in the freezer for 1-3 hours. Or you can do this for one batch, then leave the remaining dough balls in the freezer in a freezer-safe bag or Tupperware. More chilling time always equals a fluffier and more incorporated cookie.
If you don't bake them all (freeze on parchment paper in the freezer for about 30ish minutes (should be very cold) then transfer into a freezer-safe bag or air-tight Tupperware for up to 2 weeks.
This is my favorite Cloudy Kitchen tip! Use a round cookie/biscuit cutter that's just a bit bigger than your cookie. When the cookies just come out of the oven, place cutter around cookies and quickly move cutter in a circle motion to create a perfect cookie shape while still warm and moldable.
Placing chocolate chips on top after rolling balls of dough will give you those big chocolate puddles on top!
In the days after baking, be sure to heat those cookies before eating, maybe just 10 seconds in the microwave before you eat so they are nice and gooey!
Tried this recipe?
Mention @amanda.wilens