A very French garden party wedding shower with a hint of Bridgerton vibes! A beautiful party that is sure to impress guests!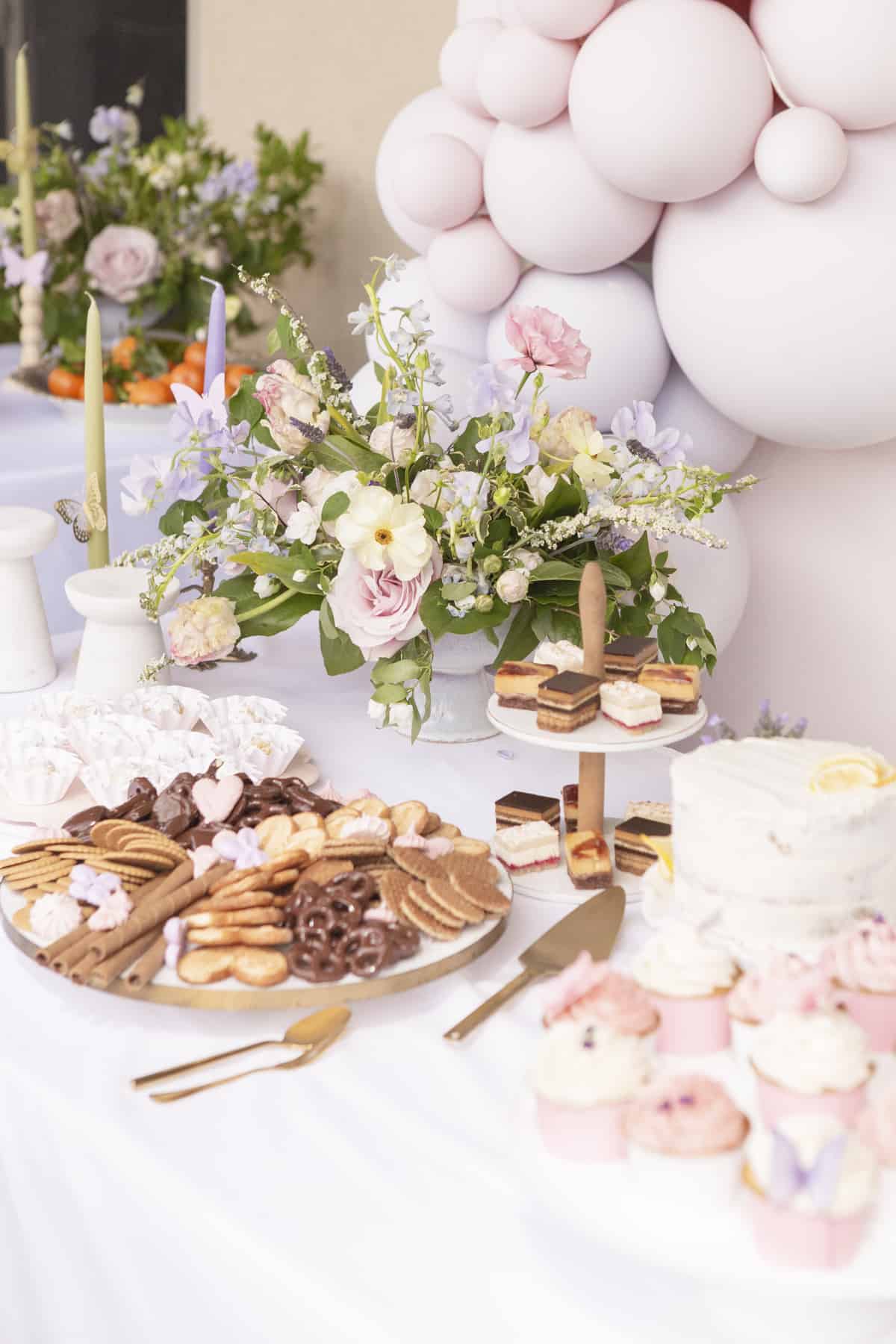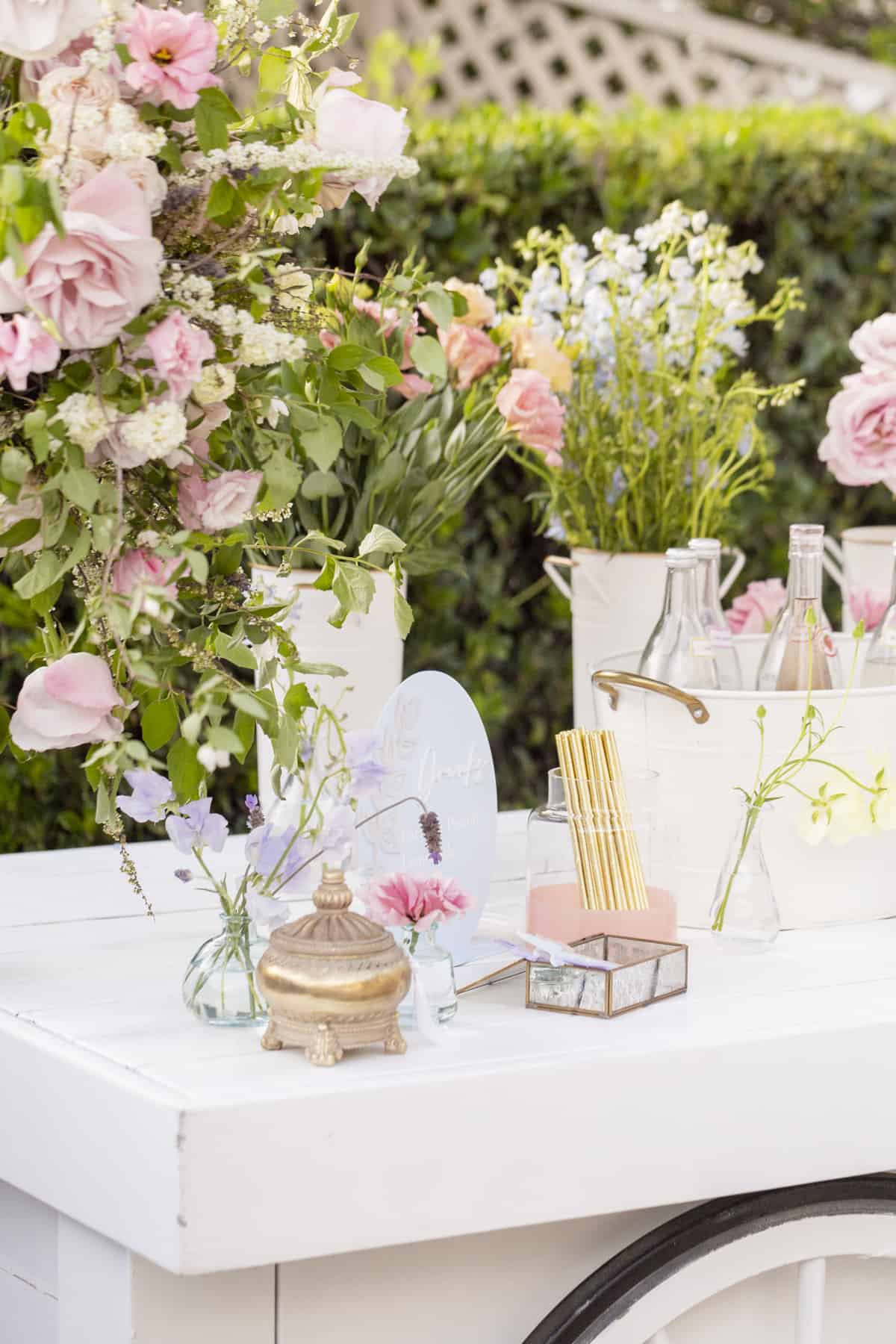 Bridal Shower Inspiration
When my sister got engaged, one of the first things she said to me was "I am so excited to see the shower you're going to throw!" No pressure.
Luckily, I've been an event planner for my entire adult life. I've always loved putting together an event that's beautiful, has delicious food and drinks, and fully entertains the guests. With this wedding shower I wanted my sister to be reminded of the year abroad she spent in France and the trip I took to Paris to visit her. I went with the theme "Picnic in Paris"!
One spring day we literally went to a park in Paris for a picnic with some of her school friends. The park was filled with gorgeous blooms and as we sat there, some beautiful butterflies flew around us. And I don't know much French, but all these little ones started to call out "papillons" and I was so excited to know that they were talking about butterflies. It always stuck with me about my trip to see her and I was so happy to pull it all together for her wedding shower.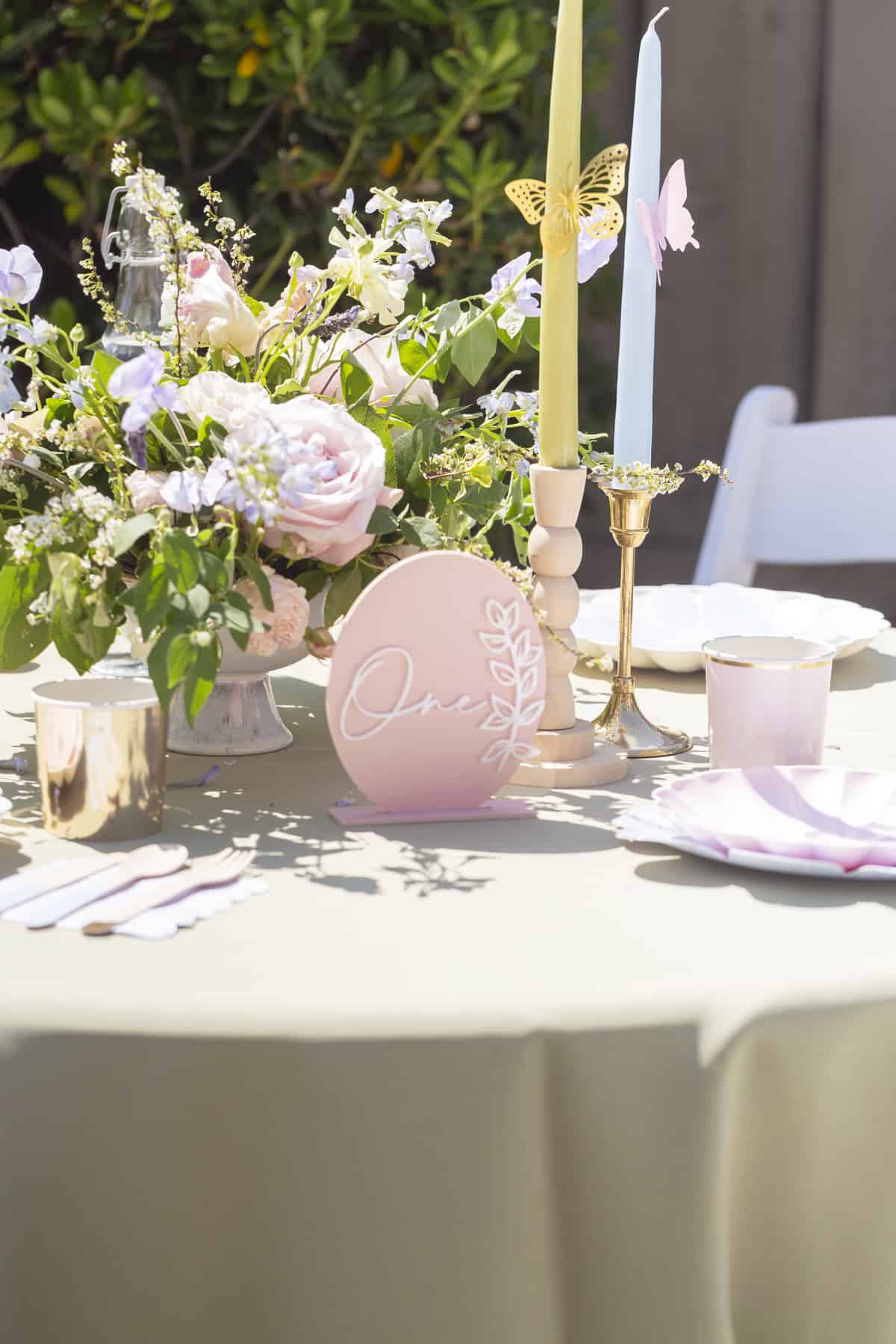 Collaborators
We went with a very French garden party with a hint of Bridgerton vibes! I was so excited by all the amazing collaborators I got to work with on this event. Here's a list of the amazing collaborators for this party!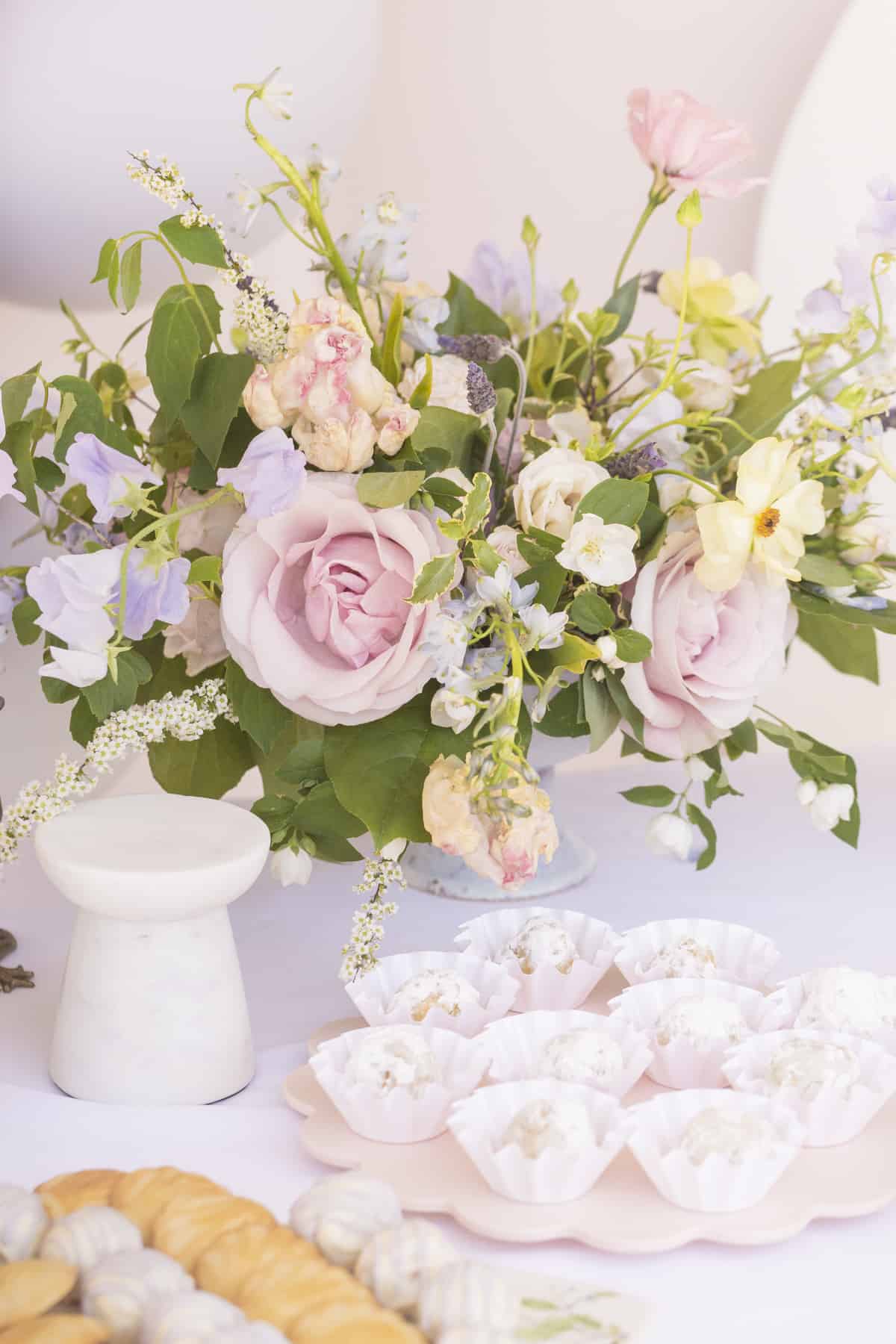 Florals and Balloons
Now, let's talk about the details. I worked with Paulina from Fig & Vine who created these stunning arrangements for the tables, buffet, and the custom piece for the cart as well. Everything she did was so dreamy, airy, and wild while giving very french vibes. Another amazing collaborator was Salina from Lively Event n Co! She created the two amazing backdrops, the limestone and arches, as well as the balloon piece. They are stunning and fit the theme to perfection, especially the sweet backdrop reading "Love is in Bloom". The perfect backdrop for a wedding shower!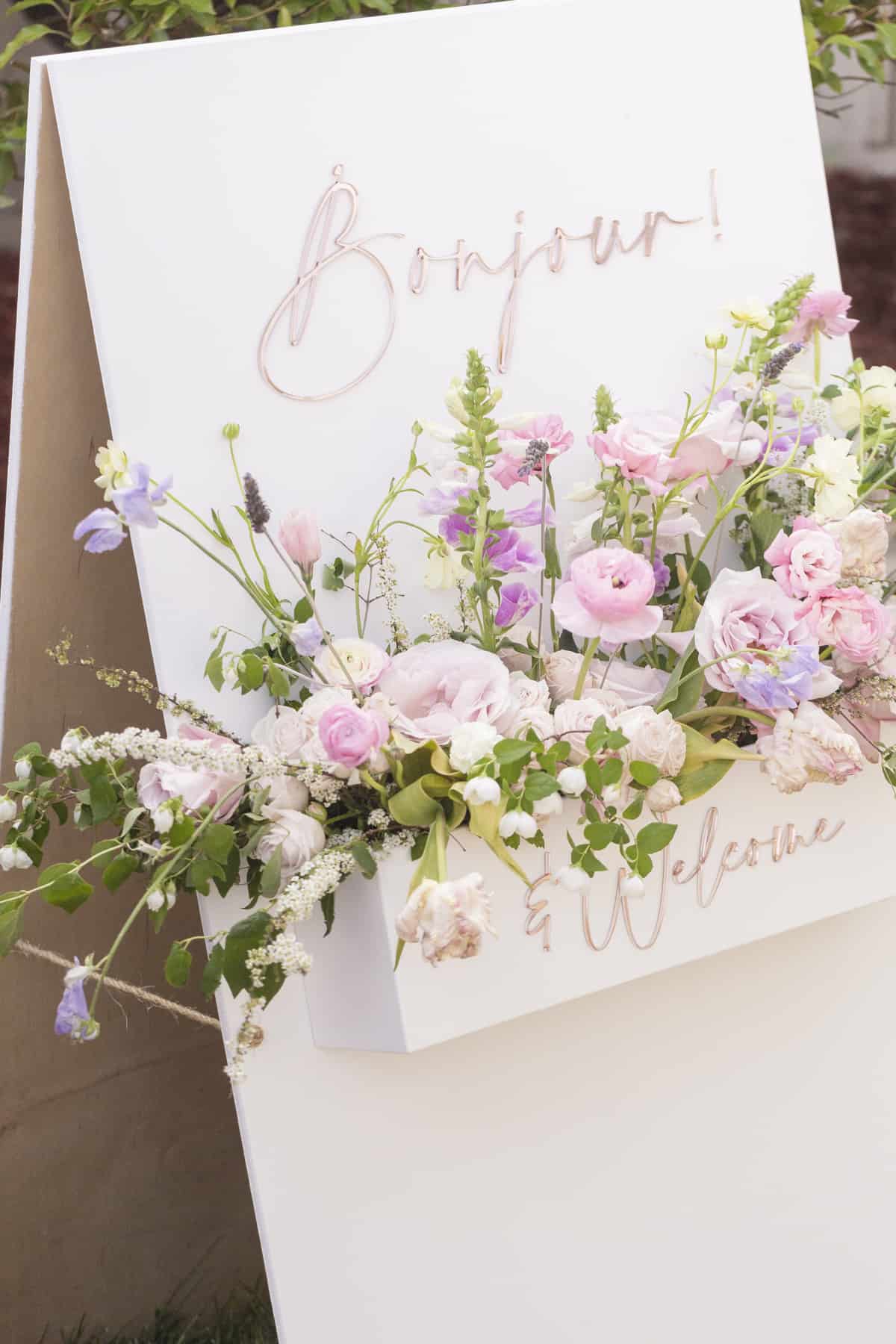 Signage
Speaking of beautiful signage, Ayah from Fig & Olive Designs created the beautiful oval signage seen on the tables, the sandwich board welcome sign, and the adorable drink accessories like the butterfly stirrers and drink charms. They were such beautiful colors and the welcome sign was a huge coup! Everyone was fawning over the beautiful acrylics and the lovely blooms from Fig & Vine.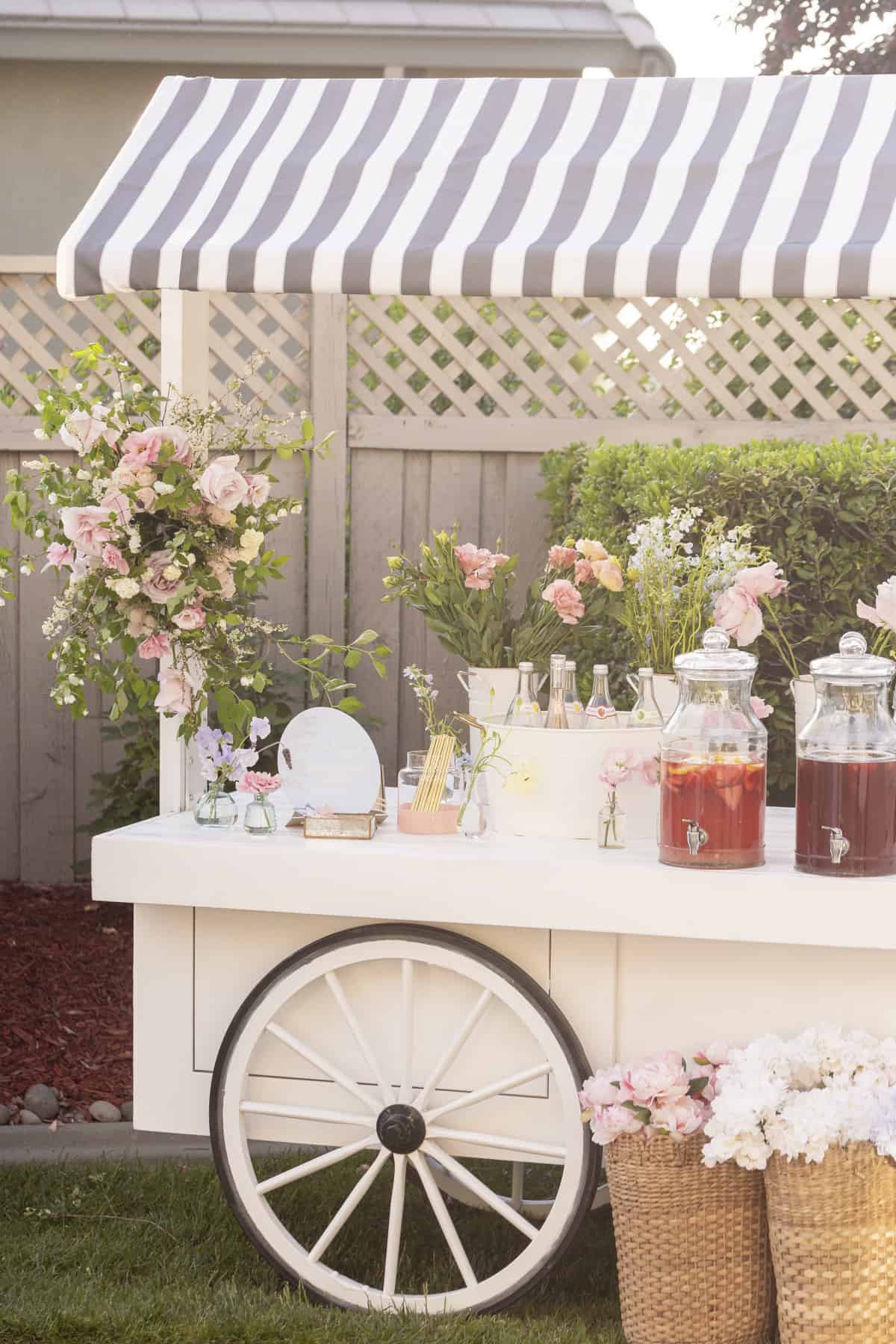 Rentals and Paper Goods
Another great collaborator was Celebrations Party Rentals who provided the tables and chairs, beautiful apple-colored linens, and the adorable cart! Seriously, nothing is cuter than this cart…I started to think that I needed one in my own backyard. No reason other than it is so cute! And on all these tables and the cart, you'll find some adorable paper goods from Bonjour Fête. My favorites are the Meri Meri Eco-Friendly Compostable Plates and the adorable Flower Garden Party Plates.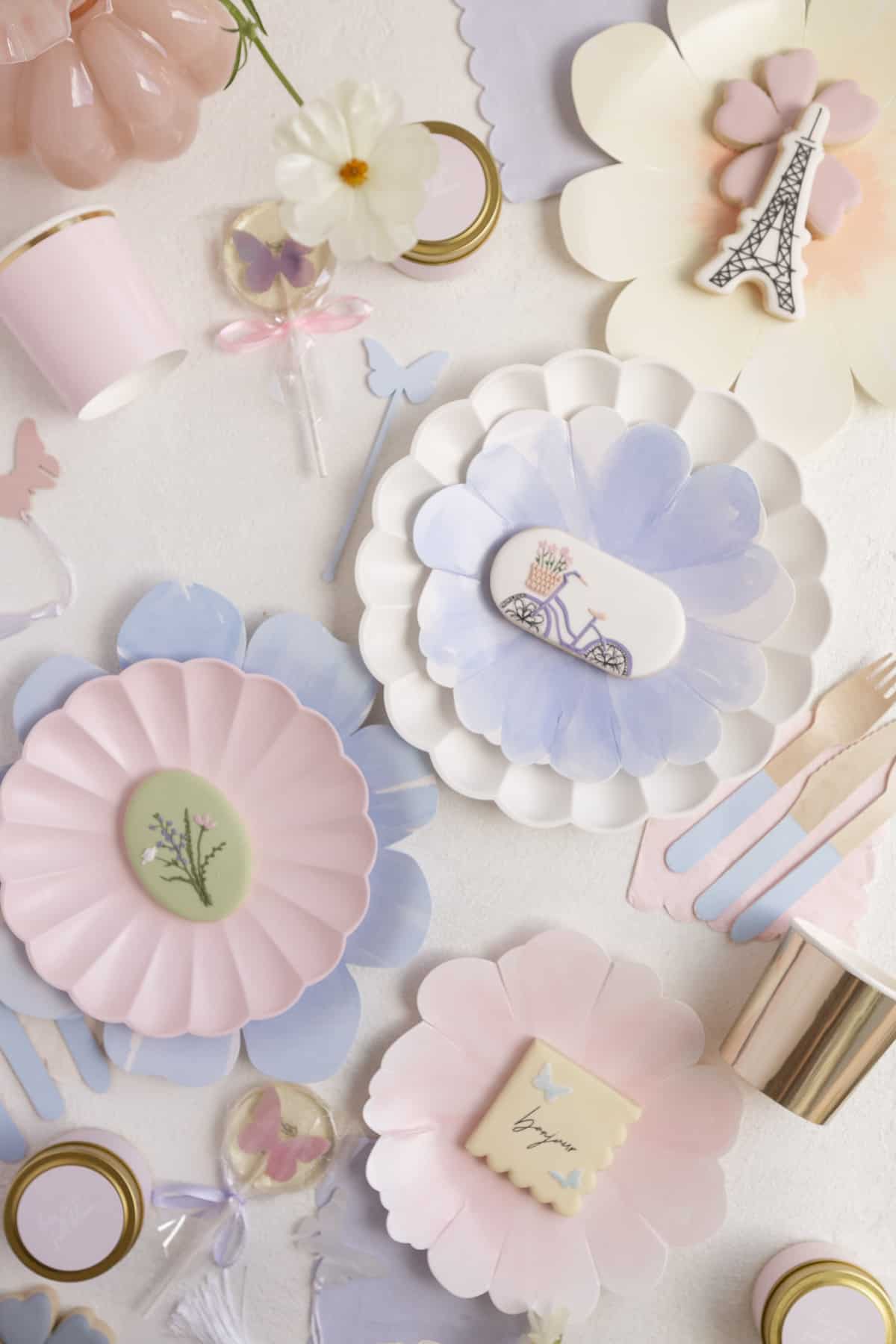 Favors
Now let's talk about favors! This favor table was filled with incredible gifts for all the guests. First, we had incredible custom candles from Dianna at Terra. These custom candles had labels made reading "Love is in Full Bloom" and came in a lovely shade of pink. The candle itself has a special rose scent and we got them in the mini size! Another incredible favor were the adorable custom cookies. Maryssa made these custom cookies that went perfectly on theme! An adorable bike with flowers, bonjour with butterflies, an Eiffel tower, and some cute florals. Another sweet treat we had for guests were the lollipops by Sweet Caroline Confections. The owner, Andrea, sent us these adorable lollies with edible butterflies inside. Such a fun favor!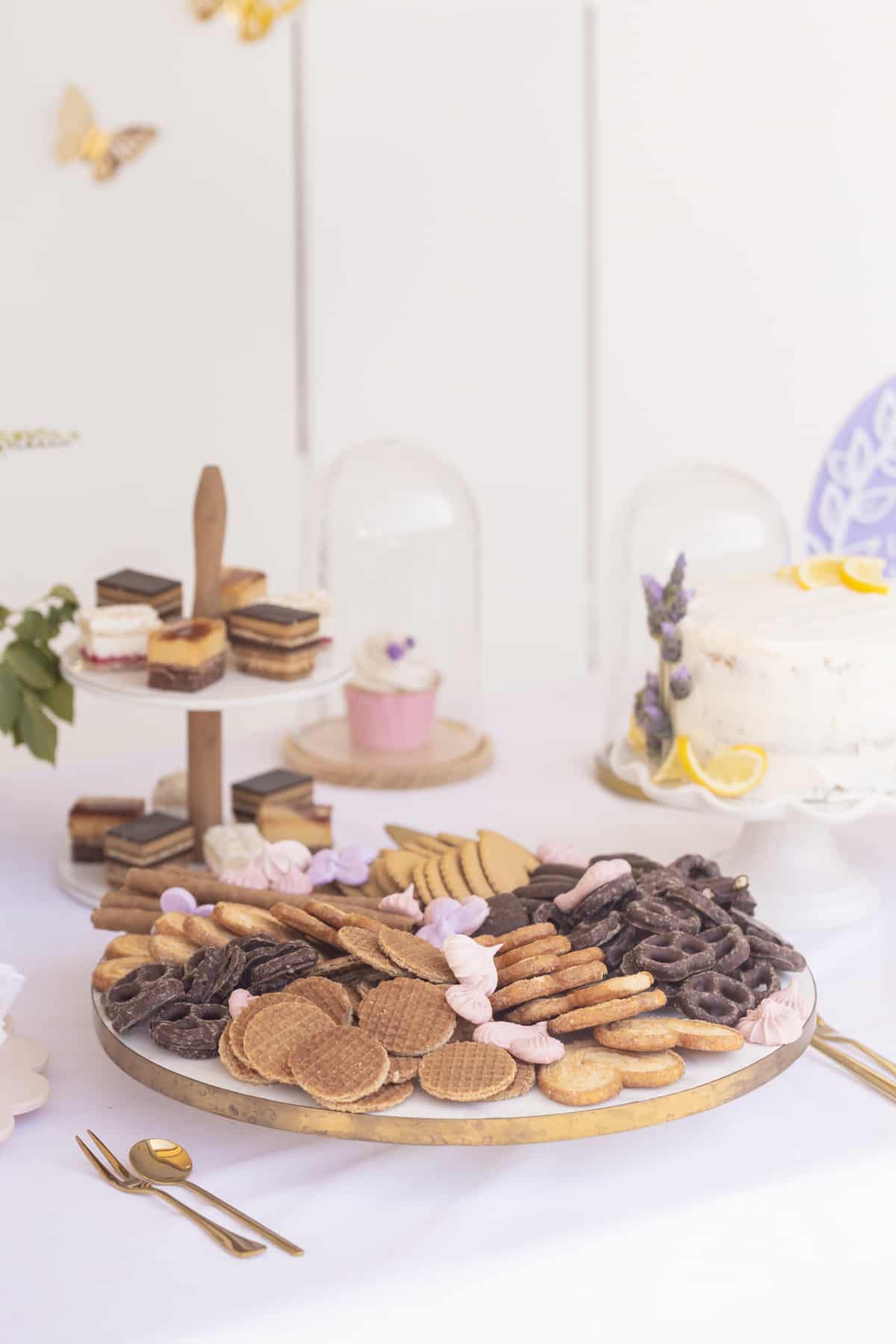 Food and Drink
Speaking of treats, this party was strictly desserts and drinks. You'll find homemade treats and drinks from my website Amanda Wilens. We had lemon bars, vanilla and strawberry cupcakes, lemonade sangria, dessert boards, and fruit.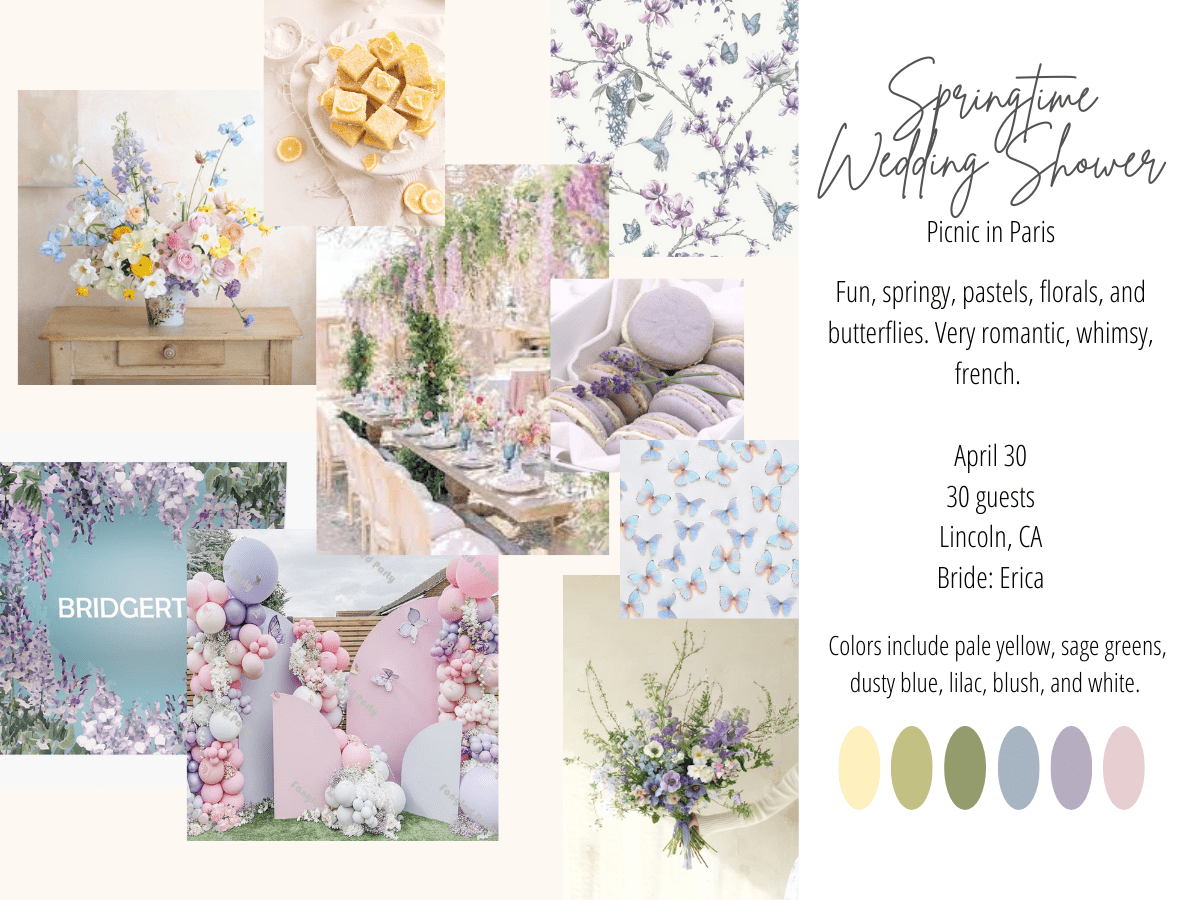 Moodboard
So, for these events I like to make a full moodboard with multiple pages for each vendor/aspect of the event. There are pages for florals, foods, backdrops and balloons, signage, paper goods and more! You can check out the entire moodboard on my Canva.
It was the most dreamy wedding shower and I'm so excited to share it with you all!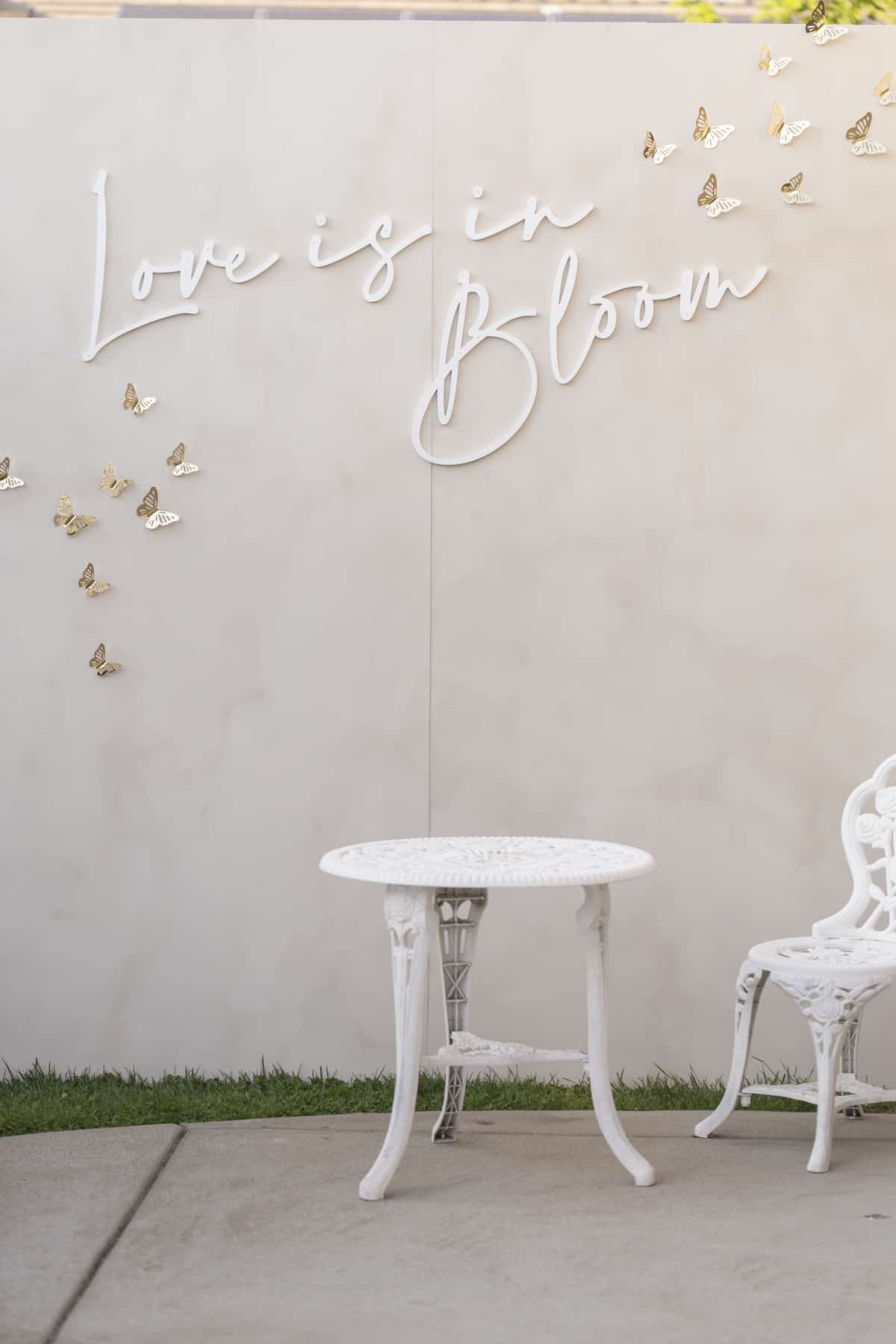 FAQs
Wedding Shower vs Bridal Shower
A wedding shower is a more inclusive term. They are usually very similar to a bridal shower, but can be more neutral and therefore applied to non-binary weddings, weddings where there are two brides or no brides, and overall just more accommodating for all. They can still be in honor of just one member of the people getting married, or for both/all.
How do you make a moodboard?
For these events, I want a very specific look and want all vendors to be on the same page. So I create a shareable doc in Canva for everyone to be able to refer to colors, themes, inspiration pics, etc. Go on Pinterest and Instagram and grab images you love. Upload them to Canva and place on one document. Then use the color picker to choose the common colors you see repeating.
How to make a Bridgerton themed bridal shower.
Yes! This theme is giving major Bridgerton vibes with the colors, flowers, and lots of vintage pieces. I think some of the easiest ways to do this was to pick pretty pastels that would lend to an overall regency vibe. Then also doing lots of whimsical pieces like the signage, florals, etc. I also loved adding in my vintage vases, candy jars, etc. where possible to give more of those antique vibes.
Other Posts to Check Out
Love this Post?
If you use this for an inspo for your party, be sure to post a photo on Instagram, and be sure to tag me in your photos!