I am hopeful that this year will mean smaller gatherings for people in the US for Thanksgiving. I wanted to assist with your small Thanksgiving gathering. This round up is perfect for Thanksgivings sizes 1-4. These recipes make about 4 servings each, which is perfect for 1-4 people and leftovers if less than 4 people! And we used the skins to make Small Batch Roasted Potato Skin Crisps. Tyler and I have had so many small Thanksgivings when we lived in St. Louis and couldn't make it home for both Thanksgiving and Christmas/Hanukah. So, we usually chose the latter and I would make us a small Thanksgiving meal like this.
I do also want to take this time to bring up Thanksgiving and how we learn about it. Thanksgiving is something I now celebrate as a time for good food and showing thanks and gratitude for the ones I love. However, the story we learned as kids about Thanksgiving is so off and really shouldn't be a part of the celebration, but rather a learning opportunity. Please do NOT dress in Native American headdresses. Please take the day to maybe educate yourself and the ones you love. Especially young children. Many Native Americans see Thanksgiving as a day of mourning and triggering. Remember, "pilgrims" led a mass genocide to the Native American population.
Hopefully, you will consider and implement the above before celebrating along with me.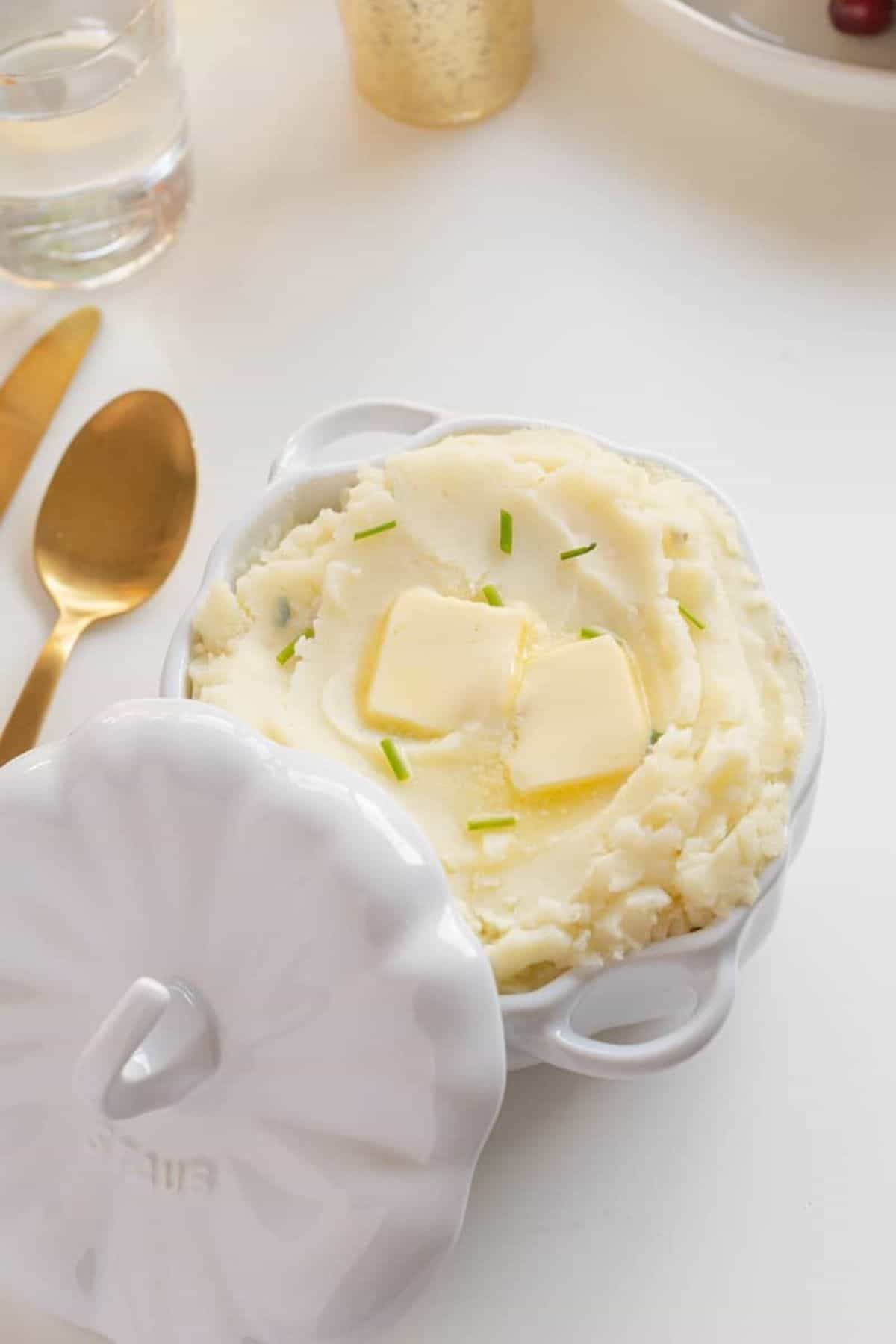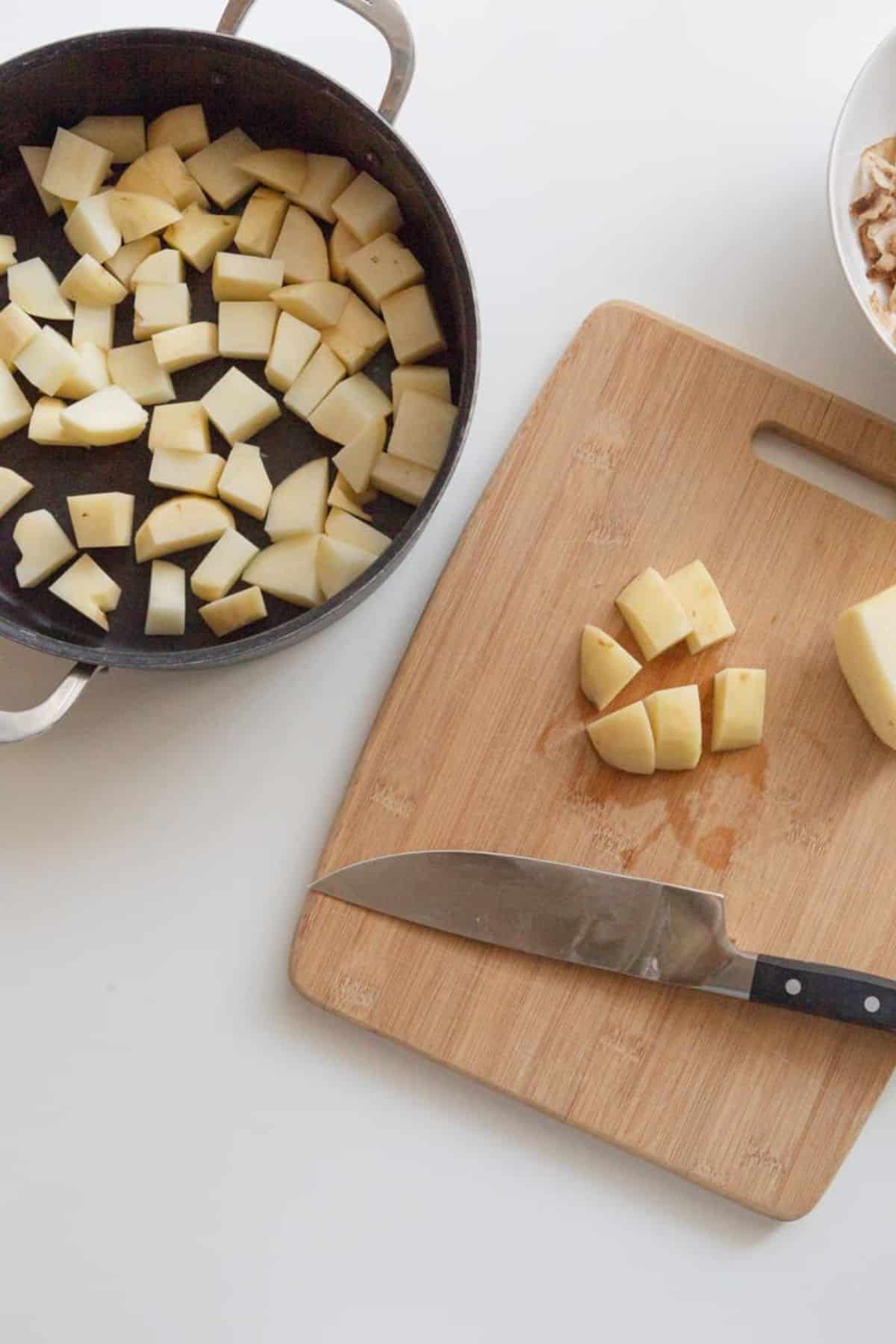 Table of Contents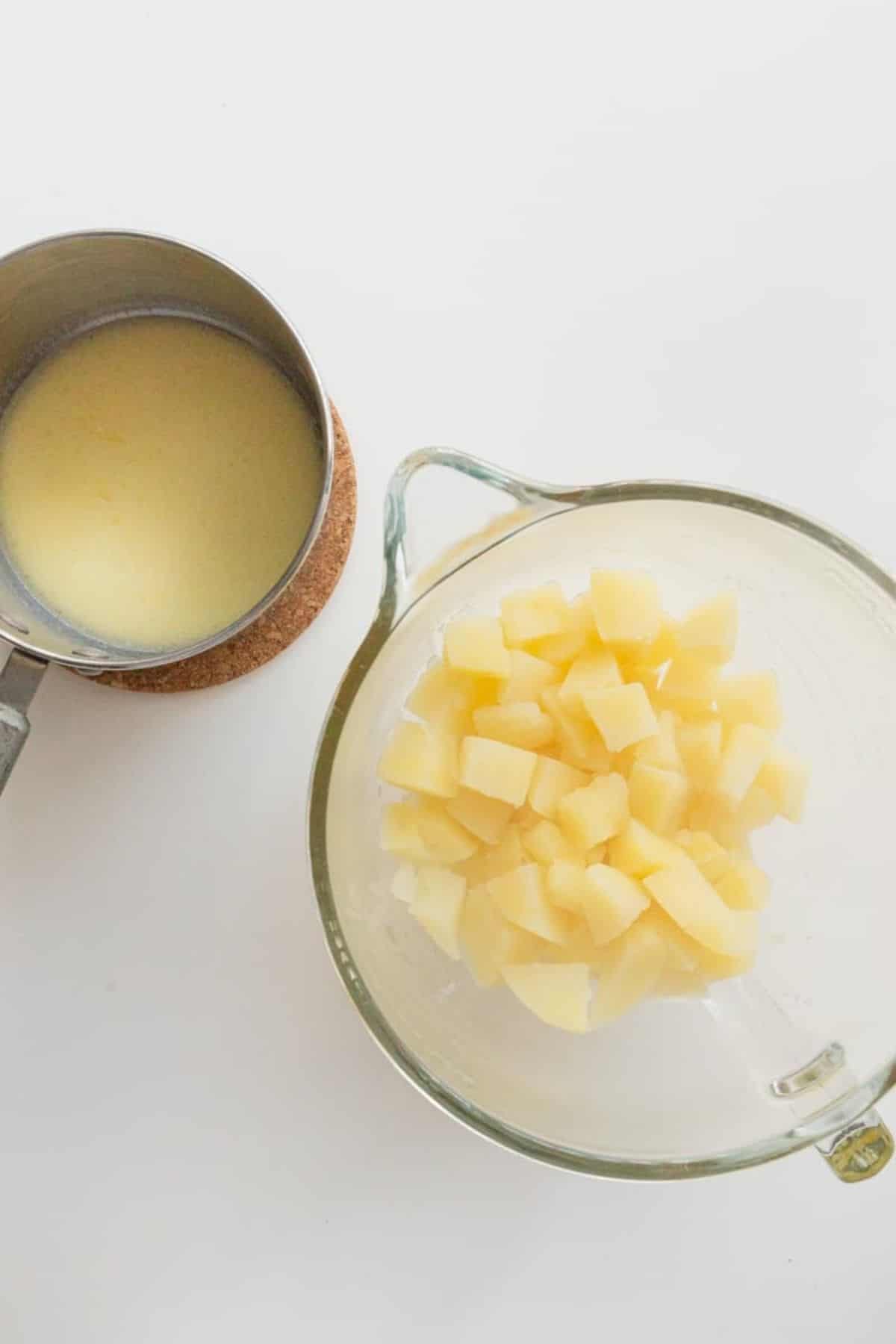 Celebrating a Mini Thanksgiving
Thanksgiving Desserts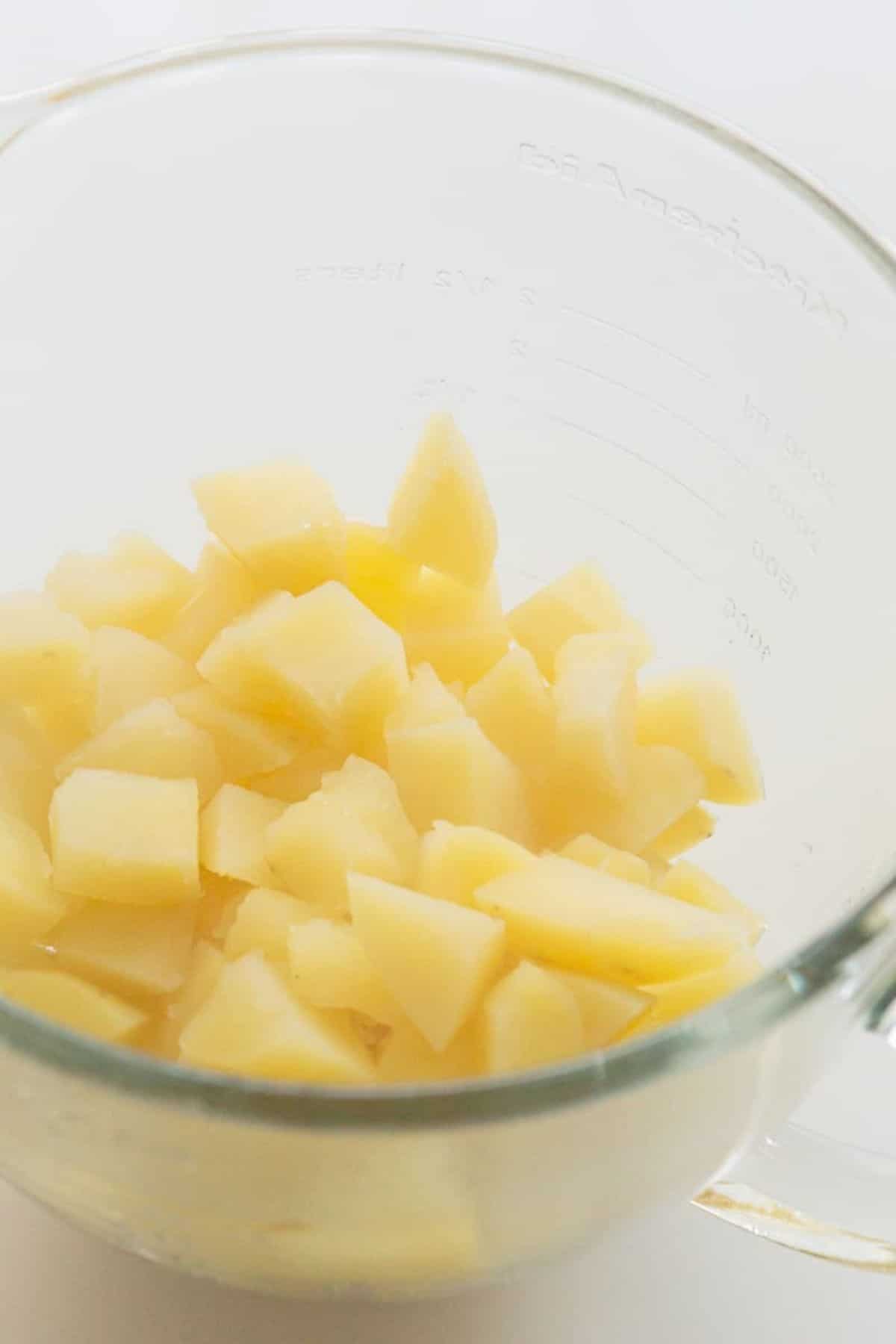 Thanksgiving Drinks
Leftover Recipes
Now, I'll go into some best tips for making small batch mashed potatoes.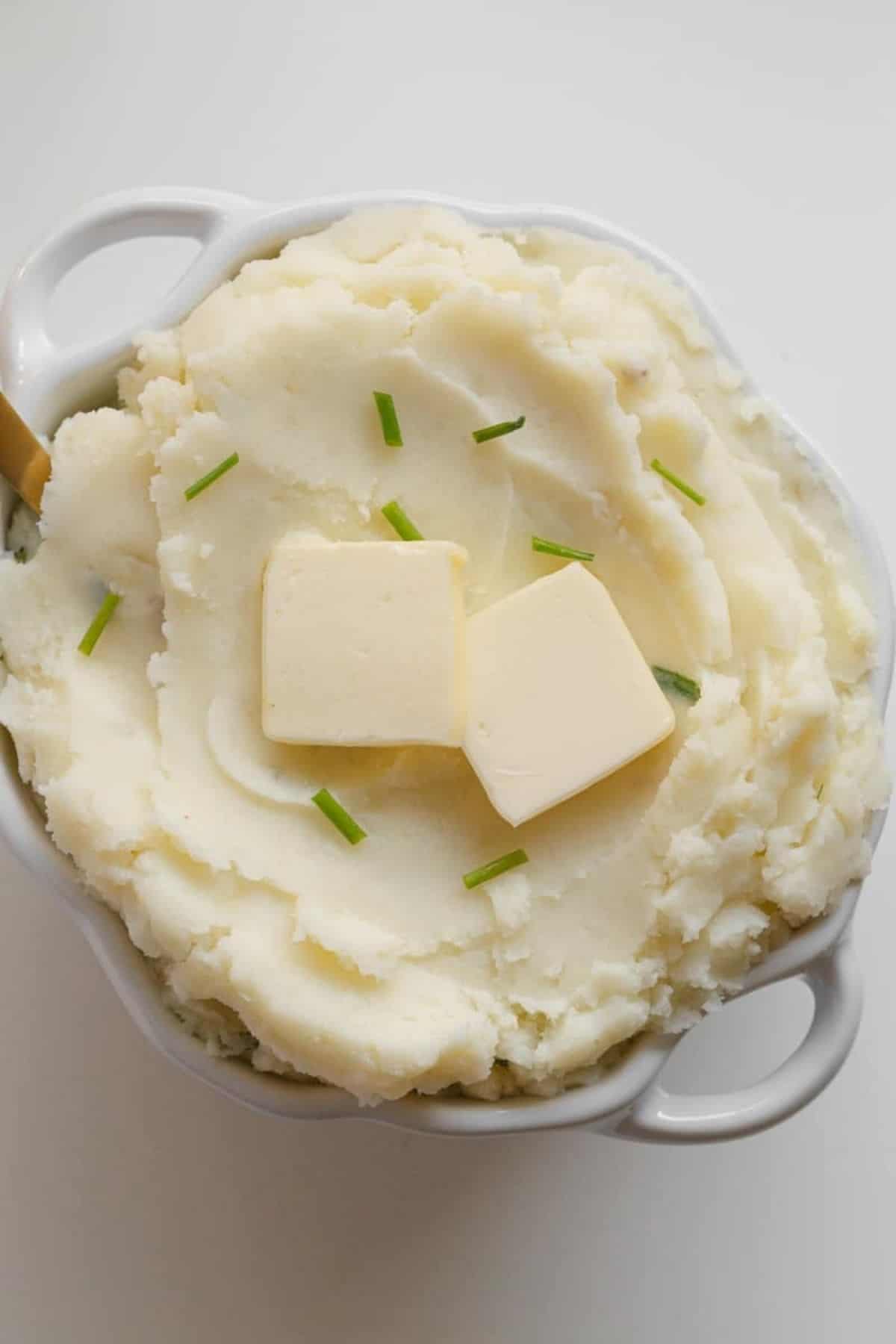 How early can I make mashed potatoes?
Mashed potatoes are a great dish to make the day before thanksgiving. They hold up nicely in the refrigerator and you can transfer to a large bowl and reheat at 30-60 second intervals, stirring each interval. You may also want to add an additional tablespoon of butter when reheating.
What potato is best for mashed potatoes?
Russet and Yukon Gold are the most common. I personally did the below two ways! Once with 2 russets and once with 3 Yukon golds. You could go either way. Yukon golds definitely get creamier easier and have a flavor profile I prefer. But I love both.
How do I season my mashed potatoes?
I love adding garlic and chives to mashed potatoes. You definitely want to make sure to at least cook down your garlic before adding to potatoes. Another great addition is finely chopped rosemary. You would add this when you cook down butter, when you cook garlic.
Why unsalted butter in mashed potatoes?
Unsalted butter is always preferred when cooking and baking. It's best to just use salted when buttering bread, muffins, etc. You want to be able to control the amount of salt in your dish. By using unsalted you can add in salt and control how salty the end result will be.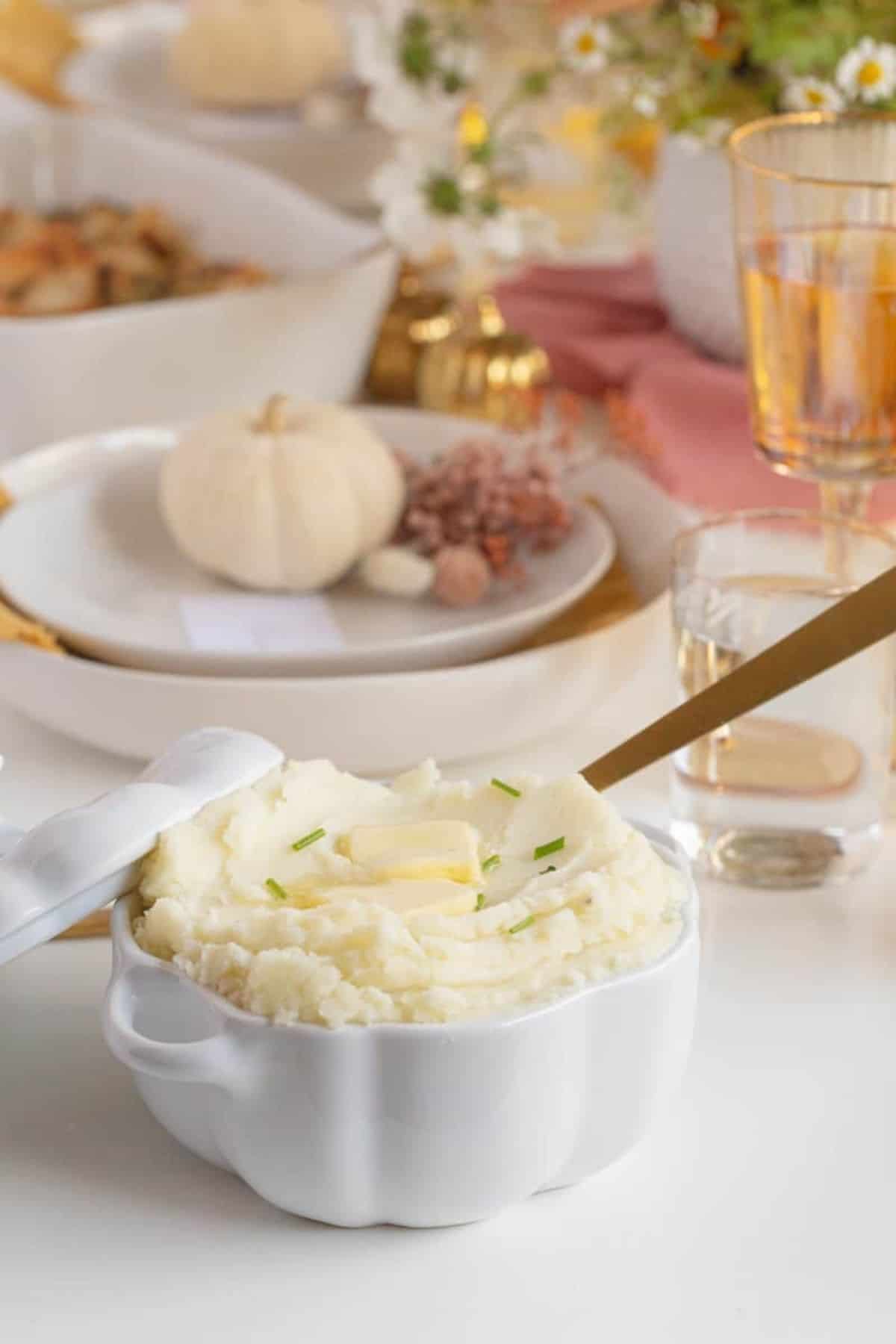 Love this Recipe?
Did you make this recipe and just love it? Awesome! If you have a quick minute and could leave a star rating and comment below, I would appreciate the support and knowing your feedback! And if you're over on Instagram, be sure to tag me in your photos!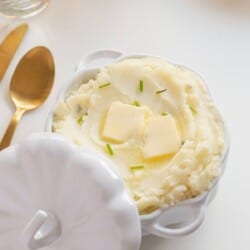 Ingredients
4

Yukon gold potatoes

small, peeled and cut into 2.5-3" pieces* (about 12-16 ounces)

3

tablespoon

unsalted butter

1

garlic clove

peeled and minced**

1

tablespoon

chives

chopped finely**

⅓

cup

whole milk

or heavy cream

1 ½

teaspoon

salt

plus extra for boiling water

Extra chives and butter for garnish

optional
Instructions
Place cut potatoes in bowl covered with water for 20 minutes

Place potatoes in a medium pan or pot and cover with cold water. Slightly salt the water. Cover and bring water to a boil. Once boiling, reduce to medium-low on your stove to just simmer with your lid ajar. Let cook for another 20-25 minutes, until tender (test with a fork).

Drain potatoes, do not rinse!

In a small sauce pan heat your butter. Once butter has melted add in your garlic, salt, and chives. Cook until fragrant, about 3-4 minutes. Add in milk/heavy cream until heated.

Place potatoes into stand mixer bowl (or regular mixing bowl if doing with hand mixer or by hand) with paddle attachment. Turn onto the slowest speed and start to break down potatoes. Slowly pour in milk and butter mixture. Once milk is incorporated, turn up speed to low-medium and whisk for about 2 minutes.

Season to taste with salt and pepper. Plate, top with extra butter and chives if you wish, and serve!
Notes
- * Can be substituted for 3 Yukon Gold potatoes
- **Chives and garlic can be omitted and just as delicious!
- Can be reheated, just do short intervals in microwave.
- Can be made ahead of time and can sit at room temperature for about 2 hours.
- Don't have a stand mixer? No worries, use a wooden spoon at first with the mashing of potatoes, or ricer. Then use a whisk to whip the potatoes at the end.
Tried this recipe?
Mention @amanda.wilens