How to Set-up a Mini Thanksgiving
I am hopeful that this year will mean smaller gatherings for people in the US for Thanksgiving. I wanted to assist with your small Thanksgiving gathering. This round up is perfect for Thanksgivings sizes 1-4. These recipes make about 4 servings each, which is perfect for 1-4 people and leftovers if less than 4 people! Tyler and I have had so many small Thanksgivings when we lived in St. Louis and couldn't make it home for both Thanksgiving and Christmas/Hanukah. So, we usually chose the latter and I would make us a small Thanksgiving meal like this.
I do also want to take this time to bring up Thanksgiving and how we learn about it. Thanksgiving is something I now celebrate as a time for good food and showing thanks and gratitude for the ones I love. However, the story we learned as kids about Thanksgiving is so off and really shouldn't be a part of the celebration, but rather a learning opportunity. Please do NOT dress in Native American headdresses. Please take the day to maybe educate yourself and the ones you love. Especially young children. Many Native Americans see Thanksgiving as a day of mourning and triggering. Remember, "pilgrims" led a mass genocide to the Native American population. Here's an article from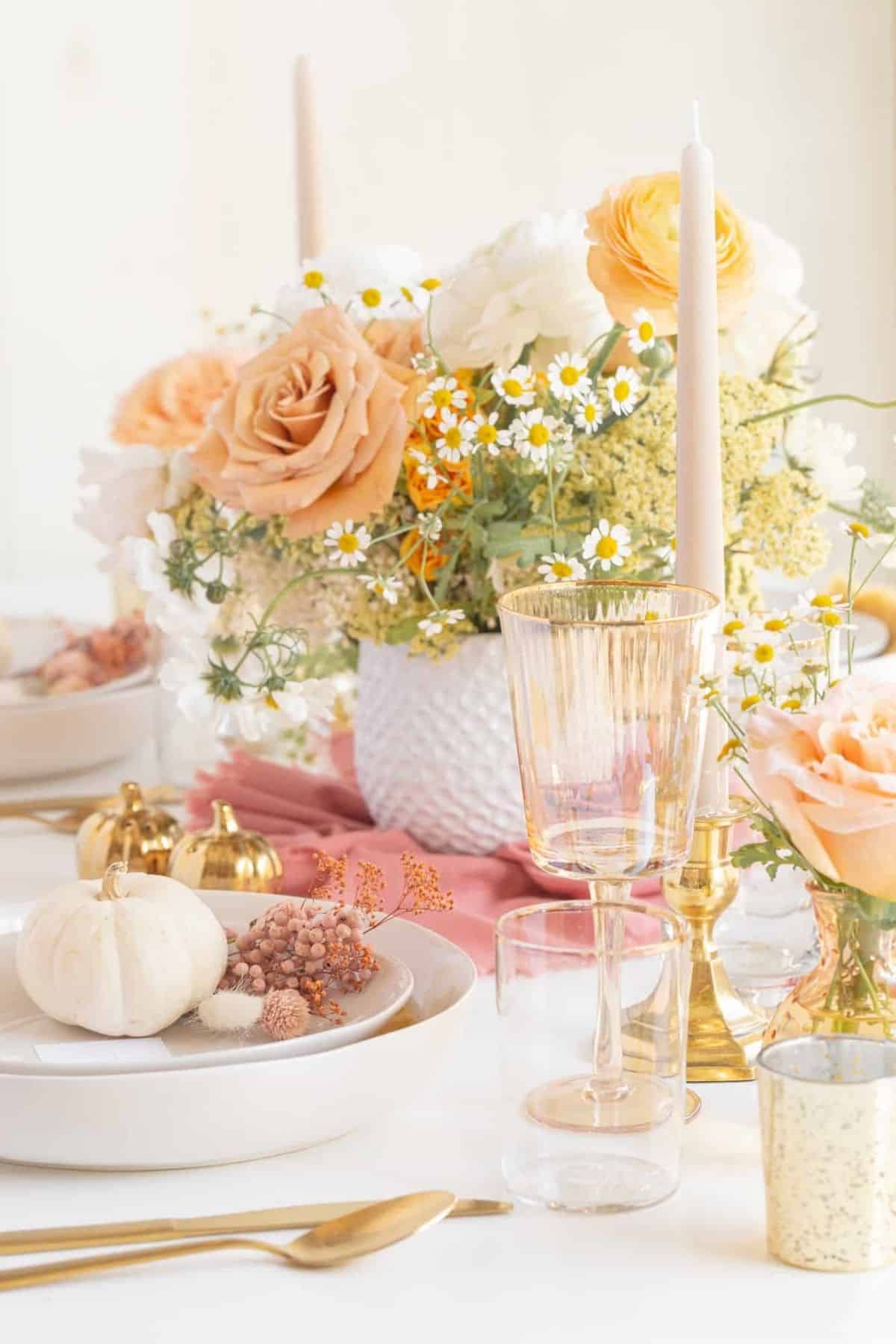 Hopefully, you will consider and implement the above before celebrating along with me.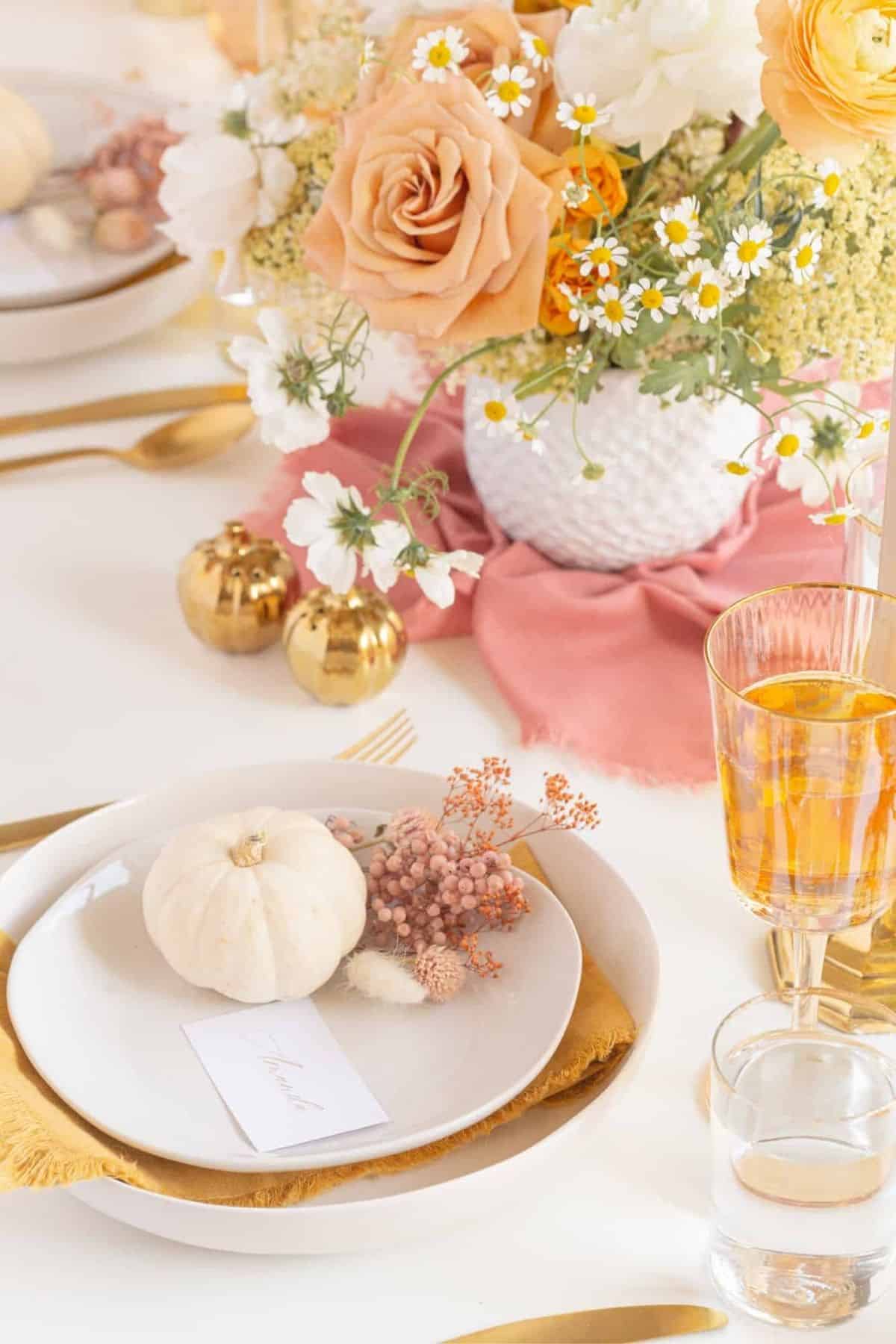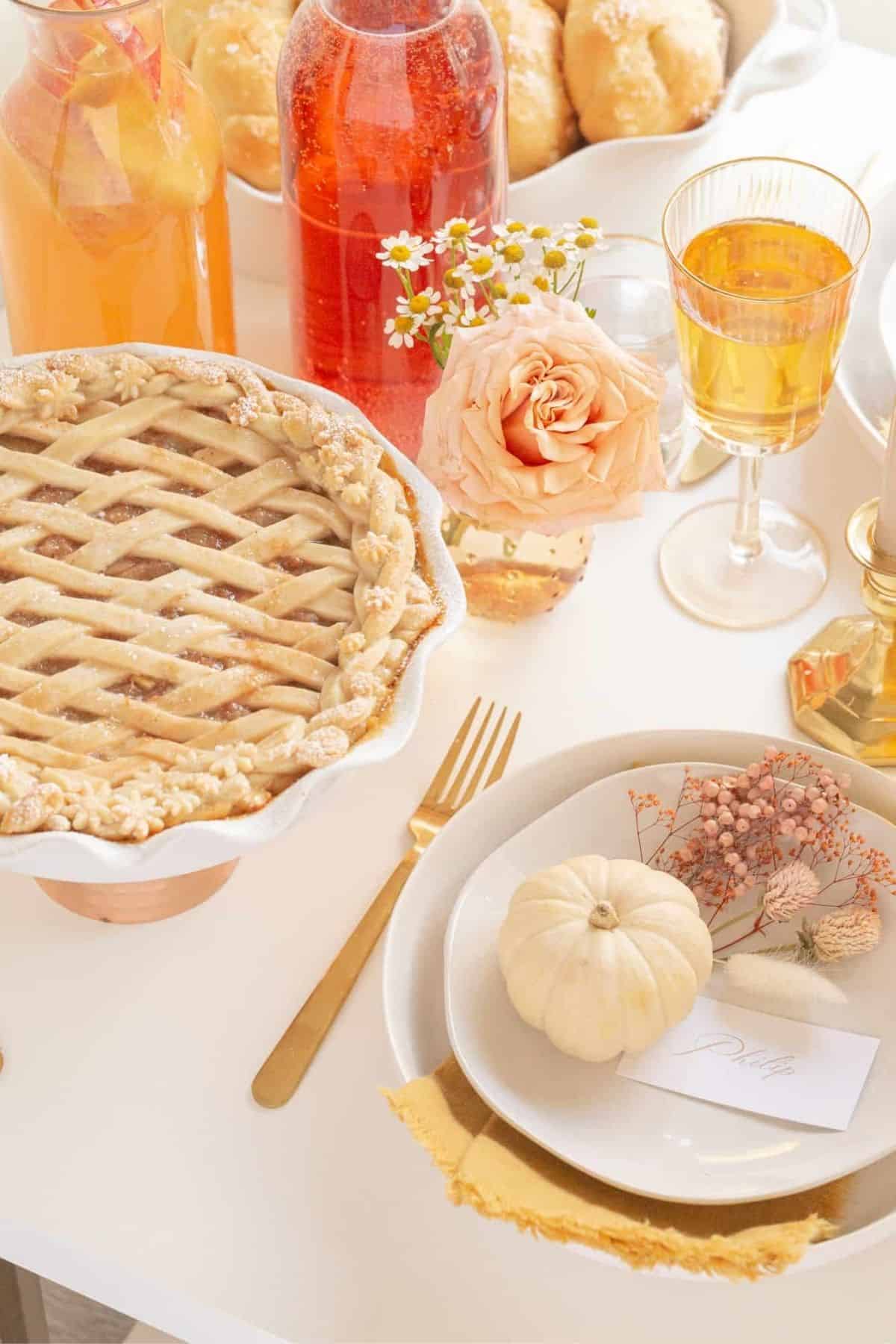 Celebrating a Mini Thanksgiving
Thanksgiving Desserts
Thanksgiving Drinks
Thanksgiving Favorites and Leftover Recipes
Now, I'll go into some best tips for setting up your own Mini Thanksgiving!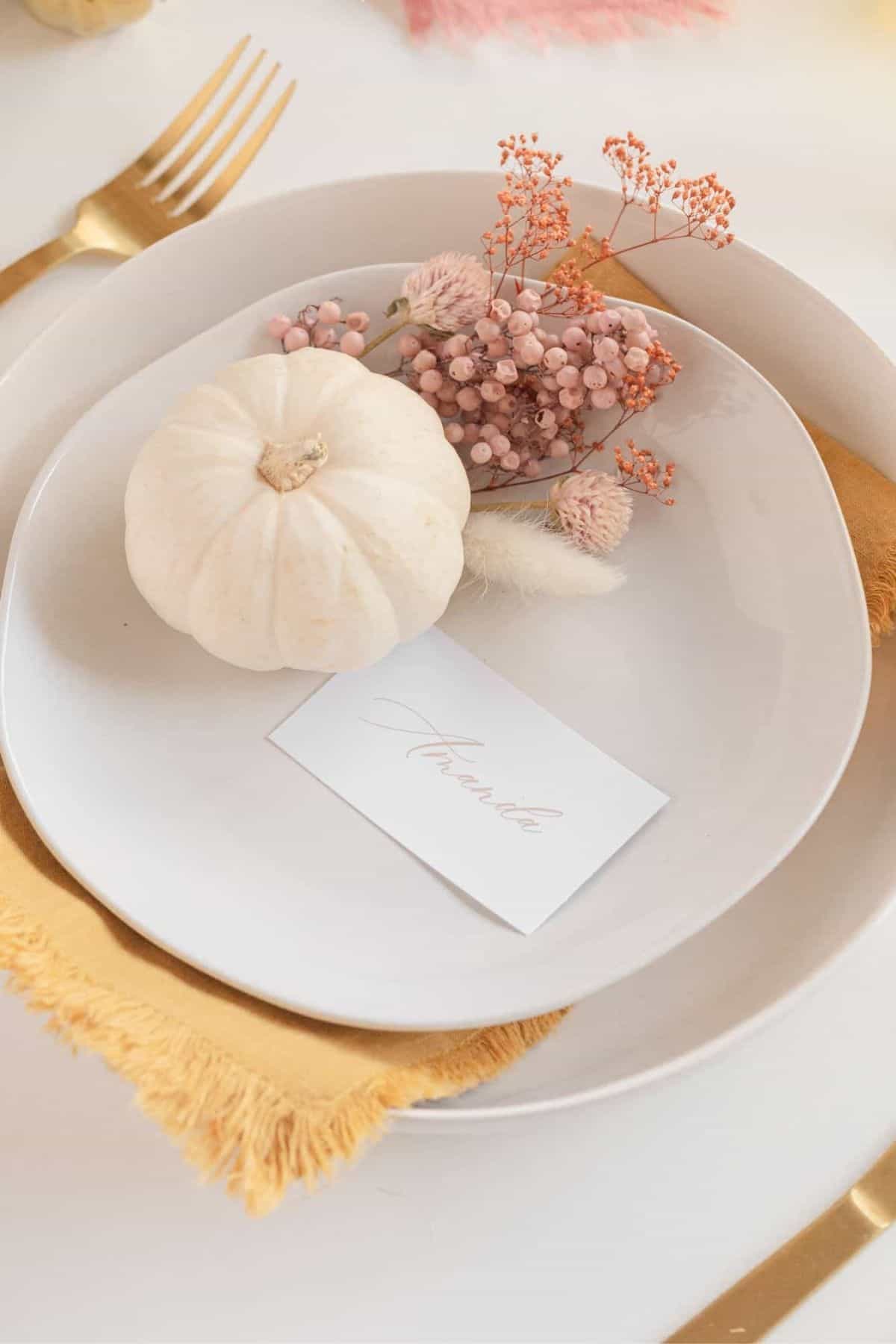 Setting the Thanksgiving Table
Start setting the table with dinnerware.
This is a great place to start because it shows you how much room they will take up. The only exception to this rule is if you have a table runner.
After you set your dinnerware, add your flower arrangement!
For this set-up I used one larger arrangement. I got this gorgeous arrangement from Third and Park. However, I had a little accident in the car and broke off a few flower heads on the way home. So, I added in a few gorgeous roses and chamomile to add in some more flowers.
Add candles to your tablescape.
I added some tall tapered candles and golden candlesticks from Afloral. And I also added a few votives from Michaels. Always use unscented candles on your dinner table. Otherwise it can affect how your food tastes.
Special and Easy Place Settings
These place settings were made up with a small dried floral arrangement I made with Afloral pieces. I also added a small white pumpkin to each. And then added these beautiful name cards that my dear friend Alicia, of On Three Designs, made. You can design your own on your computer, print, and cut!
Thankful Printable Cards for Thanksgiving
These beautiful cards are again made by Alicia of On Three Designs. You can print one for each of the guests at your table. It's fun to fill them out and then share your gratitude with one another. Print here: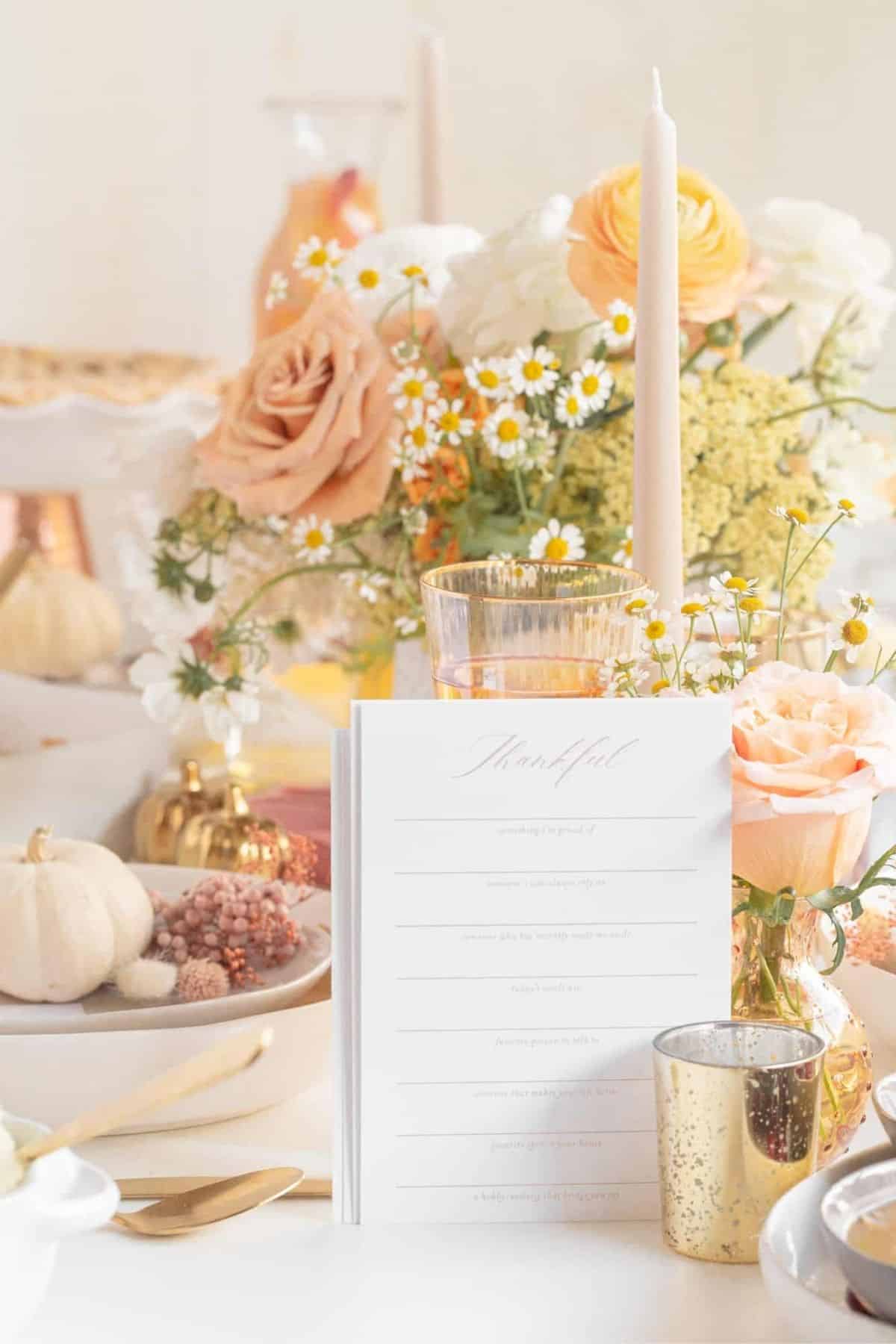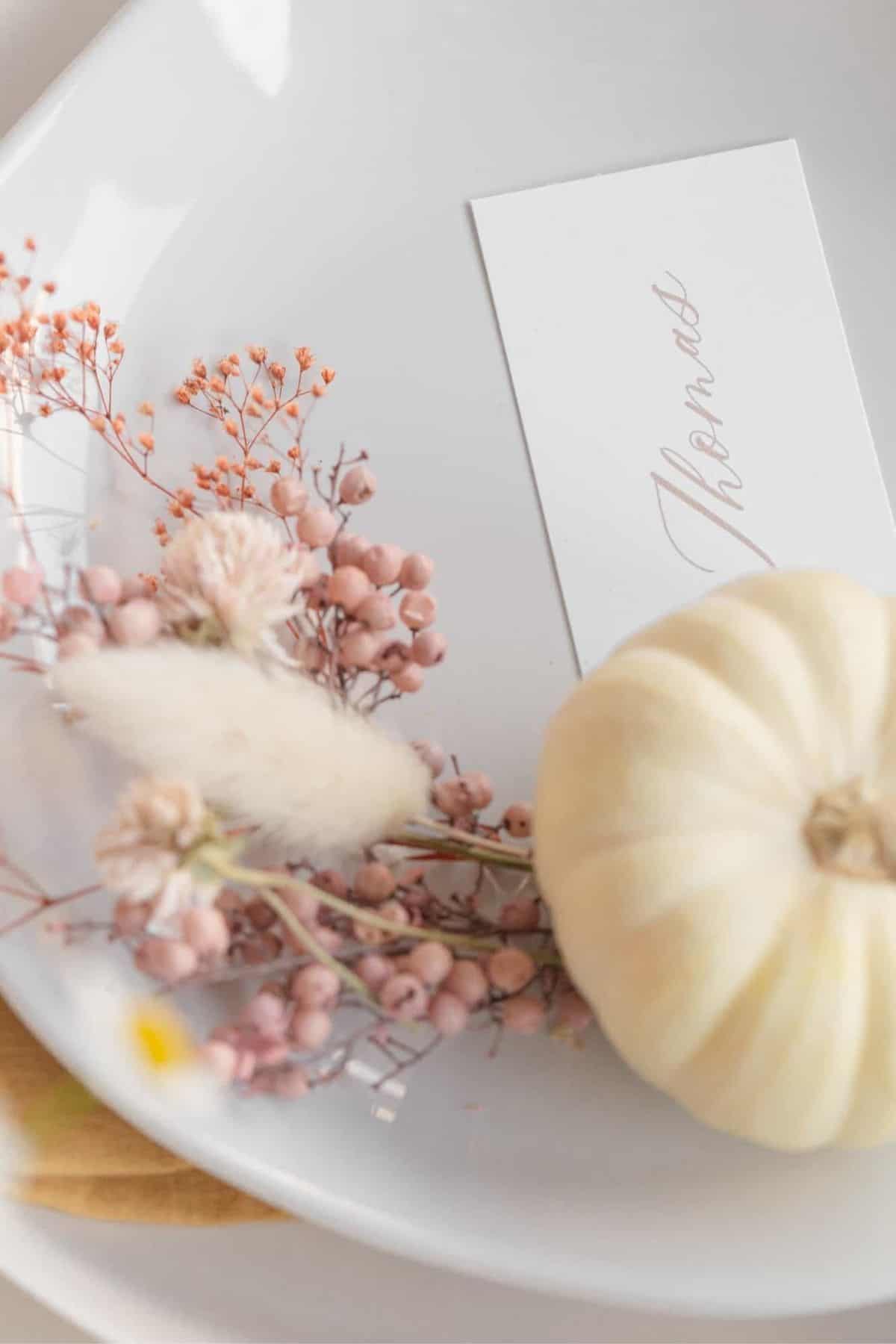 Love this Post?
Did you use this article and did it help you? Awesome! If you have a quick minute and could leave a comment below, I would appreciate the support and knowing your feedback! And if you're over on Instagram, be sure to tag me in your photos.