These Quick Pickled Onions are actually my sibling Leo's recipe. They love to pickle everything and I love to eat all things pickled. So, when I was making these Sheet Pan Nachos, I really thought some pickled onions would be perfect on top. And they were! Leo's recipe is truly so simple and so delicious.
Below I'll go into some tips for making the best pickled onions…which really you could do with jalapeños, cucumbers, carrots, etc. Just a reminder though, these are quick pickled so you need to refrigerate them and they don't have a shelf life if you bought store-bought pickled veggies. These are fresh and should be used within about two to three weeks.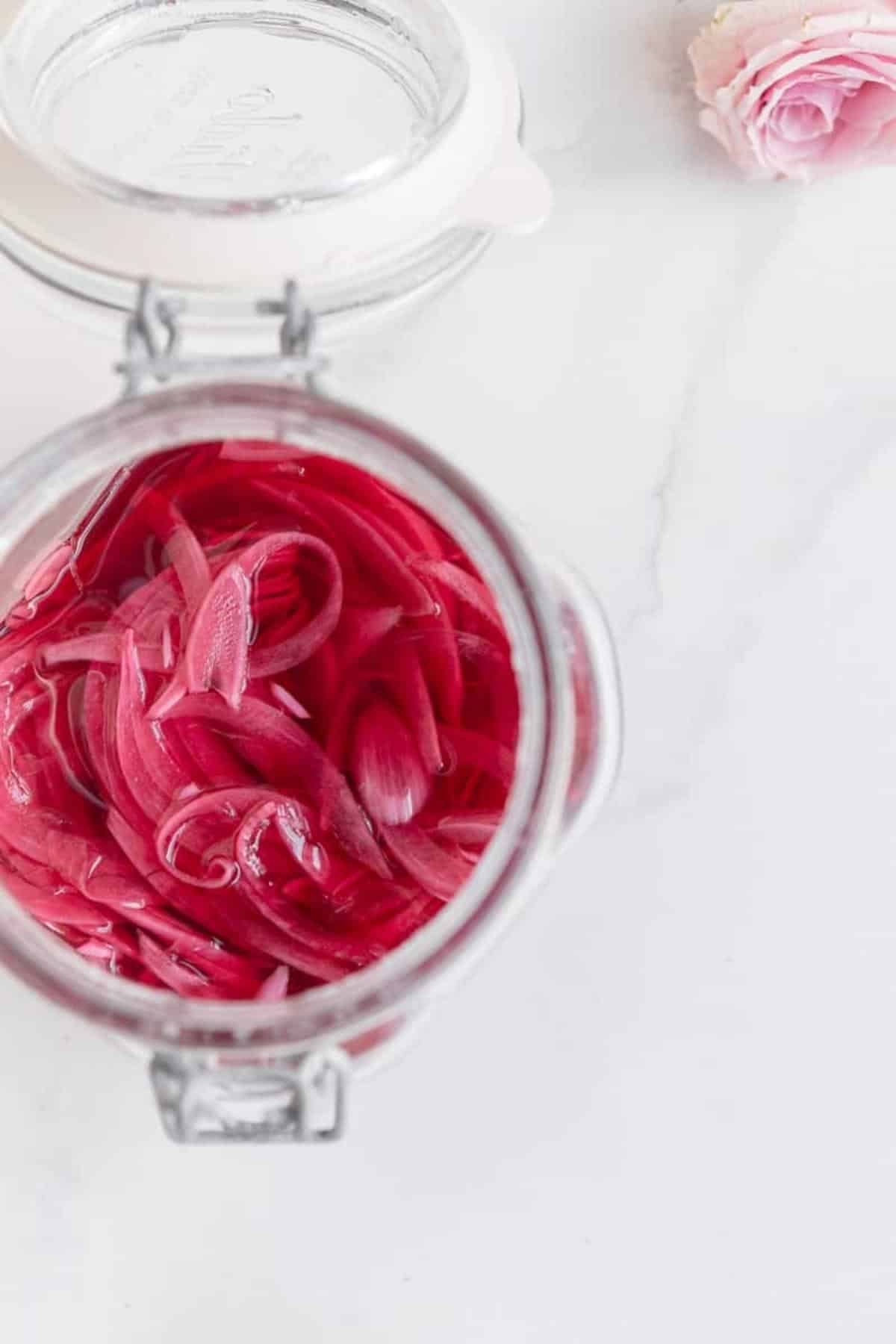 3 Ingredient Pickled Onions
This recipe only calls for three main ingredients. Some people like to get fancy and add in other seasonings like black peppercorn, red pepper flakes, herbs, garlic, etc. However, I like to keep this one simple and perfect. These are easy to make and use ingredients most people have on hand already.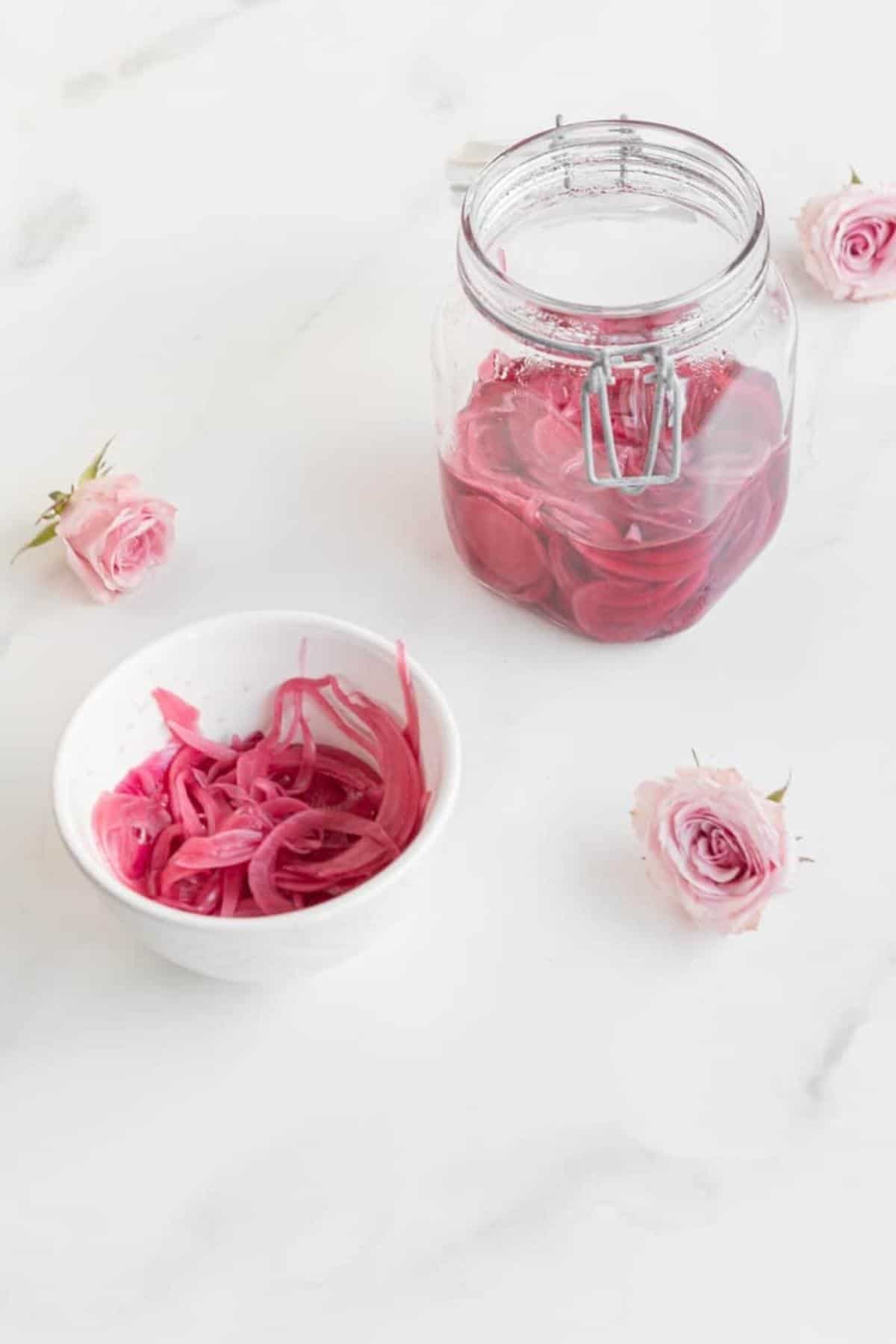 Why these Ingredients
Red wine vinegar: I use this instead of white or apple cider mostly for the flavor and a bit for the color!
Brown sugar: In this recipe I use brown sugar as well. Again, this is a chose for flavor. There is a bit of molasses in brown sugar and adds a bit of extra sweetness to balance the tart vinegar and onions.
Red onion: try to find a large red onion, if not a whole small one is fine. Remove the top and bottom stems and the dry outer skin. Then slice to a medium thinness and cut evenly, easiest to be done uniformly with a mandolin.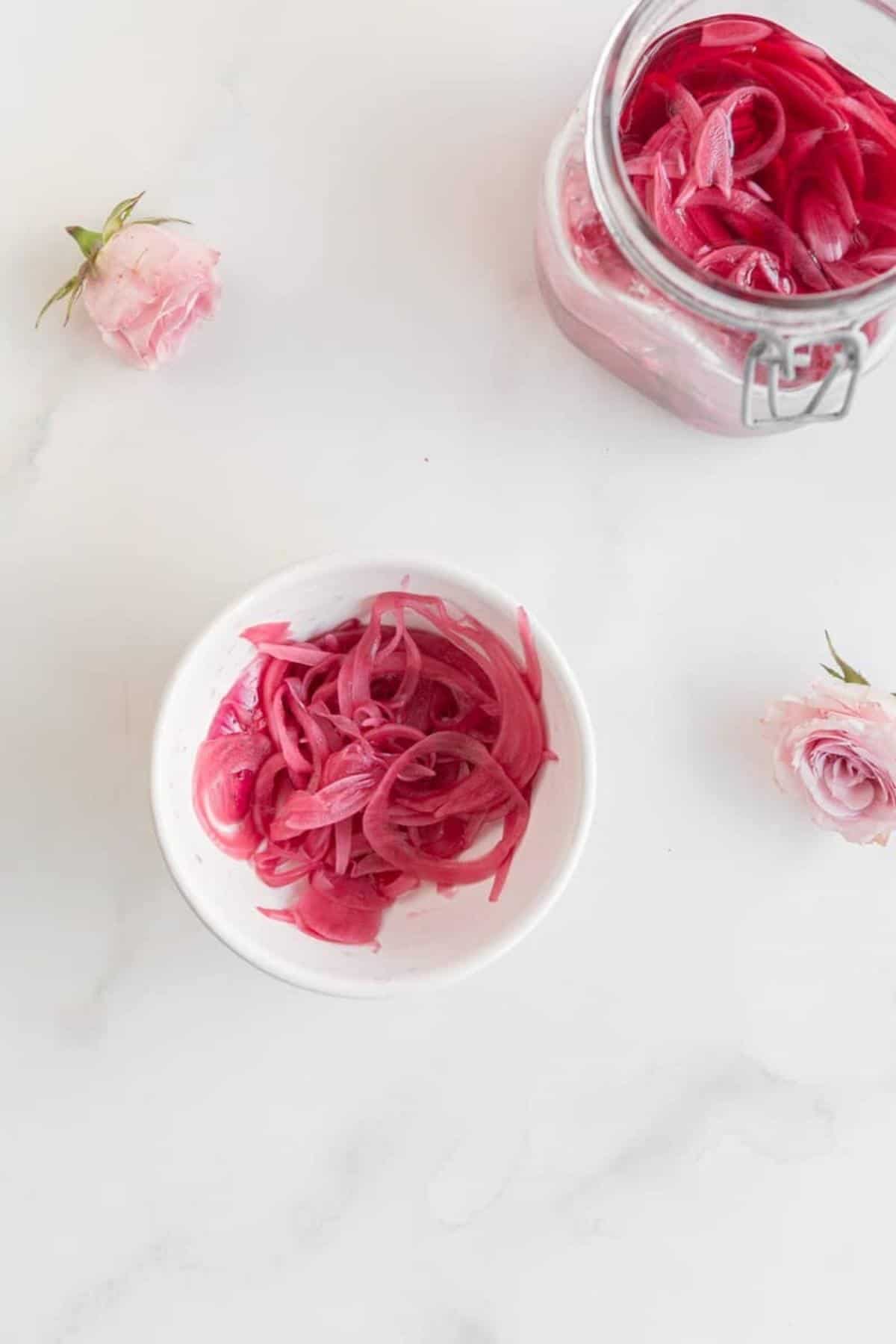 Expert Tips
Really clean and dry your air-tight jars.
Use the right type of jar. A mason jar works well, but I like to use one with a rubber lip and seal. I feel like I get a super tight close on them.
Don't boil your vinegar, you will get rid of the small percent of water that is needed for this process and can also boil off the acid needed for pickling.
Slice your veggies thinly, but not too thinly. The pickling process almost always thins out your veg a little bit and with all that moisture it makes them a bit softer. If you go too thin from the start, they will just end up too soft and thin and not as crunchy or yummy.
Be safe! Yes, it is fun to add in new things or try different ingredients, but pickling can be a little goofy and you don't want to make mistakes like storage, sealing, etc. You don't want to give yourself food poisoning. If in doubt, google and look for a reliable, academic source.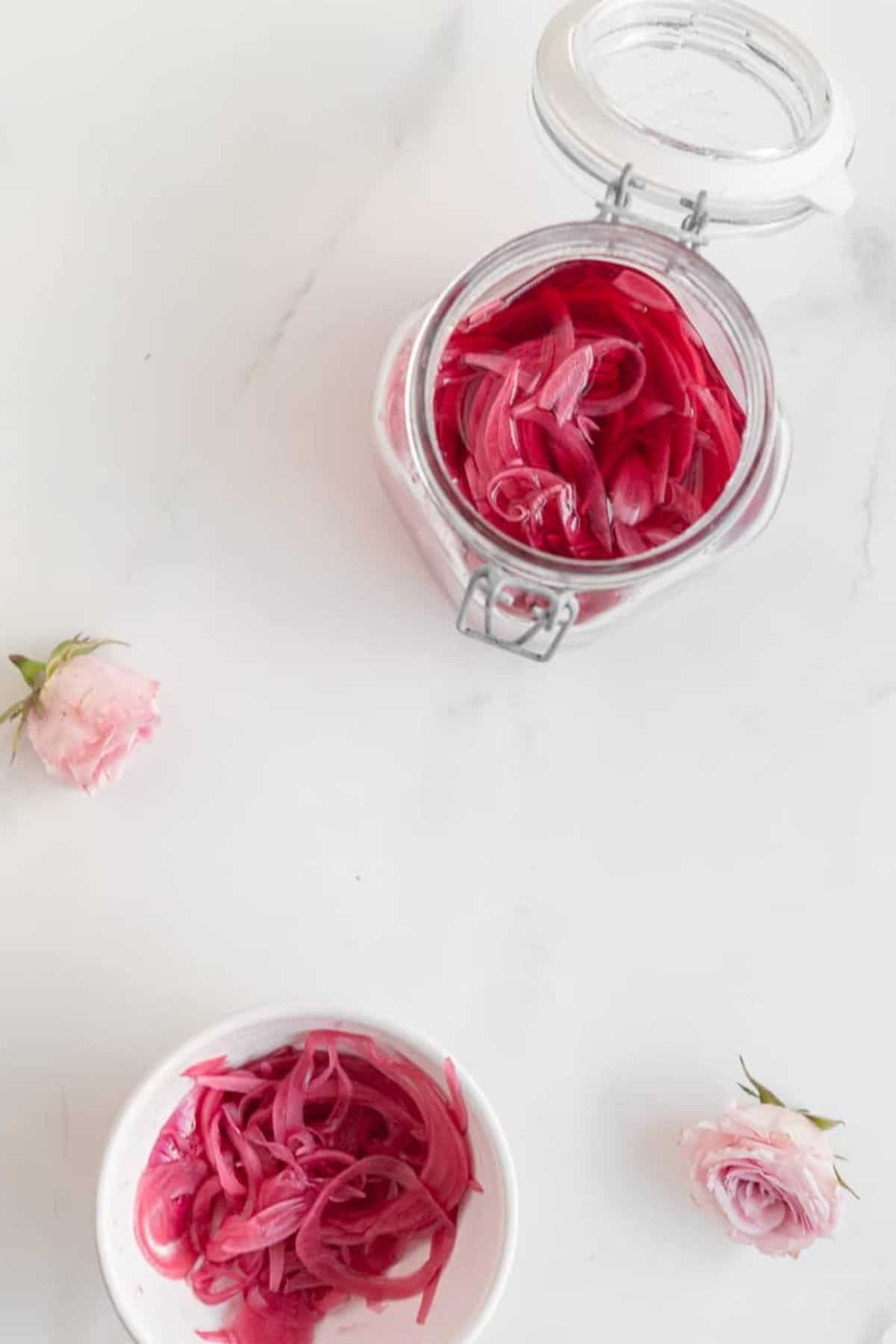 FAQs
Can I use white granulated sugar for pickled onions?
Yes, you can use white granulated sugar. I prefer the flavor of the brown sugar in these quick pickles. Since this recipe calls for brown sugar, I would still recommend using it as the flavor profile is based off that.
Can I pickle other veggies with this recipe?
Yes, you can definitely pickle more than just onions with this quick pickle recipe! I personally have used this recipe for carrots and jalapeños as well. You could use cauliflower, cucumbers, asparagus, green beans, onions, etc. Just make sure you cover the veggies in enough liquid and follow the same cooking and storing instructions.
Can I store in the pantry?
No, you can't store these in the pantry at any point. These are quick pickled so they don't have a shelf life for the pantry, just for the refrigerator. Be sure to use a mason jar or jar with a clamp top. You need to seal it tightly and consume within 3 weeks.
How long do you soak onions in vinegar?
Once you pour the liquid over the onions, tightly seal the jar and leave on the counter for a minimum of 30 minutes and up to 3 hours, at room temperature. Then move them to the refrigerator to be stored until eaten within 3 weeks.
What is the best vinegar for pickling?
For this recipe I use red wine vinegar. However, many recipes for pickling use white vinegar or apple cider vinegar. For quick pickling you can use any as the science is a bit different and you are just storing in the fridge. For pickling that you want to have a shelf life, the science can be more strict on vinegar, ingredients, cleaning and sealing of jars, etc.
How long do quick pickled onions last?
They can last for up to 3 weeks if kept in the refrigerator in a tightly sealed jar. However, they usually taste the best within about 3-6 days after making. And of course, always look for signs that they might have gone bad: weird coloration, odd smell, extreme pressure in the jar, etc.
Other Recipes to Try
Love this Recipe?
Did you make this recipe and just love it? Awesome! If you have a quick minute and could leave a star rating and comment below, I would appreciate the support and knowing your feedback! And if you're over on Instagram, be sure to tag me in your photos!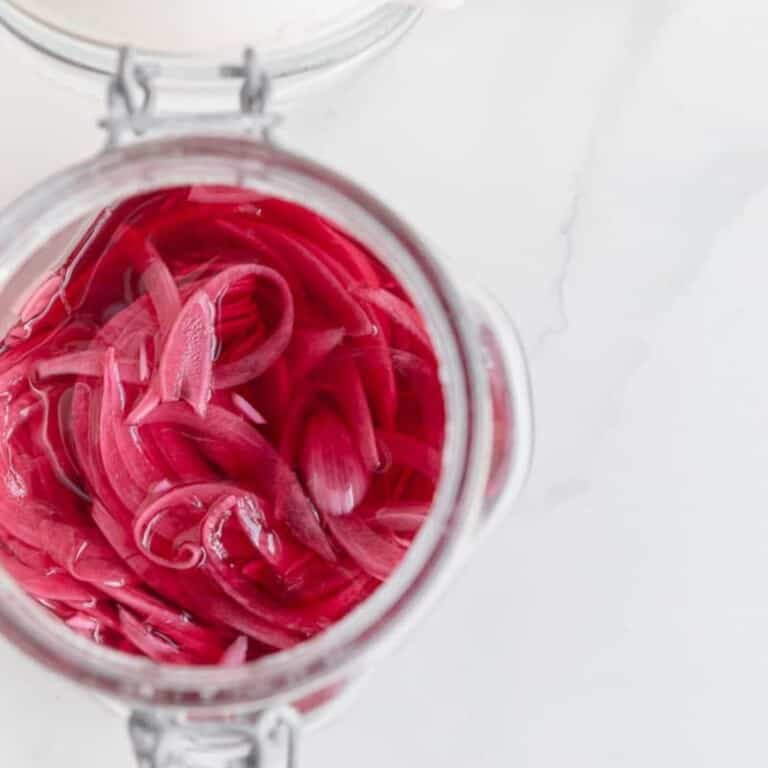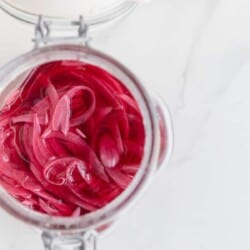 Ingredients
2

cups

red wine vinegar

1

tablespoon

brown sugar

½

red onion

large
Instructions
On the stovetop use a small to medium sized sauce pan. Add the red wine vinegar and brown sugar. Heat on medium low. Just heat up until warm, not hot or boiling. You want the sugar to dissolve. This should only take a few minutes and should be safe for you to test with your finger for the temperature.

Using a mandolin or sharp knife, thinly slice the onion I use a setting of 2 or 3.

Place onions into an air-tight container like a mason jar. Do not seal with lid.

Pour warm vinegar and sugar mixture on top. Seal with the lid.

Place the jar on a counter at room temperature for about 1-2 hours. Although they should be good to go at 30 minutes, the longer they sit out the more pickled they become.

Move to the refrigerator and keep stored with lid sealed tight for up to 3 weeks, best enjoyed within a week.
Notes
- These can last for up to 3 weeks in the refrigerator if kept in a tightly sealed jar. However, they usually taste the best within about 3-6 days after making.
Tried this recipe?
Mention @amanda.wilens