I started calling these "kinda chicken al pastor" in our house. But I want to be VERY clear that I do not think these are 100% al pastor. These are loosely based on a favorite taco of my partner...based really on the things we had in the house. 1) Al Pastor isn't usually made with chicken. 2) Traditionally they are made with OJ in the mixture...unfortunately, that wasn't something we had in the house. We did have a pineapple. 3) The chiles usually used for al Pastor can vary, but there are often multiple types including guajillo chiles as the main one. However, all we had was chipotle peppers in adobo sauce. Which we basically always have at home for these burgers or this sauce. 4) And it usually includes achiote paste, which we didn't have at home either.
Also, the basics that I learned for this recipe came from 1) the restaurant we eat in in Mexico, the resources and ingredients they've told me about there. 2) the Taco Chronicles on Netflix. Such an amazing show and so educational. This recipe is important to me and my partner because of the connection to our trips to Mexico with his family. The first time I went on a trip with his family to Mexico, we bought everyone a ticket to a Taco Tour. There were so many stops along the way exploring new types of food, new restaurants/stands, and experiencing the city in a new way.
It was amazing to learn the history of each dish and of the city. Each year that his family would visit though, they always go to the same restaurant for tacos al pastor right off the spit. It's one of his favorite spots and food memories. So, I wanted to create something reminiscent of that for us to eat at home.
Although you can easily find those items at the grocery store, Mexican markets, or online...these were items I had at home and they still turned out delicious so I wanted to share it with you all! It's an alternative recipe, but it's still delicious and spicy. But not authentic to al pastor.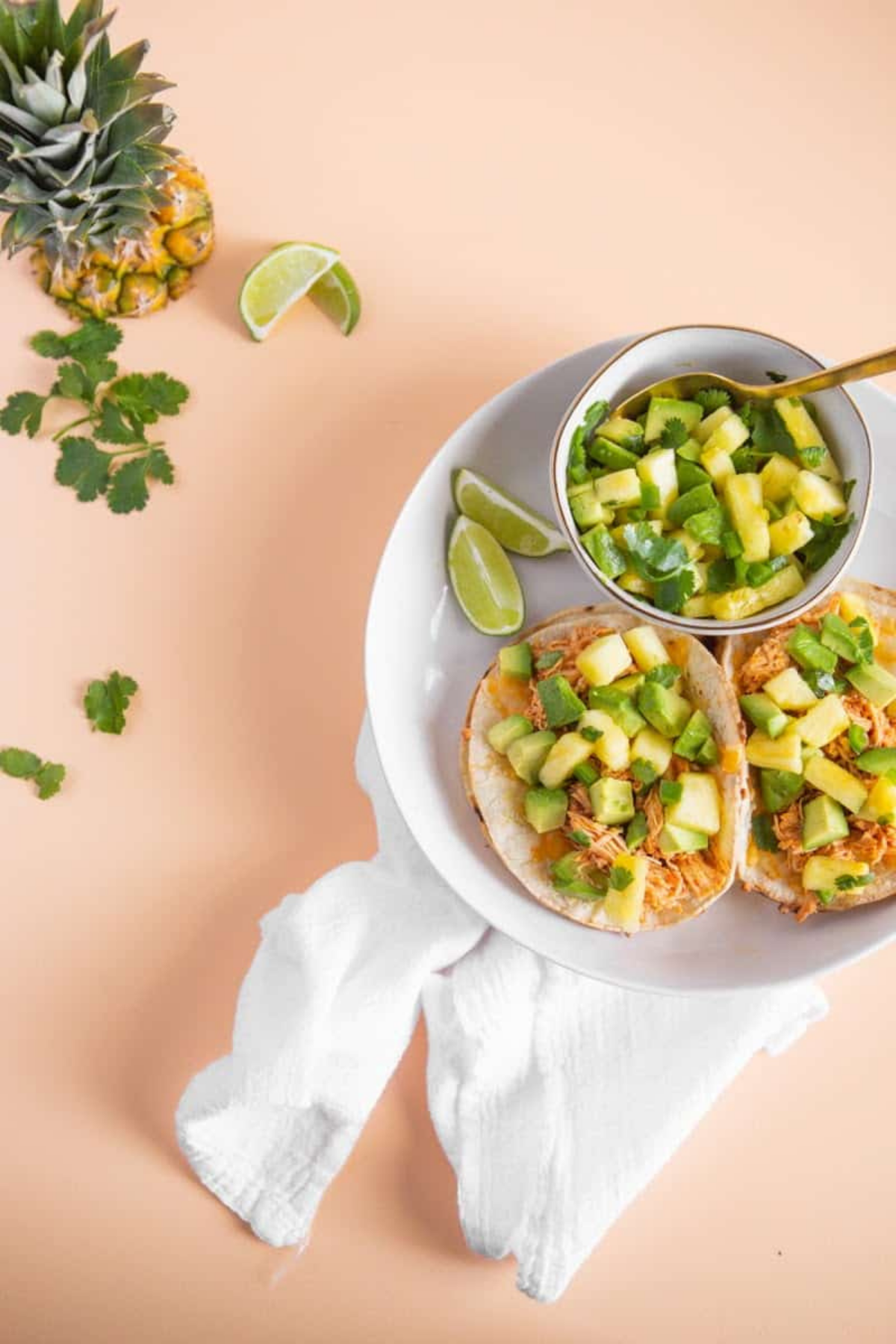 Table of Contents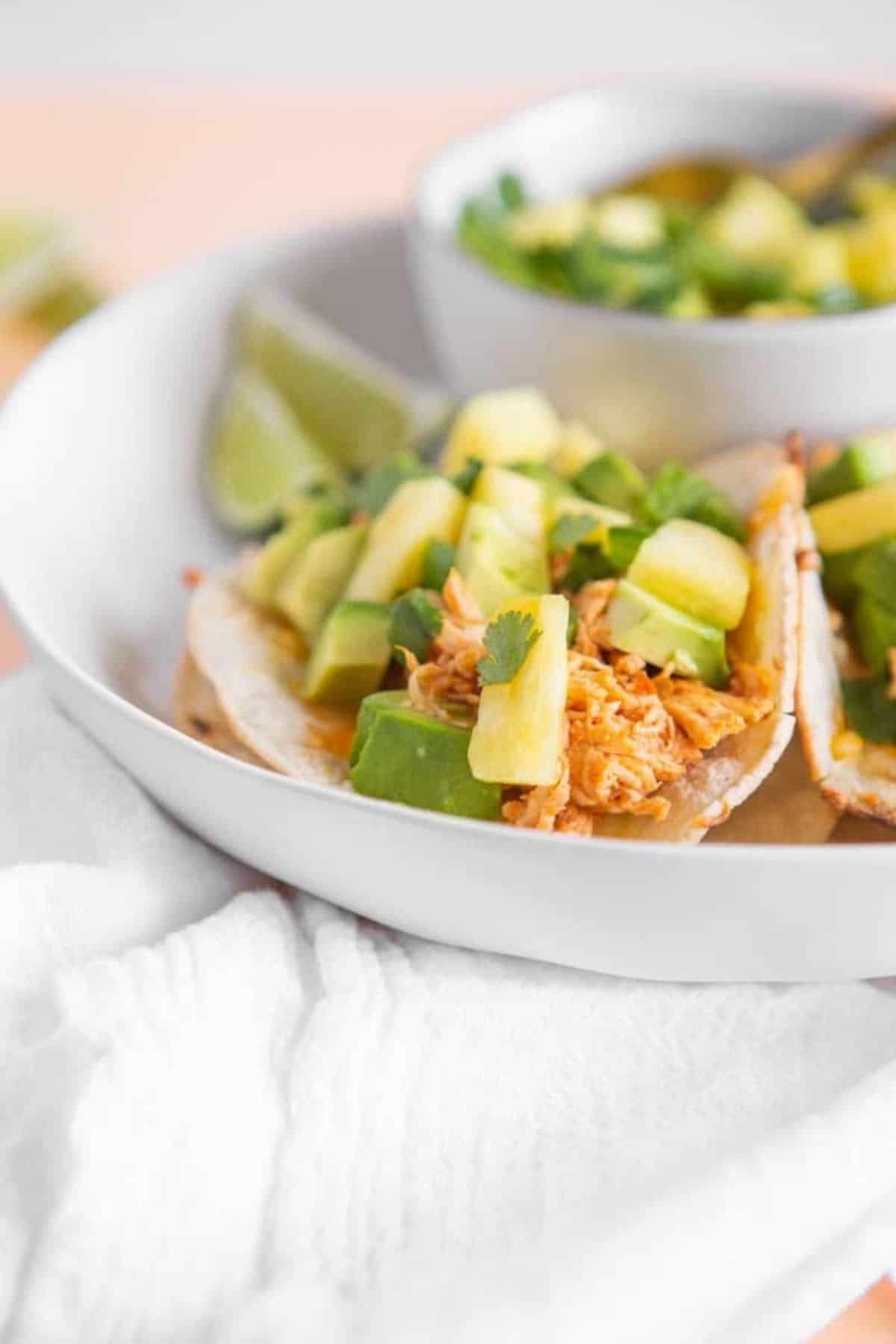 Ingredients for these Tacos
I like to go over which ingredients that you should have the best quality for, how to customize, etc. These are the items that I have notes for, whether it's to buy the best quality or if there are specific notes about those ingredients for chicken al pastor tacos.
- Meat: you can use chicken as I do. Or you can use turkey, pork, or beef...OR you can use veggies, jackfruit, or tofu. As long as you use the same amount.
- Marinating: You can definitely skip this step as it will still cook in the sauce. However, you won't get as good of a flavor. You don't want to leave this for too long either as the acidity of the lime will break down your meat. So, one hour is a great rest time.
- Pineapple: This is a key ingredient to al pastor. Both the marinade and the toppings have pineapple in them as a key part. I would not skimp on this and the fresher the better! You can also heat or grill the topping pineapple for extra flavor.
- Toppings: I really care about lime and cilantro in my Mexican food. Like we constantly have both in our house because I'm addicted. I think they help the flavor profile of the tacos.
- Spice Level: if you aren't into spicy...this probably isn't the recipe for you. However, you can adjust this chicken al pastor recipe with how many chipotles, jalapeño, and how much adobo sauce you add to the recipe. You can adjust.
- Heating Tortillas: You can for sure do this in the microwave, but I love the toasty taste of using a skillet without oil. And I'm not brave enough to use the grate on the stove directly.
- Cheesy Tortilla: This is something we often experience in Mexico, so I thought I'd bring it to this recipe. I think it's a fun addition, but you can also just add cheese on top, change out the cheese for Cotija cheese...or skip the cheese altogether.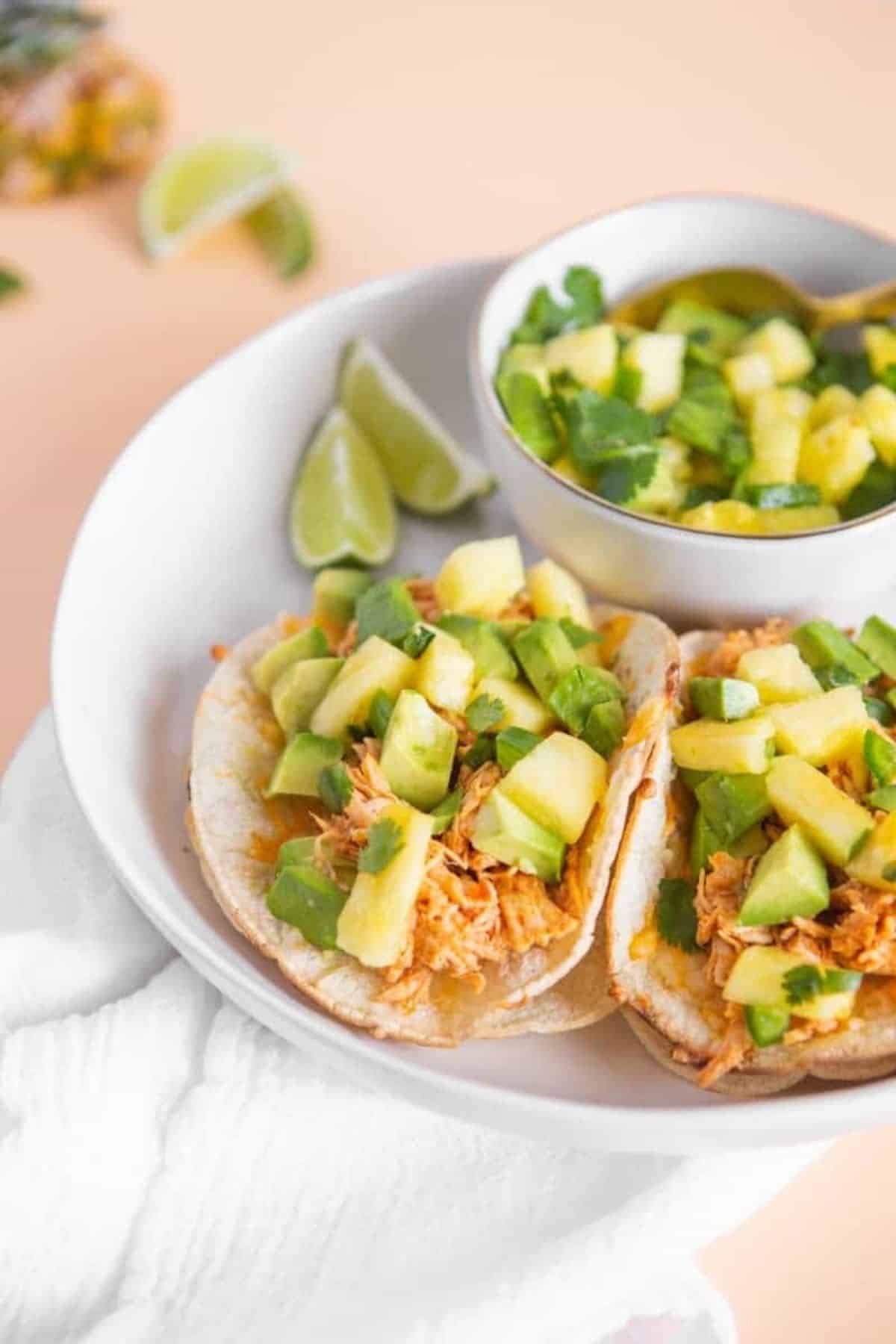 Disclaimer: This recipe is traditional to a cultural that I am not a member of, but respect. This is in no way 100% authentic, but instead an interpretation from a recipe I respect and want to pay homage to. If I have used another recipe to influence that, I will list it. Most of the time, I use basics of the recipe from a person, multiple websites, or sometimes from a store-bought product. I'll try to list very specifically where inspiration or base recipes came from. Also, if I am messing something up, please send me an email to call me up to the issue so we can have a conversation about this. I appreciate having an open and honest community here. Thank you for your support.
Other Savory Recipes to Try
Love this Recipe?
Did you make this recipe and just love it? Awesome! If you have a quick minute and could leave a star rating and comment below, I would appreciate the support and knowing your feedback! And if you're over on Instagram, be sure to tag me in your photos!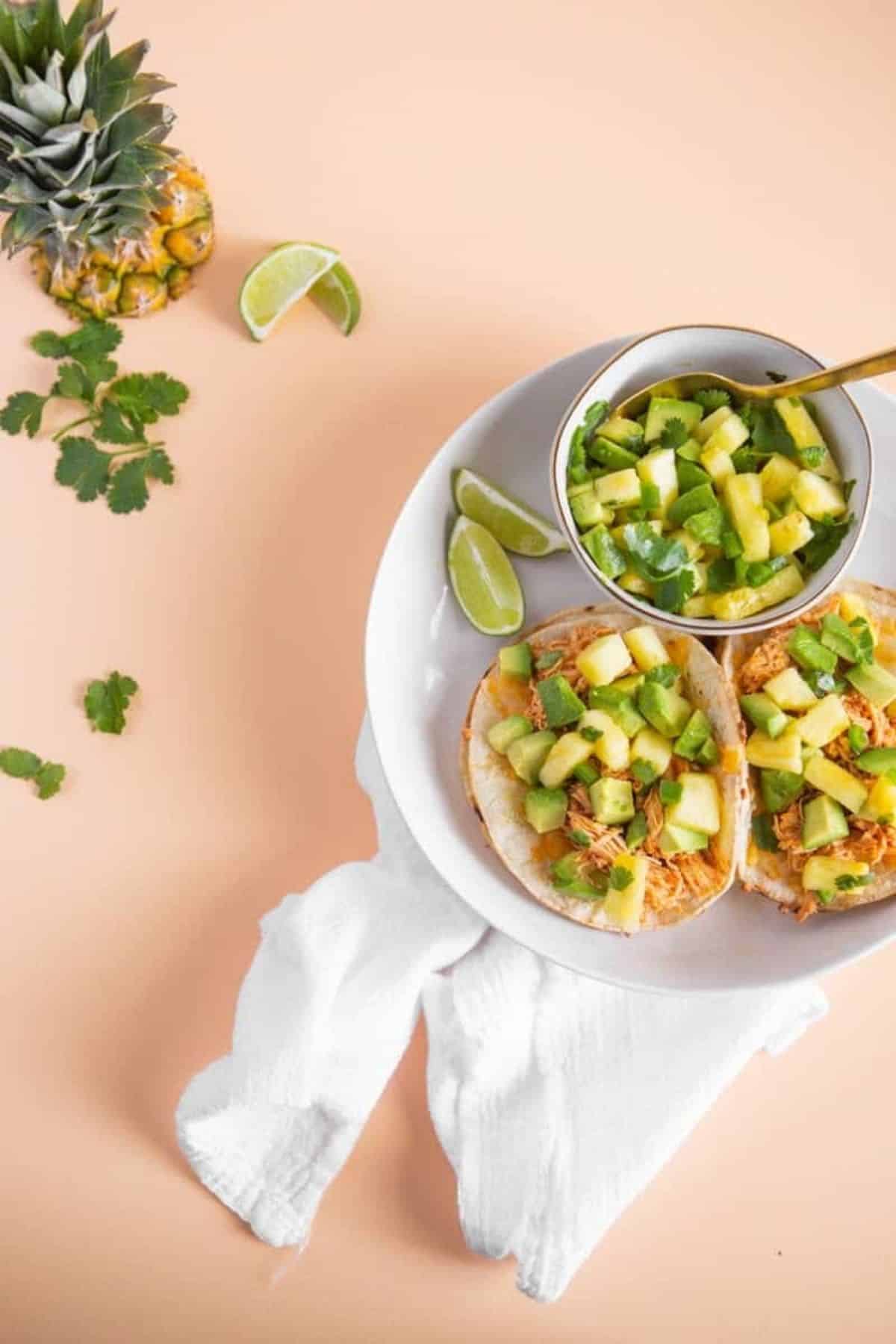 Ingredients
Meat and Marinade
1

lb.

chicken

sliced into tenders

½

pineapple

skin removed and cut into large chunks

½

yellow onion

large, sliced

4

chipotles

in adobo sauce

½

tablespoon

adobo sauce

6

cloves

garlic

peeled

1

lime

juiced

1

jalapeño

deseeded

¼

cup

apple cider vinegar

1 ½

tablespoon

brown sugar

½

teaspoon

cumin

1

teaspoon

salt

½

teaspoon

oregano
Topping
½

pineapple

diced

2

avocados

diced

1

jalapeño

diced

1

lime

juiced

2

tablespoon

cilantro

chopped
Tortillas
8

small corn tortillas

makes 8 tacos, but you can double up tortillas

1

cup

Mexican cheese

shredded
Instructions
Take your pineapple, onion, chipotle peppers, adobo sauce, garlic, lime, jalapeño, and apple cider vinegar and place it into a blender or food processor. Blend until smooth. Add in sugar and spices and mix until combined. In an airtight container add meat (or veggies) into the container. Cover with the mixture from step 1. Make sure to coat all of the meat. Place in the refrigerator for 1 hour.

While that's marinating, create the topping. Mix all topping ingredients into a bowl, cover, and place in the fridge until you're ready to assemble tacos.

Heat a large skillet on the stove over medium with a dash of avocado oil. Place in the chicken and pour the sauce on top. Cook and leave untouched for 4 minutes. Flip and cook for another 3-5 minutes*. Check on the doneness of meat by slicing the largest tender in half and making sure there is no pink.

After its done cooking, shred or dice up chicken. I shred mine with a stand mixer and the paddle attachment. Mix in about ½ of the cooked marinade and mix (use more if you like things saucy and spicy).

Heat tortillas in a large skillet set to medium, toasting each side (I do this without oil). If you wish to add cheese, toast one side, flip, add some cheese and cover the skillet with a lid and allow to melt.

Place chicken and topping on top of toasted tortillas. Enjoy!
Notes
* If you are using breasts and not tenders, be sure to cook both sides for at least double the time. Check doneness by using a meat thermometer for an internal temp of 160° F for breasts. Or slice through the thickest part and make sure it is no longer pink.
Tried this recipe?
Mention @amanda.wilens