This year I decided to make my own Passover Seder for two! It can easily be worked for 2-6 people. A small gathering or family. I wanted to make something that was accessible for a lot of people. Easy and small batched recipes for the holiday, while also looking at a tablescape including a DIY for your own arrangement for Passover flowers for your table.
Now there are no specific flowers for Passover. You might want to go with some lovely Springtime florals or something that fits your color scheme. I wanted to give you a step-by-step process of how I made this arrangement. Some other posts you might want to check out around this are the Passover Table Setting, Matzo Ball Soup with Noodles, and Manischewitz Cocktail. And you can find my Small Batch Chocolate Flourless Cake on Lauren Conrad Co.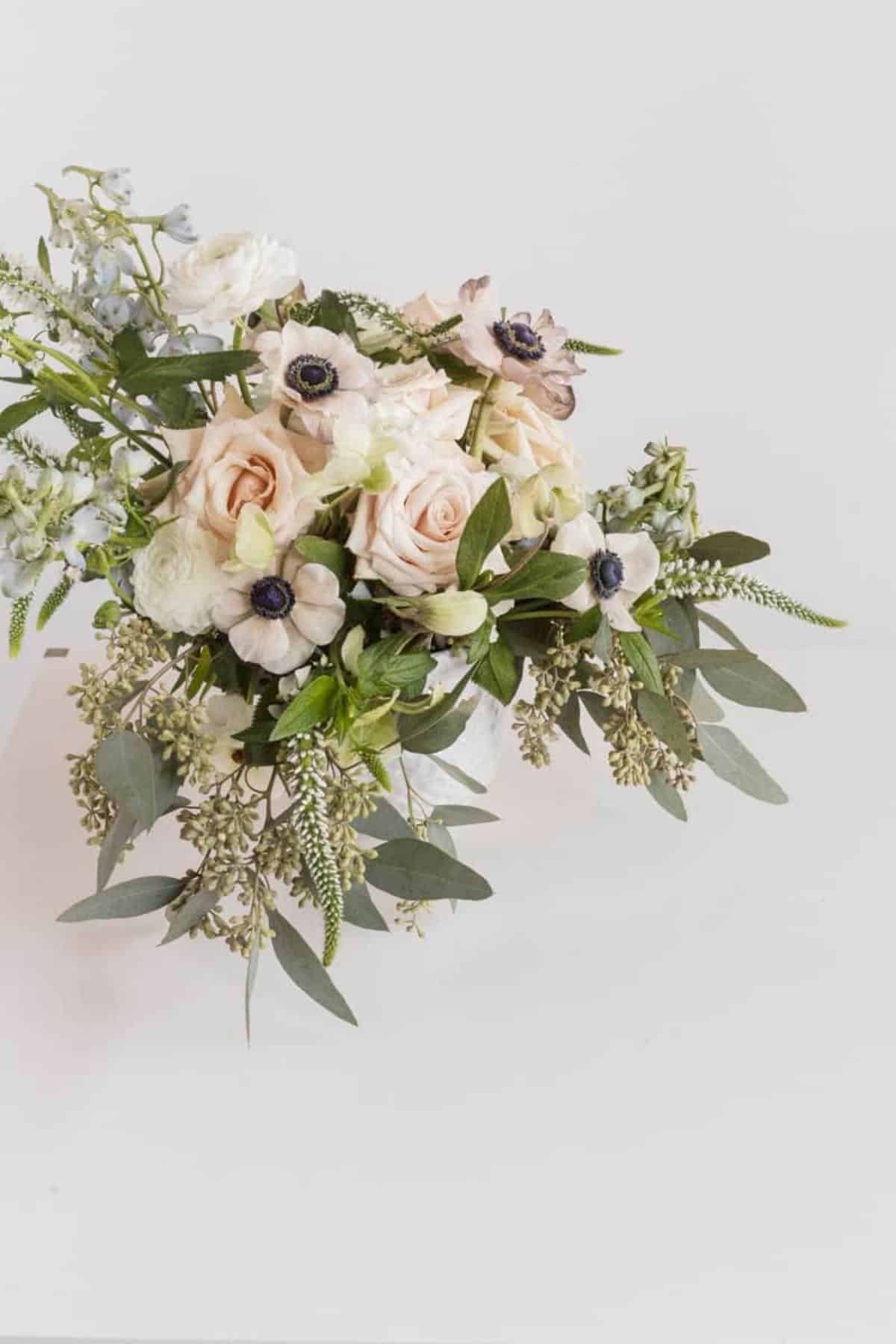 Flower Care Tips
Before we get started, you need to make sure that you know some basic steps for best care of your flowers. A lot of flowers require some different care, but below are some best care tips for the majority of flowers.
When picking flowers at the store, try to purchase those that are still somewhat closed. Unless you are using the flowers to make the arrangement for an event that day, you want ones that still have room/days to bloom. And make sure they look fresh with no wilting.
When you get home fill up some vases/small buckets will cool water. You can use a little flower food or white granulated sugar and mix in, but the best thing for flowers is fresh water.
Remove the greenery from the stem. You can leave the greenery at the very top, near the flower head, but you don't want any greenery in the water. The greenery in the water will cause the flowers to age faster and not last as well. Remove any thorns from roses at this point too (only if you have a rose stripper).
Remove any wilting/browning guard petals.
Clip the ends of the flowers with sharp floral scissors, at an angle. This helps them to suck up water. Quickly either dip the ends in a bowl of water or clip the ends off under running water. Keep the stems long. You can always cut more later, but you can't add on more length.
Place the stems into filled vases. If you can keep your flower types separated in different vases/buckets, do so.
Each day replace the water with new cool water. Every 2-3 days snip the very end of the stems off. Remove any wilting/browning guard petals.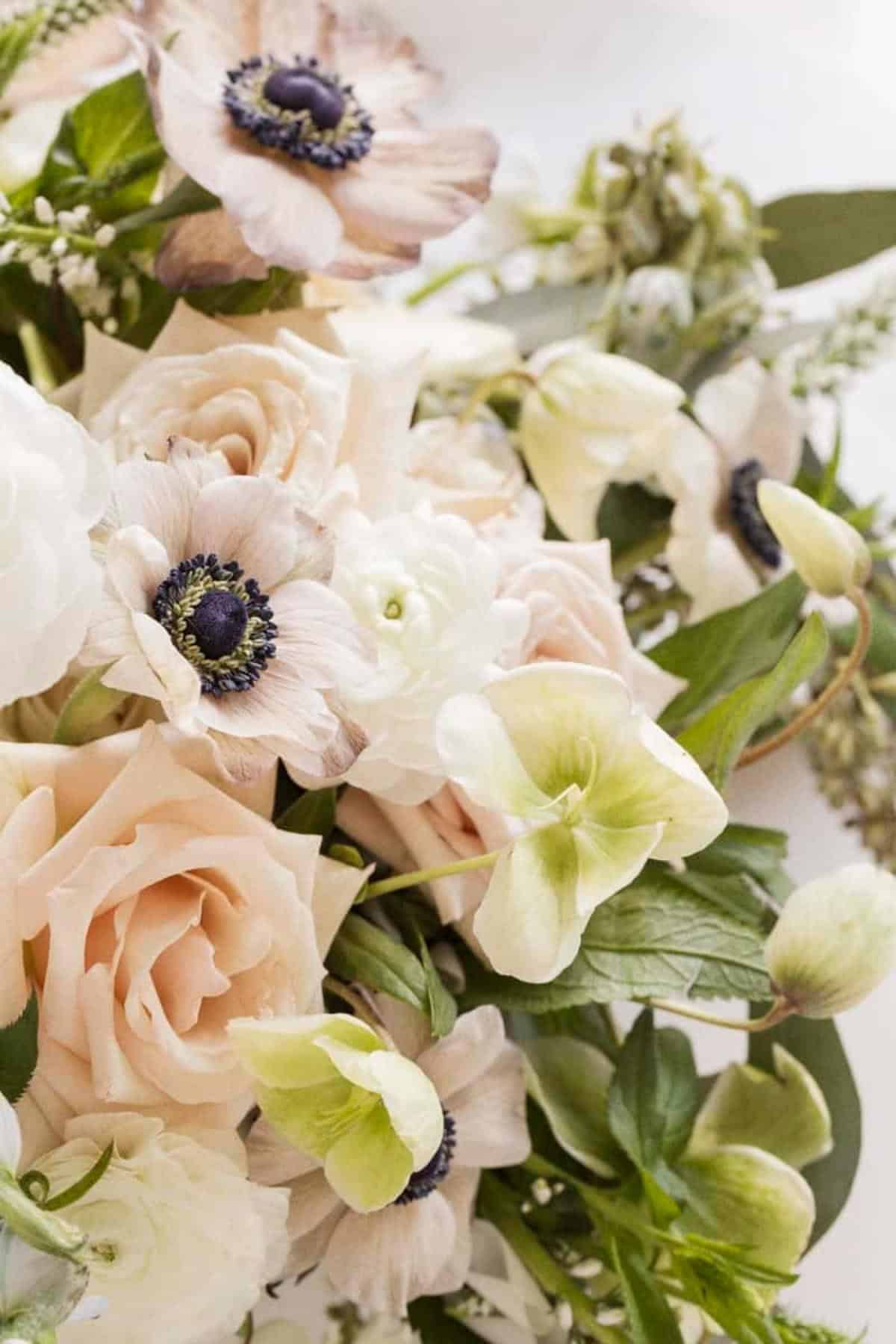 Flower Arrangement Tools and Materials
You don't necessarily have to have all these tools, but this is what I used on this arrangement and would be useful for this. You can get these online, at your local flower supplier (maybe through your florist), or there are some great options at Afloral.
Small vase – about 4-6" tall with a large opening (refer to photo)
Chicken wire
Wire Cutters
Floral scissors
Rose stripper (not necessary, but helpful) and/or garden gloves
Flowers for This Passover Arrangement
You don't have to use all these exact flowers to get something similar, but you will want something along these lines. If you have a local floral shop that you could order from or a farmer's market you can pick up from, this is a great way to get the florals you need. I used a small amount of each, so going to the flower market to just make arrangement might make this costly.
Seeded eucalyptus – 4 stems
Sahara roses – 4-6 stems
Anemones – 5-6 stems
White ranunculus – 5 stems
White spray roses – 4 stems
Helleborus – 5 stems
Delphinium – 3-4 stems
Veronicas – 8-10 stems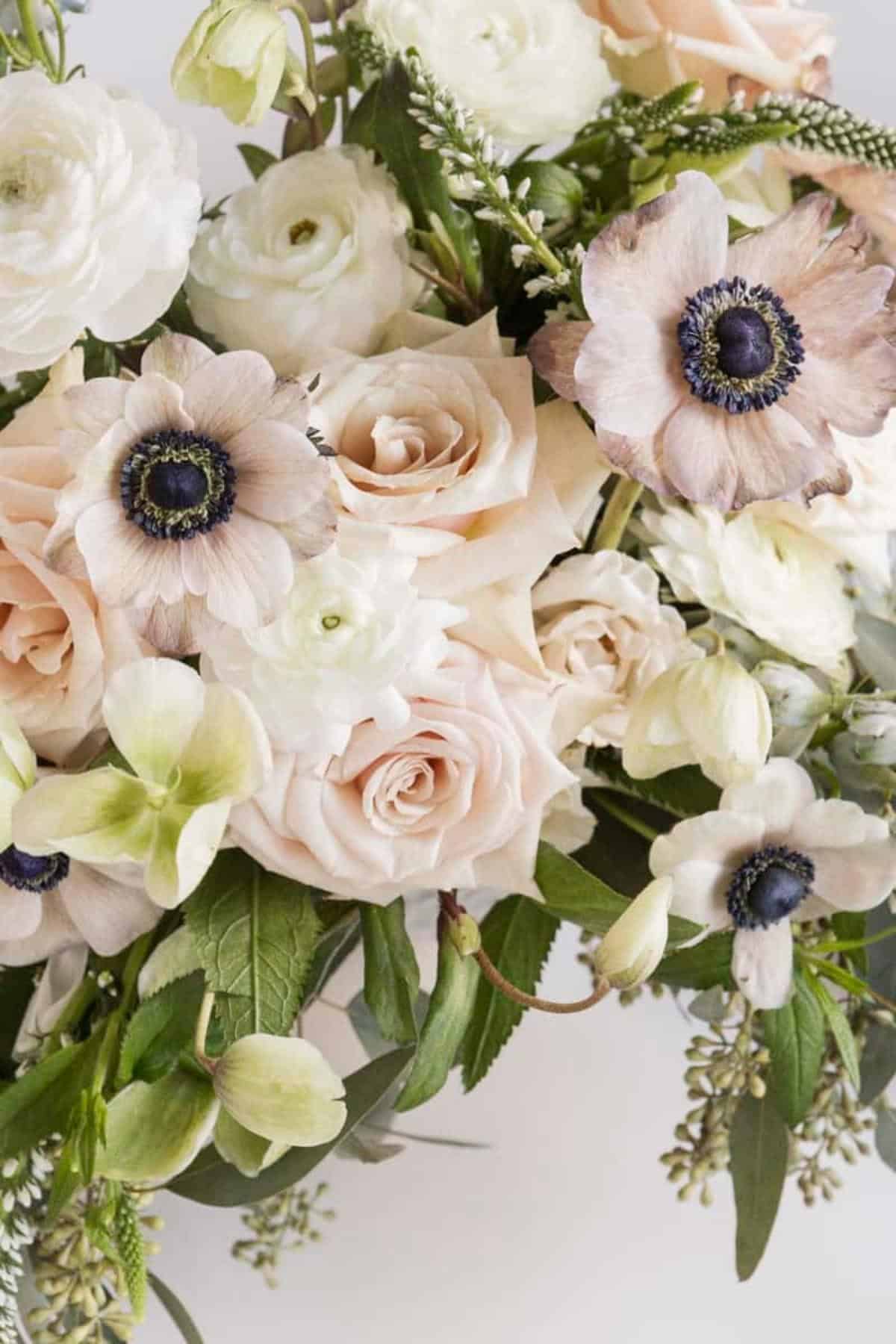 Passover Colors
Technically there are no Passover colors. I used white, gold, and blue. This is because my own family has used these colors with our formal dishware in the past. And because who doesn't love a good blue color scheme. You might often see blue and white in general used for Jewish products, etc. mostly because of Israel and their country colors. Not the case here, but that's why you might see it.
Most people just go formal or choose springtime colors! Do what makes you happy. Work with the pieces you have, what colors you have in linens, and what you want to do with flowers. For me, that's these blues, golds, and whites…and some greenery of course!
For this Passover flowers arrangement I kept with that scheme, but I also added in some of my own favorite flowers and some of my grandmas. And I added in anemones because of their beautiful petals, colors, and because they symbolize relaxation. Which, if you aren't familiar is a big part of Passover is to sit reclined at the dinner table to signify freedom!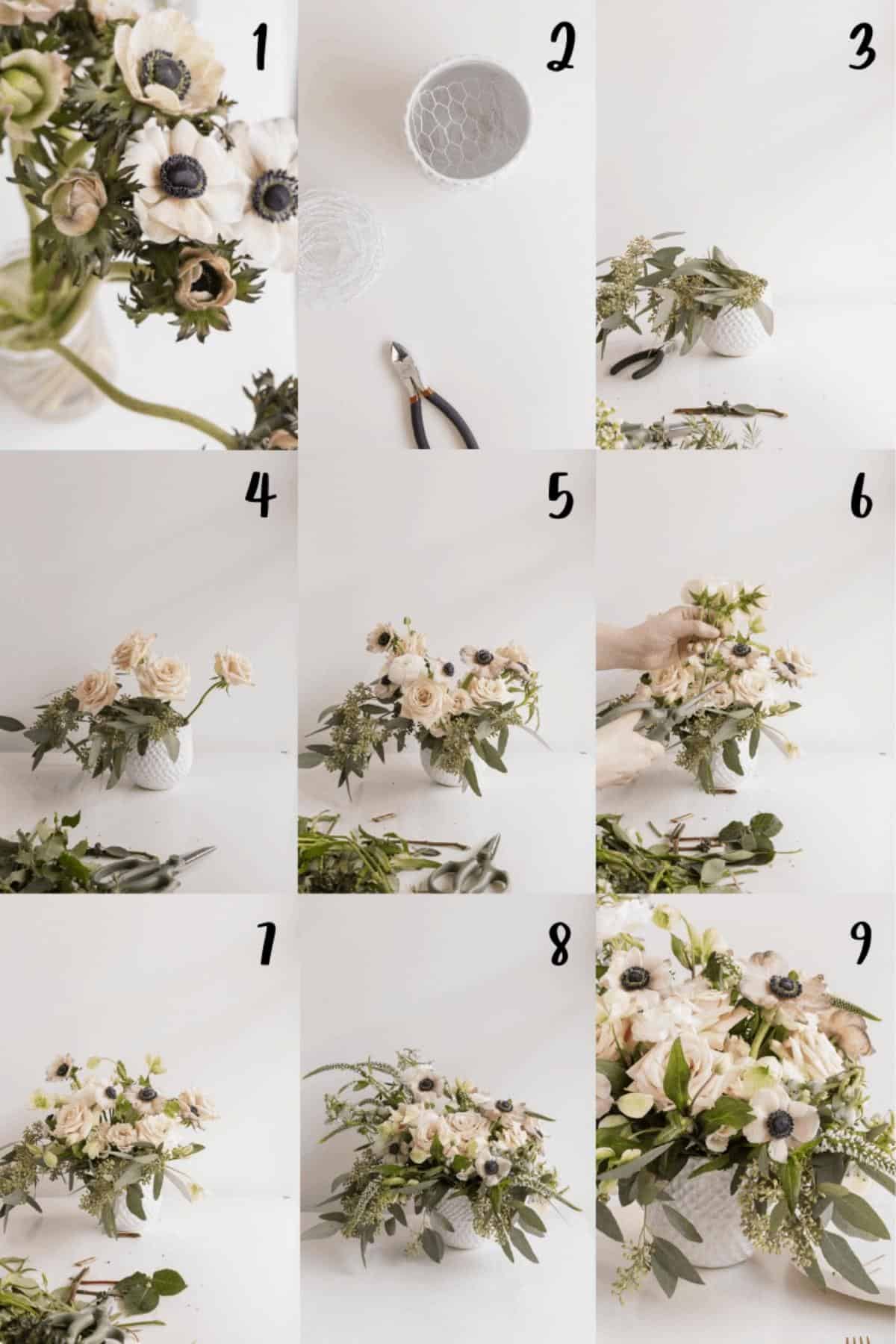 Step-by-Step Flower Arrangement
Buy and prep your flowers (instructions above).
Take the chicken wire and measure it so it can create a loop inside your vase. Clip the wire and place it inside the vase. Put slight pressure on top of the wire to set in place. Add cool water to the vase before you get started.
Clip your eucalyptus pieces, about 5-6 stems. We're making this asymmetrical, so we'll keep to the image here, left-leaning. Place those stems into the chicken wire towards the left. And then take one more piece, shorter, and place it on the right side. You want these to lay low, so stick them in at an angle.
Next, take your roses (4-6 stems) and clip them so they have about 2-4 inches outside the vase. You'll be cutting them again most likely, but they are your biggest flower so it's nice to get them into the vase to see what real estate they will take up. You want to separate the out, each getting their own space.
Add in your next biggest pieces, the anemones and the ranunculus. Again, you can leave these a little longer as you can always cute more…you can't add more length. And again, make sure you are spreading them out.
Then add in your filler flowers, the spray roses. These you actually can cut fairly short, still about the length of the vase, you want these to lie tight into the arrangement making a full base.
Add in the Helleborus, spreading out and keeping them long, these we want to keep long to add a bit of whimsy to the arrangement. At this point, the arrangement really doesn't look great. We still need a few more pieces.
Now, add in your last pieces to really tie it together. You want to spread out the veronica and delphinium into three main places, the top left, bottom left, and bottom right. You want to keep these pieces longer, again, for the whimsy factor.
Lastly, take a step back, and check things out. Trim down roses to keep them in closer to the base, let the anemones and ranunculus remain a little taller, especially on the left side. Step back and examine your work!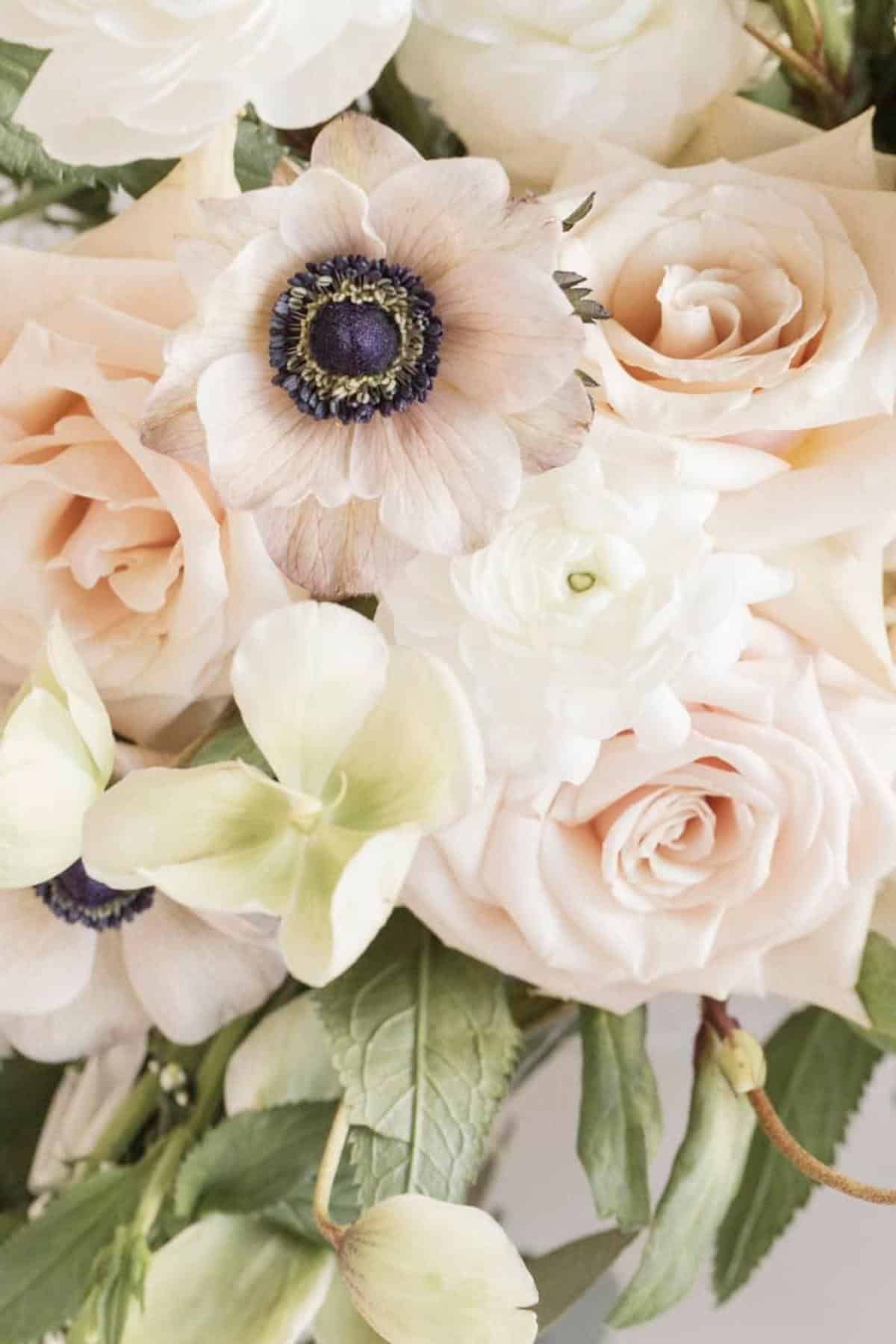 FAQs
How do I change my water in an arrangement in a vase?
If the flowers are arranged in a vase with tape or chicken wire, you want to keep the flowers in place. So, in a spot that is a little empty or where you can gently move the flowers, run cool fresh water into the vase. Run the water enough that the water runs out of the vase. Replacing old water with new water. Wipe the vase and set back in place.
How to take care of roses in a vase
Before you add the roses, be sure remove any wilting/browning guard petals, strip the thorns, and remove leaves. Once you add it into the vase/arrangement you can easily remove guard petals that start to brown. If needed you can also remove and trim the bottom at an angle to keep them fresh longer. Keep refreshing the water every day to make them last longest.
How do I make an asymmetrical flower arrangement?
Making an asymmetrical flower arrangement is my favorite because you can easily hide flaws. You will want to make one side heavier than the other. Start with your greenery having more stems on one side. Still add 1-2 stems on the other side, but make them a bit shorter. Fill in your flowers and make the stems longer on one side. Add in floppy/whimsical flowers like veronicas to add in more dimension and layer up on one side more than the other.
What do anemones symbolize?
Anemones symbolize relaxation. This is an important part of Passover. Although I will say the cooking and set-up for the holiday is far from relaxing, a big part of the holiday is to relax, sit reclined, and enjoy yourself. It's a reminder of freedom. This flower will help to symbolize that in the arrangement.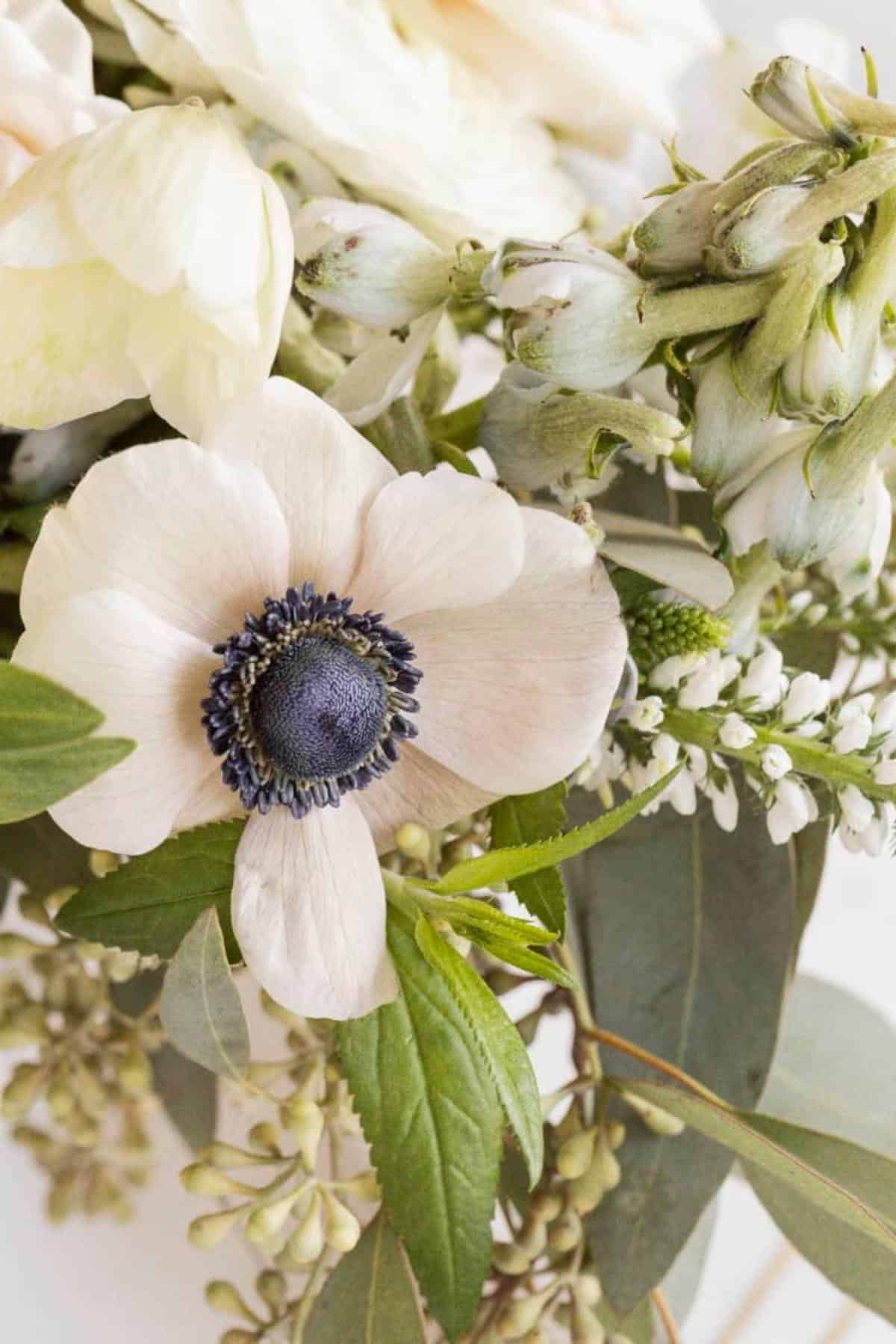 Other Posts to Check Out
Love this Post?
Did you use this article and did it help you? Awesome! If you have a quick minute and could leave a comment below, I would appreciate the support and knowing your feedback! And if you're over on Instagram, be sure to tag me in your photos.