Passover is just around the corner and I wanted to share a recipe for my favorite dish for the holiday. Matzo ball soup with noodles and chicken. This is something my family serves each year and something I've gotten my partner hooked on as well.
I decided to make a recipe that is a little smaller than what my family would normally make for Passover, but something that would give you about 4 full bowls of soup or 8 smaller cup servings. My partner and I were able to eat this across 2 meals, which for us is a win. Leftovers are our favorite during the week.
If you're making this for Passover, you might want to check out these other Passover-related posts. Such as the Manischewitz Cocktail, Passover Flowers, and Passover Table Setting. In the last post, I talk about my family's traditions, how to set the table, and more! And you can find my Small Batch Chocolate Flourless Cake on Lauren Conrad Co.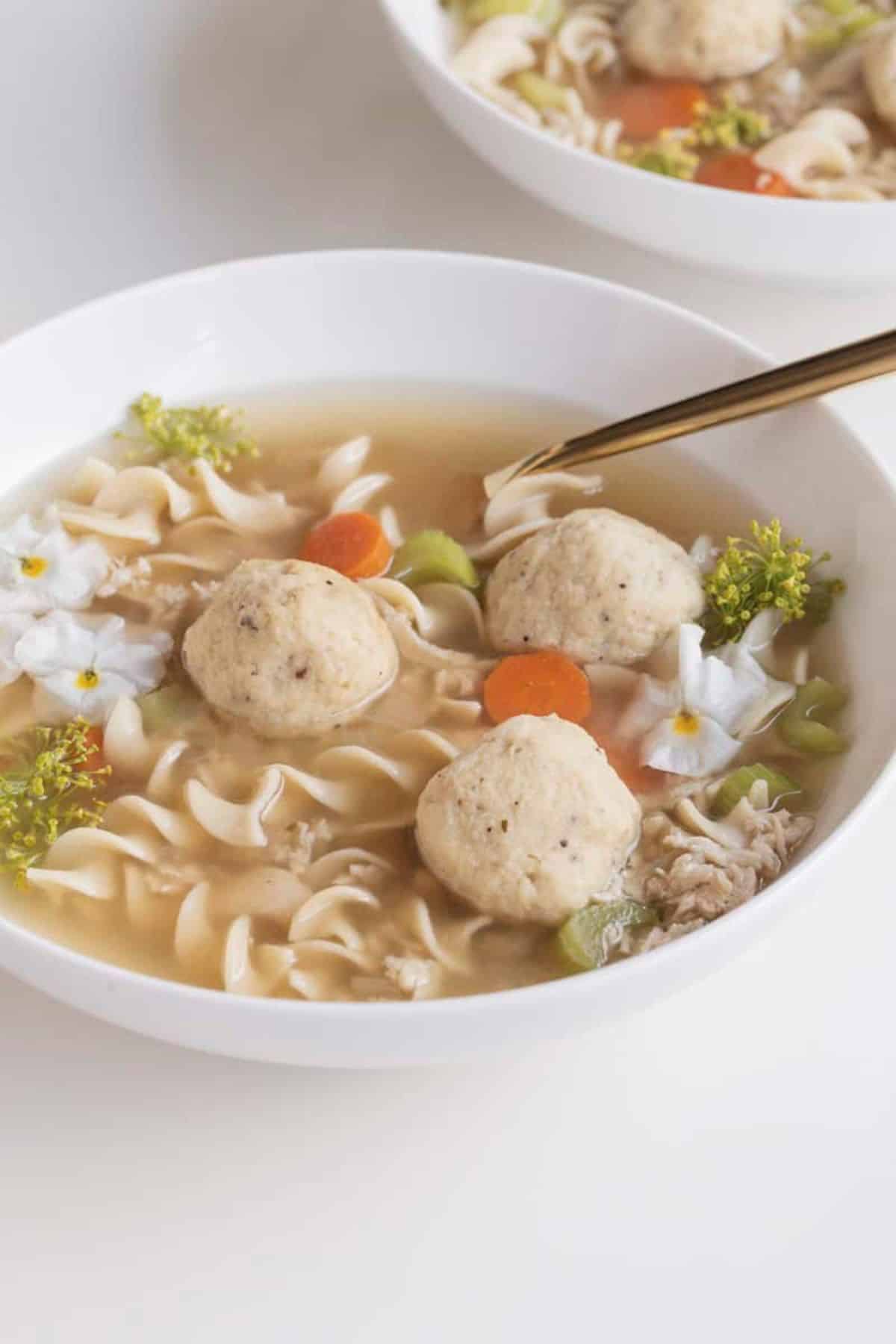 Matzo Ball Soup Recipe Manischewitz
We always use the Manischewitz matzo meal mix in our family. Grandma Bette (Wilens) had me start making matzo ball soup with her when I was just a tiny kid. I would get up on the counter and help her make the stock and add veggies, seasonings, etc. Then we would make dozens and dozens of fairly large matzo balls. We always had at least 20 people at our Passover Seders, so we went big. In both size of matzo balls and amount of food.
I loved how messy my grandma let me get and how much matzo dough would get stuck on my hands, no matter how much water I added to them. I loved dropping them in the boiling soup and waiting to see them pop up. And I really loved having something that was special for just me and my grandma every year.
Now, there are two types of matzo balls that most people recognize: light and fluffy or hard and dense. However, my grandmas always turned out hard in the middle, fluffy on the outside. I feel like this is also me and usually how mine turn out as well.
My grandmother also cooked a whole chicken and made the stock herself. However, since we are making this small batch, we will just use chicken broth. Would Grandma Bette personally love this option? Probably not. But we're going small and I think she'd just be happy we're still celebrating and making her favorite dish. Just making this dish and smelling the mix brought tears to my eyes missing her. Making this soup was something special that grandma and I did together every year until she passed away.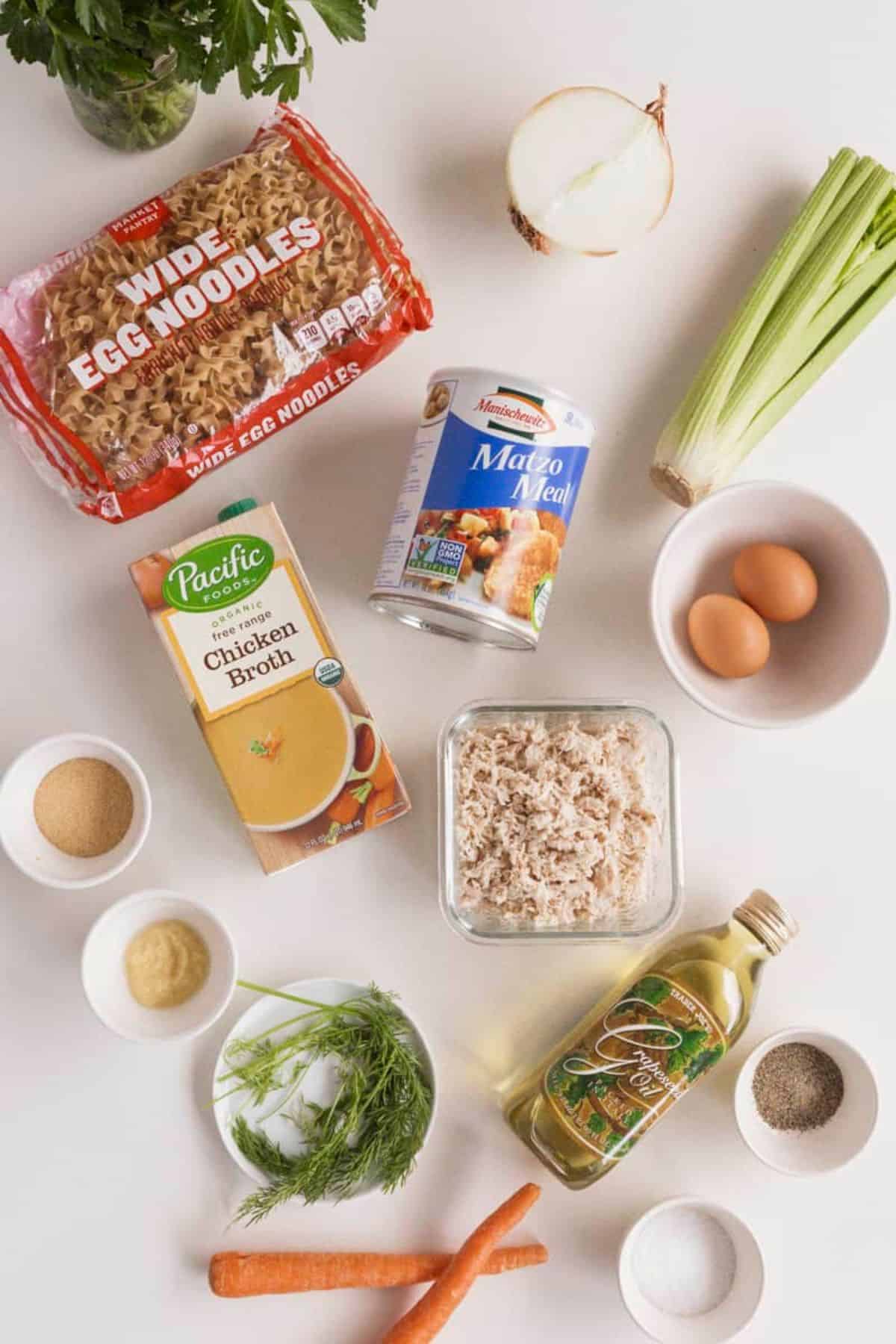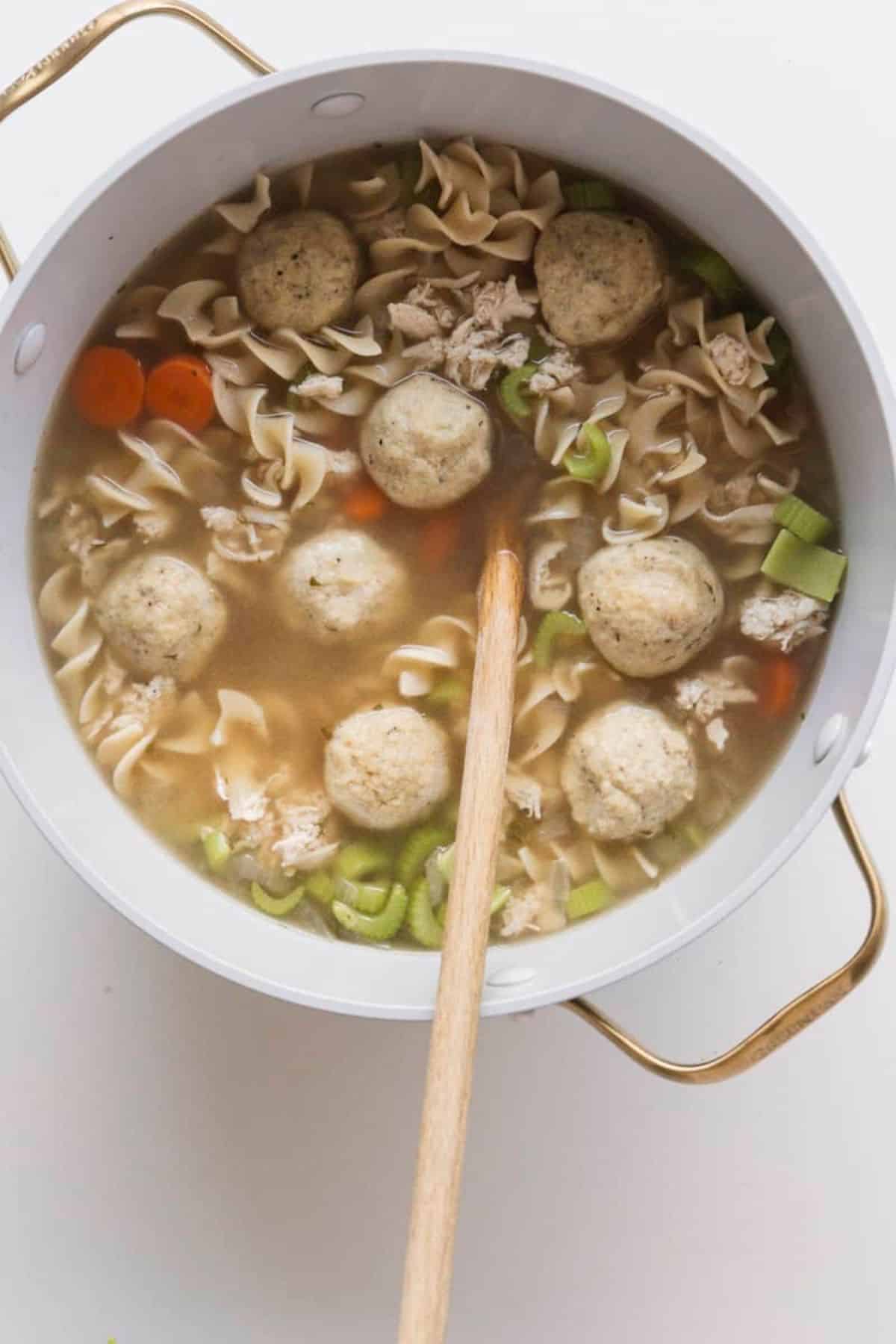 Slicing Vegetables
For some this section isn't as important. But for someone like my partner, I know it will be helpful. The carrots and celery are meant to be sliced. You want to slice these into about one fourth of an inch pieces.
Let's talk about carrots first. Peel the carrot and chop off the ends. Lay it on a cutting board, then chop ¼" disc pieces. If your carrots are very wide, then you can also cut your discs in half (or the carrots in half horizontal before chopping into pieces). Or if you want to, you can also do a large dice.
Celery is basically the same. Chop off the ends. Slice the pieces about ¼", slicing small pieces from one end to the next.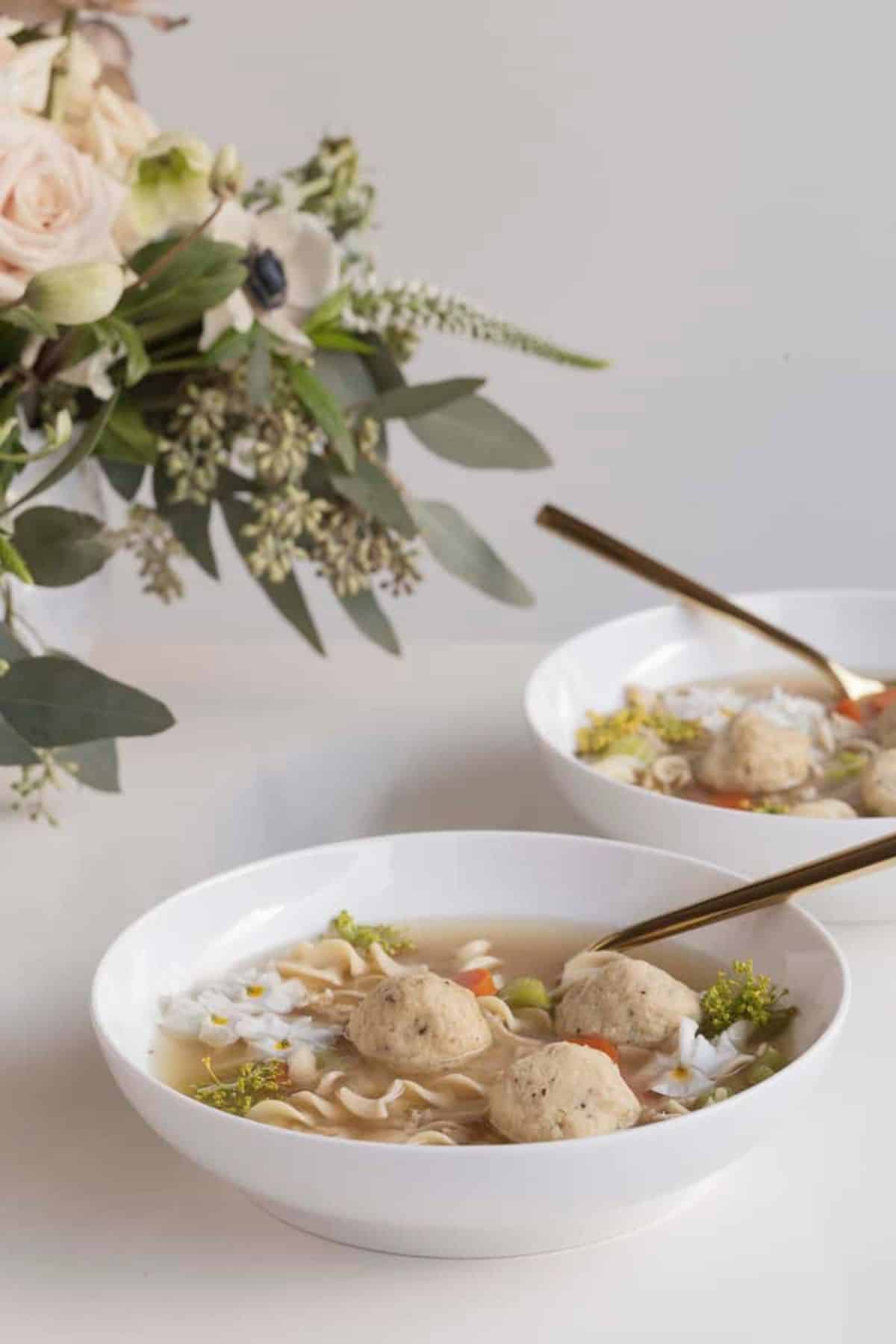 FAQs about Matzo Ball Soup
How do I store matzo ball soup?
Separate your matzo balls from your soup. In a separate Tupperware place your matzo balls, with no liquid. Seal and place in the refrigerator for up to 5 days. Then in another airtight container add your soup with chicken, veggies, and noodles. Seal and place in the fridge for up to 5 days. If you leave the matzo balls in the soup, they just continue to soak up the liquid and you are left with everything but broth. Even if you are planning to make this the day before serving, separate them and just serve together.
How to freeze matzo balls
You can freeze matzo balls by themselves or you can freeze it together with soup. Since you are freezing the soup the matzo balls can't soak up the liquid. Place them into an airtight container and place into the freezer for up to 2 months. Thaw, reheat, and enjoy weeks later.
Is matzo ball soup healthy?
Yes. Matzo ball soup made like this is about as healthy as chicken noodle soup with crackers and eggs. When you are sick, doctors often recommended eating chicken noodle soup. This is fairly similar to that. It has healthy elements like chicken stock, carrots, celery, ginger, etc. You can check out the nutritional information below in the recipe card as well. It is on the salty side, but that's good for you too sometimes, especially when you're sick. And you can check out this article on why it's healthy here: Matzo Ball Soup Is Good for You.
Does matzo ball mix go bad?
Yes. Just like any breadcrumbs, crackers, and food on the shelf, it can go bad. It might not be for years, especially if you keep your lid completely sealed. You can go by the "best sell by" or the "best use by" date or you can usually go by taste and smell as well. Is it completely sealed? Does it smell? Does it look off? Does it taste stale? And if you are worried, don't risk it. Matzo meal is easy enough to come by in most grocery stores now a days, just pick up a new box.
What are the matzo ball soup calories?
For a whole bowl of matzo ball soup with noodles, it is about 460 calories. While I personally don't count calories, I do understand for some health reasons, you may need these facts. You can find all the nutritional information in the recipe card below.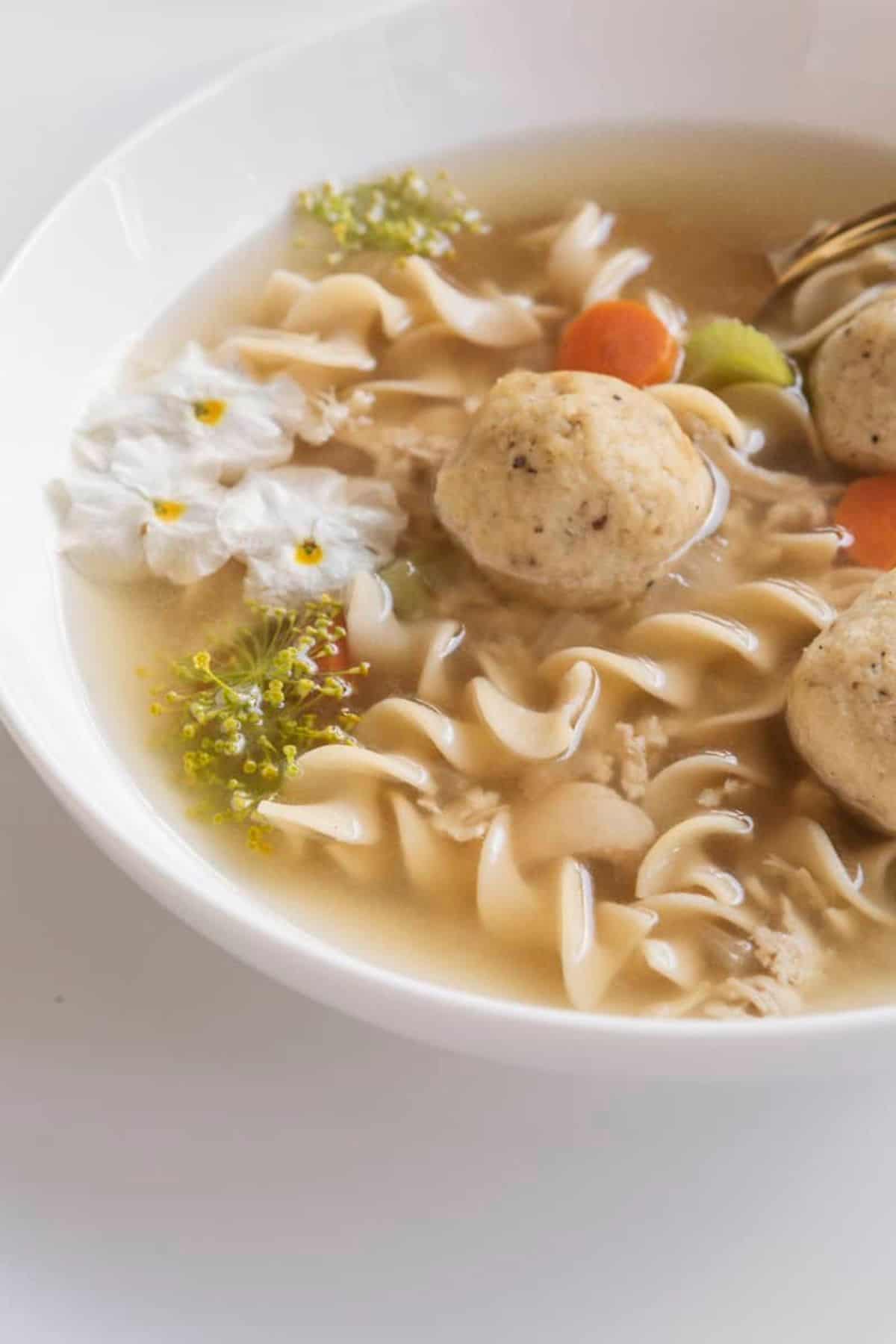 Other Posts to Check Out
Love this Recipe?
Did you make this recipe and just love it? Awesome! If you have a quick minute and could leave a star rating and comment below, I would appreciate the support and knowing your feedback! And if you're over on Instagram, be sure to tag me in your photos!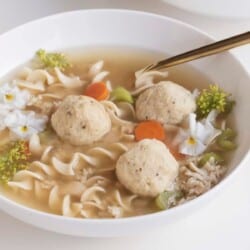 Ingredients
Matzo Balls
2

tablespoon

neutral oil

grape seed or vegetable

2

eggs

large

½

cup

matzo meal

1

teaspoon

salt

2

tablespoon

chicken broth

½

teaspoon

pepper

water

for wetting hands
Soup
6

cups

chicken broth

½

yellow onion

diced small

6

stems

flat leaf parsley

chopped, equals about 1 Tbsp

2

stems

dill

chopped, equals about 1 tsp

½

teaspoon

ginger

pureed

1

teaspoon

garlic powder

1

teaspoon

pepper

1.25

lb

chicken

cooked and shredded**

3

stems

celery

chopped, about ⅔ cup

2

carrots

peeled and chopped, about 1 cup

salt

to taste

4-6

oz

extra-wide egg noodles***

boiled and cooked
Optional Garnish
edible flowers

pictured here are violas and dill flowers
Instructions
Matzo Ball
Take a medium-large bowl and mix your eggs and oil together to beat the eggs slightly with a large fork. Add in matzo meal and salt, mix until smooth. Add in your broth and mix thoroughly until combined.

Cover bowl with a silicone or fabric reusable cover (or plastic wrap). Place in the refrigerator for 30-60 minutes.
Soup
In a medium to large pot pour in the broth, onion, parsley, dill, ginger, garlic powder, and pepper. Mix, cover, and bring to a boil.

Remove chilled matzo dough from refrigerator. Fill a small mixing bowl with water. Using a cookie scoop or spoon, scoop about 1" balls of dough. Wet hands and roll matzo balls in hands to make cohesive shape.

Drop matzo balls into boiling soup mixture. Cover and reduce heat to low/simmer. They will take about 30-45 minutes to cook through. Matzo balls will rise to the top when ready.

Take celery, carrots, and chicken and place into soup. Let simmer covered for about 10 minutes. Add salt to taste.

Add in egg noodles and cook for another 5 minutes. Spoon into bowls, top with garnish if you wish, serve, and enjoy!
Notes
*Can be 4 large bowls, like a dinner serving. Or can be 8 smaller cup servings.
**Chicken: I wanted to make this easiest for you. You can use dark or light meat. You can bake, cook on the stove, or take even from a roasted chicken. Whatever is easiest.
***

Egg Noodles: If you keep Kosher for Passover be sure to check the label of your noodle package for the appropriate hechsher. Or feel free to leave them out.
Storing: remove matzo balls from the broth/soup when storing. The matzo balls will soak up all the broth.
Tried this recipe?
Mention @amanda.wilens