Every year for Passover, my family stocks up on red wine for the Seder. We always get a bottle or two of grape Manischewitz, but mostly for tradition. It isn't something my family personally loves to drink on its own because of the strong flavor. Especially since we're just a few hours away from wine country. But having that concord grape wine is tradition, so I decided to make it into a fun Manischewitz Cocktail. Add in some lemon juice, honey simple syrup, rosemary, and ginger beer. It's fun, unique, and delicious.
If you absolutely hate concord grape, then this probably isn't for you. But if it's just not your favorite drink, then you would probably enjoy this cocktail! This ginger wine cocktail recipe is delicious and can be made with some slight variations. The longer you let the wine sit with the other ingredients, the more subtle the grape flavor is and the more you can taste the other flavors. It also helps to mellow out the ginger beer too.
If you're making these for Passover, you might want to check out these other Passover-related posts. Such as the Matzo Ball Soup with Noodles, Passover Flowers, and Passover Table Setting. In the last post, I talk about my family's traditions, how to set the table, and more! And you can find my Small Batch Chocolate Flourless Cake on Lauren Conrad Co.
Table of Contents
Manischewitz Recipes
Manischewitz really is a staple in our house for Jewish foods around the holidays. I love using their wine in this recipe for this Manischewitz Cocktail. I used the concord grape for this recipe, but really you could use their other flavors like elderberry, blackberry, or cherry. These flavors will still pair well with the other ingredients.
But I also use their matzo meal for my Matzo Ball Soup with Noodles recipe. The smell of their matzo meal brings tears to my eyes…no really. I was making the matzo ball soup for this shoot and tears flooded my eyes as I thought about making these matzo balls with my Grandma Bette. She never made her own matzo meal, it was Manischewitz always. Nothing else would do.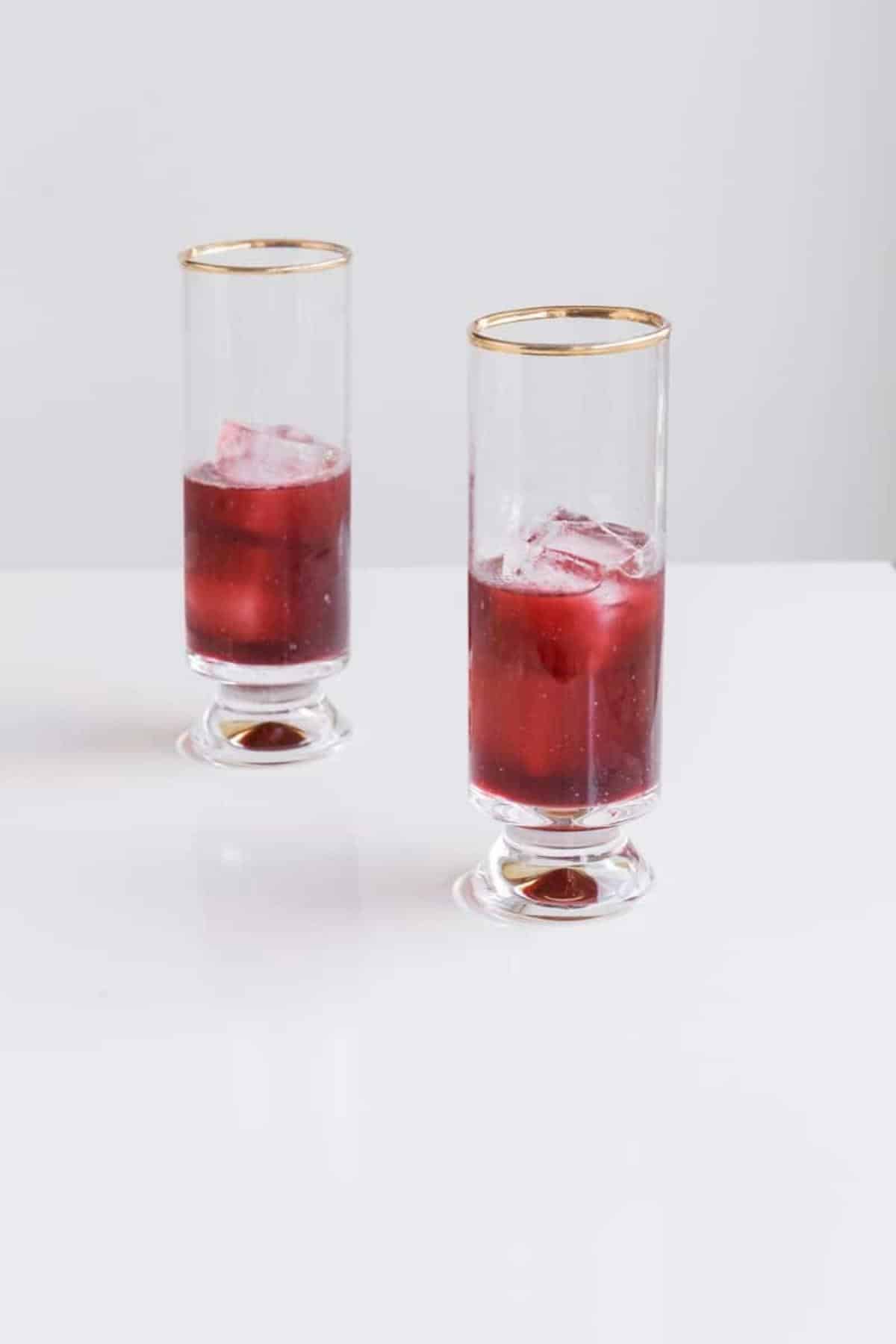 Kosher Cocktails
This recipe is kosher if you use kosher products as well. There are a lot of rules around keeping kosher and varying degrees that people keep kosher, so I did my best to create a fun kosher recipe that is great for Passover or really any Jewish celebration. I also wanted to include some other delicious cocktails that are technically kosher as well and are from some of my favorite Jewish bloggers!
These Raspberry Cranberry Mimosas from frostingandfettucini.com look delicious. This Rosé Cider Sangria from caramlizedblog.com is so fun, has some delicious apple cider, and is great for a large group. And these Grapefruit and Mint Fizzes are just too fun from millennialkitchen.com. Be sure that if you do keep kosher, to check labels and brands before purchasing ingredients!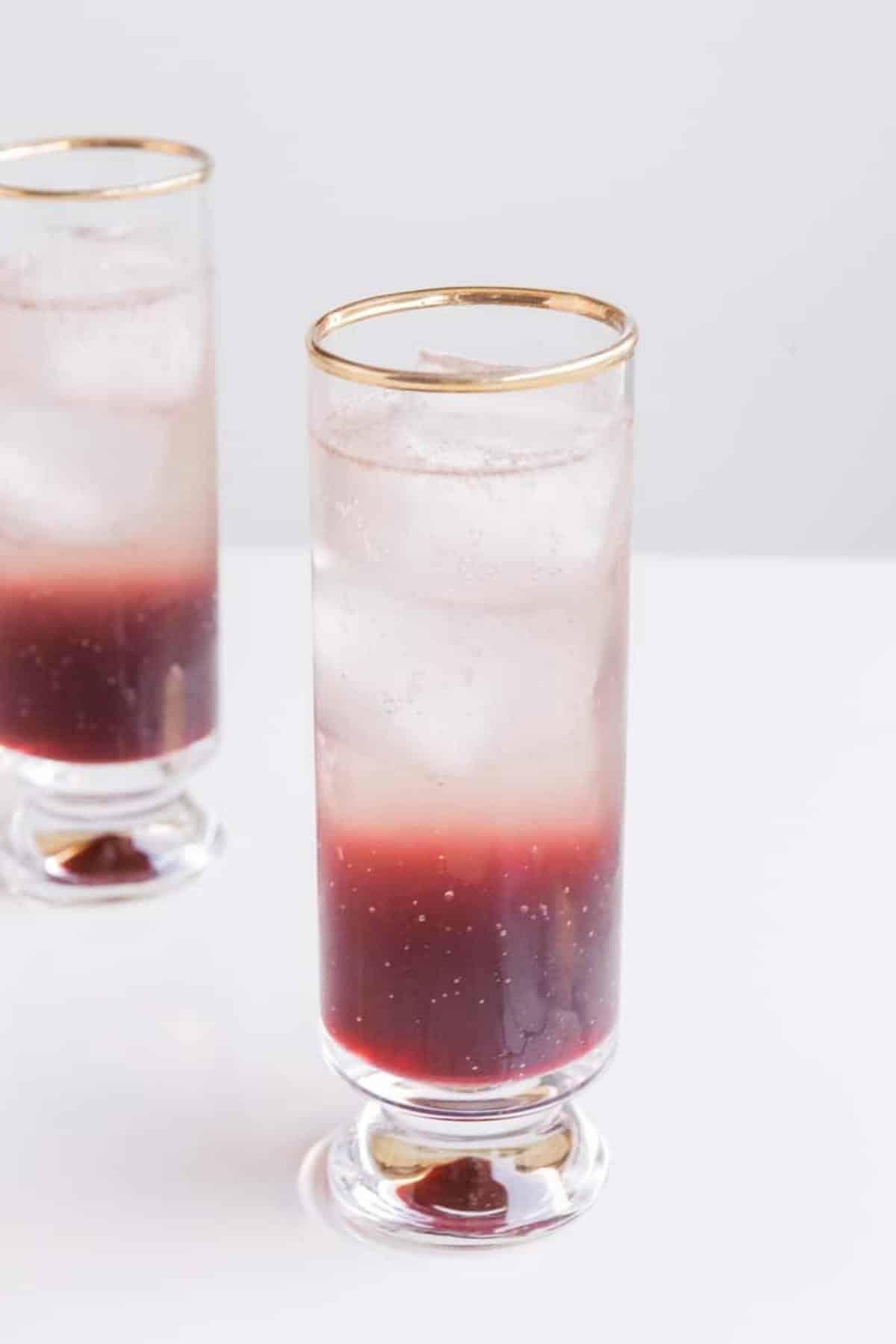 Cocktail Tools
This Manischewitz Cocktail recipe technically doesn't require too many fancy tools. However, we'll go over the ones you should use. And if you don't have these, what alternatives you can use instead.
Small Cocktail Pitcher: This is great when you are mixing your ingredients. You don't necessarily need to shake it, and definitely shouldn't shake it after you add in your ginger beer. But it makes the assembly a bit easier.
Cocktail Stirrer: if you don't have a cocktail stirrer you'll just want a long spoon or something that can reach the bottom of the pitcher to stir without your fingers going into the drink.
Jigger: You can also use an ounce measuring cup. Either one will work for this. If you use a jigger, it depends on the size you purchase. Be sure to use the right measurements for the recipe below.
Citrus Press: Okay, you can 100% get away without this, but this tool is my favorite. I have this dual lemon lime citrus press and I love it so much.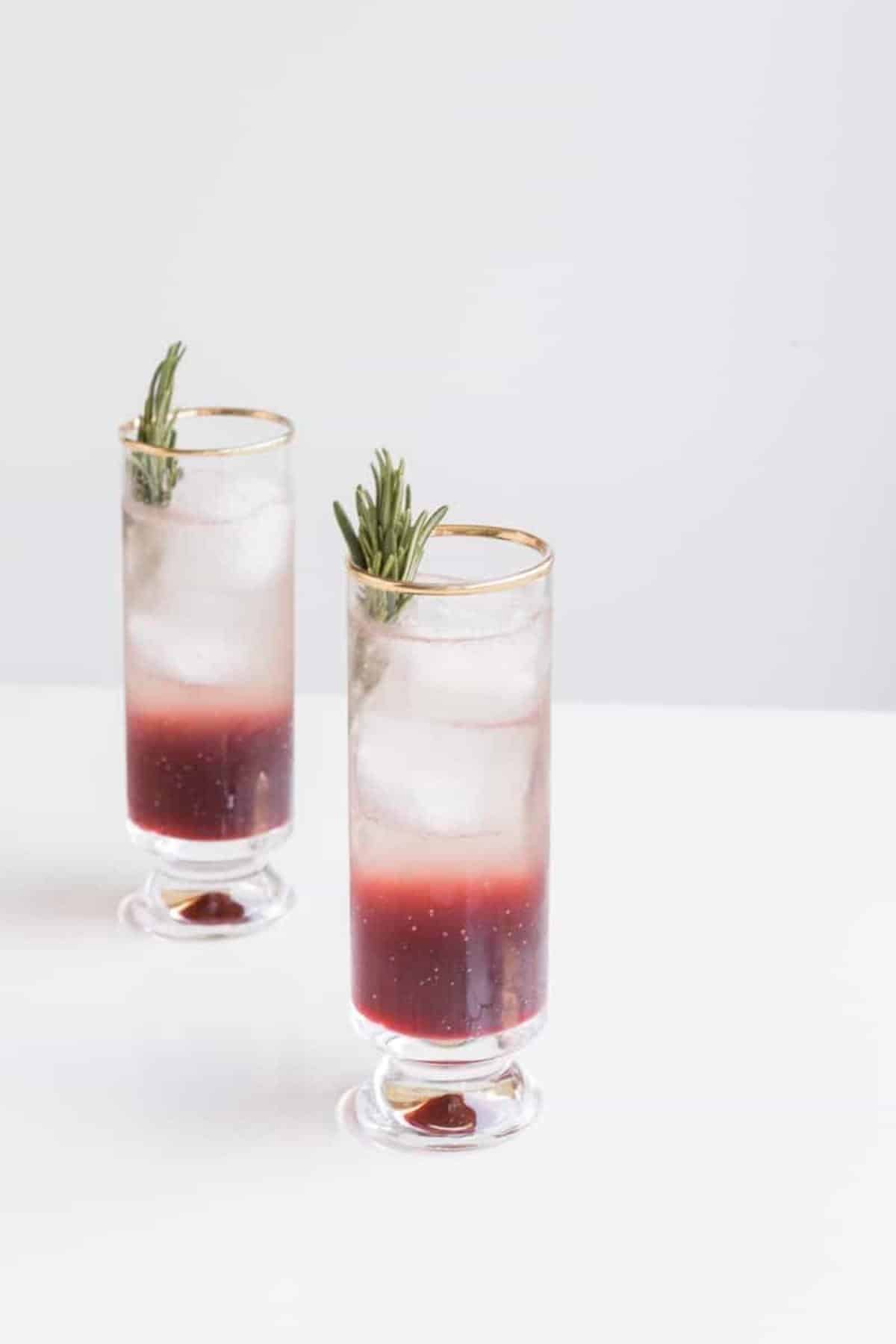 FAQs
What is a substitute for rosemary?
In this recipe you could use thyme, basil, or sage. You want something that's a bit more savory. You can usually get away with swapping these for other recipes too. Just be careful with your swaps as some herbs can be prepared differently or have different cook/burn temperatures.
What is a simple syrup substitute?
You could use honey, honey simple syrup, agave, maple syrup, molasses, date syrup, or brown rice syrup. Many cocktails call for a simple syrup, which is usually equal parts sugar and water cooked down to be one consistency. Sometimes there are other ingredients or herbs added to infuse it. Here I made a honey simple syrup infused with rosemary.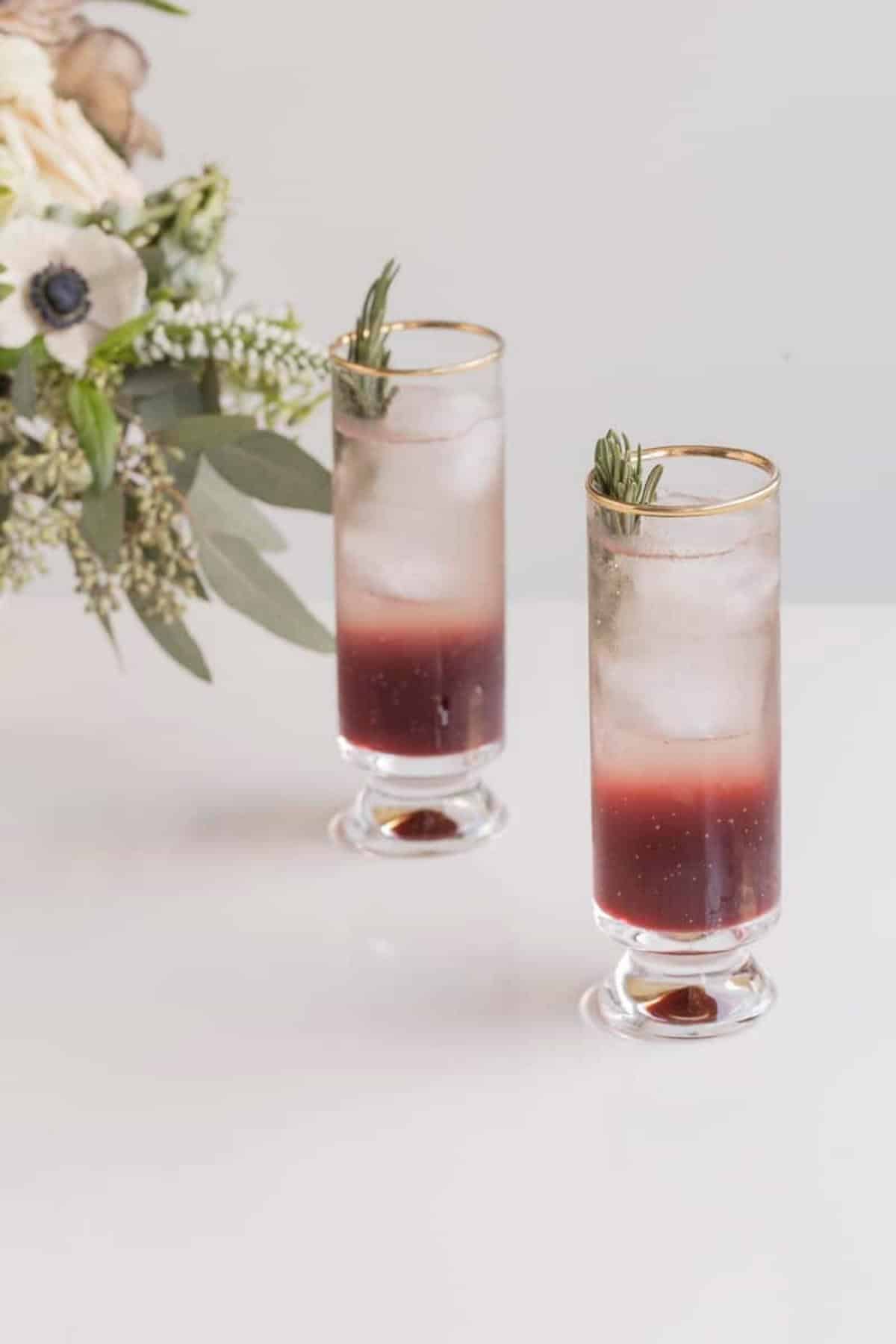 Other Posts for Passover
Love this Recipe?
Did you make this recipe and just love it? Awesome! If you have a quick minute and could leave a star rating and comment below, I would appreciate the support and knowing your feedback! And if you're over on Instagram, be sure to tag me in your photos!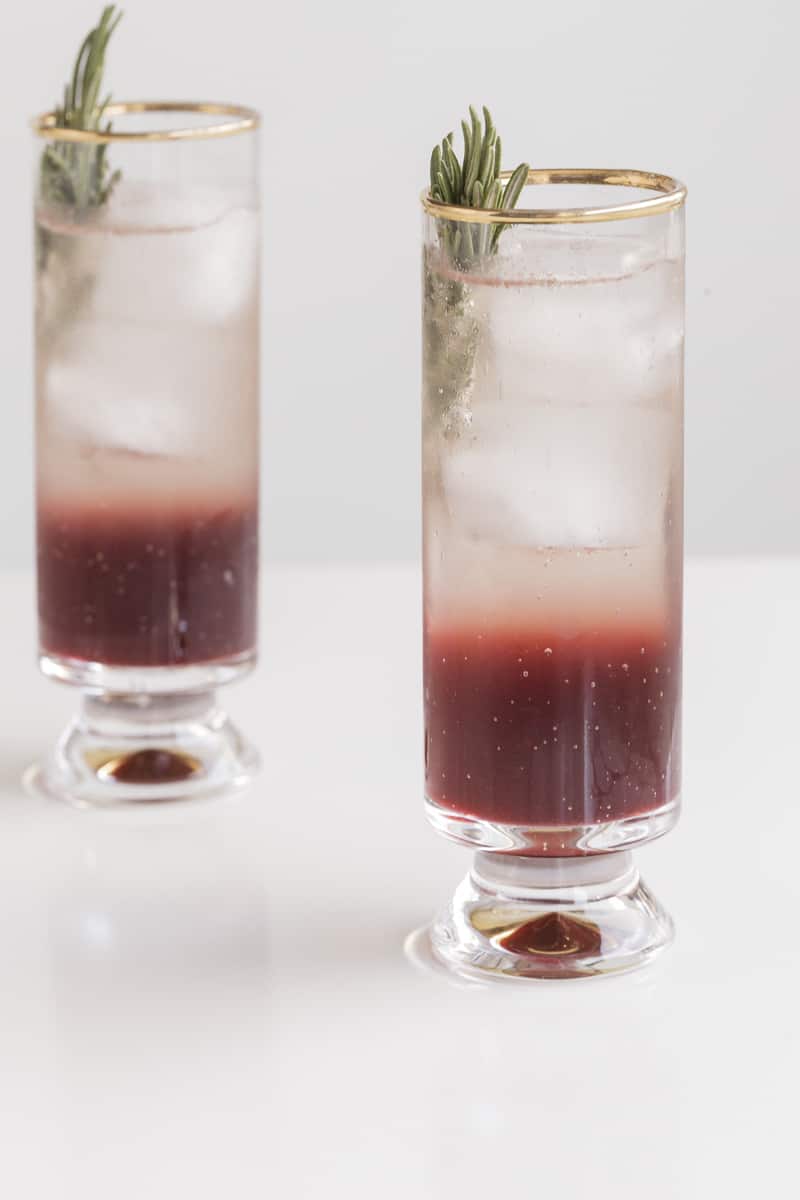 Ingredients
Rosemary Honey Simple Syrup
½

cup

honey

½

cup

water

2

sprigs

rosemary
Cocktail
½

cup

concord grape wine

Manischewitz

½

lemon

small, juiced

3

tablespoon

rosemary honey simple syrup

3

oz

vodka

1 ½

cup

ginger beer

12 oz

Ice

Rosemary

garnish optional
Instructions
Rosemary Honey Simple Syrup
Place honey and water into a small sauce pan, slightly covered with a lid. Turn heat to medium low. Stir occasionally until honey is dissolved and no longer super thick.

Add in sprig of rosemary. Allow to simmer for 6-8 minutes.

Remove from heat. Place liquid into an airtight container, discard rosemary. You will be left with about ½ cup of syrup.
Cocktail
In a small pitcher add the wine, lemon juice, honey simple syrup, and vodka. Stir and let sit for a few minutes. Or if you want, you can prepare this part in advance and let it sit in the fridge in an air-tight container.

Pour ice into 2 glasses, pour half of the wine mixture over the ice. Split in half and pour the ginger beer on top of that.*

Garnish with rosemary and enjoy!
Notes
*I got this split/layered look by pouring the ginger beer directly onto the ice. You will want to stir and mix together before drinking, however.
Tried this recipe?
Mention @amanda.wilens