One of the best flavors of summer is strawberry and these Mini Strawberry Pies really deliver. These little pies are great for individual servings or servings for two. They are a great size for serving at a dinner party or setting up on a buffet. Serve with vanilla ice cream or whipped cream.
Baked fruit hasn't always been my favorite, but once you have a pie that's been made well, you'll love it too. Some of my favorite pies are my Apple Crumble Pie and these Mini Blueberry Pies.
To make these pies extra fun I added some little cut-out flowers of pie dough. And a beautiful lattice top. Read the instructions on how to make it down below.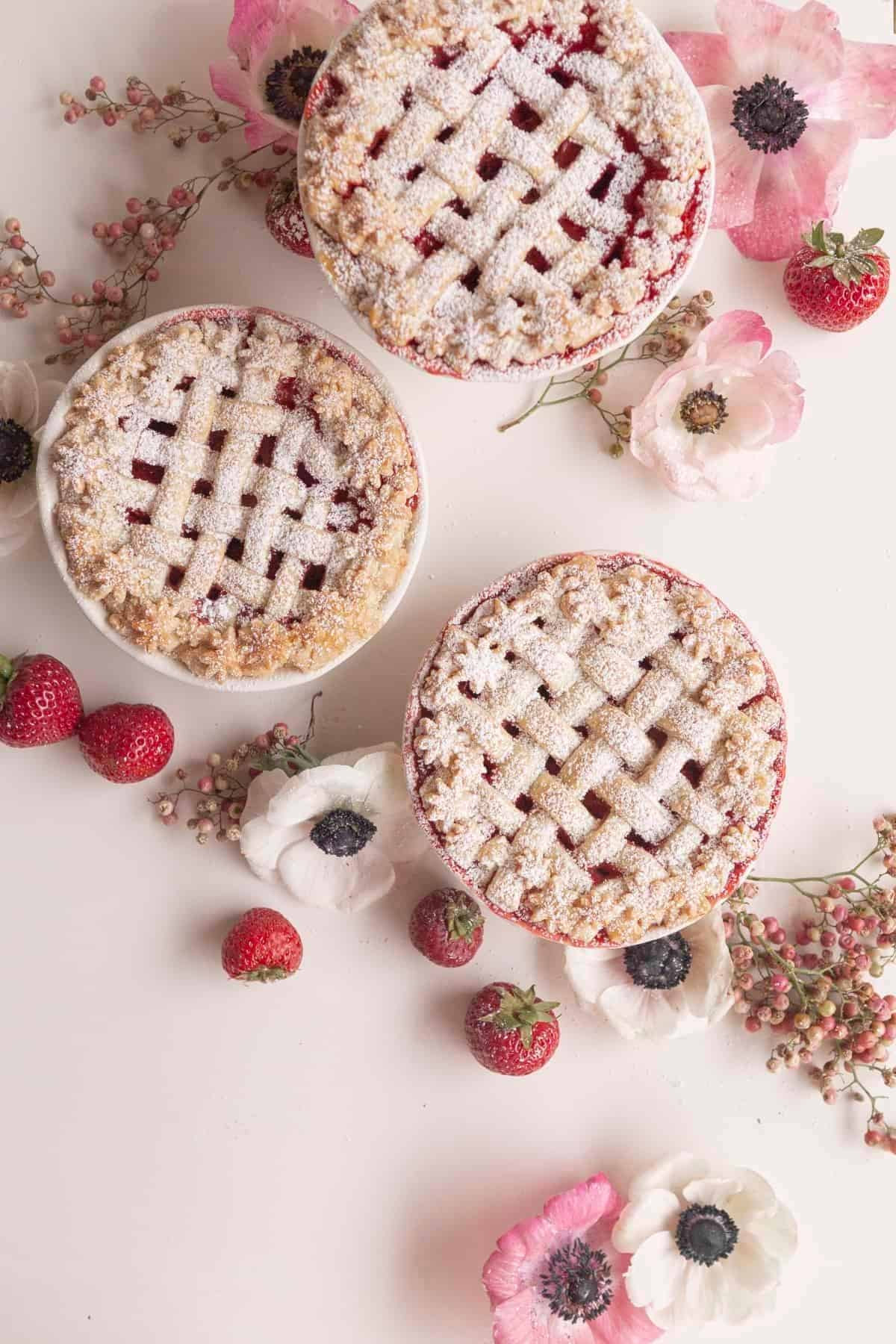 Table of Contents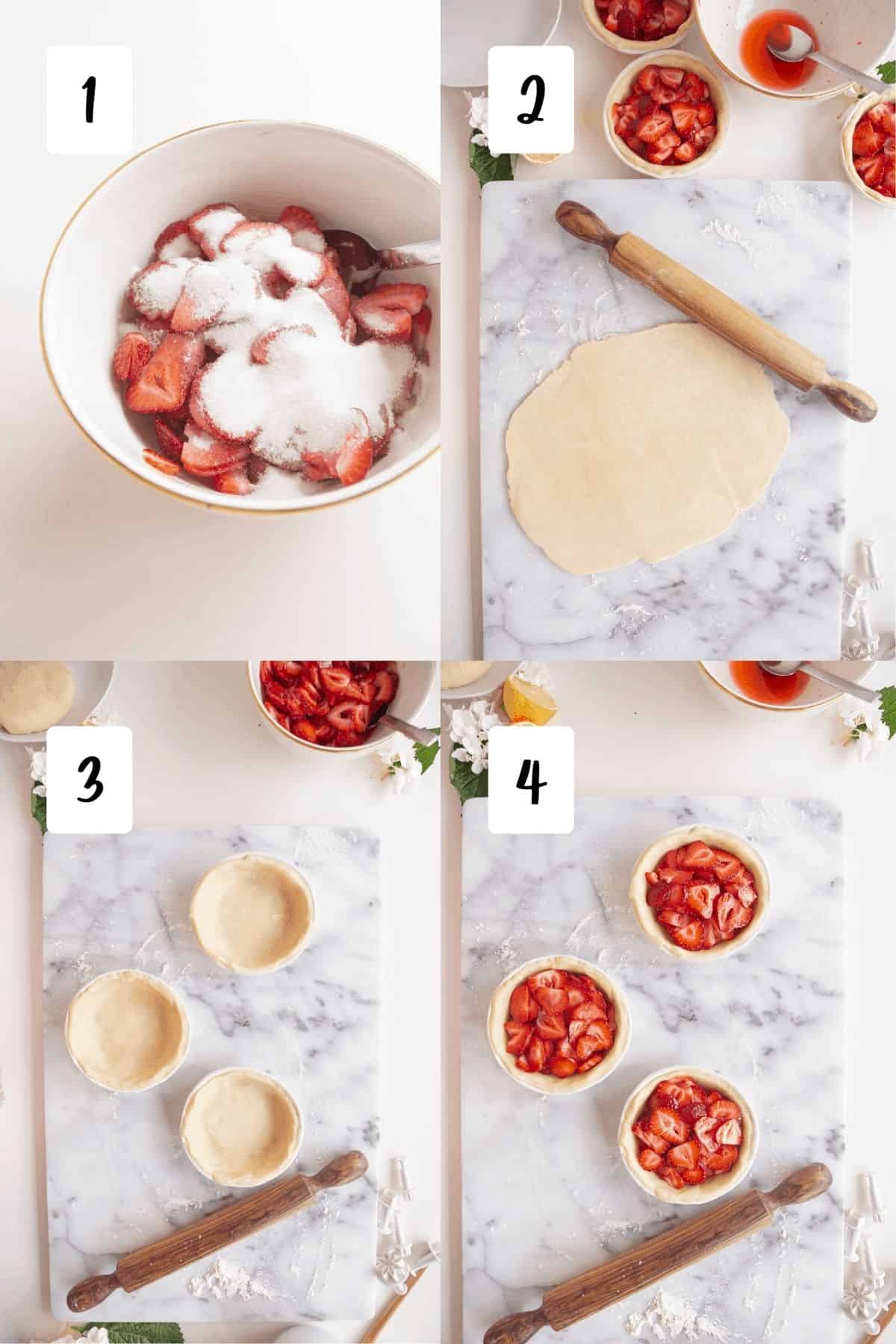 Making Mini Pies
This recipe for strawberry mini pies works so well because I use my own homemade pie crust recipe that is so easy to make and quick. It's not super complicated and can be made in your stand mixer. The whole recipe takes less than 30 minutes to make. Then you pop them into the oven and let them do their thing.
How to make the strawberry filling and fill the pie: 1) Mix chopped strawberries, lemon juice, and sugar together in a bowl. 2) Roll out half of the pie dough on a lightly floured surface. 3) Cut out the pie dough and line the pie pans with it. 4) Spoon the pie dough into the prepared pie pans.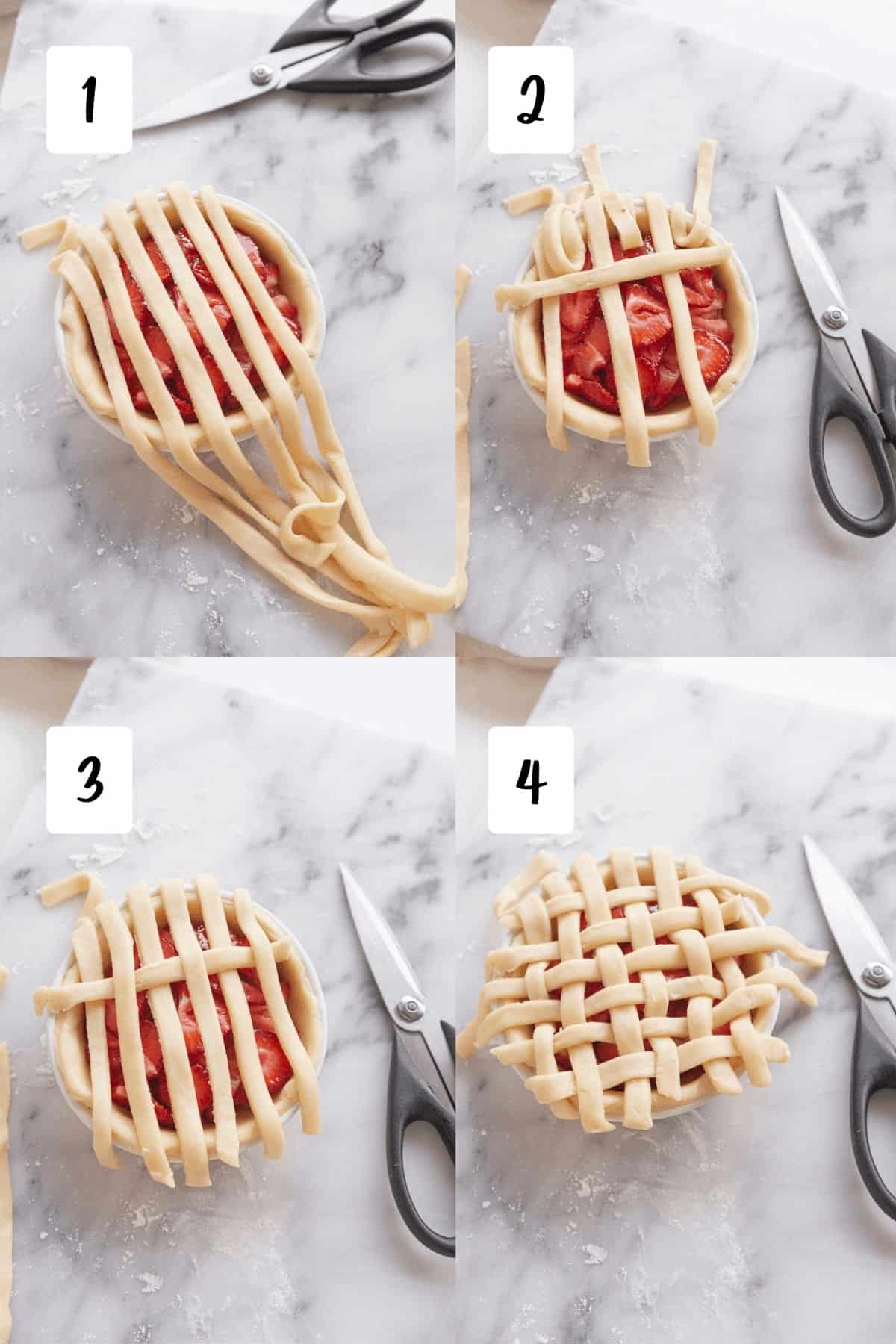 Make a lattice top: 1) First, you should slice the pie dough with a pizza or pastry cutter. Line a few pieces in one direction across the top. 2) Fold back half of the strips of pie dough. Lay down another strip of pie dough perpendicular to the other strips. 3) Lay the other strips back down. 4) Alternate the strips and fold those ones back now. Add another strip of dough perpendicularly. Then repeat through the end. Cut the edges and/or tuck them in.
Top and bake: Add cutout flowers if you'd like. Place pies onto a baking sheet to help with spillage. Add egg wash on top and sprinkle with granulated sugar if you'd like. Cover and place in the oven and bake.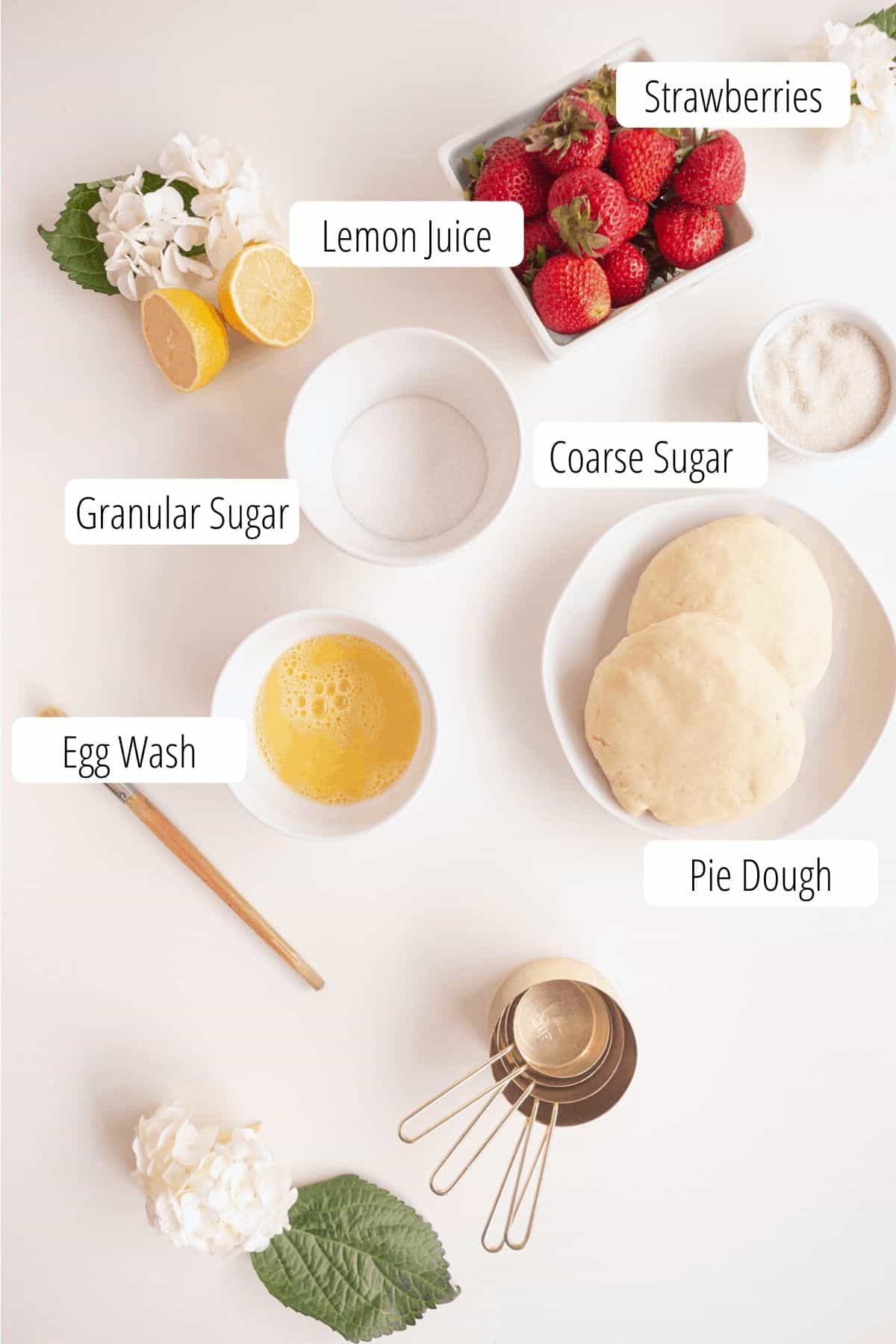 Ingredients
I always suggest using exactly what a recipe calls for, especially when baking. Baking is a science and switching out ingredients can cause big issues in the recipe. If you're looking for gluten-free, dairy-free, etc. it would be best to find a different blog with that type of recipe. I am someone with a LOT of dietary restrictions and I can tell you, making substitutions on your own isn't your best option. You are of course, more than welcome to try it. But this is a word of warning that it won't turn out as intended if you don't use the right ingredients.
Pie dough: I list my homemade pie crust in the recipe, but you are more than welcome to try another recipe or even store-bought, but I personally find this recipe to be the most simple to make and use.
Sugar: For this recipe, I recommend using granulated sugar, but you can also use raw or organic sugar. But for the topping on the pie you want to use a thicker sugar, coarse or organic usually is big enough.
Strawberries: You can use fresh strawberries or frozen strawberries in this recipe. If you use frozen, let them thaw naturally for a few hours before making the pie. Also, your berries could be on their last leg if using fresh strawberry. You can also swap out the strawberries for other brambleberries like blueberries, blackberries, raspberries, etc.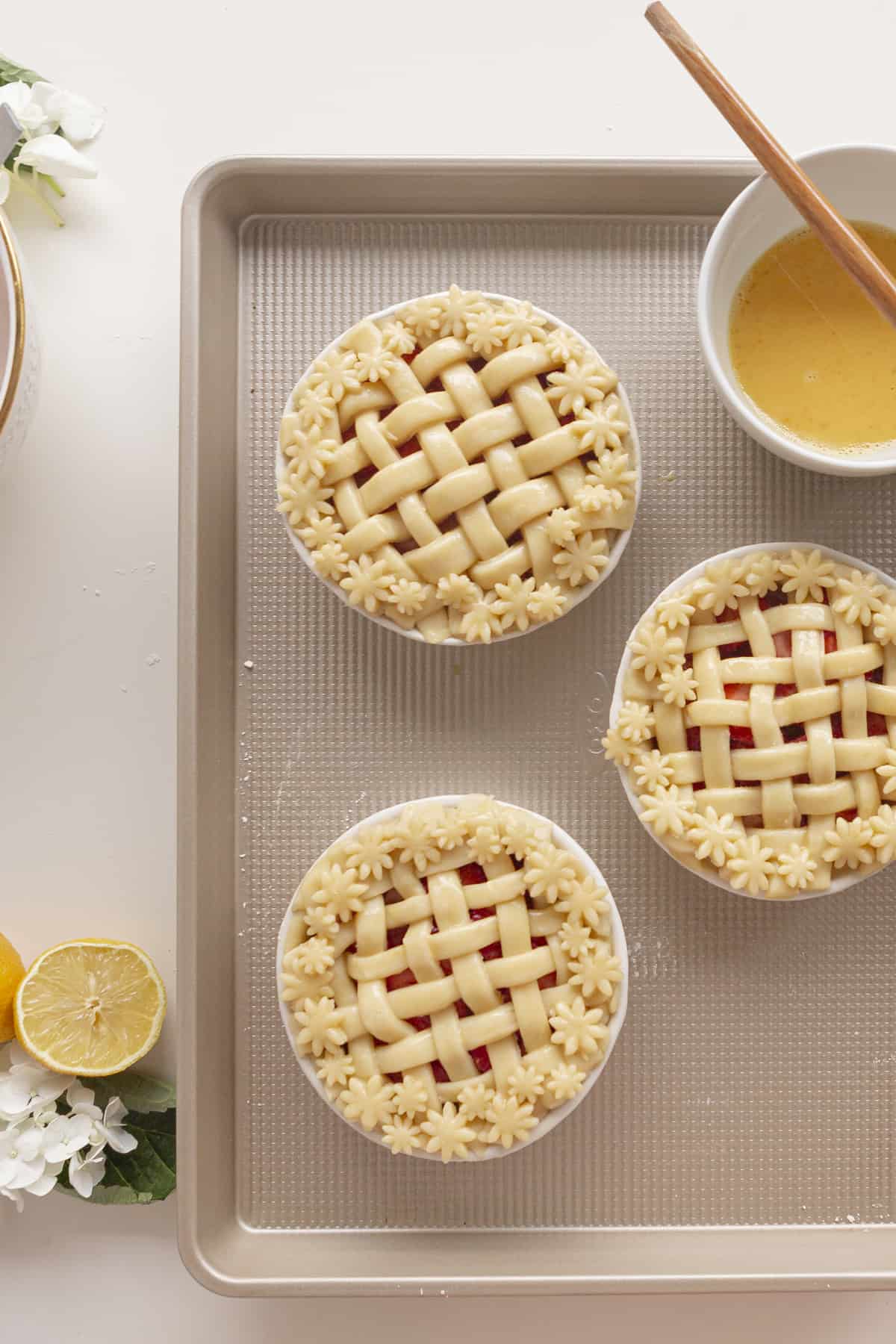 Pie Crust Designs
You can make so many different types of designs for these mini pies. However, they are quite small, so coming up with some different ideas for pie tops would be very helpful. Here are a few options below!
Lattice top: You could do a full lattice top across the top of the pies. However, they are so small that you might need to cut the dough with a paring knife or something similar because a pastry cutter will make too large of pieces.
Whole crust: You can do a full two-crust or whole crust, you just place a small hole on the top of the dough. This can be challenging as it's a tiny pie and connecting all the edges of the bottom of the pie to the top edges.
Cutouts: This is my favorite option for mini pies this small. You can use any fondant cutter or cookie cutters to cut out shapes that are roughly the size of the top of the muffin/cupcake pan wells. These can simply be placed on top of the blueberries and make a great topping.
Then, to dress them up more after they bake, you can add powdered sugar and then plate them to make them beautiful. I like to use a nice platter or cake stand. Decorate with some extra blueberries, some edible flowers, etc.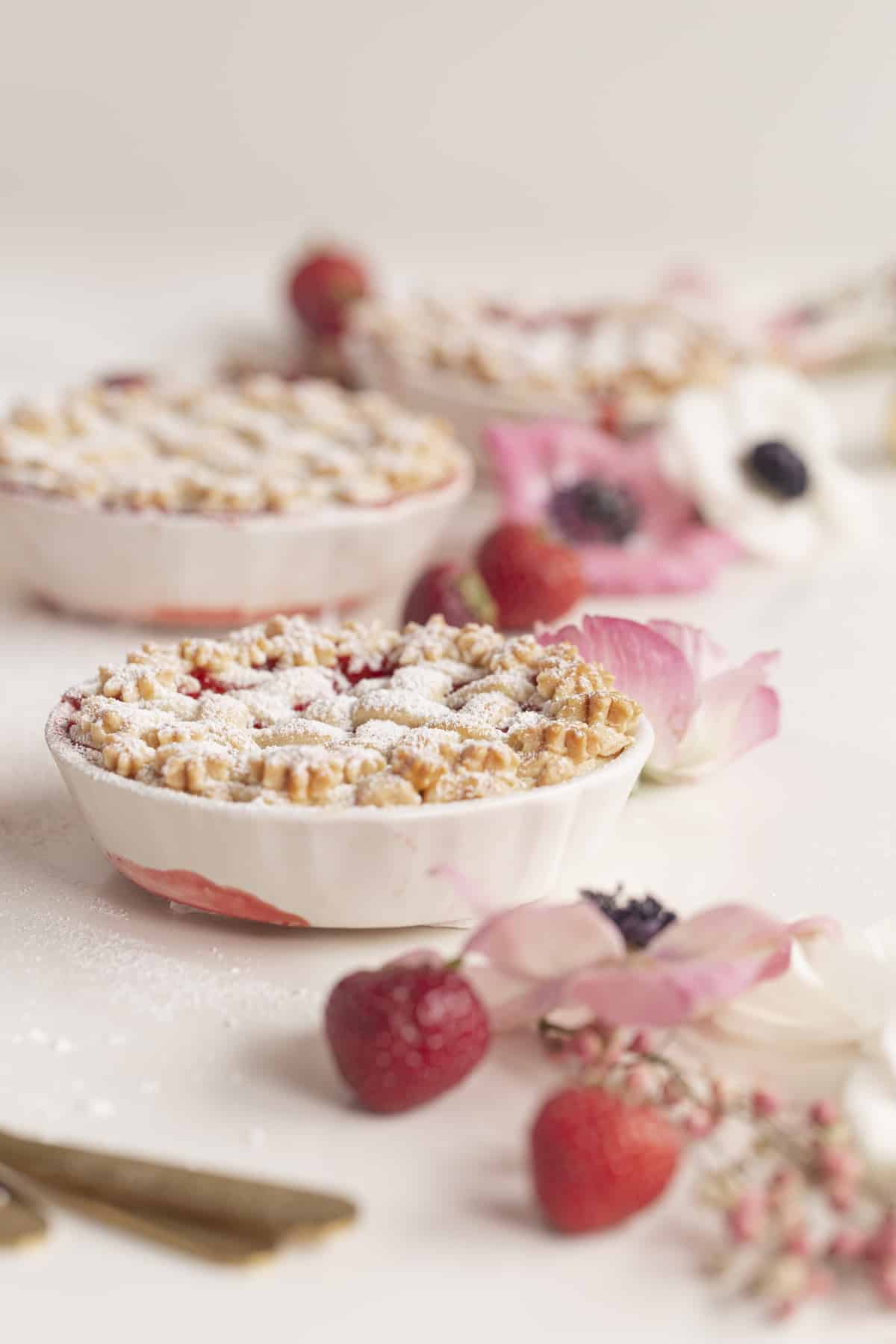 FAQs
Can I use a muffin tin for pie?
Yes, you can use this same recipe and use a muffin pan. You'll want to make sure to lower your baking time. Try this Mini Blueberry Pies recipe to show you how to make them. These are great for individual size pies.
Does a pie need a top?
There are some pies that don't have a pie top, but rather a crumble top. But if it doesn't have a tip, it's most likely a tart. And if you make it outside of a pie pan, you can make a galette. You can make mini versions of galettes as well, just lay the pie dough down on a baking sheet covered with parchment paper. Then lay down the filling and fold over the edges to let the filling stay in.
Should you poke holes in the bottom of the pie crust?
This is called docking. And it's only needed when you are blind baking a pie. You do not need to poke holes in the bottom of a filled pie that you are making for something like a berry pie. You can just place the dough in the tin, fill with the filling, and top with more dough. Then bake it off and remove it from the tin to serve.
How do you keep a pie from boiling over?
There are a few ways to make sure that you keep from boiling over and ending up with pie filling all over the bottom of your oven. 1) You want to not overfill the pie crust, make sure you leave a little room at the top. Don't have the filling going far over the top edge of the crust. 2) I always suggest placing a baking sheet directly under the tin or dish you're using to bake your pie or on the shelf below it. This helps in case the pie filling boils over, it will catch the liquid and keep it from creating a terrible mess and smell. Just remove and wash at the end.
Is it worth it to make homemade pie crust?
Yes! 100% worth it and this homemade pie crust recipe only takes less than 15 minutes to make. It may seem simpler to buy the grocery store pie dough, but it almost always ends up being more difficult to use. So instead of wasting time on the store-bought, just start off making this instead.
Pie Recipes to Try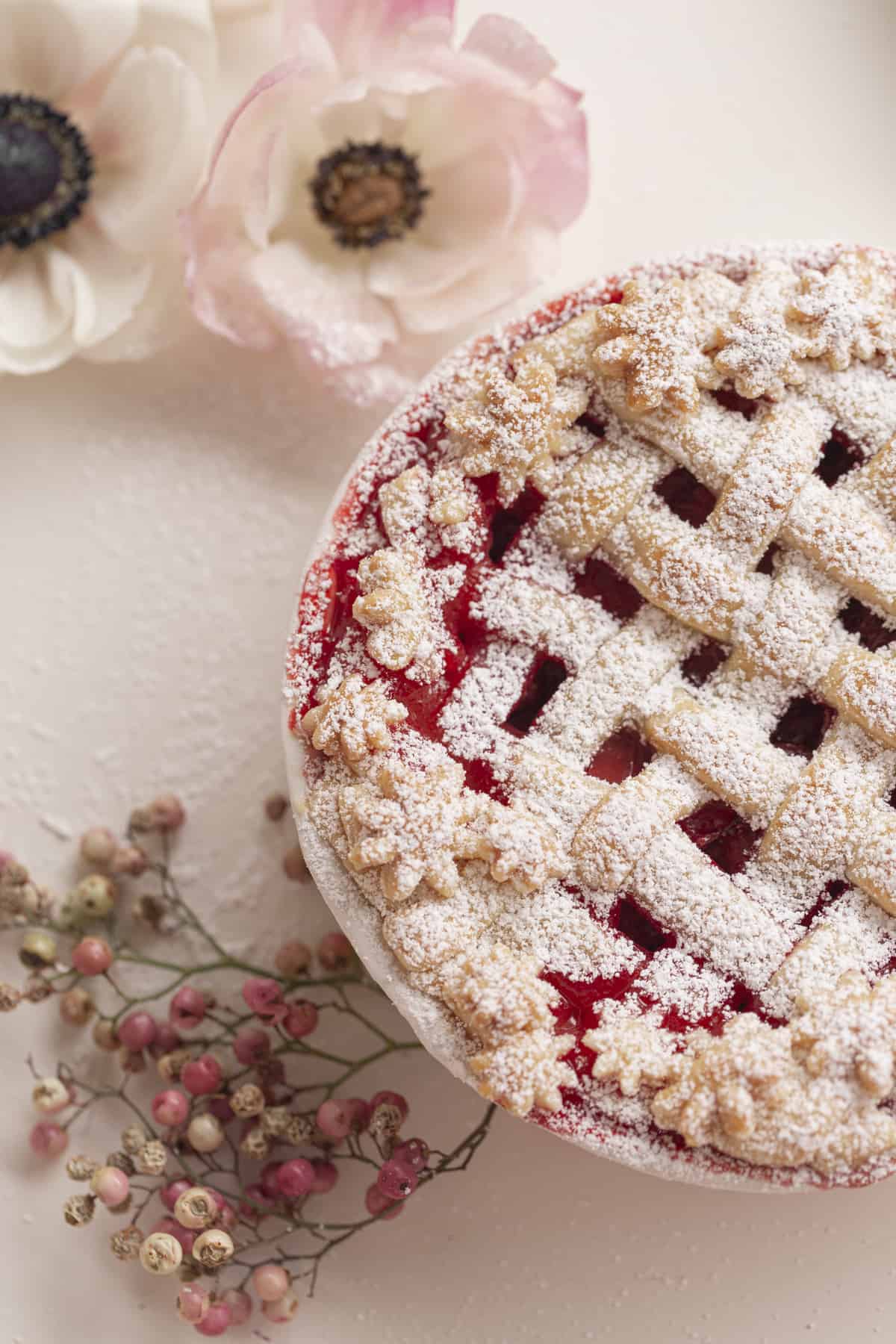 Love this Recipe?
Did you make this recipe and just love it? Awesome! If you have a quick minute and could leave a star rating and comment below, I would appreciate the support and knowing your feedback! And if you're over on Instagram, be sure to tag me in your photos!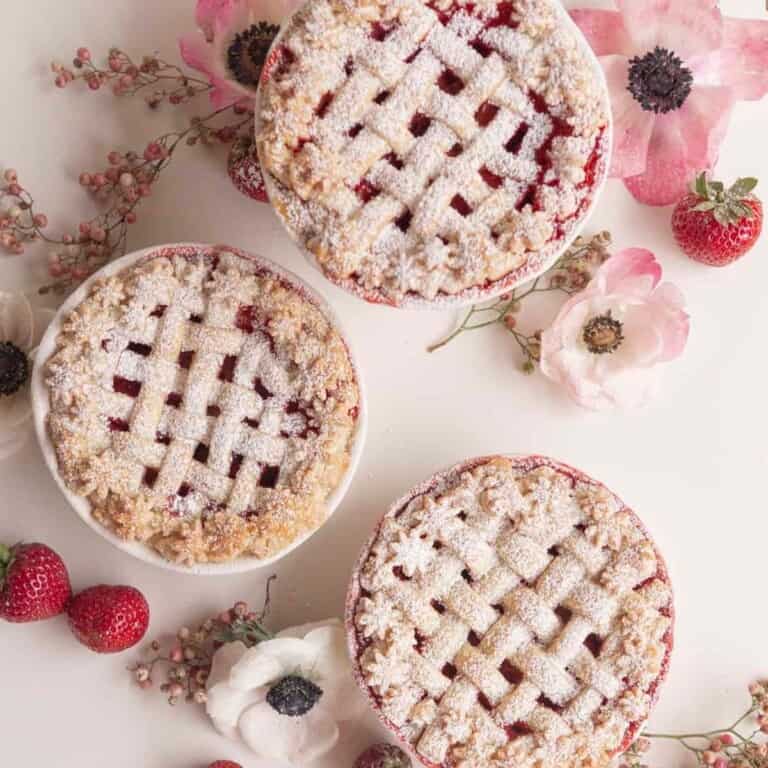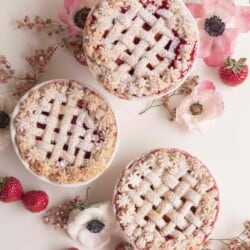 Ingredients
Crust
2

pie crusts

recipe for my homemade pie crust*
Strawberry Pie Filling
1

lb

strawberries

sliced

½

cup

granulated sugar

1

Lemon

juiced
Optional
coarse sugar

a few pinches

ice cream

powdered sugar
Instructions
Preheat the oven to 350° F.

Make pie dough and chill as needed.

In a bowl mix slices of strawberries, granulated sugar, and lemon juice.

Pull out 3-4 small pie or tart pans (5-6" pans).

Take half the dough and roll it out onto a lightly floured surface. You want it about ⅛" thick.

Flip one of the pie pans upside down on the pie dough. Then take a butter knife or pizza cutter and cut about 1-1.5" of extra diameter around the entire circle of the pan. Add the pie dough into each pie pan.

Split the strawberry filling equally into each pan.

Take the remaining dough, roll it out, and cut lattice strips and/or shapes into the dough with a cookie or fondant cutter. Place them on top of the strawberries.

Brush on egg wash and if you want, sprinkle a few pinches of coarse sugar on top.

Place the pie pans onto a baking sheet. Cover with foil and place the pies into the oven and bake for 25 minutes. Remove the foil and bake for another 30-35 minutes until cooked (55-60 minutes total).

Remove from the oven and cool. You can add powdered sugar on top and serve with ice cream. Serve and enjoy.
Notes
* My recipe for homemade pie dough can be found through this link or through a search on my site.
- I used two small fondant flower cutters and put a few cutouts on each pie.
- My number one tip for pies is to place a baking sheet either directly under the pan/tin you are using for baking or on the rack below. That way if the filling starts to bubble over, it won't end up on the bottom of the oven making a horrible smell and mess to clean up later. Store in an airtight container in the fridge for up to 1 week.
Tried this recipe?
Mention @amanda.wilens