I created this Rose Sangria for a Mother's Day shoot with Lauren Conrad Co. This recipe was made thinking of my own mama and her love of sangria. Mostly the lady just likes fruit a lot a something like this is perfect for her. It's easy to make, but looks and tastes a little fancy. It's also really easy to make it in advance. So, if you're making it for an event or gathering, you aren't too busy running around the kitchen day of your brunch to make this as well.
Sangria is a great recipe for gatherings as it makes a large batch, but it also can be made in so many different flavor profiles throughout the year. This one is great for spring and summer. Another great summer one is this Peach Sangria. Or for fall or winter this Apple Pomegranate Sangria is a great option.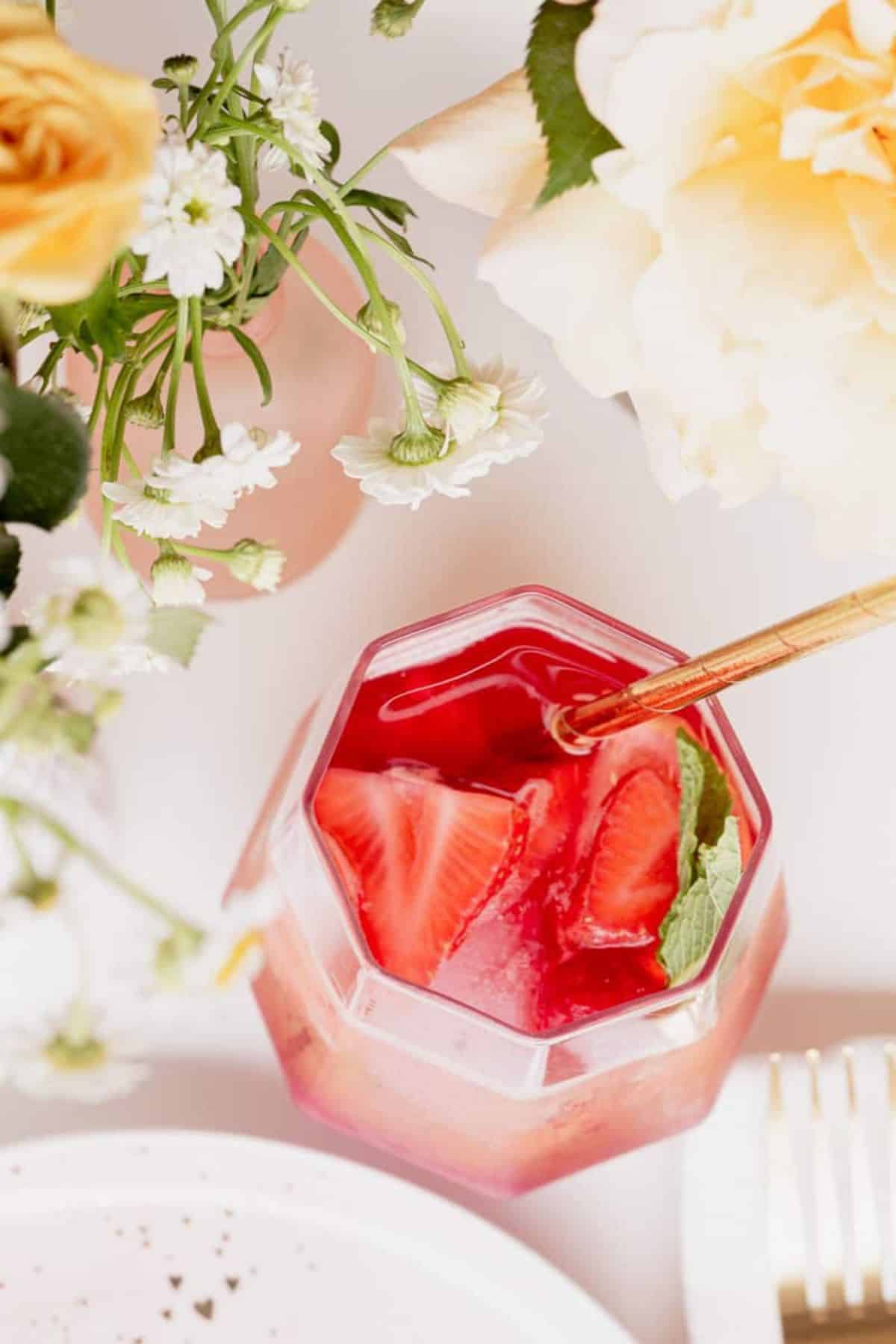 Rose Sangria
This berry rosé sangria recipe is perfect for a spring gathering, Mother's Day, or a summery brunch. It's so easy to whip up, but is packed with flavor. It also has a pretty short prep time, which is great. Most sangrias might be packed with juice, but instead for this one we are using a fruit simple syrup to sweeten the sangria and add in a ton flavor. It can also make the sangria come together a bit quicker. Sangria has to sit for a while to incorporate the flavors, hence why you can buy a cheaper, not so great tasting wine. It will just soak up the other flavors of the fruit and incorporate with juices and simple syrup.
Sangria made with frozen fruit is super easy and works great for the syrup portion. If you want the pieces to be a bit prettier in the pitcher however, you might want the sangria fruit to be fresh instead. Sliced strawberries, whole raspberries and blackberries, would make it extra beautiful. Oh and of course some fresh mint or even edible flowers to top it off and make it beautiful.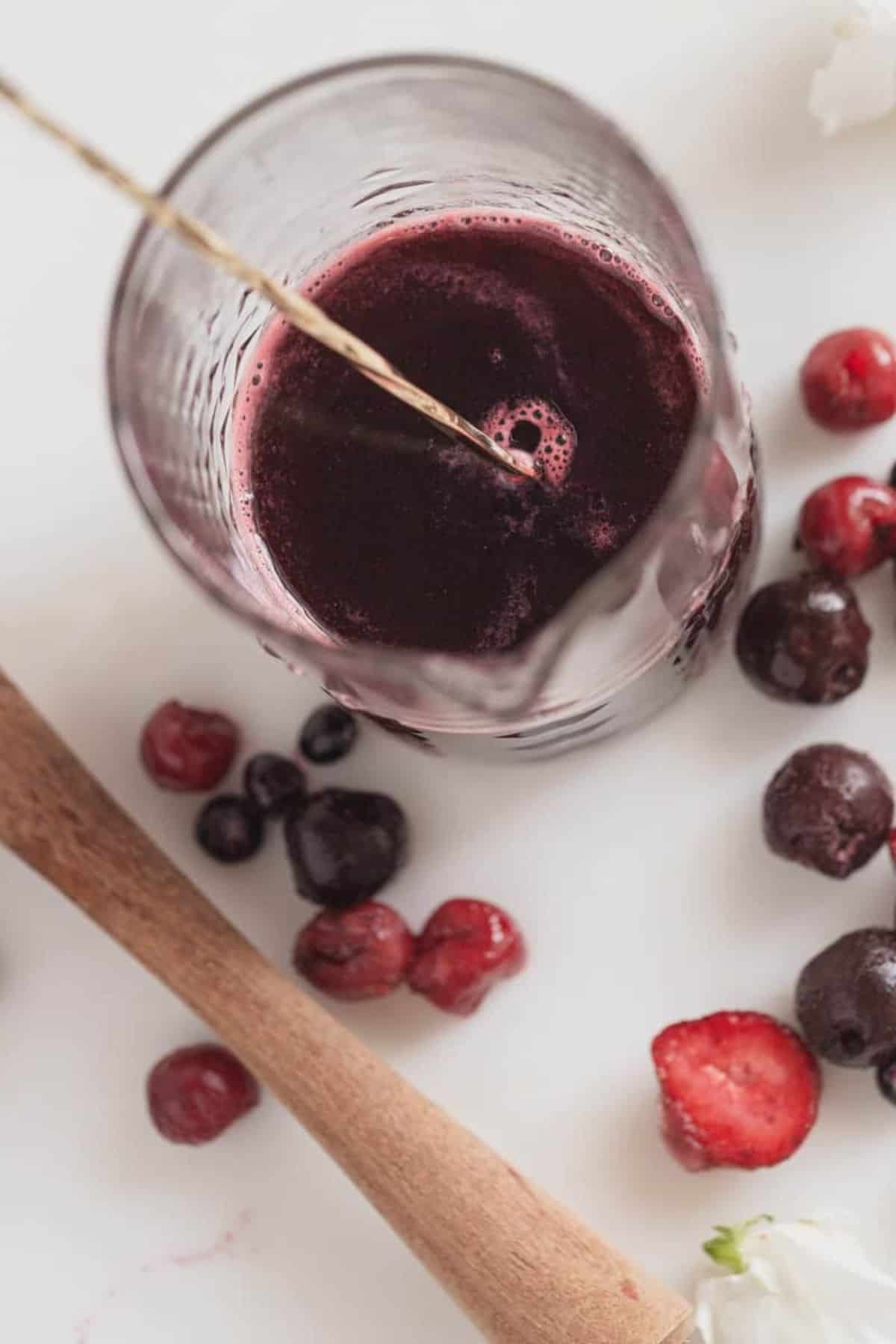 Ingredients
The ingredients on this rosé wine recipe are fairly straightforward, but I do have some great tips on certain ones and best substitutions if needed.
Fruit: You can use any mixture of berries on this. I used a mixture of cherries, strawberries, raspberries, and blackberries. You can also use frozen or fresh on the syrup and directly in the sangria itself.
Alcohol: I use vodka in this recipe as its fairly neutral and makes for a good addition. You might also see alcohols used like triple sec or gin in sangria recipes, in addition to the wine. Again, for this recipe, I used and recommend vodka.
Rosé: The rosé wine shouldn't be your nicest bottle, but usually something cheap and accessible. The flavor isn't super important as the other fruit flavors will incorporate and make the wine more palatable as it sits together overnight. You could also use a white wine in this recipe if needed. However, I would suggest avoiding a red wine for this particular recipe.
Lemon: Lemon juice is used in this recipe to add some acidity and freshness. You can substitute fresh lemon juice for bottled. However, don't use lemonade as it will add in extra sugar and will be watered down.
Sparkling Water: Sparkling water gives a little carbonation to this drink and is best added right before serving. You can also use club soda, seltzer, or if you want a little ginger flavor, you could even use ginger ale.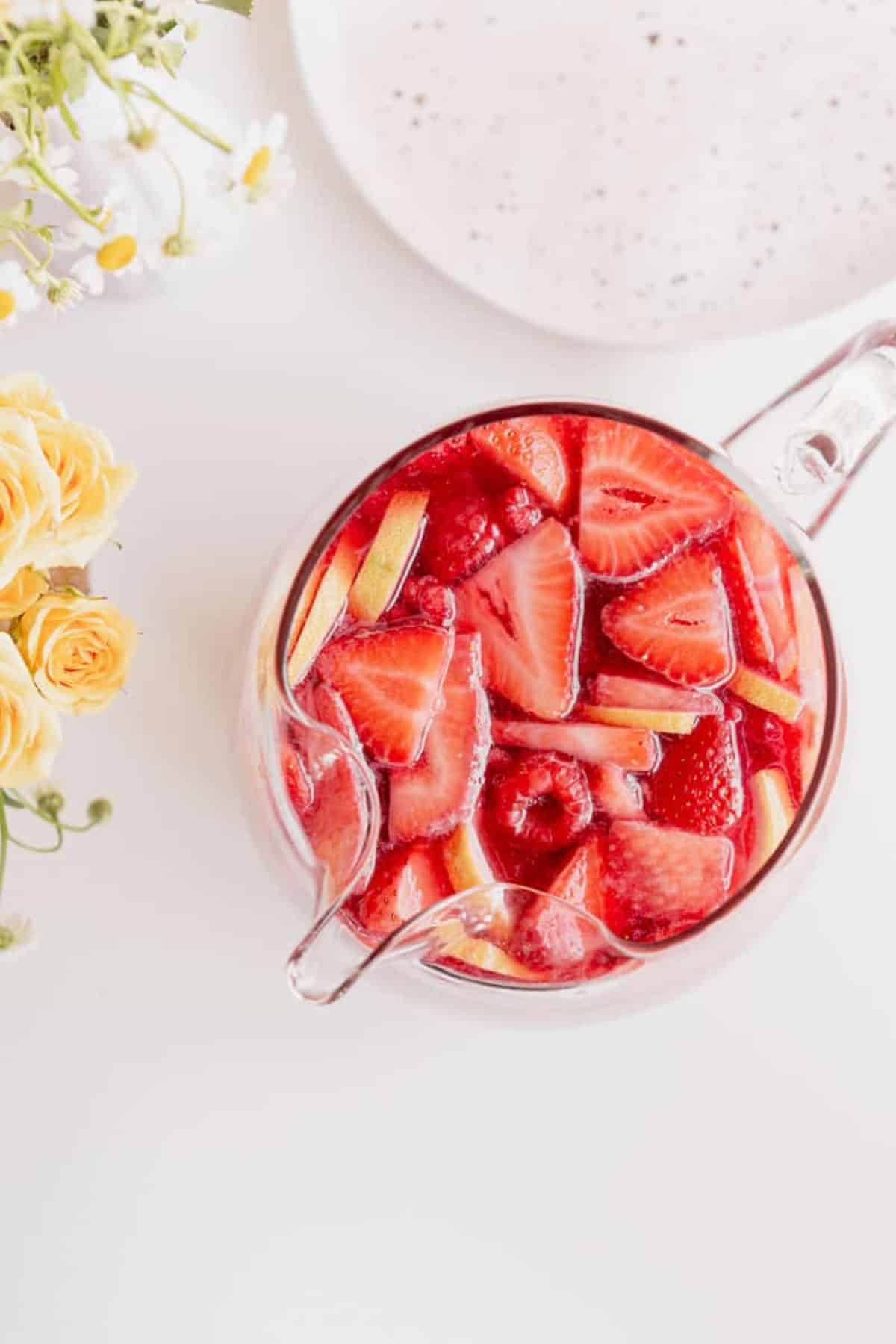 How to Make Rose Sangria
To make rose sangria recipeyou need to create a simple syrup by placing water, sugar, and fruit on the stove until it simmers. Then muddle and let simmer until it's nice and thick like a syrup. Then get a large pitcher, or extra-large jar, add in the syrup, rose wine, vodka, fresh or frozen fruit, and lemon juice. Stir and let sit in the refrigerator, covered for 8+ hours. The longer the time you leave it in there, the better it will incorporate. Just don't leave it for too long (only up to a few days with fresh fruit in it). When you're ready to serve you'll add the mixture to the pitcher and add in the sparkling water. Then pour over ice into individual glasses. Top with extra garnish like fresh strawberries, a lemon wedge, mint, or edible flowers.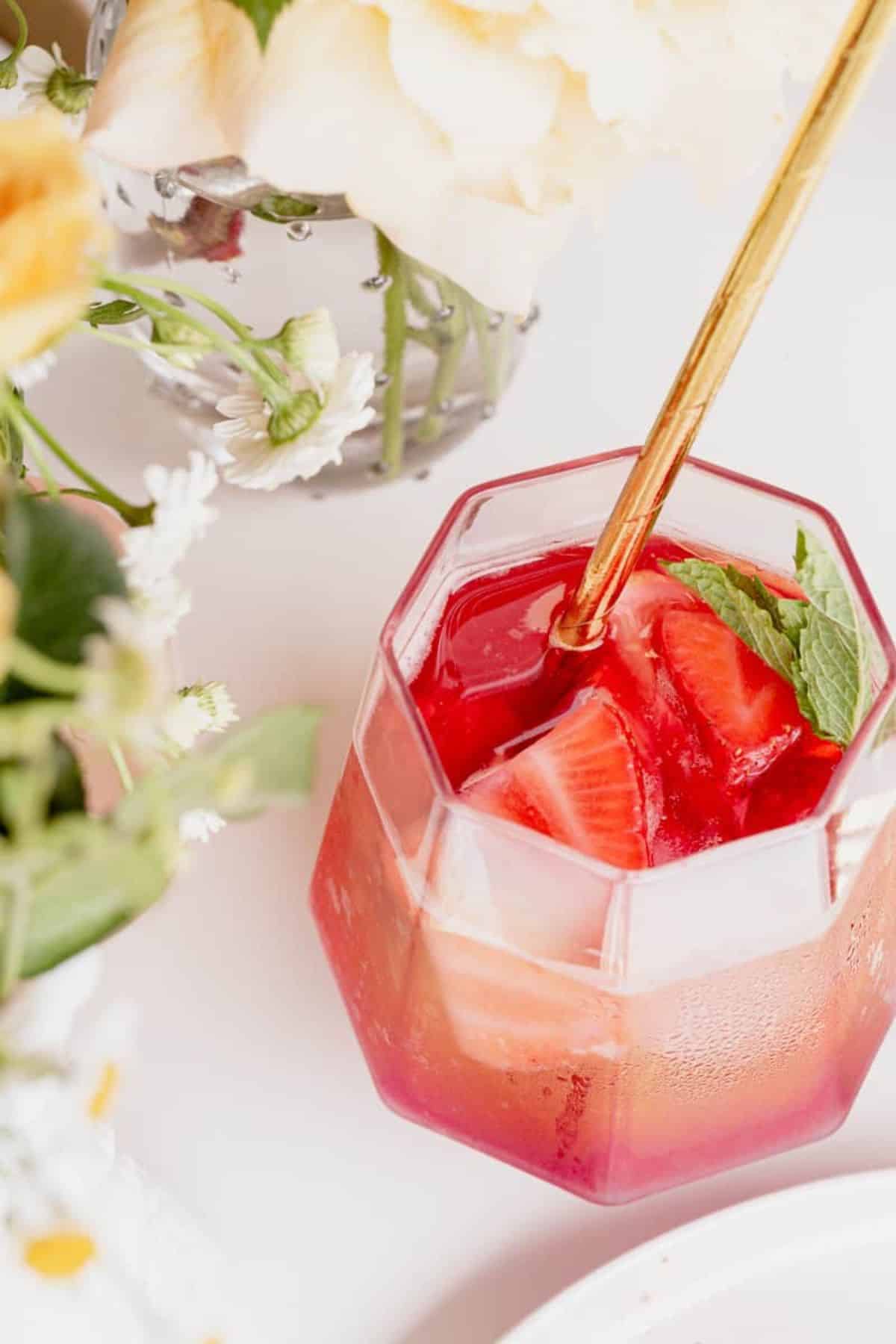 FAQs
Is rose good for sangria?
Yes! Each sangria recipe varies so much based on the alcohol and fruit used. But something with berries, watermelon, or florally is great with a rose wine. With a white wine, you might see something similar or even something with apples or other pome fruits. Red wines you usually see paired with apples and oranges.
How long do you let the fruit sit in sangria?
For about 8 hours is best. You can do a minimum of one hour, but you'll notice that the wine is still coming through very strong. If you can make it the night before or the morning of the time you plan on serving it, that will help the flavors incorporate better.
Can you put ice in rose wine?
Yes, of course. I highly recommend drinking this recipe over ice to be super refreshing. But you can also enjoy ice in your rose or white wine. If you enjoy it a certain way, then that is the right way.
How long is sangria good for?
Since sangria has fresh fruit in it, it should be enjoyed in about 4-5 days before the fruit starts to go bad, keep a close eye on it. But you can keep it sealed in a container in the fridge to be enjoyed later. I would suggest not adding sparkling water however until you plan on drinking it however so the carbonation doesn't go flat or potentially mess with your jar.
Do you have to refrigerate sangria?
Yes, you don't want any drink or food made with fruit to sit out for too long. If you are making this before an event, let it sit in the refrigerator to come together. And if you have leftovers, you can store it in the refrigerator as well.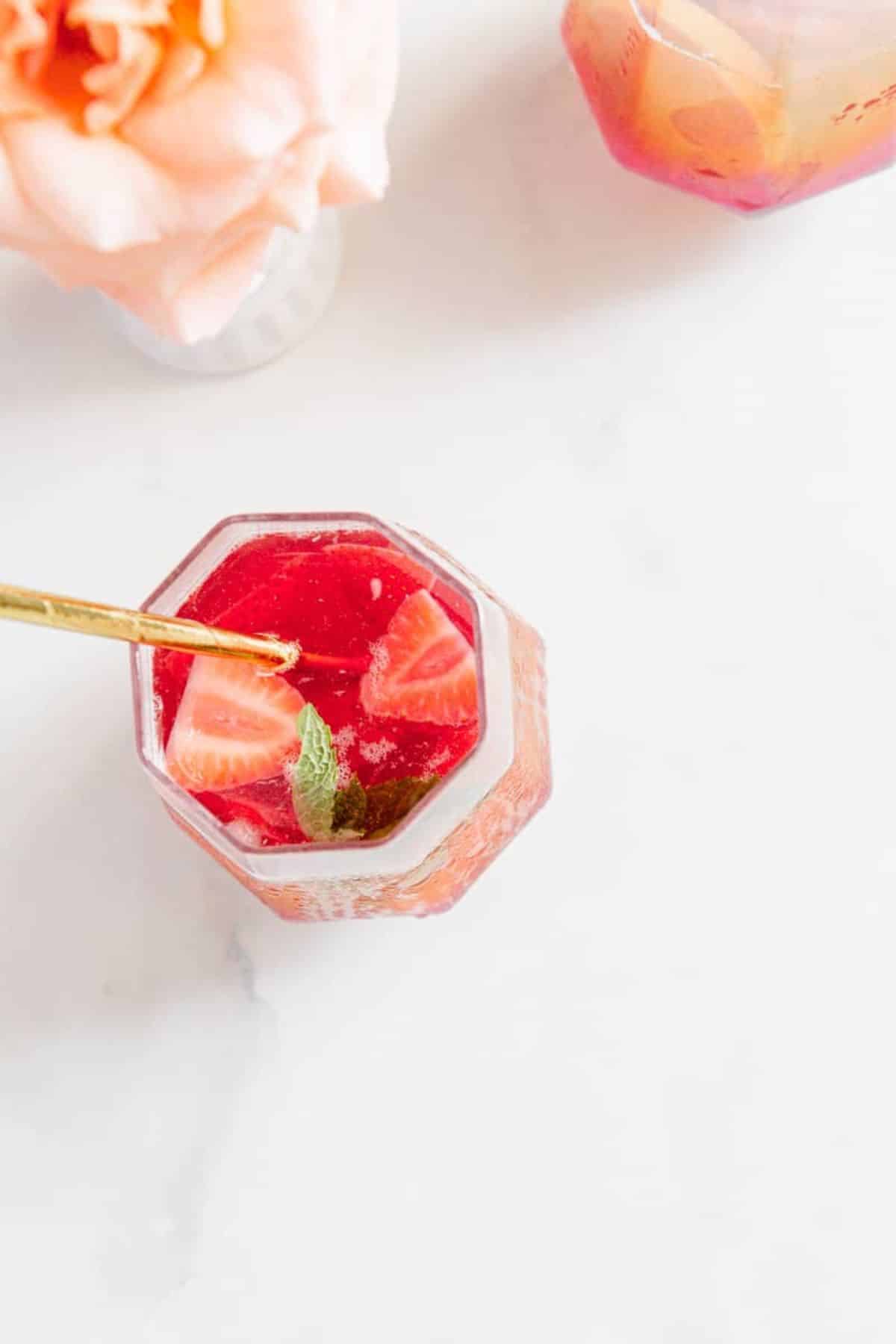 Other Cocktail Recipes to Try
Love this Recipe?
Did you make this recipe and just love it? Awesome! If you have a quick minute and could leave a star rating and comment below, I would appreciate the support and knowing your feedback! And if you're over on Instagram, be sure to tag me in your photos!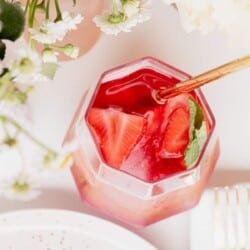 Ingredients
Fruit Syrup
1

cup

water

¼

cup

sugar

2

cups

mixed berries

fresh or frozen
Sangria
fruit syrup

from above – about 1 cup

1

bottle

rosé

½

cup

vodka

2

cups

mixed berries

fresh or frozen fruit

½

cup

lemon juice

about 3 large lemons

3

cups

sparkling water

about 2 cans

ice
Instructions
Fruit Syrup
Take 2 cups of the fruit, water, and sugar in a small saucepan. Place this on the stove until it simmers. Then take a muddler or a wooden spoon and mash the berries. Stir occasionally on simmer for the next 7-10 minutes until nice and syrupy.
Sangria
In a large jar or pitcher add the fruit syrup, rosé, vodka, fruit, lemon juice, mix.

Place in the refrigerator overnight.

When ready to serve pour in sparkling water, then add ice if you wish and garnish with mint.
Notes
Inexpensive wine is the best for sangria as you'll be mixing in a lot of other ingredients.
You can use frozen fruit if it is on hand. If you have fresh berries, use that! I suggest using fresh berries for the fruit you'll add directly into the drink.
I suggest using mixed berries, but single berries like strawberries or raspberries would also be great!
I cooked down half of the fruit into a syrup, so you get some great flavors from them. Otherwise, you don't always get the juices and flavor just from sitting in the drink.
To make this into a mocktail version, you can use soda, fruit syrup, lemon, whole berries, ice, and garnish.
You definitely want to let this sit for at least an hour, but for the best flavors, make it the night before (at least 8 hours) and let it chill in the refrigerator.
Tried this recipe?
Mention @amanda.wilens