This lemonade rosé sangria is easy to make and ready to drink as soon as you mix it together. Can be made in a single serving or pitcher.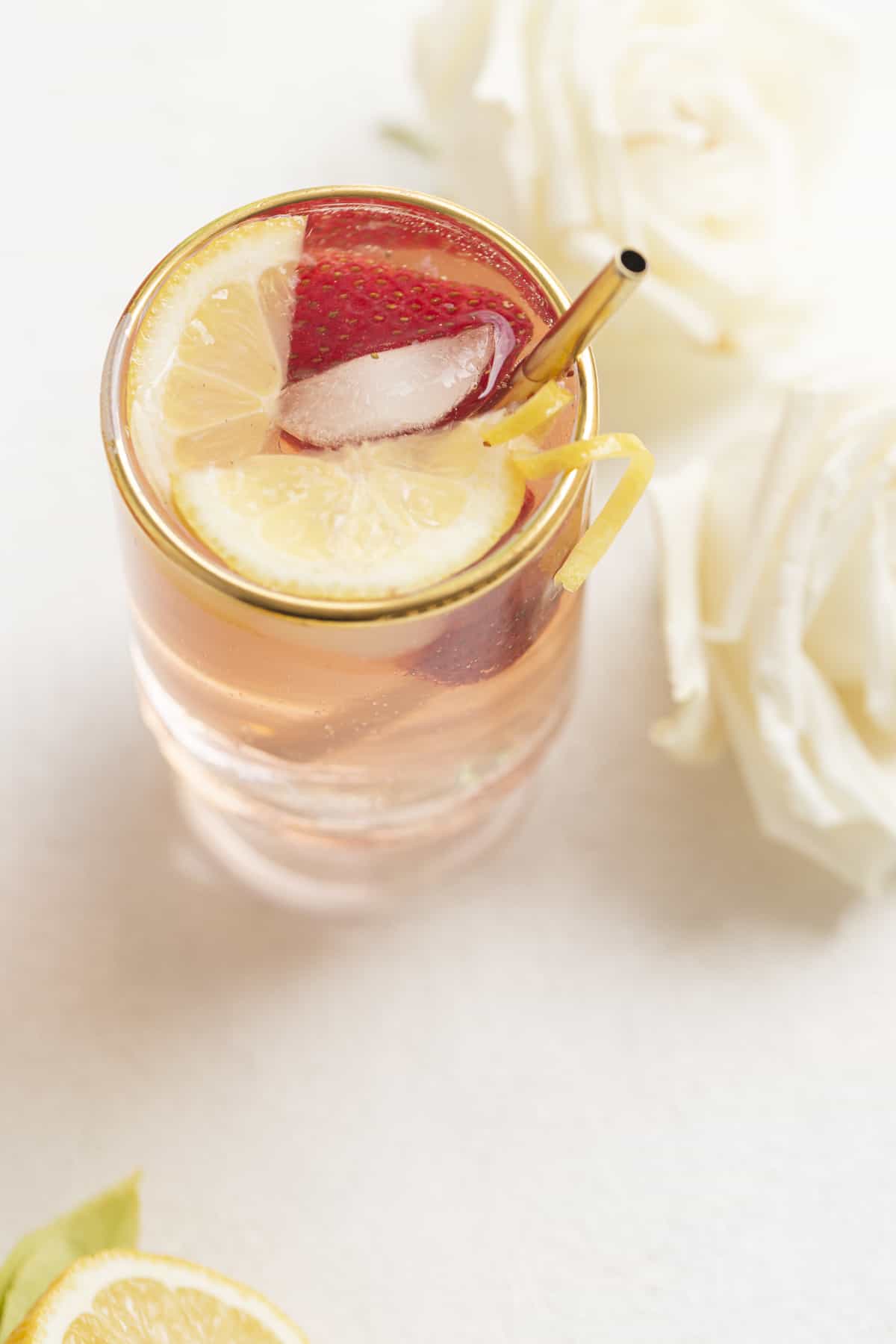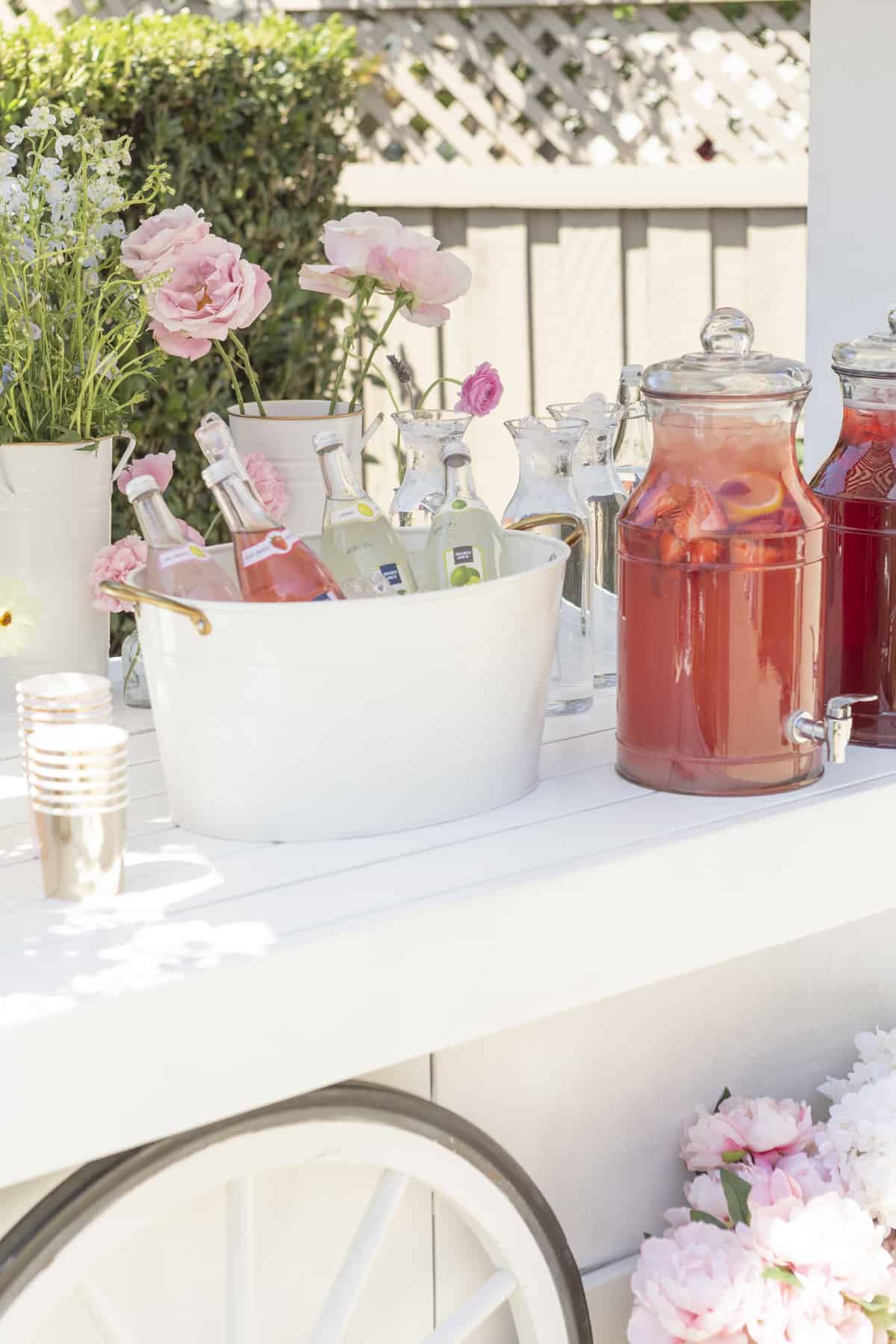 Why it Works
This recipe is perfect for a warm day in Spring or Summer when you need a refreshing glass to keep you cool. This drink was originally made for the French Garden Party Wedding Shower I threw for my sister. I wanted something we could throw into a big drink dispenser, mix, and have ready to go. I didn't want anything complicated. And I wanted to make sure it would be an easy crowd-pleaser. Sometimes I have to remind myself that not everything has to be complicated. And when you're throwing a party, sometimes you need something easy that won't take up too much of your time as you prep.
Just a few simple ingredients and a few minutes of pouring and mixing and you're good to go!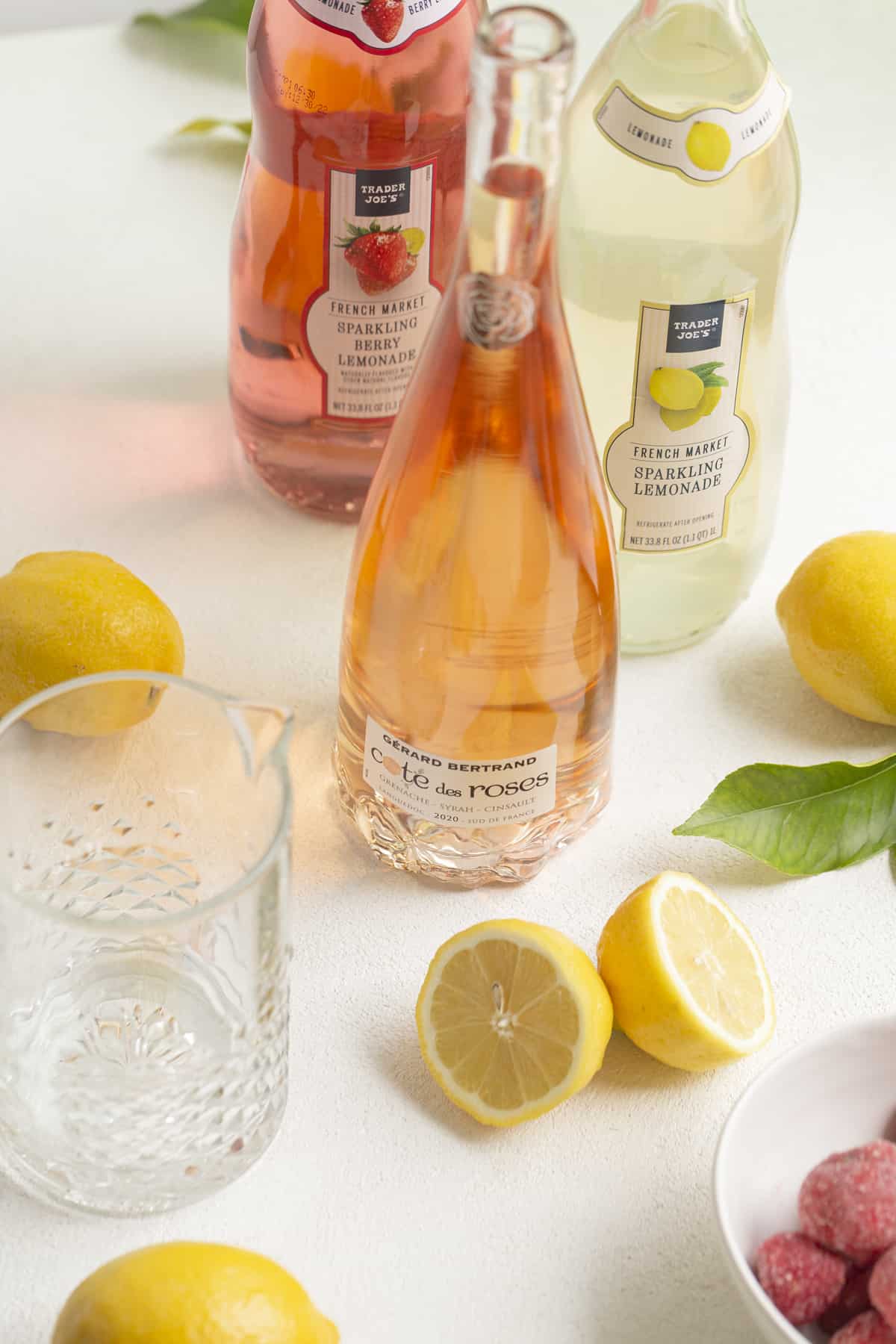 Ingredients
These ingredients are super simple and easily doubled or tripled!
Lemonade: Now we used a big container for the party. One of regular lemonade and one of strawberry lemonade. You can do a mixture or just pick one! I loved the mixture and would recommend it to anyone. You also can use sparkling lemonade for a fun twist, which is what I have pictured above.
Rosé: Just a reminder that for sangria, you do not want/need the fanciest of wines. You want something that is cheap since you're just added juices to it. However, for this sangria we aren't adding too much to it, so you can go with a nicer, but still inexpensive brand.
Fruit: I used lemons and strawberries for this version. But depending on the notes in your rosé you may choose to add fruits whose notes are found in the wine. Rosés sometimes have other berries, watermelon, etc. Any could be good additions.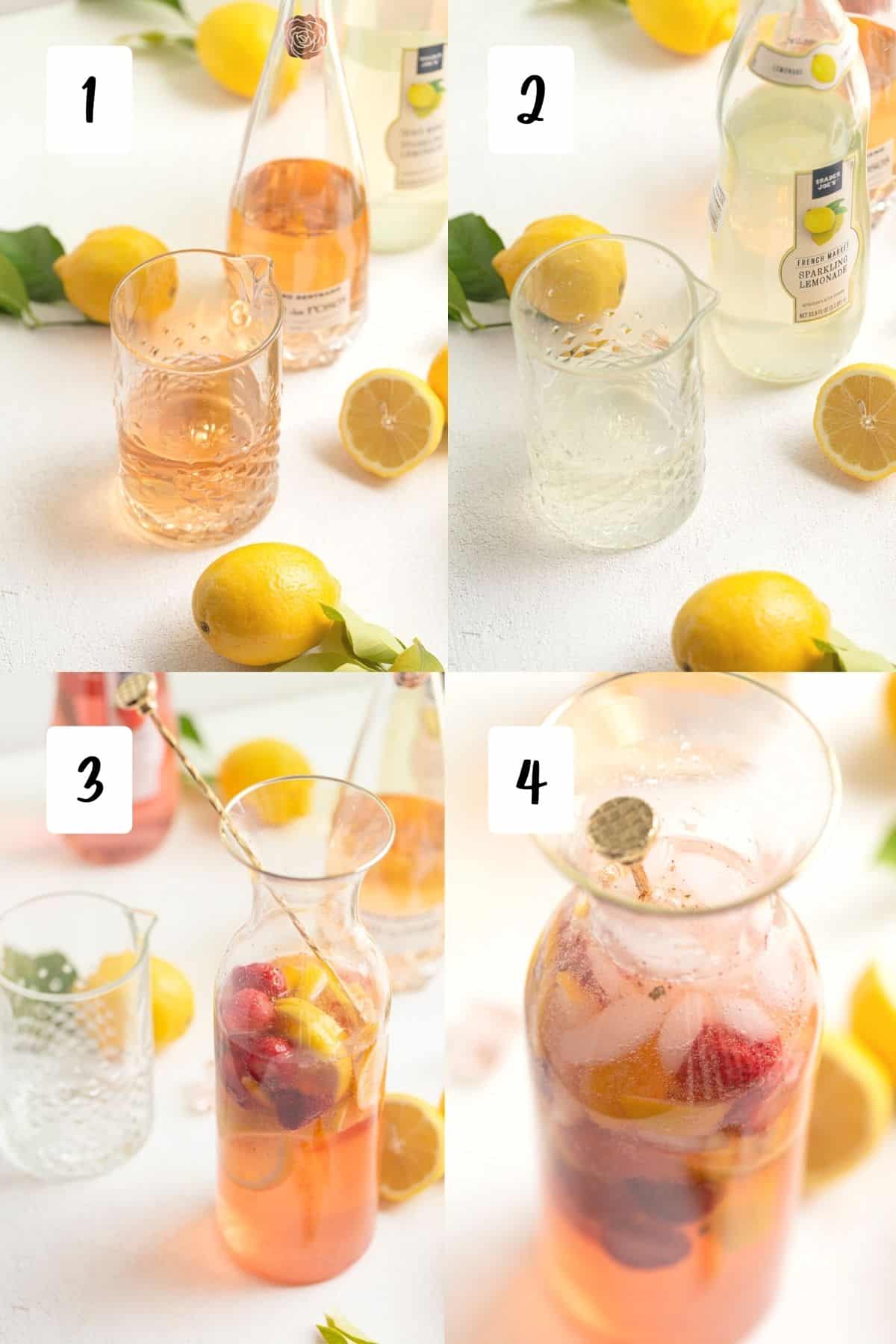 How to Make Rosé Lemonade Sangria
Just a few simple steps and you'll have a delicious drink!
Add rose into the pitcher.

Add in lemonade and mix.
Add in the fruit.
Lastly, add a bit of ice, mix, and let rest until ready to be enjoyed.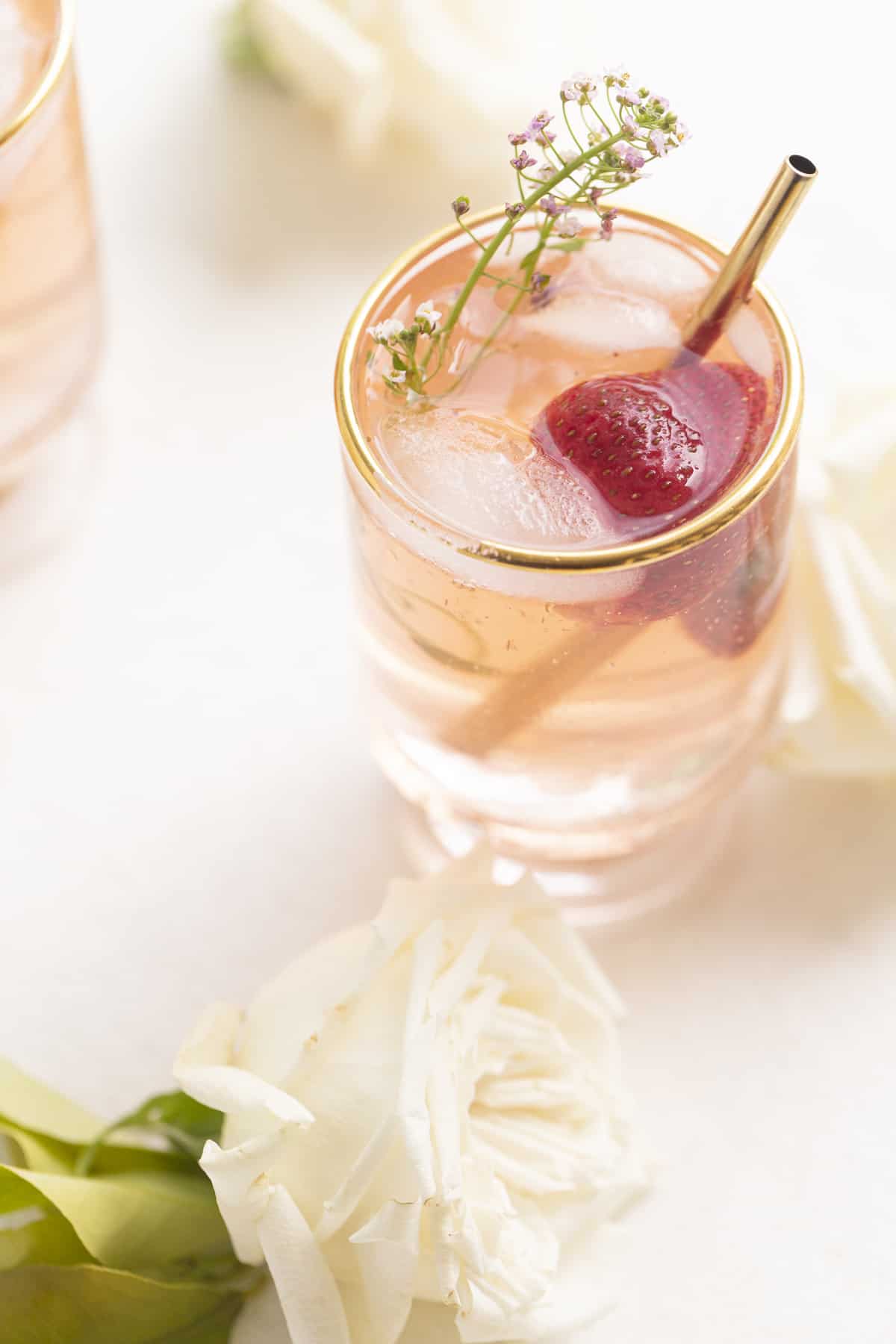 FAQs
Is rosé good for sangria?
Yes! Each sangria recipe varies so much based on the alcohol and fruit used. But something with berries, watermelon, or florally is great with a rosé wine. With white wine, you might see something similar or even something with apples or other pome fruits. Red wines you usually see paired with apples and oranges.
How long do you let the fruit sit in sangria?
Usually for about 8 hours is best. You can do a minimum of one hour, but you'll notice that the wine is still coming through very strongly. For this recipe, you can drink it immediately without too much of the inexpensive wine taste. If you can make it the night before or the morning of the time you plan on serving it, that will help the flavors incorporate better.
Can you put ice in rosé wine?
Yes, you can. I highly recommend drinking this recipe over ice to be super refreshing. But you can also enjoy ice in your rose or white wine. If you enjoy it a certain way, then that is the right way.
How long is sangria good for?
Since sangria has fresh fruit in it, it should be enjoyed in about 4-5 days before the fruit starts to go bad, keep a close eye on it. But you can keep it sealed in a container in the fridge to be enjoyed later. I would suggest not adding sparkling water however until you plan on drinking it however so the carbonation doesn't go flat or potentially mess with your jar.
Do you have to refrigerate sangria?
Yes, you don't want any drink or food made with fruit to sit out for too long. If you are making this before an event, let it sit in the refrigerator to come together. And if you have leftovers, you can store it in the refrigerator as well.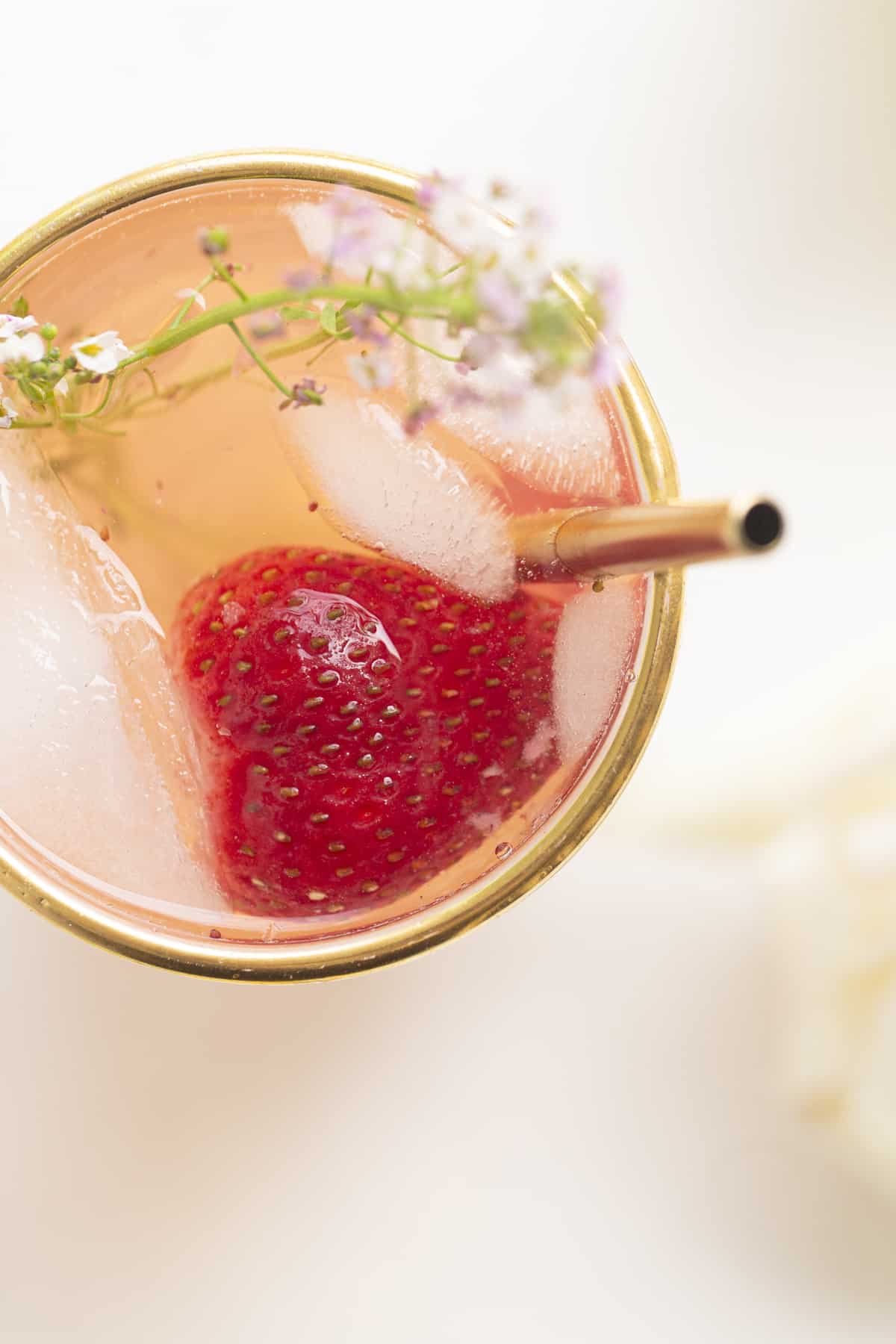 Other Cocktail Recipes to Try
Love this Recipe?
Did you make this recipe and just love it? Awesome! If you have a quick minute and could leave a star rating and comment below, I would appreciate the support and knowing your feedback! And if you're over on Instagram, be sure to tag me in your photos!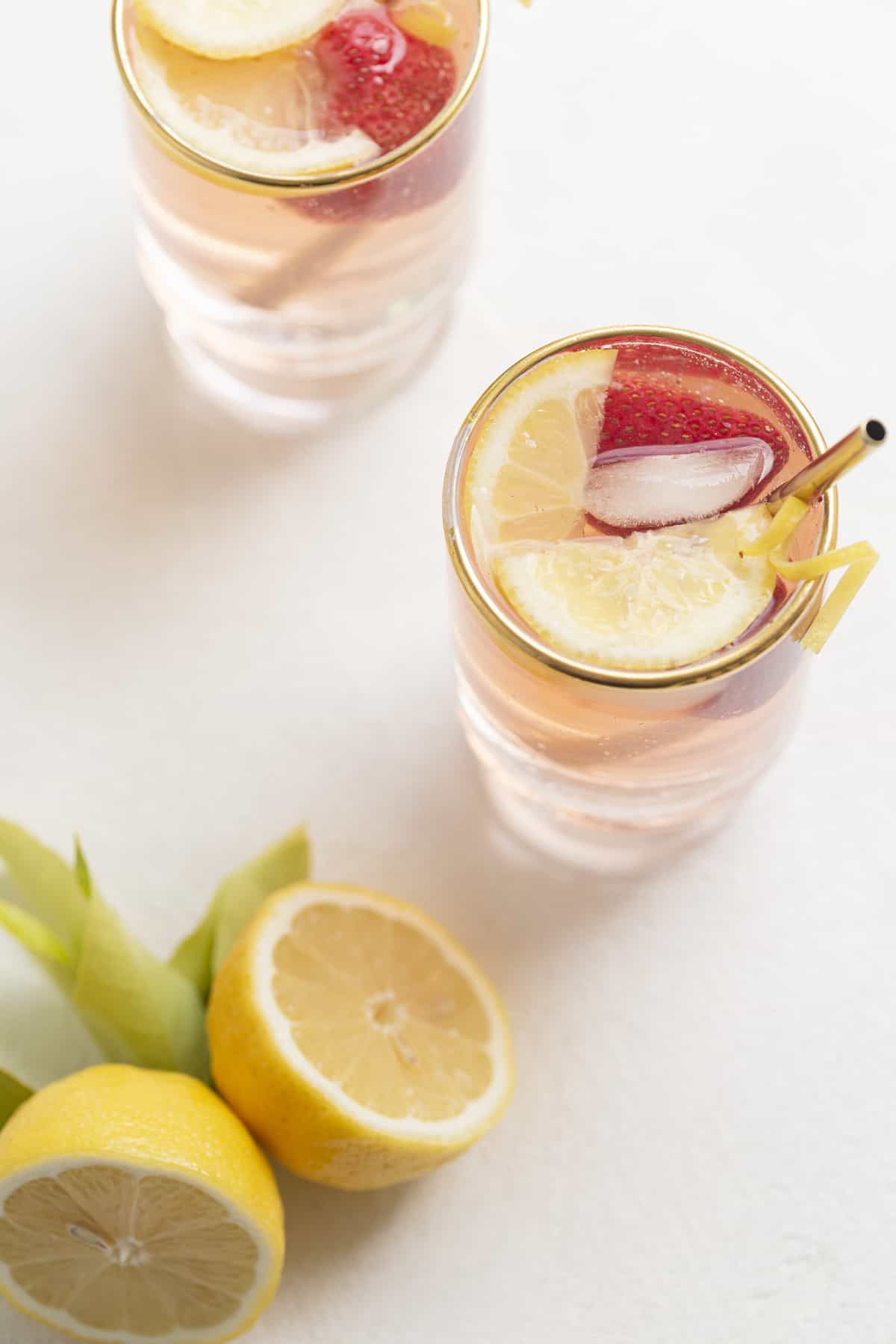 Ingredients
12

oz

rosé

12

oz

lemonade

or sparkling

12

oz

strawberry lemonade

or sparkling

1

lemon

sliced

1

cup

strawberries

frozen or fresh, sliced or tops removed

Ice
Instructions
Slice up frozen or fresh strawberries and lemons (or any other fruit you wish to add).

Grab a pitcher and add rose into the pitcher.

Then, add in lemonade and mix with a long spoon.

Pour in some ice and the fruit. Mix, pour, and enjoy.
Notes
- Refrigerate beforehand if you are preparing it in advance. Then store in an airtight container (unless sparkling) with any leftovers in the refrigerator for up to 5 days.
- Feel free to use any berries, watermelon, or any fruit you maybe have notes of in your rosé. - You can make single glasses of this as well. The ratio is just about 2 parts lemonade, 1 part rosé.
- If you want to batch this into a large dispenser I did: 128 oz lemonade (64 oz regular and 64 oz strawberry lemonade) and about 75 oz of rosé (3 bottles).
Tried this recipe?
Mention @amanda.wilens