Virtual Baby Showers are a big part of the world these days. I recently threw a virtual baby shower for a family member and wanted to share that whole process and baby shower ideas. I love the idea that even those who might not be able to celebrate in person, for whatever reason, get to celebrate and share the joy of a new life. It was amazing to have the mama-to-be, her family, and friends all gathered able to celebrate.
In this post, I'll be sharing a simple guide on how to plan an online baby shower, tips and tricks, fun baby shower favors, and how to celebrate from afar. I'll also include a link to some paper goods that have shower game ideas. In addition to those printouts, I also made a printed recipe card for my Lemon Mocktail, which can also be made into a cocktail as well. Let's get into it.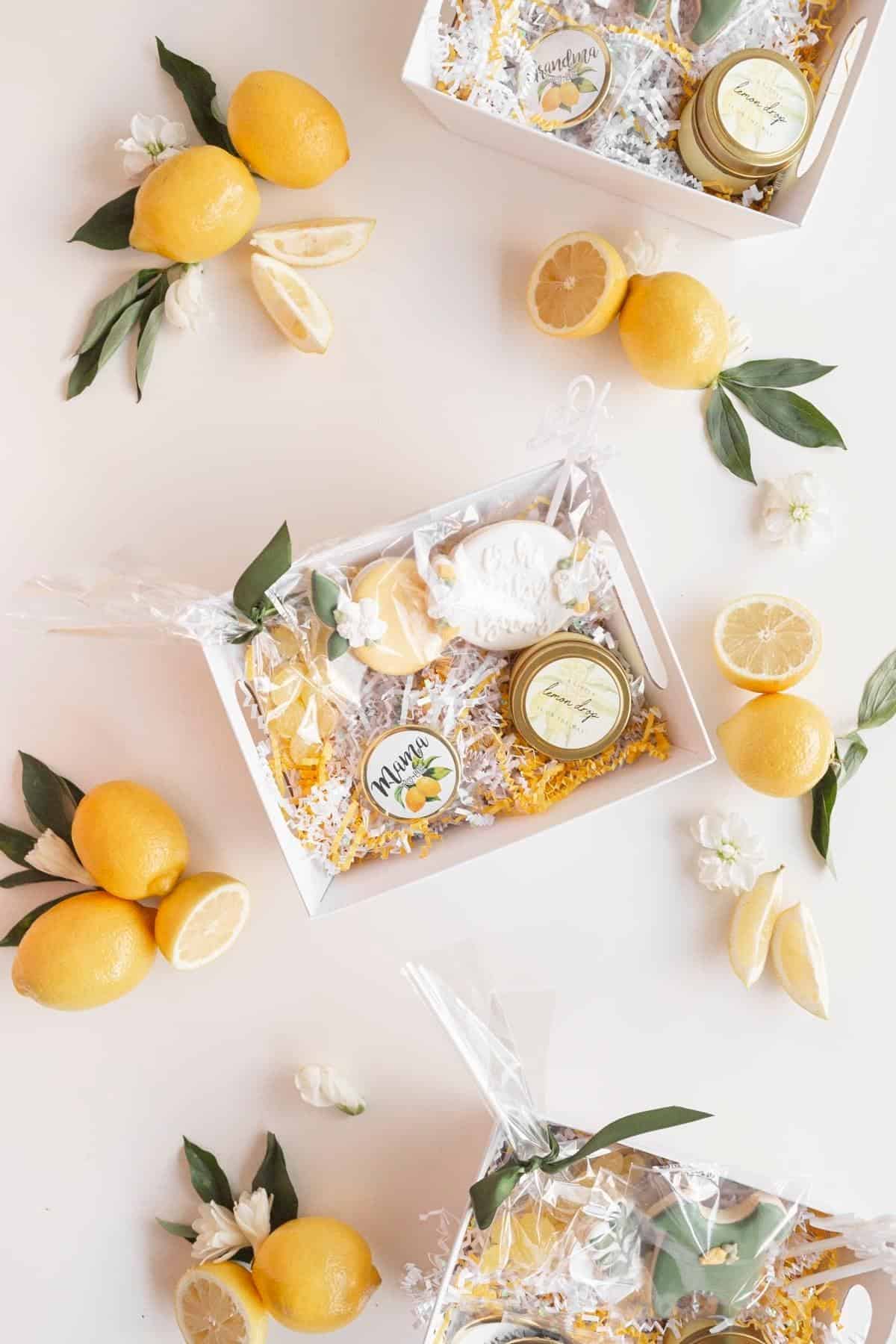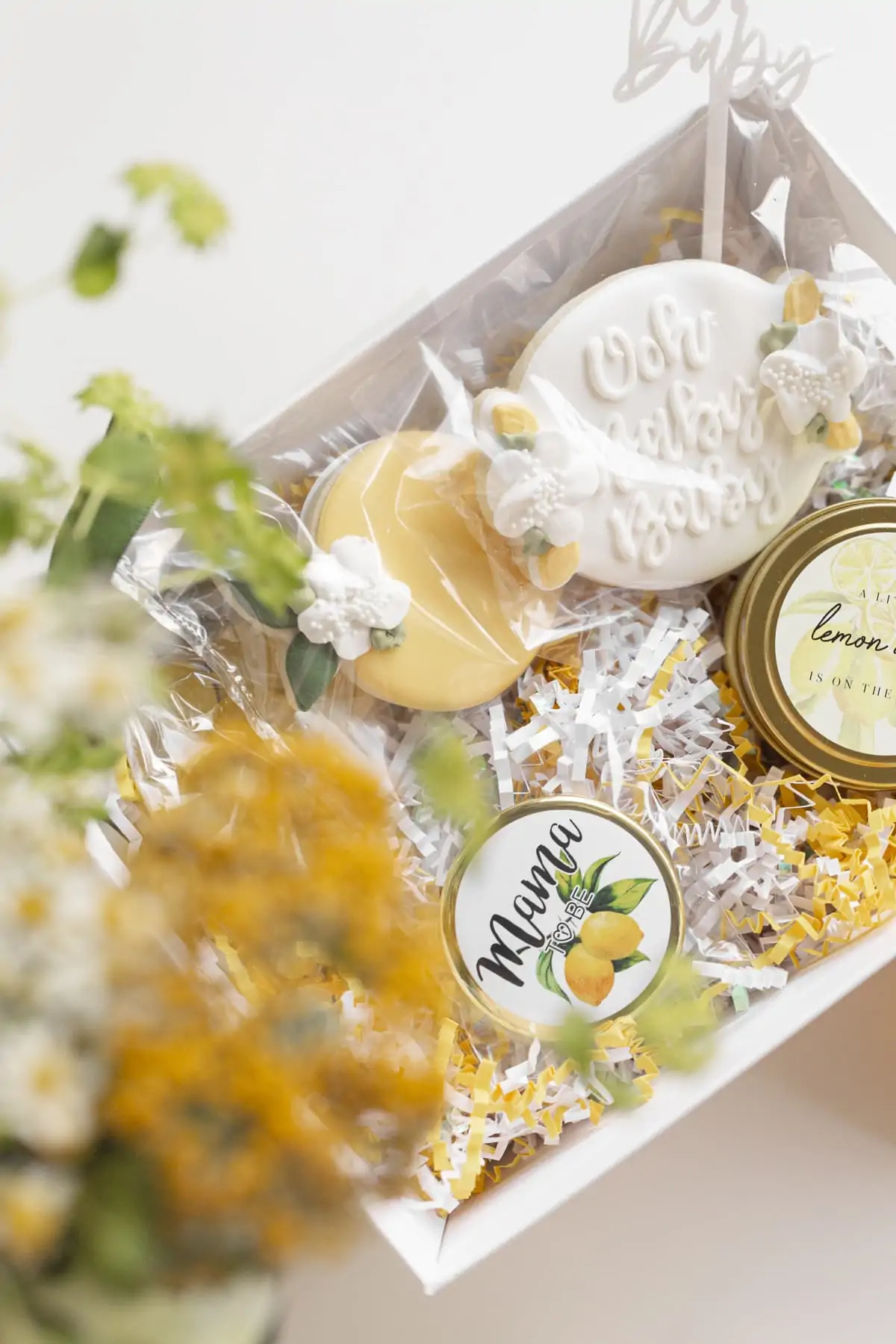 How to Plan A Virtual Baby Shower
Planning an event, in general, is a lot of work. As fun as it may seem, it's a lot of work and a lot of planning. I've been an event planner my whole adult life, so I want to share all my insight with you!
Budget
The first step with all party planning is figuring out your budget and also who is footing the bill. You need to consider all the elements of the event. For this virtual event I sent personalized boxes to each guest, so I needed to consider shipping costs and what was going into the boxes. Invitations were virtual and so was the hosting. Here were all the items on the shipping list: shipping, shipping equipment, basket and stuffing, printouts, candies and cookies, ribbons and baggies, binder clips. Then I also included a cake and flowers (with delivery) to the mama to be.
Guest List
This can alter how much you want to spend. If you only have budget for a certain amount of people this means you may need to alter your guest list or the items on your budget. You can do two separate parties if you are able to have one with some people in person at a traditional baby shower and then one for those unable to come. This can also make it necessary to have two guest lists and budgets.
Invitations
Find a date that works for the parents to be and their most important loved ones to have on the call. And how long the call should be 1-2 hours should be enough time. Try to get out invites 6-8 weeks in advance. Since it is online, you can go earlier, but 6 weeks should be the latest you send them. I did these baby shower invitations using a simple evite that had a link to an online virtual chat room. But you can definitely use a different service for both the invitation and virtual video call.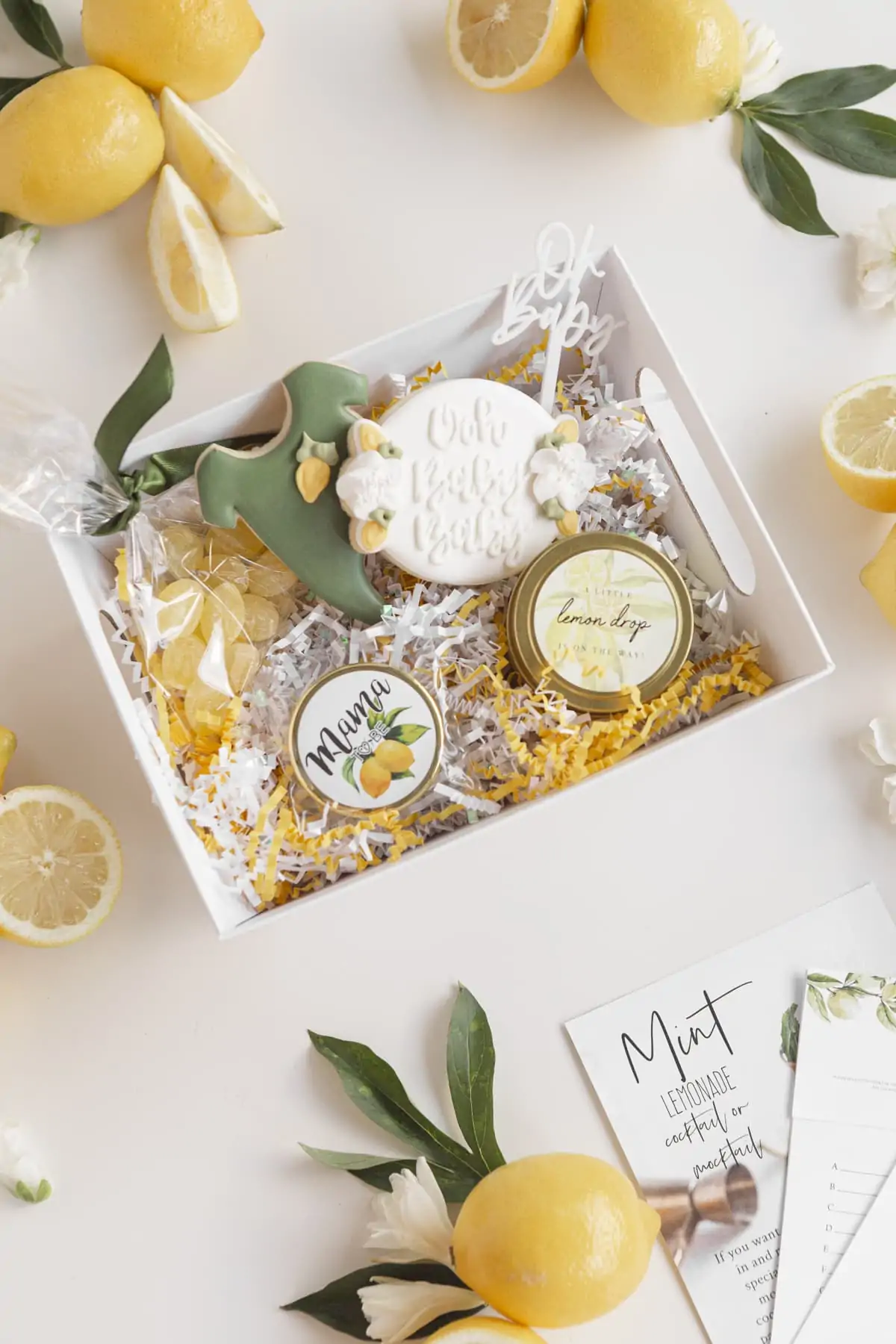 Theme
It's so fun to come up with a theme that ties all your pieces together. It also really makes your baskets for each person look 10 times better having them color and/or theme coordinating. I love a good theme that is gender-neutral, so we went with lemon! Such a fun theme and perfect for so many seasons.
Special Items for the Parents to Be
Whether it's the one or all parents, it's nice to be able to send something special specifically for them. So, I found local businesses that were able to make and deliver an on-theme 6" cake and a lovely flower arrangement (not pictured, as I wasn't there).
Items for the Baskets
Come up with a few pieces that you can fit into your budget and theme that will be safe for shipping and hold up until the date of the event. You will want to schedule a few hours at least to assemble these baskets, package them, and ship them. Here's what we included in these:
Basket and Stuffing – I used a simple basket that cab be reused and some eco-friendly shipping stuffing from Etsy.
Print outs, Envelopes, Stamps – I purchased some fun digital pages and games with the lemon theme from Etsy. Then I got them printed out from Staples (can be done at home with the right equipment), envelopes to send back the parents one of the cards (wishes for baby), and stamps on one of the envelopes per guest.
Buttons – Buttons for "mama to be", "grandma to be", etc. from Etsy. You can customize these for any of the guests and family members.
Candies, baggies, ribbons – I got these from Target and Michael's. Customize the colors to make little bags of candies to each basket. I did lemon heads.
Cocktail sticks and recipe card – These super cute "Oh Baby" cocktail stirrers from Creative Amme are just perfect. And they were great with the printout of the recipe for the Lemon Mocktail recipe.
Custom cookies – These cookies were custom, individually wrapped, and so delicious. You should try to find a local person who sells custom cookies for the best freshness possible. I used The Cookie Meister in Orange County. She was so helpful and made amazing cookies.
Candles – I got these custom candles from Terra! They made them with a lemon scent and a custom top label.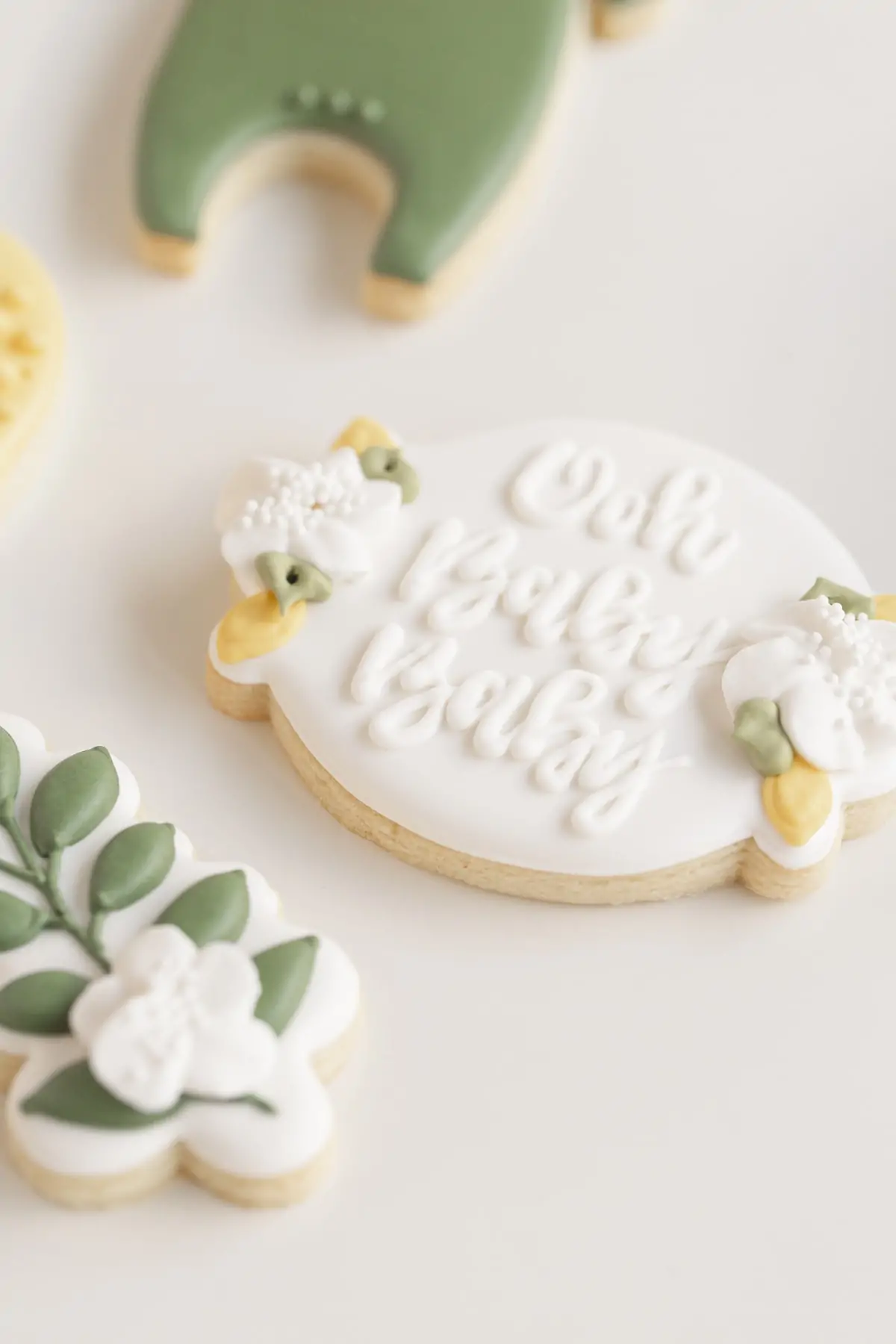 Shipping
You want to time this out so the boxes get there a few days before the event. I put in little instructions in each box and sent a memo on the evite to remind people to have the box with them the day of and that they could open it before and look through. And not to forget to have a pen ready. You will need to think about the following for shipping:
Shipping – I did USPS Priority shipping, so it was a flat rate and I didn't have to worry about wait. This also gets you free boxes. I did a medium top-loader and it was a great size.
Shipping Equipment – I also needed quite a bit of tape, labels for mailing, and stuffing to go around the baskets so they weren't damaged.
Agenda
Keep a loose agenda for the call and check-in with the parents to be to see what they would like to do and what not to do. You can do a few of the printable games, open gifts, and chat.
Virtual Baby Shower Invite
There are a few different ways you can do invites for a virtual shower. I personally like using something like Evite. Although it didn't have the exact design I wanted, it's easy to track guests, message them, add details like a baby registry, and even now has a virtual video call system. Make sure to include the registry and the current address for everyone to send gifts to. So, everything is all in one place.
I also decided to make a nice printout of a formal invitation for each basket so that people could save them for posterity if they wanted. Really for the grandmas.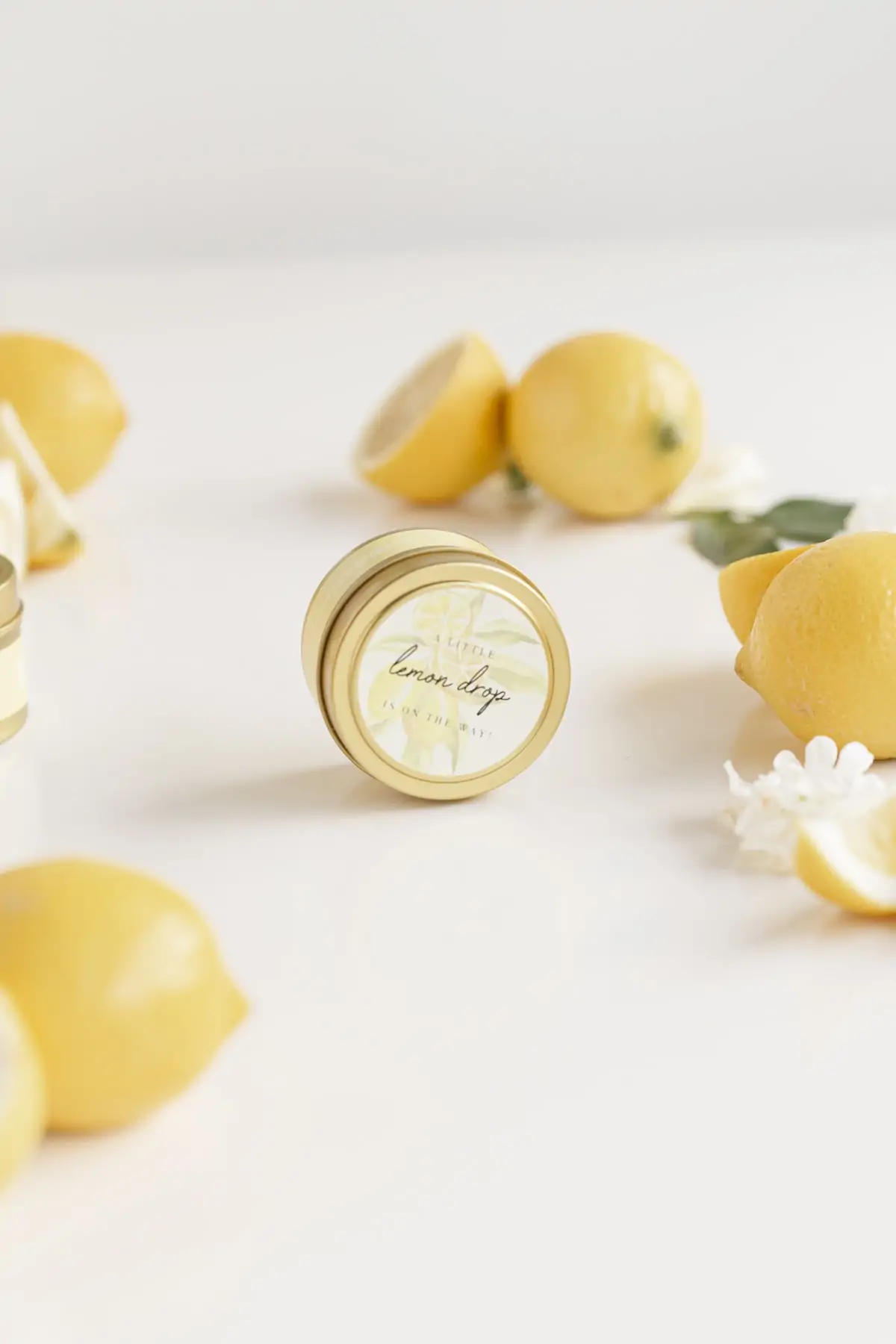 Baby Shower Favors - Candles
I had a few customized baby shower favors, including these gorgeous candles made from Terra, located in St. Louis, where I used to live. The founder, Dianna, is currently a one-woman team making these amazing candles. Each candle is a blend of soy and vegetable waxes, lead-free cotton wicks for a long, clean burn. And once you use the candle, you can actually clean the container and reuse it.
Also, all the packaging they use is 100% recyclable. Which just makes the company even more lovable.
Custom Drink Stirrers
These sweet "Oh Baby" stirrers were made by my friend Malisa, the owner of Creative Amme. Her company makes custom laser cut pieces for all of life's celebrations, big or small. They make amazing drink stirrers like these, cake toppers, event, and store signage, and so much more. Everything they make is truly beautiful. You can order custom pieces or pieces from their shop online.
Lemon Baby Shower Cookies
These cookies are custom-made by a local cookie artist, The Cookie Meister. I like to use someone local so that I get them fresh and when they ship they still have a bit of time. Make sure you ask for each cookie to be custom wrapped and sealed. For this set of cookies, Kristy made 4 designs: a lemon with a flower, a baby romper, a little lemon leave sprig, and a little "Oh Baby Baby" design. All staying within the theme and keeping it baby-focused.
These cookies were so delicious, cute, and stayed fresh for the 10 days between pick-up, shipping, and the event. Most cookies like these can usually be sealed air-tight in the freezer for a few days to a few weeks before eating. Check with your cookie artist!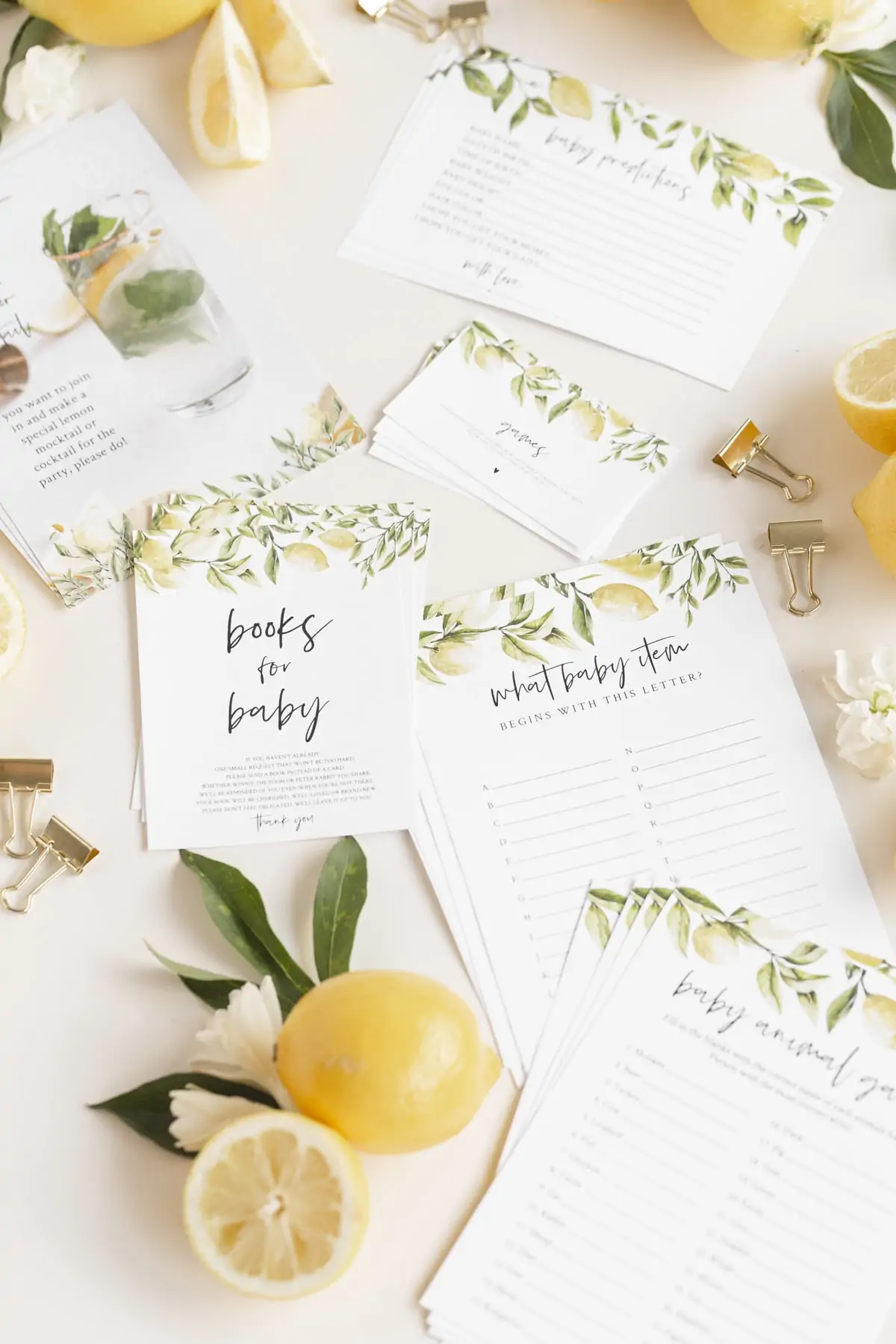 Virtual Baby Shower Games
Virtual baby showers don't necessarily have the same activities as an in-person one. So, after talking to the mama to be about what she was comfortable with I came up with a game plan. I purchased digital pages and games with the lemon theme from Etsy. Then I got them printed out and sent to the guests. Some of the ones you can do easily:
Baby Predictions: includes guessing things like baby name, date of birth, baby weight, baby height, eye color, hair color, etc.
Baby Bingo: each player fills out the card with gifts they think might be opened. Then during opening gifts, you mark off each box until you get bingo.
Baby Animal Game: This game lists out a lot of adult animals like lion, dolphin, monkey, etc. and each guest guesses the baby name of the animal.
Guess the Baby Food: This one can be a little difficult on a virtual video call, but the host/planner can hold up different baby foods for people to guess based on look instead of taste.
The Price is Right: Fill out the estimate on prices for baby items like small package of diapers, wipes, a bottle, etc.
What Baby Item: This sheet has an alphabet list where you fill in baby items for each letter of the alphabet, trying to fill out as many as you can.
Wishes for Baby: This one is my favorite and I printed them on extra thick cardstock for each guest. I also send an addressed and stamped envelope to each guest so that once they filled it out, they could send it easily back to the mama to be. This way she is able to save those wishes.