This lemon mocktail is my favorite drink, especially in the summertime, is lemonade. I am a big fan of special lemonades, Arnold Palmer's, and just simple lemonade! But I just love the combination of mint and lemon. It goes so well together and is so refreshing. You can make this version alcoholic or not. Up to you! If you aren't a mint fan, you can also try my Lavender Lemonade Cocktail.
This recipe is so simple and can be made within five minutes. You can make it just one glass at a time, which I like to do for a fun drink at dinner. Or you can batch it and make it for the whole family or a get-together. You just multiply the ingredients, which can be done through the print button on the recipe card.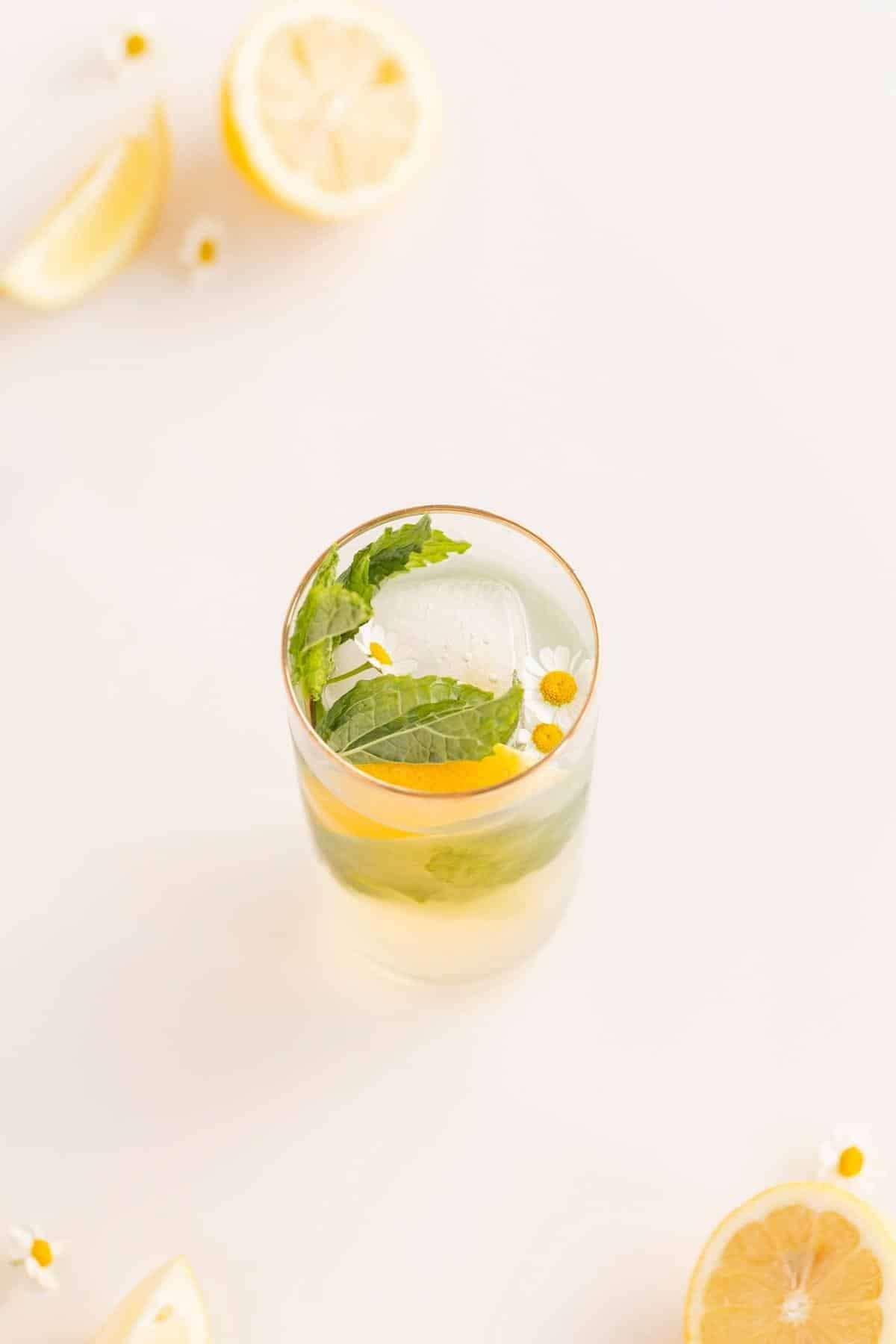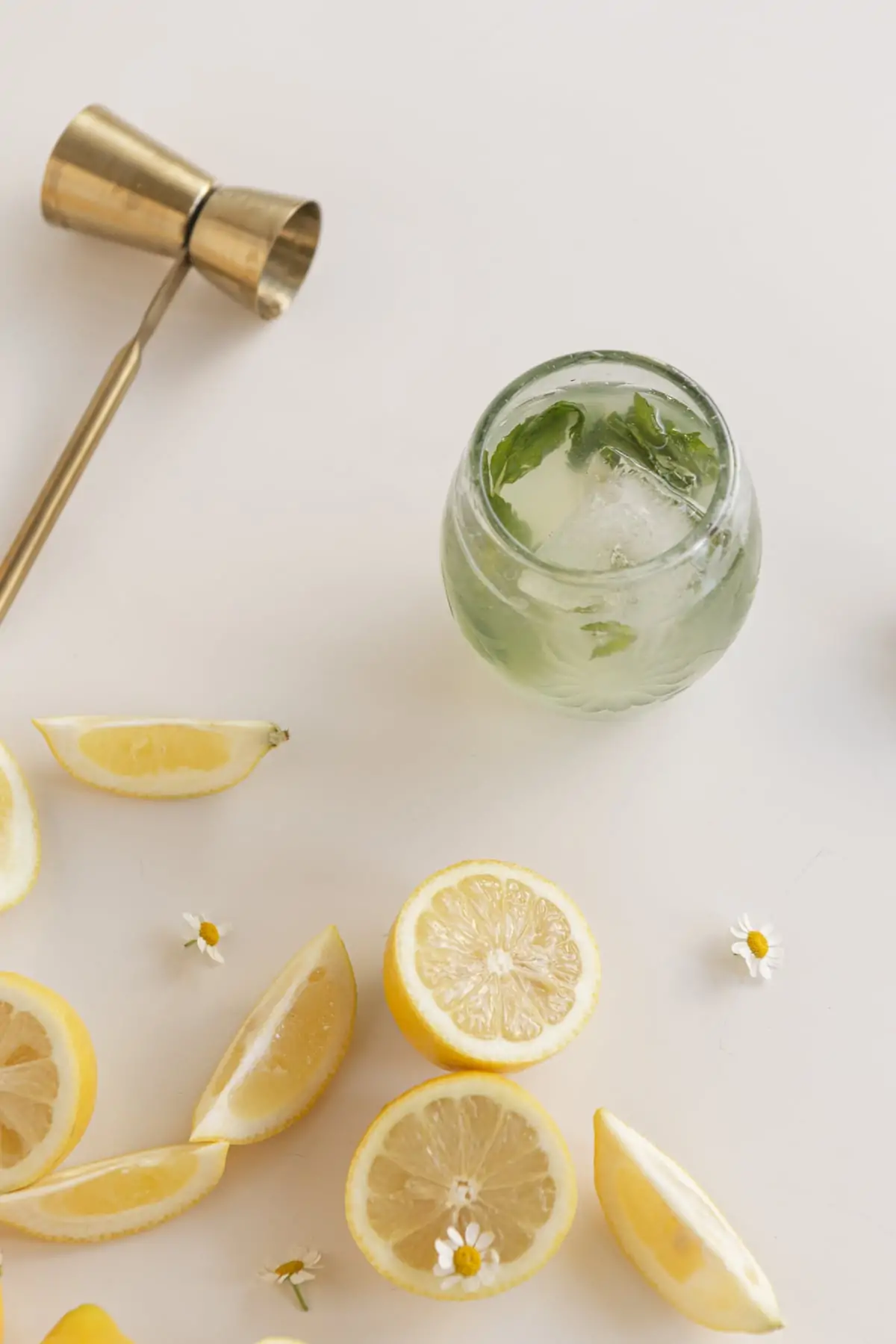 Lemonade with Mint
This recipe is really great for warmer months as lemonade is packed with electrolytes. It's also great because it's so customizable! You can make this drink a bit fancier by adding in sparkling water or using sparkling lemonade. Another fun thing is to make fancy ice cubes. You really can step up this simple drink to make it look and feel like so much more than it is.
If you decide to make fancy ice cubes or use edible flowers, be sure to check out the information below for more details!
Lemon Ice Cubes
It takes just a few simple steps to make fancy ice cubes. And you can make them with fruits, herbs, or edible flowers. You can use non-edible flowers if they are just going in a cooler or bucket, but need to be edible if going in your drink directly.
To make these grab an ice tray, some slices of lemon or mint or edible flowers. Stick them into the tray, then cover with water. A trick to these is to just fill up the tray with half the water needed. Then freeze that half. Remove the tray from the freezer, add more water to fill to the top, and freeze. That way you get the ingredients in the middle of the ice cube and not just floating to the top.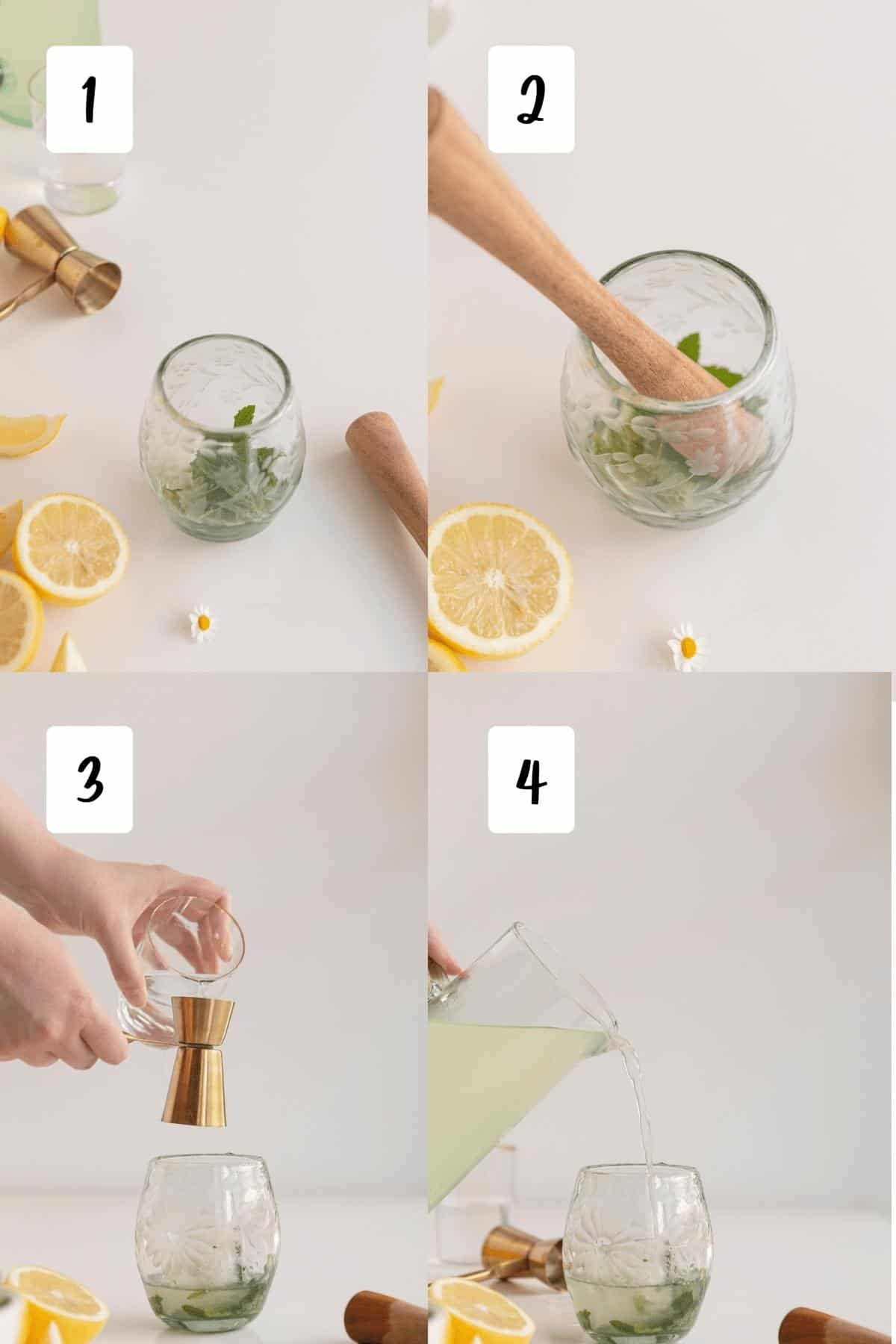 Steps to Make this Lemonade Mocktail Recipe
Add mint leaves to the drinking glass (or if you are batching, to the pitcher). Cover with just a bit of your lemonade, about 1 oz if making one glass at a time.
Muddle with a muddler or wooden spoon. Muddle for 30-60 seconds.
Add in the cubed or crushed ice carefully. And if it's a cocktail version, add in vodka.
Then pour the remaining liquids into the glass. Stir and enjoy!
Where do you buy Edible Flowers?
Edible flowers are very specific, you want to make sure that 1) the flower type is truly edible and 2) that they haven't been grown or processed with any harmful chemicals. That's why I suggest buying food-grade only. You can get these a few ways.
Purchase online from Gourmet Sweet Botanicals, my number one place to shop edible flowers, herb flowers, and more. Just so many beautiful products they have available and they have a great turnaround time. I believe some other shops have also started to sell online, just be sure to check the source and that they are truly edible.
Purchase from the grocery store. Some larger gourmet-type grocery stores sell them next to the herbs in the produce section. If you get flowers from the floral section, make sure they are indeed edible and haven't been grown with harmful pesticides.
Grow your own! This way you can make sure you aren't using pesticides and have processed/handled them yourself. Buy the plant or seeds online or at a nursery.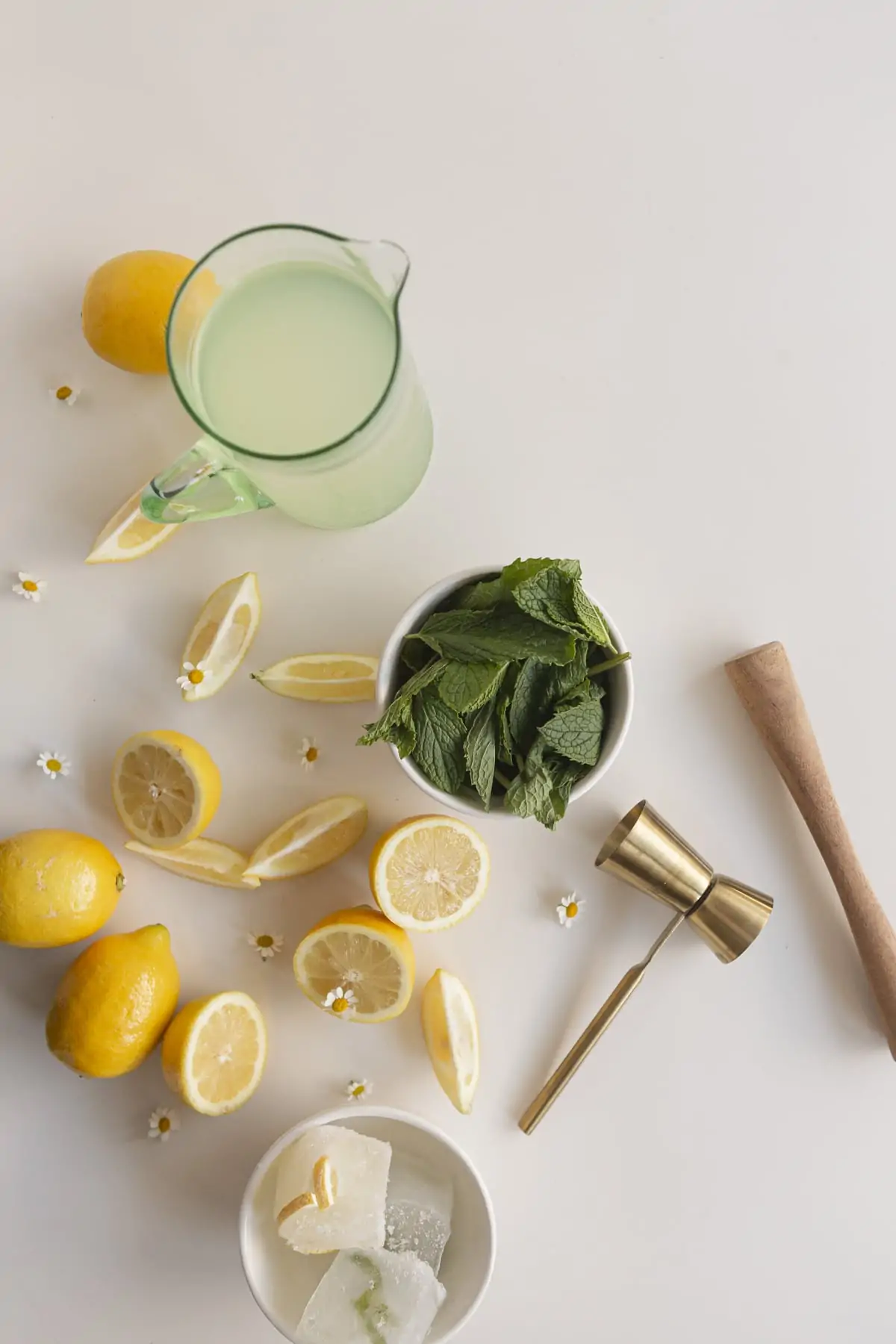 Ingredients
Disclaimer: I always suggest using exactly what a recipe calls for, especially if you want it to taste and come out correctly. You can try substitutes not mentioned, however, I can't guarantee their outcome. If you're looking for gluten-free, dairy-free, etc. it might be best to find a blog with that type of recipe. I am someone with a LOT of dietary restrictions and I can tell you, substituting is not always so easy. You are of course, more than welcome to try it, just a word of warning.
Here are a few notes about the ingredients for this recipe:
Mint: fresh mint that you use in this drink would be spearmint instead of peppermint. You can purchase this at the grocery store or grow it in your own herb garden. If you want to swap this out because you don't have fresh mint, a great alternative is basil. Basil leaves are usually a bit larger than mint, so you can use fewer leaves. You may need to muddle the basil a bit harder as it doesn't always release as easily as mint.
Lemonade: You can use your favorite lemonade, sweetened or unsweetened. If you don't have lemonade on hand, but do have lemons, you can also feel free to make your own with fresh lemon juice. An alternative would be sparkling lemonade or sparkling Italian soda. You could also try this with lime juice or limeade. It will change the drink of course, but could be tasty.
Alcohol: This drink is a mocktail. However, you can make it easily into a cocktail. The cocktailversion of this drink calls for vodka. It's a way to not pull away from the taste of the mint and lemon. However, if you don't have vodka on hand, something like gin with a floral or herby taste is a good alternative.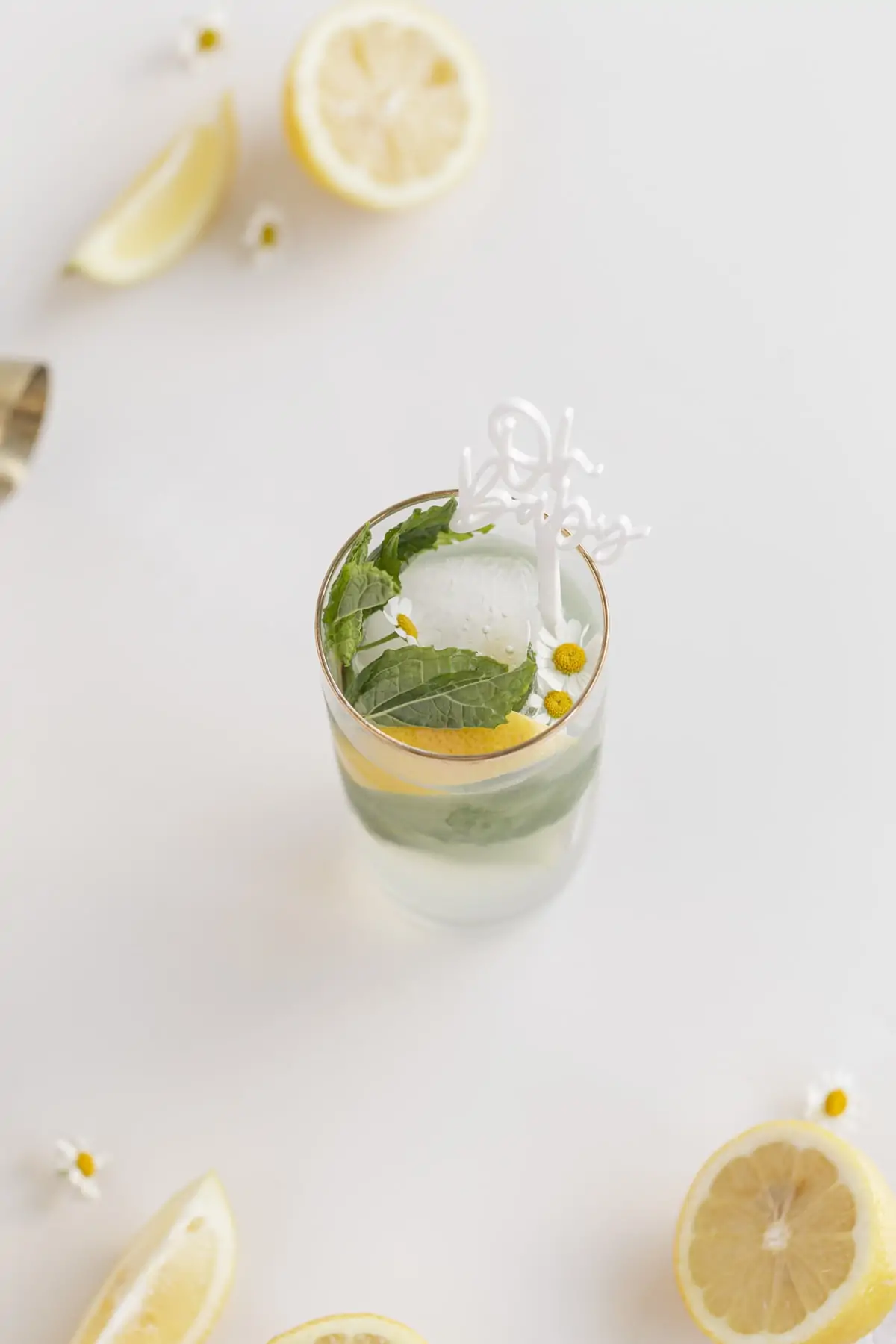 When to Serve a Mint Lemonade Mocktail
I made this mocktail recipe for a virtual baby shower. The baby shower was lemon-themed, so this seemed like the best drink option. I made little printouts for each box so everyone could make their own mocktail or cocktail at home! I also included some fun lemon cookies, a lemon candle, lemon candies, paper games, and some other fun goodies. Over here you can see more about that project and how to throw your own Lemon-Themed Virtual Baby Shower!
If you are making these just at home, this is great for brunch or lunchtime drink. I love this drink in the spring and summertime when lemons and mint are abundant. You can batch it and serve it at a brunch or festivities.
What this Pairs well with?
This pairs well with light or heavy meals! It's cool, refreshing, and can help keep some lightness to a meal. Whether it's pizza and pasta night or you're serving up a light brunch, this drink can make a meal. It's a great drink to have by the pool with guacamole and chips. It really does pair well with any type of meal or apps.
Recipe Card Printout
If you want the cute recipe card printout we had for this baby shower, I have included it below. This can be a fun little printout for your event or just to place in your own recipe tin. Enter your information, and you will receive an email with the PDF to print and cut.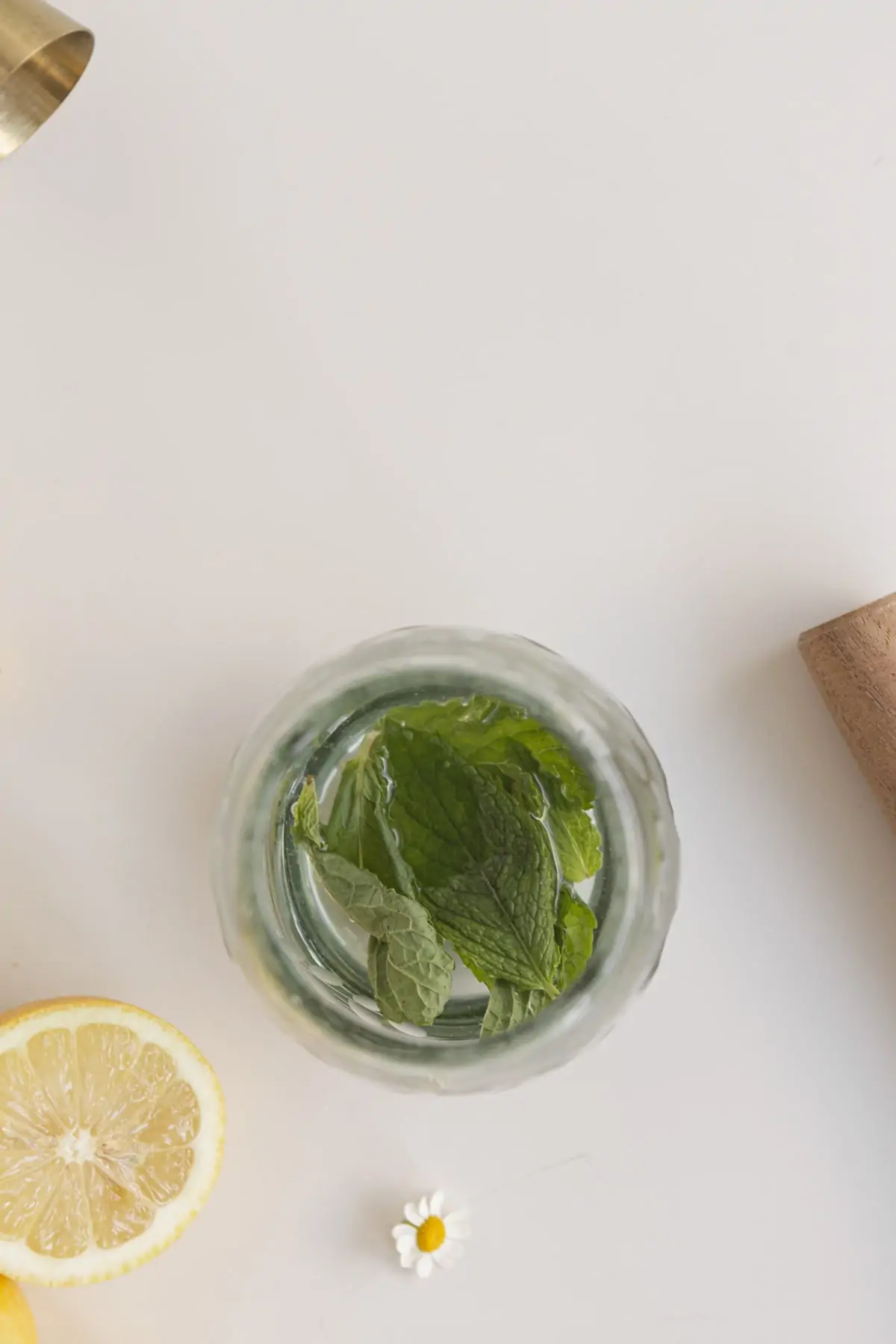 FAQS
How to muddle without a muddler?
If you don't have a muddler and don't want to purchase one, you can use a few different things to make this work. The first thing you could use would be a wooden spoon either the spoon or handle side to muddle. If you don't have wooden utensils, then you can use a regular spoon. It's a little bit harder to use, but it can be used at a bit of an angle to muddle against the side of the glass more so than the bottom of the glass. So, pick up your glass or pitcher and hold it at an angle. And muddle with your spoon.
Should I use sweetened or unsweetened lemonade?
This is truly a preference for you. Whichever you like drink is up to you to use. If you use unsweetened and choose to sweeten it yourself, you can sweeten it with syrup. A syrup or a liquid is the best way to add sugar into a cool drink so that it mixes into the drink fully. A good thing for sweetening cold drinks like this would be honey, agave, or simple syrup. You could use a mint simple syrup for this drink, but I prefer fresh mint.
How to Store Mint.
If you have cut mint from the grocery store or your garden, you can store it in your refrigerator. You can rinse it, dry it, and place it in a sealed-up bag with a little piece of a damp paper towel. Keep it in the crisper drawer or in a place where it won't be squished. Don't place anything on top of this bag or your leaves will bruise.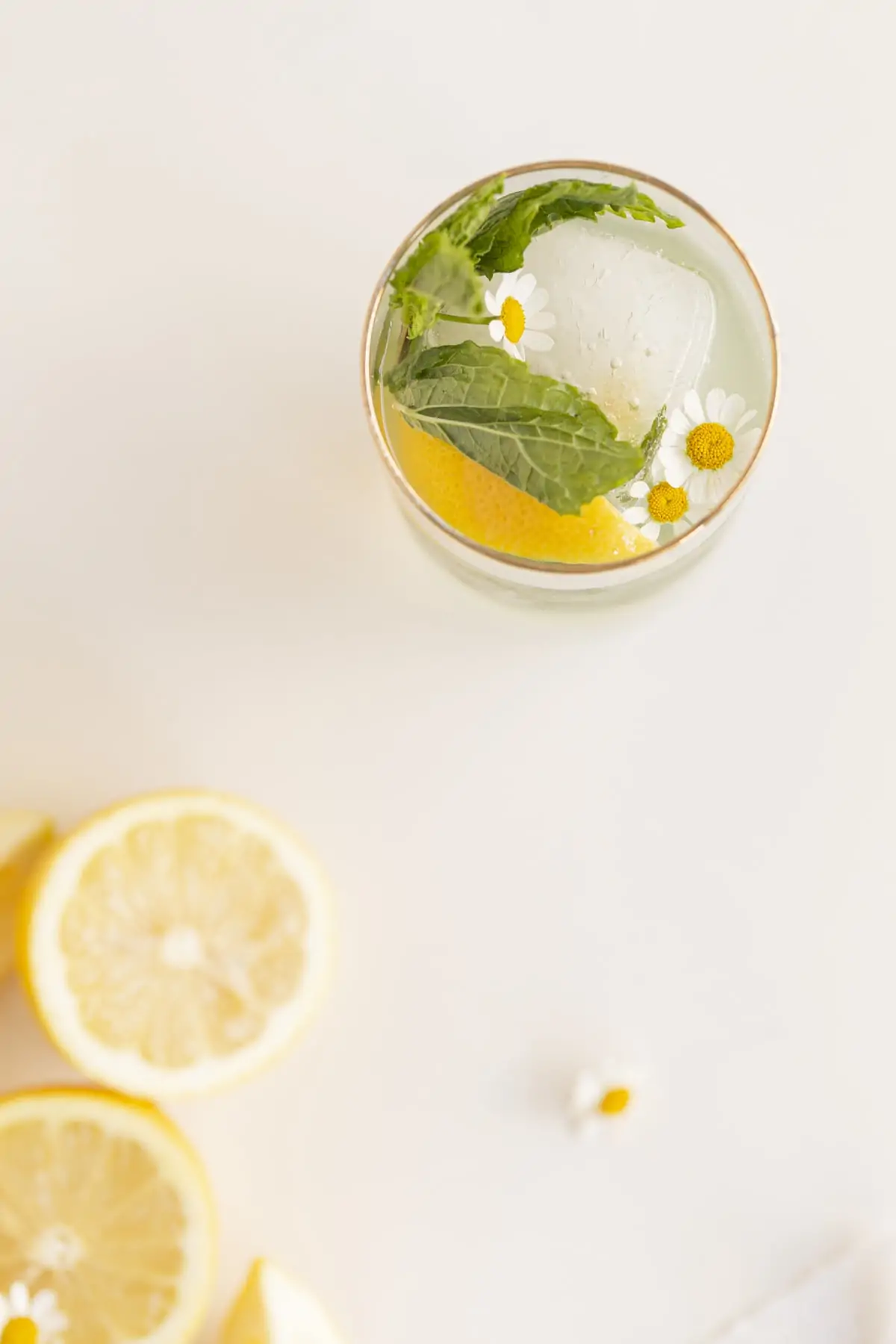 Other Recipes to Try
Love this Recipe?
Did you make this recipe and just love it? Awesome! If you have a quick minute and could leave a star and recipe rating and comment below, I would appreciate the support and knowing your feedback! And if you're over on Instagram, be sure to tag me in your photos!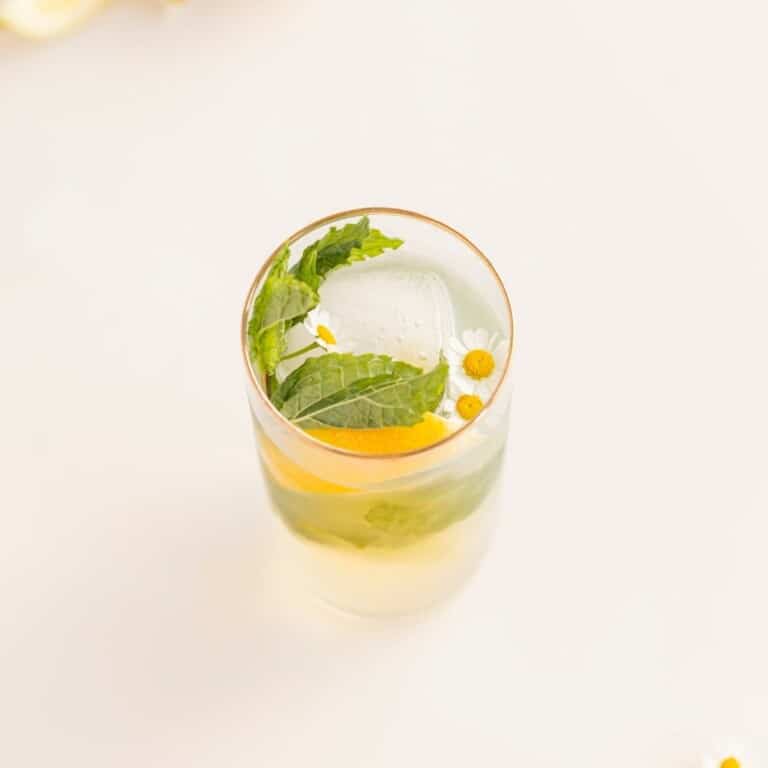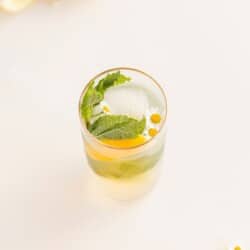 Ingredients
Mocktail
8

oz

lemonade

sweetened or unsweetened

6

mint leaves

ice

2

oz

sparkling water

optional
Cocktail Version
8

oz

lemonade

sweetened or unsweetened

6

mint leaves

ice

1.5

oz

vodka
Toppings, Optional
edible flowers

lemon slices

extra mint
Instructions
Instructions
Add mint leaves to the drinking glass (or if you are batching, to the pitcher). Cover with just a bit of your lemonade, about 1 oz if making one glass at a time. Muddle with a muddler or wooden spoon. Muddle for 30-60 seconds.

Add in the cubed or crushed ice carefully. Then pour the remaining liquids into the glass, this will be a variation of lemonade, sparkling water, and vodka depending on the version you choose.

If you want to make your drink a bit fancier, add edible flowers, lemon slices, and extra mint. Serve and enjoy!
Notes
Muddle: if you don't have a muddler, you can muddle using a wooden spoon or a back of a wooden utensil. If you don't have that, you can also use a metal spoon and muddle against the side of the glass. Mint: Use fresh mint leaves from your garden or grocery store. You want to use spearmint instead of peppermint. The size of leaves can vary greatly, so start out small and add more if you don't love mint. You can always add more, but you can't un-muddle. Lemonade type: You can use regular lemonade with sweetener or not. You can also use sparkling lemonade for a bit of a fancier drink. Ice with edible flowers, lemon, or mint: For a fun twist, add in ice that is filled with edible flowers, lemon, or mint. Or just add them directly to the drink! Batch: You can easily batch this recipe by multiplying. Hit "print" and change the yield amount.
Tried this recipe?
Mention @amanda.wilens