This easy and delicious carrot cupcake recipe makes just 6 cupcakes. Perfect for a small celebration or a special treat!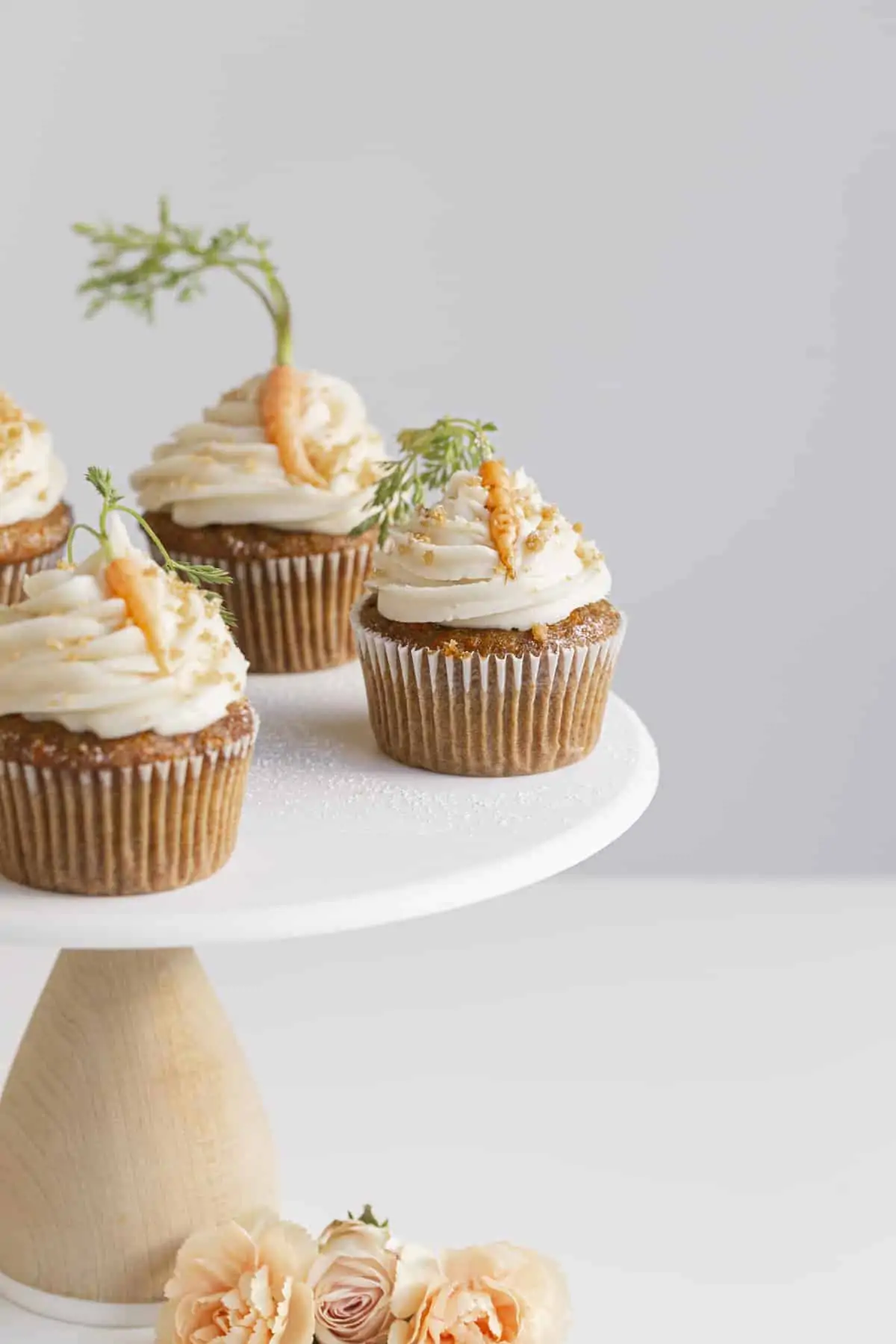 Why Make these Cupcakes
One of my absolute favorite cakes is a carrot cake! And these Small Batch Carrot Cupcakes are the perfect way to satisfy that craving I get for the cake without eating a whole cake by myself. Not that I couldn't or wouldn't…but maybe shouldn't? These are perfect for a small celebration or for a family dessert or to treat yourself one week. Whatever the occasion, this makes 6 cupcakes perfect for any reason. But if you are looking for a larger version, you can try my Carrot Cake recipe that feeds 10+.
Now, this recipe is very similar in taste and toppings to that one, just mini-sized! You still have the unique and delicious graham cracker crumble and cream cheese frosting. The crumble is so fun to make and gets stuffed into each and every cupcake and topped with cream cheese frosting. These are perfect for a small Easter celebration. Topped with mini carrots and extra crumble.
Also, this was a part of a fun Easter roundup, be sure to check out those other posts: Easter Tablescape, Lavender Lemonade Cocktail, and Pressed Flower Easter Eggs.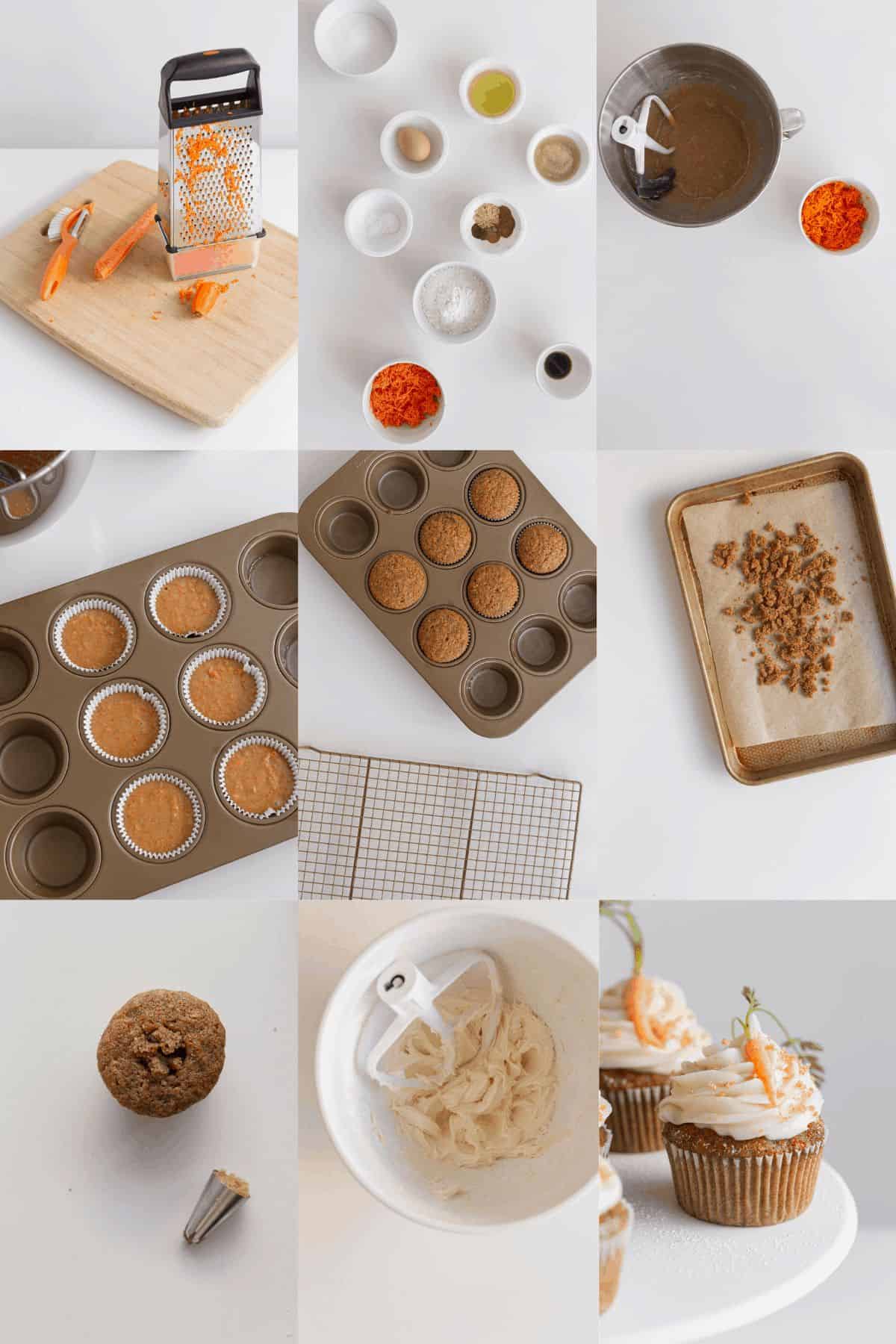 How do you Shred Carrots?
The easiest and most efficient way I have found to shred carrots for baking in cakes is to do these steps:
Wash, dry, and peel your carrot.
Cut off the small tip, but leave the other end with the stem to grip easily.
Get your cheese grater, place on a cutting board to keep a clean work surface, and use the "shred" side to slice the carrot. Be mindful of your fingers of course.
If you don't have a cheese grater, but you do have a food processor, you can use the shredding attachment. Or if you have neither, you can try a zester. And lastly, if you have none of those tools, you can try to cut them into small longish pieces with a knife, but that might prove dangerous, so be careful and make sure your pieces are very small.
To get them to be drier for the recipe, you can place the shreds into a cheesecloth or paper towel and wring them out. It's not a necessity for this recipe unless the carrots are very wet, then even just dabbing with a cloth would be helpful.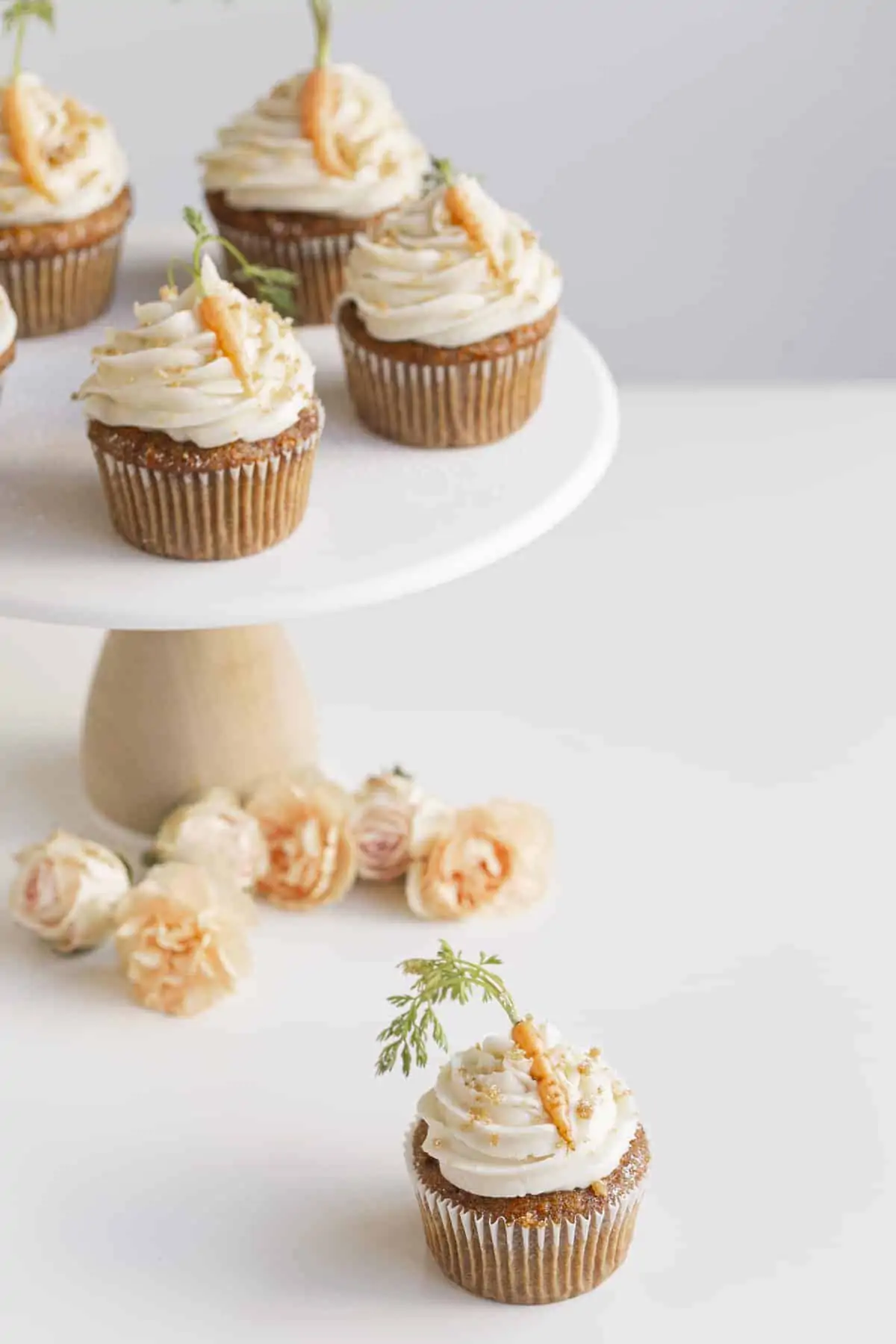 How Do You Fill Cupcakes?
There are a few different tools out there to core and fill your cupcakes. The easiest and most thrifty, but efficient method is to use a piping tip! Take a piping tip, flip it upside down and stick it into the center of the cupcake. Twist the tip back and forth into the cupcake. Don't go all the way to bottom. Pull the tip out, may need to twist it on the way out too. Empty the cake out of the tip…and eat it as a reward for your hard work!
Then take your filling, in this cake it's the graham cracker crumble. Using a spoon or clean hands, add them into the hole in the cupcakes. Add frosting on top and enjoy!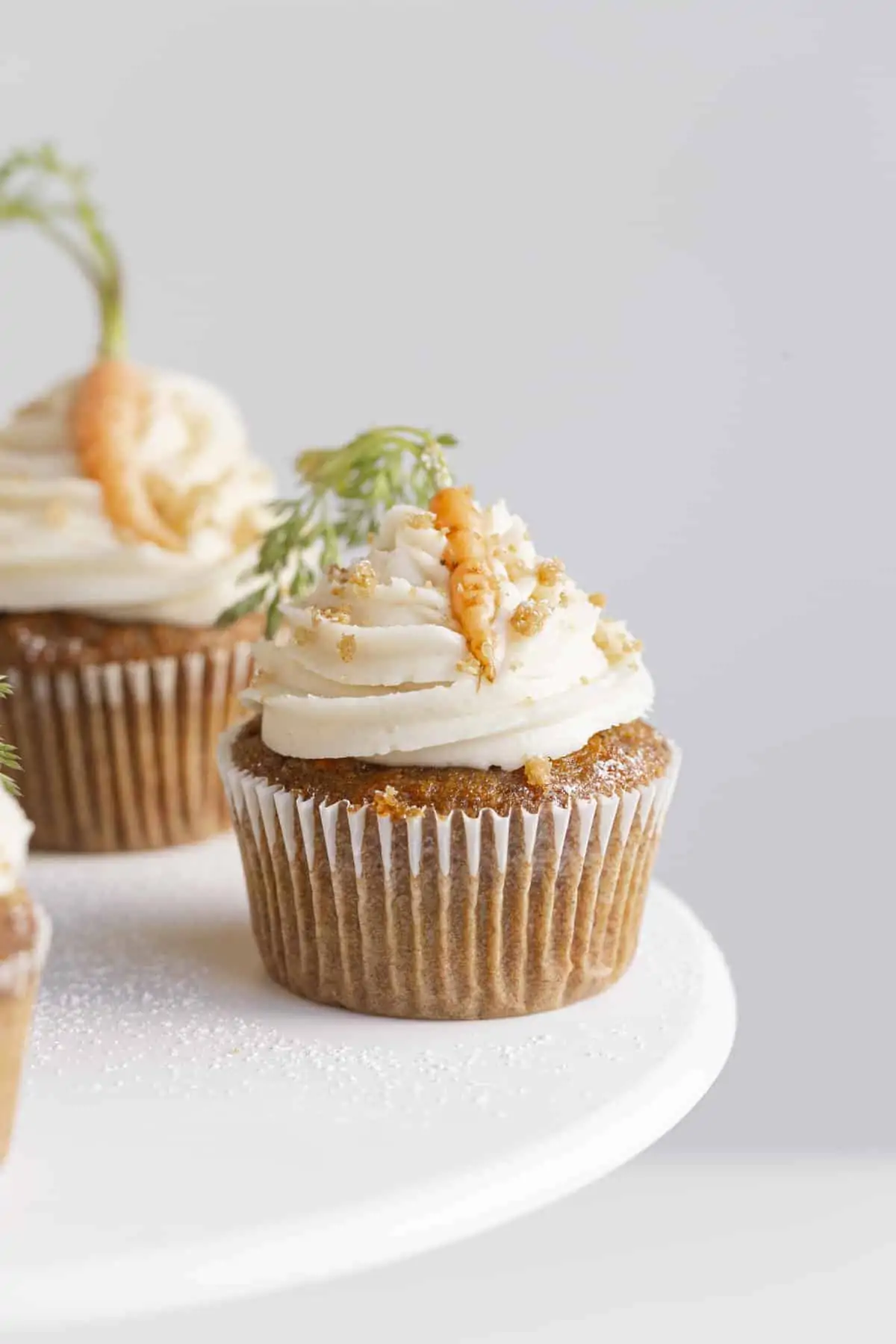 Carrot Cake Decorations
There are a few different ways to decorate carrot cake and cupcakes. For these Small Batch Carrot Cupcakes, I did a simple swirl of frosting, added on a bit of extra graham cracker crumble, a light dusting of powdered sugar, and finished it off with mini carrots. I got those mini carrots from my favorite shop Gourmet Sweet Botanicals.
A few other ways include using edible flowers, like on my layered Carrot Cake recipe. They are such a fun addition, are edible, and truly are so easy to decorate with. You could also pipe onto the cake or cupcakes in fun colors and decorate with candies. Another easy option is to find a pretty liner and do a very clean look like Sugar and Charm has on her Carrot Cake Cupcakes. Or you can get really artsy and pipe on tiny carrots onto your cake like Cloudy Kitchen did on her Carrot Snack Cake.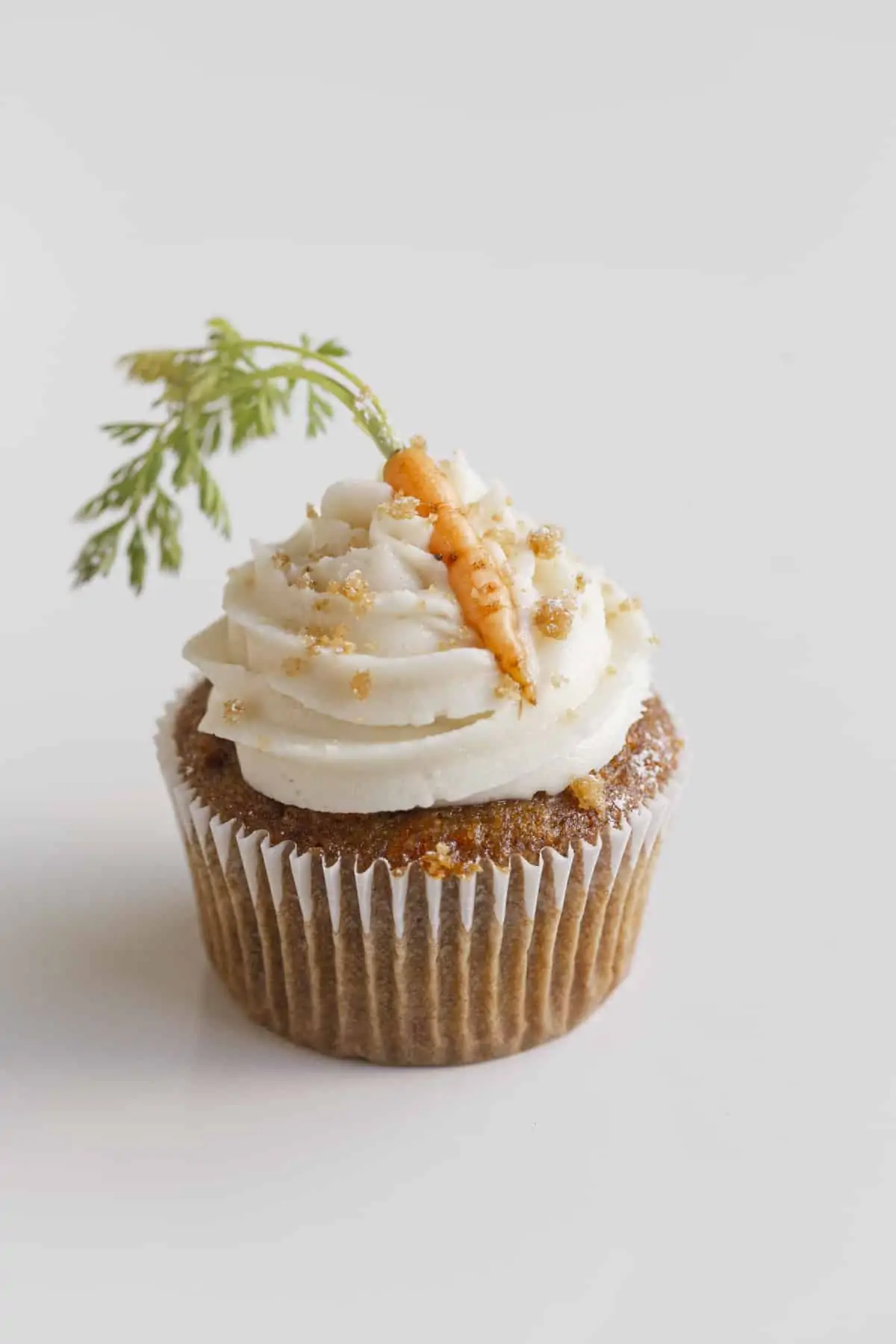 FAQs
Should carrot cake be refrigerated?
Yes, since these are also covered in cream cheese frosting, I would stick them in the refrigerator. Put them in an airtight container and keep them in there for up to a week. However, if you don't frost them, you can place them in an airtight container in a cool, dry space for a few days without issue.
How long does carrot cake last?
If kept in the refrigerator in an airtight container, it should last for about 1 week. If you decide to freeze your cake it can last in the freezer for 2-3 months and still thaw pretty okay. You can find helpful tips for freezing cake here: How to Freeze Cake. If you decide to add the carrots for decoration I would not save them decorated with those as the carrots may sweat into the frosting.
Does cream cheese frosting need to be refrigerated?
Yes, cream cheese should really only be out of the refrigerator for about 2 hours. So, you don't want to keep the frosting out of the refrigerator either. However, if you make the frosting in advance, place it in an airtight container in the refrigerator. Then remove it about 15-30 minutes before you plan to frost your cupcakes so it is soft enough to pipe.
Can cream cheese frosting be frozen?
Yes. It can be frozen on a cake/cupcake or it can be frozen separately. You need to keep it in an airtight container. It can be saved in there for 2-3 months. You'll need to thaw it at room temperature for a few hours to make it malleable again. Once you do, it should be able to be easily piped again. I would recommend taking a spoon to mix it all together to make sure it is completely thawed.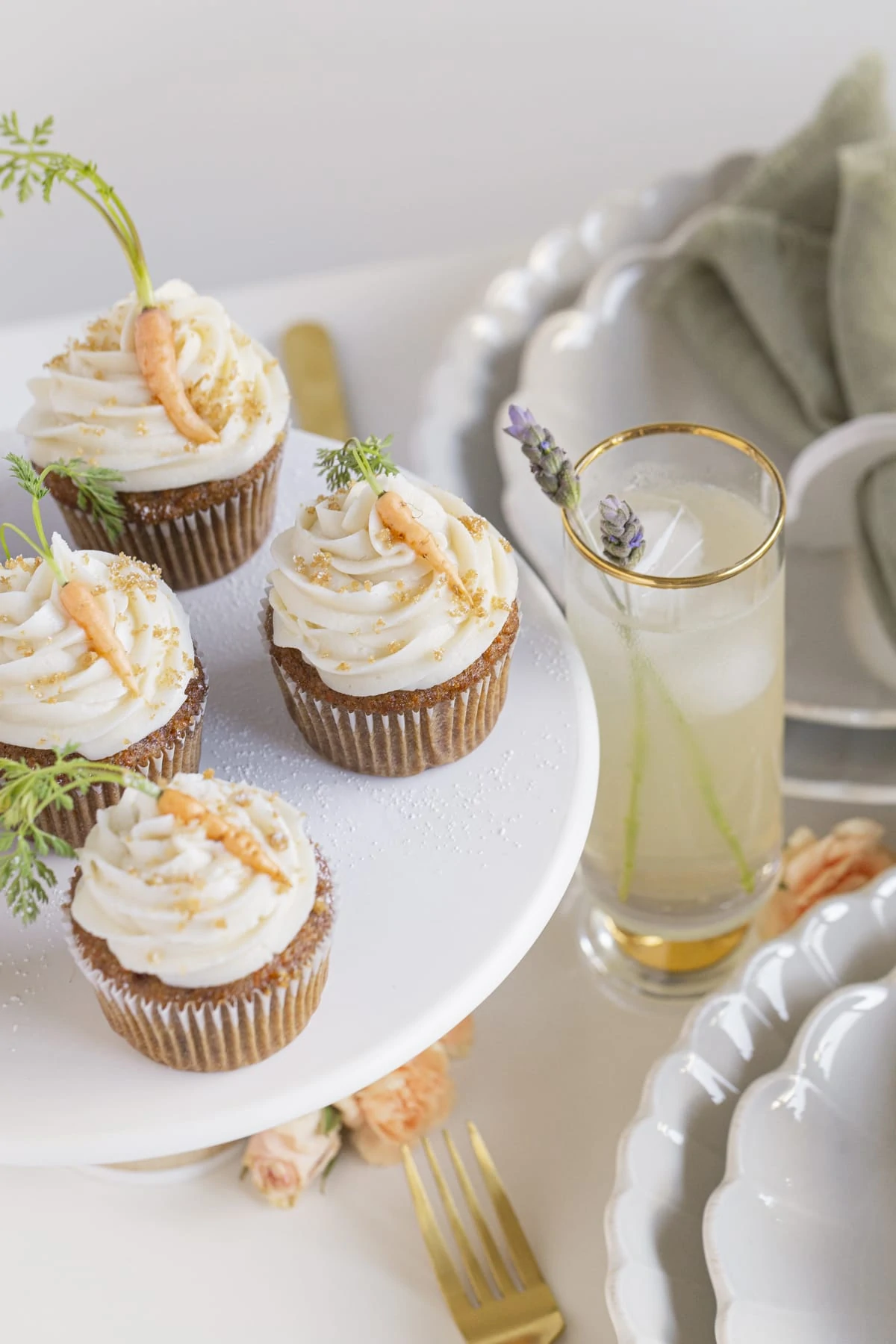 Other Small Batch Desserts
Did you Love this Recipe?
Yay! I'm so glad you loved these carrot cupcakes. I would appreciate you taking a moment to leave a star rating with a comment below the recipe card to let others know! Also, if you share on Instagram, be sure to tag me so I see your post!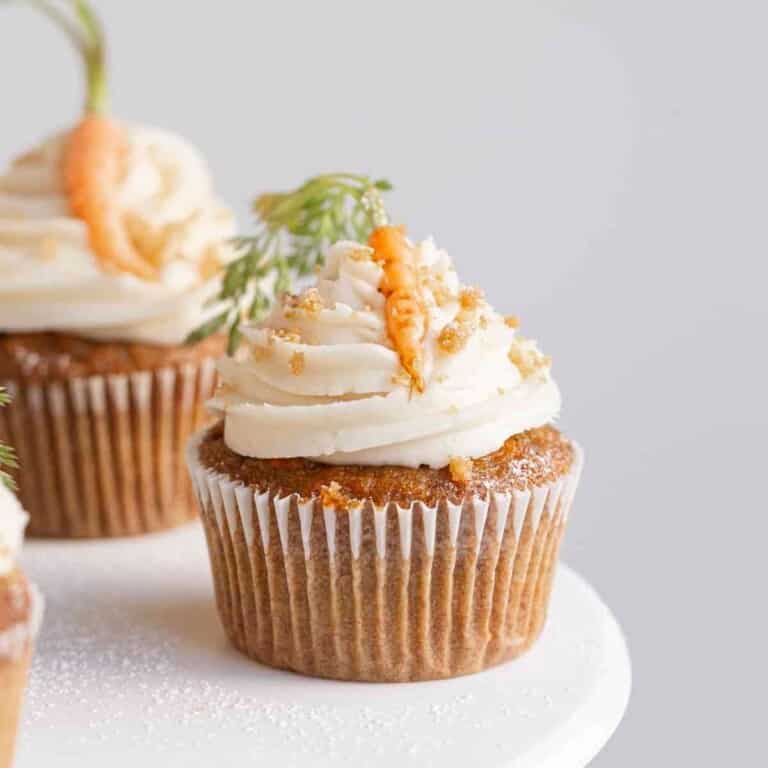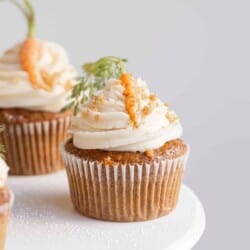 Ingredients
Wet Ingredients
½

cups

white sugar

3

tablespoon

grape seed oil

or other neutral oil

1

egg

room temperature

½

teaspoon

vanilla

2

tablespoon

apple sauce
Dry Ingredients
⅔

cup

all-purpose flour

1

teaspoon

cinnamon

½

teaspoon

ginger

¼

teaspoon

nutmeg

⅛

teaspoon

all spice

⅛

teaspoon

cloves

⅛

teaspoon

mace

½

teaspoon

baking powder

¼

teaspoon

baking soda

¼

teaspoon

salt
Add ins
¾

cup

shredded carrots

about 1 large carrot
Graham Cracker Crumble
1

graham cracker

2.5

tablespoon

brown sugar

1

tablespoon

butter

melted

¼

teaspoon

vanilla extract

¼

teaspoon

salt
Cream Cheese Frosting
4

oz

cream cheese

room temperature

4

tablespoon

butter

room temperature

1

teaspoon

vanilla

2

cups

powdered sugar

sifted
Instructions
Cupcakes
Using your paddle attachment on your stand mixer, beat together the sugar, oil for about 2-3 minutes on a low-medium speed. Then add in egg, vanilla, and apple sauce for an additional 30-60 seconds.

In a separate large bowl, sift the flour, spices, baking soda, baking powder, and salt. Mix thoroughly.

Turn your stand mixer back onto a low speed and slowly add the dry ingredients into the wet ingredients. Mix until combined.

Let the batter sit while you prepare the pan. This allows the batter to rise and double the leavening process. I like to let it sit for 8-10 minutes.

Preheat the oven to 350° F.

Prepare 1 cupcake pan with 6 cupcake liners in the center wells. Add about 1.5 tablespoon of water to the empty, outer wells.

After 8-10 minutes of resting the batter, fold in the carrots.

Divide batter between the six cupcake wells. Slightly slam pan to get out air bubbles.

Place the pan into the oven, bake for 18-20 minutes. Check with a toothpick until it comes out clean.

Take cupcakes out of the oven and cool in the pan for about 10-15 minutes. Then allow to cool on a cooling sheet until completely cooled.
Graham Cracker Crumble
Preheat oven to 350° F. Prepare a large jelly roll baking sheet (baking sheet with a lip) with parchment paper.

Place all ingredients into a food processor or blender, mix for about 30 seconds or until incorporated. Remove and pour onto the baking sheet. It will be crumbly and maybe in big chunks or small pieces. I try to mush mine together as one big, flat thick surface.

Place in the oven and bake for 6-8 minutes. Golden, but not burnt.

Remove from oven and allow to cool.

Use a fork or your hands to break into small pieces.
Cream Cheese Frosting
Using your paddle attachment cream the butter and cream cheese together for 3-4 minutes, speed 4. This helps to create a fluffy texture. Scrape sides of bowl as needed.

Add in the vanilla and stir until combined.

Add in powdered sugar slowly of a time. Mix until thoroughly combined and smooth. Allow to continue to mix for 2-3 minutes as it fluffs up. Scrape sides of bowl as needed.
Assembling
Place frosting into a piping bag fitted with your favorite tip.

Take cooled cupcake and a piping tip. Core out a portion of the center of the cupcake. Fill the empty spot with the graham cracker crumble. Top with a little bit frosting.

Pipe each cupcake with frosting. Decorate with flowers, mini carrots, toppers, etc.
Notes
– Green Carrots:
In one of my pans, I left the cake in it to cool too long. The carrots turned green and this had never happened before so I looked it up. They are still safe to eat, but leaving it in a metal pan too long can mess with the pH. So, I linked the helpful article here for tips to avoid this or why it might happen. But also, it is harmless.
http://www.carrotmuseum.co.uk/turngreen.html
https://www.thekitchn.com/food-science-when-good-carrots-52210
– Pan: If you don't have a 6 well cupcake pan, use one for 12 and fill the outer 6 with 1-2 tablespoon with water. Use the center ones to bake your cupcakes.
– Tiny Carrots: These are from

Gourmet Sweet Botanicals. You might be able to find them elsewhere online or from a local farmer too.
Tried this recipe?
Mention @amanda.wilens