Hoppy Easter friends! Here is a fun small setting for an Easter Table Setting. Just a few place settings, but even with fewer people around the table you can still have a fun time. Delicious food, cocktails, and a fun activity…what else could you want?
This fun and simple tablescape is something anyone can put together. I wanted to keep it simple so that you can use mostly what you already have in the house and not need to purchase too much. I'll go over everything you see on the table and how to achieve this look below. But, if you have any thoughts or questions, let me know!
Also, this was a part of a fun Easter roundup, be sure to check out those other posts: Small Batch Carrot Cupcakes, Lavender Lemonade Cocktail, and Pressed Flower Easter Eggs.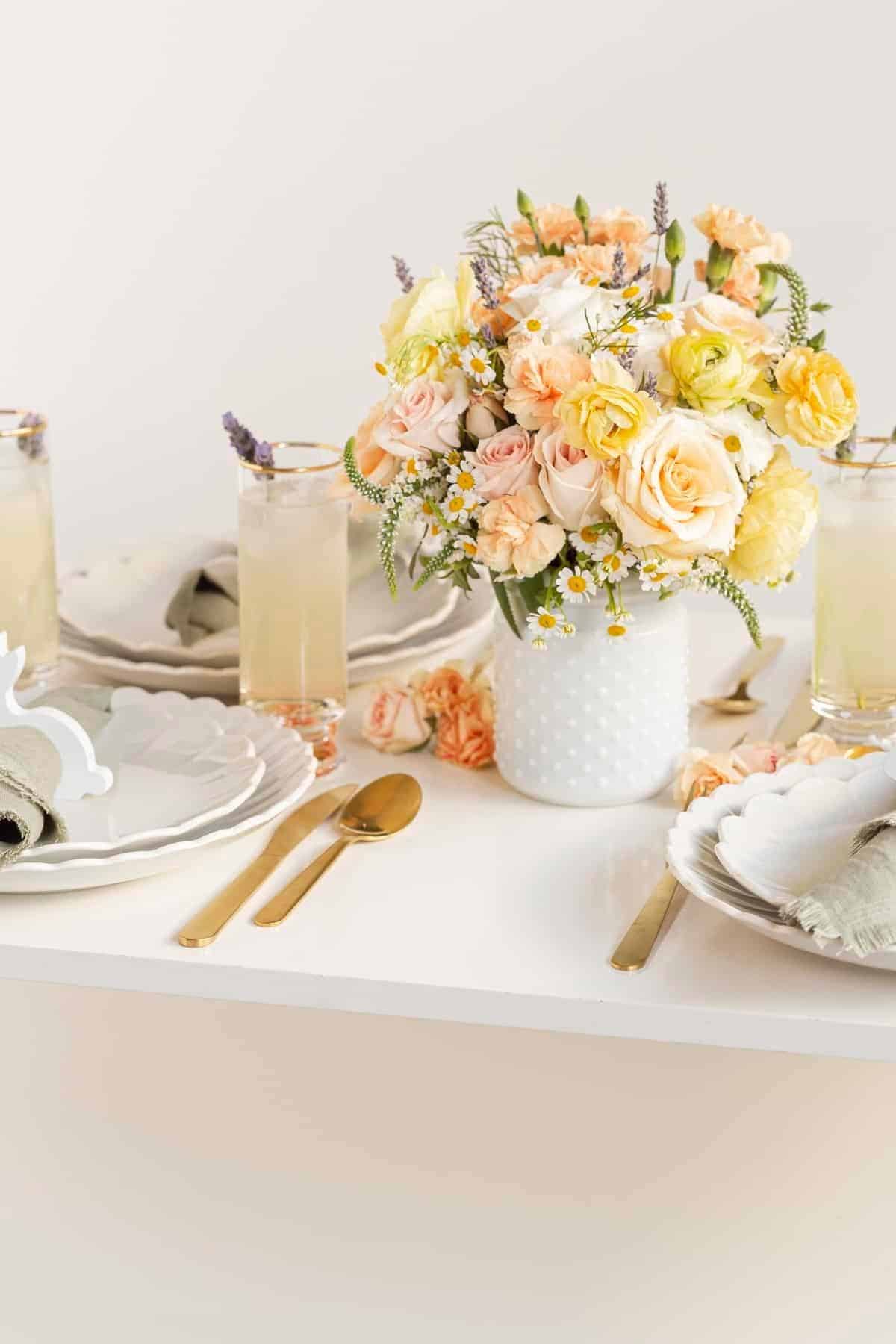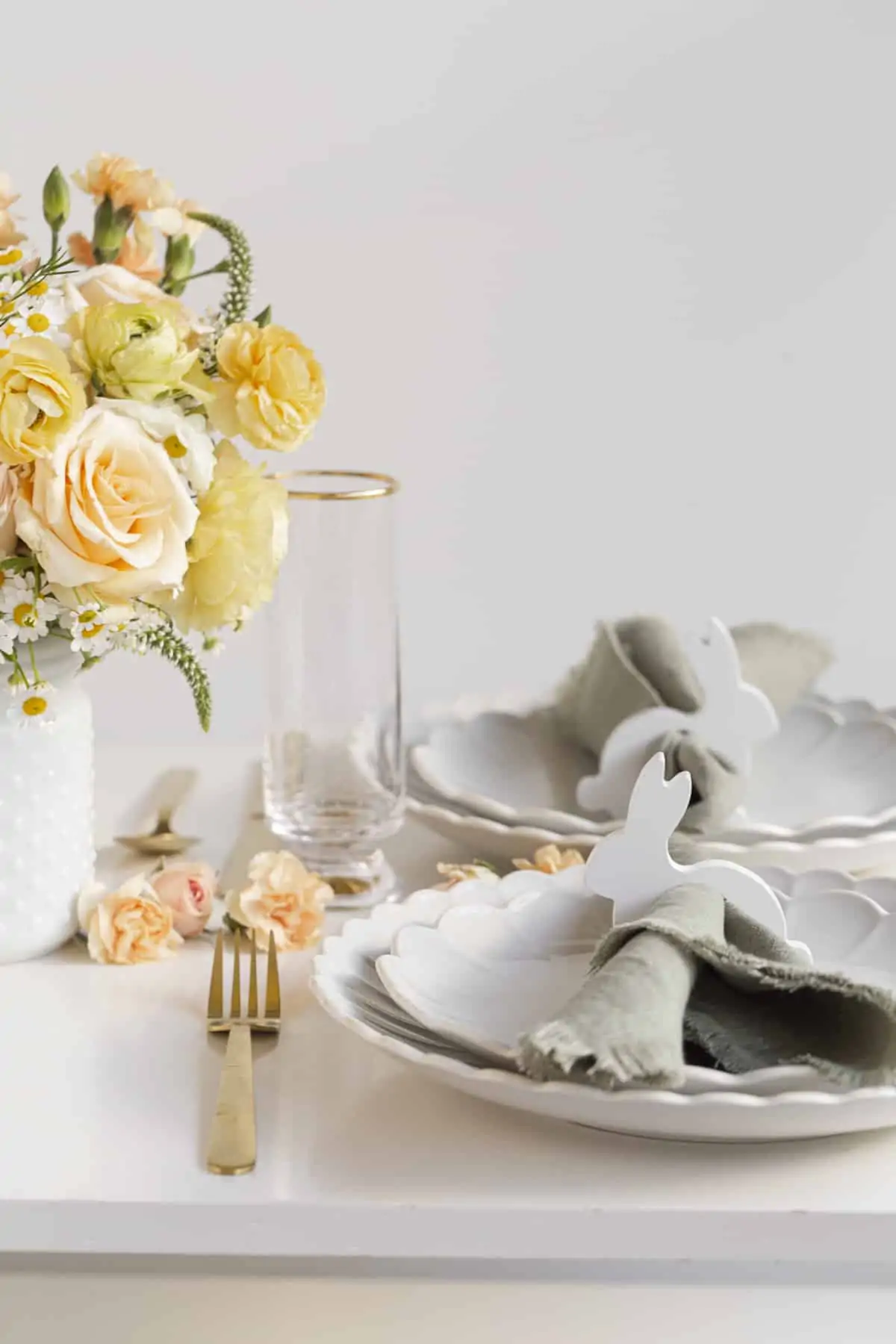 Easter Tabletop Décor
In this tablescape you will find some of the basics that you probably already have around the house. And if there are things you don't have, but also don't wish to buy, that is okay. I'll talk about swaps you can make for this as well. You don't always have to buy the newest things to achieve a similar vibe! The biggest change in décor in my opinion are the flowers. You can order those from a local florist. Or even do what I did here and grab some flowers from the grocery store and make your own simple arrangement. Those colors will really change up the look of the table and décor.
Let's get into this table setting!
Dishes and Utensils
Plates: I got these beautiful Lenox French Perle Scallop plates gifted to me and I couldn't love them any more than I do. Just so beautiful and make for a really lovely tablescape for Easter.
Gold Silverware: These are the same gold silverware pieces I use on almost all my tablescapes. You can grab these at Target or similar stores.
Linen: I used sage linen for this setting and got them from Etsy. The ones I got sold out, but you could easily find similar ones on Etsy. Or your favorite linen napkins you already own!
Napkin Rings: Okay, these napkin holders are just too stinking cute. Little bunny rabbits! I just love them. They came from Michael's, you can get them here: White Easter Bunny Napkin Rings. These would be so cute spray-painted pastels or gold…or even wrapped in raffia. If you don't have these you can use your favorite napkin rings or even a piece of ribbon or raffia tied into bows.
Glassware: I like to use glassware like this with a gold rim to tie in the utensils. These are old, but if you google "gold-rimmed glassware" you should come up with some pretty options.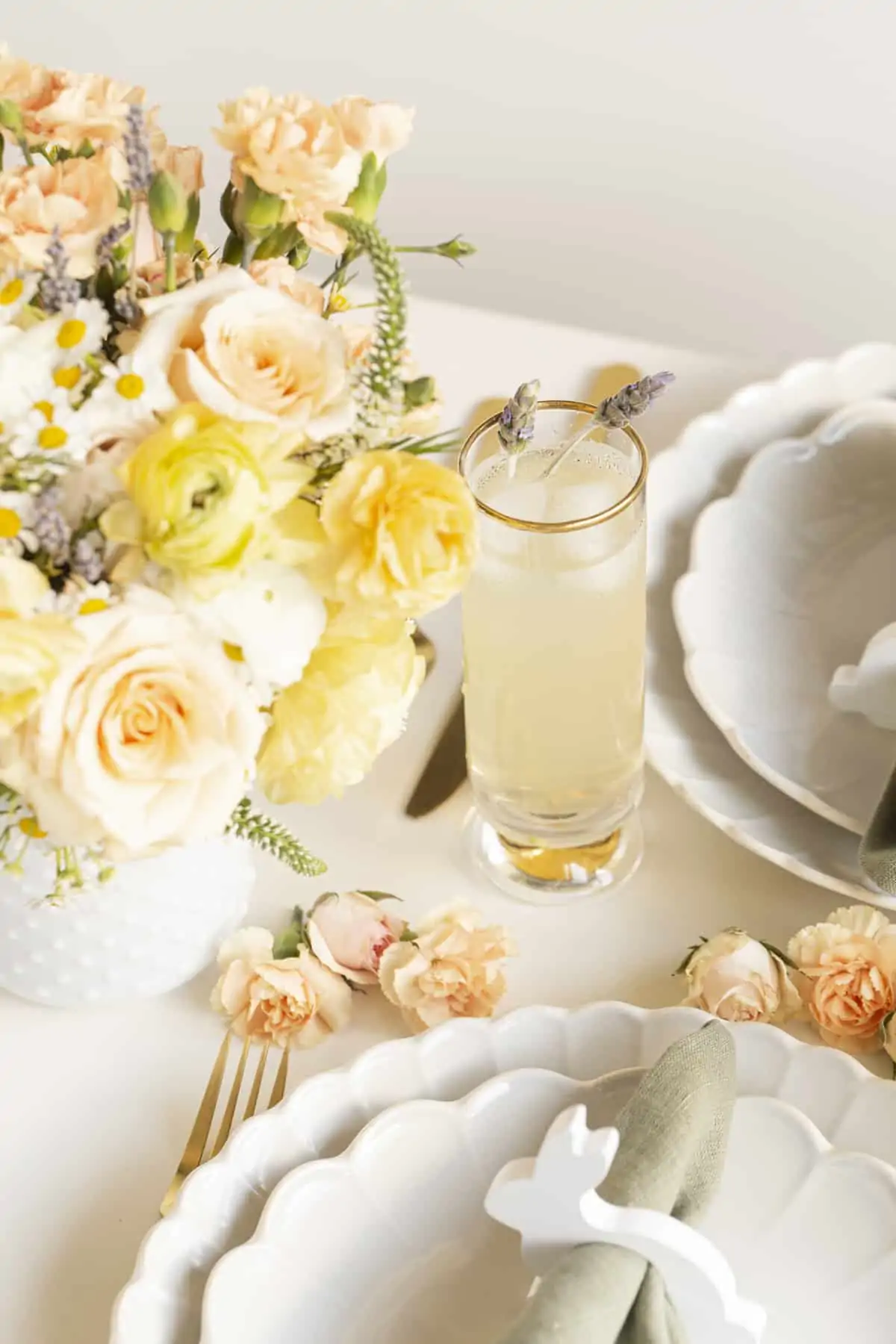 Decor
Flowers: Like I said above, you want these to be the centerpiece. You want them to shape the table, color setting, and change things up. First, I arranged flowers from the grocery store. I went with my color scheme and grabbed some: roses, spray roses, ranunculus, chamomile, lavender, veronicas. I arranged them in the vase using chicken wire, but you could also use clear tape or even make the bouquet in your hand and add them into the vase after that. Or again, you could call a local florist and get something delivered or even just do a single flower arrangement like hydrangeas or tulips.
Lining the table: I used flower heads for this, but you could use a table runner that is neutral or goes with the theme. If you decorate with flower heads, but sure to do this last minute as they don't live long like this without completely wilting.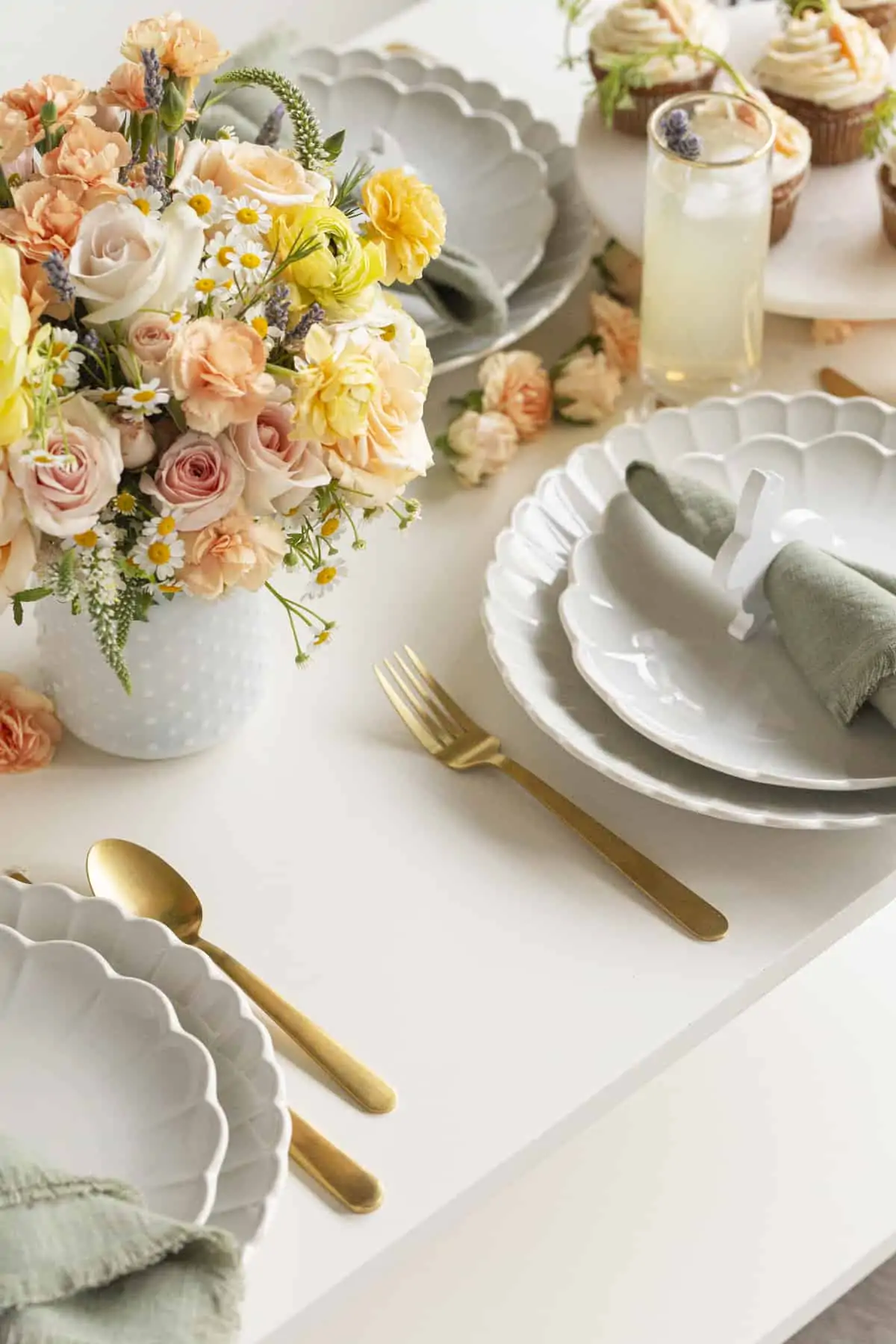 Some other Favorite Easter Table Settings
I just wanted to share some of my friends gorgeous tablescapes this year. SO many good ones.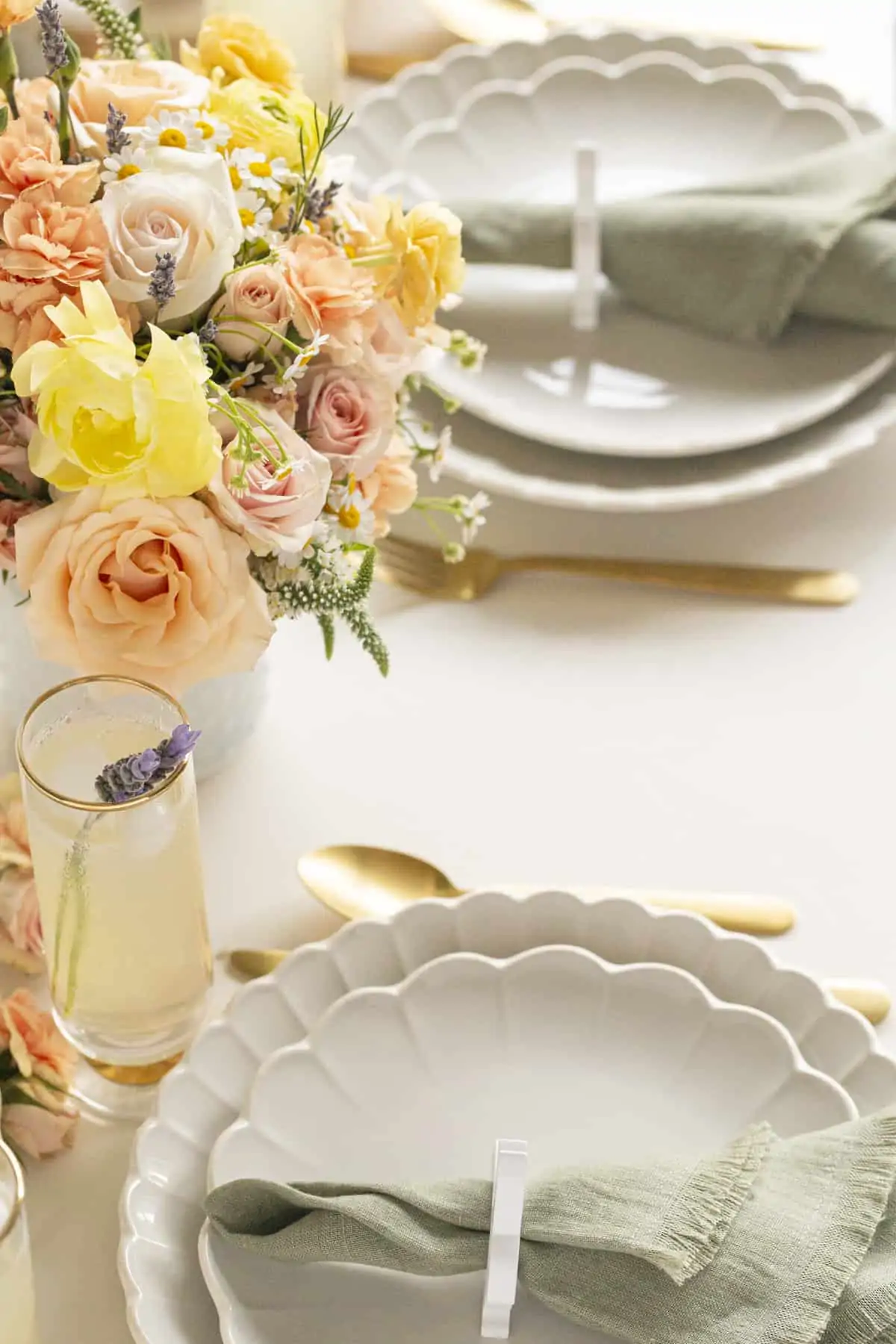 Activities for Easter
My favorite activity as a kid and as an adult was always the cooking and baking. Making deviled eggs with my aunties and baking cookies and cake with mom. But I wanted to list some thoughts I had and other recipes you could try.
Baking or Cooking
Cocktails
Activities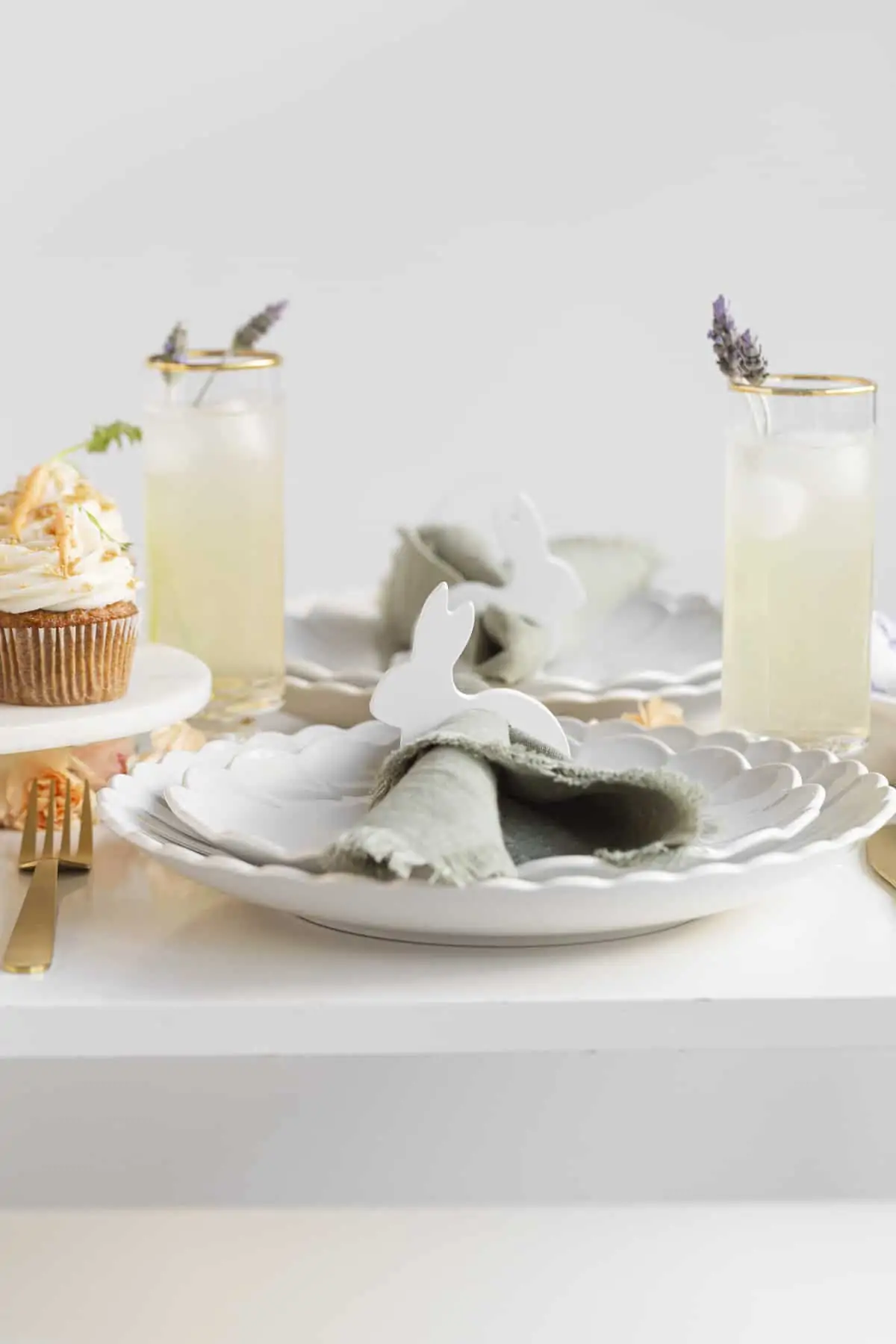 Love this Post?
Did you use this article and did it help you? Awesome! If you have a quick minute and could leave a comment below, I would appreciate the support and knowing your feedback! And if you're over on Instagram, be sure to tag me in your photos.