These Pressed Flower Easter Eggs are so much fun. I have always really loved decorating eggs as a kid. Probably more than the Easter egg hunt itself. Maybe because I was the youngest and always the last to find any eggs. I just wasn't as interested in that part as I was the painting, coloring, and dying. Art has always been more calming. So, I wanted to do something a little different this year. A little more artsy and up my alley.
I decided to do this with hardboiled eggs, which did prove to be messy. Still fun, but for sure a bit messy. I think next time I might try this on some DIY wooden eggs. Mostly because hard-boiled eggs really should only sit outside the fridge for 2 hours. Once you've made them, you'd pretty immediately need to destroy them to eat them! But this would be a fun alternative to have the wooden eggs so they could last longer and you could decorate with them around the house.
Also, this was a part of a fun Easter tablescape, be sure to check out those other posts: Small Batch Carrot Cupcakes, Easter Tablescape, and Lavender Lemonade Cocktail.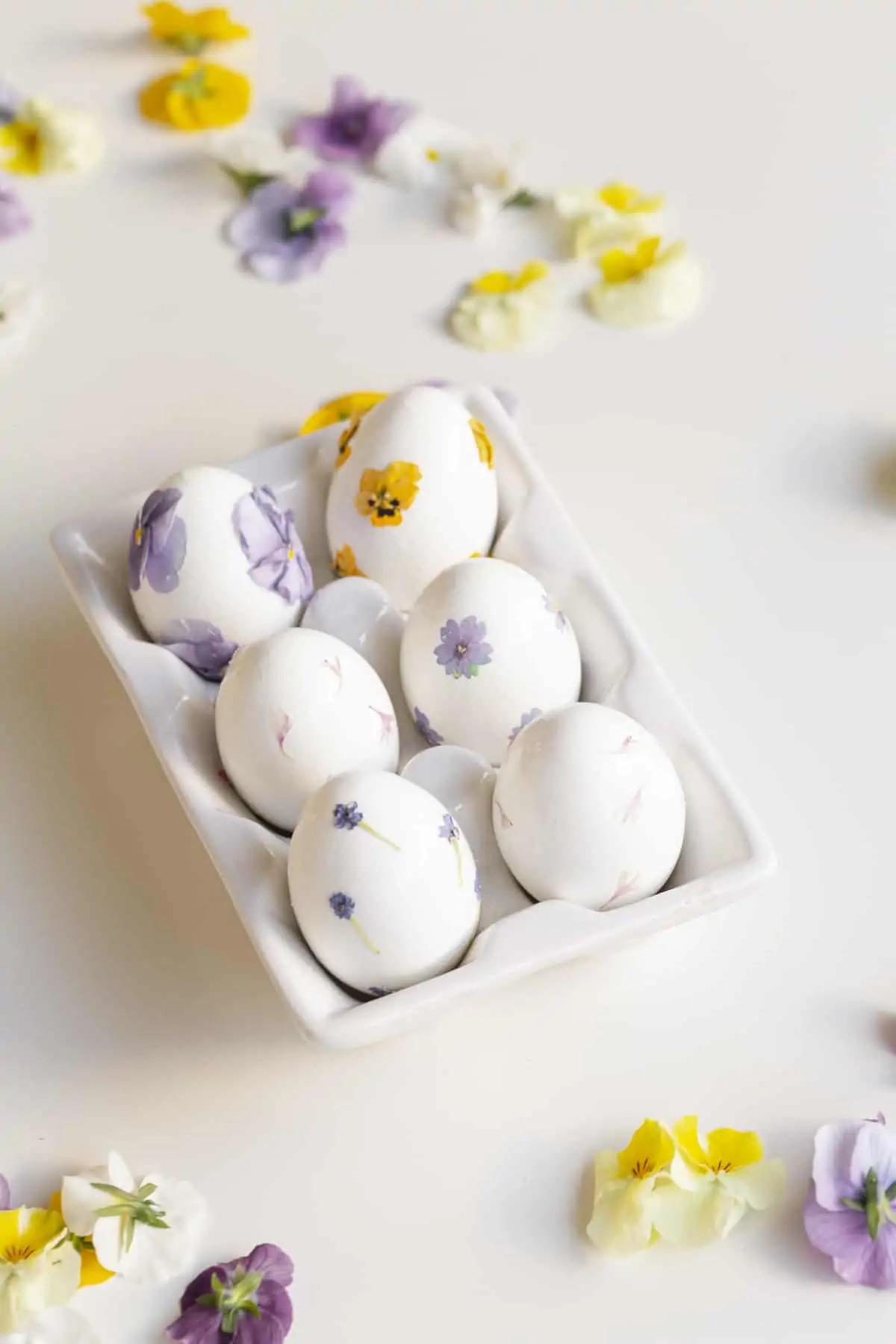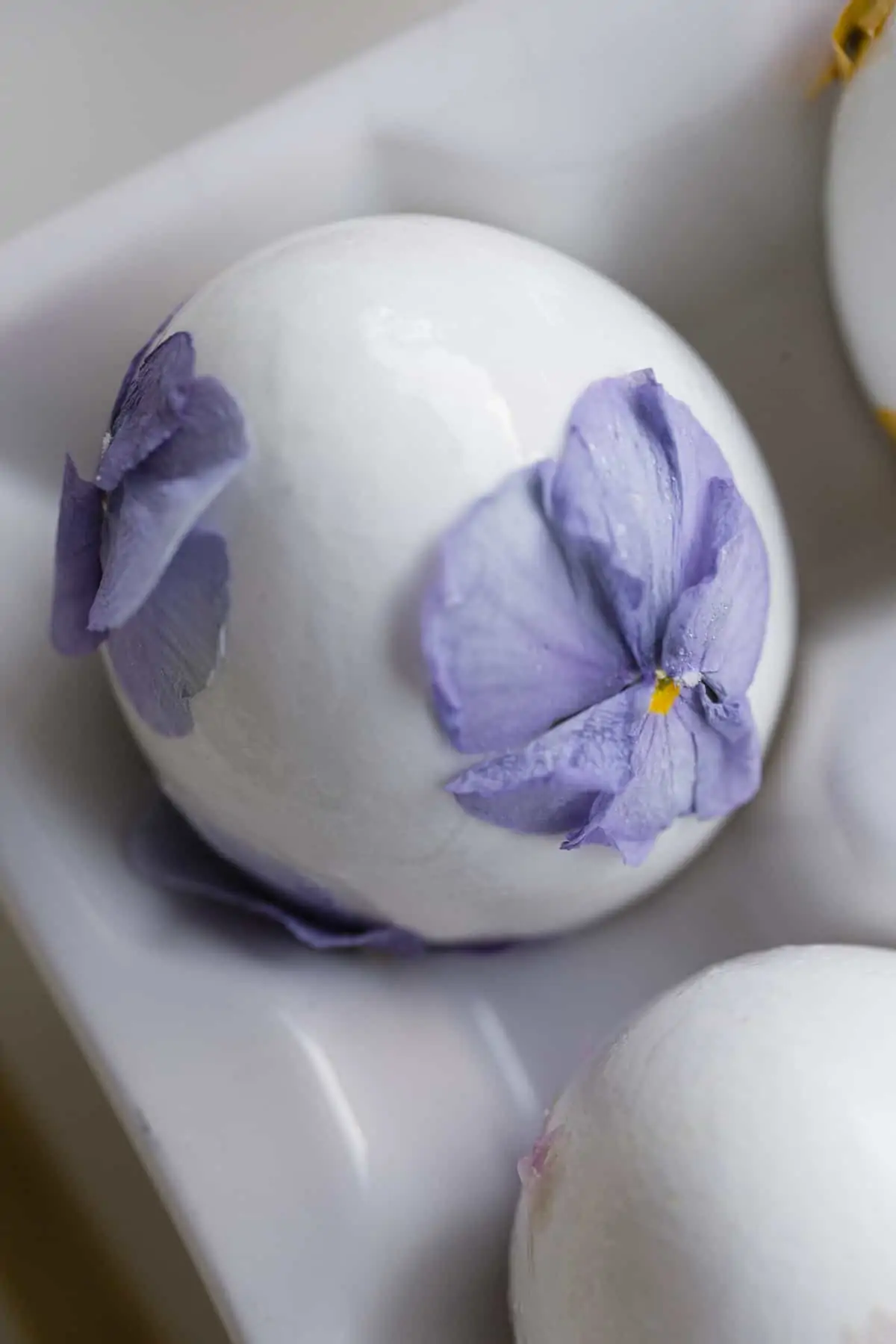 How to Dry Edible Flowers
I really love any project that has flowers. And pressed flowers are just so fun to work with. I have a few different methods that I use on pressing flowers, but my favorite is to use a thick book and parchment paper. You can use wax paper or printer paper if you prefer. But truly getting a good thick book and something to weight it under, like other books, is a great option.
Now, the time you spend on pressing is completely up to you. For this project you really can just press the flowers 24 in advance. But if you want them even more dry, you can do a few days. I wouldn't say you need 2-4 weeks for this project since they are small edible flowers. But you can go longer. Just know that usually the longer you go the drier and more brittle they can become and often times if you are painting them onto something they can fall apart.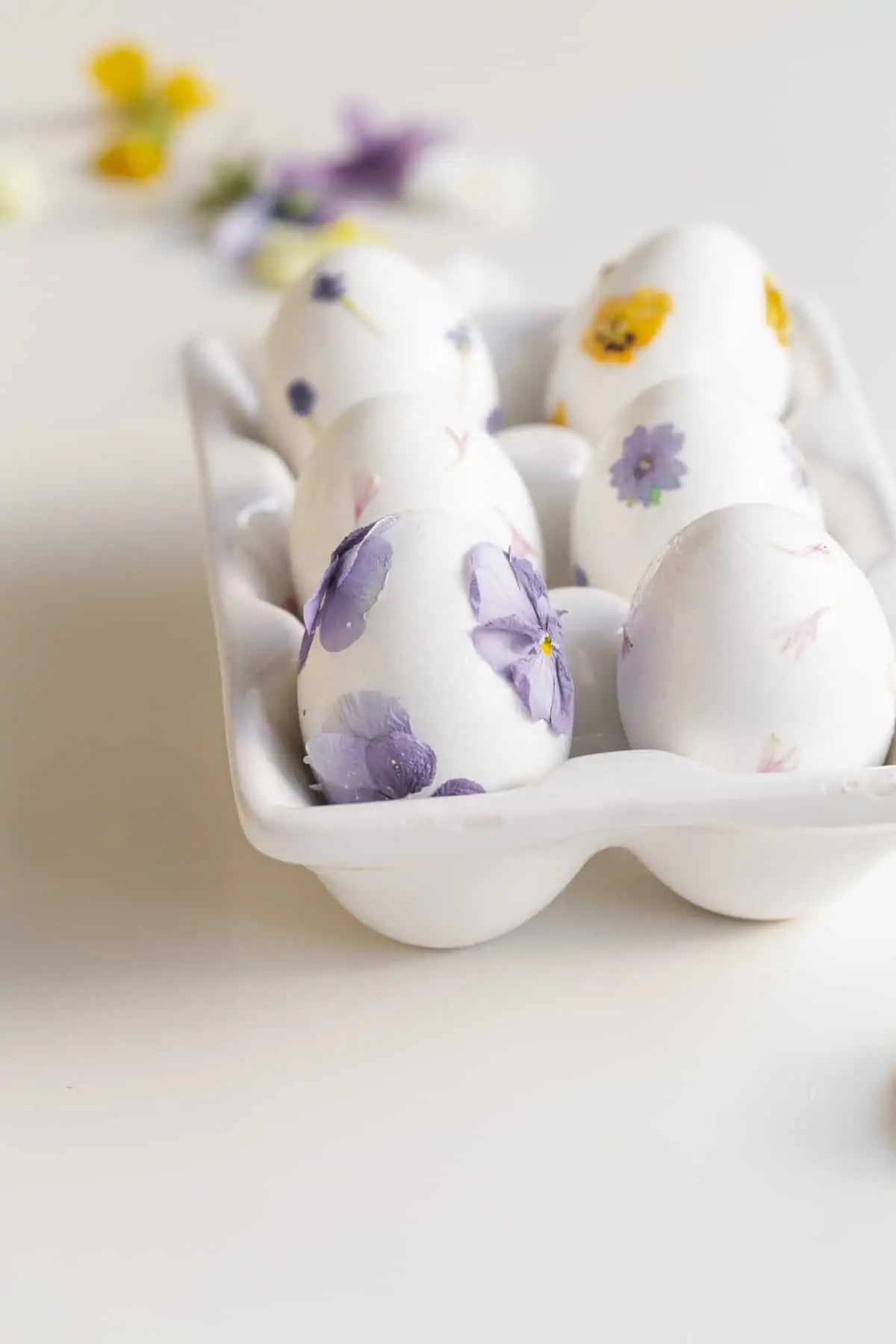 Where do you buy Edible Flowers?
Edible flowers are very specific, you want to make sure that 1) the flower type is truly edible and 2) that they haven't been grown or processed with any harmful chemicals. That's why I suggest buying food grade only. You can get these a few ways.
Purchase online from Gourmet Sweet Botanicals, my number one place to shop edible flowers, herb flowers, and more. Just so many beautiful products they have available and they have a great turnaround time. I believe some other shops have also started to sell online, just be sure to check the source and that they are truly edible.
Purchase from the grocery store occasionally or depending on your store. Some larger gourmet type grocery stores sell them next to the herbs in the produce section.
Grow your own! This way you can make sure you aren't using pesticides and have processed/handled them yourself. Buy the plant or seeds online or at a nursery.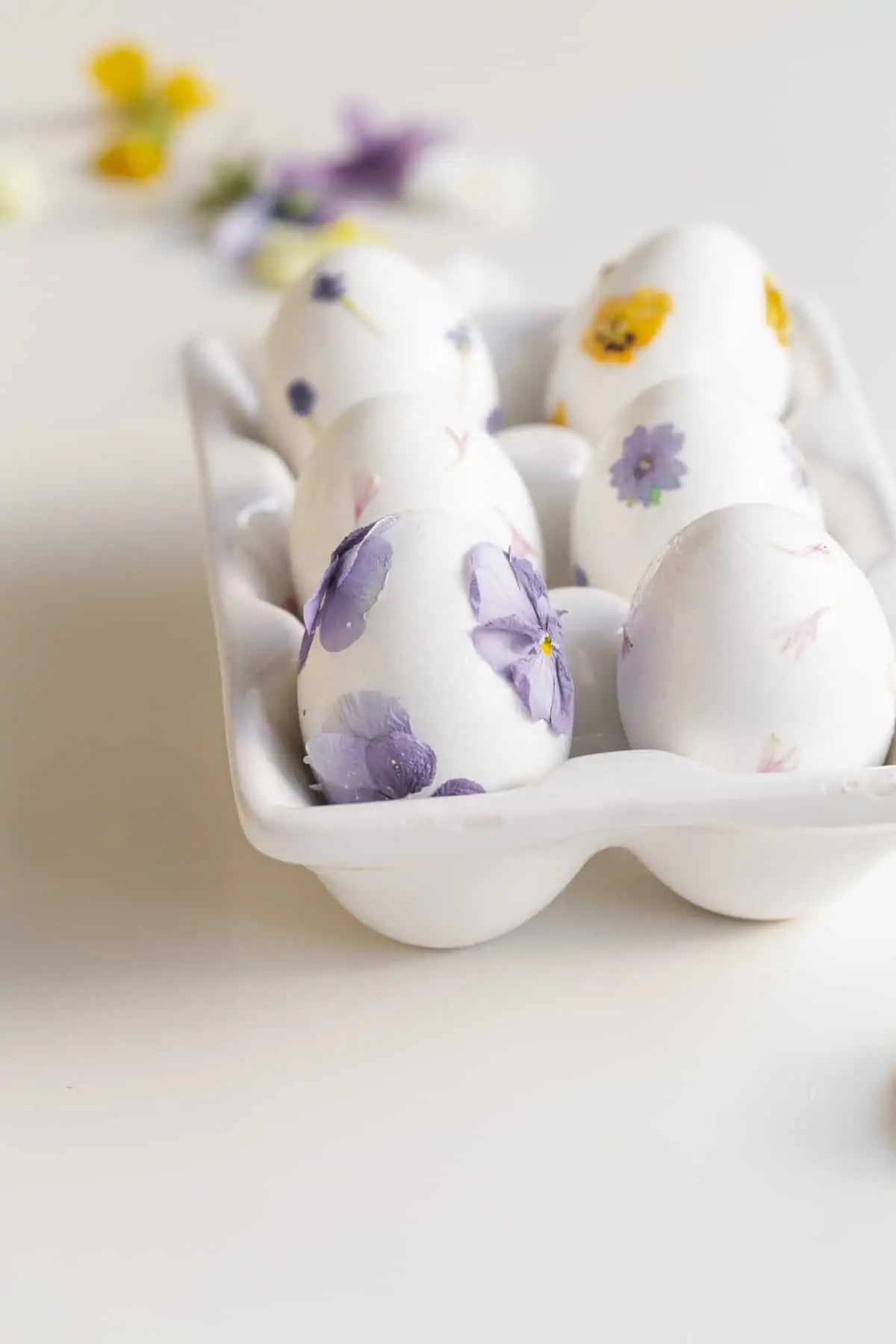 Edible Glue Recipe
I decided to use edible glue for this since I didn't want the glue getting onto the eggs. If you do this with the wooden eggs, there is no need and you can use mod podge or something like it. For this I went super simple: Powdered sugar and water (could also use milk). I did 1 cup of sifted powdered sugar and 2 tablespoon of water. I mixed with a fork until combined. You might need just a few teaspoon more of water to get it runny enough.
I will say that because the eggs were cold, they did sweat a bit with being worked on and this is definitely a messy project I wouldn't recommend for young kids, but maybe teens or adults. The glue I just painted onto the egg then stuck on the flowers, no painting over them as it seemed to not really have any effect on the flowers and didn't seep into the petals. Then, I placed them onto a piece of parchment on a baking sheet and stuck them into the fridge for a few hours. To help them dry, I turned on my oven to 170° F until preheated, and turned it off. Then I moved the eggs to a muffin pan, each in their own tin. Afterwards, I placed them in the oven for about 20 minutes. The glue dried but left a bit of water in the pan, so just dab off the egg with a paper towel. Then I plated so they would stay dry. Putting them back in the fridge will most likely make them runny again. This is a messy project, I told you! Haha.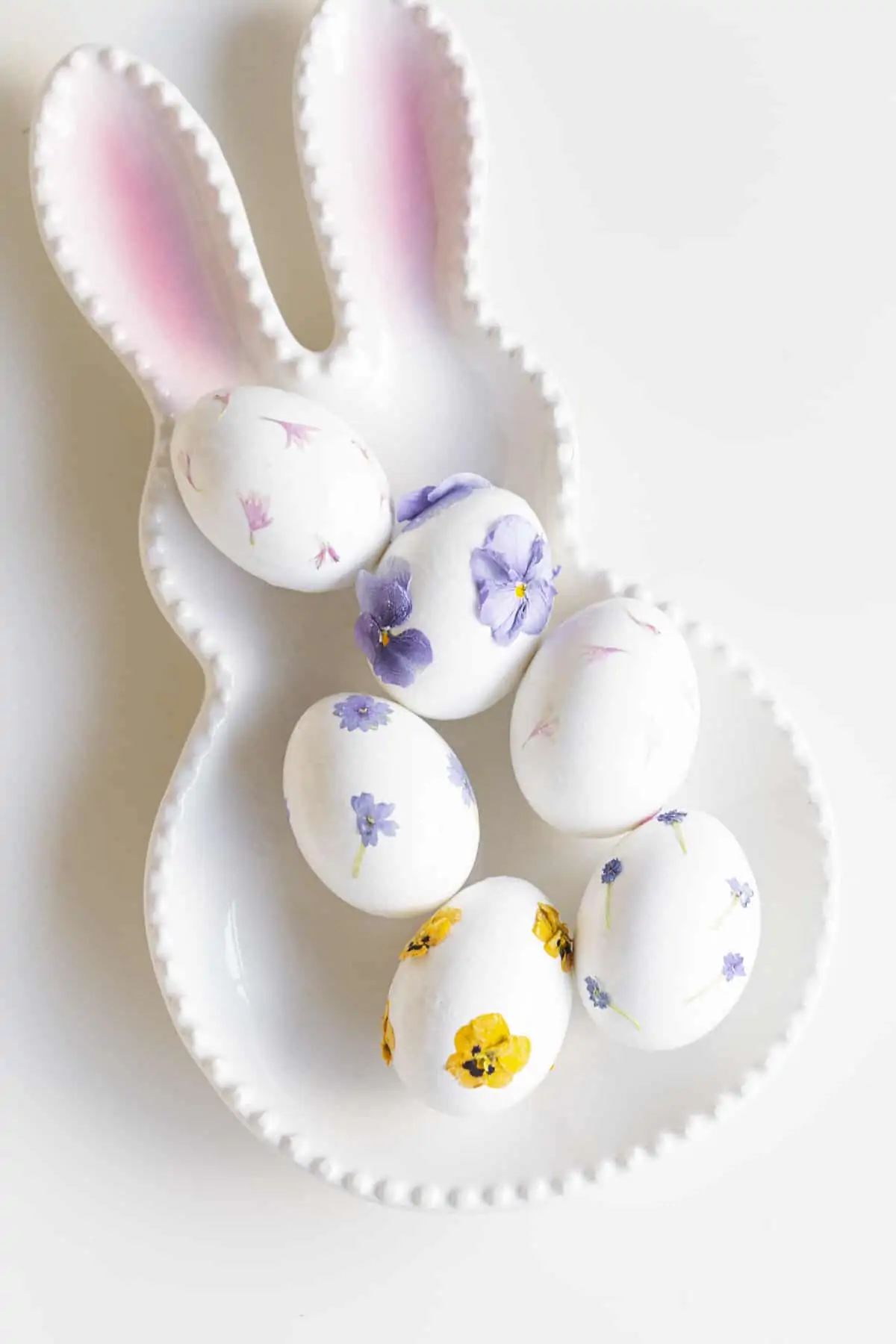 How to Decorate Brown Eggs for Easter
This is a great way to decorate brown eggs as well or blue. We used white ones since that's what our Instacart shopper brought us this week, but these would also be lovely with brown eggs.
Another great idea for brown eggs would be to dye them with food color like Studio DIY! did with their brown eggs: How to Dye Easter Eggs with Food Coloring. They turned out to be so lovely and have an almost jewel-toned look to them. Or get a white non-toxic pen, like Live Well, Travel Often's: Natural Brown Easter Eggs.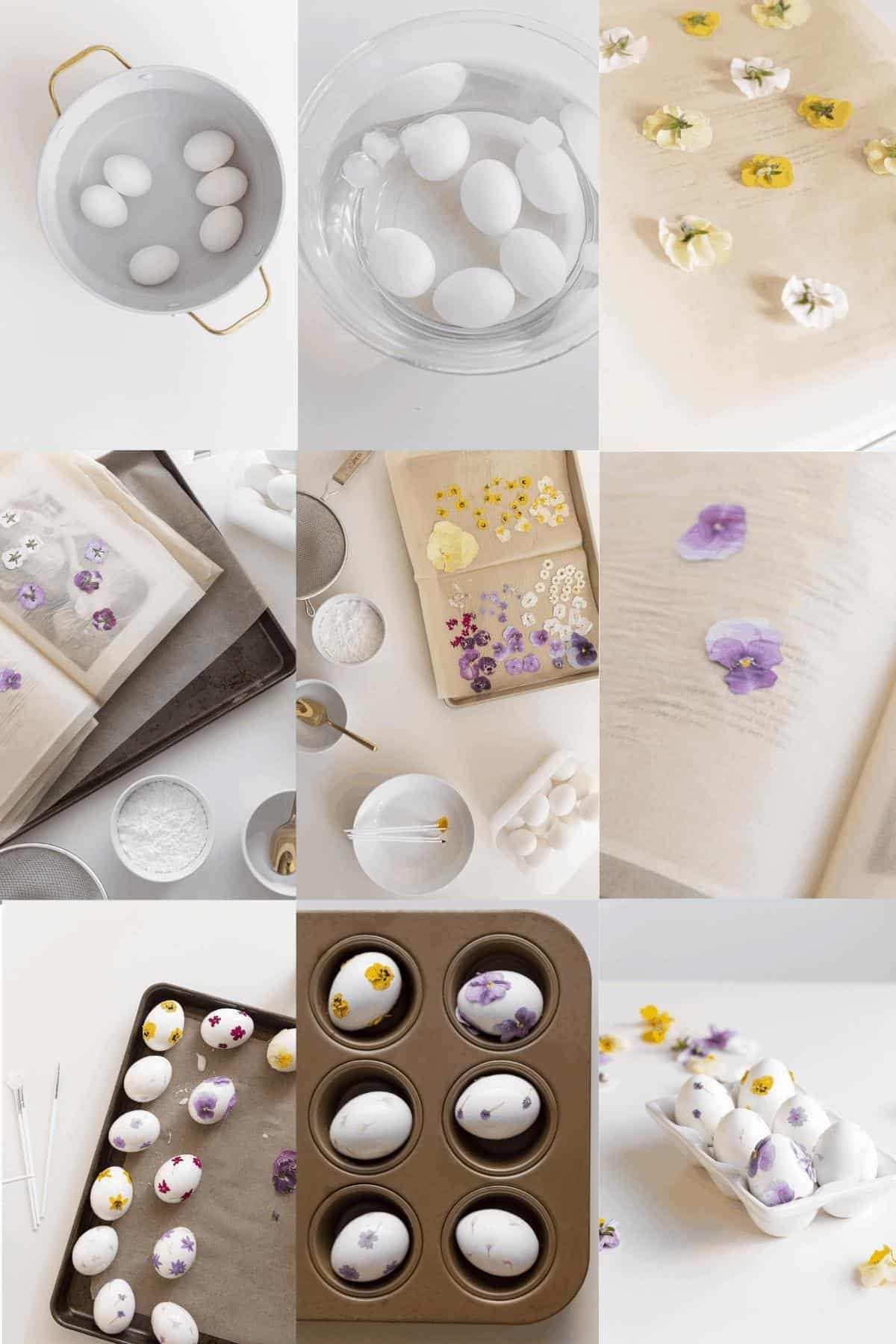 Love this Post?
Did you use this article and did it help you? Awesome! If you have a quick minute and could leave a comment below, I would appreciate the support and knowing your feedback! And if you're over on Instagram, be sure to tag me in your photos.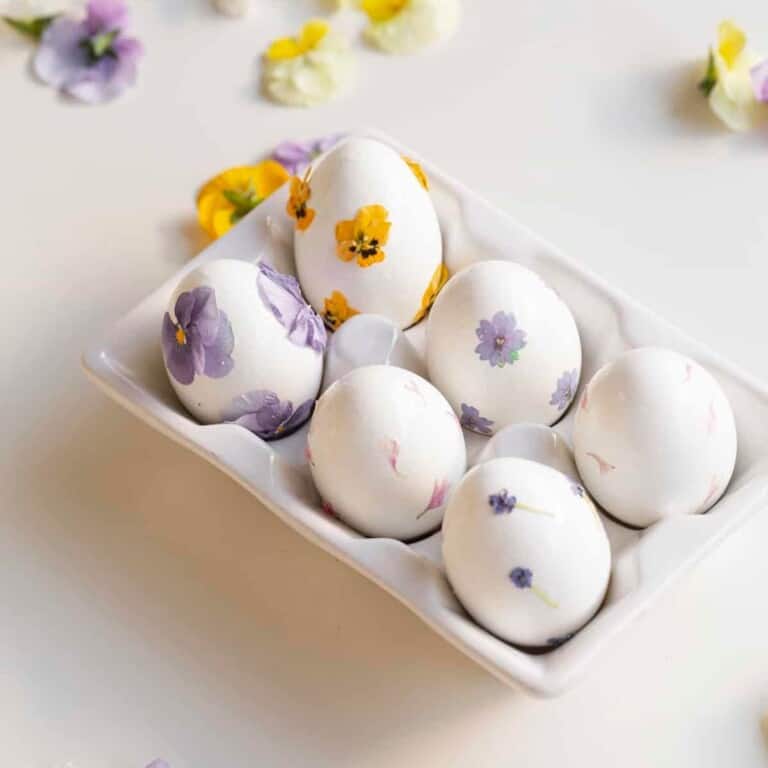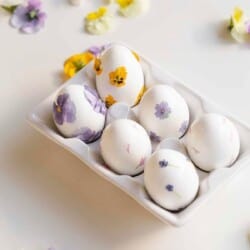 Ingredients
Pressed Flowers
pressed edible flowers

parchment paper

books
Easter Eggs
baking sheet

parchment paper

hard-boiled eggs*

1

cup

powdered sugar

2

tablespoon

water**

food safe paintbrush

muffin pan

paper towels
Instructions
Pressed Flowers
Take your books and place parchment paper inside, two pieces so you can put the flowers between them.

Take dry flowers, you can pat them with a paper down to make sure the moisture is gone, and place in between two pieces of paper. I usually try to place them facedown so they don't slide around.

Shut between the pages. Try to jump a few chapters and do it again!

Place under a few other books stacked and let them dry.
Easter Eggs
Prepare a baking sheet with parchment paper.

In a bowl mix your powdered sugar and water with a fork or whisk.

Brush the glue onto the egg, then stick the flower on there and press gently with the back end of the brush or your fingers.

Place the egg onto baking sheet. Finish all eggs and place into the fridge. Allow to cool.

Glue will take a long time to dry. If you want eggs completely dry, you can follow these steps: Turn the oven onto your lowest setting, about 150-170° F and then turn it off. Place eggs into a muffin pan and place into the oven for 20 minutes. Remove eggs and serve.
Notes
*This is the recipe I used for mine: https://www.loveandlemons.com/how-to-make-hard-boiled-eggs/#wprm-recipe-container-46490
**If too thick, slowly add in about 1 teaspoon of water more at a time.
- Eggs should only sit out of the fridge for a maximum of 2 hours! A great alternative would be to make these on DIY wooden eggs so they can last you longer. And you could decorate with them.
Tried this recipe?
Mention @amanda.wilens