Honey Cakes. This post has been sponsored by Local Hive™. All thoughts and opinions are my own.
Honey Cakes are a delicious and naturally sweetened treat perfect for tea time! I love baking and I love baking things that I can make pretty. Because we all eat with our eyes as much as we do our mouths. Using a mini Bundt cake pan was a fun way to make sweet little cakes that are perfectly decadent, but also beautiful.
These cakes are naturally sweetened with my favorite honey from Local Hive™. They just added their new Orange Blossom varietal and I couldn't wait to get my hands on it. It's sweet, citrusy, and floral. Truly one of their best flavors and I've already started planning other recipes I could use this varietal for in the future. However, it lended itself perfectly to these little cakes for sweetness, but also flavor. I paired it with citrus with both lemon and orange in this recipe, switching citrus between batches. It's truly a heavenly pair.
I prepared these for a little tea party with my Tea Pairing post about the best honey varietals to pair with herbal teas.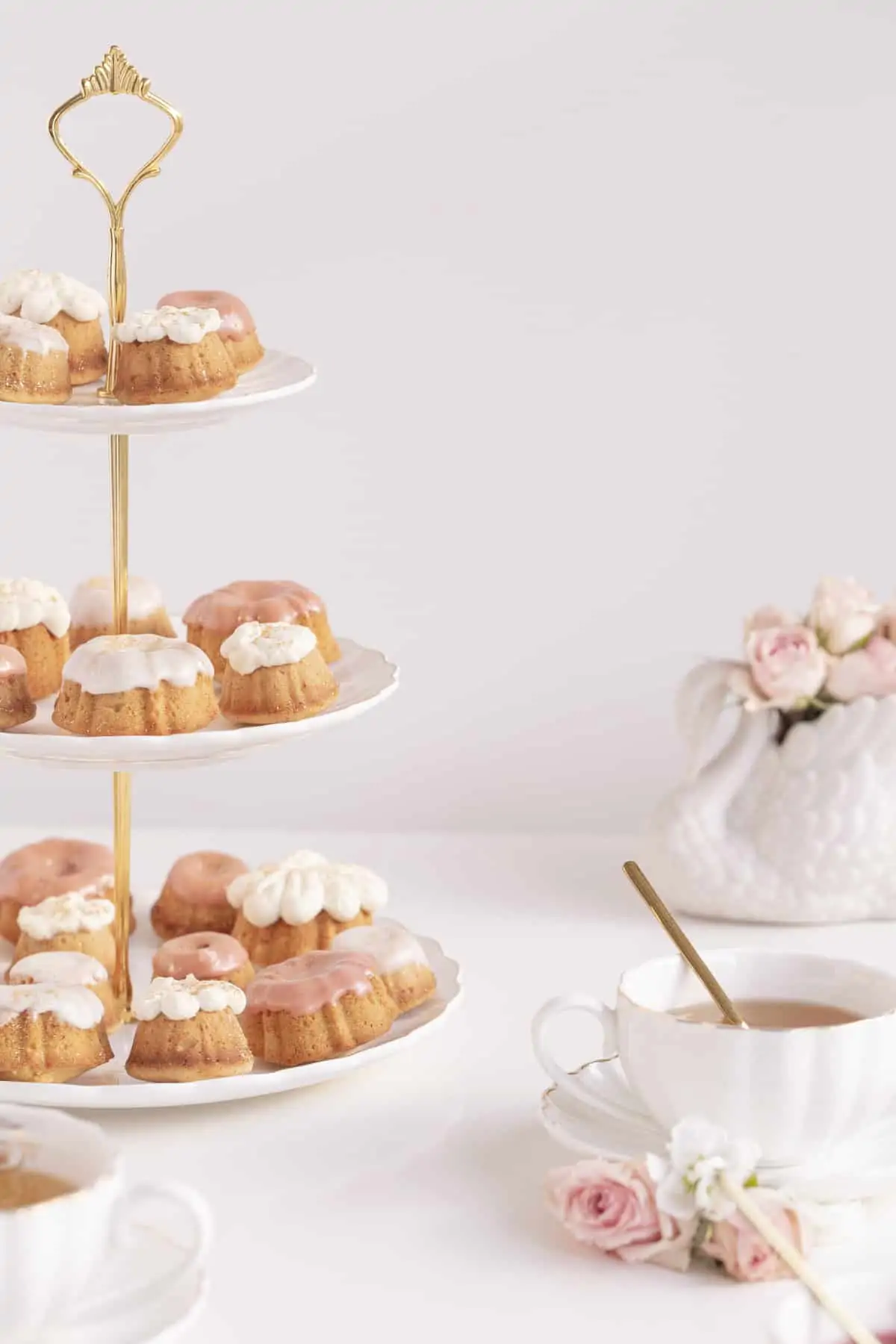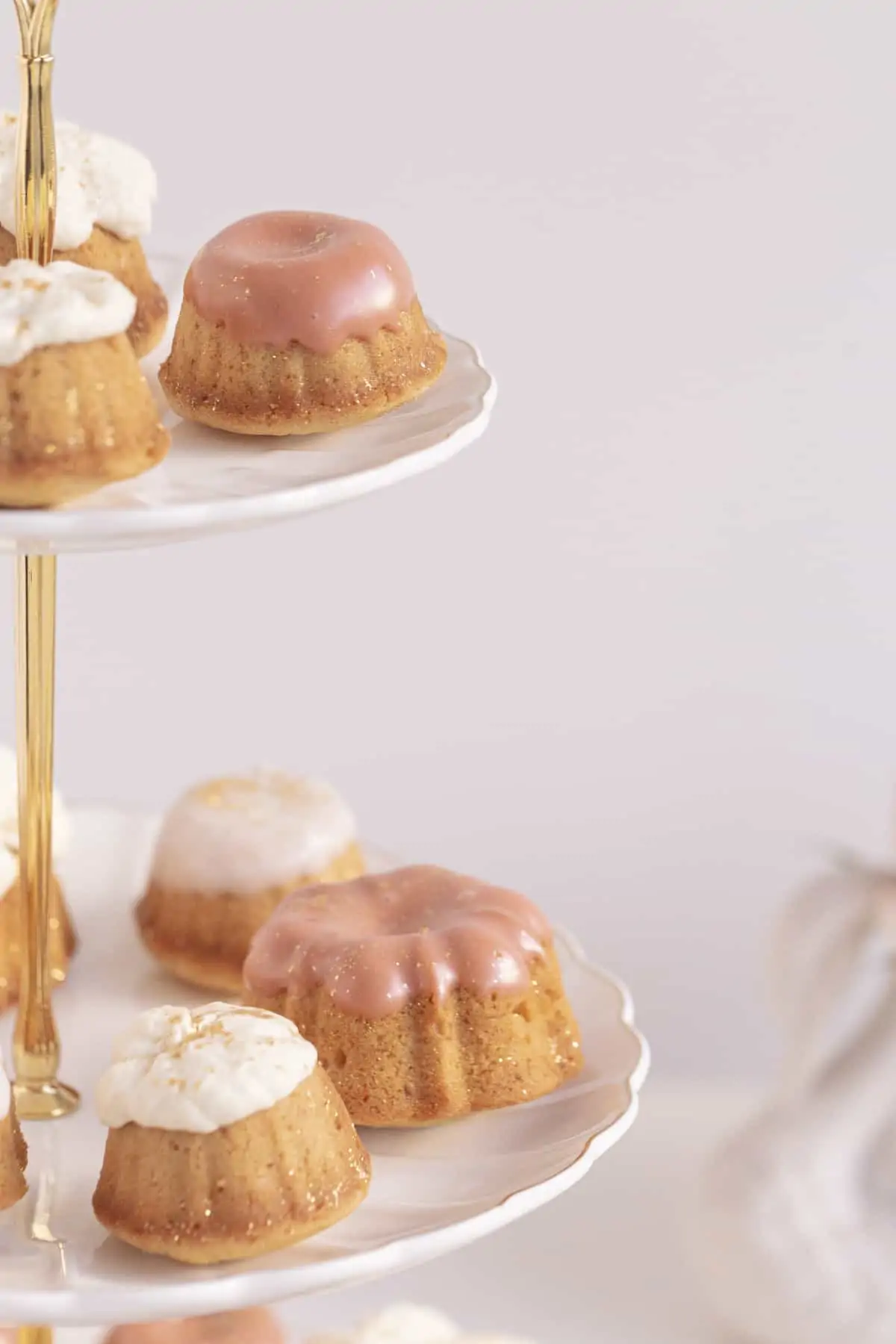 Local Honey
Local honey is honey from a specific region. Each area has a very specific and distinct flavor that comes from being raw and unfiltered. What does that mean? Well, raw honey means it hasn't been heated above ~110°F. And unfiltered honey is honey that retains the pollens and enzymes. Leaving the honey unfiltered is how it retains flavor and how you'll find so many variations in flavor across Local Hive™.
Across the different varietals you can taste floral notes of citrus, fruits, plants, clover, wildflower, peppers, berries, buckwheat, sage, and so much more. Each region has its own unique flavor and color. Let's talk about their varietals below.
Varietal Honey
Varietal honey is honey with specific & distinct local pollen sources. Each bottle of Local Hive™ features which notes can be found inside. Like I mentioned above, this can affect the flavor and color. This isn't like the basic mass-produced honeys that all taste the same. Each varietal (flavor) has a unique flavor profile. I have my own personal favorites for different purposes.
If you want to read more about varietals, the differences in the tastes, and how many kinds of honey there are, you can read about that here: How Many Kinds of Honey are There?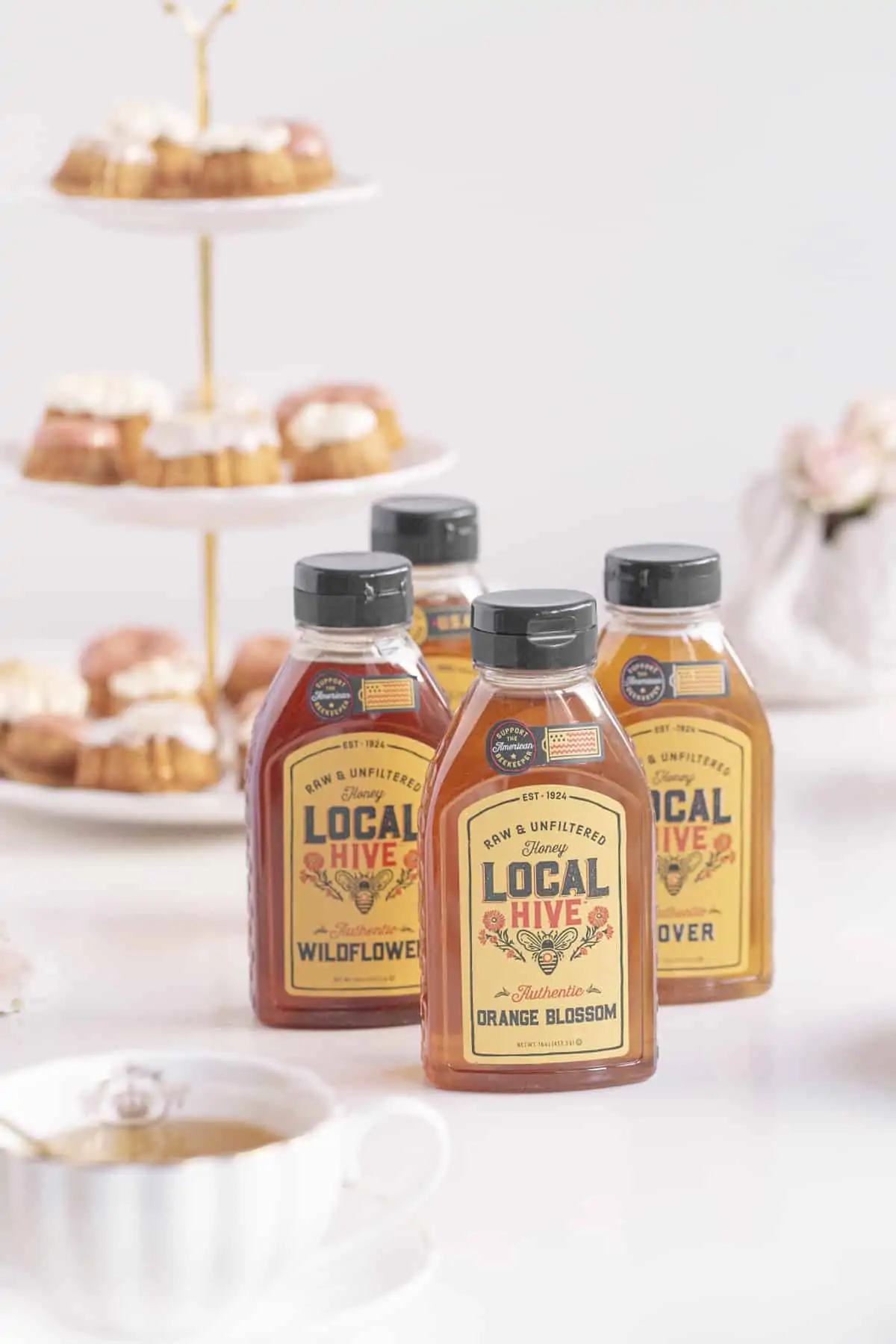 Mini Bundt Cake Recipe
This Honey Cakes recipe is fairly easy to make, even if it looks more advanced. I've put in all the different timings, speeds, etc. to make this recipe easy to follow. And thankfully it only makes 12, so it's not too overwhelming with the quantity. The biggest piece is that you want to scrape the sides of the bowl often and make sure you don't overwork your batter or it will get too spongey or dense.
Now, there are a few special parts of this recipe and ingredients, let's discuss!
Unsalted Butter: You always want to bake with unsalted so you can manage your salt measurements.
Room Temperature Butter: This is important and helps incorporate your ingredients better. Also, for greasing the pan, the butter needs to be very soft, but not melted. To quickly get this, here is a video you can check out for super fast and soft butter: Grand Baby Cakes Instagram.
Egg Yolk: you'll notice there is one whole egg and one yolk. This is to add extra fat and moisture to the cake so it's not too dry!
Citrus Zest: I loved the orange zest (I used Sumo oranges) in these cakes, but if you are more of a lemon person, that is a great option I also tried and loved. If you don't have a zester, try a cheese grater.
Full Fat Yogurt: It should be full fat yogurt, only substituting with sour cream if needed. Milk might not have the desired outcome and fat-free or Greek yogurt won't work the same with the chemistry. Full fat for this one.
Icing: I made this with orange or lemon juice, depending on the batch. You could also do with a teaspoon of vanilla if you wish.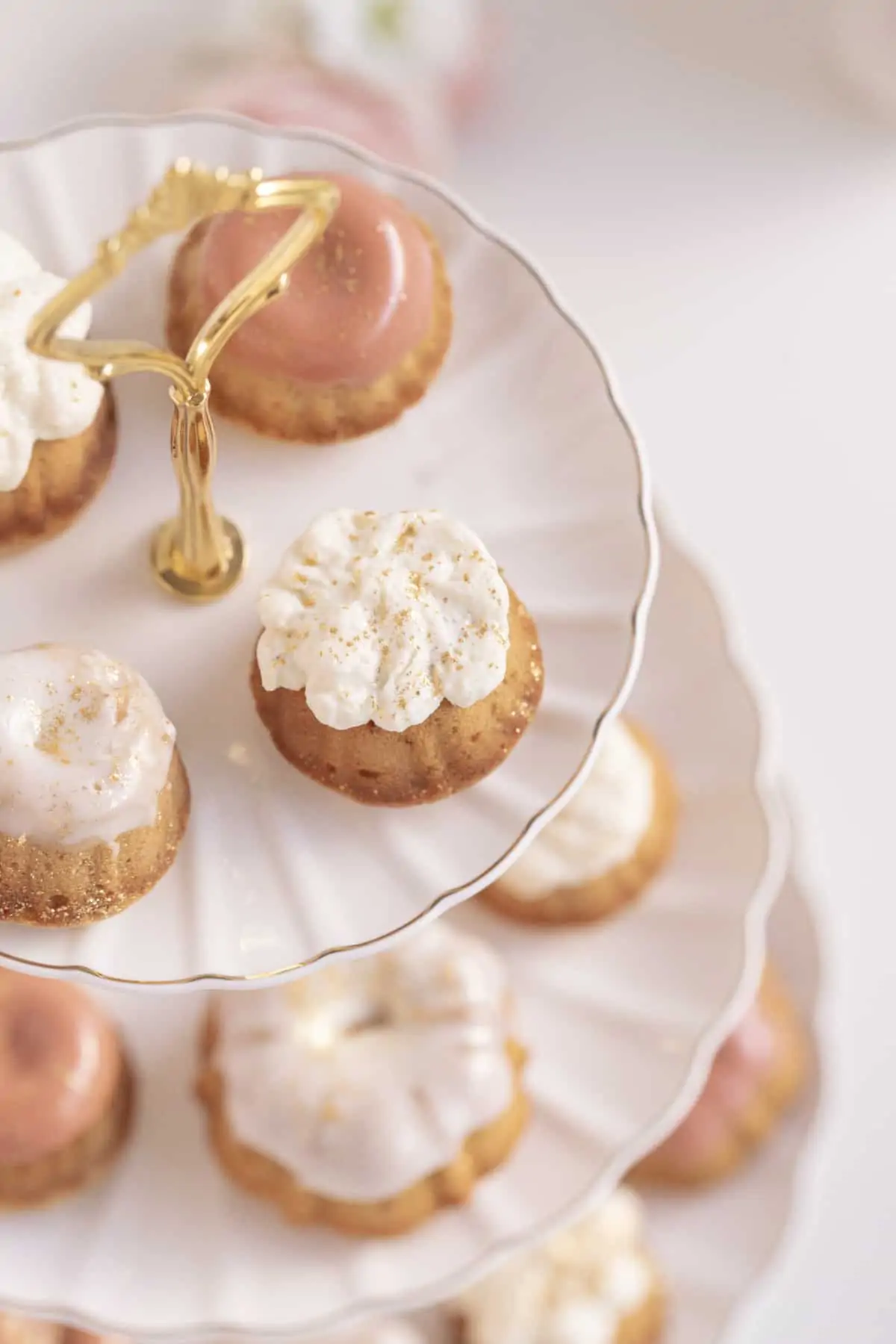 FAQs on Bundt Cakes
How to grease a Bundt pan.
The best way to grease a Bundt pan is to use very soft room temperature butter and brush it on with a pastry brush to get into every nook and cranny. Sprays and melted butter don't actually work as well as the brushed-on butter. The butter is still pretty thick and helps to keep the outer layer of the cake to slide right out after baking. You can add a light layer of flour as well to help, but I find that unnecessary with this recipe.
What can I use if I don't have a Bundt cake pan?
If you don't have one, for this recipe you can use a 12 well muffin/cupcake pan. Of course, it won't look as fun, but works just as well. You can use liners or just grease the inside of the wells of the pan very well. This works for the minis and for petites you could use a mini cupcake pan. The bake time should be the same as listed on the recipe card.
Do you flip a Bundt cake right away?
You want to give it a bit of time in the pan so it can finish cooking and have a bit of time to cool. I wait about 10 minutes, then I flip them out to cool completely. The easiest way to flip them out is to place a cooling rack/sheet (that is slightly larger than the other pan) upside down on top of the Bundt cake pan. Using pot holders grab the two short sides of both the cooling rack and the Bundt cake pan. Flip over onto the counter. They should fall right out onto the cooling rack. If they don't, use a toothpick to gently coax the bottom of the cake out of the pan.
How long to bake mini Bundt cakes?
This might vary per pan and per recipe, always remember to test your cake with a toothpick or skewer to make sure it comes out clean, meaning it's ready. However, for this honey cakes recipe, the mini Bundt cakes are ready between 20-23 minutes, the edges should be golden brown. If you do the petites, that will be a bit shorter at about 16-18 minutes.
How do you clean a Bundt pan?
Cleaning a Bundt cake pan is honestly one of the worst chores and worst dishes to clean. But, I found a very easy way to do it. Add a little bit of dish soap to each well, fill with warm water, then use a bottle brush (for cleaning cups and bottles) to clean each well. I hold the neck of the brush close to the head and I go in a circular motion fairly quickly. This will get all the nooks and crannies. Then scrub over the whole thing with more soap, water, and a normal sponge. Rinse and dry.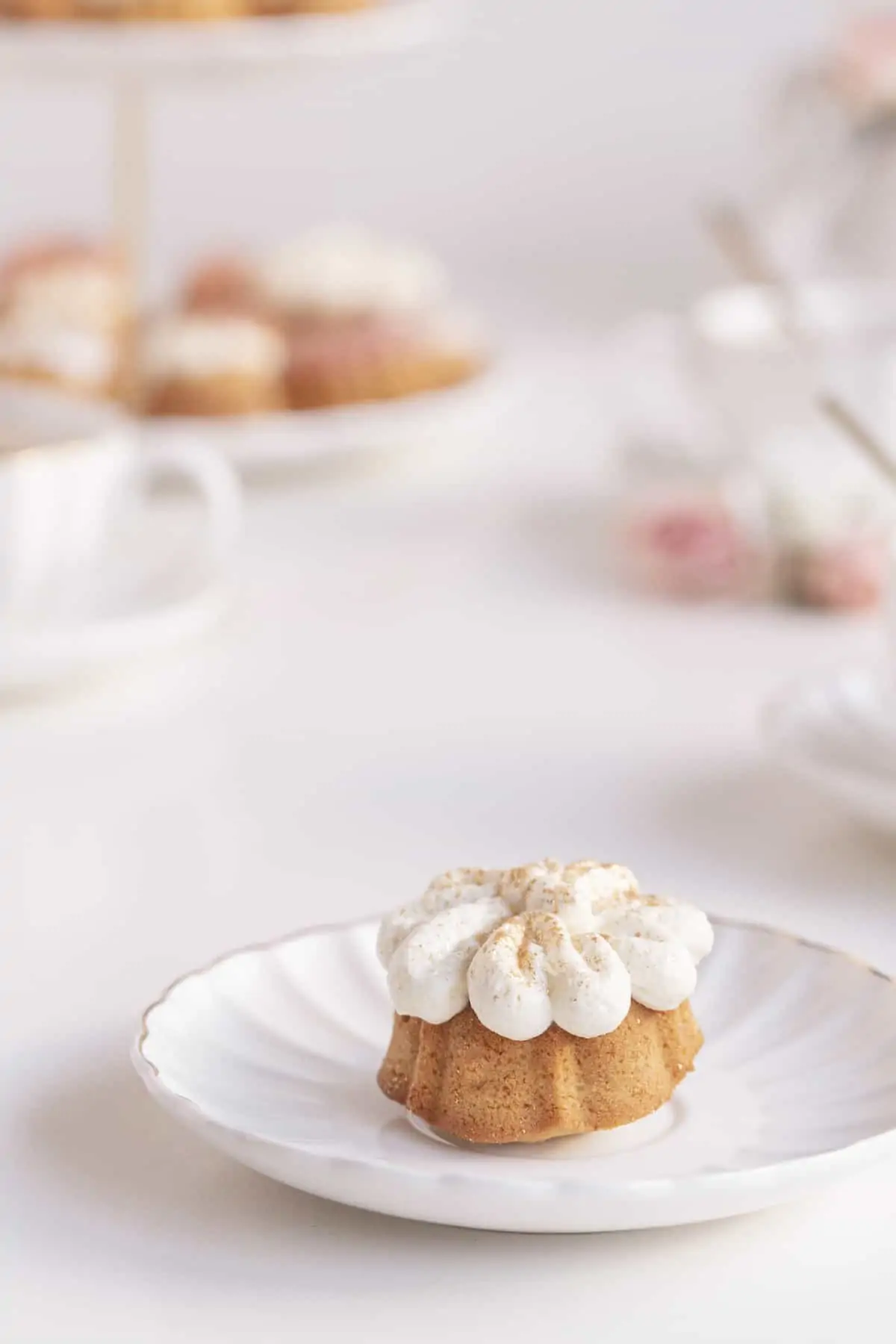 Other Honey Posts
Love this Recipe?
Did you make this recipe and just love it? Awesome! If you have a quick minute and could leave a star rating and comment below, I would appreciate the support and knowing your feedback! And if you're over on Instagram, be sure to tag me in your photos!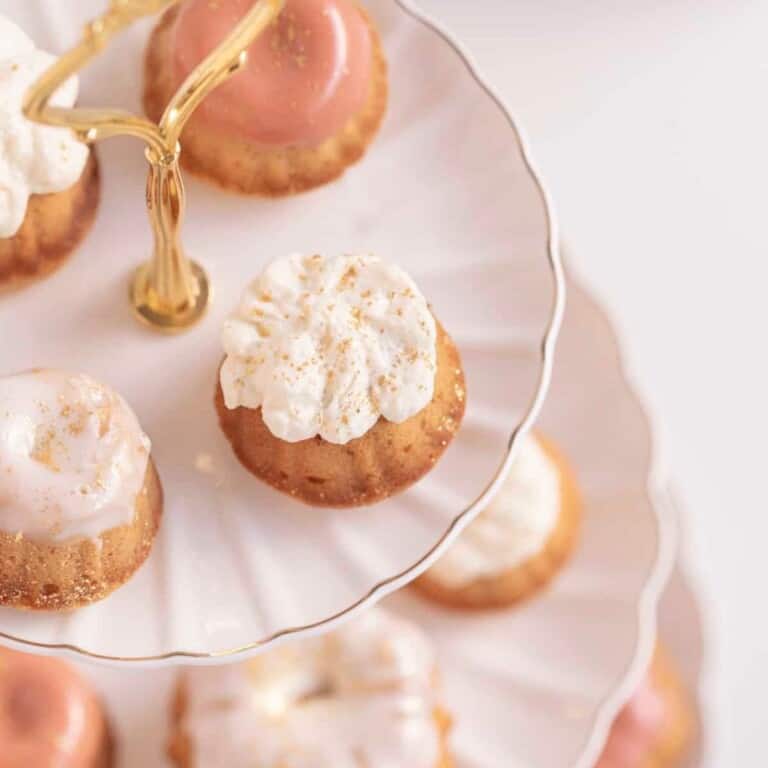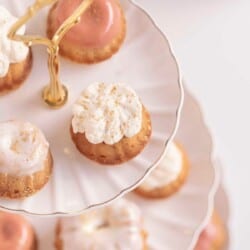 Ingredients
Wet Ingredients
⅓

cup

unsalted butter

room temperature and extra for greasing pan

⅔

cup

honey

Local Hive™ Orange Blossom

1

egg

room temperature

1

egg yolk

room temperature

2

teaspoon

vanilla extract

1

teaspoon

orange zest

or lemon zest, optional
Dry Ingredients
1 ¼

cups

all-purpose flour

½

teaspoon

baking powder

½

teaspoon

kosher salt
Yogurt
⅓

cup

full fat yogurt

room temperature
Chantilly Honey Cream
8

oz

heavy whipping cream

cold

3

tablespoon

honey

Local Hive™ Orange Blossom

1

teaspoon

vanilla
Icing*
2

cups

powdered sugar

sifted

2

tablespoon

milk

1

tablespoon

orange juice

or lemon juice**

food coloring

optional***
Toppings
honey chantilly cream

icing

gold luster dust
Instructions
Honey Cakes
Preheat the oven to 350° F. Grease your mini Bundt cake pan by brushing on very soft butter. This is the best way to grease a Bundt pan for easy removal

In a stand mixer (or by hand) with your paddle attachment on stir, mix for 15 seconds until blended. Then, turn up the speed to 4 and mix for 2 minutes. Scrape down the sides of the bowl as needed. Add in egg and egg yolk, one at a time. Next, add in your vanilla extract and zest. Mix until incorporated.

Separately in a medium-large bowl mix your dry ingredients together fully to incorporate them.

Add half of the dry ingredient mix into the wet ingredients and mix on slow until just incorporated. Scrape down the sides of the bowl as needed. Add in your yogurt and again, mix on slow until incorporated. And lastly, add in the remaining dry ingredients. Mix until incorporated, don't over mix.

Spoon batter into prepared cake pans. Place into the oven and bake for 20-23 minutes. Test with a toothpick until it comes out clean.

Allow to cool in the pan for about 10 minutes. Turn out onto a cooling sheet and allow it to cool.
Honey Chantilly Cream
Use a metal bowl with your stand mixer and a whisk attachment (or by hand). Whip heavy cream on its own for 5 minutes at a speed of 4. Peaks should form at this point.

Add in honey and vanilla. Whip until incorporated and scrape sides of the bowl as needed. It should be stiff peaks, but not broken.
Icing
Using a medium-large bowl whisk powdered sugar, milk, and orange juice together. If it's still too thick you can add in a few extra drops of milk.

Add in food coloring if you wish.
Assembling Cakes
For the Chantilly Cream: To pipe onto cakes, add into a piping bag, and pipe onto cakes. You can also add luster dust on top. Apply luster dust by sprinkling with a small spoon.

For the Icing: Dunk the tops of the cakes into the bowl of icing, twist, and remove. Place on the cooling rack in case it drips. Add luster dust or sprinkles if you wish. Apply luster dust by sprinkling with a small spoon.
Notes
*Icing: This icing is made with powdered sugar. Using this recipe means you're no longer just sweetening with honey. If you want honey only, just use the Chantilly Cream topping.
**Juice: You can use the matching juice for the flavor, lemon or orange. OR you can do a teaspoon of vanilla extract instead to balance it. Up to you!
***Food coloring: for my color, I used gels in orange, pink, and yellow and slowly added to the white frosting to get the color I wanted. I usually use a toothpick to add them in.
- Sizes: I used two different types of pans, mini and petite Bundt cake tray. One has 12 wells and one has 24 wells. You can do it either way. The bake time is just a bit shorter on the smaller/24 wells one about 16-18 minutes. Test with a toothpick until it removed clean.
- Bundt Cake: Bundt cake can be a bit denser in general, but the yogurt helps to lift it. Be sure to not overmix or you'll get a super dense, chewy cake.
- Nutrition: These facts are just those for the cakes and the honey Chantilly cream. For icing, you'd need to look those up separately.
Tried this recipe?
Mention @amanda.wilens