Easy Chocolate Tart Recipe
This post has been sponsored by S.Pellegrino®. All thoughts and opinions are my own.
I love special holiday treats and making something special for my family. I'm partnering up with S.PELLEGRINO® Essenza Sparkling Mineral Water and Vons to bring you this baked chocolate tart recipe. It's easy to make and delicious. And it pairs so well with S.PELLEGRINO® Essenza Sparkling Mineral Water Dark Morello Cherry & Pomegranate.
I was able to get all of my ingredients for this chocolate tart from Vons. I love being able to use their mobile app for my grocery list, coupons, and even for delivery. You can find the recipe ingredients mainly in the baking aisle and in the dairy sections. As for the S.PELLEGRINO® Essenza Sparkling Mineral Water, you can find that with other mineral waters near the soda and soft drinks. S.PELLEGRINO® is a bit different and has zero calories and zero sweeteners, which makes it the perfect balance for this chocolate tart. And the cherry and pomegranate are a great combined pairing for chocolate!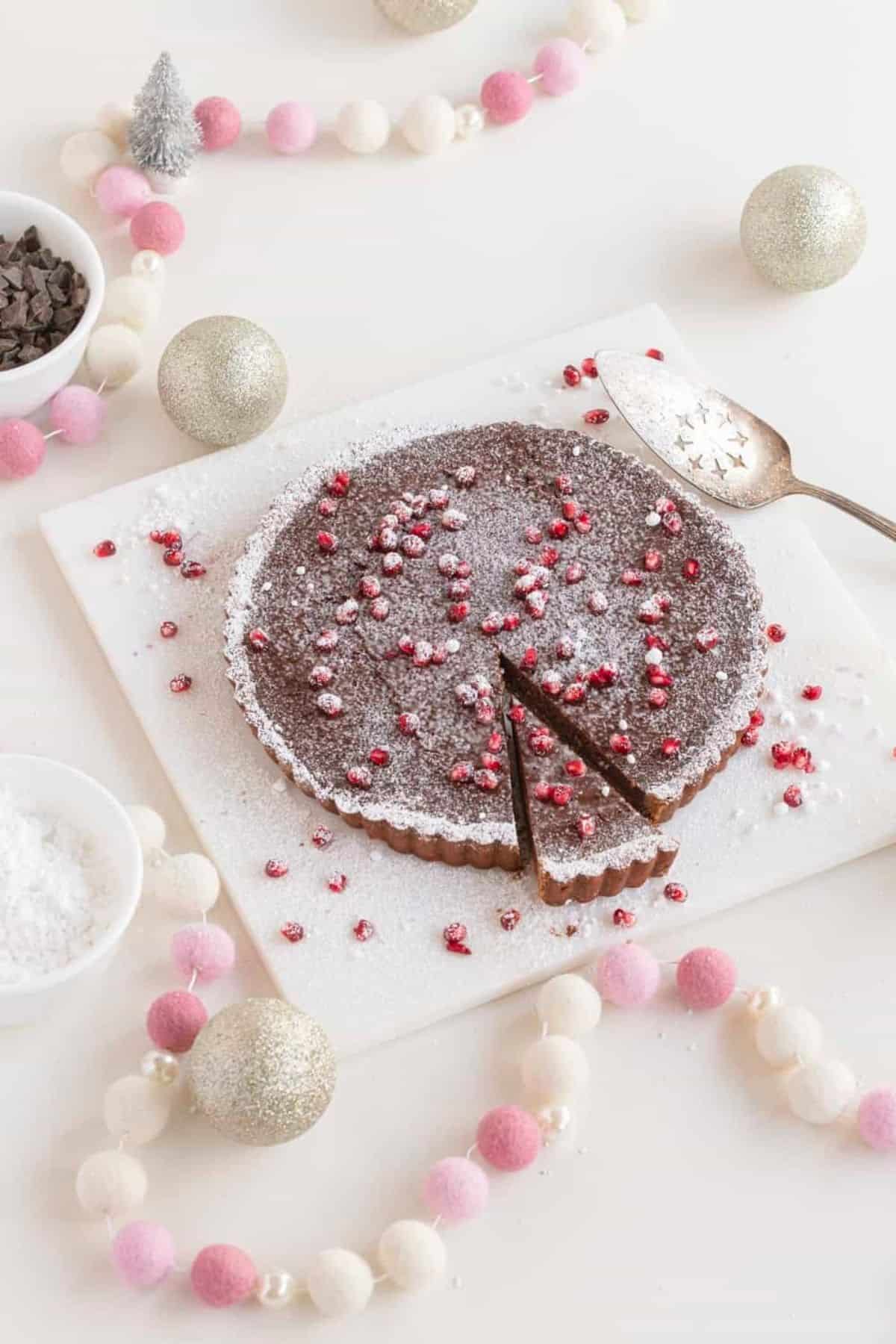 Save $2.00 on TWO (2) S.PELLEGRINO Essenza 8pk now:
Below I'll share some tips for the perfect chocolate tart with a gooey pudding filling!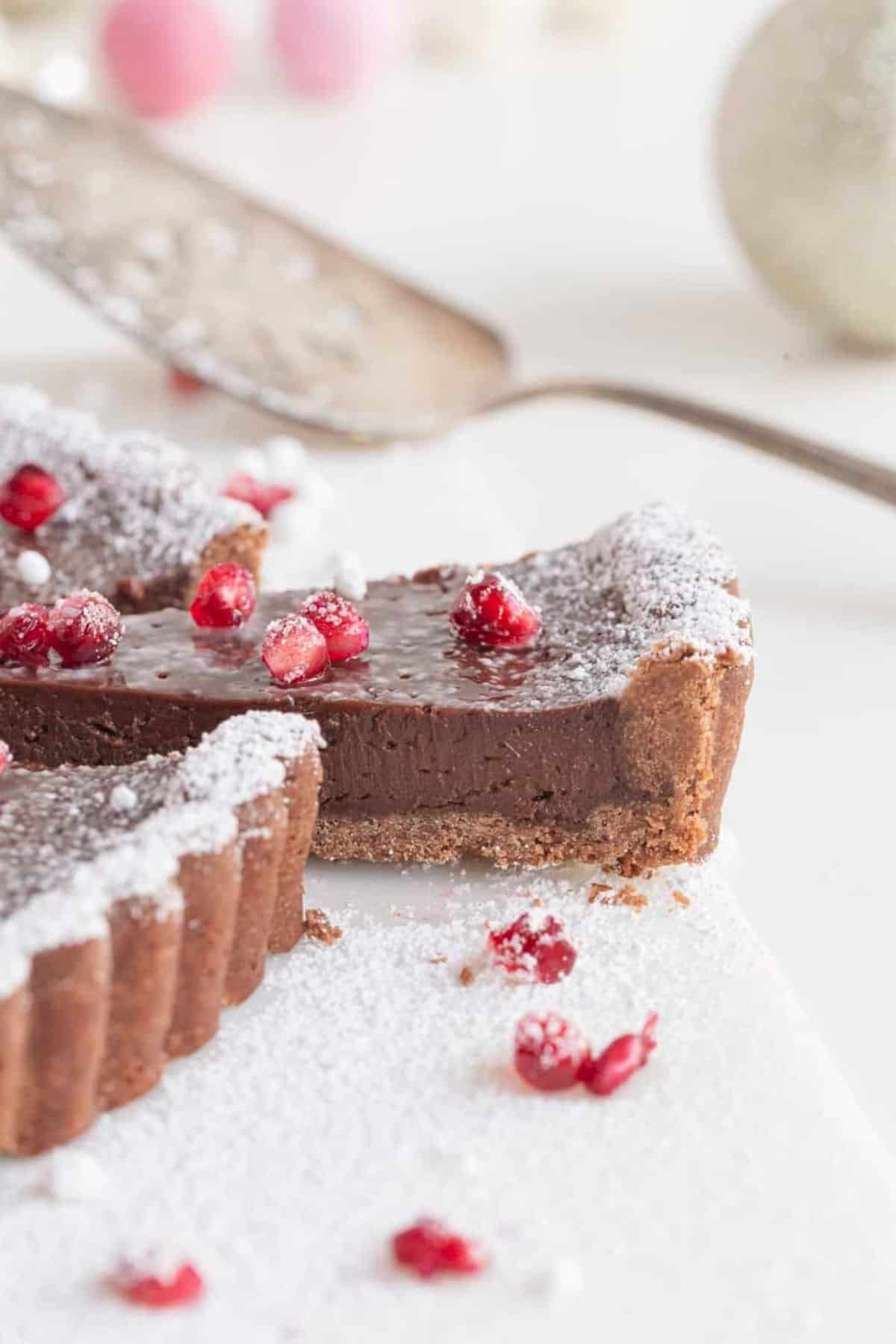 How do I know that my chocolate tart is set?
Check your tart by slightly jiggling it back and forth. It should still wiggle slightly in the middle two thirds. The middle will completely set on the counter while still cooking. It will have a nice glossy top. If it's starting to bubble or crack on the top, then it will be overcooked.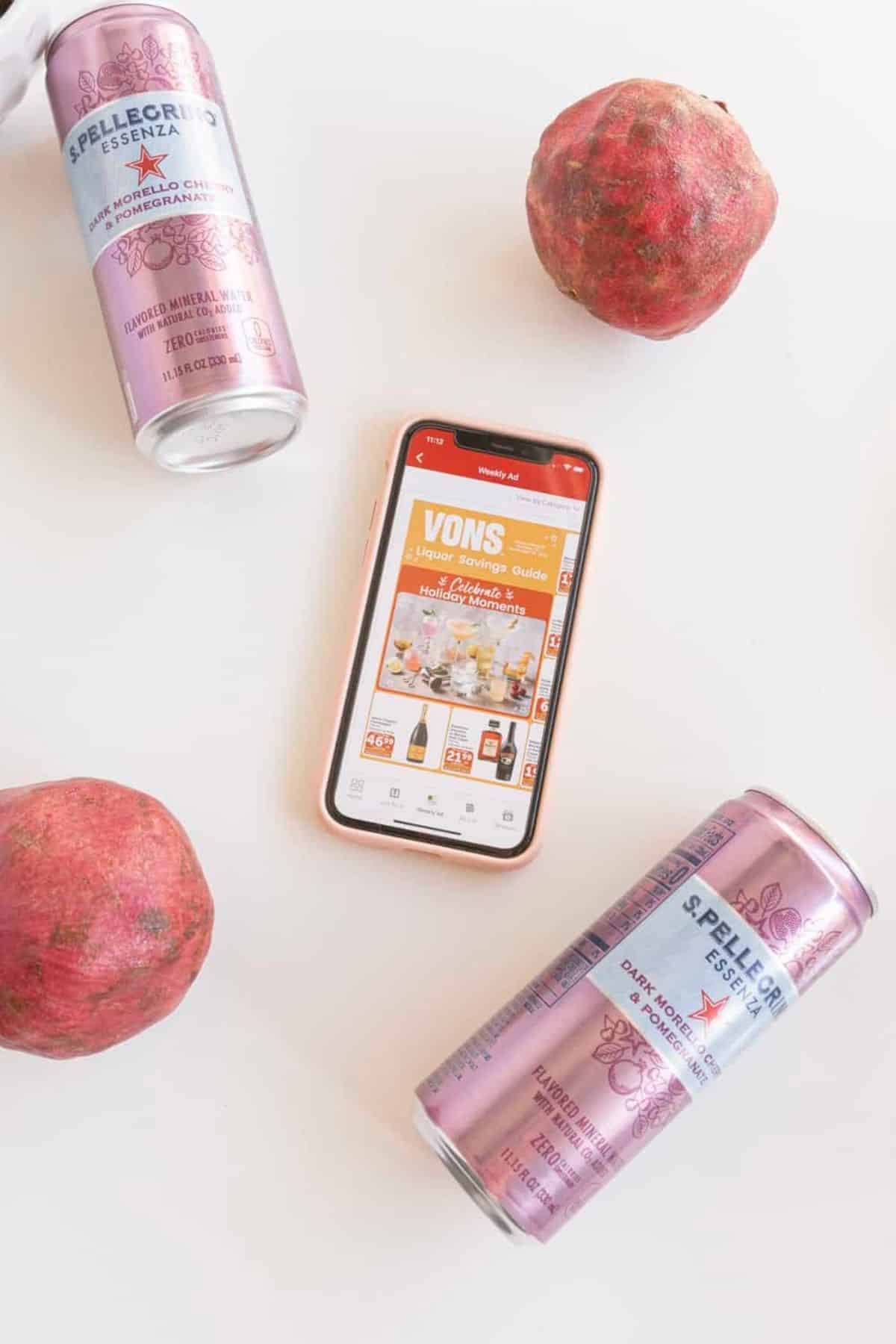 Why isn't my chocolate tart setting?
Most likely it just hasn't been cooked long enough. Different ovens and different pans cook at different temperatures. Not to worry. Just bake for a few more minutes, doing small 1-3 minute intervals.
Why is my chocolate tart cracking?
This could be because the chocolate you're using is a higher percentage than you want. Or because it's cooking too long. It'll still be edible, but making those adjustments should help next time.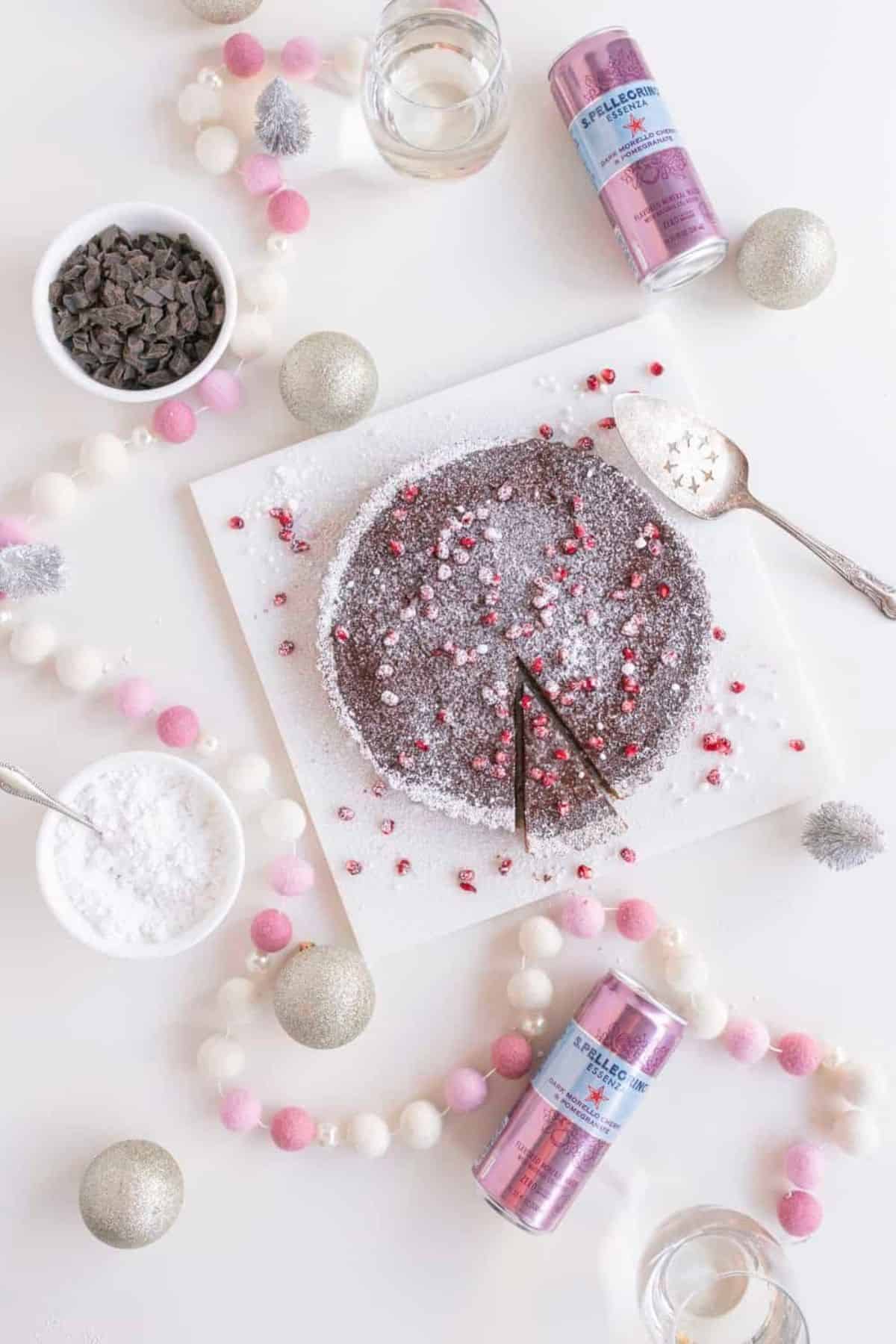 Too much ganache filling batter?
If your crust doesn't hold all the filling that's fine, go ahead and use the filling in a smaller tin and make extra little tarts (sans crust). The bake time will of course shorten a bit.
What type of chocolate should I use for a chocolate tart?
Bittersweet chocolate with about 65% cocoa works best for setting inside of a tart. Brands aren't super important for something like this, just the percentage of cocoa.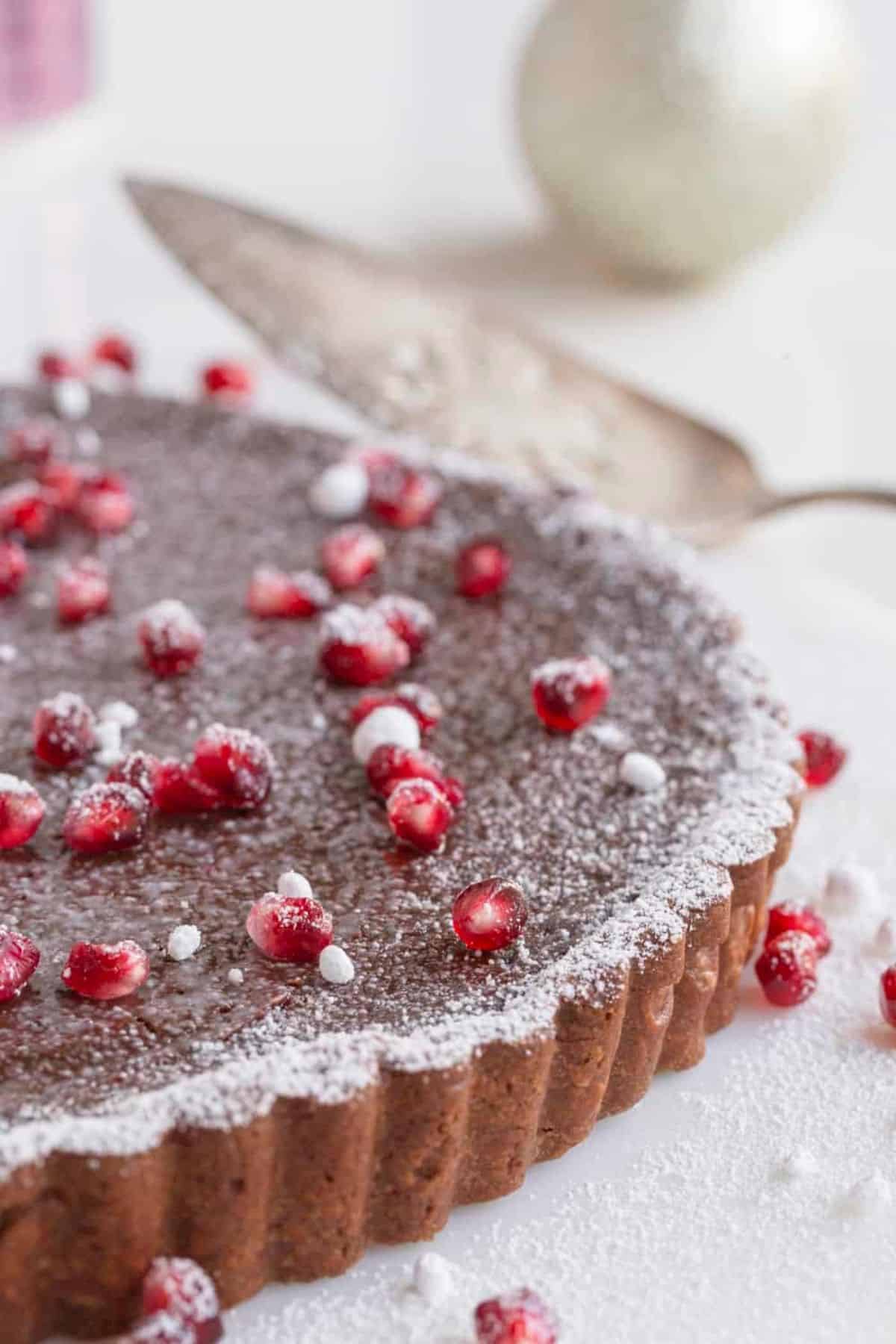 The top of your Baked Chocolate Tart
The top of your baked tart will be slightly uneven or even have small bubbles. That's okay! You're going to coat it in powdered sugar. It'll look great in the end.
How do I cut my chocolate tart for clean edges?
Use a very sharp knife for cutting your tart. Then heat it under warm water, wipe clean and make your first slice. Wipe with a damp, warm towel between slicing.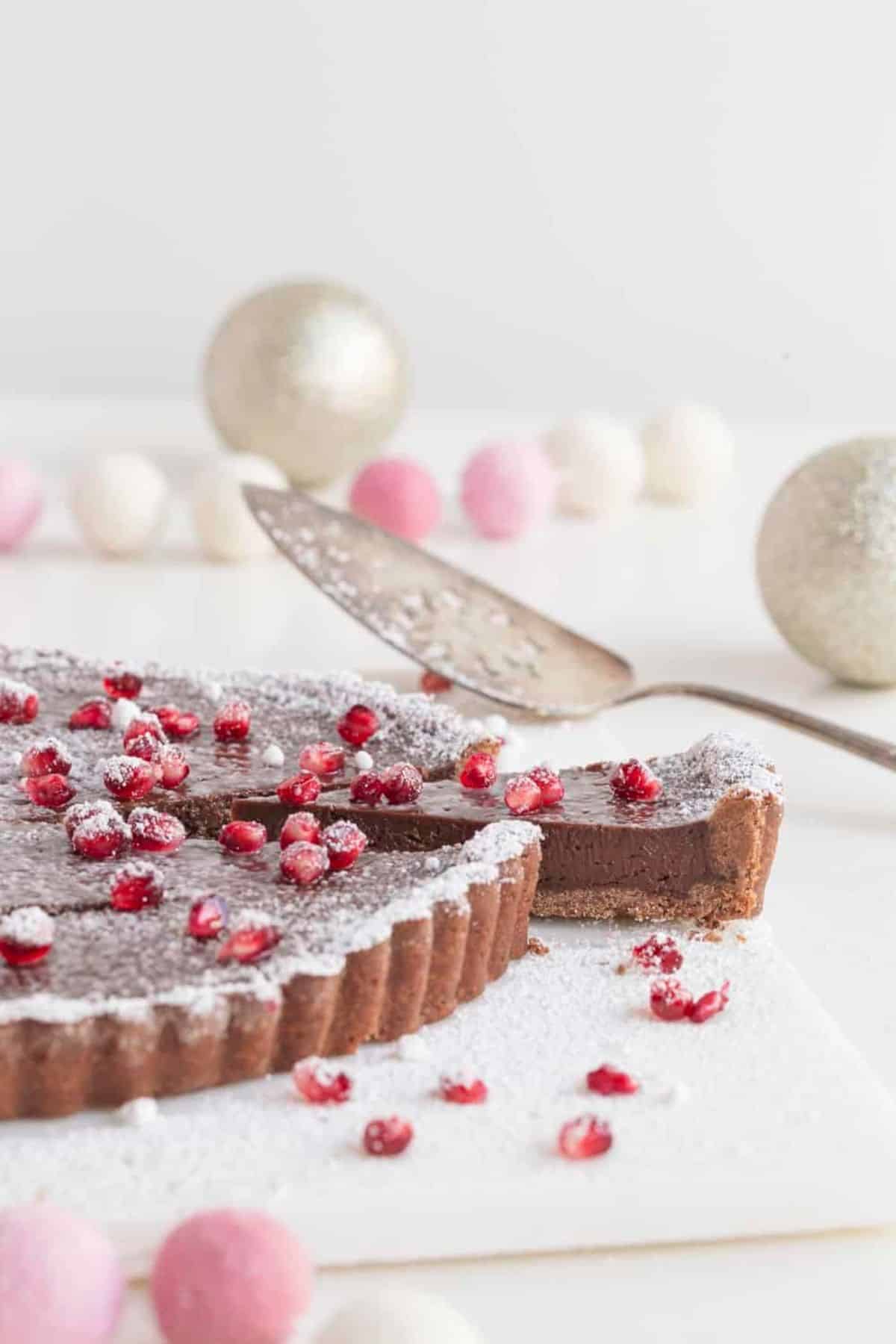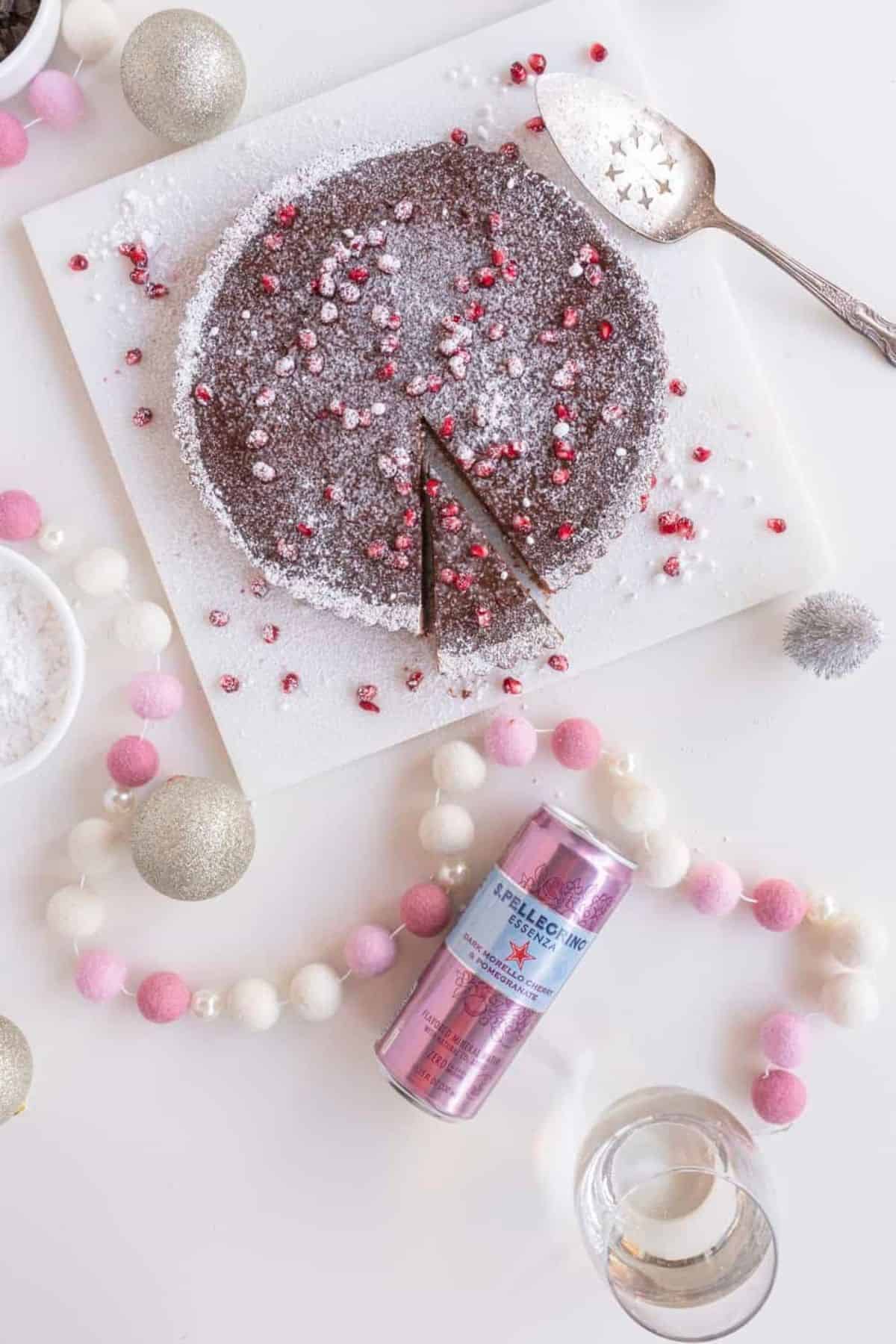 Other Recipes to Try
Love this Recipe?
Did you make this recipe and just love it? Awesome! If you have a quick minute and could leave a star rating and comment below, I would appreciate the support and knowing your feedback! And if you're over on Instagram, be sure to tag me in your photos!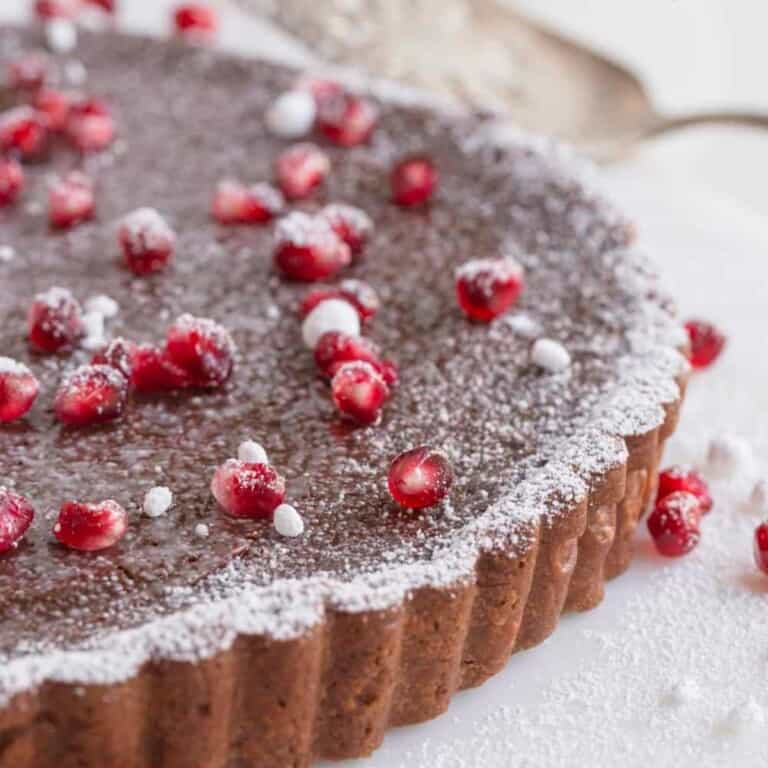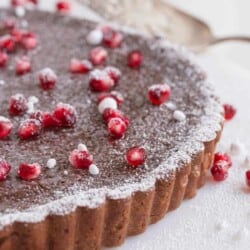 Ingredients
Tart Shell
1 ⅓

cups

all-purpose flour

sifted

¼

cup

unsweetened cocoa powder

sifted

½

cup

powdered sugar

sifted (¼ cup gran sugar)

¼

teaspoon

kosher salt

11

tablespoon

unsalted butter

cold and cut into small cubes

1

egg

large

½

teaspoon

vanilla extract
Filling
1 ½

cup

heavy whipping cream

12

oz

bittersweet chocolate chips

no higher than 65% cocoa

1

teaspoon

vanilla extract

3

tablespoon

granulated sugar

¼

teaspoon

kosher salt

2

eggs

large, room temperature
Optional Toppings
sea salt

flakey

powdered sugar

cocoa powder

fresh cherries or pomegranate seeds
Instructions
Tart Shell Instructions
In a large bowl mix your flour, cocoa powder, powdered sugar, and salt. Add in butter and mix with hands, wooden spoon, or pastry cutter until it looks like coarse sand/crumbs.

Make a well in your dough and add egg and vanilla. Whisk or mix to combine and work until it forms into a dough.

Place dough on a lightly floured surface. Roll and form a ball. Flatten to create a disk. Wrap in plastic wrap or in an airtight Tupperware for at least 1 hour in the refrigerator.

If you let it sit in there for more than an hour, it may take a few minutes at room temperature to get it pliable again.

When you are ready, roll dough and place it on a lightly floured surface. Roll it out to make a large circle about ½" thick and about 12" in diameter. Roll dough over your rolling pin and place over your tart pan, letting edges overhang. Push in dough to the edges of the circle. Roll your rolling pin over the top of the pan, cutting the dough on the edges of the pan. Remove excess dough. Lightly push dough back into place if it moves.

Place tart pan in the freezer for about 15 minutes. And preheat oven to 350° F.

Prick or "dock" your tart dough bottom with a fork. Add pie weights or parchment paper with dry beans and bake for 30 minutes. Move to a cookie rack to cool and remove your weights. Turn oven down to 325° F.
Filling Instructions
While tart is pre-baking, start your filling. On a stovetop, heat your heavy cream until it simmers. Remove from heat. Add in your chocolate slowly, mixing with a whisk the whole time. Add in vanilla, sugar, and salt. Mix thoroughly.

In a small bowl, beat the eggs. Then slowly add them into the chocolate mixture. Whisk at a medium speed until all is incorporated.

Once tart shell is baked and cooled, pour chocolate mixture into the tart shell. Place in the oven at 325° F for 22-25 minutes*. Might slightly jiggle still but shouldn't be cracking.

Remove and allow to cool fully.

Top with any of the optional toppings, slice, and serve with S.PELLEGRINO® Essenza Sparkling Mineral Water- Dark Morello Cherry & Pomegranate
Notes
*If it's starting to bubble or crack on the top of the tart, then it will be overcooked.
Tried this recipe?
Mention @amanda.wilens