Today I am so excited to bring you another fun collaboration with Firepot Nomadic Teas, for a Strawberry Iced Tea Cocktail and Mocktail. While living in St. Louis I used to go to my local coffee shop Kaldi's to get my favorite chai latte almost every morning Monday-Friday. I was addicted to the chai concentrate they used from Firepot. So, I also started buying the concentrate from there as well. And when I finally went to visit Nashville, Tyler and I went into the Firepot store and tea bar! I was so pumped, I think I worried the staff there a little with my hype! I've even baked with their teas before, making some pretty cookies here!
I loved using the Cult of Flowers tea for this cocktail because it is so naturally flavorful and filled with so many floral flavors...which if you didn't know yet...is my favorite. The ingredients are: organic hibiscus, organic cinnamon, organic rose petals, organic schizandra berries, organic lavender, vanilla flavor. These make for an AMAZING flavor combination with the strawberries in the recipe.
This makes a great cocktail, perfect for the warmer weather. I personally enjoy the strawberry iced tea mocktail version of this...because lemonade makes everything better! I love making this either way and I think it's always fun to have both options for those who do or don't drink. Or for families so adults who would like a special drink can have one, but include the kiddos with a good mocktail. This drink is perfect for any brunch, virtual happy hour, sitting outside soaking up the sun, or just you know, with your dinner!
If you are interested in more teas from Firepot my favorite go to products includes: masala chai concentrate, the rituals collection sample box is great so you can try them all...I love the cult of flowers (obviously), house of peace, and temple of the sun. They also have amazing iced tea. I've been dying to try the peony white tea.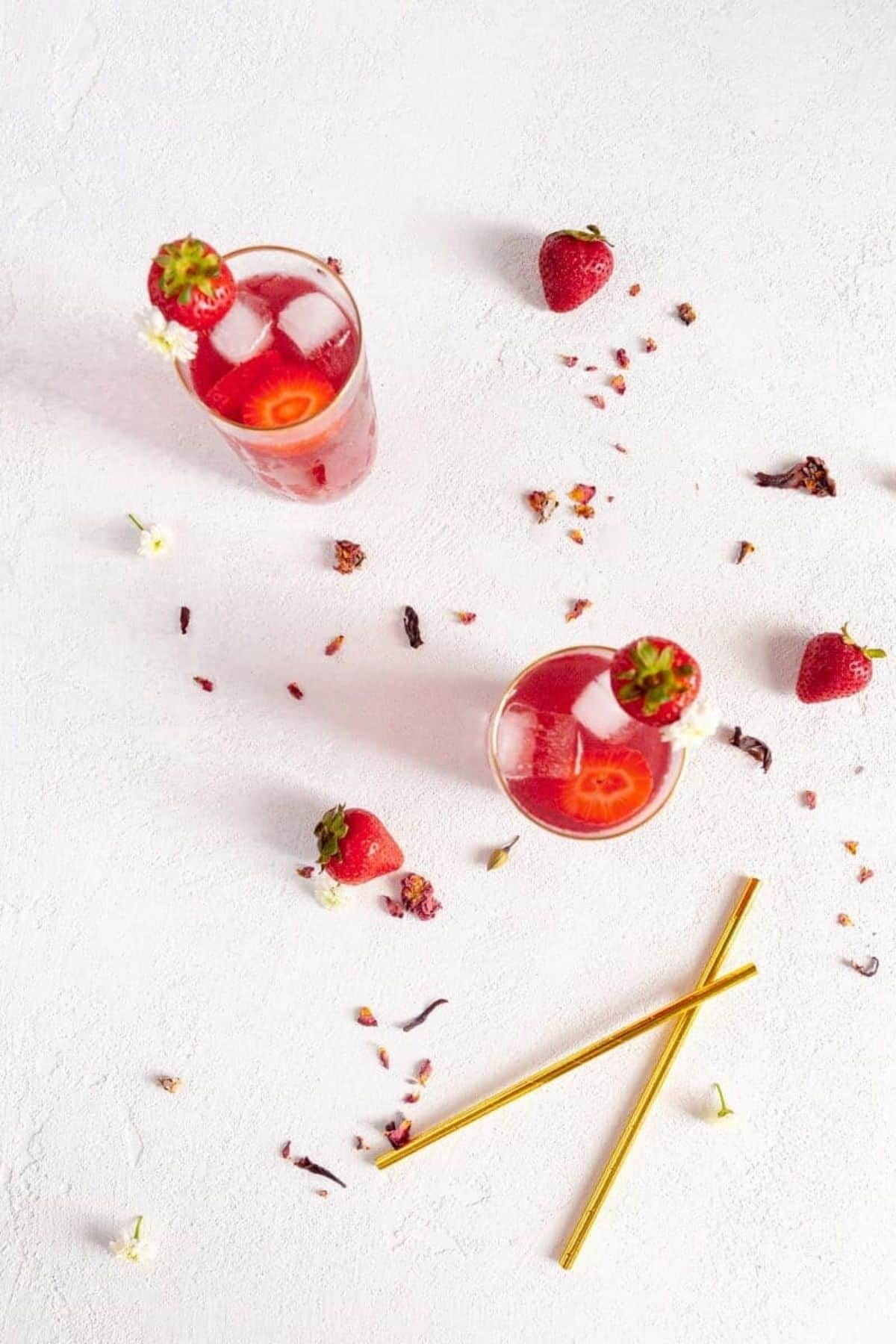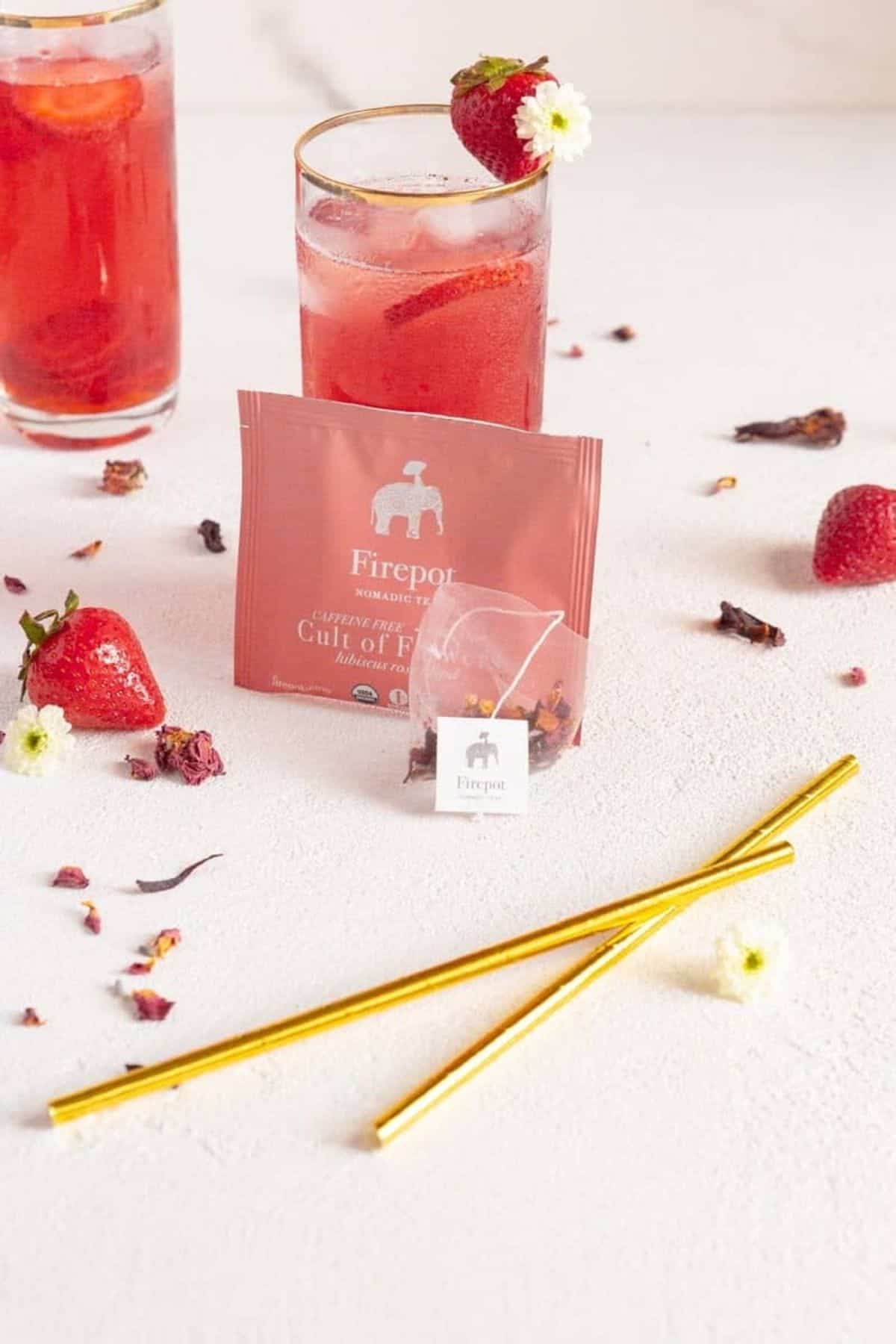 Tips on Ingredients for the Best Strawberry Iced Tea Cocktail
Usually the better the ingredients, the better your food will taste. However, I do like to go over which ingredients that you should have the best quality for and the others are those that I think don't need to be the highest quality. But again, if you don't have access to high quality, it will still be delicious! I also let you know if a certain type or style is best.
These are the items that I have notes for, whether it's to buy the best quality or if there are specific notes about those ingredients for strawberry iced tea cocktails.
- Tea: This recipe is specifically made for this tea and I so encourage you to buy from this amazing small business. Cult of Flowers is a unique and delicious tea. Other white or herbal/floral teas may taste good as well, but this tea blend is truly unique.
- Strawberries: I would suggest using fresh if you have them...any definitely want them on the ripe side. You could use frozen and let them thaw as you macerate. They will just take longer. The longer they can sit in your tea mixture, the better it will taste.
- Honey: You could use agave or sugar in your tea mixture, I just like the flavor it adds to your cocktail.
- Vodka: If you don't have vodka, you could try gin or tequila as an alternative.
- Lemonade/Soda: This is just for the mocktail version. A lemonade will make it more of a soothing iced tea kind of drink. But adding a soda or sparkling water definitely ups the fancy factor. However, I loved it most with lemonade.
- Garnish: Not necessary, but it's always fun! I would also say be sure your garnish is edible and clean!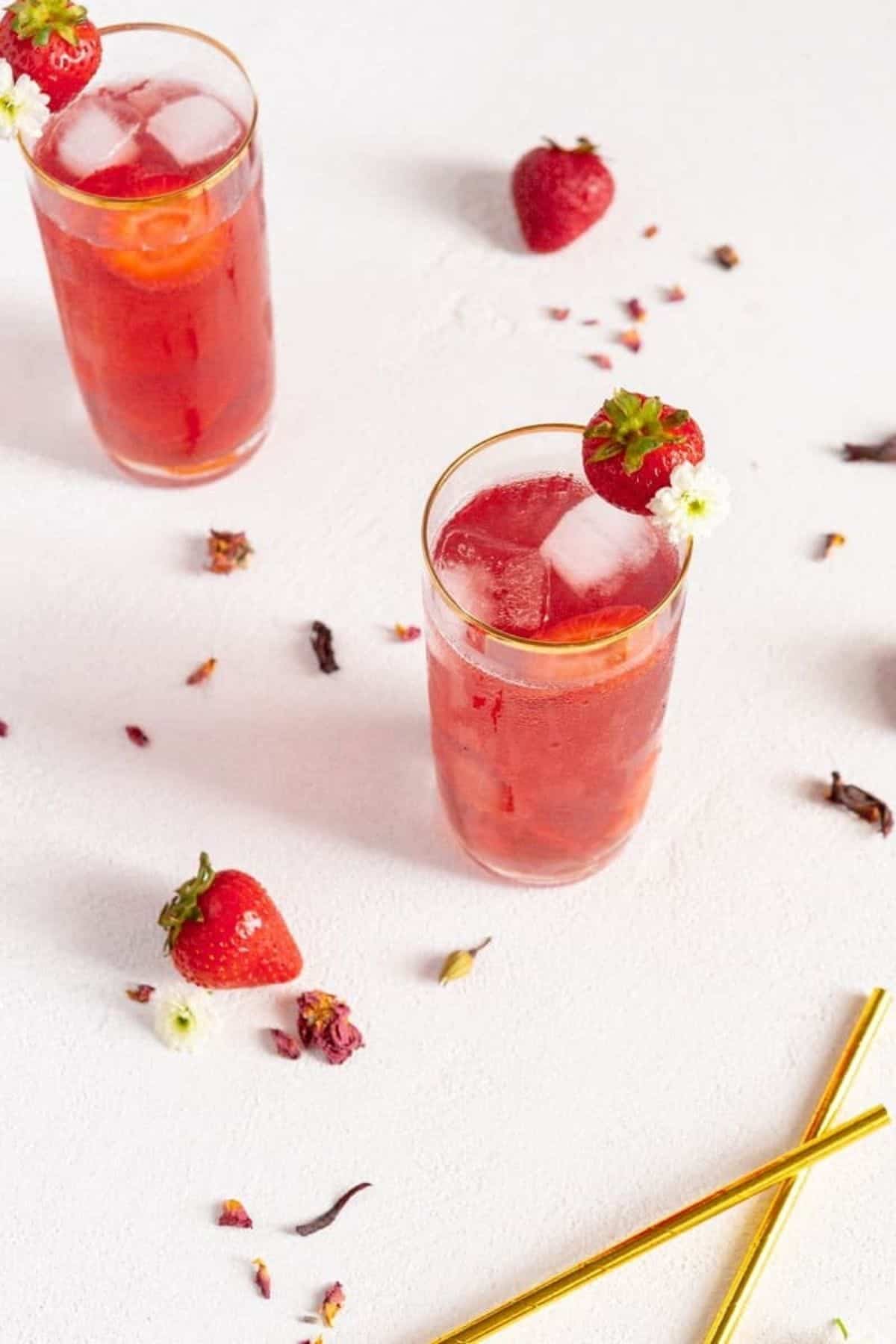 Best Tips and Knowledge to make the Perfect Cocktail
These tips are helpful for when you are making Strawberry Iced Tea Cocktail. Outside of the tips for ingredients above, these are tips on how to do something or why what I've listed in the recipe is necessary.
- Batching: I love making a batch of something so it lasts me longer. If you want to, I would suggest making this in a large jar, with all the ingredients, including the strawberries and put it in the refrigerator for up to a week. Maybe even just waiting a couple of hours could increase your flavors.
- Half Batch: You can for sure do a half batch or even just 1 drink. Just take the recipe and divide accordingly.
- Tea: You may have just a little extra tea. You can make a small cocktail or mocktail!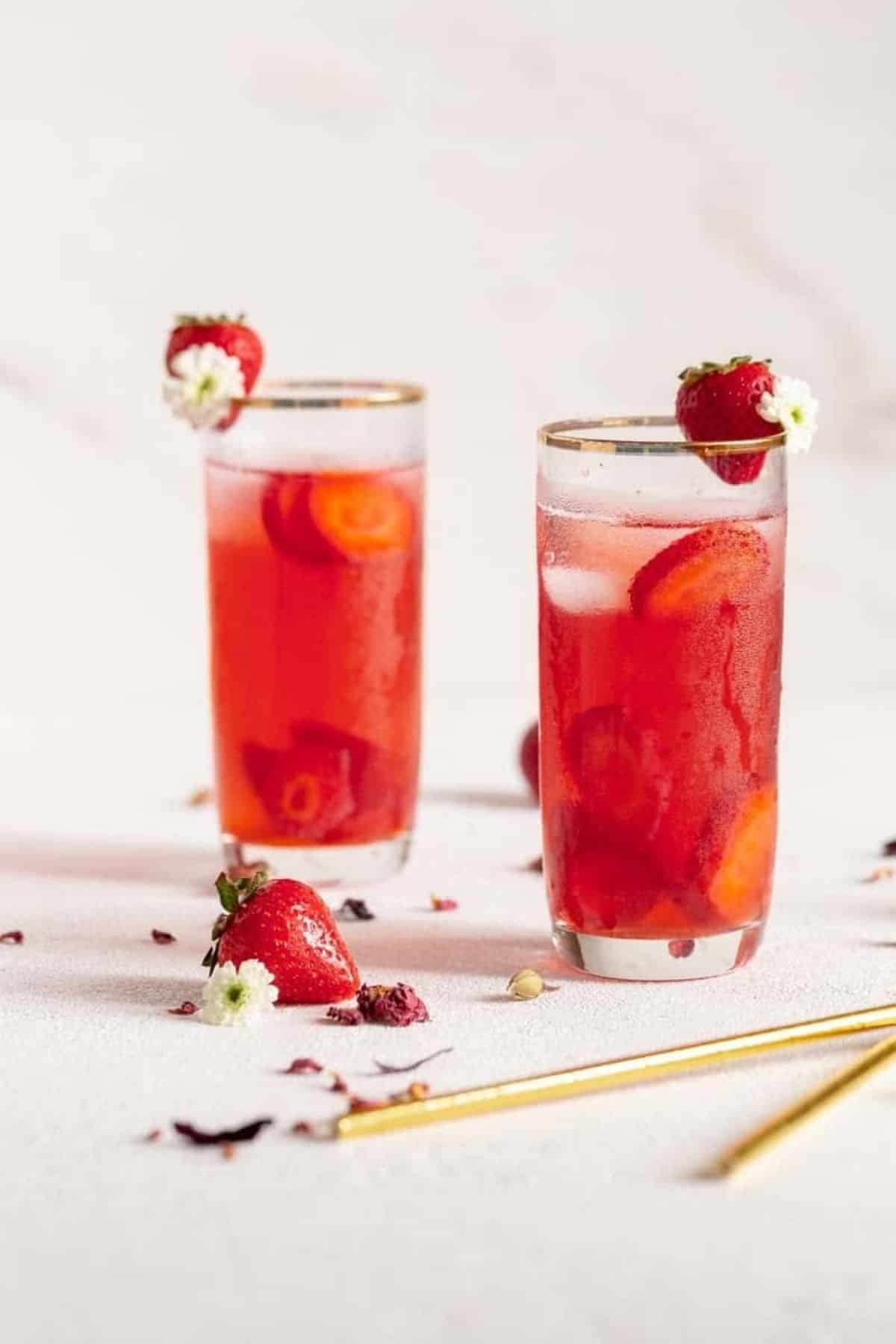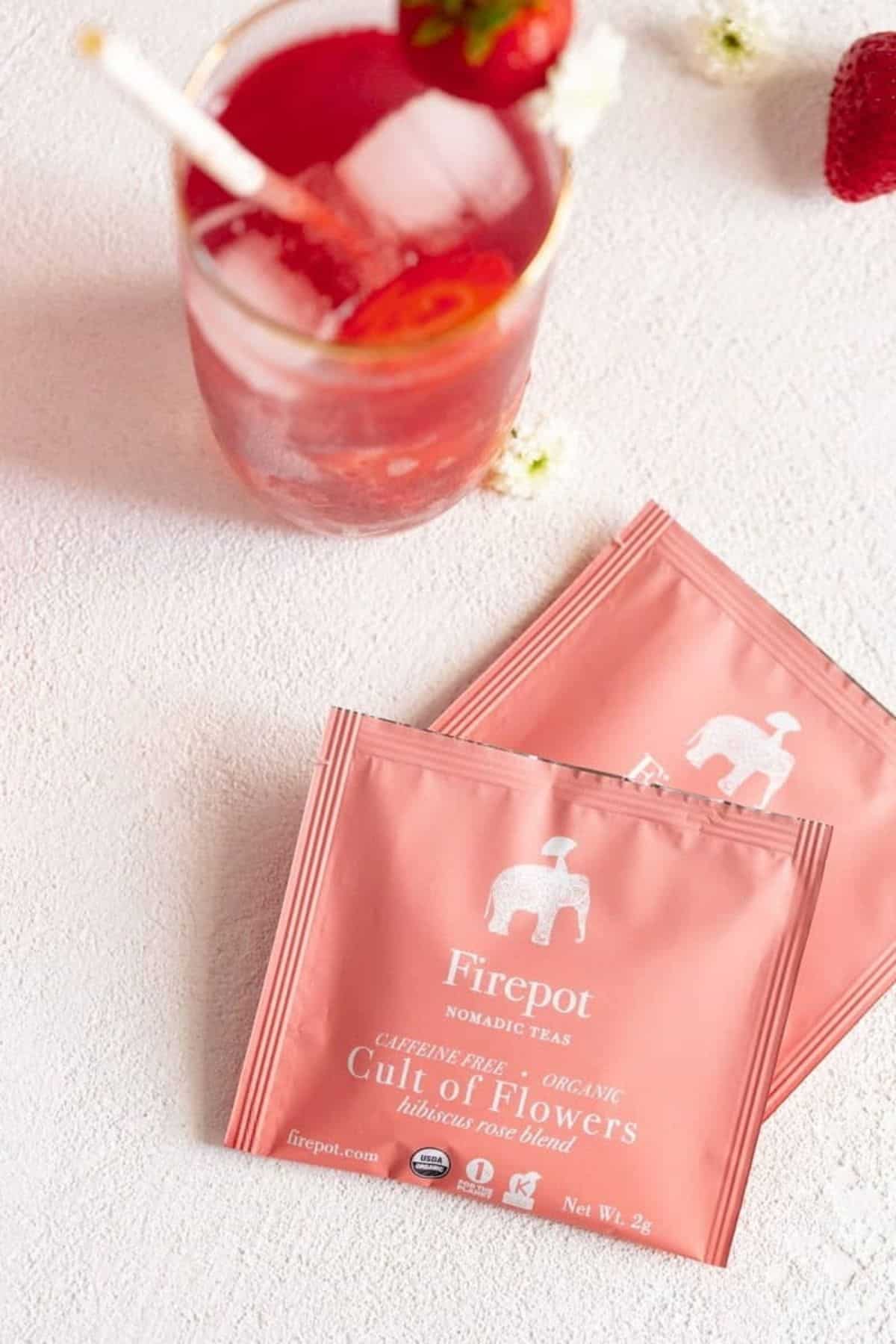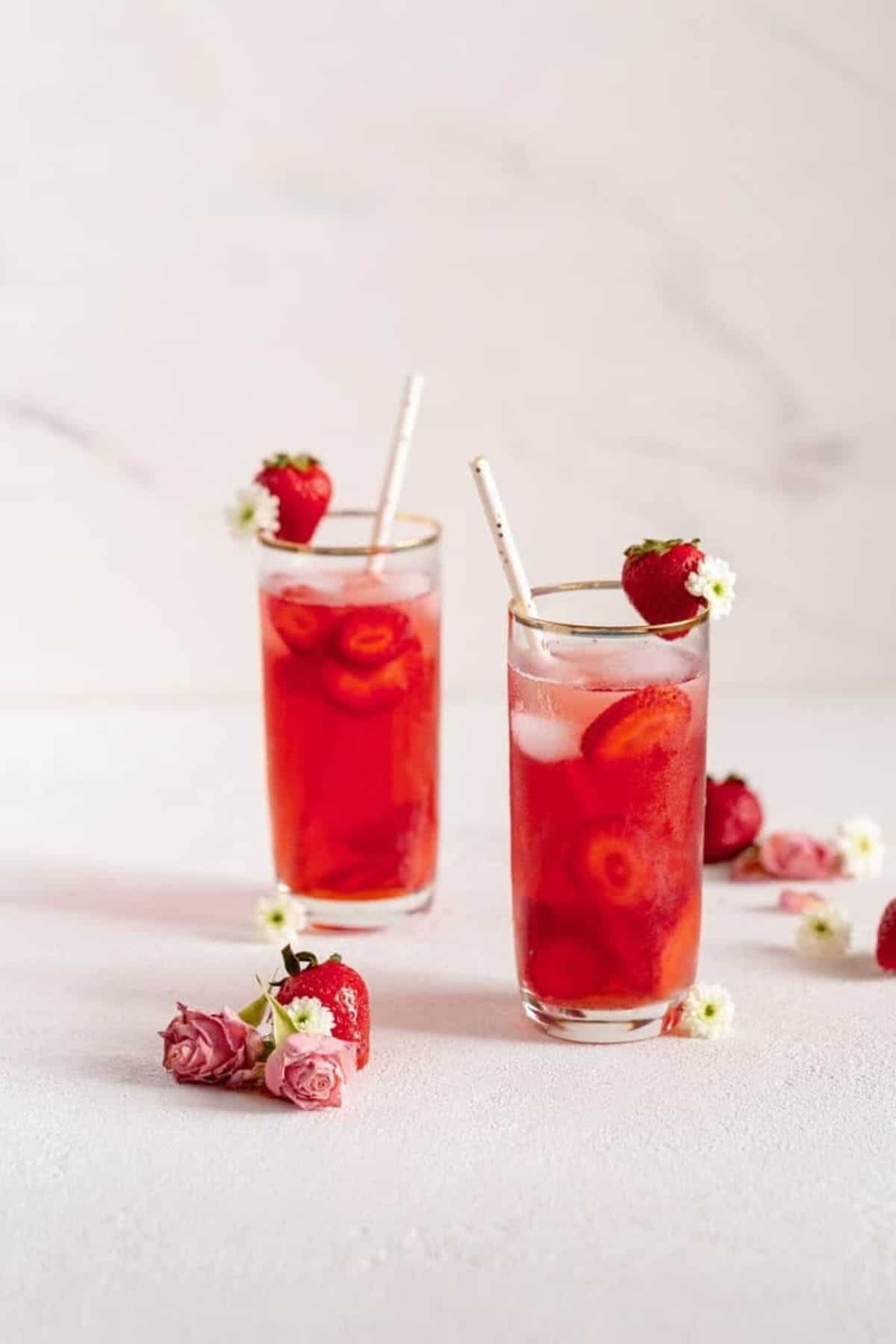 Other Cocktails to Try
Love this Recipe?
Did you make this recipe and just love it? Awesome! If you have a quick minute and could leave a star rating and comment below, I would appreciate the support and knowing your feedback! And if you're over on Instagram, be sure to tag me in your photos!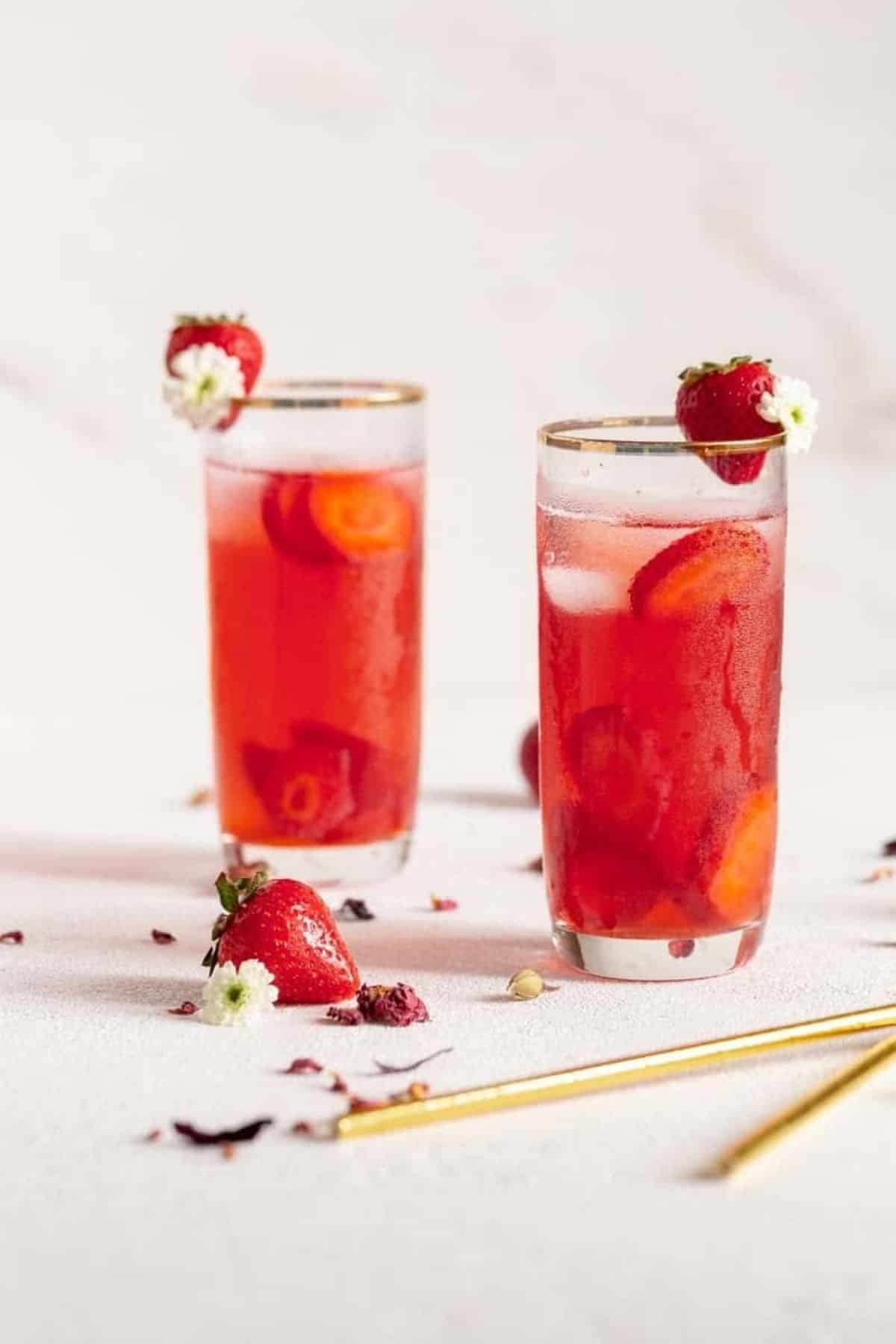 Ingredients
4

cups

water

4

bags

Cult of Flowers by Firepot Nomadic Teas

1

tablespoon

Honey

1

cup

strawberries

sliced, about 8-10 medium berries

1

tablespoon

granulated sugar

12

oz

vodka

cocktail version

12

oz

lemonade or favorite lemon soda

mocktail version

ice

herbs for garnish

ex: rose petals, mint, hibiscus petals
Instructions
Bring water to a boil in your tea kettle or a large sauce pan. Pour into a heat resistant container (I use a large mason jar) and add in all the tea bags. Steep for 5 minutes and then toss out the bags.

Add in honey and stir until dissolved. Place container in the fridge for 1 hour to cool.

In a small bowl add sliced strawberries and sugar. Toss to coat the strawberries in sugar. Let macerate at room temperature or in the refrigerator for at least 1 hour (until tea has cooled).

Once the tea has cooled remove it from the refrigerator.

If you plan on making just one cocktail at a time add the following:

- 7 oz of tea

- ¼ cup strawberries

- 3 oz of vodka (or for mocktail 3 oz of soda or lemonade)

If you want to batch it all at one time add tea, strawberries, vodka (or soda/lemonade). Mix. You can either serve now, or place back into a jar into the refrigerator for us to 1 week.

Pour over ice and garnish.
Notes
- Syrup:
You have to keep a pretty close eye on your syrup and keep the heat fairly low. You don't want to burn anything or it will affect the entire batch.
- Sieve:
If you don't have a sieve, no worries. You can use something like cheesecloth, but I would just leave the seeds since they don't bother me.
- Muddling:
Don't have a muddler? No worries. You can use a wooden spoon or even the back side of a utensil. When you muddle you want to make sure you did this with only a little bit of liquid in the glad to make it easier and not splash out of the glass. Just follow the instructions below.
- Batching:
You can for sure batch this recipe for a large pitcher/group. I would assume times-ing the recipe by 3 would fill a normal sized pitcher. I would suggest following all the same steps as below. When it comes to muddling, do that directly into the pitcher with the mint, lime juice and syrup. Then add the rest of the ingredients.
Tried this recipe?
Mention @amanda.wilens