Lucky Charm cookies are the perfect cookies to make on St. Patrick's Day to share with friends and family. These colorful cookies are packed with pretty lucky charm marshmallows and makes for a super fun project!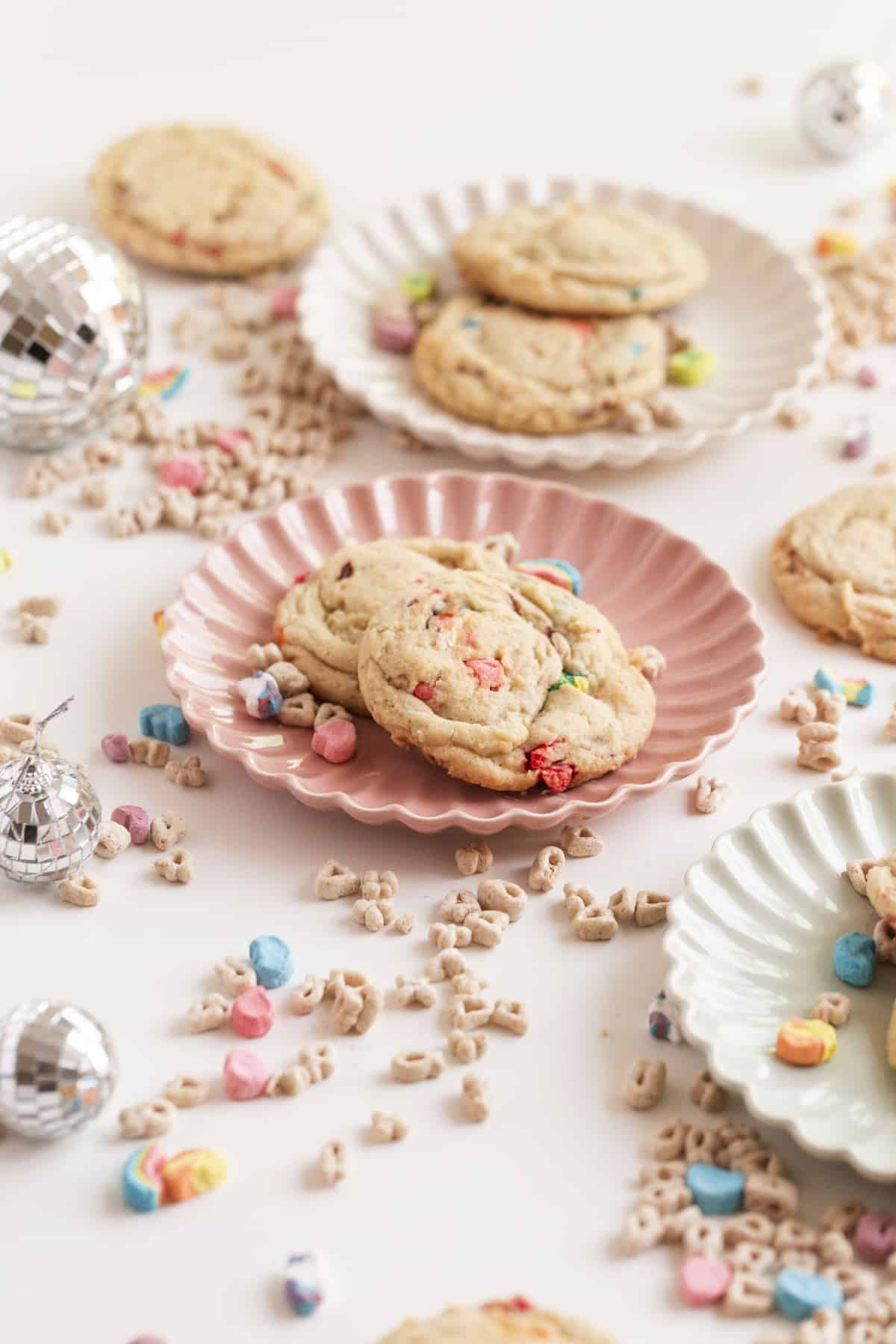 Why does this recipe work?
I have tried following many Lucky Charm cookies recipes from Pinterest only to end up disappointed. They just weren't my favorite. They lacked a real cereal taste and the cookie base wasn't my favorite. So, I thought I would make my own version of the lucky charm cookies.
I do love a good cereal recipe (like my Captain Crunch Hamantaschen). So many recipes are made better by grinding up a cereal or cookies and putting it into a dough. You do need to get your portions right, so be sure to follow my recipes to a T. That's where some recipes go really astray. Too much cereal and you can be left with a cookie that only crumbles.
Now, for this lucky charm cookie I used a VERY buttery recipe...including butter extract, a beautiful ingredient. These cookies are left so buttery, soft, and perfect. I added the base of the cereal (non-marshmallows) into the dough, then I added the whole marshmallows into the dough at the end. Which made for some fun colors throughout the cookies. A little bit of a tie dye effect.
A great fun holiday project to make along with your whole family! Easy to whip up and anyone can do it with my tested recipe.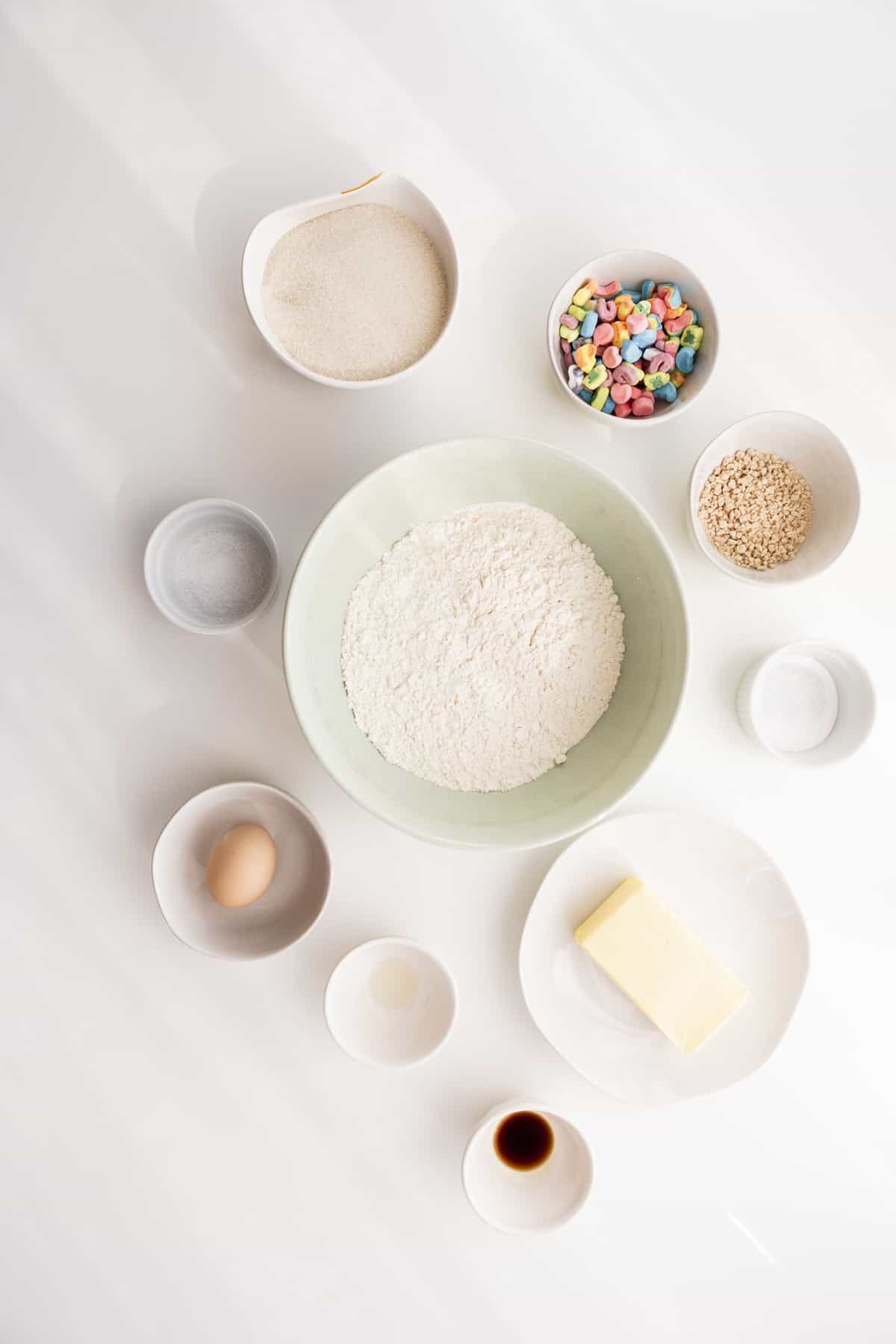 Key Ingredients for Cookies
Butter: I always suggest using good quality products when it comes to your dairy because it does make a difference. It will help with the texture and flavor profile. For these cookies I use unsalted butter at room temperature.
Sugar: This recipe uses white granulated sugar. It's important to use the right type of sugar for the right taste and texture. If you do want to substitute, I suggest using organic or raw sugar.
Eggs: It's best to get the large size eggs, and keep them at room temperature. Room temp helps it blend well into the dough. You can do egg replacer, but I haven't attempted these vegan, so results may vary depending on the replacer.
Vanilla extract: You can use regular vanilla or clear. It might alter the color a bit, but I personally prefer non-clear when possible.
Cereal - You can replace the ground cereal with other cereal to try it out. I've only done this cookie so far with Lucky Charms and Graham Crackers. But I have done Captain Crunch Cookies and that works well too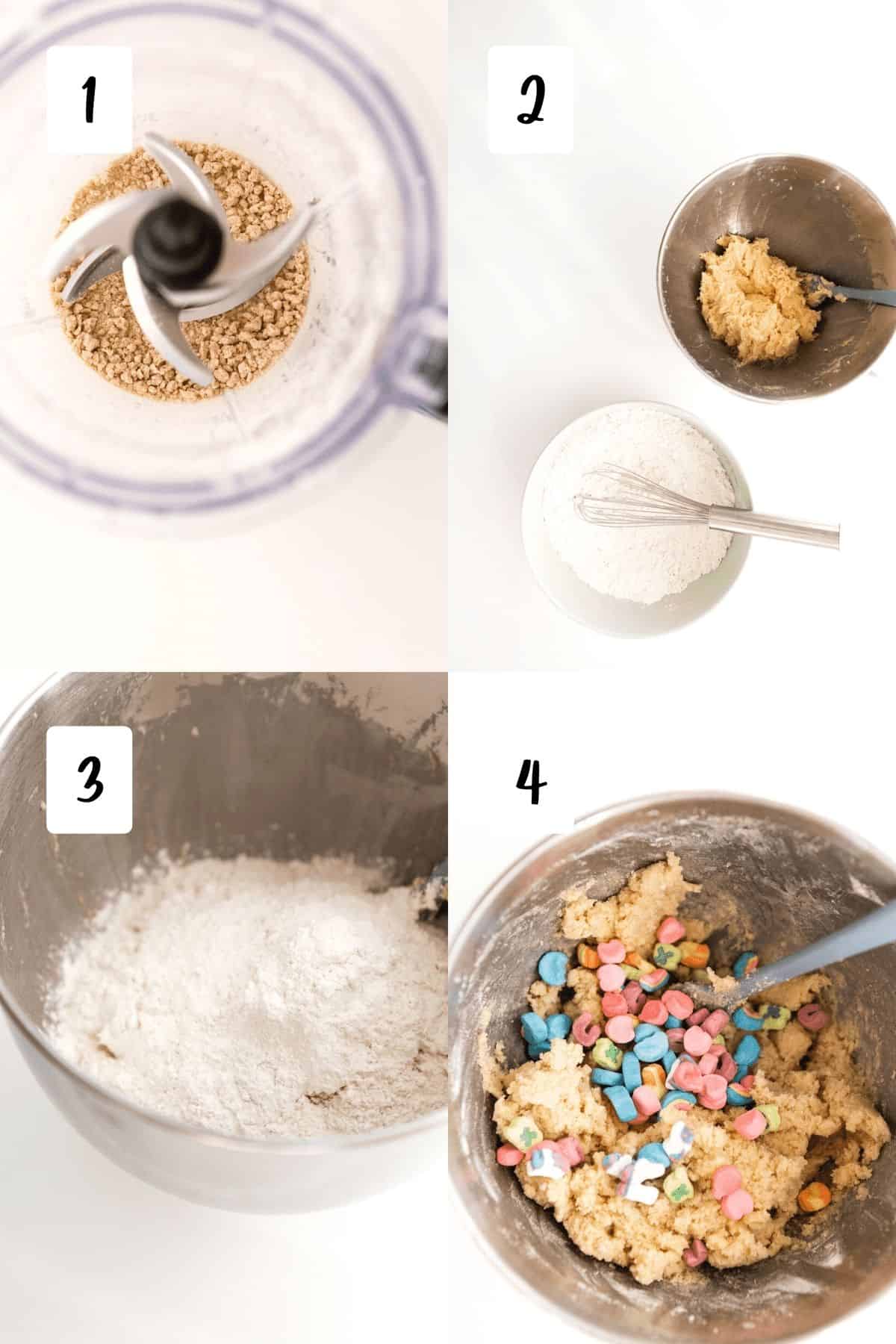 How to make Lucky Charms Cookies
Blend your cereal until ground. You'll add this into your dry ingredients.
In a stand mixer with paddle, cream your butter and sugar together. Then add the remaining wet ingredients one at a time. Separately mix your dry ingredients in a bowl together.
Then add your dry ingredients to the wet. Mix until combined.
Add in the marshmallows and fold until combined. Then let chill, scoop, and bake!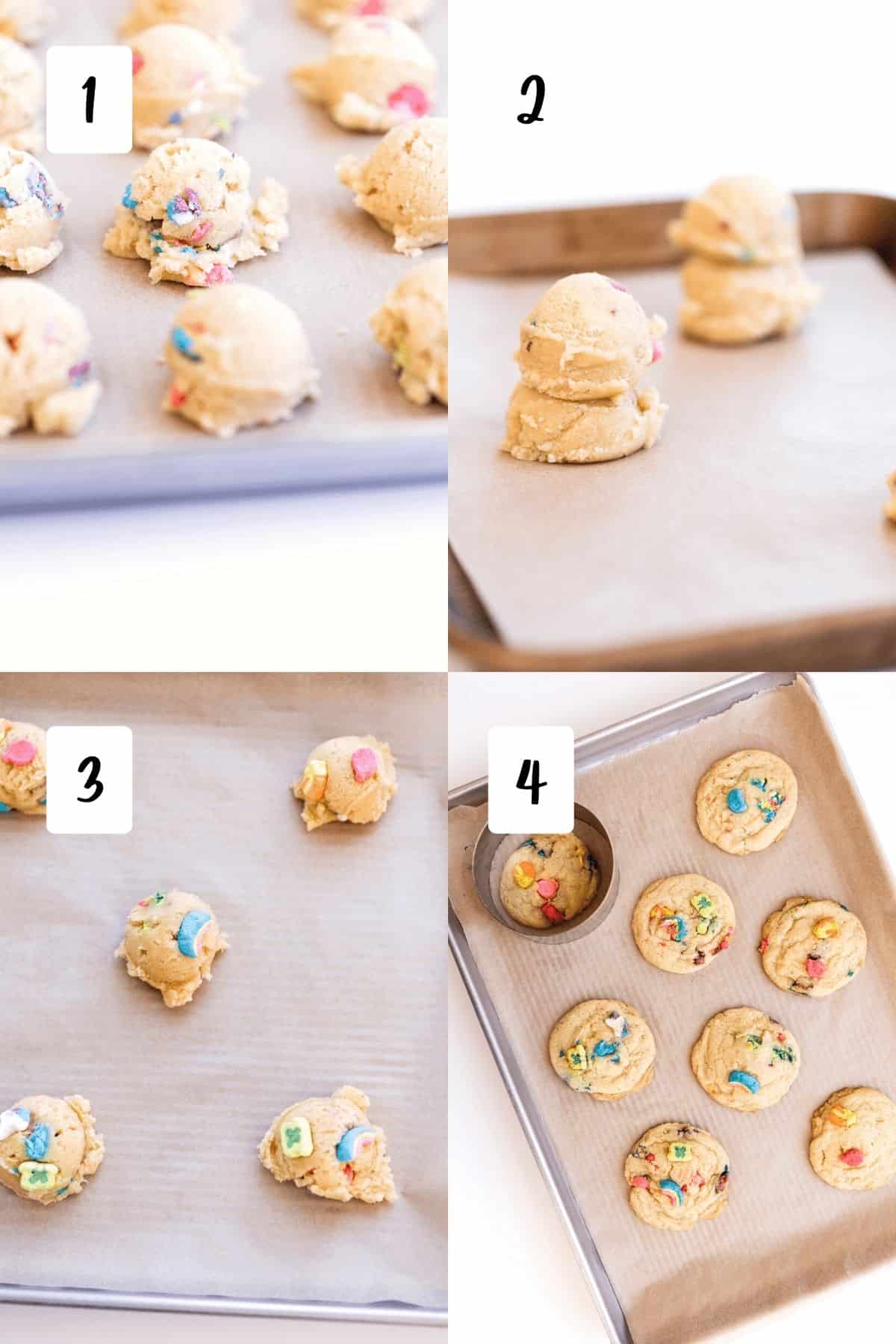 Tricks for the Perfect Cookie
Also, a lot of the recipes I saw didn't call for refrigerating your dough. But I'm going to tell you a secret. You should basically always refrigerate your cookie dough before baking for at least 30 minutes! This is a bit of science, but this helps to solidify the fat (aka butter in this case) in the cookie and keeps them fluffy and YUMMY! Then if you want to freeze the dough to bake off later, you just scoop it out, then place into tupperware on parchment paper.
If you love a thicker cookie, like me, double scoop your dough. Scoop one ball, then scoop another and place it directly on top. You can bake it this way and freeze it that way too.
You don't need to do this, but if you like the look of a full marshmallow on top, add a few of the whole marshmallows on top of the dough balls and bake.
Another trick I used on these is post-baking is the scoot trick. The scoot trick is used as soon as the cookies come out of the oven and still warm. Use a round cookie/biscuit cutter that is larger than the cookie to wiggle the cookie around and make it a perfect circle.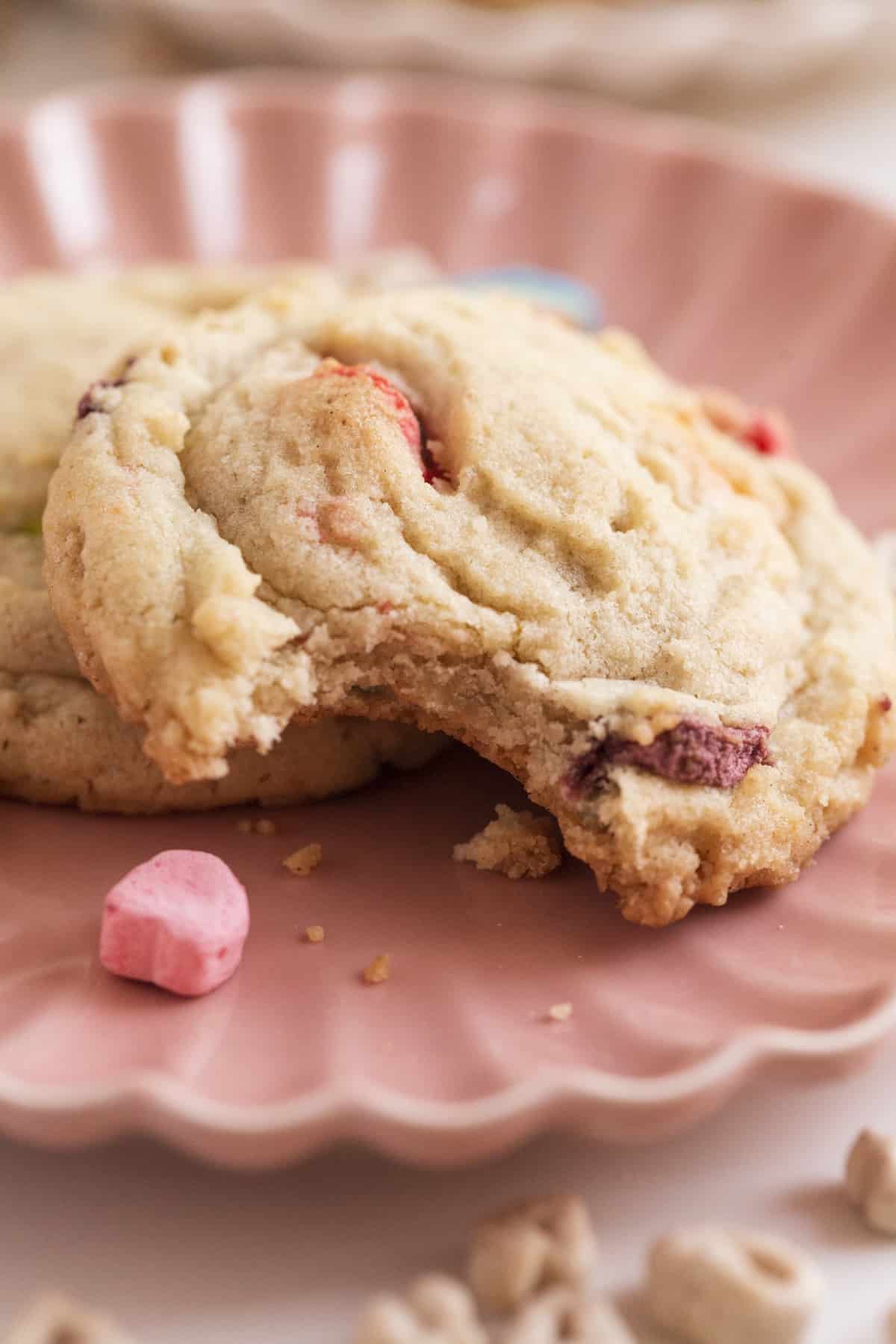 Tips for Making the Dough
– Creaming: Creaming the butter and sugar is an essential part of making cookies and baked goods. I always say do this for like 4-6 minutes. It's the difference between something having a granular and dense bake or a light and fluffy, clean bake. So take your time when creaming your butter.
– Saving Dough: If you decide not to bake all the dough at once, you can ball the dough, place it on parchment paper in the freezer for about 30-ish minutes (should be very cold), then transfer into a freezer-safe bag or Tupperware for up to 2 weeks. It can take a few extra minutes to bake, so keep your eyes on the oven to check.
– Reusing Parchment Paper: Yes! As long as it's not completely burned, you can and should reuse the parchment paper during a bake, maybe using just 1-2 sheets for all the cookies.
– Cool Baking Sheets: Now, you can reuse the parchment paper and of course you can bake using just 1-2 baking sheets. However, before you place dough or bake it, your baking sheets should always be cooled down. This helps with a good bake and keeping those cookies thick.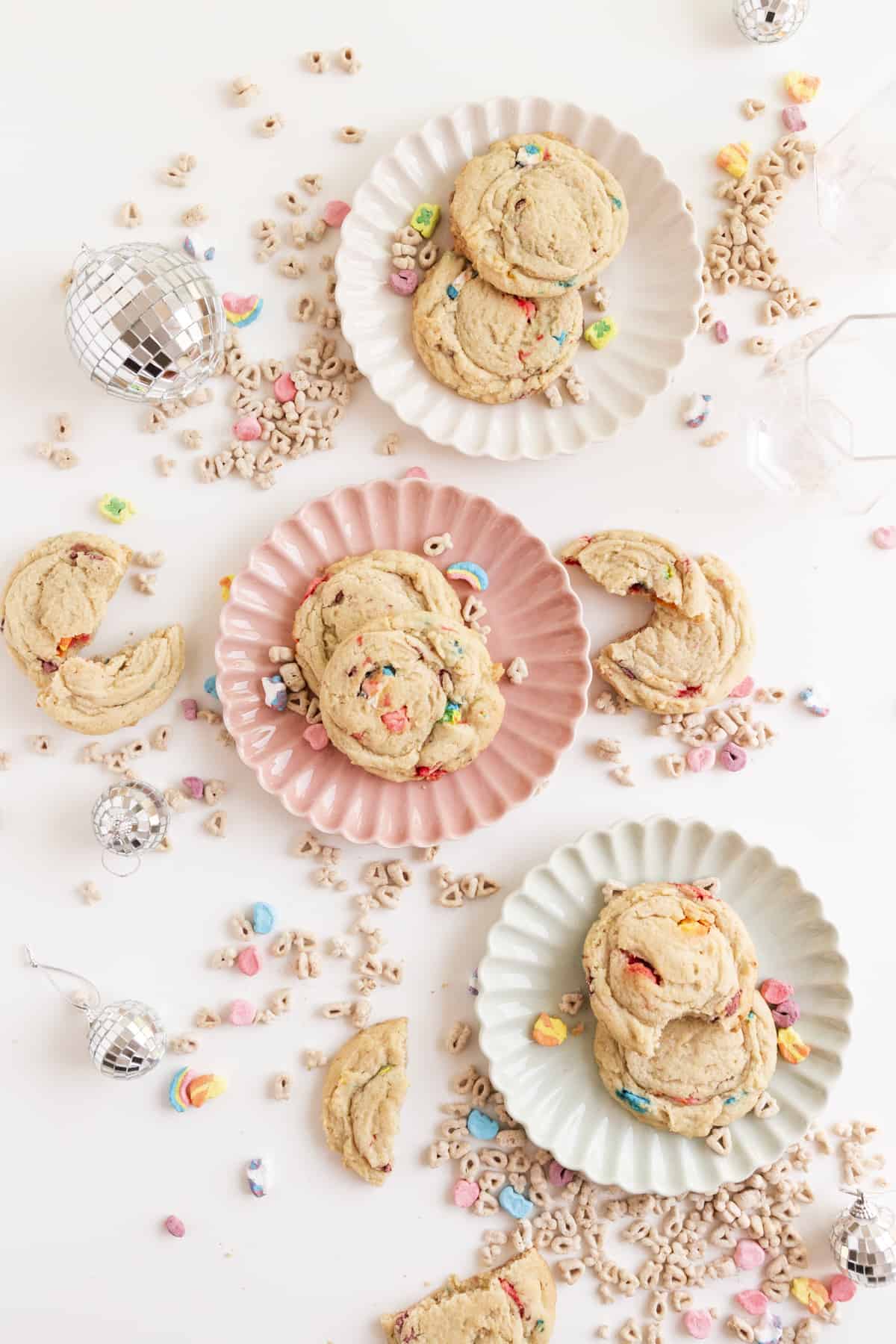 FAQs
Can I use a different extract than butter?
Yes, you can use all vanilla extract if you can't find butter extract.
Do I need to cream the butter and sugar?
Yes! To get the sugar to fully blend into the butter, you need to beat them together for 4-6 minutes. This also adds air into the dough. Making for a fluffier cookie.
Other Cookie Recipes to Try
Love this Recipe?
Did you make this recipe and just love it? Awesome! If you have a quick minute and could leave a star rating and comment below, I would appreciate the support and knowing your feedback! And if you're over on Instagram, be sure to tag me in your photos!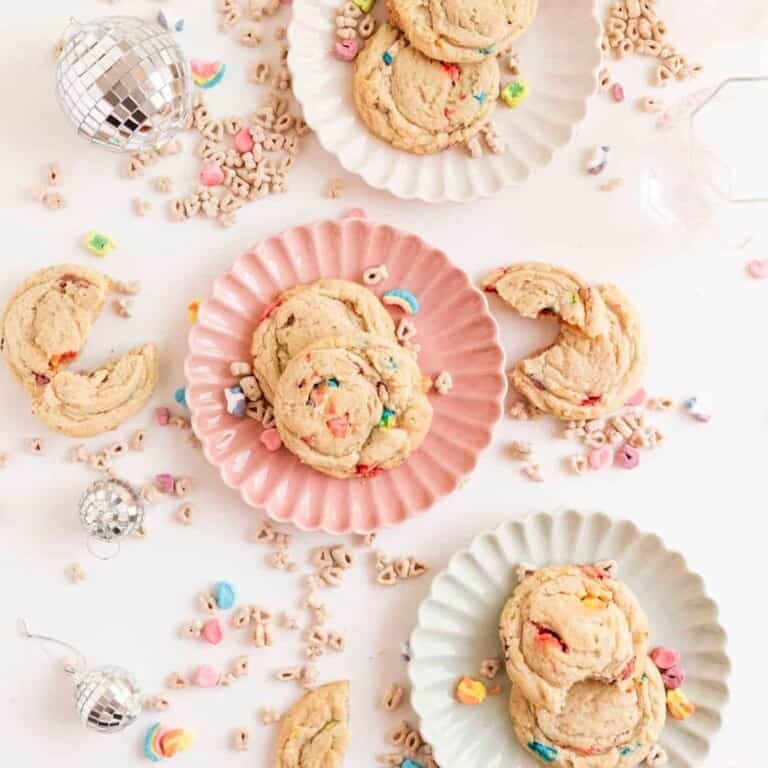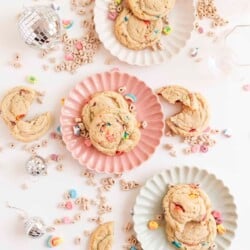 Ingredients
1

cup

butter

room temperature

1 ⅓

cups

sugar

1

egg

large, room temperature

1

teaspoon

vanilla extract

you can use regular or clear

1

teaspoon

butter extract

2 ¼

cups

all-purpose flour

¼

cup

lucky charm cereal

ground*, non-marshmallow cereal

½

teaspoon

baking powder

½

teaspoon

baking soda

1

teaspoon

salt

¾

cup

lucky charm marshmallows

divided
Instructions
Electric stand mixer with paddle, cream the butter and sugar together on a medium speed, until thoroughly creamed, light and fluffy (about 4-6 minutes)*.

Add egg, vanilla extract, and butter extract and mix for another 2 minutes. Scrape sides of the bowl to make sure all is incorporated.

In another medium/large bowl, combine together the flour, ground cereal, baking powder, baking soda, and salt. Whisk until combined.

Turn mixer to a low-medium speed. Slowly add the dry ingredients into the wet ingredients until just combined.

Slowly fold in half of the marshmallows. Chill dough in the fridge for at least 30 minutes.

Preheat the oven to 350° F and prepare some baking sheets with parchment paper.

Scoop balls of dough with a 2 Tablespoon scoop, then push some of the remaining marshmallows onto the top side of the balls. Place onto the baking sheets a few inches apart from one another.

Bake cookies for 13-15 minutes. Until the edge is slightly golden brown.

Remove from oven and cool on the baking sheet for 3-5 minutes, then move to a cooling rack.

Serve and enjoy!
Notes
- The butter extract I get is McCormicks. I get it at the grocery store, but you can also order online here.
- The clear vanilla extract isn't 100% necessary, but does keep your cookies a lighter color. Again, I got this at the grocery store, but you can get it online here.
- If you are in a colder area (or super warm) this can effect baking majorly. For this recipe, if you are in a colder place, be sure to cream for like double the amount of time. And look for visual cues, instead of timing. So like, is it all combined, is it light and fluffy, is it no longer crumbly, but all smooth and beautiful?
*

this would be about ½ cup not ground before-hand
Tried this recipe?
Mention @amanda.wilens