Hot Chocolate Cookies
These cookies are the perfect winter or Christmas cookie. Made from a gooey double chocolate cookie that's basically a brownie in texture and packed with so much chocolate. Then it's topped with a marshmallow and cocoa powder. It's perfectly served warm. Heads up though, they are a MESSY cookie. I don't mind, but you will need to use a few sheets of parchment paper for these.
As an affiliate for Public Goods, I made these cookies in honor of their special Black Friday deals. I used their baking products like flour and sugars and even their marshmallows for this (you'll need two of those bags).
For every order Public Goods receives on Black Friday, they will be donating 10 meals to Feeding America – a nationwide network with an unparalleled reach in helping hunger in the United States. The organization feeds more than 46 million people through food pantries, soup kitchens, shelters, and other community-based agencies.
They'll also have a special Black Friday-only offer on our annual membership as well – $30 instead of its regular price, $59 – and free shipping on all US orders. And you can always use my code WITHAMANDAPGA for 15% of first orders.
I also wanted to share some of the adorable décor pieces. Like the Papa Noel Mugs from Glitterville. I got mine from Bonjour Fête. The cute dessert and ring plates I get from Suite One Studio. A lot of the other décor comes from small shops or Target.
The cookie scoop I use is a 2 Tbsp, you can get them at any kitchen supply store like William Sonoma. I stacked 1 tablespoon of dough on top of another tablespoon. I stacked them for an extra thick cookie. You can also just use a 2 tablespoon scoop.
Some tips, tricks, and knowledge for making the best hot chocolate cookies can be found below.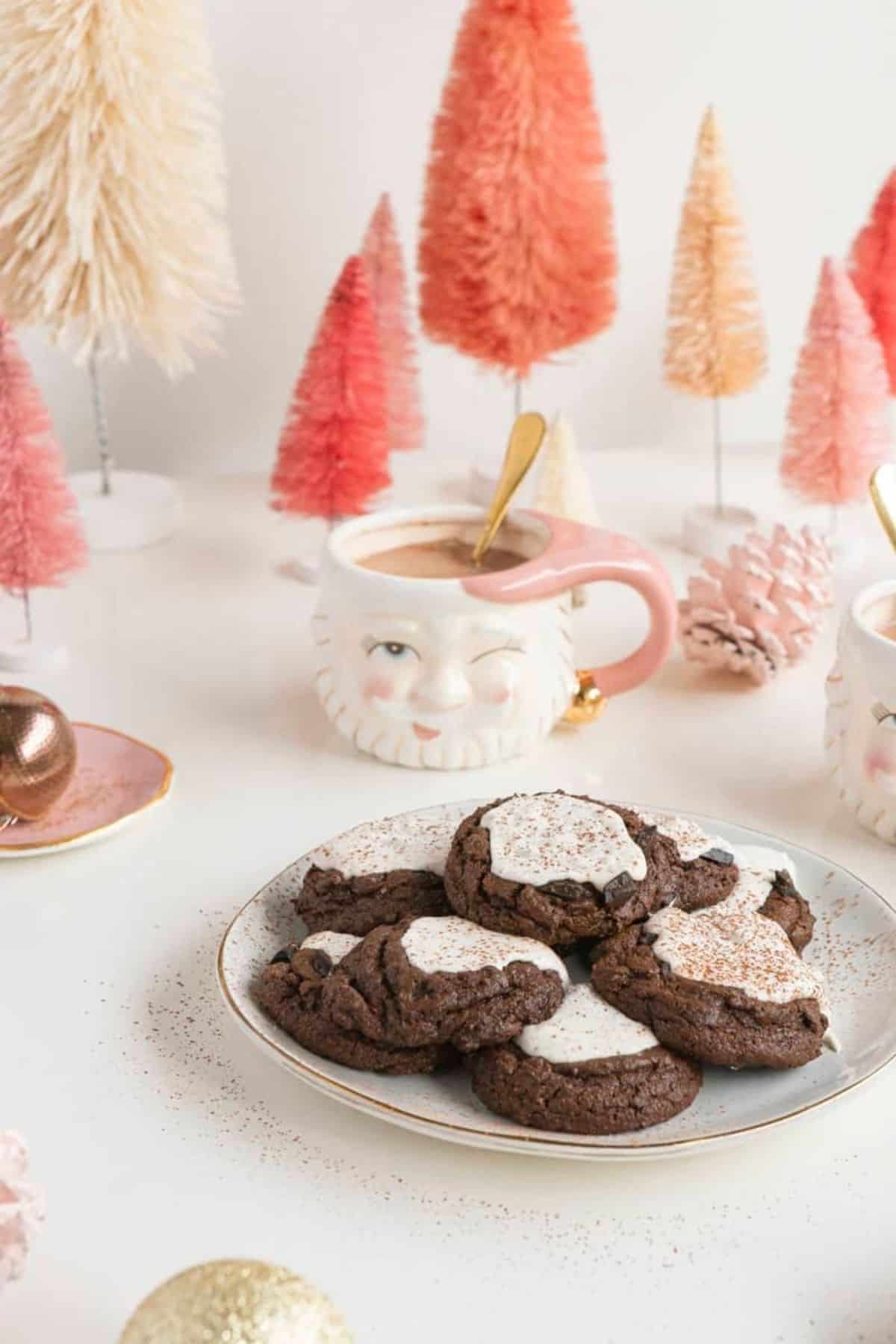 Table of Contents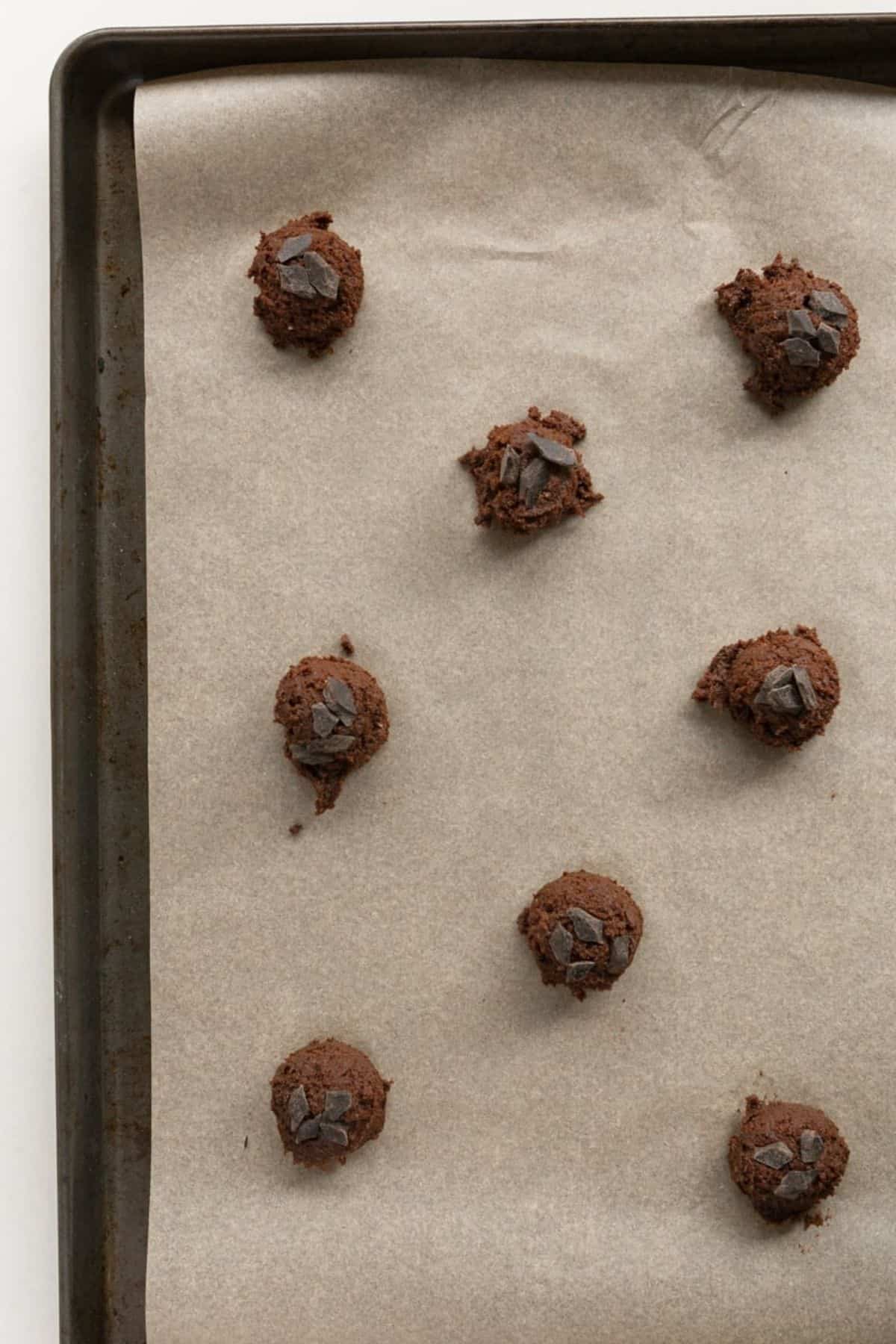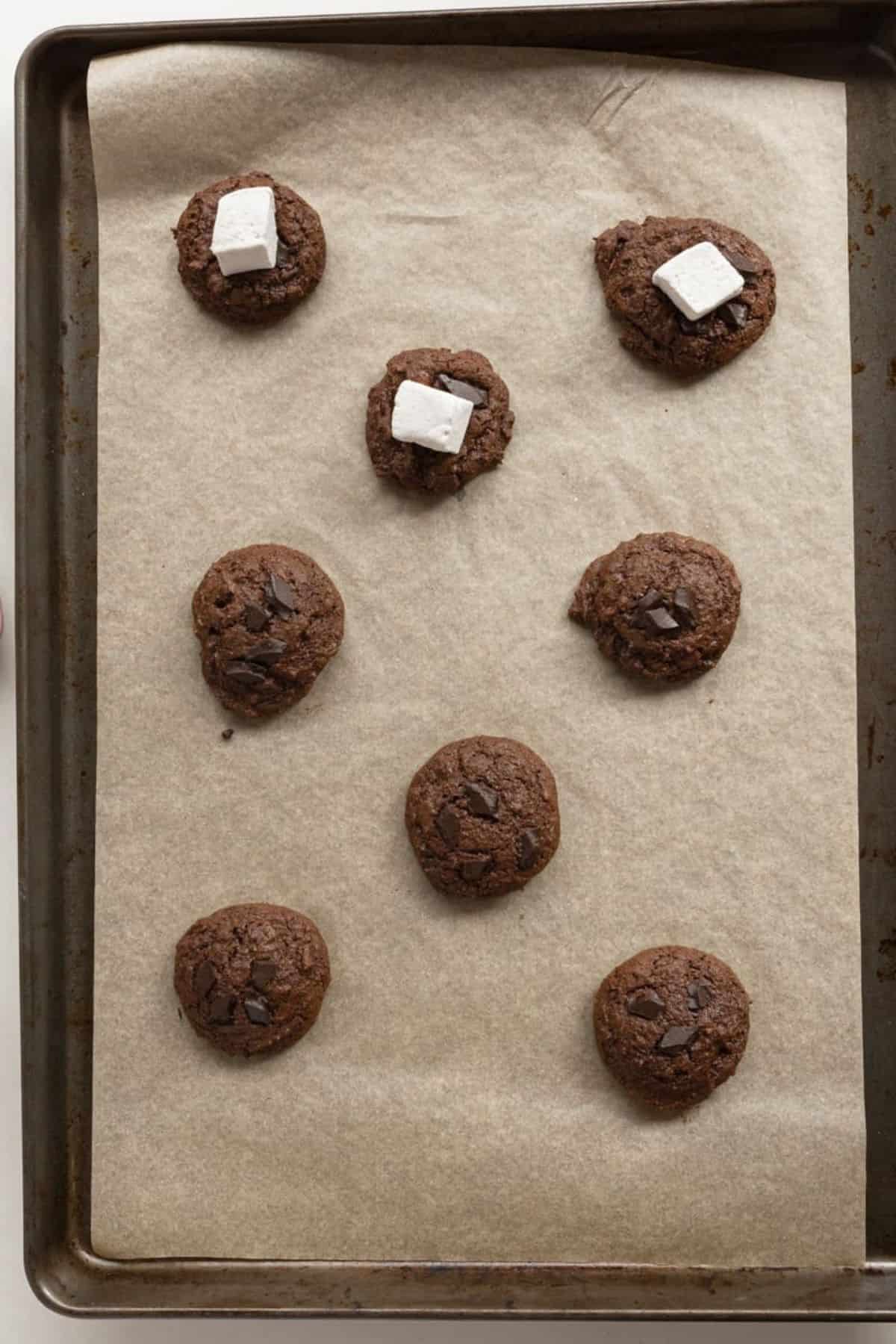 Do I need marshmallows for hot chocolate cookies?
Absolutely not. Do what you want. You can top with sprinkles, powdered sugar, or leave plain.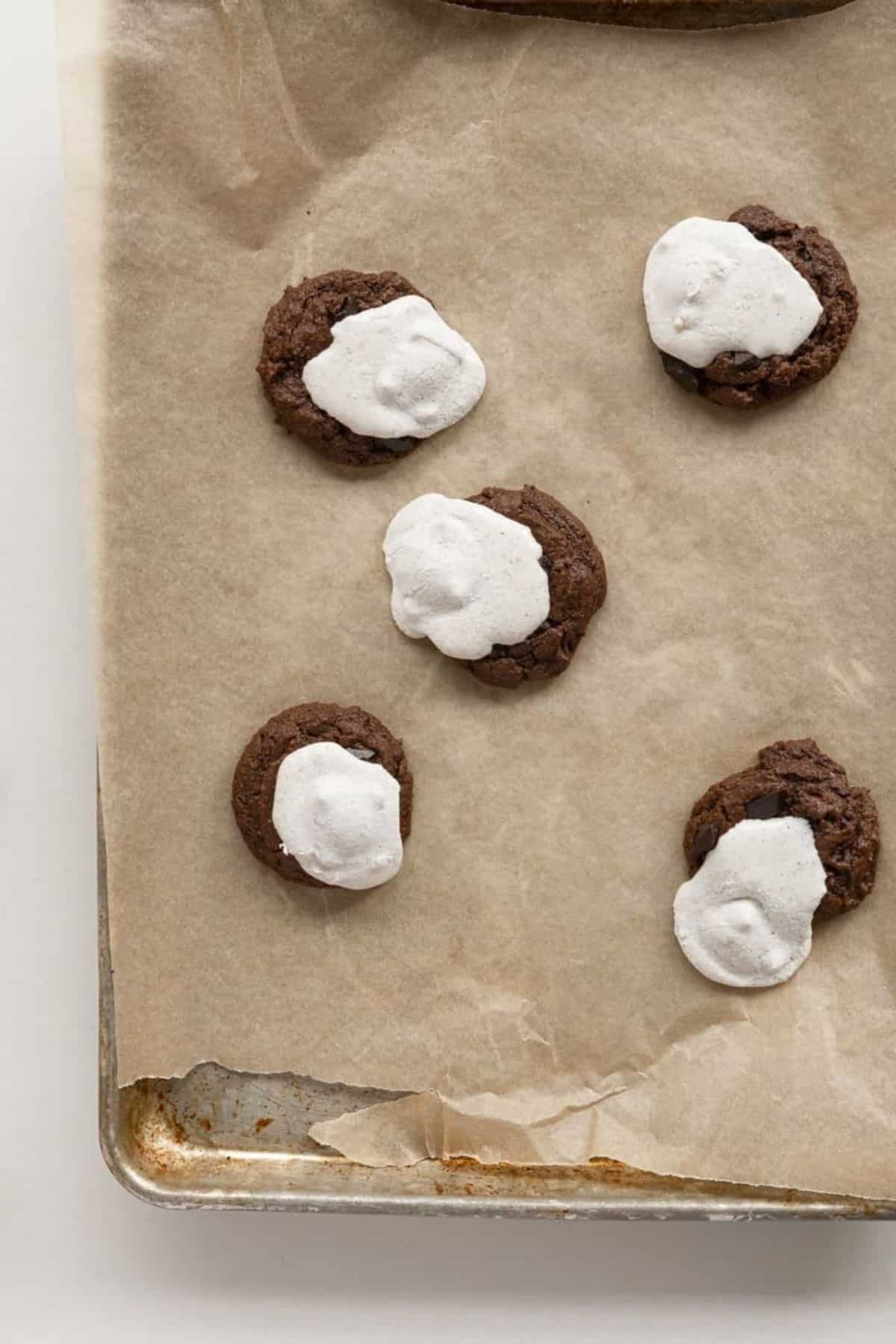 How do you keep marshmallows from melting in cookies?
This is why the recipe calls for you to bake the cookies for about 10-11 minutes first, then finish the last 2-4 minutes with the marshmallow on top. Marshmallows vary, so be careful to test with one or two cookies first.
Can I make these cookies without a stand mixer?
Of course, you can! These yolk only chocolate chip cookies are fairly easy to make and can of course be done without a stand mixer. This is just my preferred way to make them. Just use a wooden spoon or whisk (or handheld mixer) to mix.
Why do I need to whip my butter and sugar together?
Whipping (whether by hand or stand mixer) is so important to many baked goods, especially cakes. This will add necessary air to your baked goods. They also emulsify your sugars and blend them into the cakes to make sure it's not grainy. However, you can also over whip, be sure you don't let it whip too long. Anything too long will make there be too much air and when it bakes, it can fall and create a dense cake.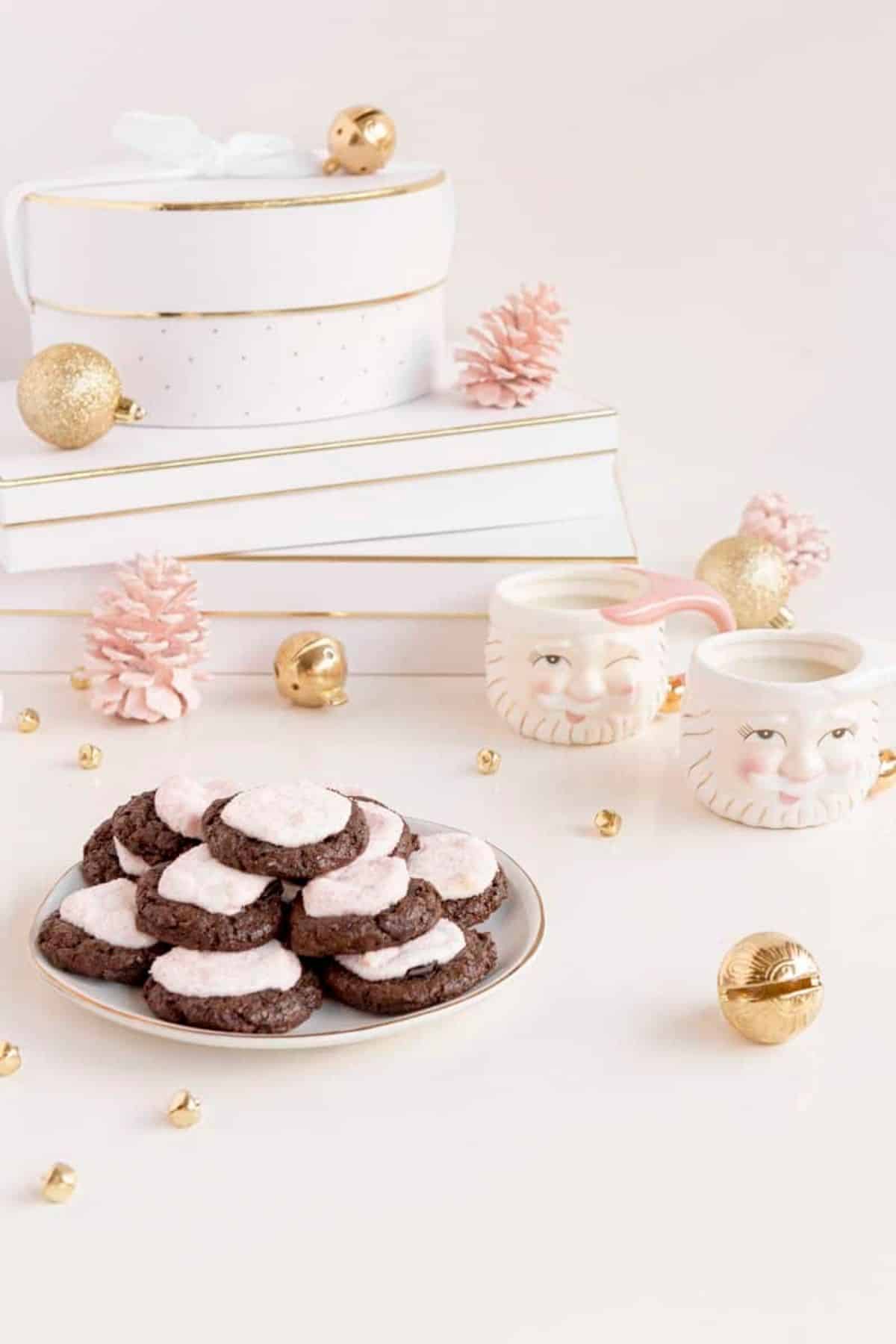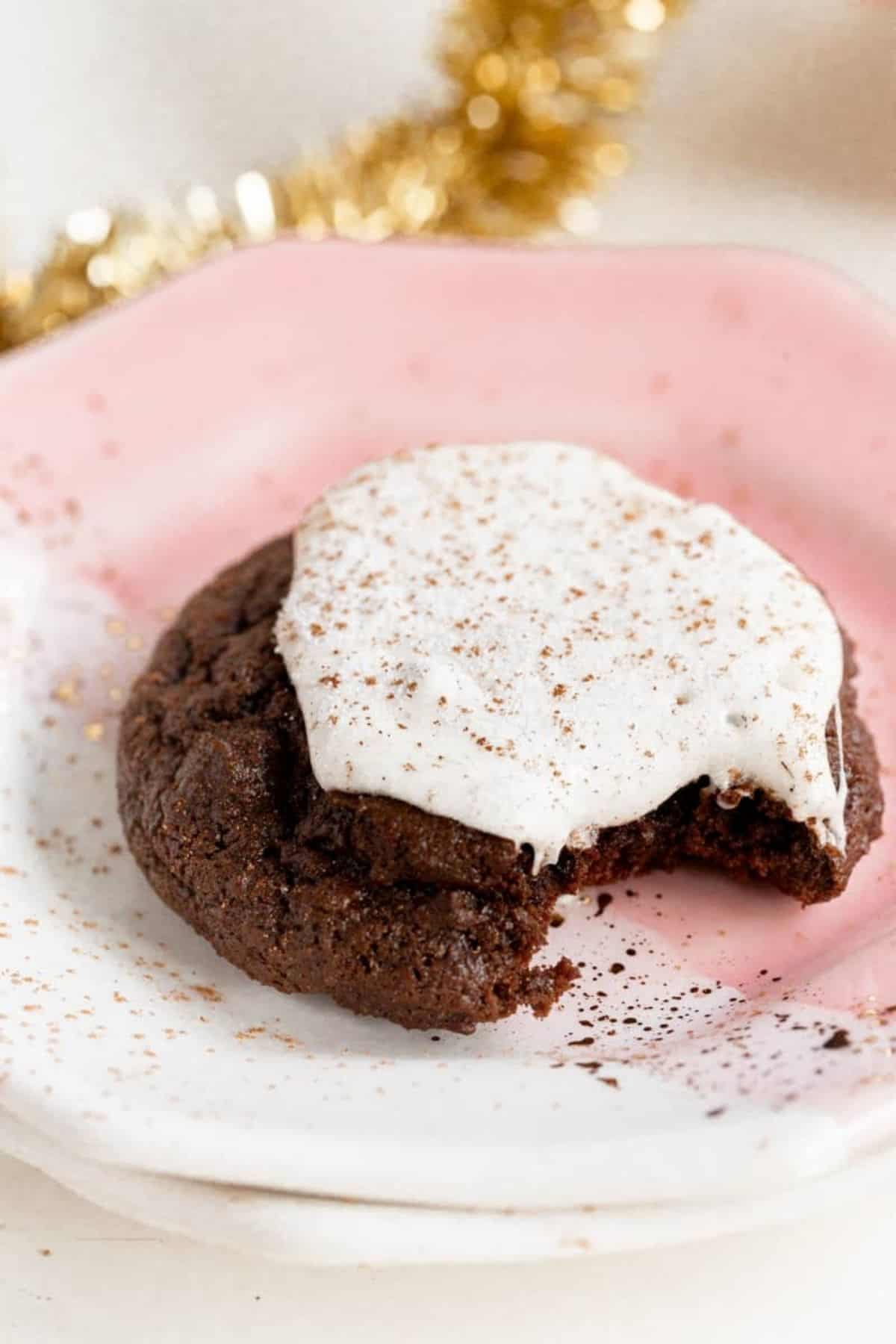 Why do I need to bake with room temperature butter?
So many baking recipes call for room temperature butter. This is due to a few things. 1) An emulsion is formed when all the wet ingredients are room temperature and mixing. You are whipping in air into the batter. Which will later help in baking when you get that light and fluffy texture. 2) Room temp butter is also able to blend smoother and create a cohesive batter. If you don't have it room temp it can become very dense.
How to get butter room temperature for hot chocolate cookies
I usually leave mine on a plate on the counter for a couple hours. Or maybe on the oven if it's being used for something else. If you are in a hurry you can zap in the microwave in very short increments. Just don't melt it.
Why do I need to Bake with Room Temperature Eggs?
A lot of baking recipes (mine included) ask for room temperature eggs. This is because a room temp egg is easier to break down than a cold egg. So therefore, it mixes into the batter better. ALSO, room temp eggs get a better volume making for a fluffier baked good.
How to get eggs room temperature
I would suggest leaving them on the counter for 1-2 hours to get room temp. However, if you forget or run out of time, another option is to place the eggs into a bowl of warm water (not hot) for about 10-15 minutes.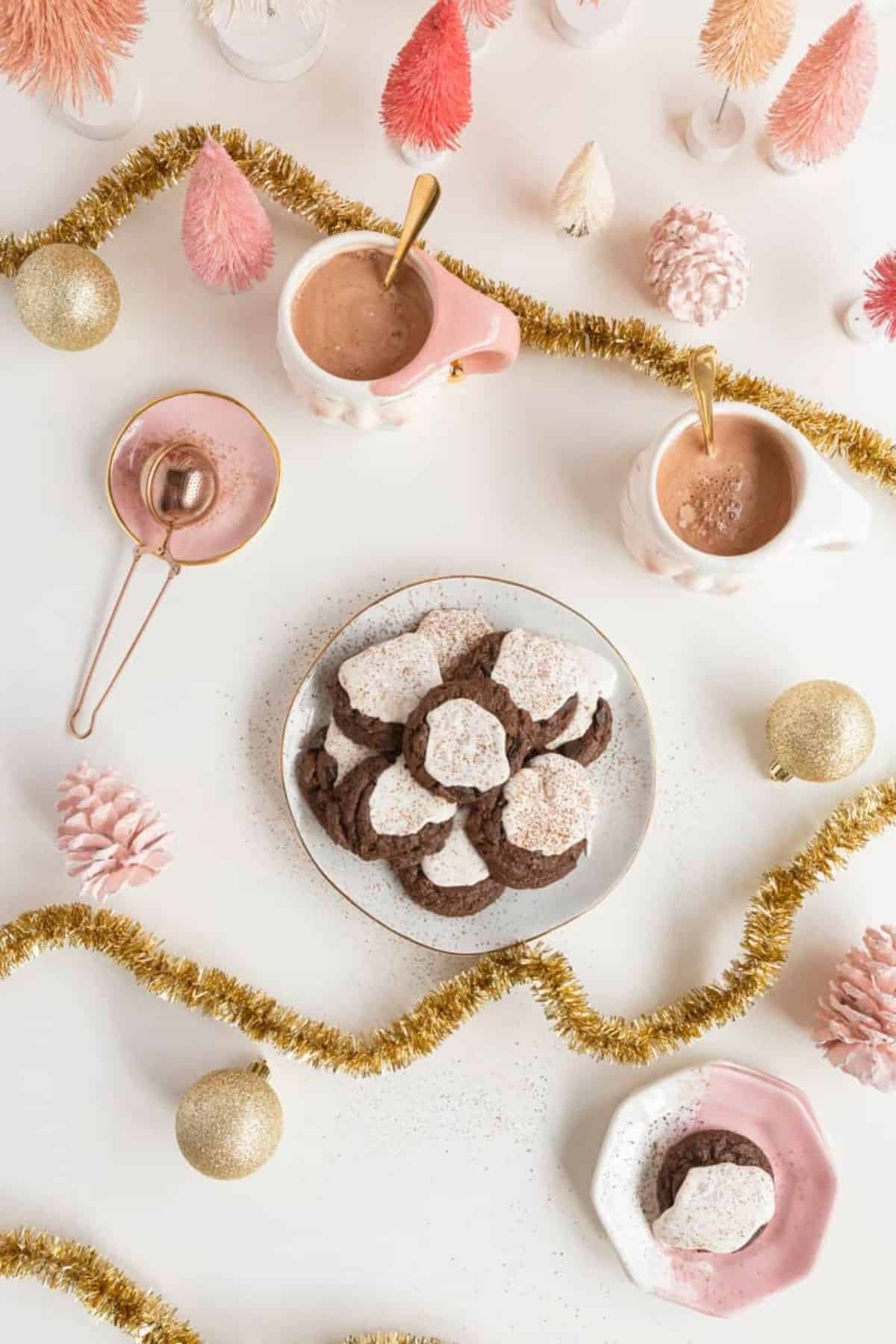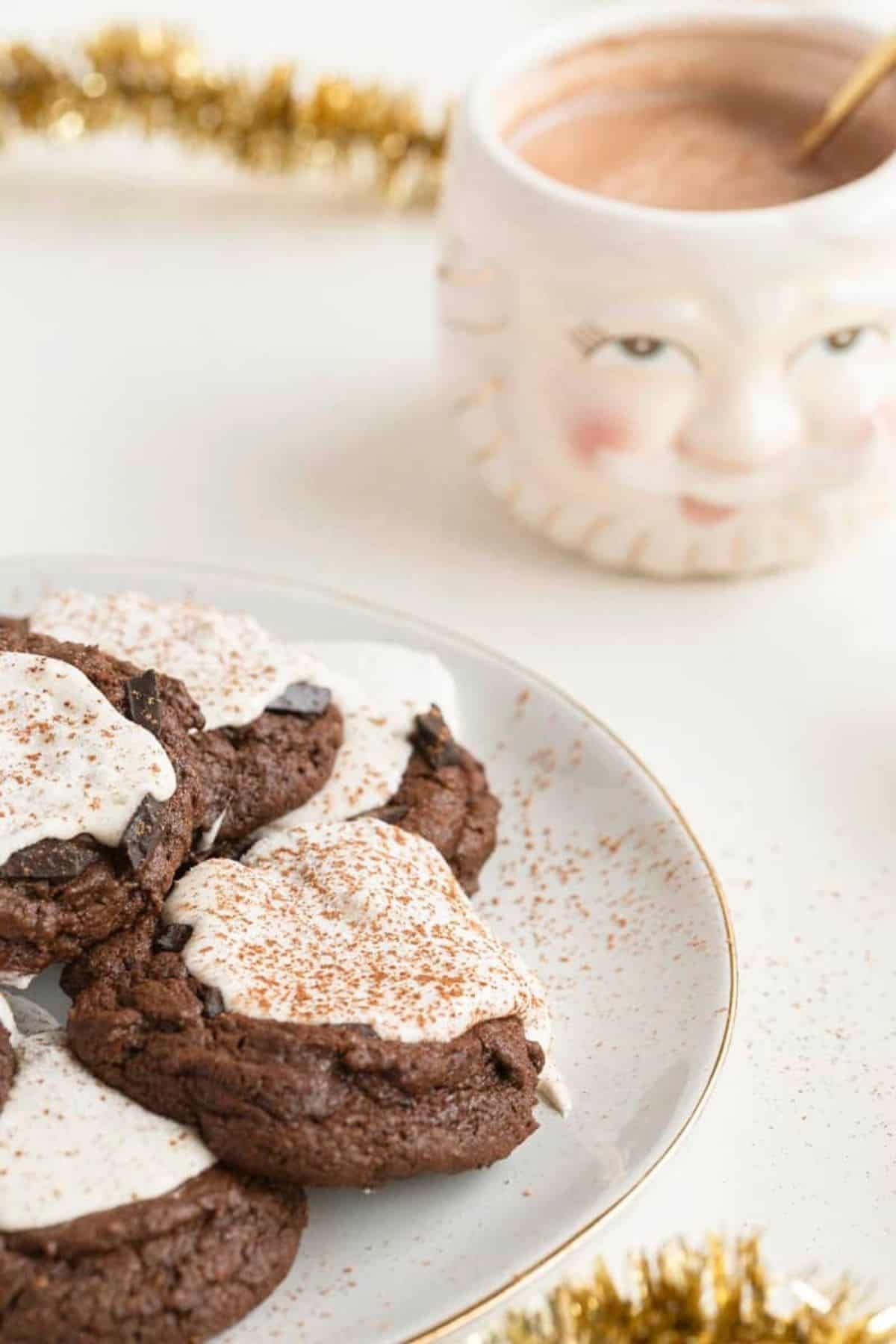 FAQs about Hot Chocolate Cookies
Are these cookies made with hot cocoa?
No, these cookies are made with cocoa powder for baking. They are made to taste like hot chocolate and topped with a marshmallow. Like a food version of your fave hot beverage in the winter.
Can you freeze the dough?
Yes, you can freeze this dough. First, scoop into balls, place into freezer on a baking sheet with parchment paper for 30-60 minutes. Move into an airtight container and freeze for up to 2-3 months. When you bake them just add on a few extra minutes or let them thaw before baking.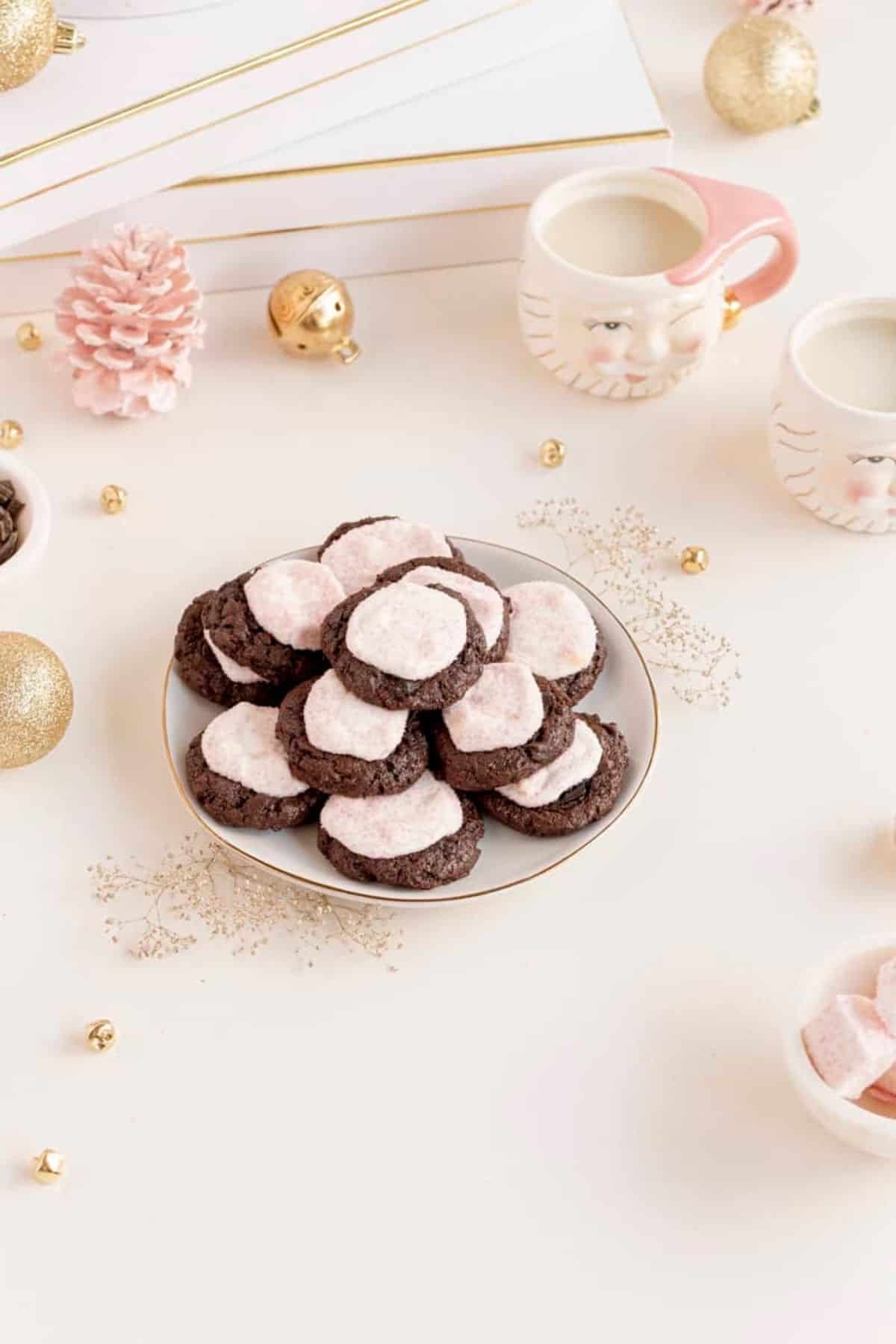 Other Recipes to Try
Love this Recipe?
Did you make this recipe and just love it? Awesome! If you have a quick minute and could leave a star rating and comment below, I would appreciate the support and knowing your feedback! And if you're over on Instagram, be sure to tag me in your photos!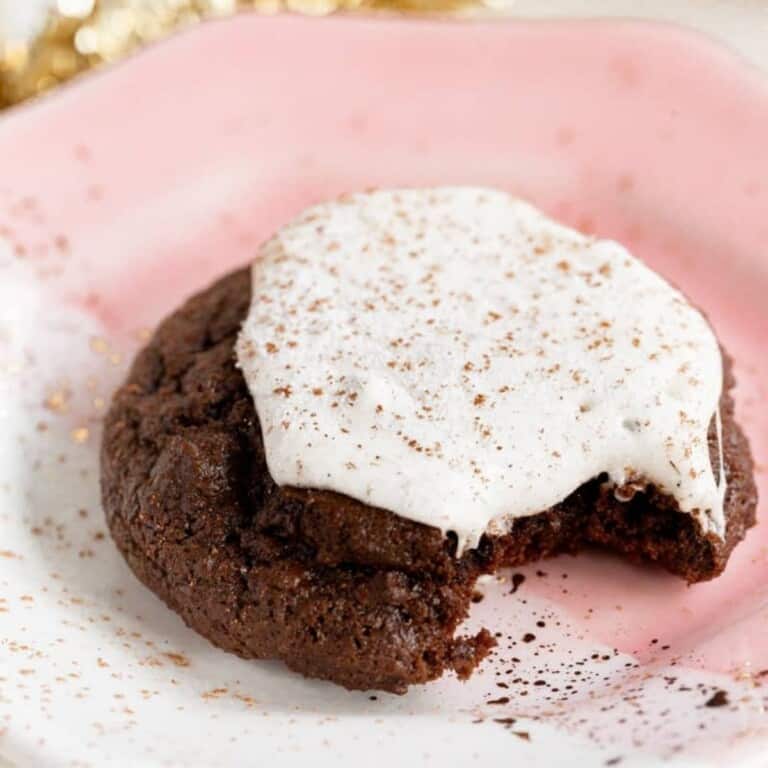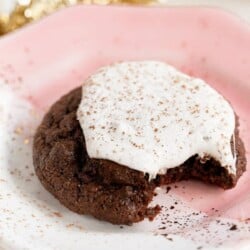 Ingredients
Wet Ingredients
1

cup

unsalted butter

room temperature

1

cup

granulated sugar

1

cup

brown sugar

packed

2

eggs

large, room temperature

2

teaspoon

vanilla extract
Dry Ingredients
2

cups

all-purpose flour

1 ⅓

cup

unsweetened cocoa powder

1 ½

teaspoon

baking soda

1

teaspoon

salt
Milk
¼

cup

milk

or milk alternative (best alternative is oat milk for baking)
Add-Ins
1 ½

cups

dark chocolate chunks

divided

15

marshmallows

large and cut in half (or if smaller size, no need to cut)

cocoa powder

optional
Instructions
With your standing mixer with a paddle attachment beat the butter until smooth. Then add sugar until fluffy, about 4-6 minutes. Beat in the eggs one at a time and vanilla on a medium-high speed. Scrape the sides and mix again.

In a medium-large bowl whisk your flour, cocoa powder, salt and baking soda.

Slowly pour in the dry ingredients into the wet ingredients on a low speed. Then add in the milk, one tablespoon at a time. Add in 1 cup of chocolate chunks.

Place bowl in the fridge for 1-24 hours to chill dough.

When you are ready to bake, preheat the oven to 350° F and prepare cookie sheets with parchment paper.

Using a spoon or cookie scoop take about 2 tablespoons of dough and roll into a ball using your hands. Place a few of the remaining chocolate chunks onto the top of each ball, roll to make a smooth-ish finish. Place on the baking sheet, chunks side up, each ball a few inches apart.

Bake for 10-11 minutes. Remove and add a marshmallow (cut side down) on top of each cookie.

Place bake into oven and bake for an additional 2-4 minutes. Mallow should rise but not be toasted. In total you want to bake your cookie 13-14 minutes.

Remove and let them rest 5-10 minutes and cool on rack.

Enjoy!
Notes
– Creaming: Creaming the butter and sugar is an essential part of making cookies and baked goods. I always say do this for like 4-6 minutes. It's the difference between something having a granular and dense bake or a light and fluffy, clean bake. So, take your time when creaming your butter.
– Reusing Parchment Paper: Yes! As long as it's not completely burned, you can and should reuse the parchment paper during a bake, maybe using just 1-2 sheets for all the cookies.
– Cool Baking Sheets: Now, you can reuse the parchment paper and of course you can bake using just 1-2 baking sheets. However, before you place dough or bake it, your baking sheets should always be cooled down. This helps with a good bake and keeping those cookies thick.
– Perfect Circle: This is my favorite Cloudy Kitchen tip! Use a round cookie/biscuit cutter that's just a bit bigger than your cookie. Right when the cookies come out of the oven, place cutter around cookies and quickly move cutter in a circle motion to create a perfect cookie shape while still warm and moldable. This makes for a perfectly circle cookie.
– Reheating: If you are left with extra cookies after you bake, be sure to store in an air-tight container. Then when you go to eat them, be sure to heat those cookies before eating. I do about 10-20 seconds in the microwave before eating so they are nice and gooey!
Tried this recipe?
Mention @amanda.wilens