Lemonade and jam beer cocktail!
Happy Just Because Day! To celebrate I worked on this Just Because Party (name thought of by the amazing Alicia from On Three Designs) with some really awesome people. This fun party was a way to bring together some incredible vendors and take some beautiful photos with gorgeous bloggers. Really it was just to have some fun, create something unique and have some great content all around.
The Vendors for the Just Because Party
So let me talk about all the vendors who partook and how they were involved! First off we have Elena from Cheetah Talk y Mas, a fashion blogger here in St. Louis. We met a while back and knew we wanted to collaborate, but we weren't sure how. I suggested a styled shoot and she was right on board! She helped me to contact some folks for beverages and jewelry.
The jewelry... Oh my goodness. These pieces from Collections by Joya were so stunning. I'm not one to wear a ton of jewelry, but I love me some good earrings and rings. And these fringe earrings I wore to the shoot were so fun! Like seriously, I felt 10 times cooler just wearing them. Best part is that the wonderful folks at Collections by Joya provided each of our lovely bloggers with a gift as well.
Fitz's provided us with a great variety of fun soda pops that were fruity, bubbly and delicious. We stuck a straw in the bottles and drank right up! And my pal Caiti was able to hook us up with some White Lagers from Schlafly, which I used with champagne, lemonade, and jam to create a hop-tail (beer cocktail), the recipe can be found here.
Recipes for this Party
And now let's talk food for a second. Our groceries and supplies for food came from Lucky's Market Rock Hill (shout out to Brooke). I was able to get plenty of ingredients for the crostinis, cheese boards, watermelon salad, and hop-tail. The recipe we have below is for the two crostinis, however if you select the names above that will guide you to the other 2 recipes.
For the treats I asked the uber talented Lia from Made.By Lia to make us some tasty treats. She of course went above and beyond providing the shoot with the most delicious cake, floral cupcakes, and gold-foiled macarons. Seriously she should be your #1 choice to make your next big birthday/wedding/just because cake.
Okay...I'm only like half way through...so here we go!
More Vendors
My pal Alicia, the super talented creative behind On Three Designs, made all the paper goods: menus, cute place cards for the succulent planters, and the logo used on the tattoos.
And the gorgeous tatts were from none other than the dynamic duo behind Love and Lion. I think I have them as a part of all my events...and I will never stop. They add such a fun unique experience.
Place cards can often get boring and not fun. So the best plant lady I know, Laura from LoKey Designs, painted and planted the CUTEST planters. I mean come on, who hand paints their planters to perfection for a shoot? Laura. She's the best and has made like 10 floral/plant pieces for my home all the way from honeycomb wall hangers to our front door wreath. And the collection keeps growing (get it).
Speaking of plants, the ever so talented Sylvia from Snapdragon Studio provided the floral arrangements seen all over the shoot. They were in gorgeous small vases, cooper pieces and made the whole shoot so beautiful and fun. She makes amazing pieces and I wish I could always fill my home with her gorgeous blooms.
Let's talk about the amazing pieces I got to put my food on, ceramics from Aron at Facture Goods. I've followed Aron since like the minute I moved to St. Louis and started my blog. His work is so unique and beautiful, I swear I can point out his pieces anywhere (like Anthropologie). Aron actually custom made pieces for this shoot! 2 pink and gold platters which I layered up with crostinis, and the grey and gold bowl that I loaded with watermelon salad. They were the perfect additions to the table and went along with Lehmann Goods boards beautifully.
Hannah from Lehmann Goods is one of my dearest friends in St. Louis. Honestly, I don't think anyone puts up with all my crazy like this girl. And on top of that she makes everything that she touches into gold. Her woodwork with boards, spoons, etc. are phenomenal. This is maybe the 4th shoot...probably more, in the last year that I've bothered her for custom pieces. And she always hits the nail right on the head. You can see her pieces below covered in cheeses and dessert treats.
As if we didn't have enough folks involved I noticed that we would need a small dessert table...so I hit up Robert from Anew Nature. He made my dining table and I've worked with him on so many things, it just seemed to fit...so he and his cutie pie wife Erica (another super talented person I love working with) actually came on site to drop off the table. SUCH GEMS.
The site we used was the studio at Bowood Farms. This place is literally my favorite spot in all of St. Louis. I can spend half a day there and not even noticed the time passing. The studio was perfect for our shoot with the bright white, plenty of space, amazing people, and access to the nursery. Honestly I can't recommend this space enough. Oh and they do workshops there, so be sure to check those out.
Knowing how complicated these shoots can get I bothered a new friend Emma, to see if she'd be interested in assisting with the shoot. And she did! Thank you Emma for AGAIN assisting me and being so flexible. You truly are amazing and made this party a blast.
Making this shoot into an actual event made the most amount of sense. So many shoots have no one really there other than like 1-2 models and the food and experience can go to waste. So Elena and I asked some blogger/insta friends to join us. You can see Lindsay from lindsaysholz.com, Kristen from Gulush Threads, Psyche from Economy of Style and Carmen form Front Row STL. They were great models and party goers.
And MOST importantly, our incredible photographer Ashley from Ashley Pieper Photography. She didn't just take amazing photos (all the ones you see here and on the others posts from this shoot) but she created an easy comfortable vibe for all the photos. I usually hate others taking photos for me, but it was nice to be able to trust someone else to take amazing photos that weren't too dark and moody for my style. Her photography is beautiful and I hope we can work together again soon.
All the other pieces are just from my own home including items from Anthropolgie, Lemon Gem, and Crate & Barrell. Okay THAT IS IT. I freaking hope I didn't miss anything. But now, scroll through the photos and get that recipe!
Now I'm not a drinker, but I whipped this baby up with a Schlafly White Lager and it was perfection for the summer. I hope you enjoy it too!
This recipe was part of the Just Because Party. All photos courtesy of Ashley from Ashley Pieper Photography.
Ingredients for lemonade beer hop-tail
2 White Lagers from Schlafly
1 cup champagne
2 cups of raspberry lemonade (regular lemonade works as well)
2 tablespoons of black berry jam
Ice
Lemon slices and blackberries to top
How to make a Beer Cocktail
Place all ingredients into a pitcher and stir. Pour into glasses over ice. Top with lemon slices and blackberries. Stick a gold straw in (that's a must) and enjoy!
FAQs on a Jam Beer Cocktail
What are good beer types for a beer cocktail?
White lager, hefeweizen, witbier, or anything with a low IBU (International Bitter Unit). Hefeweizen has a low IBU, but an IPA has a high one. Try to keep it low.
Best types of jam for a beer cocktail?
I would say stick to berries for this particular recipe. Something sweet that counteracts the bitter in the beer. And anything without too many seeds, because drinking seeds is no fun.
Other Just Because Party Posts and Recipes
Love this Post?
Did you use this article and did it help you? Awesome! If you have a quick minute and could leave a comment below, I would appreciate the support and knowing your feedback! And if you're over on Instagram, be sure to tag me in your photos.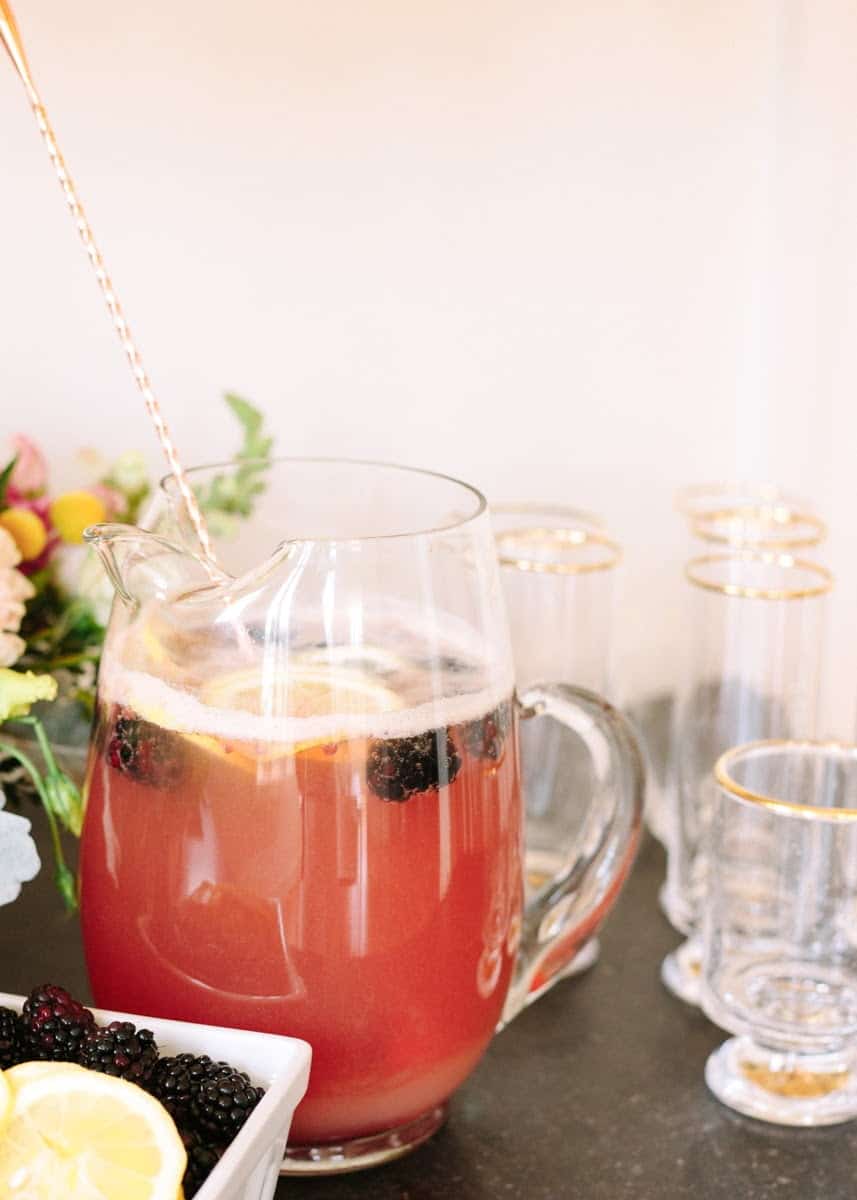 Ingredients
24

ounces

beer

Schlafly White Lager

1

cup

champagne

2

cups

raspberry lemonade

regular lemonade works as well

2

tablespoon

black berry jam

Ice

Lemon slices and blackberries to top
Instructions
Place all ingredients into a pitcher and stir. Pour into glasses over ice. Top with lemon slices and blackberries. Add a straw and enjoy!
Notes
- Beer: If you don't have Schlafly White Lagers, I suggest a lighter colored beer for this.
- Fruit chunks: If you are someone who doesn't like jam or fresh fruit chunks in your drinks, just use juice instead.
All nutritional information is based on third-party calculations and should be considered estimates. Actual nutritional content will vary with brands used, measuring methods, portion sizes and more.
Tried this recipe?
Mention @amanda.wilens