A fun Halloween tablescape for a Halloween party, Halloween dinner party, or even just set it up for the whole month of October. Why not? It's easy to put together and can be reused year after year.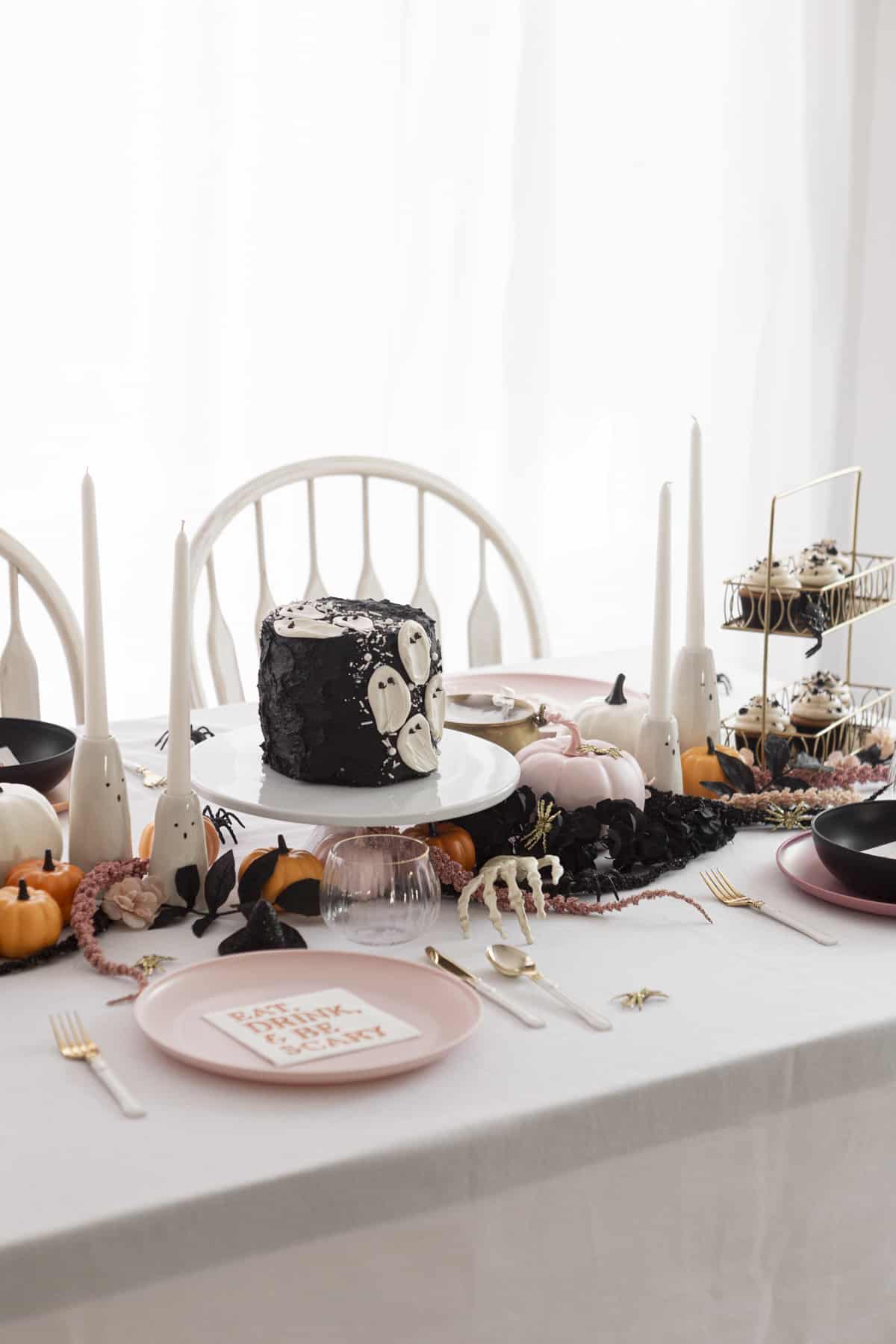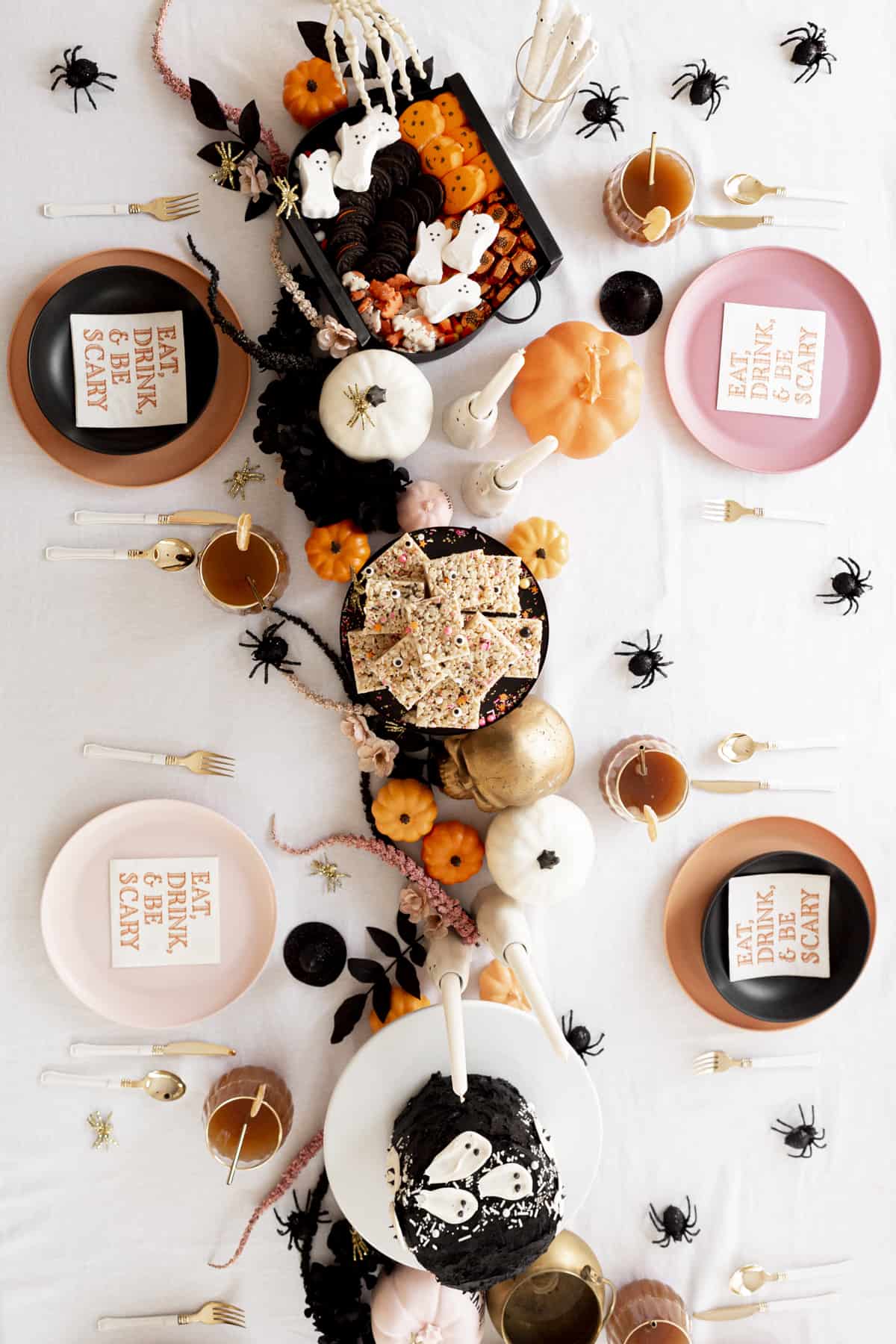 Why You Should Decorate the Table
The holidays are so fun and Halloween décor really is getting more diverse and creating pieces for all areas of your home with tons of different styles. But I love to decorate the dining room and dining table for the holidays because when you sit down, daily or a special meal, you have the feeling of the holiday all around!
I love using pieces that are able to be reused year to year. Especially those that can be updated with new colors. I took these plastic pumpkins and painted them to make sure that they fit the color scheme. But also, you could repaint them in future years with spray paint or acrylics to match your new theme. The spiders were also a left over from past years that I painted with gold and added glitter. Using pieces that are reusable is helpful for your budget and less wasteful.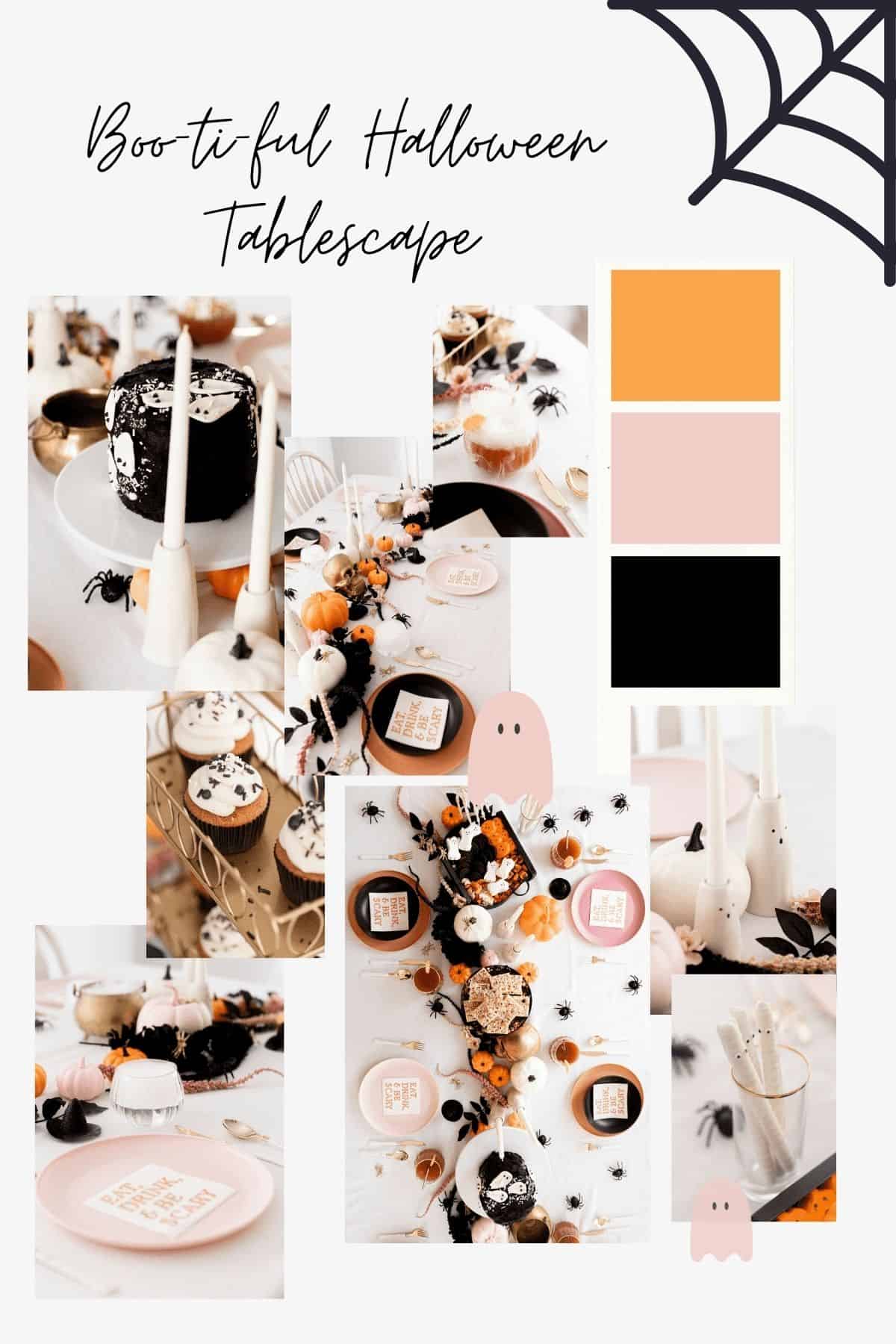 Color Scheme and Mood Board
To start with a tablescape I like to design a little moodboard. It doesn't have to be anything too complex, but it can help you when it comes to shopping and picking out items or even baking! I like to go onto Canva or even word to build this. If you use Canva you can use this template I created for this specific tablescape.
Choose images from Pinterest, blogs, Instagram, etc. Try to gather images that fit into a general theme or color scheme. Then you can choose colors directly from those images or using a color picker online and using the HEX code. The color scheme bar is completely editable. For this tablescape I went with white, black, orange, and light pink. I chose gold for the metal accent. You can even add fun elements to your mood board like the little ghosts and spider web.
Print this out or save it to your phone and use it at the store when shopping or when purchasing online or even if you color match with sprinkles or frosting colors!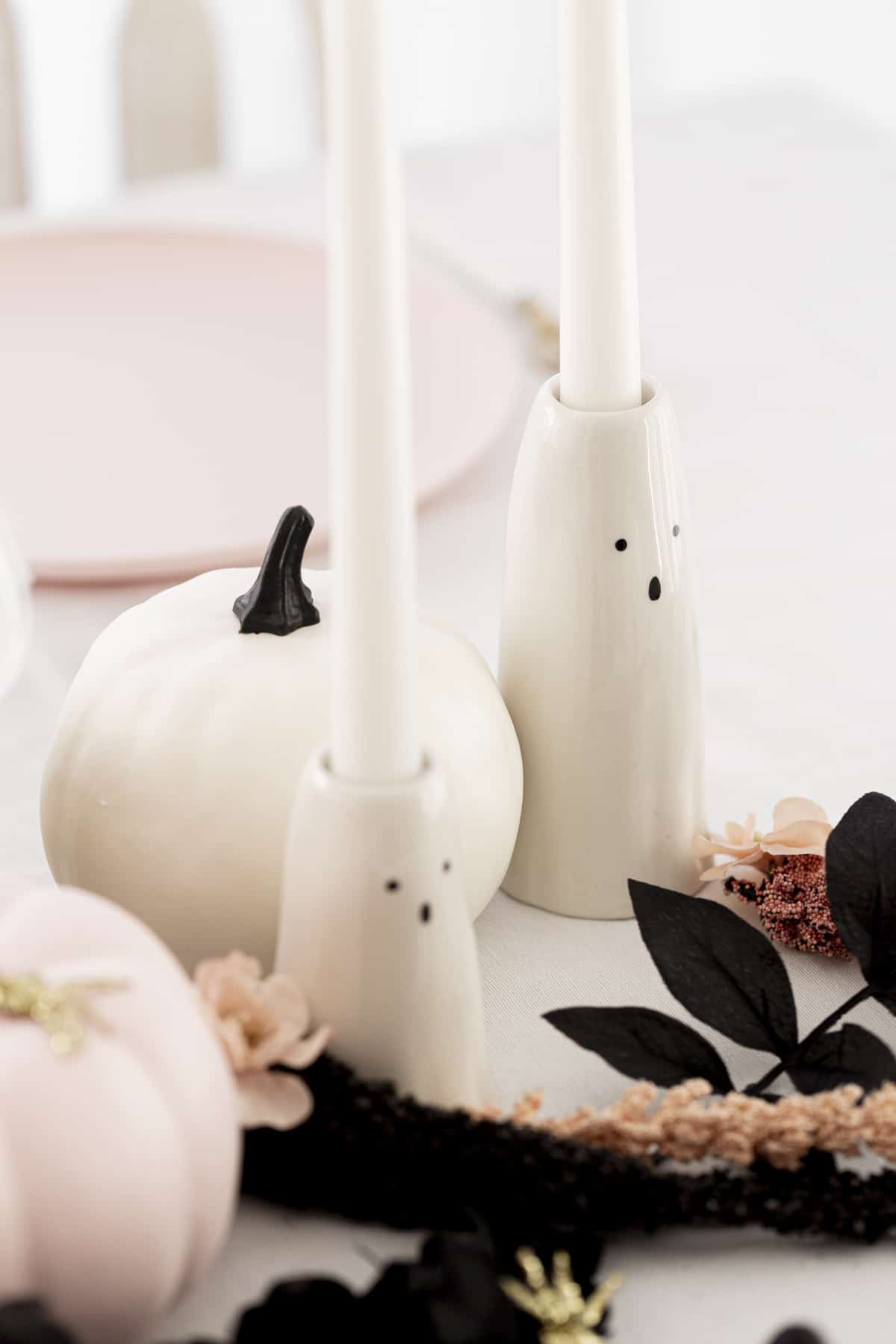 Table Decorations
For this Halloween table setting I used mostly cutesy Halloween décor, but quite a bit of things I already owned as well or that I could update. Let me go through what I got.
Plates – from Target
Pumpkin glasses – from Target
Utensils – from Sugar and Cloth's old line of party ware
Cake/dessert stands – most of these are from World Market or Target
Ghost candlesticks – from Bonjour Fête
Pumpkins – from Target and Michaels, easy to repaint
Spiders – Michaels, some of them I painted gold and glitter
Faux flowers – Michaels
Basically, my philosophy on tablescapes like this is more is more. Or go very, very simple. If you want to go on the simpler side just try the candlesticks and a few small pumpkins in the center of the table and make them into a centerpiece. Or go all out and go down the enter center of the table.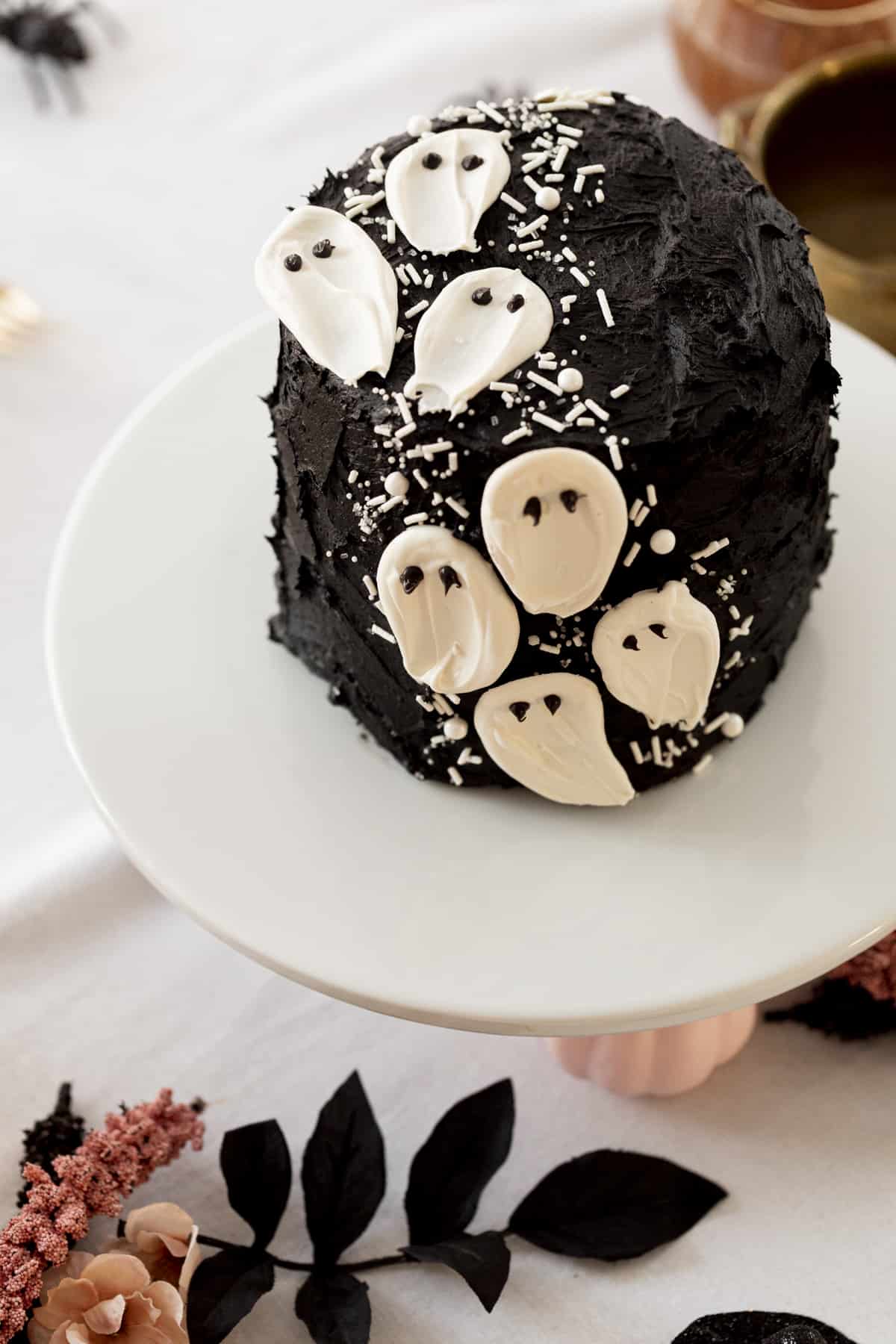 Food for the Table
I love to decorate a table with food. Adding pretty food or drinks can make for a lovely table addition. I'll include below what I had on this table and what else you might enjoy for Halloween!
You might still like these other ones too…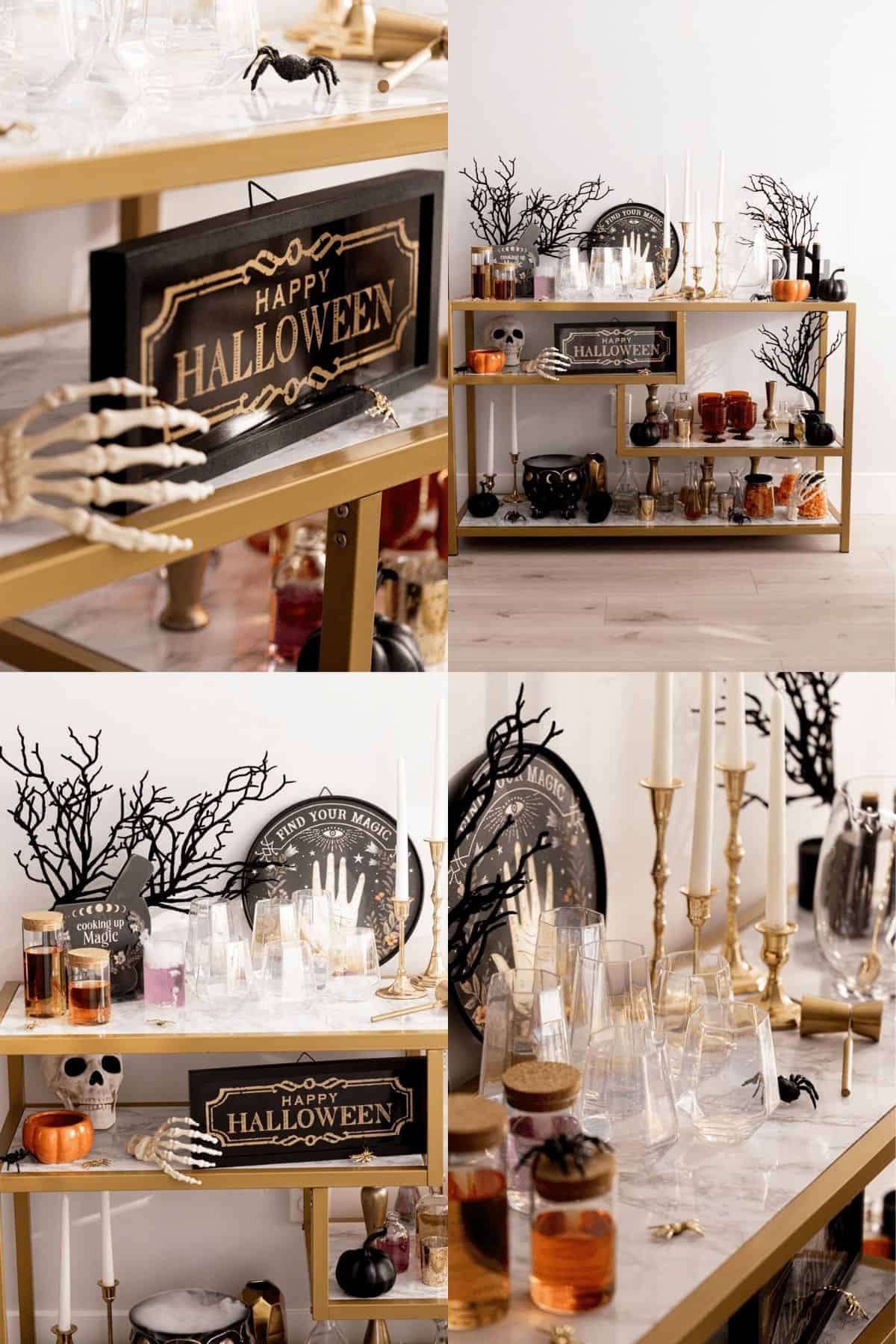 Halloween Bar Cart
In addition to these Halloween table decorations, I wanted to set up the bar cart area as well. I went with a bit of a separate theme. I went witchy with rainbow colors and black. Lots of potions, glassware, witchy signs, and a cauldron. I loved adding in some of the similar pieces like the spiders to tie this together.
Adding in pieces like the "potions" was a great way to add flair with very little cost. I took bud vases and containers and added water with a bit of food coloring. I also added dry ice to some of them to give a spooky, bubbling, double double toil and trouble effect.
Another fun addition is the candy in the jars on the bottom. Fun to have on the cart and offer to guests and family. I also added candles throughout the bar cart, but be sure only to light the ones on the top of the cart. Lighting the ones on the bottom is probably not the best idea.
Add a drink in a pitcher on the top shelf next to empty glasses and you're good to go! Most of my bar cart items are from Michaels, thrift stores, Target, and Etsy.