Charcuterie is super fun for any holiday, party, or even dinner. But this Halloween Charcuterie Board is perfect for fall and celebrating the festivities! And easily editable for any dietary restrictions. Or if you're looking for a Halloween dessert board you can try this Halloween Candy Board.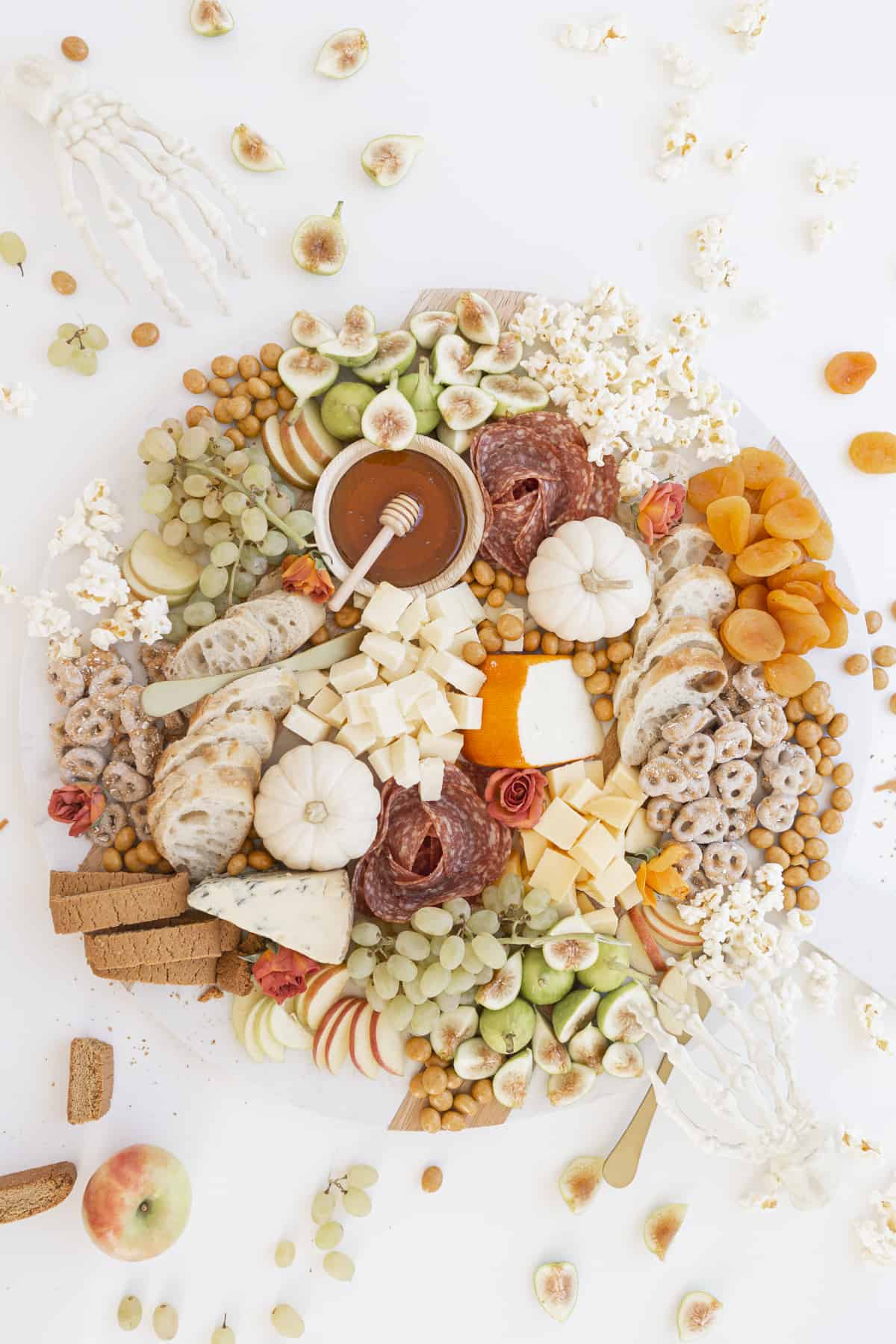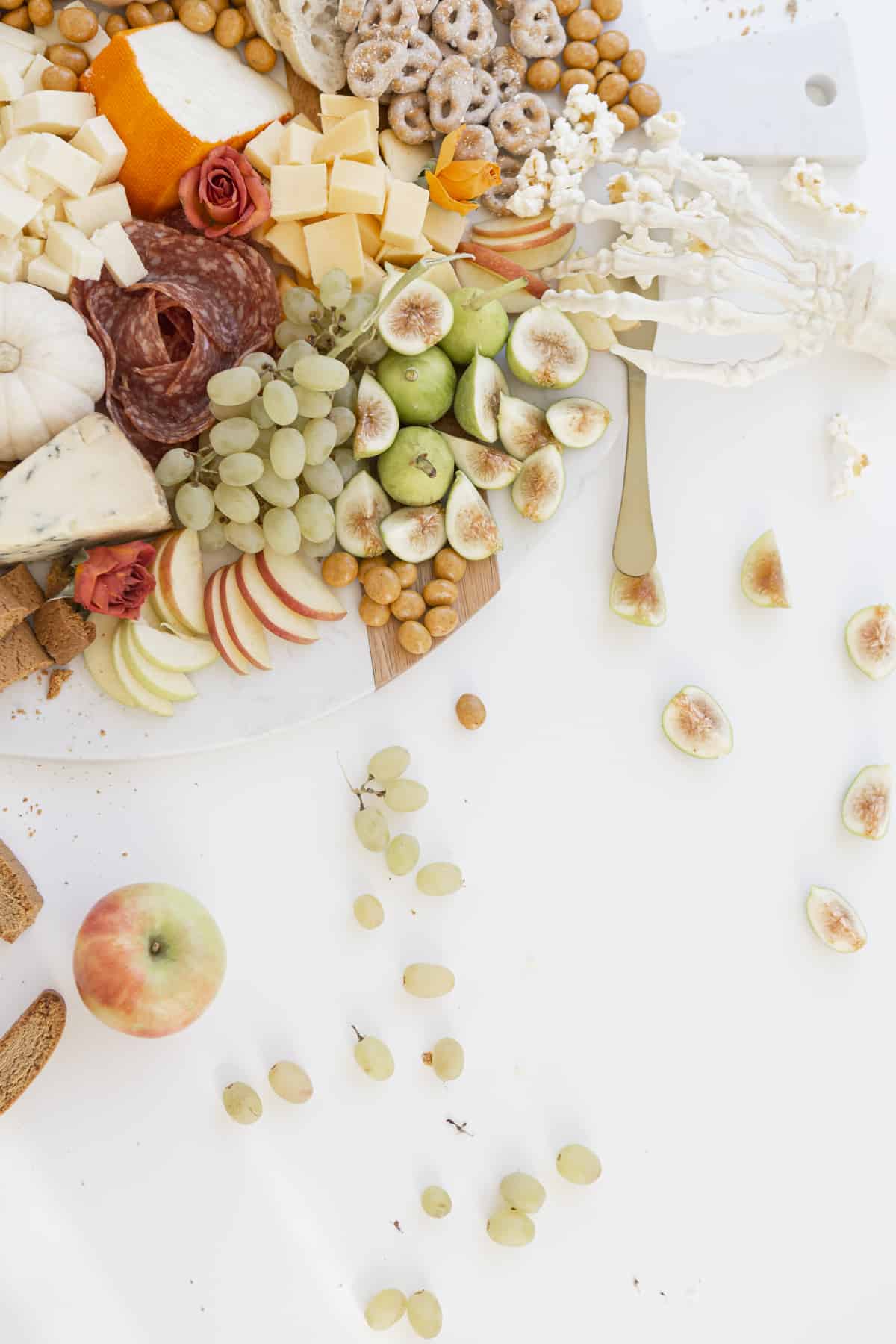 Why It's Great
I love this board because it's got the taste of fall with a few spooky elements for Halloween. The great part about charcuterie boards is that you can remove anything you don't love and add anything that you're missing.
I love mixing in cheeses, meats, breads, fruits, candies, treats. I feel like you get an entire meal in one board. Something to please everyone as an appetizer or snack or even a meal. And great for a Halloween party. I think this board is particularly fun for Halloween with the pumpkin spice espresso beans, pumpkin biscotti, figs, and of course the fun décor elements of the pumpkins and skeleton hands.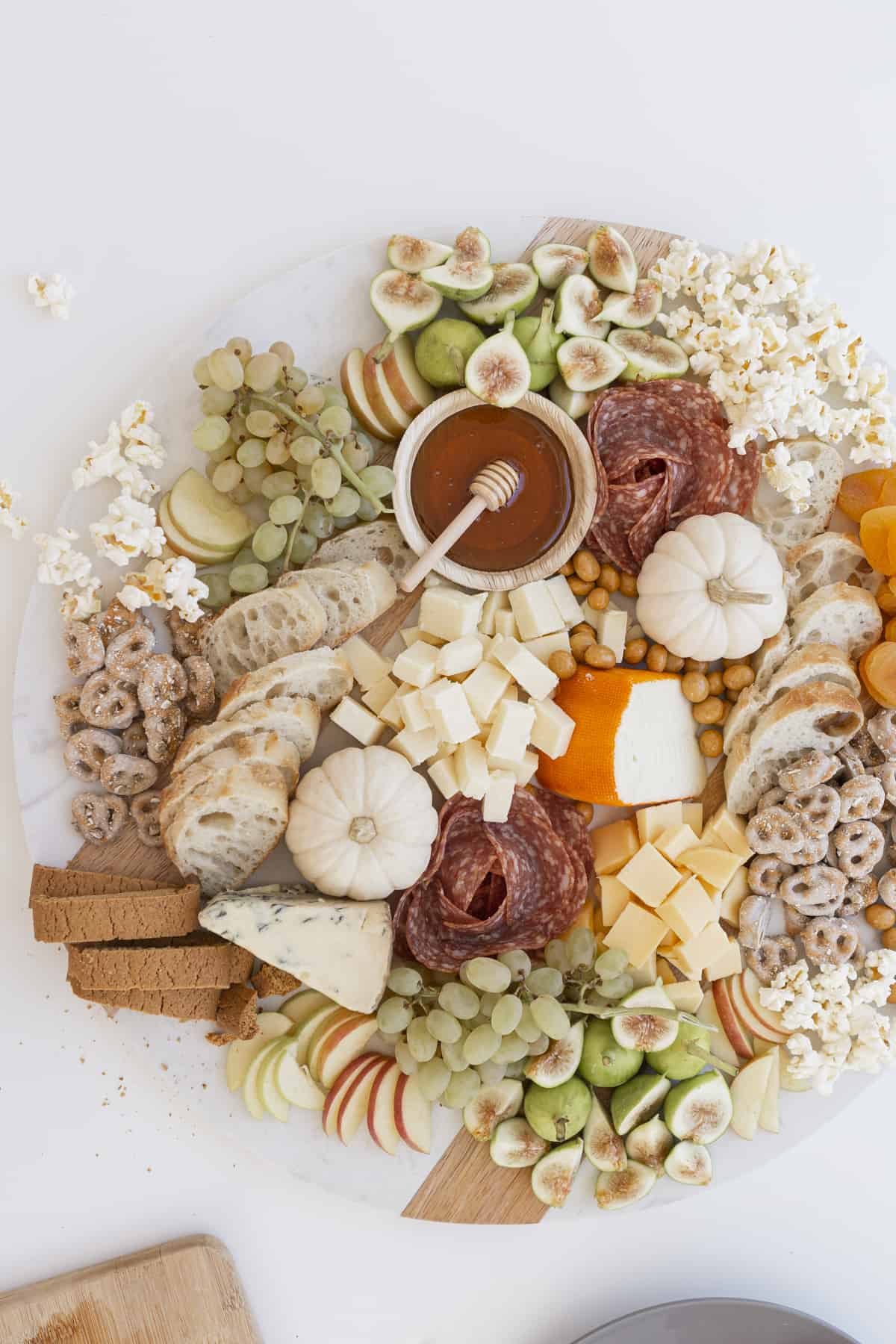 Ingredients
Charcuterie really can be customized to how you want it. But I'll go over some of my favorites and tips below. I'll go more into cheeses and meats in other sections below!
Fruits: I love adding a fruit element to boards. It adds great depth of flavor and sometimes can be a palette cleanser. On this board we have apples, grapes, figs, and dried apricots. Other great options for a fall board would be pears, cranberries, pomegranates, quinces, anything seasonal.
Breads: Great bread for a charcuterie board are those that pair with your cheese, small and easy to access. I'm using a baguette here, but crackers are also great for boards. They fan well, you can add plenty, and they are easy to grab. And there are tons of options for different types.
Little snacks: I like having little things on the board to fill space and add snacks. On here we have popcorn, pumpkin biscotti, pumpkin pretzels. Other options for boards like tis would be nuts, olives, little pickles or pickled veggies, fresh veggies.
Jarred goods: I love including honey on almost all boards since it pairs nicely with cheeses and fruits. I also think jam is a great option for boards. Things like pumpkin, fig, or apple jams are great for fall.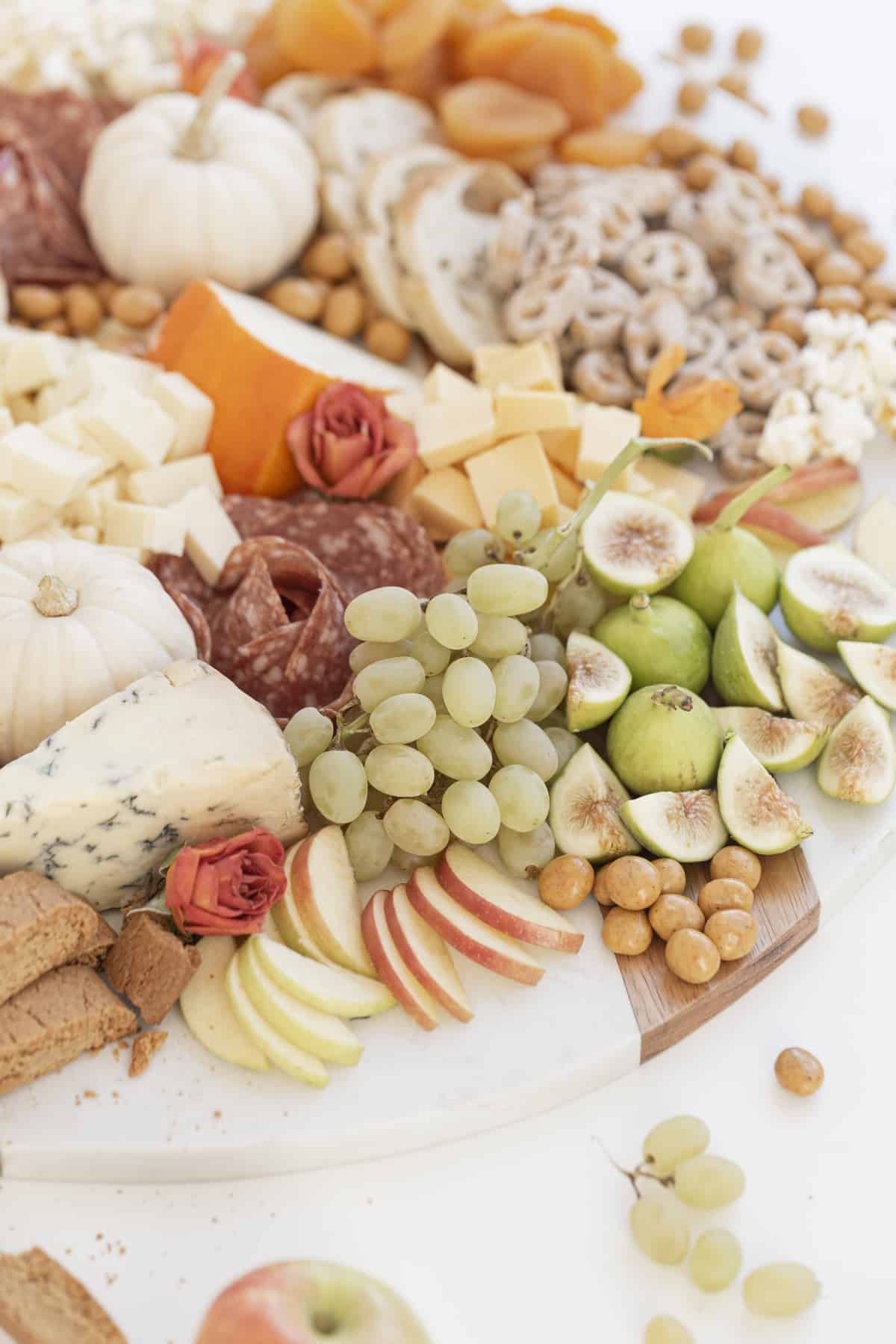 Cheese for Charcuterie
Cheese for boards is up to your preference, however, it's good to have a variety. I like to make sure I always have a minimum of 3 cheeses. One hard, one soft, and one unique. Then if you do more, you can choose which to add onto. I personally prefer to do less fragrant/strong cheeses for the soft and hard, then add a bit of a punch with the unique cheese.
For this Halloween cheese board, I grabbed cheeses from my favorite store, Trader Joe's. I have two hard cheeses, 1,000 Day Gouda and Unexpected Cheddar Cheese. Both of these are delicious and crowd pleasers. For the soft cheese I went for the Port Salut. This is one of my favorite soft cheeses. I also love brie as a soft cheese option. And my unique cheese was Cave Aged Blue Cheese. It's a bit funky and so delicious!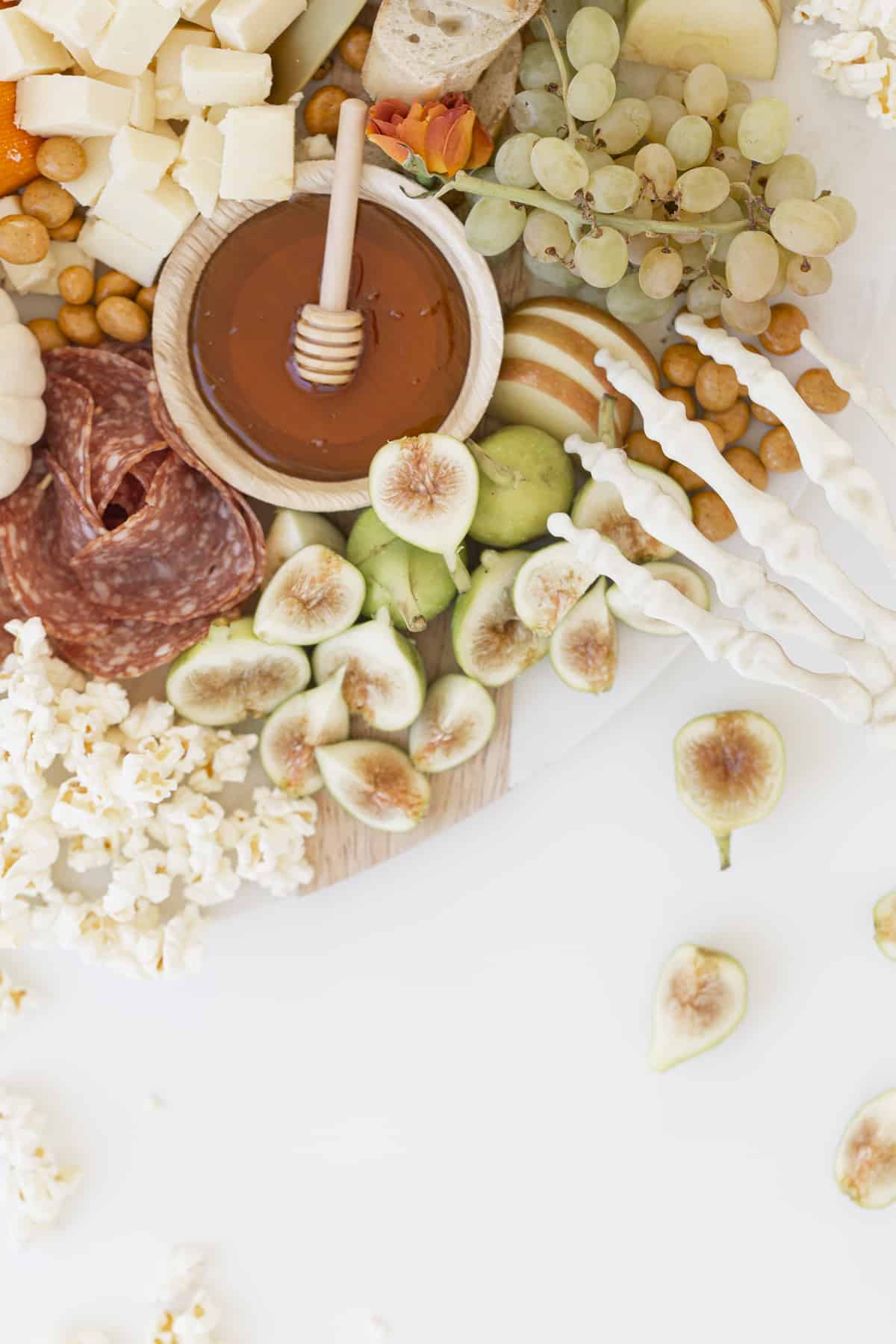 Meat for Charcuterie
Although I personally don't eat red meat, I do have a partner who loves it. So, I try to include it in some of my snack boards for him. For this board I went Calabrese Salami to make some salami roses. Other good options for meat on a charcuterie board are:
Salami
Prosciutto
Coppa
Sopressa
Capocolla
Calabrese
Salchichon
Jamón
Cantimpalo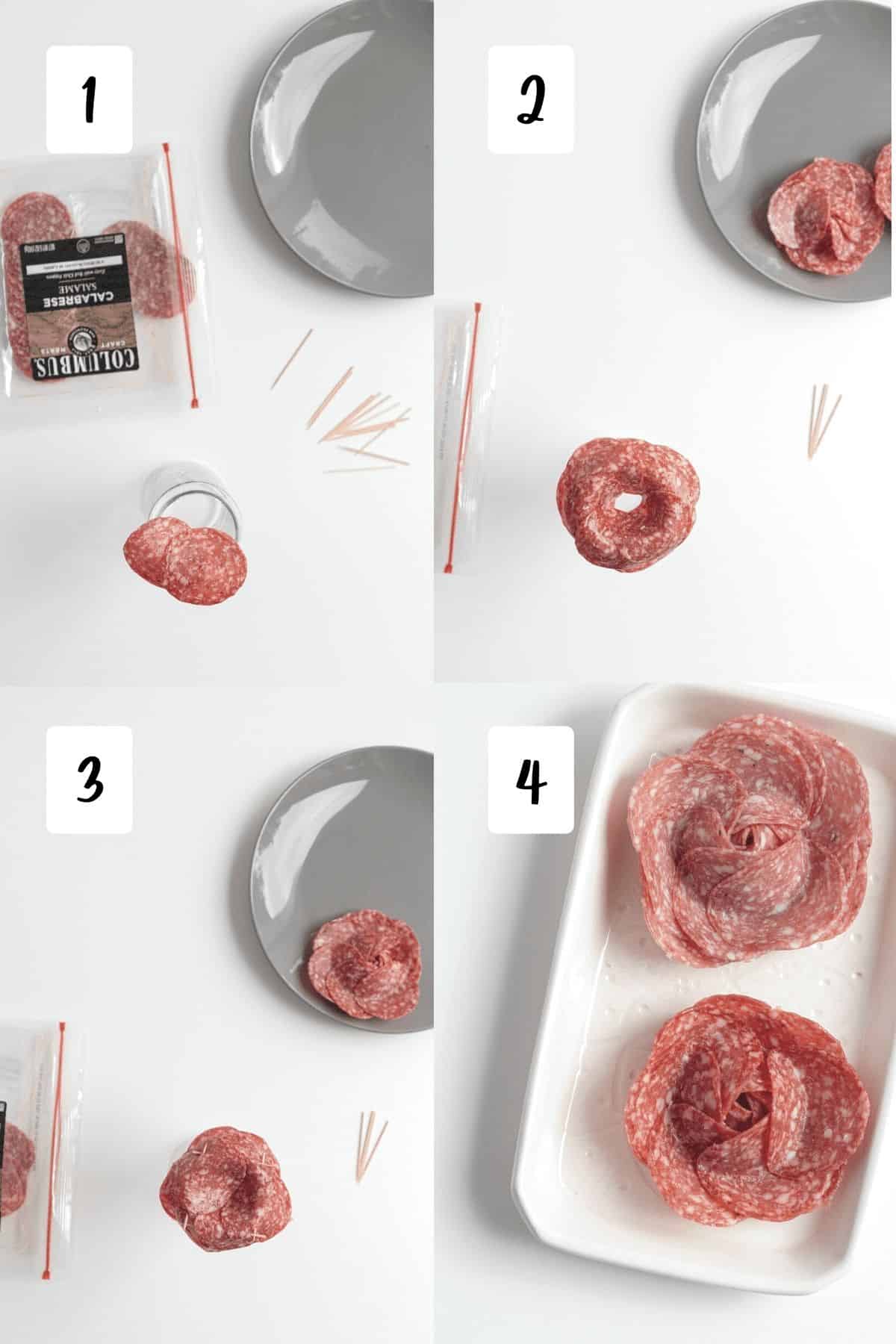 Salami Rose
One of the big parts of making a pretty charcuterie board is knowing a few different techniques to present meats. They can be the least cute part of the board or the most impressive. I like to make prosciutto roses, salami cones, fan pieces in an interesting way, and of course as you see in this board, salami roses.
There are a few notes to think of for salami roses.
Size of the salami – I suggest a medium sized to large.
Moisture content – something that has more moisture is better as it sticks well to itself.
Tools – You'll need a few tools such as a glass with a smaller opening, such as a shot glass. And something like toothpicks or little cocktail picks. These might only be necessary if it's not sticking together.
So, let's go through the steps for making salami roses.
Grab a shot glass or small glass with a small opening, this will help with creating a tighter flower. Take one piece of salami and fold it over the lip of the glass. Lay it about ½ of the slice of salami inside the glass, overlapping the other ½ outside the glass.
Take a second salami and layer it about halfway over the other salami and fold it too, over the glass. Continue this until you go all the way around the glass. For a great looking rose, do two full layers around the glass.
To ensure the rose sticks together, I take about 4 toothpicks and almost sew them into the salami bottoms. Making a little square of them.
Flip the rose out of the glass and place on your board.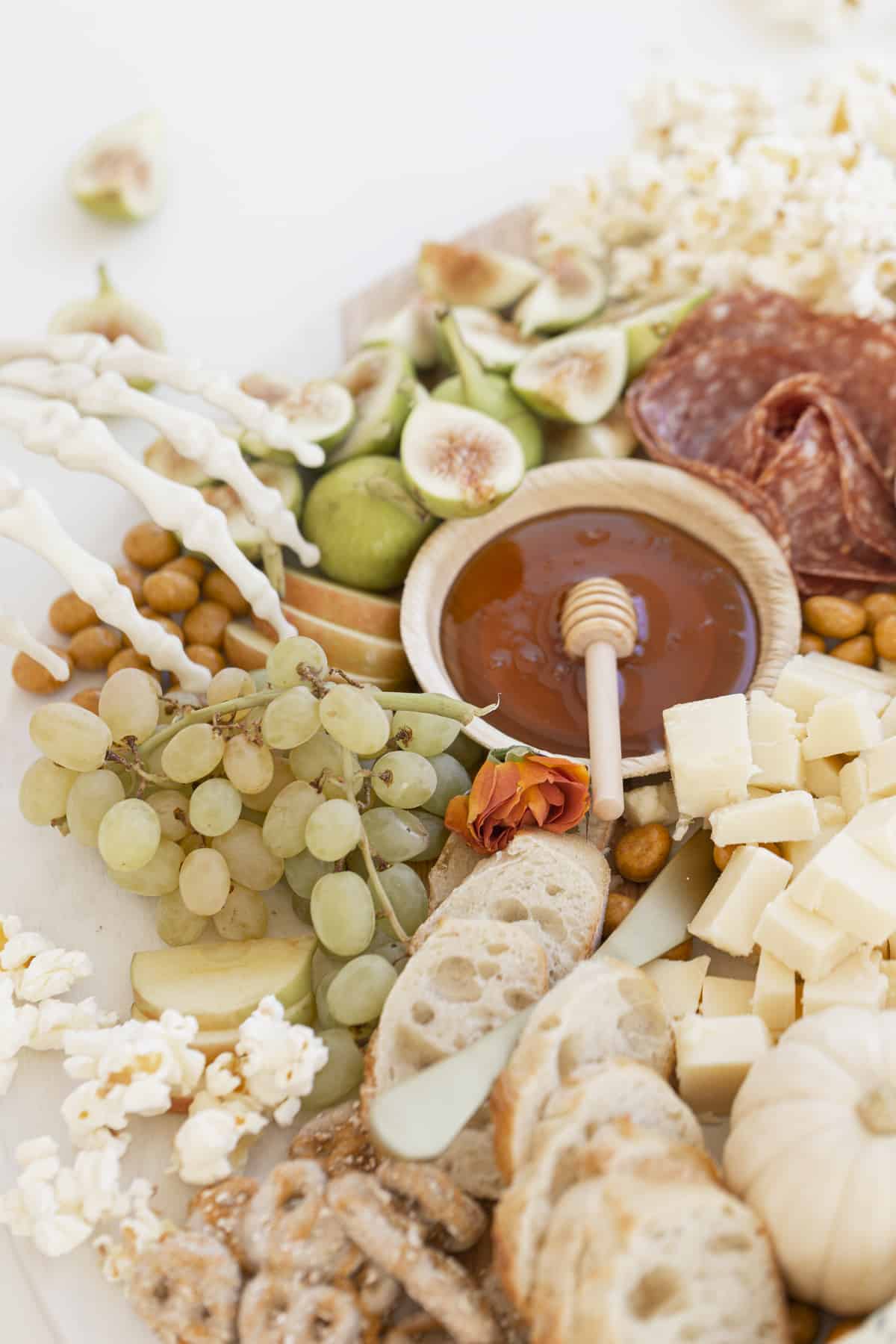 Steps for a Charcuterie Board
Always start with your "hero" or biggest items first. I'll do a very simple step-by-step below for you so that you can see the order they should go in. But you can also follow the recipe for exacts!
Place the Largest/Primary Items –Place any bowls (like the honey), cheese, and meats on the board to make sure that the biggest space is filled with pieces that have to be on the board. I also suggest cutting up any cheeses that should be sliced or crumbled to make it easy for guests. Spread them out across the board. And for this board I actually started with my small pumpkins because I wanted to make sure they had great placement.
Add Secondary Items – I like adding in the breads and crackers on at this time, fan them out and build upon those.
Place in Tertiary Items – This is where you can add fruit and veggies, and dried items. Again, build out from the other areas and separate them into different areas, to spread them out. The dried items I add in last and fill in open spots. Add in some of the smaller snacks here with like the pretzels, biscotti, etc.
Finish with Fillers – This is where the popcorn, espresso beans, and edible flowers come into play. Use them to fill in any open holes on the board. Also, the Halloween additions like plastic spiders, skeleton hands, etc. Then add utensils like a cheese knife and you're ready to go!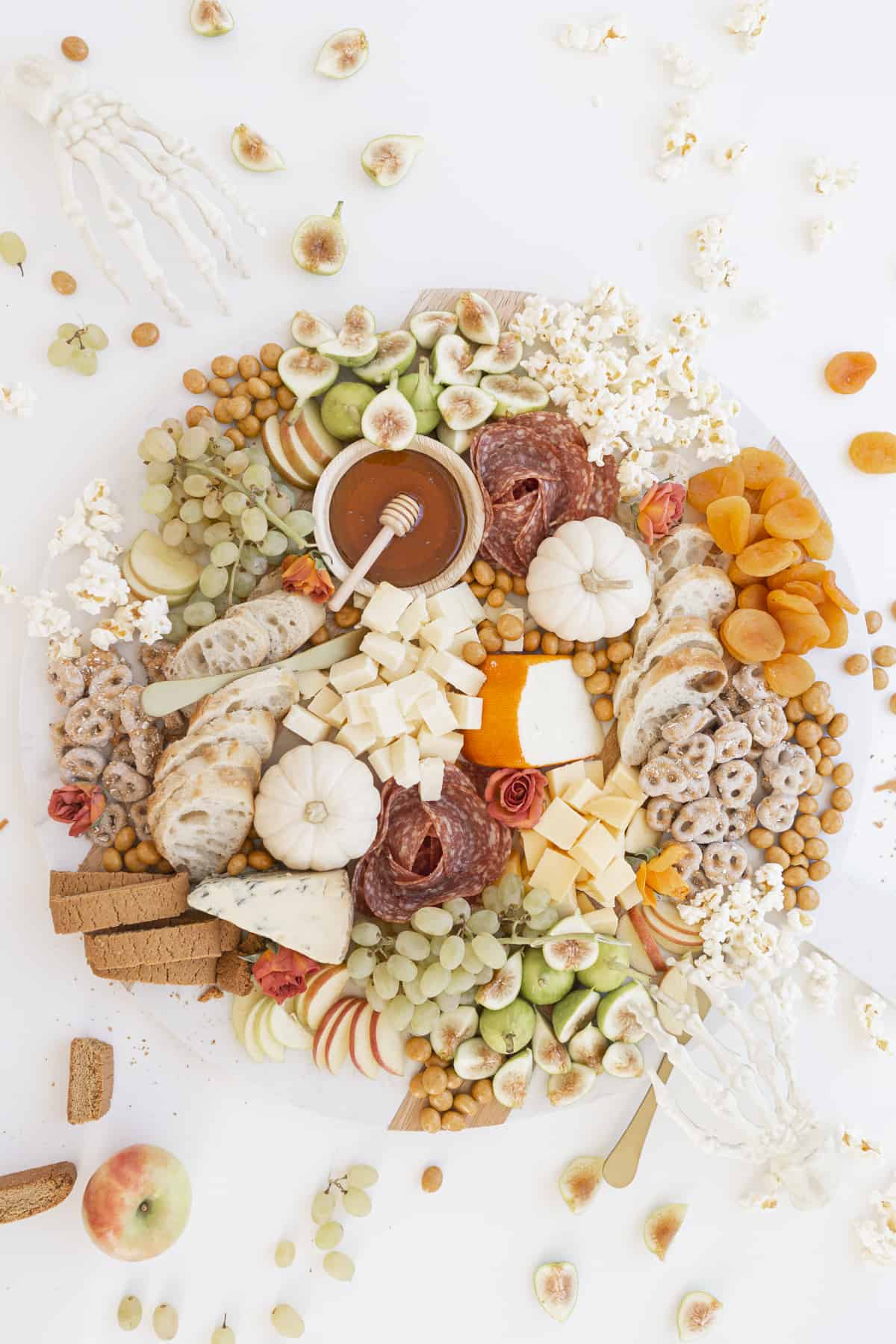 FAQs
How to serve prosciutto on a cheese platter.
I like to make my prosciutto, or similar meat, into a little rose. You make these easily by twisting from the middle of each piece or even folding it in half length-wise and then twisting from the bottom, making a cone shape. Then fold out the top layers.
How do you fold meat for a charcuterie board?
Folding meat on a charcuterie board can vary. Some good options are to make a salami rose, prosciutto rose, or to make a cone. Read above for how to make a salami rose. To make a very easy prosciutto rose, you can twist from the middle or divide it in half lengthwise, but keep it together just a little, then roll it pinching one side a little tighter. Or you can make a salami cone. Take the salami, fold it in half, then fold one corner up to the ⅔ point of the semi-circle, and roll into a cone.
What do you drink with a charcuterie board?
I suggest finding a wine that pairs nicely with the types of cheese you chose. However, some fun cocktails or sangria are also great options to pair with this. I would recommend trying one of these: Watermelon Wine Spritzer, Raspberry Mojito, Peach Sangria. If you are looking for a non-alcoholic drink I would try out this Lemon Mocktail.
How long can a charcuterie board sit out?
At a maximum your cheese and meats should only sit out for 2 hours, that can include your set-up time. You can prep your cheese board, cover, and keep in the fridge until ready to eat. But you don't want your dairy or meat to go bad, so be mindful.
Other Boards to Try
Love this Post?
Did you use this article and did it help you? Awesome! If you have a quick minute and could leave a comment below, I would appreciate the support and knowing your feedback! And if you're over on Instagram, be sure to tag me in your photos.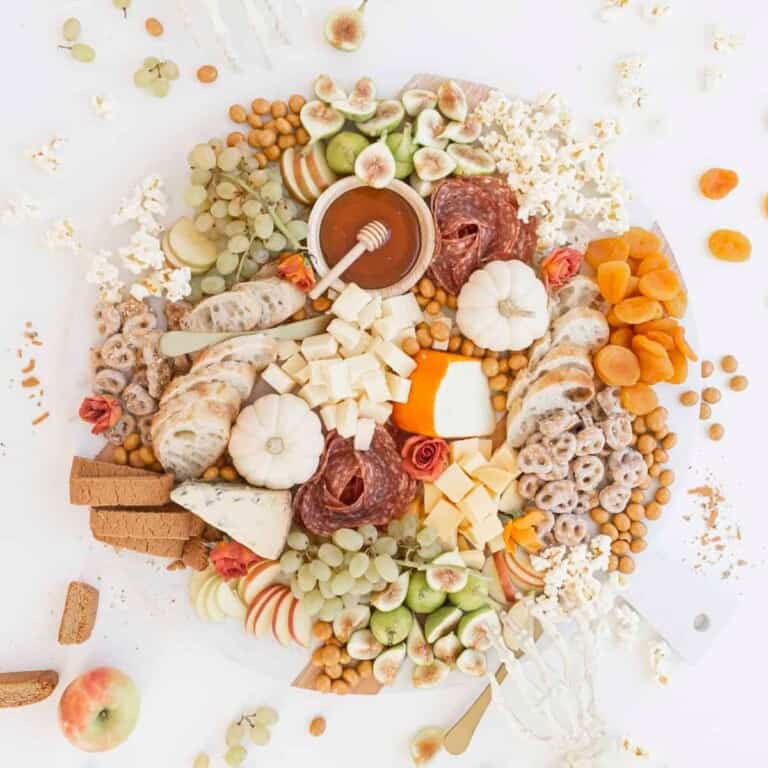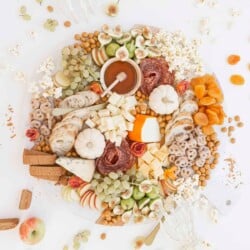 Ingredients
honey

mini pumpkins

cheddar cheese

Unexpected Cheddar

gouda cheese

1,000 Day Gouda

port salut cheese

blue cheese

Cave Aged Blue Cheese

salami

calabrese

baguette

figs

apples

grapes

dried apricots

small pretzels

popcorn

pumpkin biscotti
Instructions
Prep your ingredients – Slice your fruits, cheeses, etc. so you are ready to plate. Also assemble your salami rose per the instructions in the blog post.

Place board – Place board wherever it is you'll be serving it. It's much easier this way!

Create the layout – You'll want to layout your bowl and pumpkins first as they can take up the most room and create a good focal point. Fill the bowl with honey.

Place the heroes – In this case the cheese and salami roses. Try to layer around placed items if possible.

Place larger items/supporting ingredients – For this board this is the bread, then pretzels, biscotti. Add some to both sides of the board. Again, build around the pieces already on the board.

Fruit – Add in the different fruits, build around what's there and try to set them up in a couple spots.

Fillers – I always use a few things as fillers. For this board our fillers are popcorn and espresso beans. Stick these in the empty spots. For a board like this…more is always more. Just keep going!

Utensils – Stick in small spoons, forks, cheese knives, etc. where needed.

Decorate – If you like a bit of extra flair like I do, you can always add edible flowers, skeleton hands, some faux spiders, etc. to fill in any last holes. Or you can add things like luster dust or prism powder for more glitz.
Notes
Feel free to swap out ingredients for things you enjoy most.
Wash your pumpkins in the sink like you would with other produce.
Add fun Halloween decor for flair!
Tried this recipe?
Mention @amanda.wilens