Gooey Butter Cake Cookies
Gooey butter cake is a staple to St. Louis. It's like a cakey brownie. It has a harder bottom layer and a denser, but chewy top layer. When I first visited Tyler in St. Louis in 2013, it was a mission of mine to find some of the best places for us to eat at. He was in grad school and eating out wasn't always an option on his budget. But it was his birthday and we needed to celebrate. I found this place online called Park Avenue Coffee Roasters. They sell bake and sell Ann & Allen's Gooey Butter Cake.
They don't just sell regular vanilla flavor, they make basically any flavor you can think of and then some. I loved this little cozy coffee shop, where we could sit and try this delicious treat for the first time. I believe our first flavors were traditional (yellow cake/vanilla) and cinnamon roll (seasonal). But they also have red velvet, chocolate chip cookie dough, pumpkin spice, and so much more.
So, of course when we went back with his whole family in 2014 we ordered almost everything on the menu and between the six of us we were able to try them all! It was such a fun experience. And when I moved to St. Louis in 2015, it was always a fun place to take friends and family to try this St. Louis classic.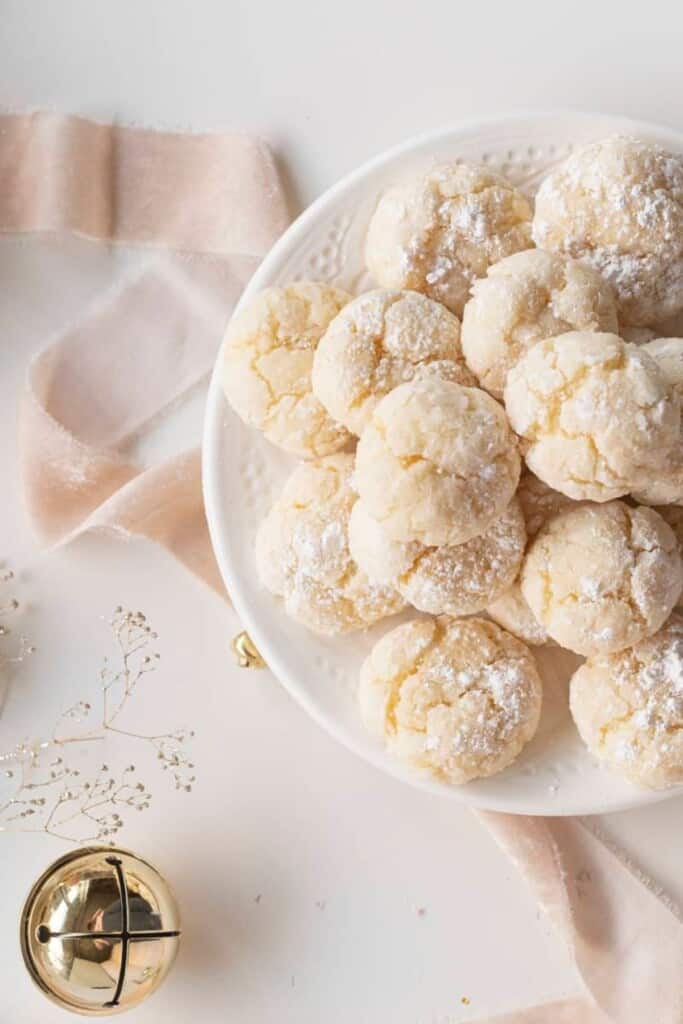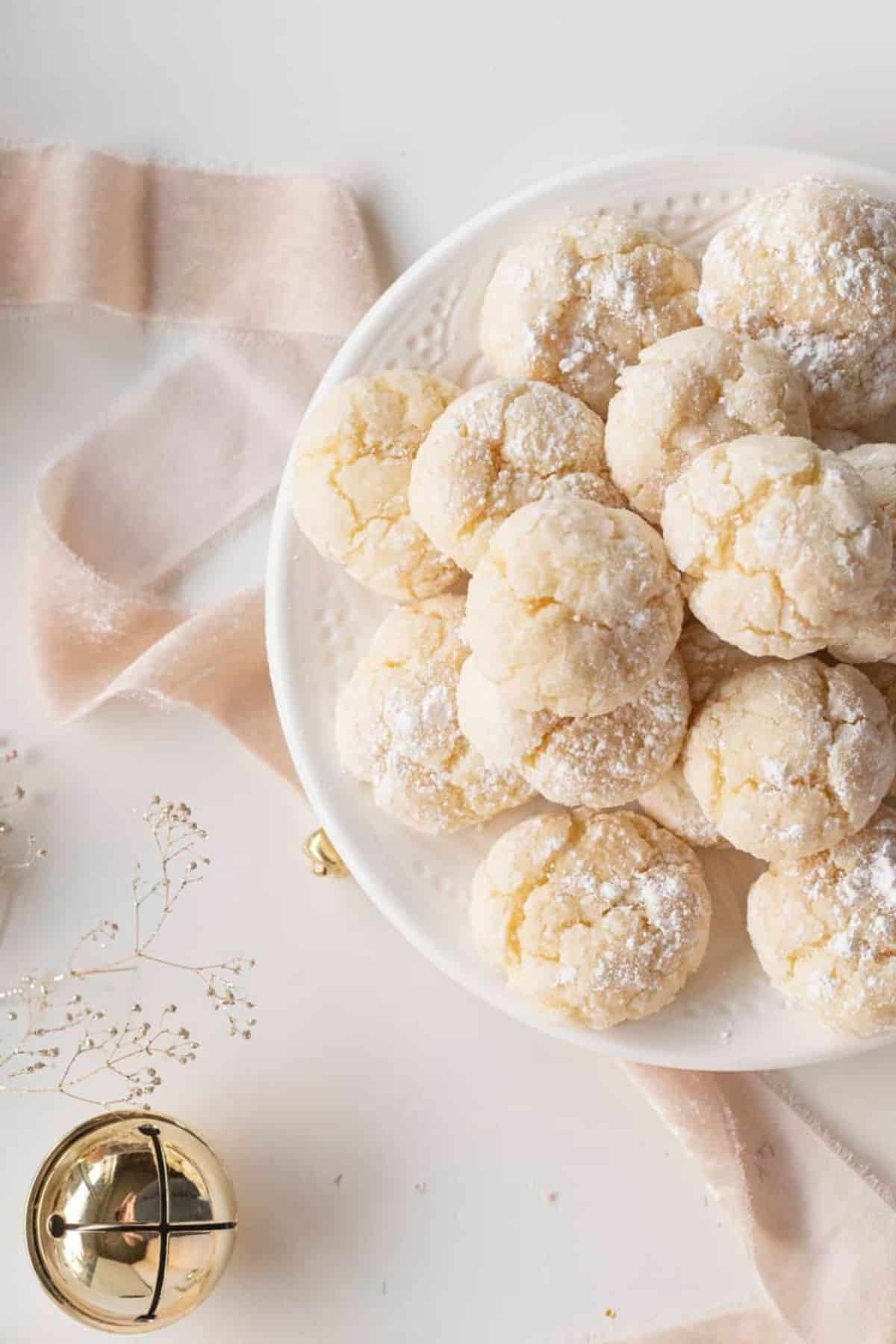 Table of Contents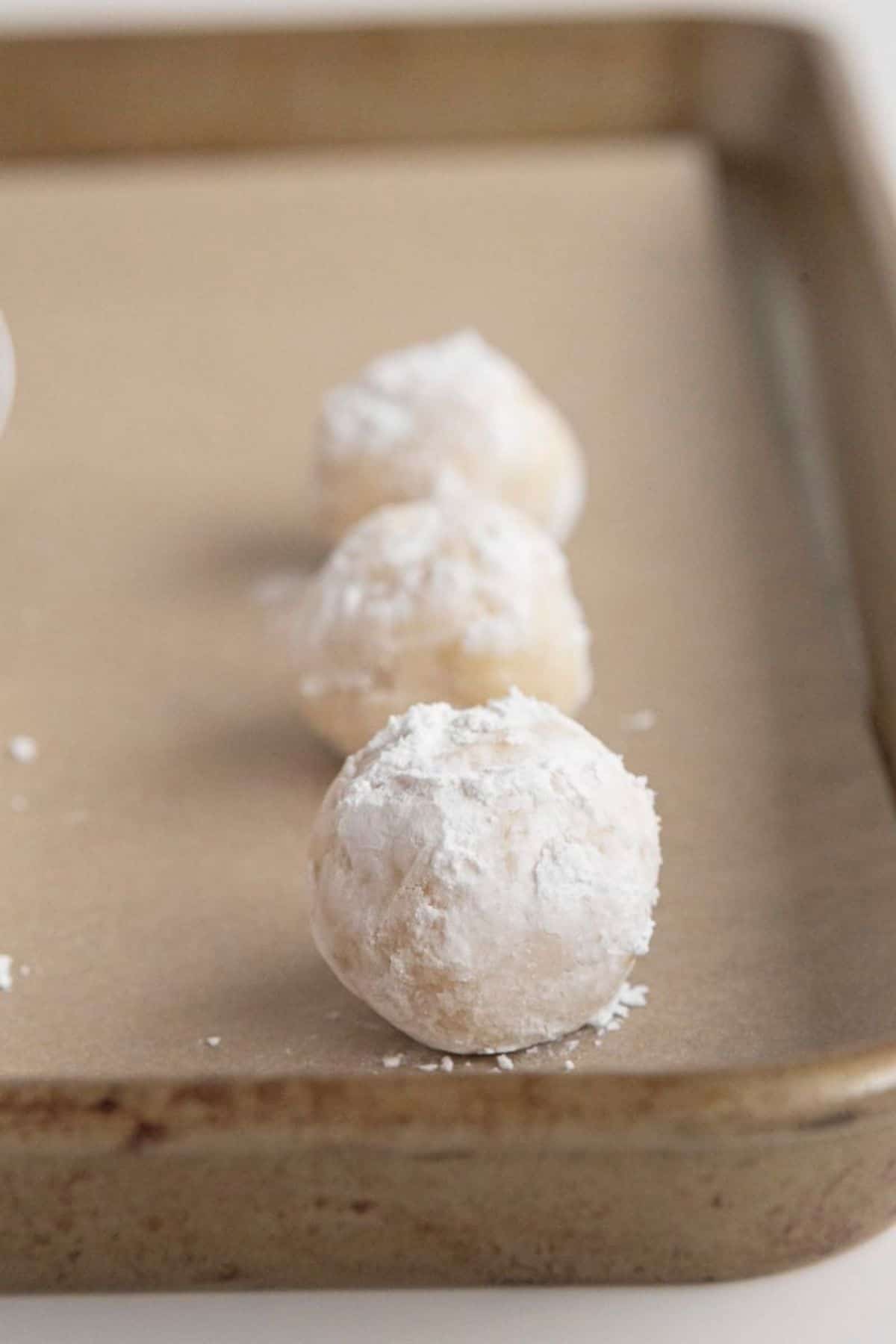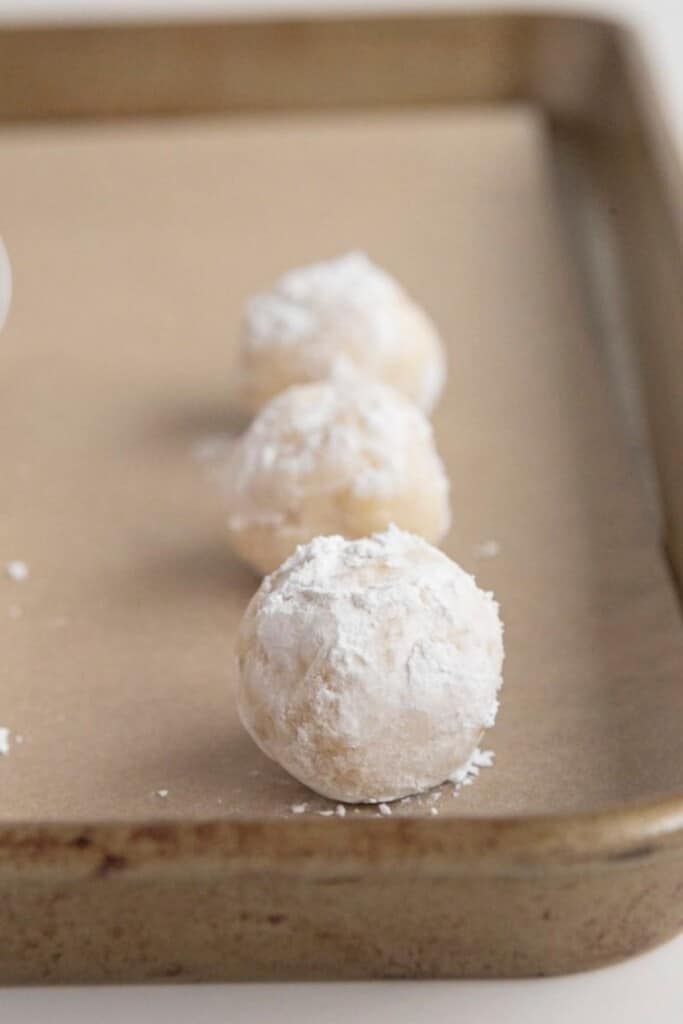 And after moving to St. Louis, I began to realize that most St. Louis Natives make their own version of Gooey Butter Cake. Whether it's a recipe from their favorite restaurant, grandma's own special recipe, or even a recipe from a local paper or magazine…everyone had a recipe at the ready. I decided to try making my own referencing a few recipes from coworkers and online. Then, I decided that I wanted to make them into cookies. I had done it with crinkle cookies in the past using a cake mix, why not these? The only real difference is using the additional butter and cream cheese instead of oil.
I started making them 100% from scratch. I thought I preferred from scratch so I could feel like they were 100% homemade. Then, in a hurry one day I used box mix…and man, they were still delicious and so much easier. I cut my prep time in half, at least! And you know what, you're still making them from scratch. They are homemade!
And now that we're back in California after spending four years in St. Louis, experiencing so much amazing food, these gooey butter cookies will always be something I take away from my time there. I was so lucky to be able to try so many amazing things in my time there. Some STL staples weren't for me…like Imo's and toasted ravioli. But gooey butter cake (and of course frozen custard) will always hold a special place in my heart.
These gooey butter cookies are a great way to get that gooey butter cake taste, but in a simple cookie! They are wonderful for any celebration, can be customized, and even used in a beautiful holiday cookie box!
Gooey Butter Cake Cookies with Cake Mix
Using cake mix takes the stress out of finding/having the right ingredients, but is also a great time saver! And for those non-bakers, this recipe is just a few steps easier. You're still making something unique and different, so don't think that this is cheating or not baking from scratch, you still are!
I used to make these and my chocolate crinkle cookies all from scratch, however, I know that not everyone carries these ingredients in their houses, so I've posted recipes using cake mixes! Of course, you can simply replace those mixes with your own favorite dry cake mix ingredients. Which means these are easy to make gluten free as well.
Different Flavors of Gooey Butter Cake Cookies
An easy way to customize the flavors for these is to simply use a different flavor cake mix. It's seriously that easy. You can use chocolate, red velvet, whatever floats your boat. Some will spread more than others just by their other ingredients. But, it's fun to play with them and see what you can make. The most important part to these is the cream cheese, butter, and coating in powdered sugar.
Some other fun ways to customize these cookies is to add peppermint pieces to the powdered sugar. Just another fun way to add holiday spirit into your cookies. Or change the flavoring of the extract. For example, to make these "funfetti" just add butter extract and 1-2 Tbsp of sprinkles to the batter. And voila, you've done it!
Gooey Butter Christmas Cookies
Like I mentioned above, you can completely customize these. A few ways I like to do that is for the holidays. I like to add peppermint pieces to my powdered sugar before rolling the dough in it. Or you can make the cookies using a chocolate batter and use peppermint extract there as well. Completely customizable and perfect for the holidays!
Gooey Butter Cake Cookie Recipe
Yellow Cake Mix Cookies Ingredients
1 box of yellow cake mix (or your favorite yellow cake recipe sans wet ingredients)
1/2 cup butter (softened)
8 oz cream cheese (room temperature)
1 egg
1/4 tsp vanilla extract
1 cup powdered sugar
crushed peppermint
How to make Gooey Butter Cookies
Using an electric mixer, combine the butter, cream cheese, egg, and vanilla until light and fluffy.
Stir in the cake mix until the dough becomes smooth and thoroughly combined. Cover your bowl and place the dough in the refrigerator to chill for 30 minutes.
Place your powdered sugar into a separate bowl.
After your dough has chilled, preheat your oven to 350° F.
Scoop a spoonful of dough into your hands and roll into a ball. Drop a few of the dough balls into the powdered sugar and toss to coat.
Place the dough balls onto an ungreased cookie sheet and bake for 12 minutes.
Cool and enjoy!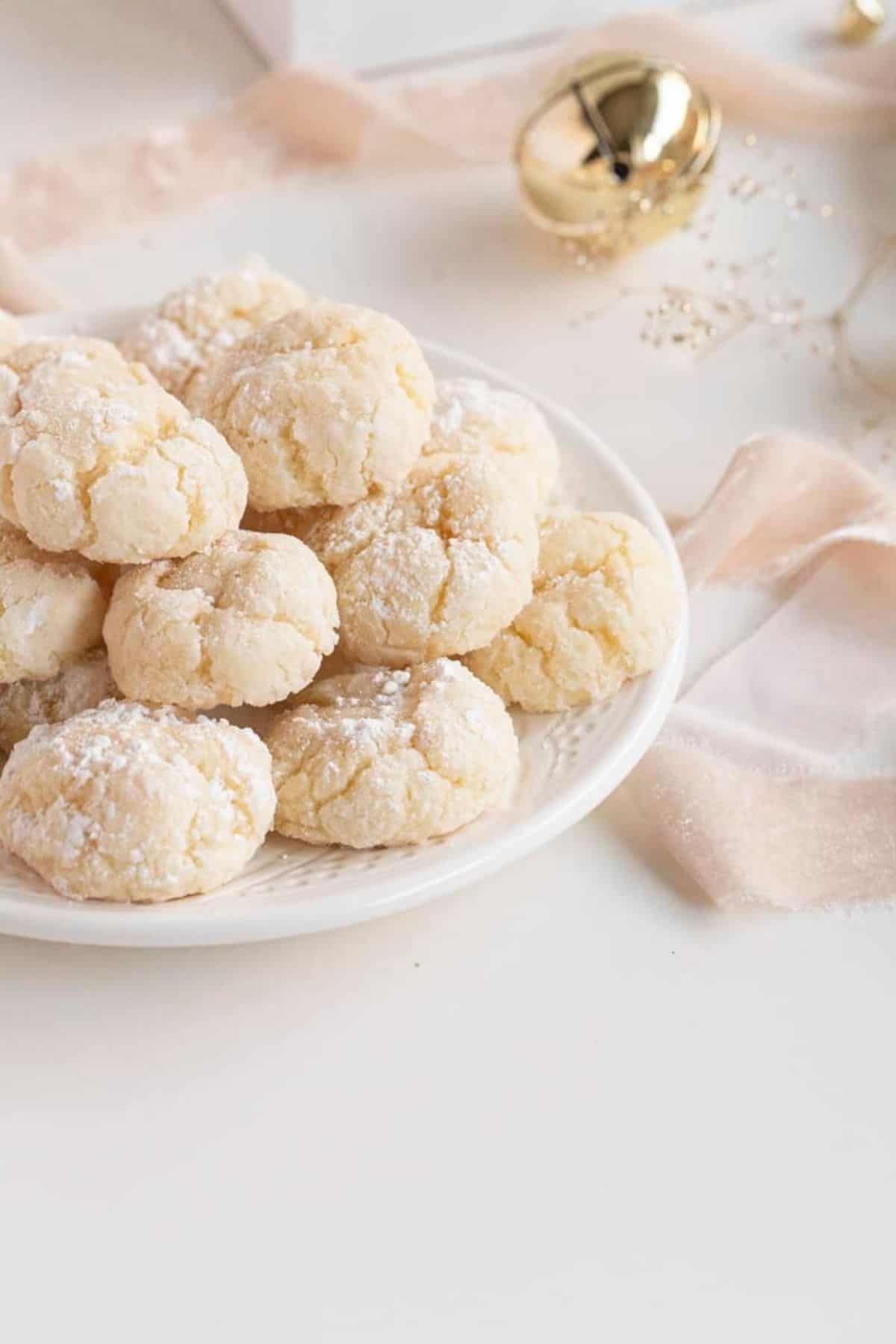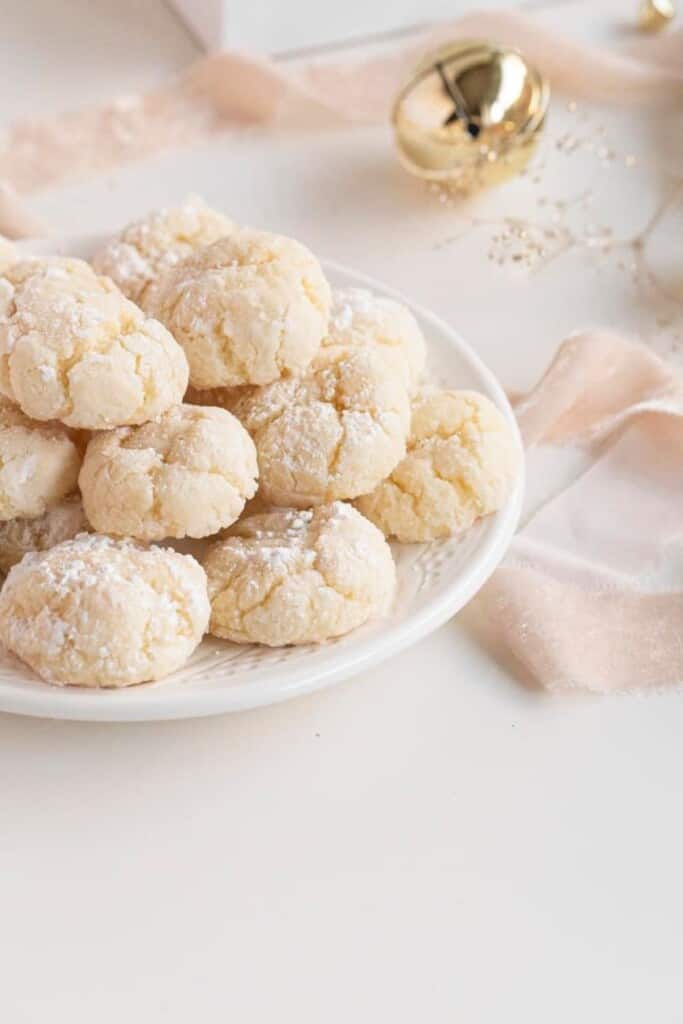 FAQs on Gooey Butter Cake Cookies
Do I have to use boxed cake mix?
No, but the recipe calls for about 15-16 oz of cake mix. So you'll need about that much in ingredients.
Can I make these another flavor?
Of course. You can use whatever box mix flavor you prefer...chocolate, red velvet, funfetti, etc.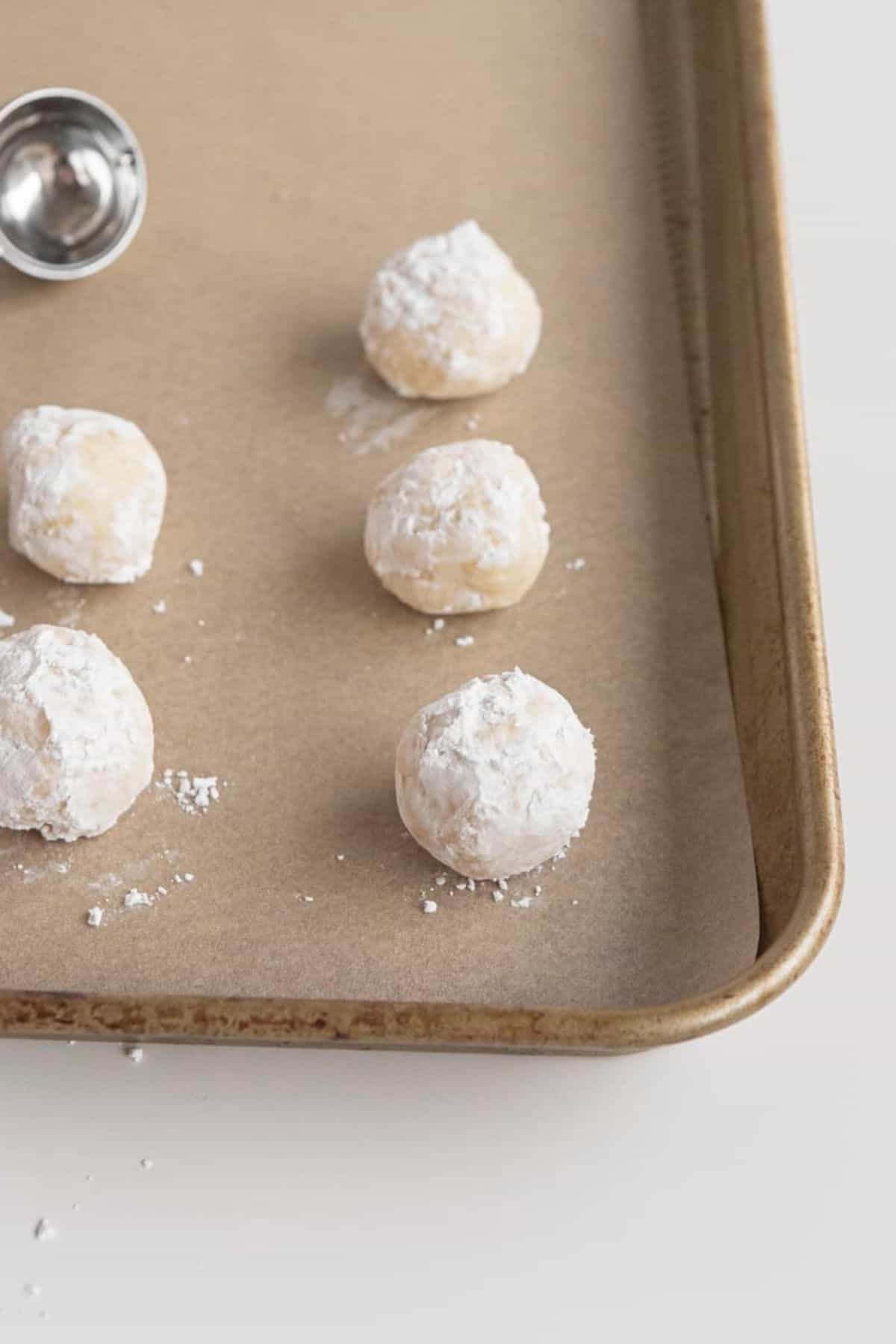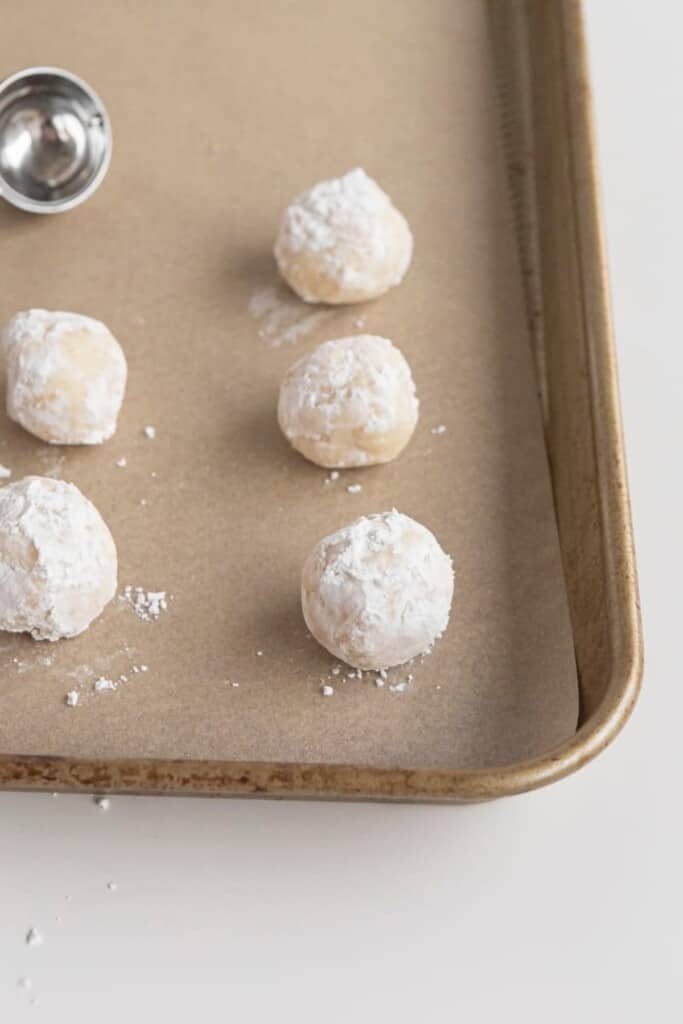 Other Cookie Recipes to Try
Love this Recipe?
Did you make this recipe and just love it? Awesome! If you have a quick minute and could leave a star rating and comment below, I would appreciate the support and knowing your feedback! And if you're over on Instagram, be sure to tag me in your photos!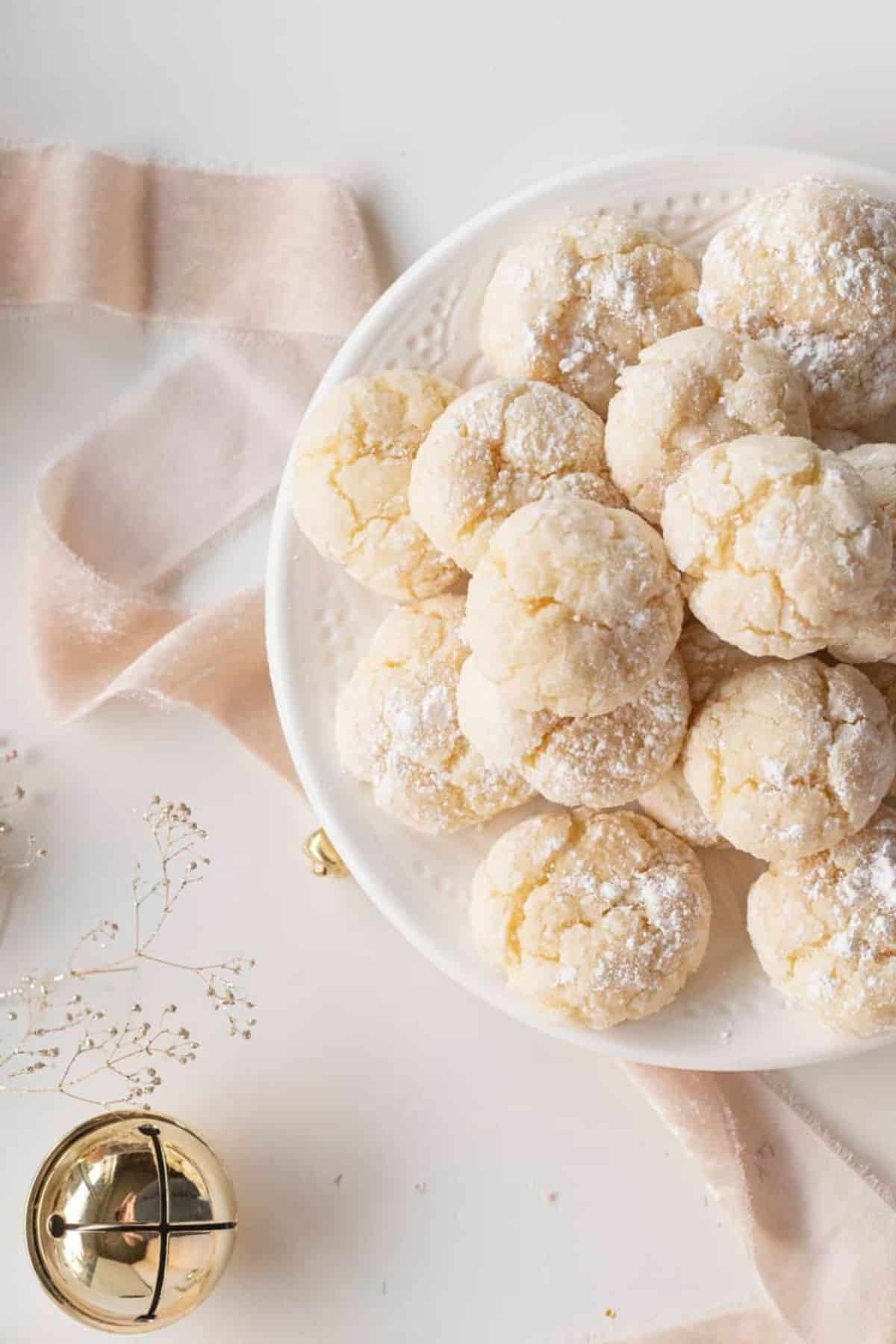 Ingredients
1

box

yellow cake mix

or white cake mix (15.25 oz)

1/2

cup

unsalted butter

room temperature

8

ounces

cream cheese

room temperature

1

egg

large

1/2

tsp

vanilla extract

1

cup

powdered sugar

peppermint candies, sprinkles, etc

optional
Instructions
Using a stand mixer using a paddle attachment at a medium speed, combine the butter and cream cheese and mix until smooth. About 4-5 minutes. Make sure there are no lumps.

Add in the egg and vanilla and mix until combined. About 1-2 minutes

Stir in the cake mix until the dough becomes smooth and thoroughly combined, about 1-2 minutes. Cover your bowl and place the dough in the refrigerator to chill for at least 30 minutes.

After your dough has chilled, preheat your oven to 350° F, and prepare baking sheet with parchment paper.

Place powdered sugar into a separate bowl. Optional to now add in some crushed peppermint candies or sprinkles at this time to your powdered sugar.

Scoop a spoonful of dough into your hands and roll into a ball. Drop a few of the dough balls into the powdered sugar and toss to coat.

Place the dough balls onto prepared cookie sheet and bake for 12 minutes.

Cool and enjoy!
Notes
– Boxed cake flavor: You could also do this with any flavor cake. Chocolate, red velvet, funfetti. The options are endless.
– Room Temperature Butter and Cream cheese: This is essential for this recipe to make sure you don't have any clumps and that your batter incorporates fully. If you don't have both at room temperature, you will see major differences in your final cookie.
– Creaming: Creaming the butter and sugar is an essential part of making cookies and baked goods. I always say do this for like 4-6 minutes. It's the difference between something having a granular and dense bake or a light and fluffy, clean bake. So, take your time when creaming your butter.
– Cool Baking Sheets: Now, you can reuse the parchment paper and of course you can bake using just 1-2 baking sheets. However, before you place dough or bake it, your baking sheets should always be cooled down. This helps with a good bake and keeping those cookies thick.
– Perfect Circle: This is my favorite Cloudy Kitchen tip! Use a round cookie/biscuit cutter that's just a bit bigger than your cookie. Right when the cookies come out of the oven, place cutter around cookies and quickly move cutter in a circle motion to create a perfect cookie shape while still warm and moldable. This makes for a perfectly circle cookie.
Nutrition
Calories:
134
kcal
|
Carbohydrates:
19
g
|
Protein:
1
g
|
Fat:
6
g
|
Saturated Fat:
4
g
|
Cholesterol:
22
mg
|
Sodium:
152
mg
|
Potassium:
21
mg
|
Fiber:
1
g
|
Sugar:
12
g
|
Vitamin A:
204
IU
|
Calcium:
46
mg
|
Iron:
1
mg
All nutritional information is based on third-party calculations and should be considered estimates. Actual nutritional content will vary with brands used, measuring methods, portion sizes and more.
Tried this recipe?
Mention @amanda.wilens