These little candies are so fun to use to decorate cupcakes, cakes, or even just to add to a Halloween dessert board. I used them to decorate this fun Black Velvet Cake. These only take a couple of ingredients to make and take under 10 minutes to put together.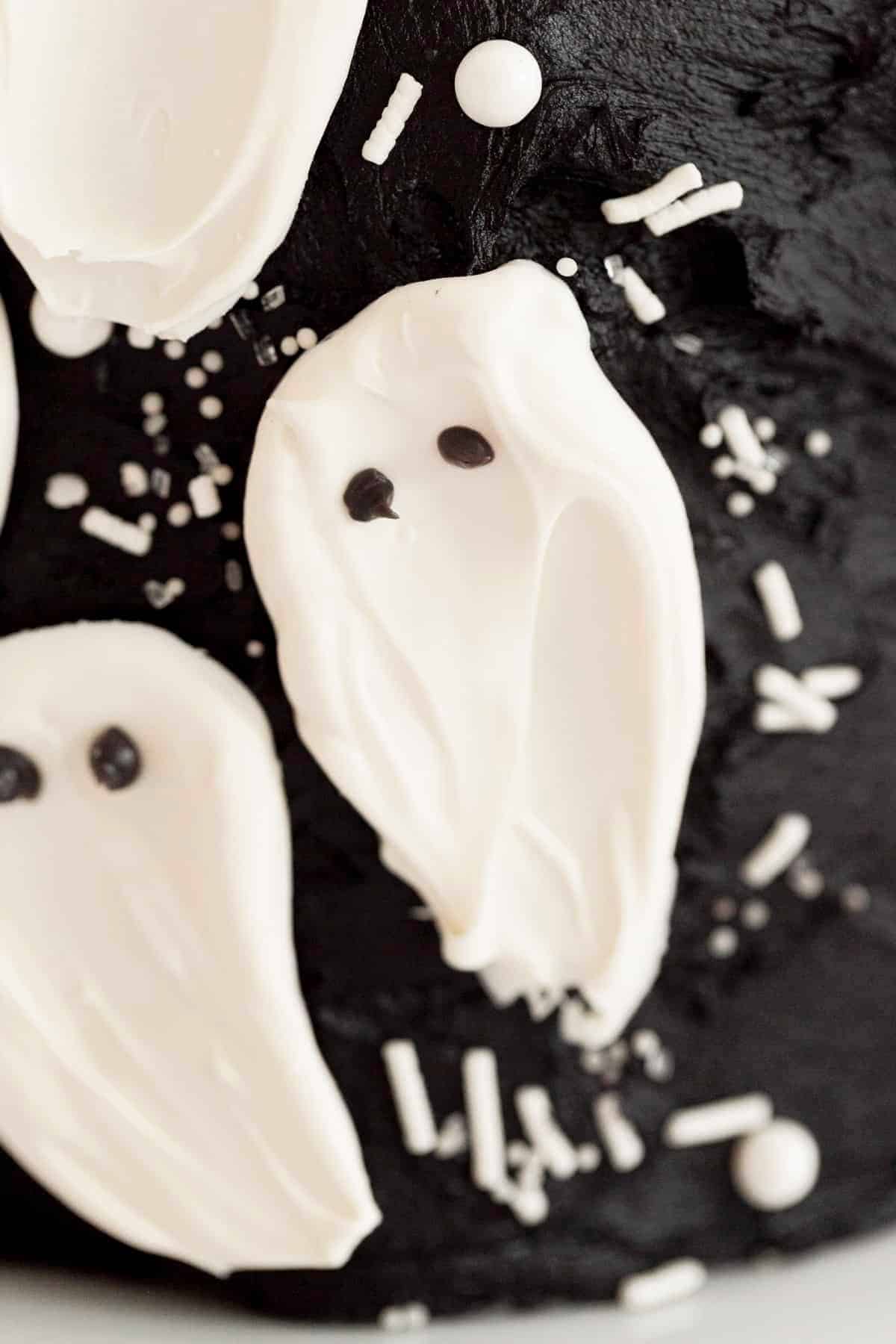 Table of Contents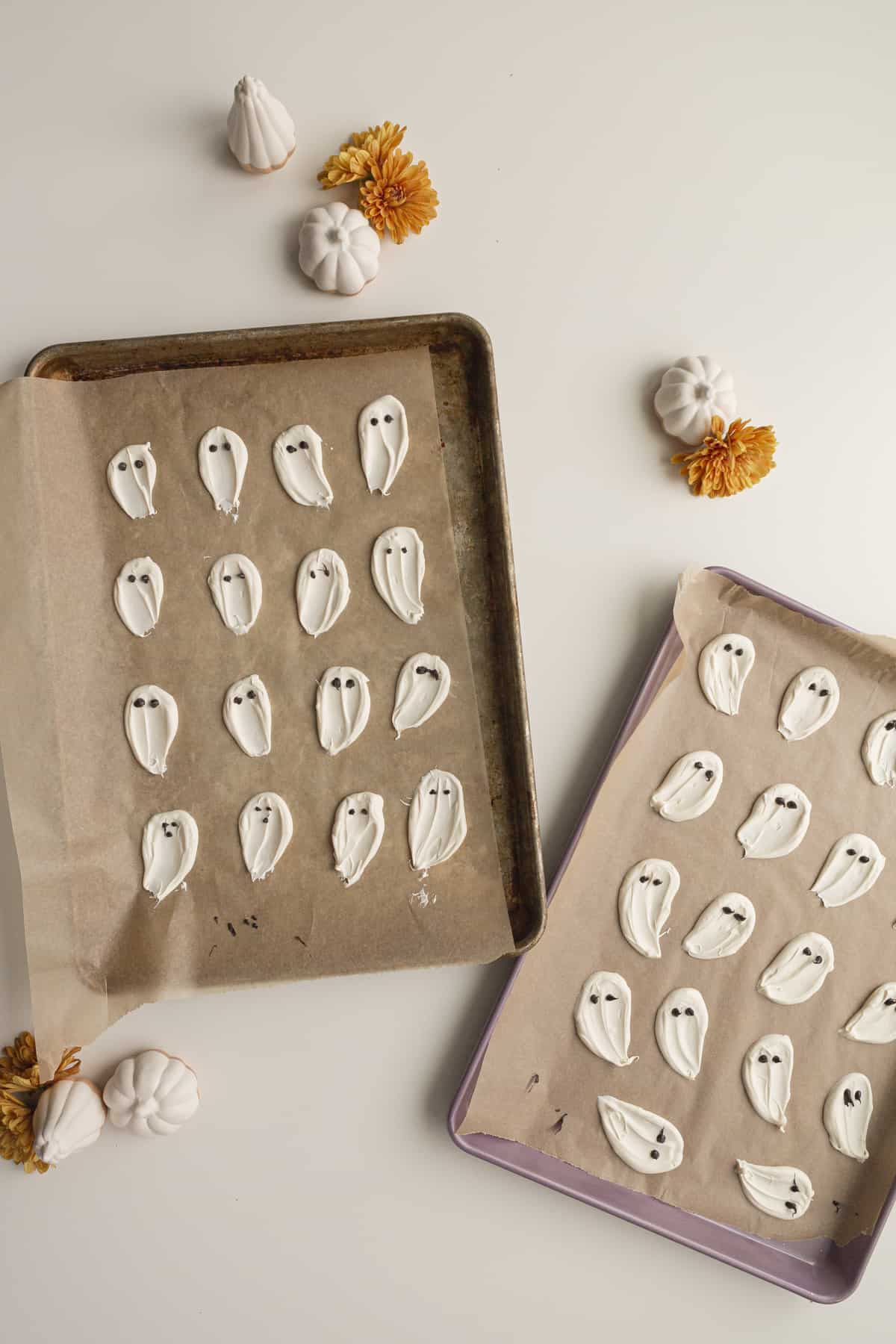 Why These Work
These little ghosts are so easy to make and only take 2 ingredients. They are so fun and you can make as many or as few as you want. They really are the perfect little decoration for sweet treats. You can make them as a last-minute addition to anything. They really take under 10 minutes to make and no cooking is required. Just a few minutes at most in the microwave.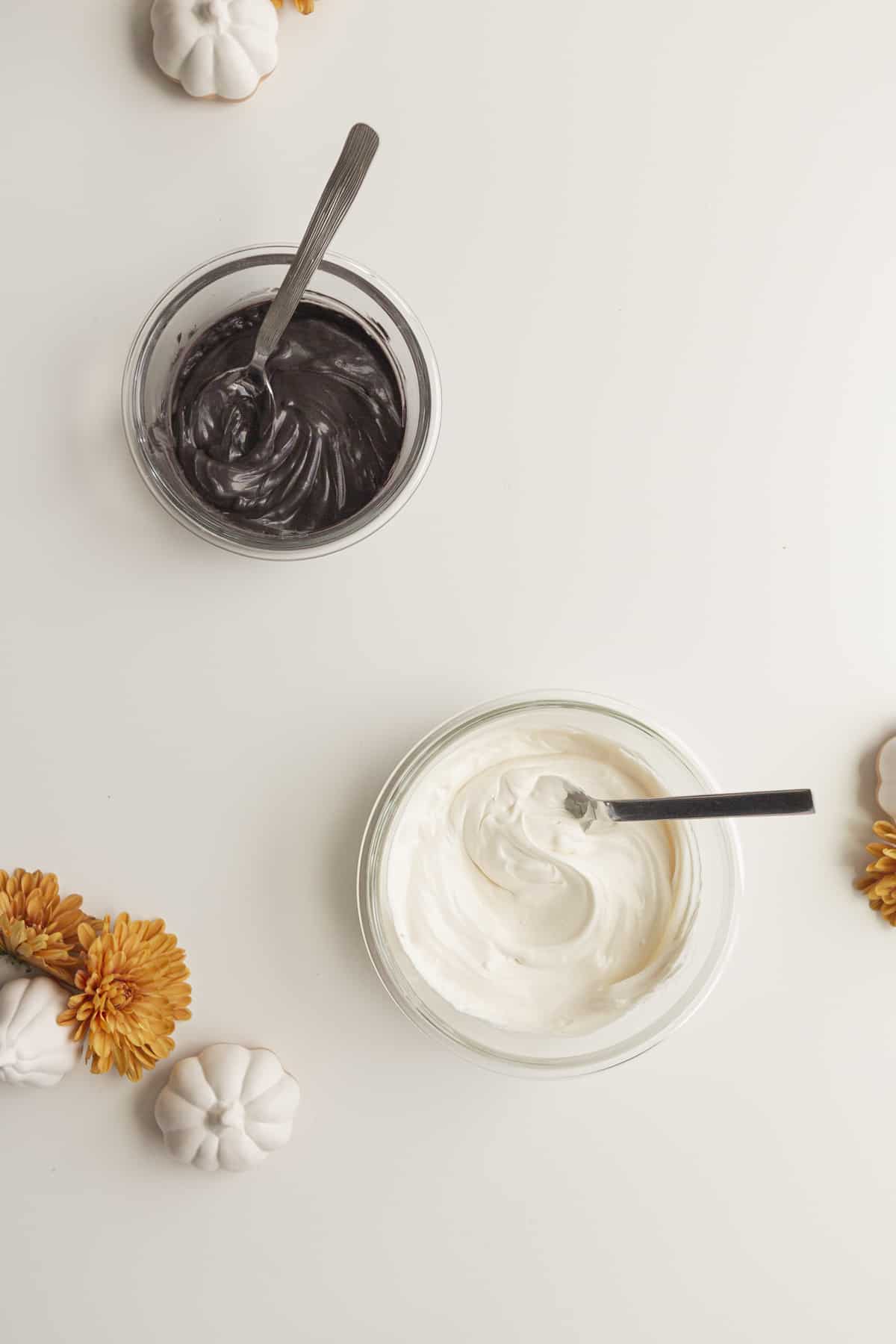 Ingredients
This recipe is really just two ingredients, but I'll let you know what other things you can try for this recipe as well.
Candy Melts – I used white and black candy melts for this recipe. But you could try white and dark chocolate. The colors won't be as stark, but should work similarly.
Sprinkles – I used black candy melts for the eyes, but I also tried a few with black sprinkles, which worked great as well.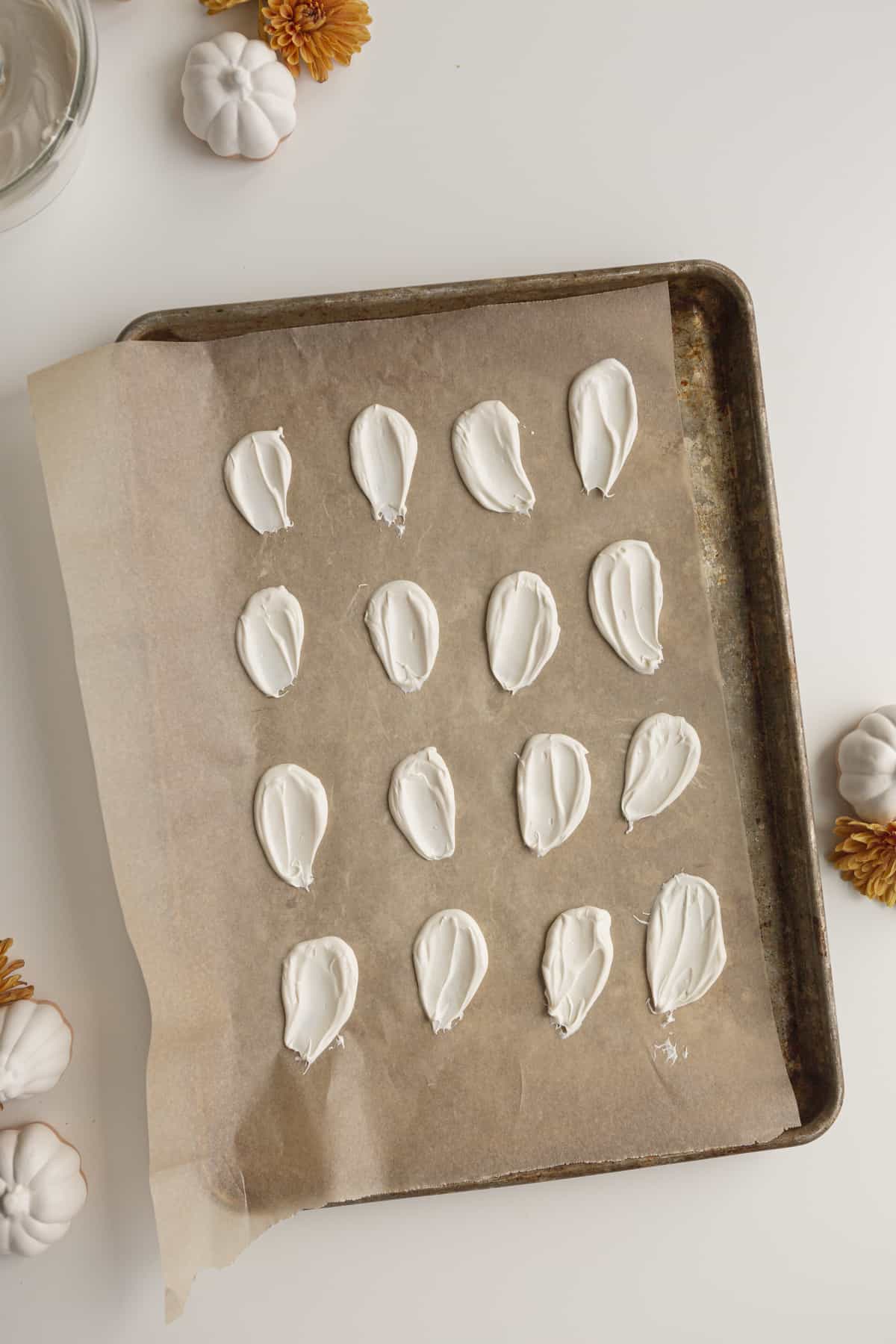 How to Make These
Making these truly is so simple. And there is no perfect ghost, so it's okay to play with it. The hardest part for me was the eyes with candy melts. They kept overlapping and I got the black color everywhere. So, if you don't want to pipe you can try the sprinkles instead.
Line a baking sheet with parchment paper.
Melt the candy melts in microwave safe bowls, mix as needed.
Use a spoon and dollop a little bit of the white candy melt on the parchment. Use the back of your spoon to swoop the candy into a "ghost" shape.
Let harden. (Unless you use sprinkles, if you do this add sprinkles before it hardens)
Spoon the black candy melts into a piping bag and cut a tiny opening. Pipe little eyes on top. Or can try to scoop the black candy melt with a toothpick and dot them on.
Allow to harden and use to decorate.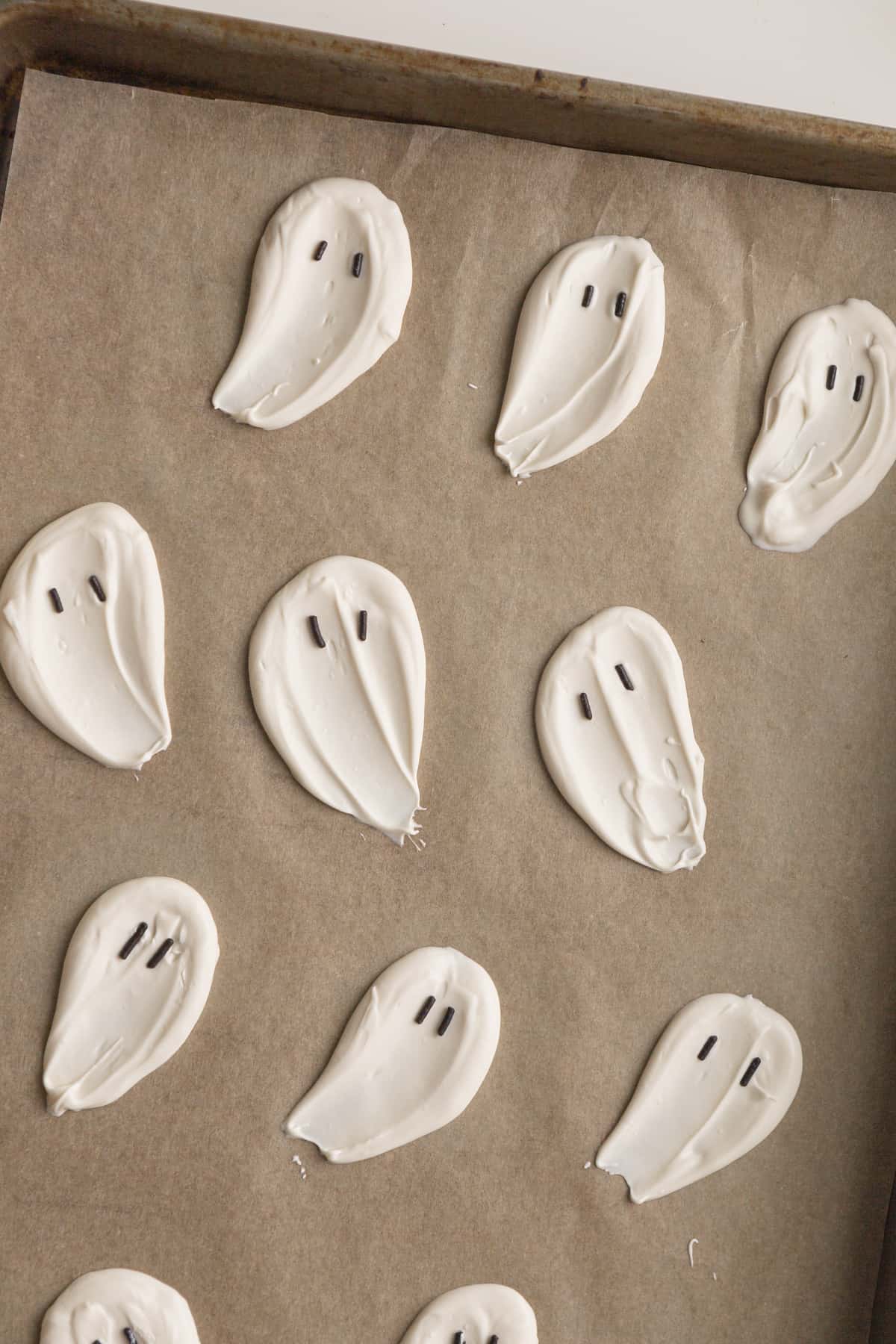 FAQs
What are candy melts made of?
They are usually made of sugar and oil. The oil helps the melting point in the microwave. Some can be flavored, so be sure to check the bag.
Are candy melts better than chocolate?
The taste depends on the person, but candy melts tend to work easier for design pieces because of the simple and malleable ingredients. Especially compared to certain white chocolate, the white candy melts will be easier to work with.
What can you add candy ghosts to?
You can use them as a little treat or use them to decorate baked goods like cakes, cupcakes, add them to an ice cream bar, and more.
How do you melt down candy melts?
These are super easy to use. I like to add them to a glass bowl and pop them in the microwave for 30-second increments. Stir and add back in the microwave if needed. Continue until smooth.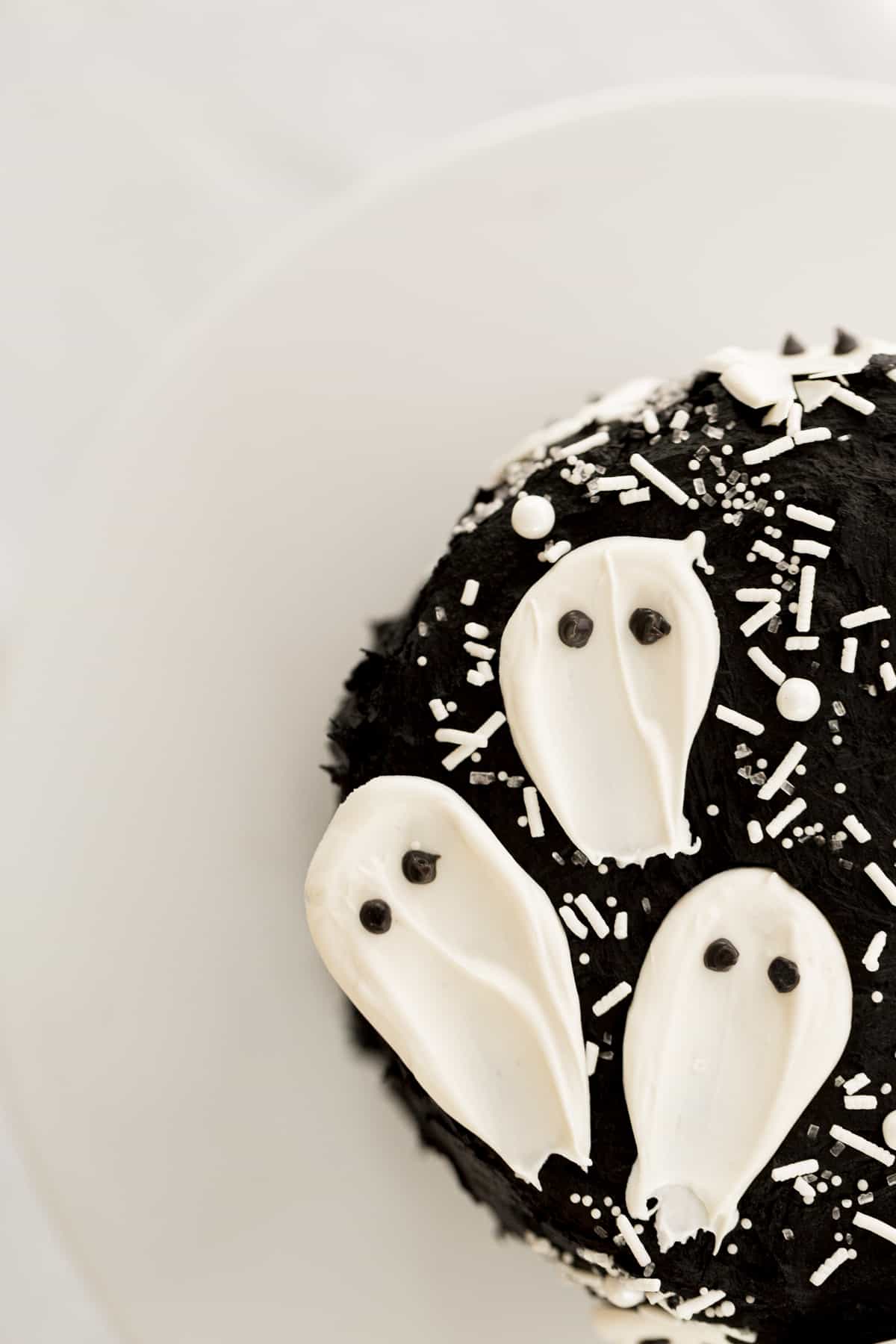 Other Recipes to Try
Love this Recipe?
Did you make this recipe and just love it? Awesome! If you have a quick minute and could leave a star rating and comment below, I would appreciate the support and knowing your feedback! And if you're over on Instagram, be sure to tag me in your photos!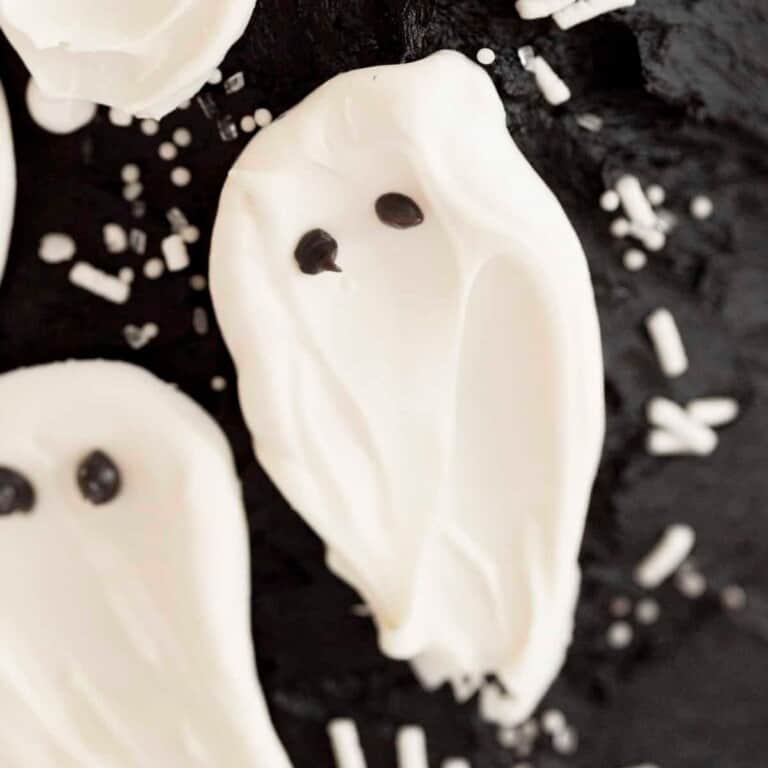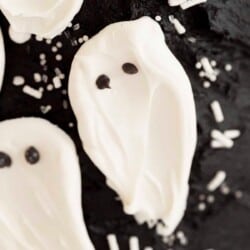 Ingredients
8

oz

candy melt

white

4

oz

candy melt

black
Instructions
Line 1-2 baking sheets with parchment paper.*

Add the candy melts to two separate microwavable bowls. Heat each separately at 30 second intervals. Remove and stir (with their own spoons). Repeat until completely melted.

Using a spoon, scoop a quarter-sized amount of white candy melts onto the parchment. Use the back of the spoon to swoop the white candy into a "ghost" shape. Do the tails of the into different directions and you can even swoop out arms.

Allow to dry and harden.**

Add the black candy melts into a piping bag and cut a tiny hole at the bottom of the bag. Then pipe on eyes (and even a mouth if you want) to the ghost bodies. Or you can use toothpicks to scoop up black candy melts and place the mixture onto the ghosts.

Allow to harden. Then use to decorate.
Notes
*You may want to use baking sheets with a flat bottom and no ridges for the cleanest look.
**If you are doing sprinkles for the eyes, do not allow to harden. If it does, you can simply place the baking sheet in a warm oven for a minute.
If you need to store them you can place them in an airtight container and leave them at room temperature.
Tried this recipe?
Mention @amanda.wilens