So here is another recipe from the shoot I did with Laura Ann Miller Photography (all photos are hers, and magical). An amazing shoot filled with gorgeous flowers, rentals, and gowns. I actually got to play one of the guests at the wedding. ha. Definitely NOT a model. But it was such a fun day! I made a couple of different drinks for the shoot. This fig smash, an apple cider bourbon drink, and the cranberry-herb cocktail.
Although I'm used to being the one styling and planning when it comes to events, it was so fun to just step in and participate as a "guest" and just bring some drinks and help with some final touches! And it was also great to have such an amazing photographer take such stunning photos of the day as well!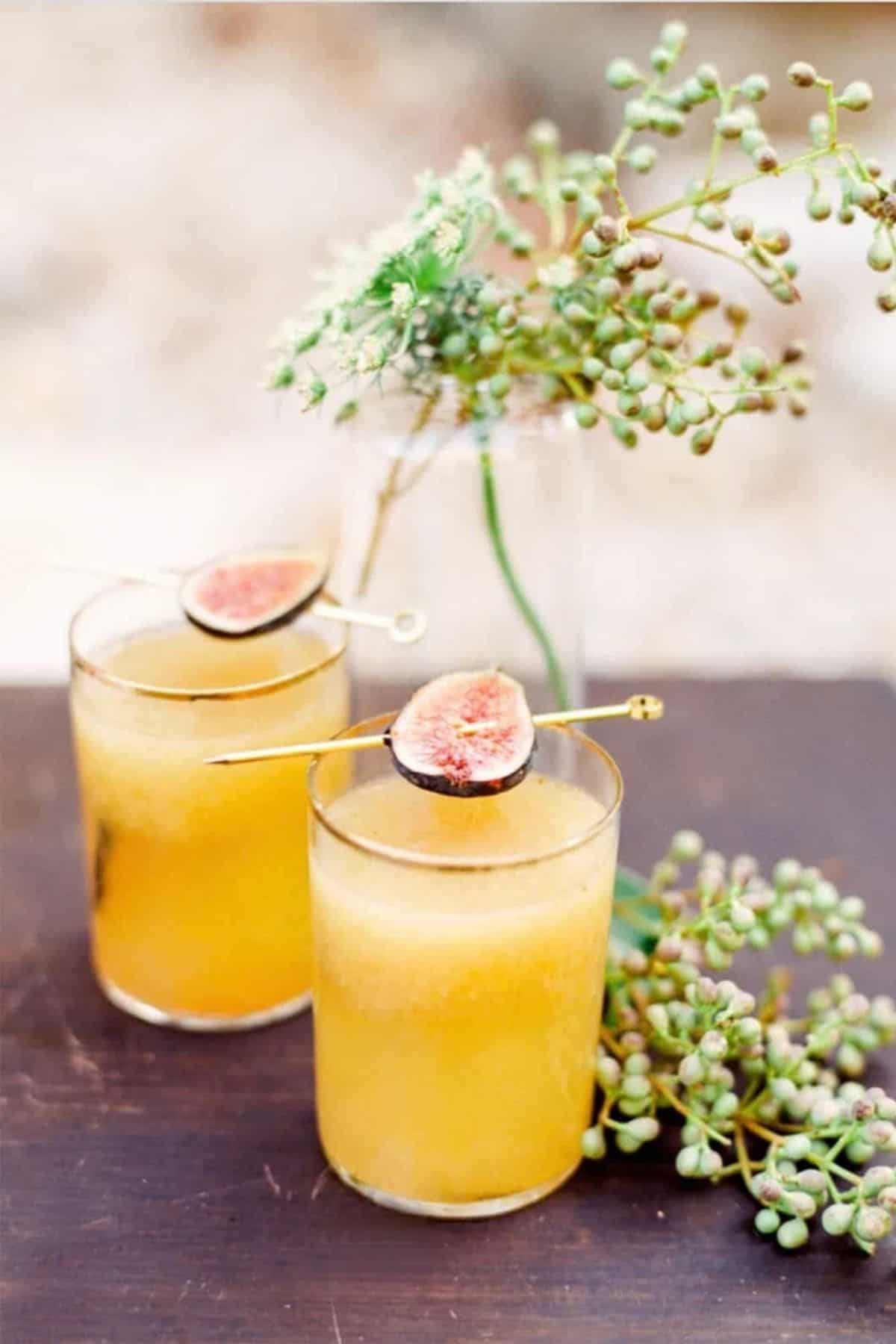 Table of Contents
Vendors for this Photoshoot
The flowers were done by a friend who runs a company called Accents Floral Designs. This is run by Alaina, who actually invited me into this shoot and helped me create a beautiful backdrop for a workshop!
And the stationary was hand done by my beautiful friend Alicia at On Three Design. Honestly this girl is so talented in everything she does. She is also a hoot and a pleasure to work with. We worked on a lot of projects together in St. Louis. Alicia also stepped in with her hubby to play bride and groom!
This was also the day I met Claire from Juno Bridal. Her dresses are incredible! And she played a guest at the wedding with me as well!
All of the bride's hair and makeup was done by another amazing friend Savanah Summer! She is truly the most talented hair and make-up artist in St. Louis and basically everyone wants her for their weddings and special events. And I don't blame them!
It was styled by Megan Styled and rentals from The Antiquarian.
And last, but certainly not least, the gorgeous images are from Laura Ann Miller Photography. To see more head to her site.
Ingredients for Fig Cocktails
8 fresh figs
3 cups champagne
1 tablespoon honey
½ lemon
sliced figs or herbs for garnish
How to make Fig Cocktails
1. Into a blender add figs, champagne, honey, and juice from the lemon.
2. Blend well. Stain and pour into glasses.
3. Top with garnish and enjoy!
Other Recipes to Try
Love this Recipe?
Did you make this recipe and just love it? Awesome! If you have a quick minute and could leave a star rating and comment below, I would appreciate the support and knowing your feedback! And if you're over on Instagram, be sure to tag me in your photos!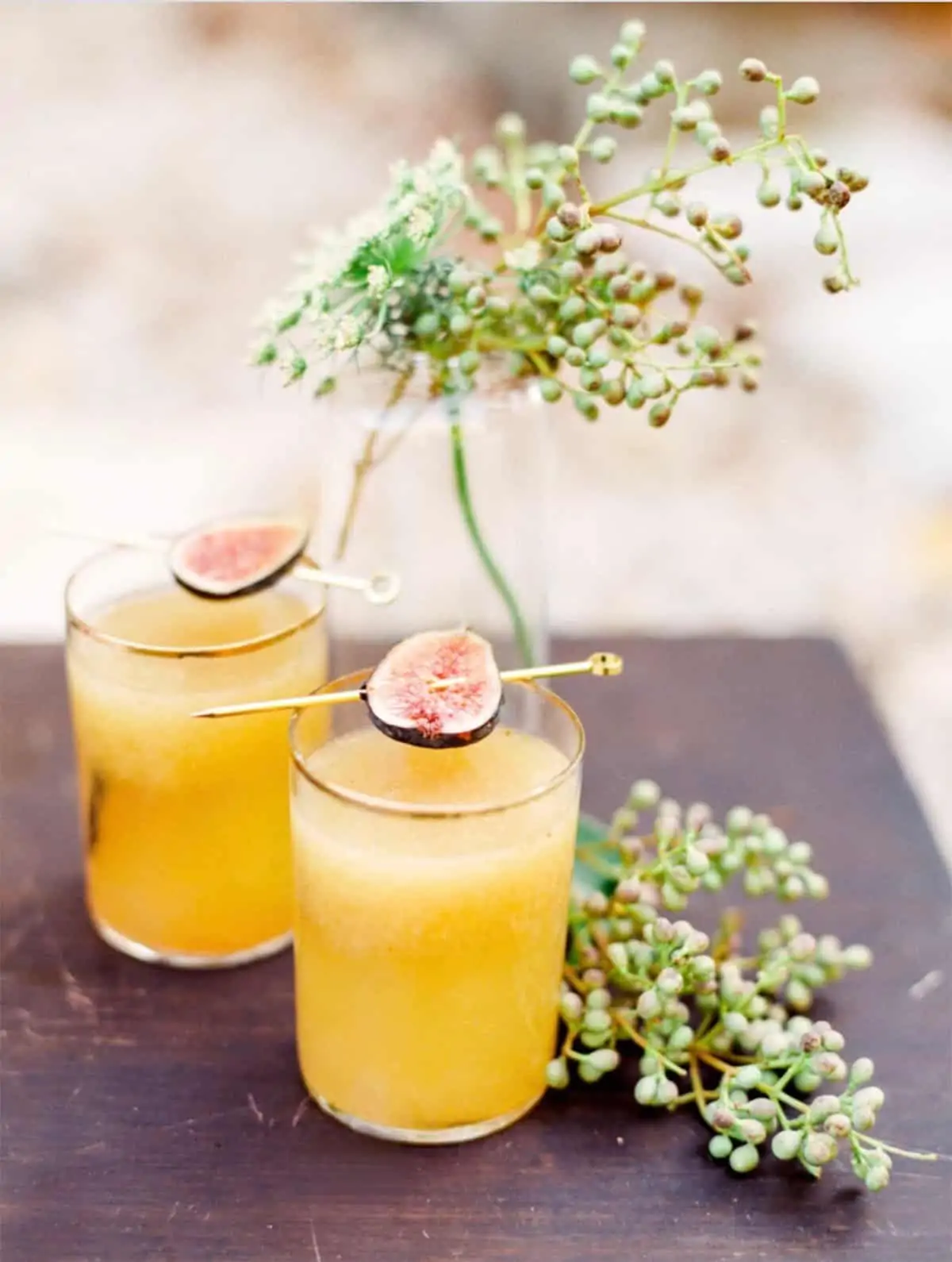 Ingredients
8

fresh figs

3

cups

champagne

1

tablespoon

honey

½

lemon

sliced figs or herbs for garnish
Instructions
Into a blender add figs, honey, and juice from the lemon.

Blend well. Stain and pour equally into glasses.

Top each glass with champagne.
Notes
- Mocktail: To make this a mocktail, swap out the champagne for sparkling soda.
Tried this recipe?
Mention @amanda.wilens