Coffee Cake Muffins
This recipe was made in collaboration with The Little Market. The Little Market is a nonprofit fair-trade shop featuring ethically sourced, artisan-made products. They seek to empower artisans around the world by extending their products' distribution and supporting sustainable income opportunities. I love being a partner with The Little Market and getting to see all the amazing things that their work does. Below you'll see the use of The Little Market trays.
This specific recipe was made in a set of fall recipes. I really love a delicious muffin in the morning or as a treat. Especially one that is warmed up and super moist. These coffee cake muffins are delicious, buttery, and super rich and delicious.
Now I'll go into some best tips for making these coffee cake muffins.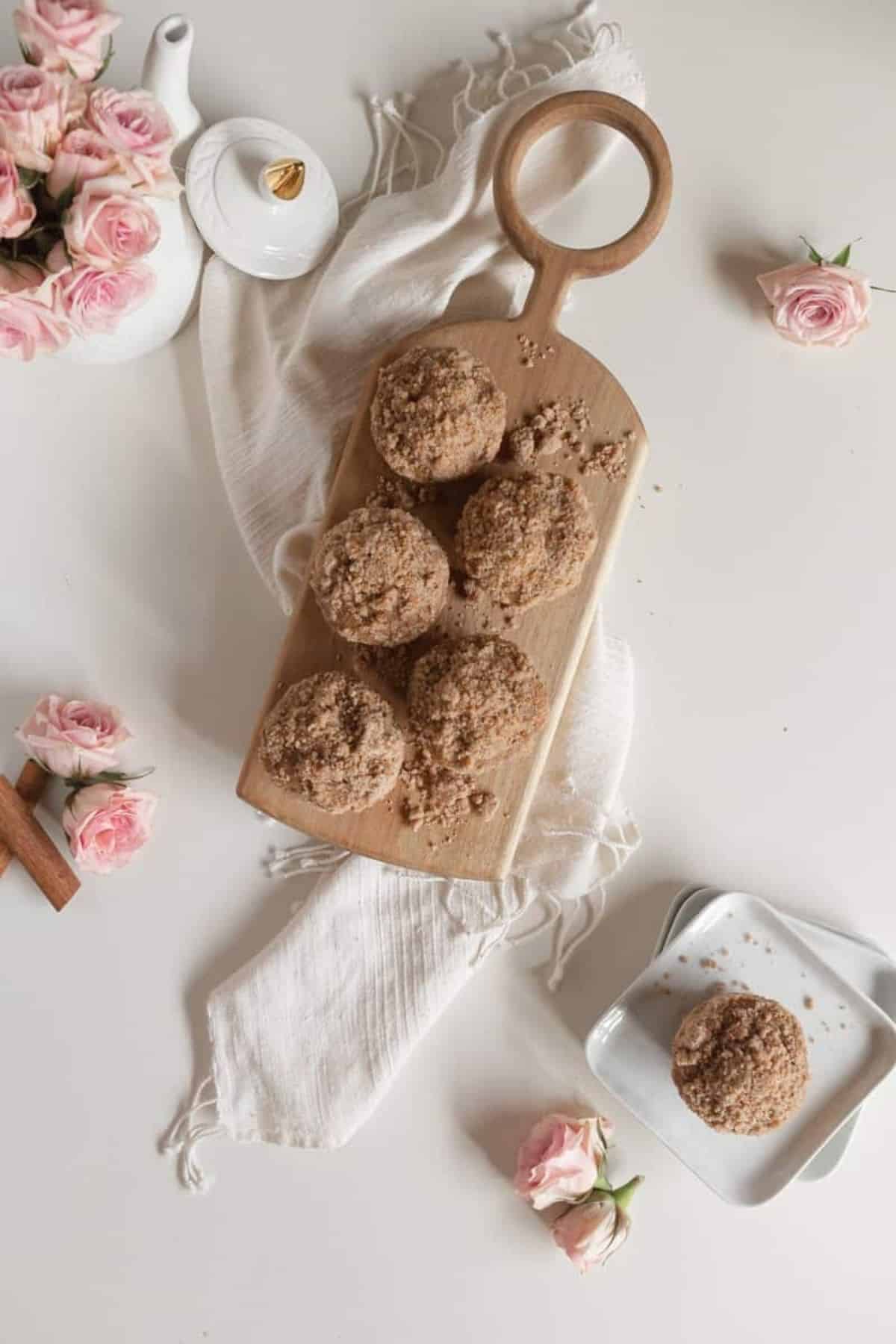 Table of Contents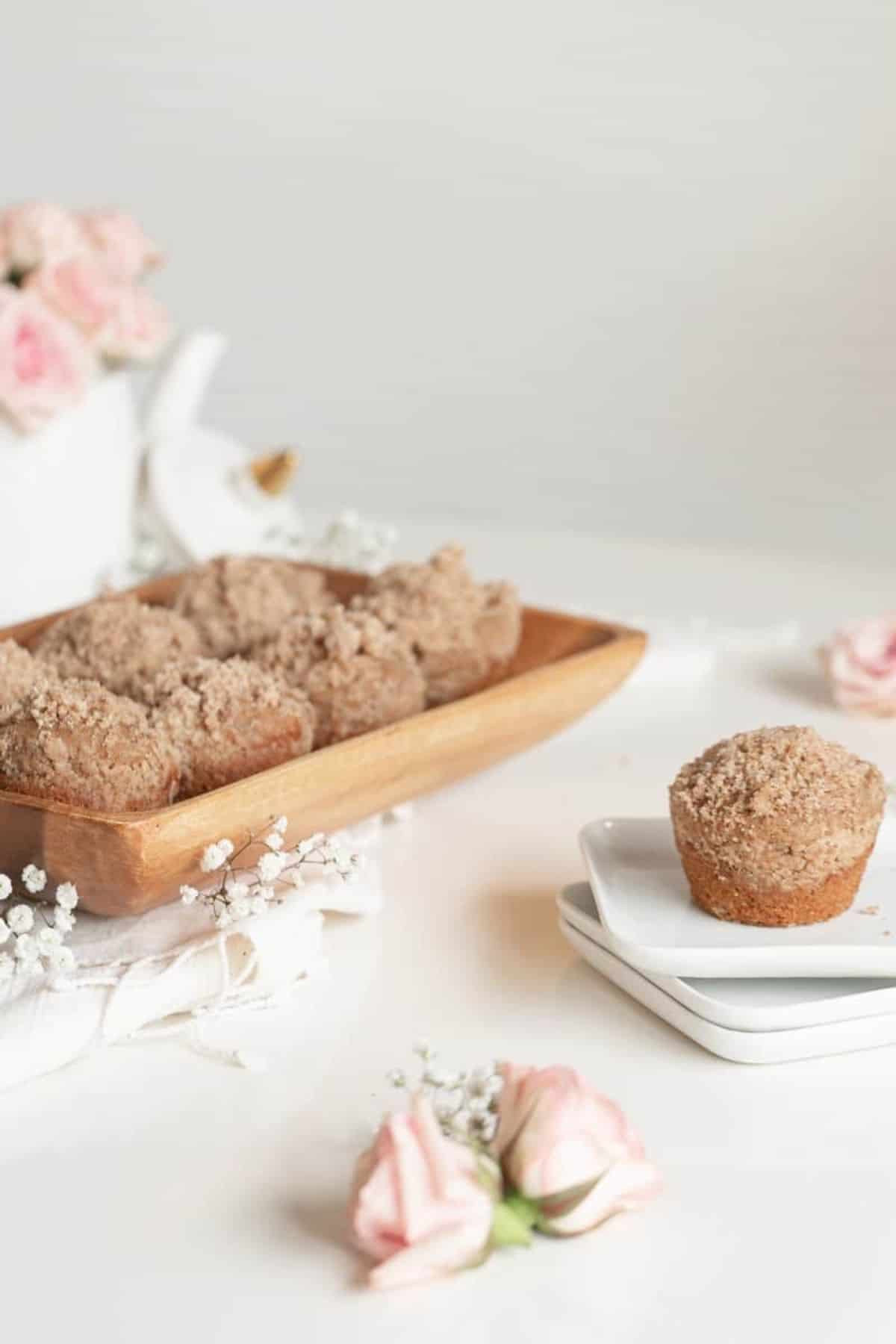 How do I bake a moist muffin?
With fats! In this recipe we do that with heavy cream, however, some people use sour cream, yogurts, or milk. I also use grapeseed oil (a neutral oil) and not just butter as that can help with a moister muffin.
Why do I need to mix wet and dry ingredients separately?
Baking really is a science. Wet ingredients usually have a very specific order that they need to be mixed to emulsify your sugars into the mixture properly so you don't have a grainy baked good. It's also so important that all the ingredients are mixed in thoroughly. So, by mixing the dry ingredients separately you can make sure that those ingredients are evenly distributed first. Then the balance of going back and forth adding in the dry and milk/heavy cream can make the difference of too dense and over mixed or just right!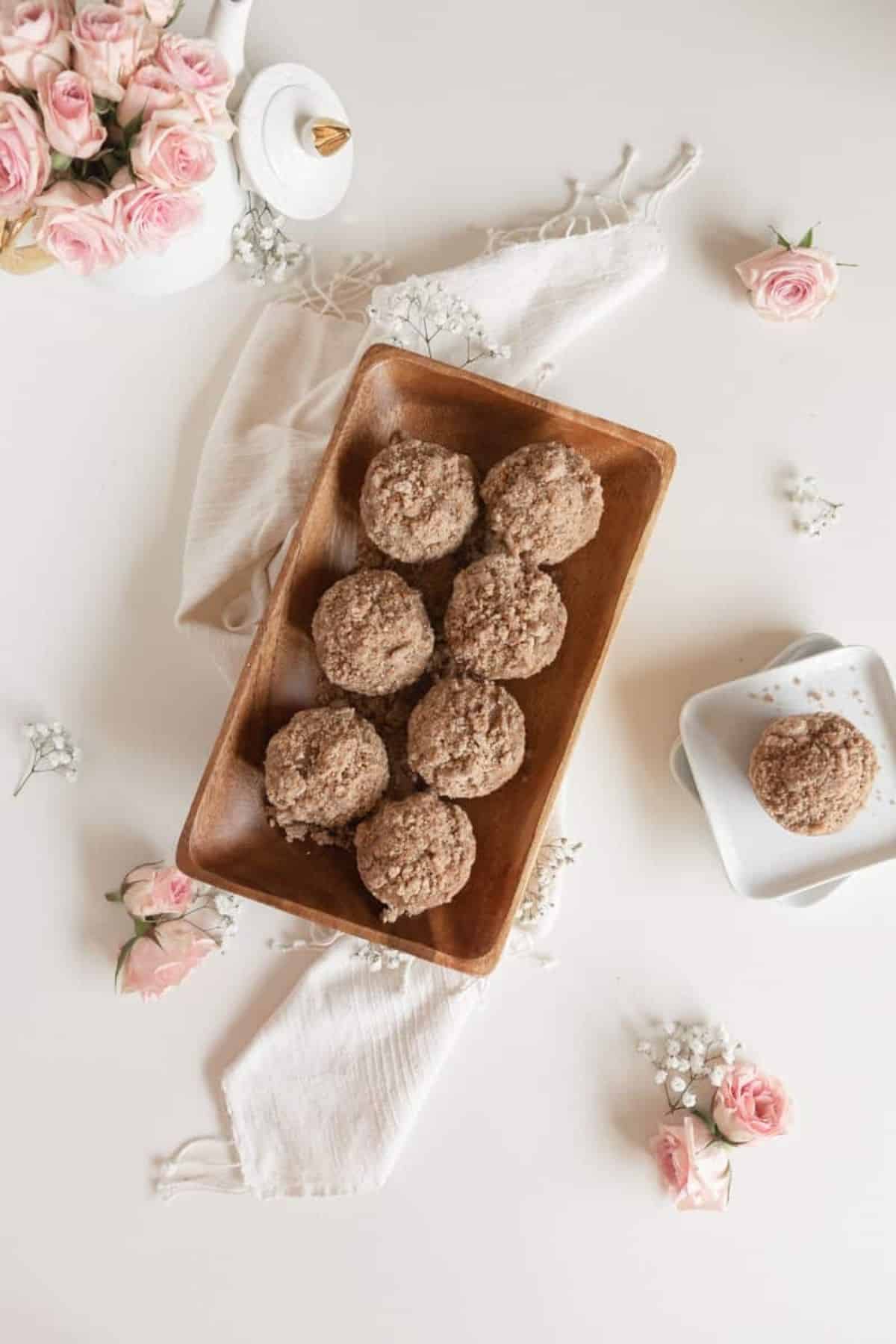 Why do I need to bake with room temperature butter?
So many recipes (and others) call for room temperature butter. This is due to a few things. 1) An emulsion is formed when all the wet ingredients are room temperature and mixing. You are whipping in air into the batter. Which will later help in baking when you get that light and fluffy texture. 2) Room temp butter is also able to blend smoother and create a cohesive batter. If you don't have it room temp it can become very dense.
How to get butter room temperature
I usually leave mine on a plate on the counter for a couple hours. Or maybe on the oven if it's being used for something else. If you are in a hurry you can zap in the microwave in very short increments. Just don't melt it.
Why do I need to bake with room temperature eggs?
A lot of baking recipes (mine included) ask for room temperature eggs. This is because a room temp egg is easier to break down than a cold egg. So therefore, it mixes into the batter better. ALSO, room temp eggs get a better volume making for a fluffier baked good.
How to get eggs room temperature
I would suggest leaving them on the counter for 1-2 hours to get room temp. However, if you forget or run out of time, another option is to place the eggs into a bowl of warm water (not hot) for about 10-15 minutes.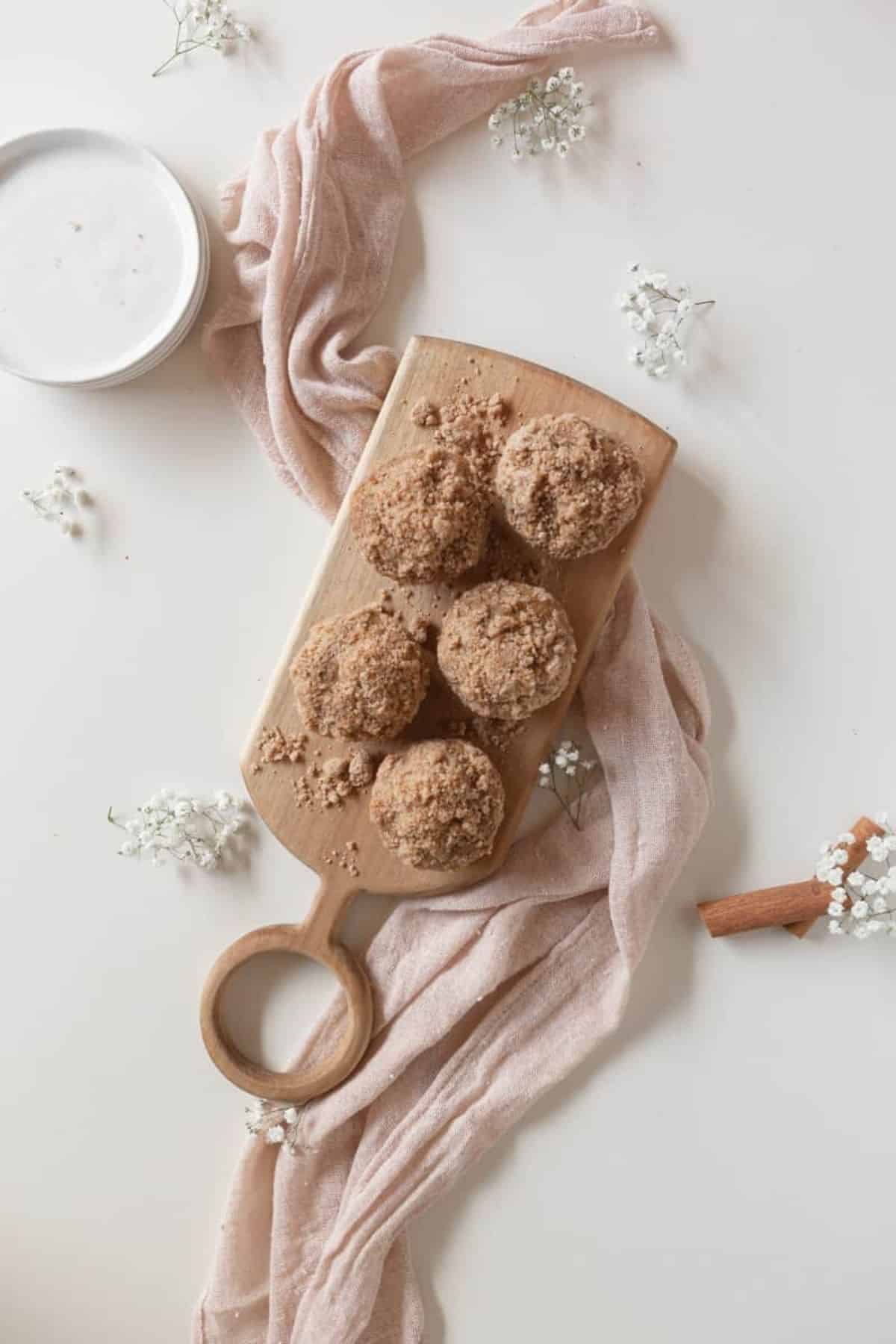 FAQs about Coffee Cake Muffins
Can I bake as a loaf?
Sure. But you will need to add on a bit of time to the baking. Probably close to 45-60 minutes.
Can I make them with all butter and no oil?
I would say no. While butter adds in flavor, oil helps with the moisture. If you use all butter, you might end up with a more dry muffin.
Other Breakfast Recipes to Try
Love this Recipe?
Did you make this recipe and just love it? Awesome! If you have a quick minute and could leave a star rating and comment below, I would appreciate the support and knowing your feedback! And if you're over on Instagram, be sure to tag me in your photos!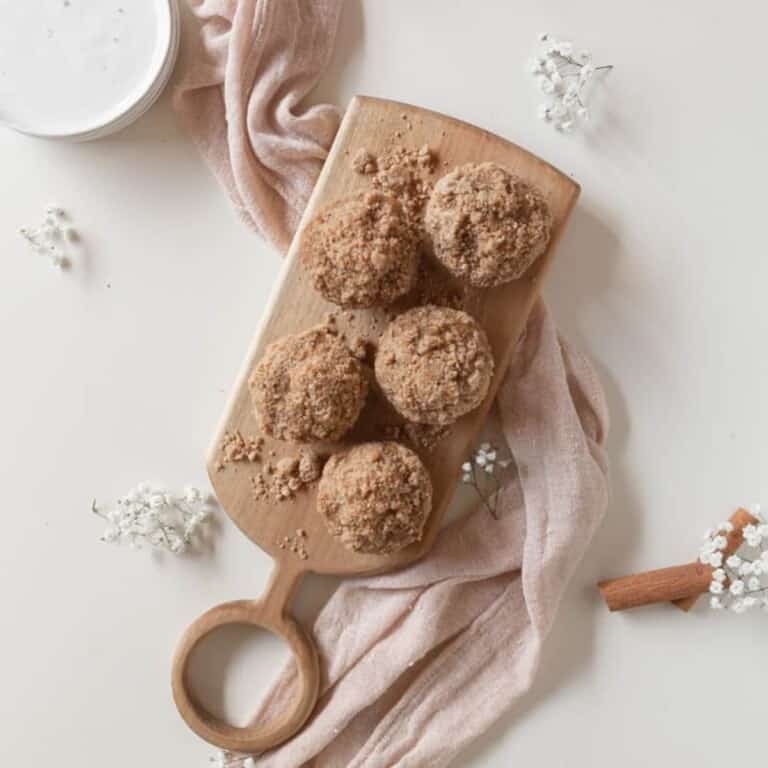 Ingredients
Streusel
⅓

cup

granulated sugar

⅓

cup

brown sugar

2

teaspoon

ground cinnamon

1

teaspoon

ground ginger

½

teaspoon

kosher salt

1 ½

cups

all-purpose flour

½

cup

+2 tablespoon unsalted butter

room temperature and cubed
Wet Muffin Ingredients
¼

cup

butter

melted and slightly cooled

¼

cup

grapeseed oil

½

cup

brown sugar

2

eggs

large and room temperature

1

teaspoon

vanilla extract

¾

cup

heavy cream
Dry Muffin Ingredients
1 ½

cups

all-purpose flour

2

teaspoon

baking powder

½

teaspoon

baking soda

1

teaspoon

cinnamon

½

teaspoon

salt
Instructions
Streusel Instructions
In a medium sized bowl mix all ingredients except for the butter using a fork.

Add in cubes of butter and mix with fork, pushing down to create crumbles. Mix altogether until it is all a crumbly texture.

Set aside until assembling muffins.
Muffin Instructions
In your stand mixer (or a large bowl) with your paddle attachment, mix your sugar, butter, and oil. Whip for about 2-3 minutes. Add in eggs one and a time. Add in vanilla.

In a separate large bowl, mix your dry ingredients until combined.

On a low speed, slowly add half the dry ingredients into the wet ingredients. Mix until fully incorporated. Add in heavy cream until incorporated. Add remaining dry ingredients. Do not over mix, but make sure fully incorporated.

Preheat oven to 375° F. Prepare your muffin pan with oil or paper liners*.

Scoop half of the batter into each of the 12 muffin/cupcake wells (about 1 ½ tablespoon per muffin well). Top with just a little, about 1-2 tsp, streusel. Fill the muffin wells with remaining batter (about 1 ½ Tbsp). Then top with remaining streusel, about 2 tablespoon each (it seems like a lot, but it will cover the entire muffin top this way). Slightly push the topping into the muffin batter with the back of a spoon or your fingers.

Once the oven is ready, place in the oven and bake for 9 minutes at 375° F. Reduce heat to 350° and cook for another 11-13 minutes. Test with a toothpick until it comes out clean.

Remove and allow to cool. Enjoy.
Notes
- I prefer to use tulip baking cups to contain everything. Then keep on or remove to serve!
- Make sure you use room temperature on items where noted. Tips for this in the blog post.
- Use all the streusel. It seems like a lot, but it really does spread out across the cooked muffin.
Tried this recipe?
Mention @amanda.wilens