A delicious and beautiful way to serve charcuterie during the holidays. A Christmas charcuterie wreath is the perfect show stopper for a holiday dinner or party.
This post has been sponsored by Safeway and Boar's Head Brand®. All thoughts and opinions are my own.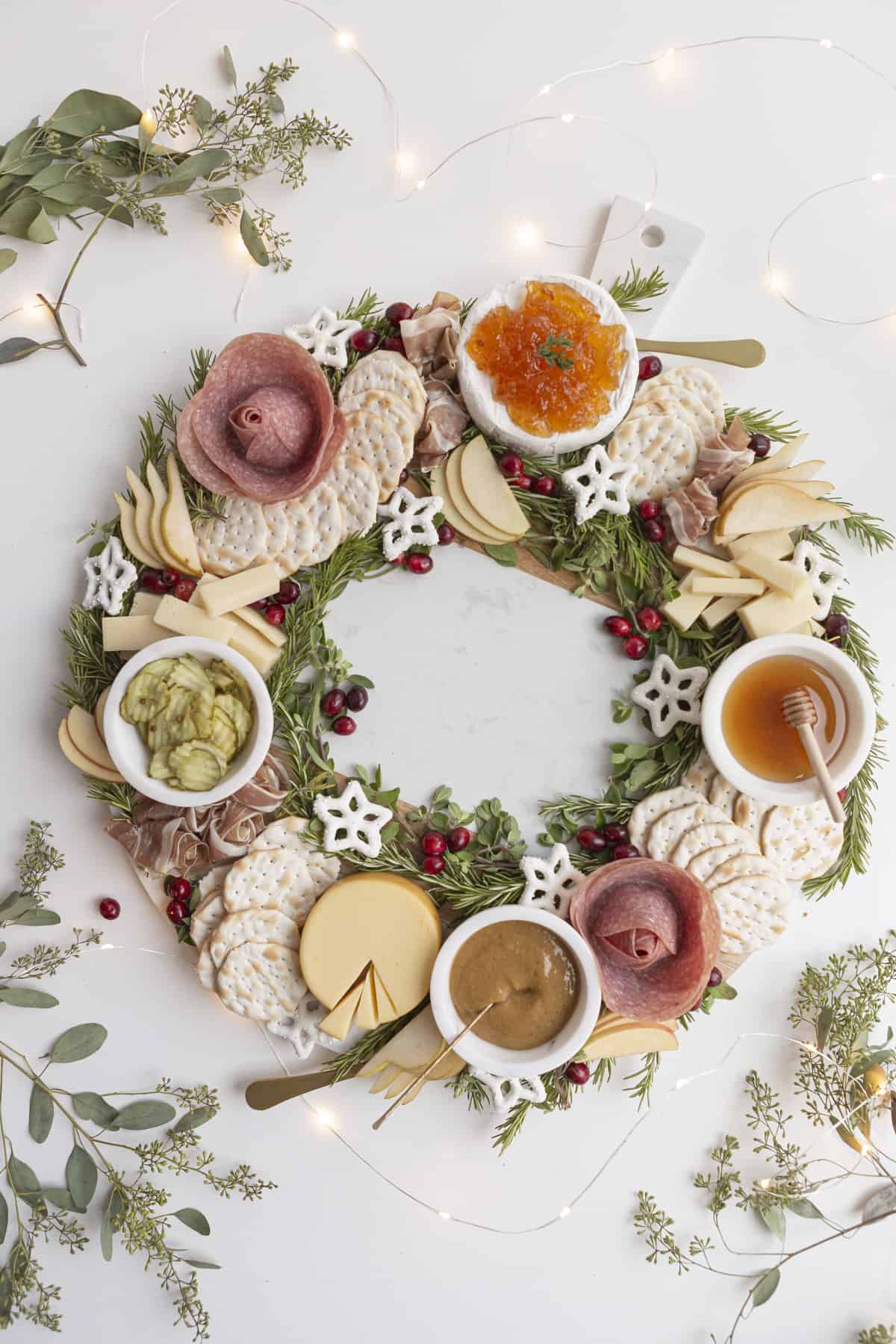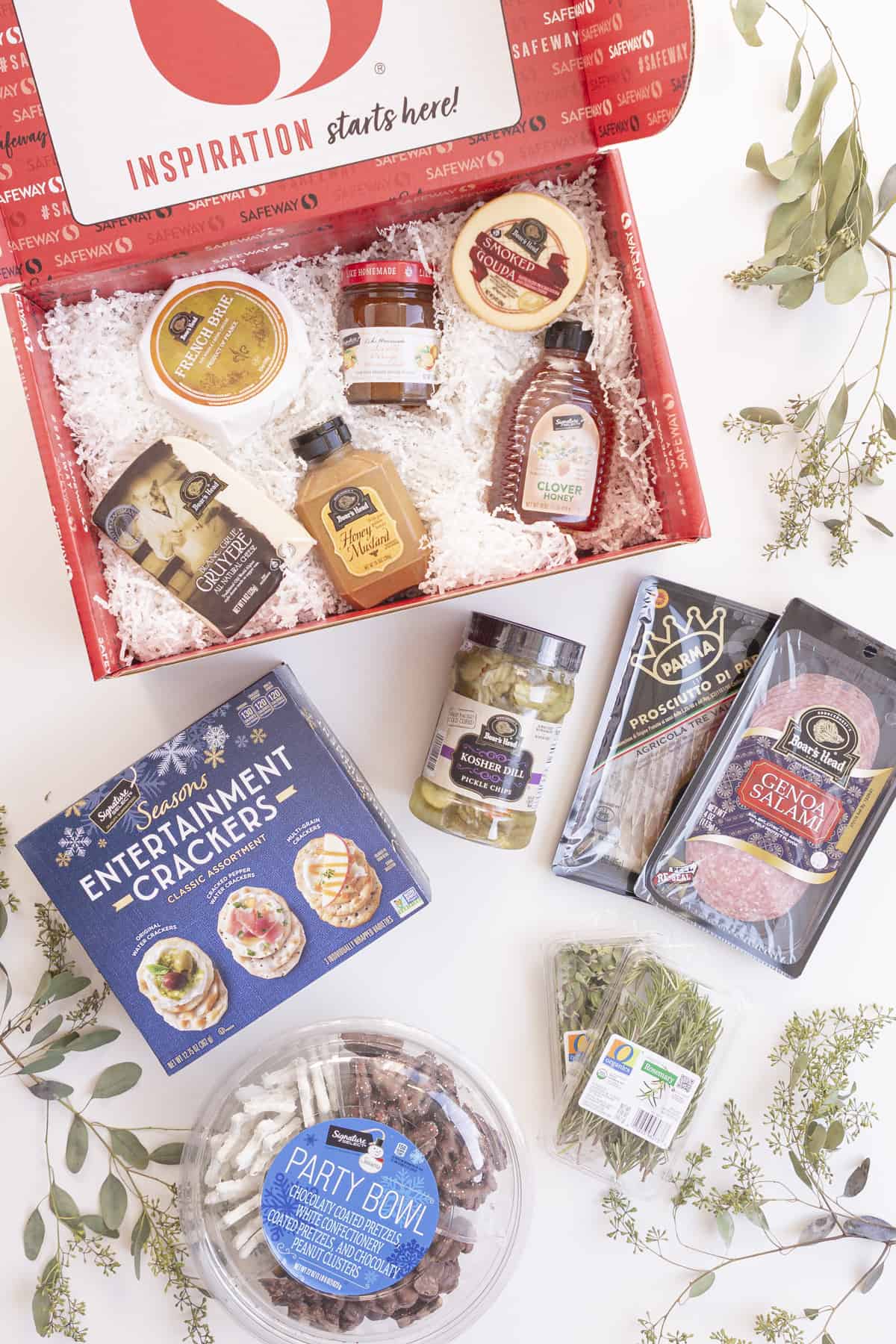 Holiday Charcuterie
I was excited to pair with Boar's Head and Safeway on this project because I love all things charcuterie and making fun and delicious boards for the holidays. Boar's Head premium products have a great variety and help to create elegant, effortless entertaining! I got all of these Boar's Head products and Safeway's Own Brand products (like some delicious honey and the fun pretzel platter) from Safeway. And if you haven't already, you should download the Safeway mobile app to check for coupons that you might want/need for the holidays.
Charcuterie is perfect for the holidays for a few reasons. One, it's a great way to pack in a lot of different types of food onto one board, so there is a little of something for everyone. Two, they really can be such a show-stopper if done right. Three, they are delicious and basically, everyone loves them. They are super customizable and if you have people with dietary needs or restrictions you can swap up the ingredients to make it work for you. And Boar's Head and Safeway have all the pieces you need for the perfect pairings for a perfect board!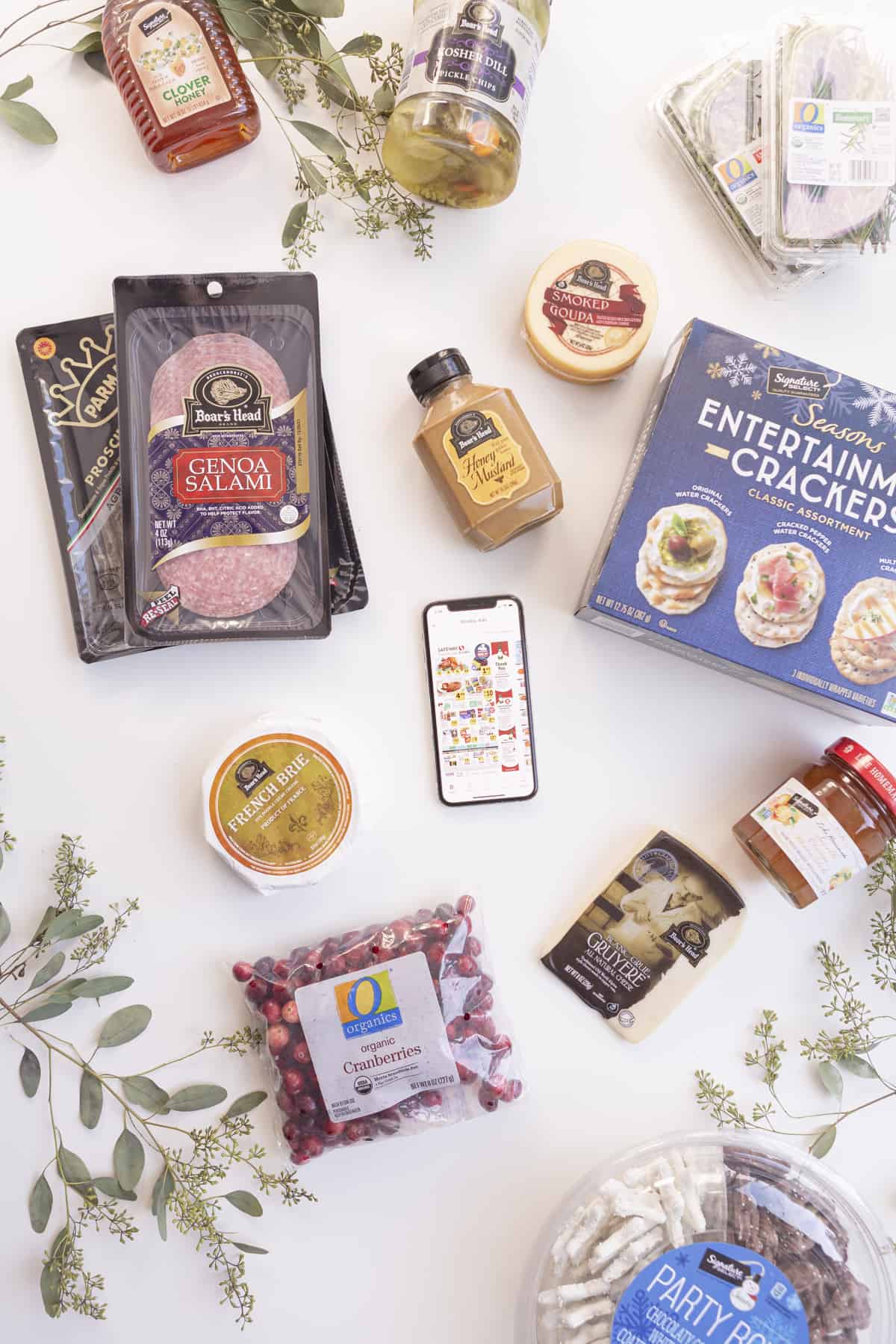 Ingredients
One of the best parts about building your own boards is that you can make alterations as needed. If you have allergies or favorites you can swap things in and out. I'll go over some of the details of what I used below or swaps you could make.
Cheeses: When I make a cheese board I like to make sure that I have a variety of cheeses with both texture and flavor. So, for this board I used the Boar's Head Smoked Gouda, Boar's Head French Brie, and Boar's Head Grue® Gruyere. This way we have at least one hard and one soft cheese. Then you have some more mild flavors and one that has a stronger flavor as well. It's good to have a mix.
Meat: If you're adding meat to the board, I like to make sure to have at least two choices. Again, I like to choose two fairly different choices to have a good variety for your guests. In this case I used Boar's Head Prosciutto di Parma and Boar's Head Genoa Salami. This gives a good variety and is fun to make into different style of roses.
Bread: For this charcuterie board I used water crackers as they will go with everything on the board. If you want to swap them out, you can use other crackers or even sliced baguette. I do find it a little easier to use crackers in this case so they can fit onto the board easier.
Condiments: I always make sure to have a few items on my board like honey, jam, and pickled items. On this board I have honey, jam, Boar's Head Honey Mustard, and Boar's Head Dill Pickle Chips.
Fruits: You can swap out fruits depending on your favorites or what's seasonal. I used apples and pears because they are a great pairing for these cheeses and look great fanned out. And I added cranberries for a pop of color to look super seasonal. You could also try pomegranates, figs, or dried fruit like apricots or oranges.
Filler: I added in rosemary and oregano to add in a full "wreath" look. You could also try other fresh herbs like thyme or a mix of sage or dill. But I do like the look of rosemary for the holidays. I also used these little star yogurt pretzels to add to the board to add a little pop. But you could use other pretzels or even cookies.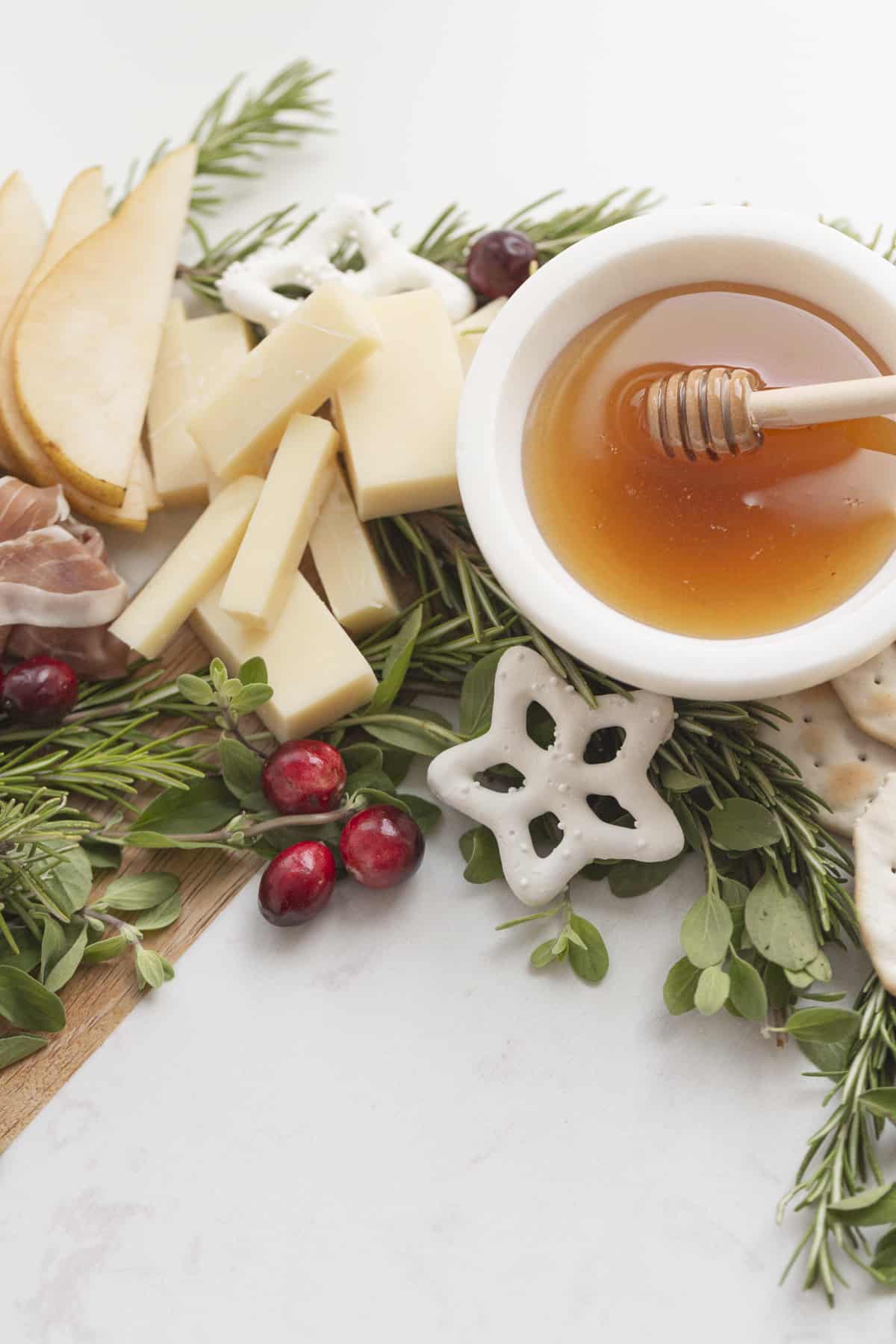 Cheese for Charcuterie
For a board, you want to make sure you have at least 2 oz of cheese per person. I used Boar's Head cheeses because they don't have artificial colors or flavors and are premium products. I like to make sure I always have a minimum of 3 kinds of cheese on my board. One hard, one soft, and one unique. Then if you do more, you can choose which to add onto. I personally prefer to do less fragrant/strong cheeses for the soft and hard, then add a bit of a punch with the unique cheese.
For this board, I have two hard kinds of cheese, Boar's Head Smoked Gouda and Boar's Head Grue® Gruyere. Both of these are delicious and crowd-pleasers, and the gruyere adds a little funk for those who like a more aromatic cheese (like me). For the soft cheese, I went for Boar's Head French Brie. This is one of my favorite soft cheeses. I also love goat cheese as a soft cheese option.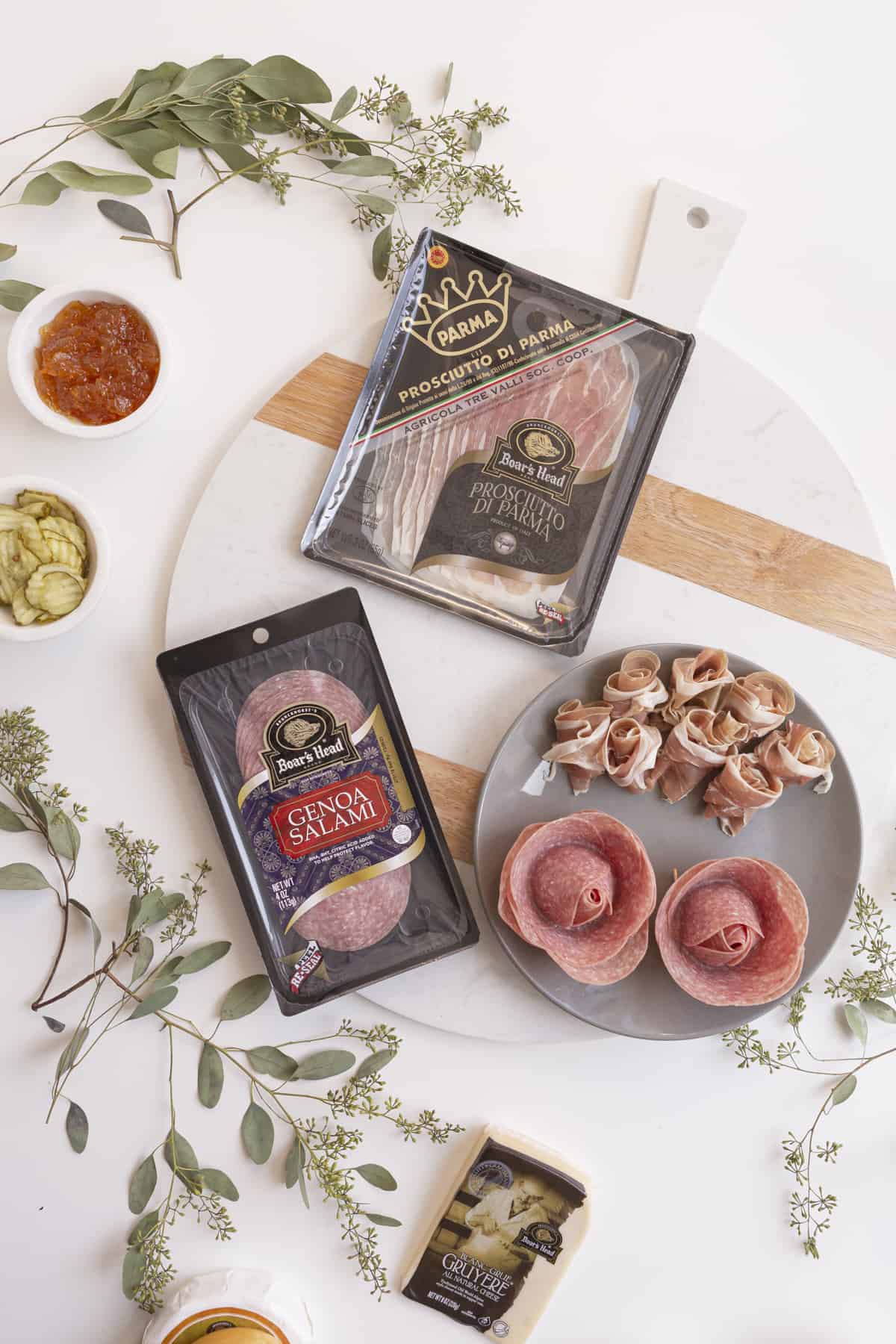 Meat for Charcuterie
Again, you want to make sure that you have 2 oz of meat per person. Again, choosing two different types of meats can be great so you have a good variety. I used the Boar's Head Prosciutto di Parma and Boar's Head Genoa Salami. These are both crowd-pleasers and also are super fun to make into roses. You can learn how to make a salami rose here.
Visit boarshead.com/charcuteriepairing for more inspiration.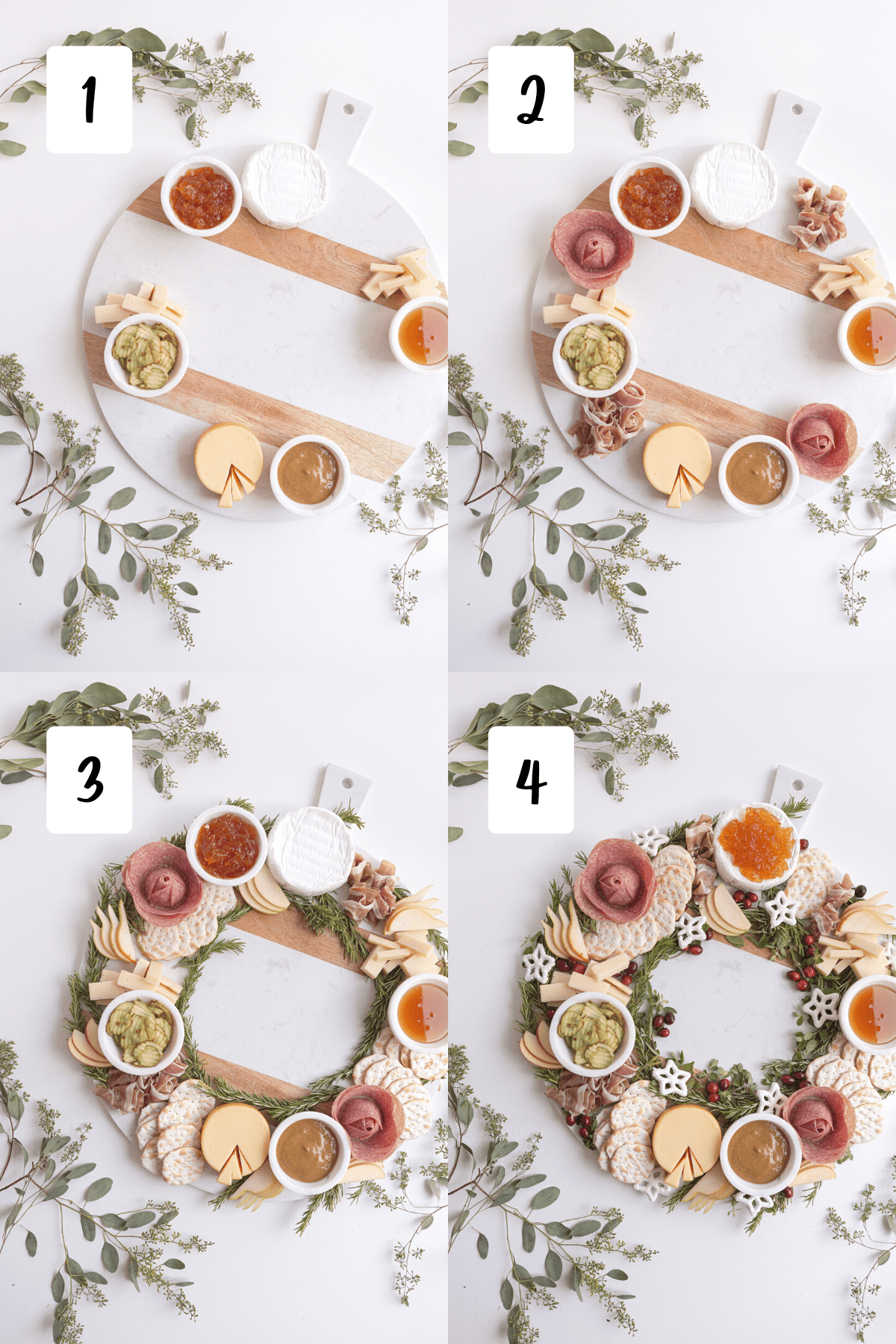 Steps for a Charcuterie Wreath Board
Always start with your "hero" or biggest items first, then go down the list until you end will fillers. I'll do a very simple step-by-step below for you so that you can see the order they should go in. But you can also follow the recipe for exacts!
Place the Largest/Primary Items –Place any bowls (like the honey), cheeses, and meats on the board to make sure that the biggest space is filled with pieces that have to be on the board. I also suggest cutting up any cheeses that should be sliced or crumbled to make it easy for guests. Place them out across the board.
Add Secondary Items – Then place your meats next to the condiments and cheeses
Place in Tertiary Items – I like adding in the breads and crackers on at this time, fan them out and build upon those. Then add fruit and veggies, and dried items. Again, build out from the other areas and separate them into different areas, to spread them out. Add some of the fillers.
Finish with Fillers – This is where the extra herbs and cranberries come into play. Use them to fill in any open holes on the board. Then add utensils like a cheese knives and honey dippers and you're ready to go!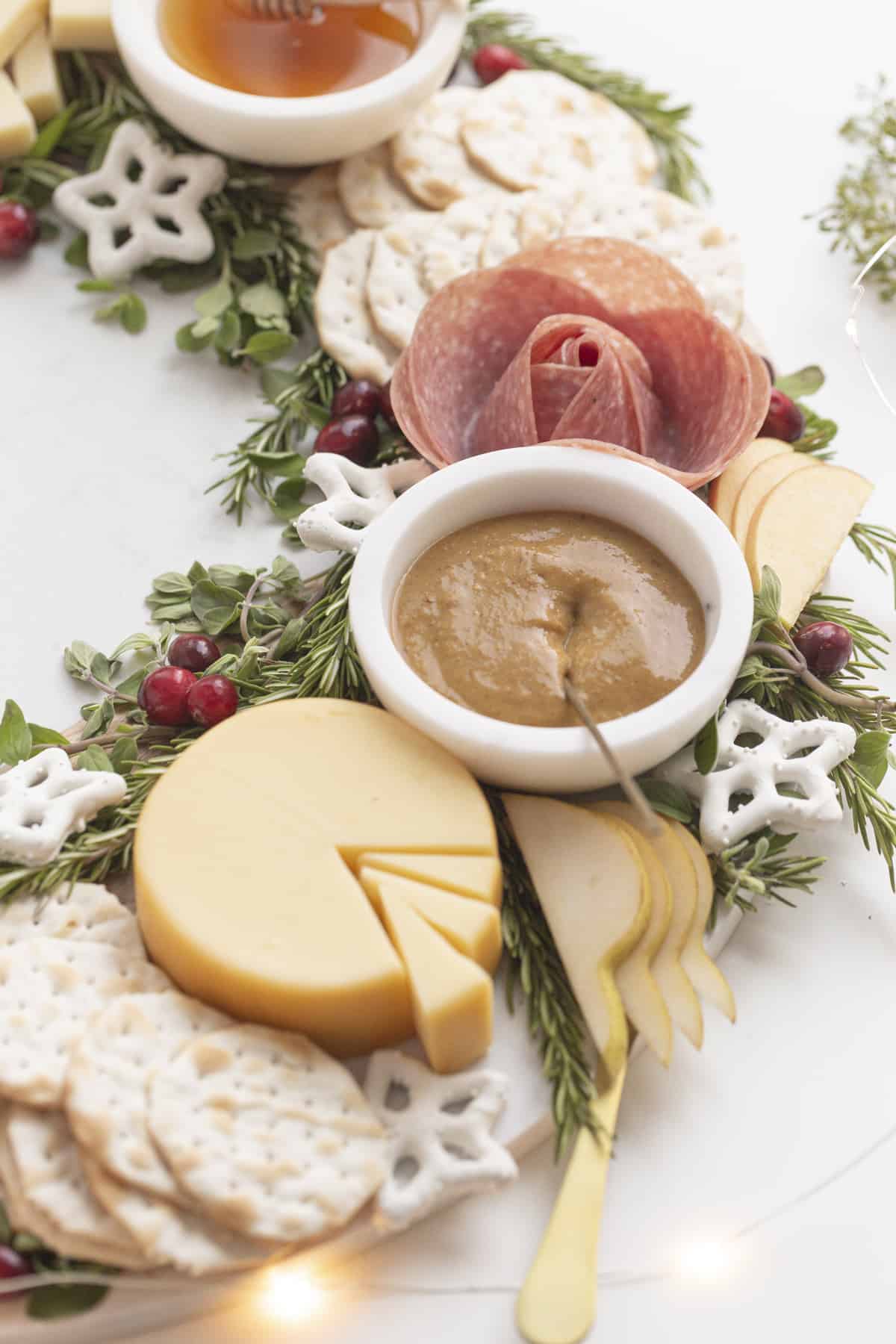 FAQs
How to serve prosciutto on a cheese platter.
I like to make my prosciutto, or similar meat, into a little rose. You make these easily by twisting from the middle of each piece or even folding it in half length-wise and then twisting from the bottom, making a cone shape. Then fold out the top layers.
How do you fold meat for a charcuterie board?
Folding meat on a charcuterie board can vary. Some good options are to make a salami rose, prosciutto rose, or to make a cone. Read above for how to make a salami rose. To make an easy prosciutto rose, you can twist from the middle or divide it in half lengthwise, but keep it together just a little, then roll it pinching one side a little tighter. Or you can make a salami cone. Take the salami, fold it in half, then fold one corner up to the ? point of the semi-circle, and roll into a cone.
What do you drink with a charcuterie board?
Serve a full-bodied red wine or craft beers with your board. If it's the holidays you can also make a fun holiday sangria for something fun.
How long can a charcuterie board sit out?
At a maximum, your cheese and meats should only sit out for 2 hours, which can include your set-up time. You can prep your cheese board, cover it, and keep it in the fridge until ready to eat. But you don't want your dairy or meat to go bad, so be mindful. However, to have your charcuterie have its optimal flavor, you should let it come to room temperature.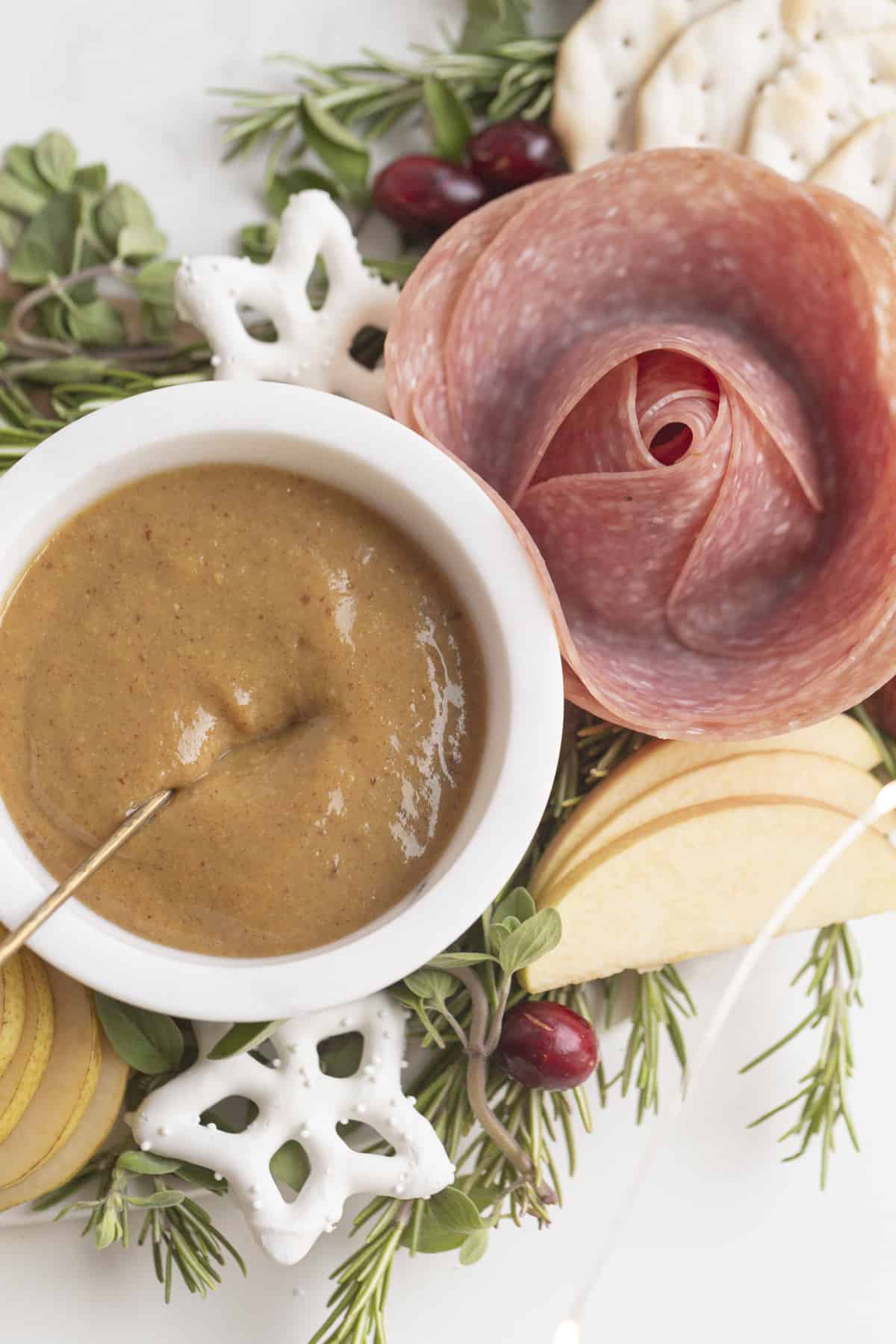 Other Boards to Try
Love this Post?
Did you use this article and did it help you? Awesome! If you have a quick minute and could leave a comment below, I would appreciate the support and knowing your feedback! And if you're over on Instagram, be sure to tag me in your photos.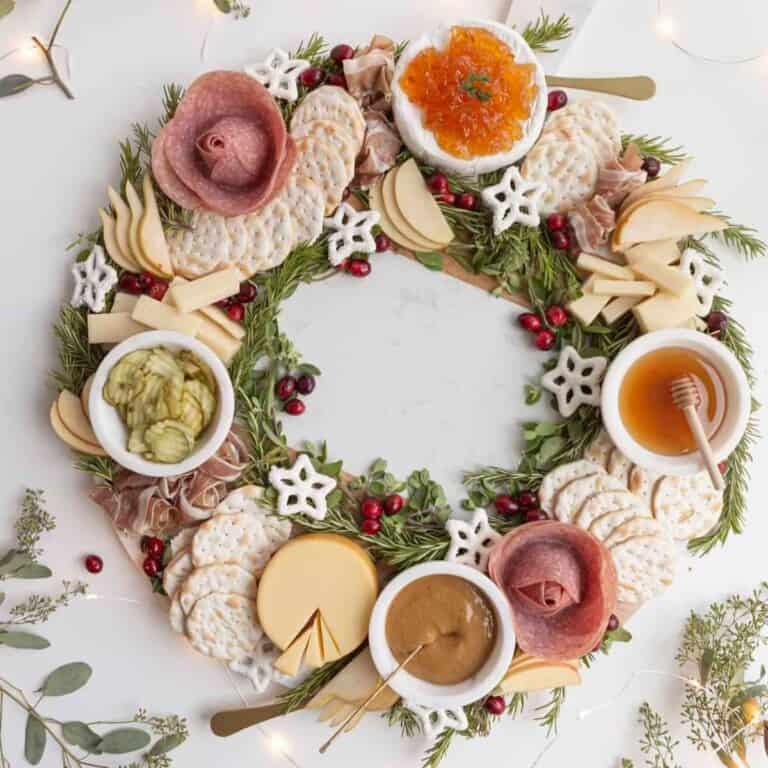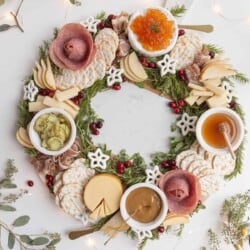 Ingredients
honey

Boar's Head Honey Mustard

Boar's Head Dill Pickle

jam

fig, orange, grape, etc.

Boar's Head Smoked Gouda

Boar's Head French Brie

Boar's Head Grue® Gruyere

Boar's Head Prosciutto di Parma

Boar's Head Genoa Salami

apples

pears

rosemary

oregano

cranberries

yogurt pretzels
Instructions
Prep your ingredients – Slice your fruits, cheeses, etc. so you are ready to plate. Also assemble your salami and prosciutto roses.

Place board – Place board wherever it is you'll be serving it. It's much easier this way!

Create the layout – You'll want to layout your bowls first as they can take up the most room and create a good focal point. Fill the bowls with honey, pickles, and mustard.

Place the heroes – In this case the cheese and salami roses. Try to layer around placed items if possible.

Place larger items/supporting ingredients – For this board this is the crackers. Add some to the areas around the cheeses and meats. Again, build around the pieces already on the board.

Fruit – Add in the different fruits, build around what's there and try to set them up in a couple spots.

Fillers – I always use a few things as fillers. For this board we want to build up the herbs like a wreath, the rosemary and oregano. Then add in little cranberries, in little bundles of three.

Utensils – Stick in small spoons, forks, cheese knives, etc. where needed.

Decorate – If you like a bit of extra flair like I do, you can add I décor around the board like florals, lights, etc. Or you can add things like luster dust or prism powder for more glitz.
Notes
1. Feel free to swap out ingredients for things you enjoy most.
2. Add some fun flair to your board or around the board with holiday décor, twinkle lights, etc.
Tried this recipe?
Mention @amanda.wilens